Tag: chevalier avant garde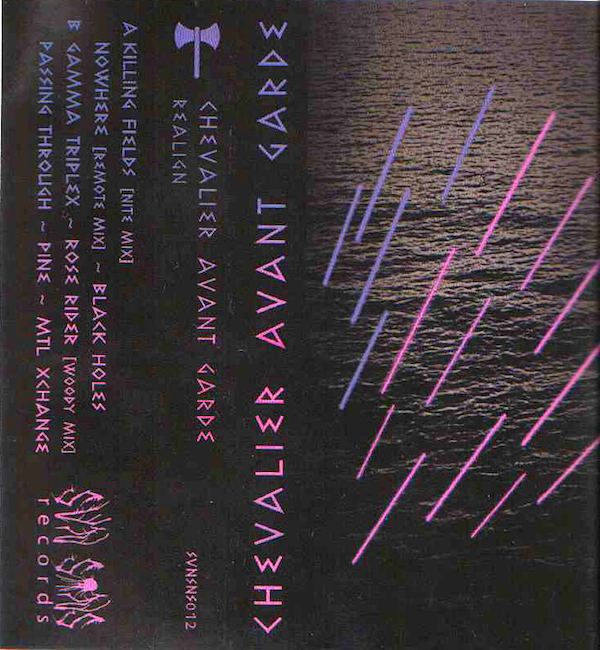 Chevalier Avant Garde continue their descent into the electronic. Mirroring the contrasting grit and cuteness of Montreal, the tape moves as if through the city late at night, Dimitri's disembodied voice narrating occasionally over vector-based melodies. You'll hear a Postcards-era jam, as well as a field-recording of a woman asking something unrecognizable from strangers — she may or may not get what she asks for, yet gives thanks regardless. And you'll hear something danceable overlain with an expatriate melancholy.
Chevalier Avant Garde
Realign
Montréal, QC
From the pixel grit of Kyle Valade:
Chevalier Avant Garde continue their descent into the electronic. Mirroring the contrasting grit and cuteness of Montreal, the tape moves as if through the city late at night, Dimitri's disembodied voice narrating occasionally over vector-based melodies. You'll hear a Postcards-era jam, as well as a field-recording of a woman asking something unrecognizable from strangers — she may or may not get what she asks for, yet gives thanks regardless. And you'll hear something danceable overlain with an expatriate melancholy.
De la morosité pixelisée de Kyle Valade:
(Traduit par le sépia maussade de Louis-Félix Pellerin)
Chevalier Avant Garde continuent leur descente vers l'électronique. Imitant la dichotomie montréalaise entre le mignon et le réalisme presque film noiresque, la cassette progresse comme si on errait dans la ville tard le soir, la narration spectrale de Dimitri accompagnant occasionnellement des mélodies vectorielles. Vous entendrez un jam datant de l'ère des Postcards, ainsi qu'un enregistrement d'une femme qui demande à des étrangers de lui donner quelque chose qu'ils ne peuvent identifier; il se peut qu'elle reçoive ce qu'elle demande, tout comme il se peut qu'elle ne le reçoive pas; elle remercie ses interlocuteurs, peu importe le résultat. Puis viendra une mélodie qui fait bouger, celle-ci accompagnée d'une mélancolie expatriée.

Chevalier Avant Garde – Killing Fields (Nite Mix)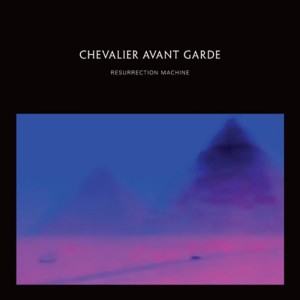 Chevalier Avant Garde
Resurrection Machine
Montréal, QC
From the bedroom goth-disco of Pavan Brar:
Melancholy and bliss permeate the entirety of Resurrection Machine, infiltrating the body via the auditory organs and spreading throughout. On their newest release, Chevalier Avant Garde show a great command of the ability to transduce lows into mid-tempo grooves, a transformative process impelling one to both dance and sulk. A composite of ambient electronics and reverbed post-punk vocals, the band's collective consciousness echoes from within to without, emitting cold psychical waves which set up a suitable aura to welcome the arrival of fall.
De la chambre disco gothique de Pavan Brar:
(Traduit par l'inspiration de Julie Forget)
La mélancolie et le bonheur imprègnent Resurrection Machine en entier, en infiltrant le corps par les organes auditifs et en s'y étendant d'un bout à l'autre. Dans leur plus récente parution, les membres de Chevalier Avant Garde maitrisent parfaitement l'art d'accélérer les grooves lents, un processus de transformation qui incite autant à danser qu'à se renfrogner. Mélange de musique électronique ambiante et de voix post-punk reverbérée, la conscience collective du groupe résonne de l'intérieur vers l'extérieur en émettant de froides vagues psychiques qui créent une ambiance propice à l'accueil de l'automne.
Chevalier Avant Garde – Rose Rider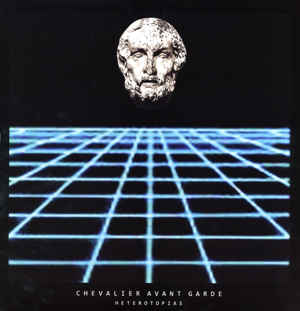 Chevalier Avant Garde
Heterotopias
(Skrot Up)
Montreal, QC

First things first, indulge in some
post-modern sociological complexities
. But I guess all you really have to remember is that Chevalier Avant Garde deliver the utmost serious retro-futurist pop, edgy for reminding us we're constantly nearing the advent of
robot lust
and digital mal de vivre. They've cloned
themselves
into a refined synthesis, like a fascinating concentrated soul pouring out of your speakers. No doubt, this would have definitely made the final cut had I made a best of 2011 list
Du mal de vivre digital de Gabriel Jasmin:
Avant tout, il faudrait se renseigner à propos de complexités sociologiques postmodernes. Mais bon, ce qu'il vous faut absolument retenir est que Chevalier Avant Garde propose de la pop rétro-futuriste très sérieuse, edgy puisqu'elle s'expose à cette dure réalité qu'est l'imminence d'une ère dominée par la séduction des robots et le mal de vivre digital. Ils se sont clonés eux-mêmes en synthèse condensée, comme une pesanteur fascinante qui s'écoule de vos haut-parleurs. Certes, un album qui aurait une place de choix sur mon hypothétique liste du meilleur de 2011.
[audio:http://weirdcanada.com/wp-content/uploads/2012/02/03-Axion.mp3|titles=Chevalier Avant Garde – Axion] Chevalier Avant Garde – Axion
[audio:http://weirdcanada.com/binary/Weird_Canada-Chevalier_Avant_Garde-Over_The_Fountain.mp3|titles=Chevalier Avant Garde – Over The Fountain] Chevalier Avant Garde – Over The Fountain
Chevalier Avant Garde
Haircut 7"
(Self Released)
Montreal, QC

Admittedly,
Postcards'
demise was a little pinch to the heart, but this self-released lathe-cut single celebrates their rebirth into contemporary grounds of retro minimalism. The A side's About It sets the tone, spotlighting the cold and bare thumping stabs of sequenced bass synth. The flipside picks up the pace, yet the vocals and atmosphere remain as cool and removed as can be.
Ditching the rock band realm
, Chevalier Avant Garde expectantly manage to distill their past displays of
mysterious, expressive – and excellent – songwriting
into the squarer shape of YouTube-revived European minimal synth singles of the '80s.
De la réincarnation robotique de Gabriel Jasmin:
Avouons-le, la dissolution de Postcards m'a fait un petit pincement au cœur, mais ce single autoproduit célèbre leur réincarnation à même le rétro-minimalisme contemporain. Sur la face A, About It nous donne l'heure juste, mettant en vedette une simple séquence de bass rebondissante, synthétique et froide. Si l'endos est plus dynamique, la voix et l'atmosphère demeure néanmoins aussi cool et désinvolte que possible. Délaissant la formation rock, Chevalier Avant Garde parvient adroitement à dissoudre tout leur bagage mystérieux et expressif dans la forme plus rigide des singles oubliés de minimal synth européen qui prolifèrent aujourd'hui sur Youtube.
[audio:http://weirdcanada.com/wp-content/uploads/2011/05/About-It.mp3|titles=Chevalier Avant Garde – About It] Chevalier Avant Garde – About It
[audio:http://weirdcanada.com/wp-content/uploads/2011/05/Haircut.mp3|titles=Chevalier Avant Garde – Haircut] Chevalier Avant Garde – Haircut
---