Tag: chairs
Chairs
The Droning of an Insect Wing
(Self Released)
Montréal, QC
From the indestructible machine of Christina Bell:
Ian Jarvis dives into the depths of the soul, reemerging with complex contradictions. The Droning of an Insect Wing fuses industrial noise-scapes with folk-rock strums and harmonic vocals, simultaneously polished and rugged, pop and drone, hopeful and lonely. Jarvis displays playfulness on "Three in the Morning/Breath Underwater" with his dreamlike reverbed voice echoing from a cool, calm lake. Following the original CD self-release, Kinnta's cassette re-dub will hopefully find its way to fresh ears.
De la machine indestructible de Christina Bell:
(Traduit par les nouvelles oreilles de Vincent Rondeau)
Ian Jarvis plonge dans les profondeurs de l'âme et en ressort chargé de contradictions complexes. The Droning of an Insect Wing est un mélange d'atmosphères industrielles, de guitares folk-rock et d'harmonies vocales, à la fois poli et rude, ambiant et pop, solitaire et optimiste. Jarvis se montre ludique sur « Three in the Morning/Breath Underwater », sa voix onirique se répercutant doucement aux rives fraîches d'un lac calme. Après la sortie originale sur CD, souhaitons que cette réédition cassette sur l'étiquette Kinnta tombe dans de nouvelles oreilles.
Chairs – Indestructible Machine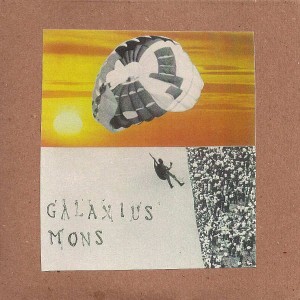 Galaxius Mons
Galaxius Mons
(Self Released)
Montreal, QC
From the galactic quest of Alt Altman and Andrew Pulsifer:
Montreal's Galaxius Mons takes two already-excellent solo artists and merges them into something incredible. Matt LeGroulx (EXPWY) and Ian Jarvis (Chairs) perform in each other's projects' live incarnations, so it's no surprise that they've teamed up as a duo. Chairs dabbles a bit in electronic pop but EXPWY is strictly bossa, so it was surprising to hear they'd made a straight-up psychedelic synth-pop record. Happily, they immediately prove themselves to be masters of the form. Recording the entire thing using a couple of Moog Rogues, the two have created a landscape we very much want to explore, and perhaps permanently inhabit. The sounds they discover on this album could be considered the Platonic Ideal of synthesis, with the two skilled songwriters penning memorable singsong melodies over hypnotic drum loops. This meeting absolutely constitutes a supergroup in our books.
Alt Altman and Andrew Pulsifer are the masterminds behind Silent Shout, a Toronto-based website and live music series dedicated to sounds that go bump in the night.
De la quête intergalactique de Alt Altman et Andrew Pulsifer:
(Traduit par l'extraterrestre de compagnie de Nicolas Coutlée)
Galaxius Mons, c'est deux excellents artistes solos de Montréal fusionnés en une seule entité incroyable. Matt LeGroulx (EXPWY) et Ian Jarvis (Chairs) partageaient déjà la scène lors de leurs prestations live respectives, ce n'est donc pas une surprise de les voir ici s'unir. Alors que Chairs s'aventure un peu en eaux électro-pop, EXPWY ne fait que de la bossa; c'était donc surprenant d'apprendre qu'ils en étaient venus à produire ensemble un pur album de pop synthétique et psychédélique. Heureusement, ils se sont tout de suite avérés des maîtres du genre. À partir de deux claviers Moog Rogue se dessine un paysage qui appelle à l'exploration, peut-être même à la colonisation permanente. Les sons qu'ils débusquent sur cet album pourraient être considérés comme l'idéal platonicien de la synthèse; deux compositeurs de talent accouchant de mélodies mémorables sur fond de boucles de batterie hypnotique. Dans notre livre à nous, on a ni plus ni moins affaire à un supergroupe.
Alt Altman et Andrew Pulsifier sont les têtes pensantes derrière Silent Shout, un site web et une série de soirées musicales dédiés aux sons qui frayent dans la nuit.
Galaxius Mons – Aquarium Domes
---