Tag: cdr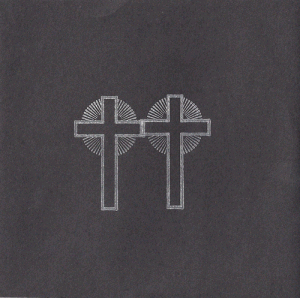 Fraser/Serada
Fraser/Serada
Calgary, AB

Here's a strange one. Apparently a vocal duo from Cowtown, Fraser/Serada somehow recall the tubular groaning of the galactic refrigerator, prime
Stars of the Lid
seepage with some
Ligeti-fucked
choral thrust peering through the dusk. Three untitled tracks in about 28 minutes, the source material being the throat exhales of Josh Fraser and Aaron Serada. The second piece gets my vote for scariest atmosphere I've heard in quite some time. When you're trapped in an oscillating coffin, no one can hear you scream. The fact that this is created using only the human voice (plus FX) is truly nutzoid! The third track's crypt rhythms and
blackened intonations
scared the living shit out of my cats and caused me to lock the door. Essential listening and some of the most truly OUT THERE damage in recent times. Get it all costs!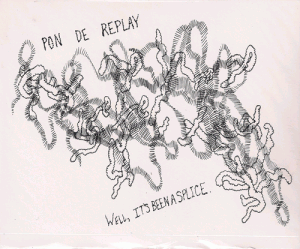 Pon de Replay
Well, It's Been a Splice
(Inyrdisk)
Montreal, QC
From the vanilla splice of James Lindsay:
In the past, sampling pop music has easily come off as irony for irony's sake or overly obvious to the point of being obnoxious. But in the loving hands of Pon De Replay, the opening riff from "Jeremy" and the horns from "Creep" are tenderly cradled with a genuine respect. At no time does he ever fling it in your face as if screaming, "Remember this? Well, how do you like it now that I've had my way with it?" Rather, it's like a friend playing a song for you that you've heard a hundred times, but only now, with them, do you really hear it. And like a good friend, he chooses the high road of sincerity over irony, elegantly weaving source material that could have been pulled from Value Village CDs with the reoccurring sounds of a flock of seagulls (a real flock of seagulls, not the band in lowercase), a splashy resurfacing beat, tape effects, and rapturous ranting. The effect is not unlike lying outside in August and staring at the sky, if the sky was made from our childhood memories of MuchMusic. Inyrdisk on a roll.
De la jointure à la vanille de James Lindsay: (Traduit par Maya Keshav)
Avant, l'échantillonnage de pop donne facilement l'impression d'ironie dans l'intérêt d'ironie, ou d'être excessivement évident jusqu'à être odieux. Mais dans les mains tendres de Pon De replay, le premier riff de "Jeremy" et les cuivres de "Creep" sont bercés tendrement avec le respect véritable. Il ne le lance jamais dans ta face comme s'il criait « Tu te souviens de ça? Bon, comment tu l'aimes maintenant que je l'ai utilisé? » Plutôt, c'est comme un ami qui joue une chanson pour toi que t'as entendu mille fois, mais c'est seulement maintenant, avec lui, que tu l'entends vraiment. Et comme un ami proche, il est en bonne voie, en choisissant la sincérité au lieu de l'ironie, en tissant élégamment la matière originale qui a l'air d'être tirée des CDs du village des valeurs avec les sons récurrents d'une volée de mouettes (une vraie volée de mouettes, pas le groupe qui s'appelle Seagulls), un rythme clinquant répétitif, les effets de cassette, et les élucubrations euphoriques. Le résultat ressemble coucher dehors en août et regarder le ciel, si le ciel était fait de nos souvenirs d'enfance de MuchMusic. Inyrdisk a le vent en poupe.
Pon de Replay – #3 (version 2)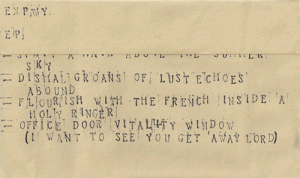 EXPWY
EP
(Self Released)
Montreal, QC
From the holy ringer of Aaron Levin:
EXPWY's latest offering is a letter-size explosion of bent brazo-pop. With its genesis rooted in the hooked-out "I Love Montreal", EP swerves with euphoric candor and popular relief; melancholic grooves carving synaptic routes for the lounge-laced summery snag while drum machine march ever forward. The fuzz guitars have been replaced with Brazilian nylon genius, but the impact is all the same: pure, insatiable pop addiction.
Du carillonneur sacré d'Aaron Levin: (Traduit par Maya Keshav)
La dernière création d'EXPWY est une explosion de taille d'un lettre de brazo-pop tordue. Avec les racines de sa naissance dans l'"I Love Montreal" débordant d'accroches, EP fait un écart avec la franchise euphorique et le soulagement populaire; la mélancolie balançante sculpte les chemins synaptiques pour l'accro estival flemmard pendant que les boîtes à rythme continuent toujours d'avancer. Les guitares fuzz sont remplacées avec le génie brazilien en nylon, mais le résultat reste le même: l'addiction pop pure et insatiable.
EXPWY – Porthole marriage dance (I love Montreal)
EXPW – Dismal groans of lust echoes abound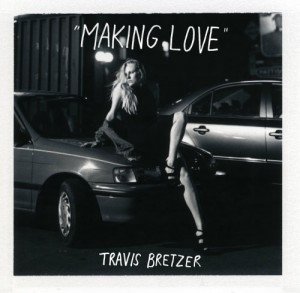 Travis Bretzer
Making Love
Edmonton, AB
From the sacral arabesque of David Ferris:
Like crushed gouache between layers of paper, or a much-thumbed issue of Owl Magazine, Travis Bretzer offers excursions into hazy recollections of past events which may or may not have happened. In fact: after listening to Making Love, you may find that your memories have been displaced with charlatan anecdotes of your childhood, and you may even find yourself pursued by the insatiable furies of nostalgia though a landscape of counterfeit recollections. If unsure if this AOR mind-fucking process has occured, simply try to recall the following events…
1) Driving to the family picnic, you and your sister fight viciously in the backseat. Your parents ignore you, too engrossed in signing along with "Billy and I," not wanting to ruin the moment.
2) You embarrassingly see yourself in an old home movie, nine years old in a neon windbreaker, playing air-guitar and lip sinking to "Hurts So Bad."
3) One of your oldest memories: after being tucked into bed at 9:30, your parent's friends come over. For hours, through the walls, you can just barely make out the peals of laughter, a faint smell of strange smoke, and the muffled thumping of "Death Rock."
De l'arabesque sacrée de David Ferris: (Traduit par Maya Keshav)
Comme la gouache coincée entre deux feuilles de papier, ou un numéro tellement usé d'Owl Magazine, Travis Bretzer offre les excursions dans les souvenirs flous des événements du passé qui sont peut-être réels. En fait: après avoir écouté Making Love, tu peux trouver que tes souvenirs sont remplacés avec les anecdotes charlatanes de ton enfance, et tu peux même te trouver poursuivi par les furies insatiables de nostalgie à travers un paysage de souvenirs contrefaits. Si t'es pas sûre si ce processus bouleversant d'AOR s'est passé, essaie simplement de se souvenir des événements en ci-dessus: 1) En voyageant au pique-nique de famille, tu te disputes méchamment avec ta sœur. Tes parents vous ignorent, trop captivé par chanter en même temps avec "Billy and I," et ils n'ont pas envie de ruiner le moment. 2) Il est embarrassant mais tu te souviens être dans un vieux film amateur à l'âge de neuf ans dans un anorak fluo, jouer la guitare invisible et chanter en play-back "Hurts So Bad." 3) Un de tes plus vieux souvenirs: après avoir été bordé dans ton lit à 21h30, les amis de tes parents passent chez toi. Pendant des heures, à travers les murs, tu peux entendre faiblement les éclats de rire, l'odeur léger de fumée étrange, et le bruit sourd de "Death Rock."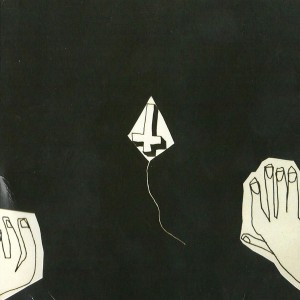 Vulgar, you!
Fais-moi cuire, fais-moi jouir
(Self Released)
Québec, QC

Un dance party angoissant, mais un party quand même : la voix d'un la
Fred Schneider
fantomatique mène des guitares spastiques, des volutes synth-chédéliques et un tapochage de Neandertal à travers une dense
ambiance de sélection naturelle
. Des tounes qui crient vers les cavernes, préhistoriques et brutales, rendues intrigantes par des mélodies vivides et tordues qui rampent vers toi comme des peurs que tu t'inventes : je veux dire, tu vas pas avoir peur d'un CD, t'es plus fort que ça, mais ces gars-là PORTENT DES MASQUES.
From the vulgar cooking skills of Benoit Poirier:
A creepy dance party, but a party nonetheless – ghoulish Fred Schneider vocals lead the spastic guitars, synth-chedelic swirls and Neanderthal stomps of this groovy post-punker through its thick survival-of-the-fittest mood. These songs are screaming towards caverns in a prehistorically brutal fashion, made intriguing by the vividly twisted melodies that crawl up to you like made-up fears: I mean, you won't be afraid of a piece of digitalia, you're tougher than this, but these guys WEAR MASKS.
[audio:http://weirdcanada.com/wp-content/uploads/2012/05/03-Muy-Tornado.mp3|titles=Vulgar, you – Muy Tornado] Vulgar, you! – Muy Tornado
[audio:http://weirdcanada.com/wp-content/uploads/2012/05/02-Crystal-Fuck.mp3|titles=Vulgar, you – Crystal Fuck] Vulgar, you! – Crystal Fuck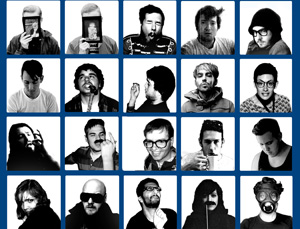 Various Artists
HDRSDCDR
(Self Released)
London, ON
From the chien chaud of Palm Chasm:
From the bubblegum pink loins of London comes this surprising little mix of some of Canada's funniest, danciest, darkest and weirdest tracks. It begins gruff 'n' ruff with the Marlborough mumblings of Rip Tricker, living up to his name with a poetically curt account of last Christmas morning, waking up drunk in the bathroom with flashes of "last night" fleeting in and out of his damaged recollections. Sean Savage lubes the deal with his whispered pining and subtle-beyond-any-understanding "Chin Chin" to push you deeper into the wash of Water St. Projects' uplifting cry for "HELP!" The order takes a turn for the curse with Eros Myth's album/val-kill "Chessed Quest", a gamer's anthem. Just as you reach for your VHS copy of The Wizard (complete with Power Glove, "it's so bad"), a burlap bag is thrown over your head and you are dragged though the cybersphere hearing blips of darkness on the rise when you find yourself on Man Made Hill's "Sports Craft." D-Sauce and Electric Stan make old seem very, very new with a borrowed bass line and recognizable riff that will make you want to join the Navy and lube your man up with buttah. The list honestly goes on and I could pun myself stupid but some WC favourites find themselves right at home amidst Londoners like Itsagamble, Flora, The Indigenous Nudes, Holden Main, TOPPS, New Zebra Kid, Ian Doig-Phaneuf, I Smell Blood, The Shanty Tramps, Thesis Sahib, Riderless, S.M., You'll Never Get To Heaven and The Coconuts. This mix was put together to showcase our Forest City's movement away from Forced Shitty. A new dawn is rising in London with tastes for almost any pallet. Enjoy all 31 tracks individually (even though it was created really as one play list tenderly groomed by Bot Dog of Hot Dog) and give yourself a reason to come here next time you're looking for a *wink* good time.
Du hot dog de Palm Chasm: (Traduit par le chat froid de Maya Keshav)
Des reins roses chewing-gum de London on trouve ce petit mélange surprenant des morceaux les plus drôles, dancy, noirs et bizarres. Il commence rauque-et-rêche avec les marmonnements Marlborough de Rip Tricker, qui est à la hauteur de nos attentes avec un récit poétiquement bref du matin de Noël de l'année passée, quand il s'est reveillé bourré aux toilettes avec les éclats de "hier soir" entrant et sortant de ses souvenirs endommagés. Sean Savage lubrifie l'accord avec ses lamentations chuchotées et son "Chin Chin" si-subtil-qu'il-dépasse-toute-compréhension pour vous pousser plus profondément dans le délavage du cri optimiste de "AU SECOURS!" de Water St. Projects. L'ordre prend un mauvais tournant avec l'album/ val-kill d'Eros Myth, "Chessed Quest", un hymne pour les amateurs de jeux vidéo. Juste quand tu attrapes ta copie VHS de The Wizard (même avec Power Glove, "c'est si écourant"), un sac en toile de jute est jeté sur ta tête et t'es traîné à travers le cyberespace en entendrant les bips de noirceur à la hausse quand tu te trouve soudainement sur le "Sports Craft" de Man Made Hill. D-Sauce et Electric Stan donne l'apparence tellement nouveau à ce qui est vieux avec une mélodie empruntée de basse et un riff reconnaissable qui te donnera l'envie de rejoindre la marine et de lubrifier ton homme avec la beurre. Franchement la liste continue et continue et je peux faire les jeux de mots jusqu'à ce que je devienne bête mais quelques préférés de WC se trouvent parfaitement chez eux parmi les tels Londoniens qu'Itsagamble, Flora, The Indigenous Nudes, Holden Main, TOPPS, New Zebra Kid, Ian Doig-Phaneuf, I Smell Blood, The Shanty Tramps, Thesis Sahib, Riderless, S.M., You'll Never Get To Heaven et The Coconuts. Ce mélange était rassemblé pour mettre en vedette la séparation de notre ville boisé depuis la ville pourrie. Une nouvelle aube apparaît à London avec les goûts pour n'importe quel palais. Savourez tous les 31 morceaux individuellement (même si c'était vraiment créé en tant qu'un seul playlist soigneusement toilettée par Bot Dog de Hot Dog), et donne-toi une raison pour venir ici la prochain fois que tu cherches un *clin d'œil* bon moment.
The Highway Lovers – Highway Lover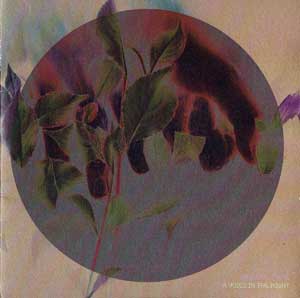 Brusque Twins
A Voice In The Night
Montréal, QC
From the boreal disco of Jesse Locke:
Undulating acid bass thaws the permafrost of Brusque Twins' latest EP. The icy hot duo last washed up on these shores with the standout banger of Visage Musique's Vol. 1 comp, cropping up again here with four new hyperborean ballads. The operatic vocals of Hollie Hensman are the tell-tale heartbeat of this closet goth club, thumping away to the rhythm of the night.
Du disco boréal de Jesse Locke: (Traduit par les ballades hyperboréennes de Maya Keshav)
La basse acide ondoyante fait fondre le permafrost du dernier EP de Brusque Twins. La dernière fois que ce duo glacial-chaud était rejeté sur ces rivages, c'était avec le succès remarquable Vol. 1 comp de Visage Musique; il apparaît ici encore avec quatre nouvelles ballades hyperboréennes. Le chant lyrique de Hollie Hensman est la pulsation témoine de cette boîte secrètement goth, qui balançe au rythme de la nuit.
Brusque Twins – Speaking In Colour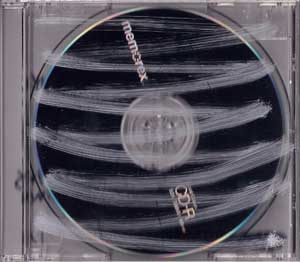 Crabe
(Self Released)
Montreal, QC
From the crustaceous courtesies of Aaron Levin:
Crabe have unleashed a totally blasted and inexplicable artifact from the Montreal underground. Forging undefined links between Archimedean power pop and wasted Ramones covers, their unreadably-titled CDR gives the briefest glimpse into basemental prog conjured by the dialectically adventurous. Quintessentially bizarre. We're not even sure if this is grippable.
Des courtoisies crustacées d'Aaron Levin: (Traduit par la bizarrerie de Maya Keshav)
Crabe ont déchaîné un artéfact complètement explosé et inexplicable de l'avant-garde montréalaise. En façonnant les liens indéfinies entre la power pop Archimedéenne et les reprises camées de Ramones, leur CDR avec un titre illisible donne le plus petit aperçu dans le prog sous-sol que les dialectiquement aventureux font apparaître. C'est essentiellement bizarre. On n'est pas même certain qu'il soit possible de l'acheter.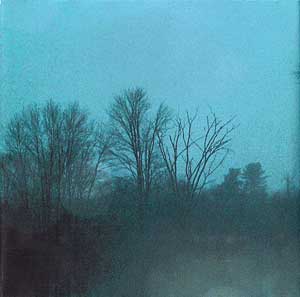 Ollie North
Lindenfels EP
(Self Released)
Montreal, QC
From the straynge mellows of Aaron Levin:
Heady, meditative northern-folk excursions bind Ollie North's sophomore EP to a deeper, holographic mood. Strange visions extol the steel-picked perturbations as distorted vocals quiver between grooves of acoustic mellow. A strange and welcomed occurrence within the haloed streams of the folk ritual.
De la détente étrange d'Aaron Levin: (Traduit par Maya Keshav)
Les excursions vertigineuses et méditatives de folk du nord attachent le deuxième EP d'Ollie North à une humeur plus profonde et plus holographique. Les visions bizarres vantent les perturbations grattées en acier pendant que le chant déformé frémit entre les ondes de détente acoustique. Un événement bizarre et bienvenue dans les flots auréolés du rituel folk.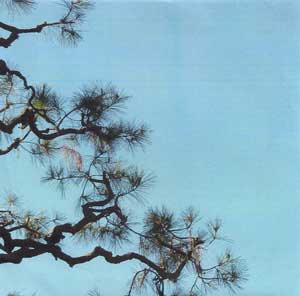 Burro
Burnt Monument
Calgary, AB
From the teenage emergencies of Aaron Levin:
The scorched ferocity barely tethers Burnt Monument's searing atonal bliss to our malignant reality. Revelling within the distorted chaos of a guitar-driven daily dance, Burro decimate every squalid soundscape in their pursuit of tautolic wretchery. It's the ultimate display of damaged purity; a cacophony of annihilation; a treatise on the fundamental nature of obliteration. Ultimate Shred™.
Des urgences d'adolescent d'Aaron Levin: (Traduit par Odile Leclerc)
La férocité brûlée retient à peine le bonheur intense atonal de Burnt Monument de notre réalité maligne. Se délectant dans le chaos tordu d'une danse quotidienne menée par une guitare, Burro décime chaque paysage sonore sordide dans leur poursuite d'une misérabilité tautolique. C'est l'ultime démonstration de pureté endommagée; une cacophonie d'annihilation; un traité sur la nature fondamentale de l'oblitération. Déchirement Ultime™.
---