Tag: catherine gaucher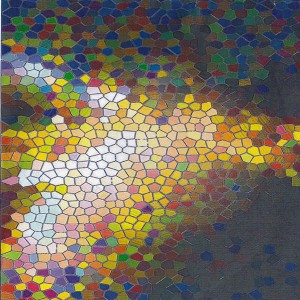 Carl Weathers
Tern
(Self Released)
Montréal, QC
From the theatre of the absurd of Josh Silver:
The most atmospheric experiences demand a counterpoint of unearthly disembodiment, a rhythm breaking the monotony of pure ambience. Montreal via Calgary's Carl Weathers blend pointed repetition, cutting through their constructed aura of wide reverb. Tern is an exercise in musical closure, where sharp and soft instrumentation intertwine and coexist. Imagine a cup of coffee on a cold day, or watching the world go by from your window; this is the music of Carl Weathers.
Du théâtre de l'absurde de Josh Silver:
(Traduit de la tasse de café de Catherine Gaucher)
Les expériences les plus atmosphériques exigent un contrepoint de désincarnation surnaturelle, un rythme pour briser la monotonie de l'ambiance pure. Les Montréalais originaires de Calgary Carl Weathers créent un mélange de répétitions pointues qui coupent à travers leur aura construit de larges réverbérations. Tern est un exercice d'acceptation musicale où sonorités tranchantes et souples s'entrelacent et coexistent. Imaginez boire une tasse de café lors d'une journée froide, ou regarder le monde passer à travers votre fenêtre : telle est la musique de Carl Weathers.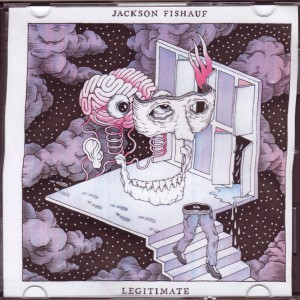 Jackson Fishauf
Legitimate
(Self Released)
Toronto, ON
From the time trials of Gabe Girard:
Legitimate was tracked at the ever-fertile Dream House Studios in the heart of Toronto's Kensington Market. A sobering foray into greasy, blues-infused garage rock, Jackson Fishauf et al are a throwback to an era when these styles playfully occupied the same grounds. Fishauf surrounds himself with members of Cousin, executing intricate arrangements with a ticket taker's careless resolve. Three guitarists laying down tracks on the same recording can sometimes be trying, but this trifecta of strummers uses space — playing around instead of on top of each other — to create a rich underpinning to the evocative and heart-wrenching lyricism. A celebration of all relations macabre, there's something here for every tryst gone awry.
De la course contre la montre de Gabe Girard:
(Traduit par le compte à rebours de Catherine Gaucher)
Legitimate a été enregistré au toujours très fertile Dream House Studios, situé au cœur du Kensington Market de Toronto. Effectuant une incursion dans un rock garage crasseux infusé de blues, Jackson Fishauf et compagnie se replongent dans une époque où ces styles occupaient un même terrain. Fishauf s'est entouré des membres de Cousin, afin d'exécuter des arrangements complexes avec la décision irréfléchie d'un contrôleur de billets. Trois guitaristes jouant sur un même enregistrement, ça peut être éprouvant, mais ce trio saisit cette opportunité pour utiliser l'espace – pour jouer autour plutôt plutôt que les uns par-dessus les autres – et crée ainsi une base riche pour laisser place à un lyrisme évocateur et crève-cœur. Avec cette célébration de relations macabres, il y a un petit quelque chose ici pour chaque rendez-vous qui a mal tourné.

Jackson Fishauf – Ready to Spark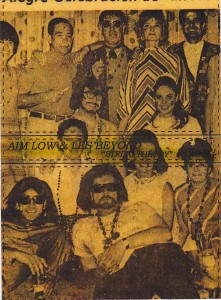 Aim Low & Les Beyond
String Theory
Montréal, QC
From the tiny, tiny particles of Johnnie Regalado:
This collaboration is an innerspace alarm clock that will wake the tiniest specks of your being. Drone-stars team up with a precision picker to create the soundtrack to an eternity in a jettisonned escape pod. These orchestral bellows will vibrate your brain, making you explicitly aware of the existence of your eardrums.
Des minuscules, infimes particules de Johnnie Regalado:
(Traduit par l'orbite de Catherine Gaucher)
Cette collaboration est telle une alarme programmée pour réveiller les particules les plus infimes de votre espace intérieur. Ces vedettes du drone font équipe avec un choix précis afin de créer la bande sonore d'une éternité passée à la dérive, dans un nacelle de sauvetage. Ces souffles orchestraux feront vibrer votre cerveau, vous mettant explicitement au courant de l'existence de vos tympans.

Aim Low & Les Beyond – String Theory (excerpt)

Aim Low & Les Beyond – Guitar Trio (Rhys Chatham cover) (excerpt)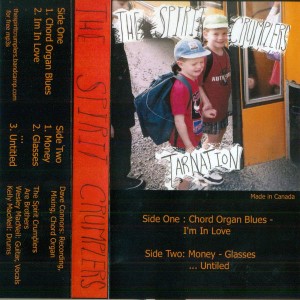 The Spirit Crumplers
Tarnation
(Self Released)
Halifax, NS
From the avenged sevenfolds of Farah Barakat:
The Spirit Crumplers define themselves as two vegan brothers playing garage-pop. And that they are, yet there's much more within their premiere release, Tarnation. There's a lot of spirit within their songs, and a strong sense that the brothers MacNeil poured their hearts and souls into this project. They even include their own zine with each cassette.
A certain sense of humbleness comes from the band's choice to open with a cover of the Daniel Johnston song ''Chord Organ Blues''. The MacNeils offer a beautiful rendition that does the original justice while simultaneously setting the tone for their own lo-fi sound. A comparison can be drawn between the higher pitched vocals of Johnston and singer-guitarist Wesley MacNeil (plus a little bit of John K. Samson of The Weakerthans). The Spirit Crumplers stick to an organic mix of guitar, drums and vocals, giving them a lot of room to toy with their sonic style. Tarnation tugs at your heartstrings, if not from the adorable lyrics, then maybe from the teeny guitar solo at the end of ''Glasses''.
De la revanche de Farah Barakat:
(Traduit par la rédemption de Catherine Gaucher)
The Spirit Crumplers se définissent comme deux frères végétaliens qui jouent du garage pop. Et ils le sont. Toutefois, il y a davantage de contenu dans Tarnation, leur première parution. Il y a beaucoup d'esprit au sein de leurs chansons et il nous reste un fort sentiment que les frères MacNeil ont versé corps et âme dans ce projet. Ils accompagnent même chaque cassette de leur propre zine.
On sent une certaine humilité dans leur choix d'une reprise de « Chord Organ Blues » de Daniel Johnston comme pièce d'ouverture. Les MacNeil offrent une interprétation magnifique qui rend justice à la version originale, tout en gardant le ton de leur son lo-fi. Une comparaison peut être faite entre le chant aigu de Johnston et celui du chanteur-guitariste Wesley MacNeil (avec aussi un peu de John K. Samson de The Weakerthans). The Spirit Crumplers construisent un mélange organique de guitare, batterie et chant, laissant beaucoup d'espace pour explorer leur style sonique. Tarnation atteindra les cordes sensibles de votre coeur. Si ce n'est pas grâce aux adorables paroles, alors peut-être que ce sera grâce au petit solo de guitare clôturant « Glasses ».

The Spirit Crumplers – Glasses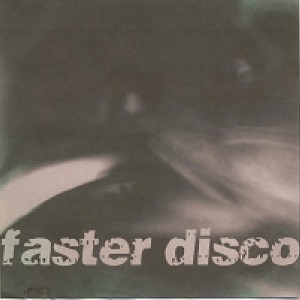 Faster Disco
Faster Disco
(Self Released)
Calgary, AB
From the funhouse mirror of Cassilou Landra:
Welcome to the world of Mark Fleischhaker. Existing somewhere between Yamatsuka Eye's work with John Zorn's Naked City, Mike Patton's freak-out scat, and the surrealist comedy skits of Sun City Girls, the spazz-beat of this duo with drummer Joe Serdarevic is just one of the weapons in the man's arsenal. A fixture in Regina and Calgary's music scenes for nearly a quarter century, Mark and his compatriots deliver abrasive catharsis and primal pleasure like acid rain during an equinox. His YouTube channel is a library, archiving every studio creation, live recording, and personal influence that has manifested in experiments and collaborations. These include solo collage noise, Residents-esque readings of beloved children's books, fiery experimental rock with Calgary lynchpins Chris Dadge (Lab Coast, Bug Incision) and Scott Munro (Viet Cong), twisted ambient soundscapes that recall the KLF at their most chill, and '90s alternative rock that, oddly enough, was featured twice in a 1997 ABC TV movie. Enter the funhouse.
De par le miroir du palais du rire de Cassilou Landra:
(Traduit de l'autre côté du miroir par Catherine Gaucher)
Bienvenue dans l'univers de Mark Fleischhaker. Existant quelque part entre le travail de Yamatsuka Eye pour le groupe Naked City de John Zorn, le déboussolant scat de Mike Patton et les sketches comiques surréalistes de Sun City Girls, la cadence spasmodique composée en duo avec le batteur Joe Serdarevic n'est qu'une des multiples armes de l'arsenal de cet homme. Un incontournable des scènes musicales de Regina et de Calgary depuis près d'un quart de siècle, Mark et ses compatriotes produisent ensemble une catharsis abrasive et un plaisir primaire, telle une pluie acide tombant durant un équinoxe. Sa page YouTube est une bibliothèque archivant chaque création en studio, chaque enregistrement en direct ainsi que ses influences personnelles se manifestant dans ses explorations et collaborations. Ceux-ci incluent de bruyants collages en solo, des lectures Residents-esques de livres pour enfants, du rock expérimental fougueux avec les piliers musicaux calgariens Chris Dadge (Lab Coast, Bug Incision) et Scott Munro (Viet Cong), de paysages sonores ambiants tordus qui rappellent KLF à leur heure plus posée et du rock alternatif des années 90 qui, curieusement, a figuré deux fois dans un film d'ABC TV de 1997. Veuillez entrer dans le palais du rire.

Faster Disco – 56 Songs in in 17 Minutes (Excerpt 1)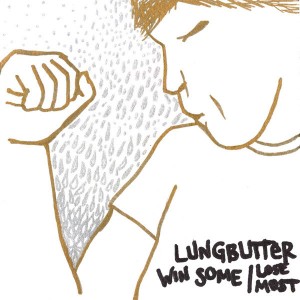 Lungbutter
Win Some / Lose Most
(Self Released)
Montréal, QC
From the back of the throat of Johnnie Regalado:
Two Femmaggots and the gatekeeper of CKUT's music library offer up a collection of tunes that you can try to swallow, but will inevitably get stuck in the back of your throat. These tracks effectively smash small talk into punk rock: grandma's health, a good friend's career path, the shitty winter. Lungbutter's twee-metal strikes with the ruthless precision of whacking bugs with rolled up newspaper.
Du fond de la gorge de Johnnie Regalado:
(Traduit de la cage thoracique de Catherine Gaucher)
Deux des Femmaggots et le gardien de la bibliothèque musicale de CKUT nous livrent une collection de chansons, lesquelles vous pourrez tenter d'avaler, mais qui se coinceront inévitablement au fond de votre gorge. Ces chansons brisent efficacement le banal, le transformant en punk rock : la santé de grand-maman, la carrière d'un bon ami, l'hiver de merde. Le métal twee de Lungbutter frappe avec la précision impitoyable d'un journal enroulé servant de tapette à mouche.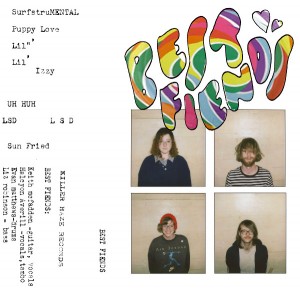 Best Fiends
Best Fiends
Halifax, NS
From the Micron 05 of Josh Silver:
Lo-fi Haligonians Best Fiends are straight from the garage, one located squarely on a beach. The masterful blending of surf riffs with rugged instrumentation creates a distinctively East Coast sound, embodying the laid back but resilient Maritime attitude. This six-song cassette carries an energy that is second to none, leaving the listener grooving in an ecstatic frenzy.
Du Micron 05 de Josh Silver:
(Traduit par la boîte de crayons feutres de Catherine Gaucher)
Les Haligoniens lo-fi Best Fiends sortent tout droit du garage, un garage situé carrément sur une plage. Le mélange magistral de riffs surf combinés à une instrumentation robuste créent un son distinctement Côte Est incarnant l'attitude relax mais résistante des Maritimes. Cette cassette de six chansons transporte une énergie surpassant tout et laissant l'auditeur plongé dans une frénésie extatique.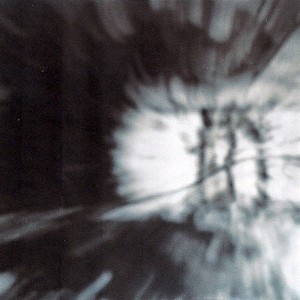 Mold Grows on Baby
Mold Grows on Baby
Vancouver, BC
From the stifling heat of Cameron Noble:
Mold Grows on Baby elicits several unpleasant images in my head. As a band name, it's the kind of unfriendly warning that filters out nonchalant listeners. Listening to the first second of opener "Red", you'll know exactly what I mean. Other song titles pull from colours but also reach into evocative words like "Wet", "Fracture" or "Buzz". The duo of Matthew Read and John Brennan avoid structure with searing improvised saxophone and drum play. Imagine an untamed Colin Stetson / Zach Hill combo that can't get along but know exactly what the other member is doing. Both seem to be playing cathartic jams by themselves. It's the kind of music that might be best experienced in a stifling hot jazz cafe with a couple of beers in you.
De la chaleur étouffante de Cameron Noble:
(Traduit par la canicule embraisante de Catherine Gaucher)
Mold Grows on Baby provoque plusieurs images désagréables dans mon esprit. Comme nom de groupe, on peut dire que c'est le genre d'avertissement inamical qui filtre les auditeurs nonchalants. En écoutant la première seconde de « Red », la première pièce, vous saurez exactement de quoi je parle. D'autres titres de chansons évoquent des noms de couleurs, mais aussi un vocabulaire évocateur comme « Wet », « Fracture » ou « Buzz ». Ce duo formé de Matthew Read et de John Brennan évite les structures figées grâce à de perçants passages improvisés de saxophone et de drum. Imaginez un sauvage combo Colin Stetson/Zach Hill qui n'arrive pas à s'entendre, mais qui sait exactement ce que l'autre membre fait. Chacun semble jouer des jams cathartiques. C'est le genre de musique qu'il vaut mieux expérimenter dans un café jazz à la chaleur étouffante après avoir bu quelques bières.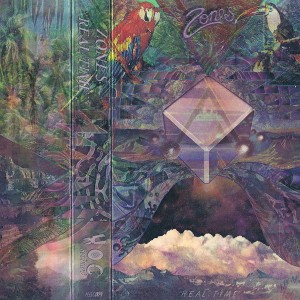 Zones
Real Time
Toronto, ON
From the temporal parts of Robin Jenkins:
In a musical landscape of genres built on pastiche and nostalgia, Derek McKeon a.k.a. Zones has carved out something unique. Images of a past not quite remembered and familiar feelings that cannot be pinpointed pervade the six songs of Real Time. Opener "Open Sky" sways with filtered voices, wavering into inaudibility as the guitar washes in and out. There is a certain feeling of memory evoked, much like looking at old travel photos; a familiar mood without a particular location. As the album progresses, this déjà vu dissipates and we see Zones' krautrock and even prog sensibilities in a clearer light. With the driving bassline and meandering guitars of "Not Chet", Zones draws up altogether alien forms. An assemblage of elements combine, detach and readjust as we continue to drive forward through unrecognizable terrain.
Traduit par l'irréversibilité de Robin Jenkins:
(De la temporalité de Catherine Gaucher)
Dans un paysage musical de genres basé sur le pastiche et sur la nostalgie, Derek McKeon alias Zones a construit quelque chose d'unique. Les six chansons de Real Time sont envahies par des images d'un passé flou et des sentiments familiers indéfinissables. En ouverture, « Open Sky » valse avec des voix filtrées et chancelle vers l'inaudible grâce au va-et-vient des guitares. Un certain sentiment de mémoire est évoqué, un peu comme quand on regarde des vieilles photos de voyage; un sentiment familier sans lieu particulièrement défini. À mesure que progresse l'album, cette impression de déjà-vu se dissipe et les sensibilités krautrock, voire progressives de Zones se dévoilent sous un jour plus clair. Grâce aux lignes de basses fermes et aux guitares sinueuses de « Not Chet », Zones élabore des formes hors de ce monde. Un assemblage d'éléments se combine, se détache et se modifie alors que nous continuons à avancer à travers un terrain méconnaissable.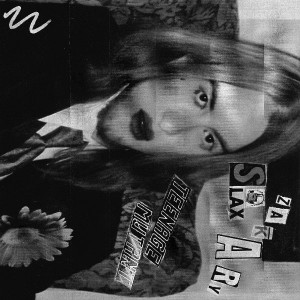 Zakary Slax
Teenage Mutant
Montréal, QC
From the Gemeinschaft of Josh Silver:
Despite the claims that rock and roll is dead, it remains alive and well in the multivalent work of Zakary Slax. This unhinged one-man multi-instrumentalist reinvigorates garage moves with a contemporary and relevant quality; combining cross-genre techniques from metal guitar gallops to funk-style drumming. The bass-heavy mosaic of musical styles proves that rock's still charged with soul!
De la Gemeinschaft de Josh Silver:
(Traduit par la dichotomie de Catherine Gaucher)
Malgré les détracteurs qui affirment que le rock and roll est mort, son existence perdure et il est bien vivant dans le travail polyvalent de Zakary Slax. Ce multi-instrumentiste dément revigore le genre garage en y apportant une sensibilité contemporaine et pertinente. Il y combine des techniques d'entrelacements de genres, des galops de guitares métal aux percussions funk. Cette mosaïque de styles musicaux à la basse lourde prouve que le rock est toujours rempli d'âme!
Zakary Slax – Get Yr Shit Together
---