Tag: catherine debard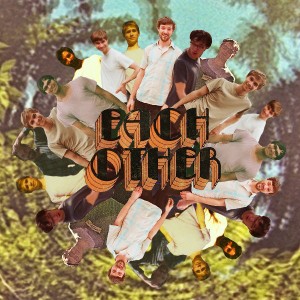 Each Other
Being Elastic
Montréal, QC
From the exploding elastic inevitable of Kevin Stebner:
These boys have been pumping out the jams for years with near unrivaled pedigree, and are now off on a tangent of Beatlesisms warring with Womenisms. Monotone harmonies reverberate atop plucky guitar lines and cracked cymbal, tambo-heavy percussion. Each Other hold sway over the mountains of kids mining the past. You can take the boys outta Halifax, but you can't stop them from pop exploding.
De l'inévitable explosion élastique de Kevin Stebner:
(Traduit par l'onomatopée percussive de Catherine Debard)
Durant des années, ces garçons ont jammé leur son avec un pedigree presque sans rival. Aujourd'hui, ils entament une bataille sonore entre Beatlesisme et Womenisme. Des harmonies monotones réverbèrent sur de courageuses mélodies de guitares, cymbales craquées et percussions lourdement tambourinées. Each Other ont de l'emprise sur la montagne de gamins qui déterrent le passé. Vous pouvez sortir ces types d'Halifax, mais ne pourrez les empêcher d'exploser dans la pop.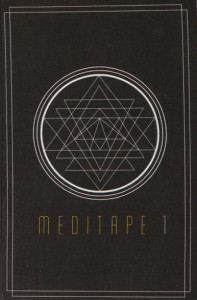 Meditapes
Meditape 1: Disconnection
Ottawa, ON
From the sleepy head of Catherine Debard:
Sometimes some of us are heads on hollow bodies. Our feelings are drained out from our bored, harakiri'd hearts. We are barely ourselves, washed out and evanescent. Floating in an in-between state, we wait for something worth returning to on this earth's strange reality.
Ottawa sound artist Tarek Al-Zand has set down an anchor for all those frail levitating bodies. Listening to the loops of home-made recording textures, tape hiss, profoundly moving guitars, and soothing ethereal voices, roots can dig out of those thick skins and find their way into a lucid meditation. At this exact moment, you think "Fuck my bed" and just lie on the wooden floor, eyes closed, and breathe. Because it is all too important. You suddenly remember how cool it is to live on a planet filled with awesome nature, organic and human mysteries, that every state is ephemera, and that you have a heart.
De la tête endormie de Catherine Debard:
(Traduit par Catherine Debard)
Parfois, certains d'entre nous sommes des têtes posées sur des corps vides. Les émotions s'écoulent de notre coeur las qui s'est fait hara kiri. Nous sommes à peine nous-mêmes, délavés et évanescents. Flottant entre deux états, nous attendons quelque chose qui mérite que nous replongions dans l'étrange réalité de la Terre.
Tarek Al-Zand, artiste sonore d'Ottawa, a jeté une ancre pour ces corps frêles en lévitation. En écoutant ces loops de textures d'enregistrement-maison, hiss de cassette, profondes guitares mouvantes et voix apaisantes éthérées, des racines peuvent transpercer ces peaux coriaces et trouver leur voie vers une méditation lucide. À ce moment précis, vous pensez "Fuck mon lit" et vous vous couchez sur le plancher de bois craquelé, les yeux fermés et vous respirez. Parce que c'est trop important. Vous vous souvenez tout à coup que c'est vraiment génial d'être en vie sur une planète remplie de natureincroyable, de mystères organiques et humains, que chaque état est éphémère et que vous avez un coeur.
Meditapes – Side One [excerpt]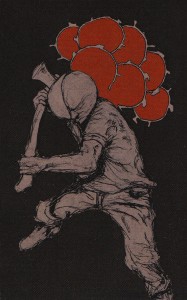 Rei Rea
Selected Works I: Still Suns
Montréal, QC
From the sad eyes of Catherine Debard:
Rei Rea alters the original shapes of sound coming from the Earth's core through a thick fog of crushed electronic distortion and lava overdrive. "Deader" is an 11-minute chaotic mindfuck anthem: The sound of an army marching and thumping the soil in a buried yet obstinate beat. It digs into the cold ground and awakens strange ancestral demons. Their voices seem to struggle into dense drone and war tones. It is heavy and opaque, yet brings a meditation state that goes deeper and deeper into the secrets of the mind and atavistic instincts. Selected Works I is a collection of pieces from this secretive visual artist and noise-maker, recorded between 2008 and 2011. You get all kinds of different moods: strangely hypnotic destroyed melodies ("Slow Ipex"), fluctuant fuzz textures that offer the feeling of being on a bullet train ("Tres Mal"), and loud industrial machines smashed by nightly wanderers during a deep Pagan ceremony ("Rain Plaine").
Des yeux tristes de Catherine Debard:
(Traduit par Catherine Debard)
Rei Rea altère le son originel provenant du centre de la Terre par un brouillard opaque et écrasant de distorsion électrique et de lave d'overdrive. « Deader » est un hymne de onze minutes pour le chaos et le dérèglement de l'esprit. Le son d'une armée qui marche et martelle le sol dans un beat enterré mais obstiné. Leurs pas créent une fissure dans la terre froide et réveillent d'étranges démons ancestraux. Leurs voix de spectres semblent se débattre dans ce drone dense, ces teintes de guerre. C'est lourd, opaque, mais en même temps, ça crée une méditation qui nous plonge de plus en plus profondément dans les secrets de l'esprit et les instincts ataviques. Selected Works I est une collection de pièces de ce noise-maker et artiste visuel mystérieux enregistrées entre 2008 et 2011. On passe par plusieurs ambiances : mélodies détruites hypnotisantes (« Slow Ipex »), textures de fuzz fluctuantes qui donnent l'impression d'être dans un train poussé à plein régime (« Tres Mal »), et une machinerie lourde industrielle démolie par des vagabonds nocturnes durant une cérémonie païenne (« Rain Plaine »).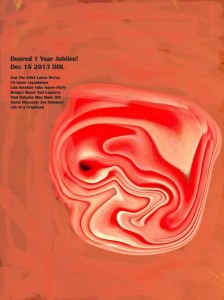 Life of A Craphead
Doored #11 – One Year Jubilee
(Created by Amy Lam and Jon McCurley)
Toronto, ON
From the flying saucer of Jenya Doudareva:
Documenting theatre is finicky business. Much like live music, you might be compelled to record the action on stage. Well, if you do, you will soon discover that the continuous capturing of still images with a camera (which, by the way, creates the illusion of movement due to phi phenomenon) will conjure eerie live magic. This might be because image capture slaughters the mystical theatre fairies at an alarming rate, so when you play the recording back, their ghosts relentlessly yell at your subconscious: "Recording this was illegal!"
Life of a Craphead attempts to have no fairy harmed, merely given a second sight – this troupe's monthly Doored performances are designed to be live-streamed. Doored #11 – the holiday edition – began with a Pagan Santa wearing an acid-green jumpsuit, his head adorned with a globe. Witnessing this performance was bizarre and alien, both live and online.
Climbing up and down a ladder while reaching a keyboard with a long stick, the Pagan Santa was moving, occupying space, and creating sounds. However, he felt no more real from the audience's vantage point than the traditional Christmas mascot. The Pagan Santa was a figment of our imagination, augmented by kaleidoscopic lights and hallucinatory sounds.
The performance had no traditional play or script behind it, so its mystifying – and perhaps conflicting purposes – rested in the imagination of the Santa and inside the viewers' heads. Later, watching the performance online, I still couldn't tell if the globe-wearing deity was real. It was like watching footage of a flying saucer.
De la soucoupe volante de Jenya Doudareva:
(Traduit par les ailes dorées de Joannie Pharand)
Documenter le théâtre, c'est une affaire compliquée. Comme dans un concert de musique, vous pourriez vous sentir obligé d'enregistrer l'action sur scène. Si vous le faites, vous réaliserez assez vite que la capture continue d'images fixes prises à l'aide d'un appareil photo (qui, en passant, crée une illusion de mouvement grâce à l'effet Phi) fera apparaître une étrange magie. Peut-être est-ce parce que la capture d'image massacre les fées mystiques du théâtre à un rythme affairant, donc, lorsque vous faites jouer l'enregistrement à nouveau, leurs esprits hurlent sans relâche à votre subconscient : « Votre enregistrement est illégal! »
Life of a Craphead essaie de ne blesser aucune fée, tout juste leur donner une seconde vision. Doored, leur série de performances mensuelle, a été créée pour être visionnée sur internet, en temps réel. L'édition de Noël, Doored #11, débute avec un père-noël païen vêtu d'une combinaison vert acide, la tête ornée d'un globe. Être témoin de cette performance était bizarre et hors de ce monde, aussi bien en direct qu'en ligne.
Parcourant une échelle de haut en bas tout en s'étirant pour rejoindre un clavier avec un long bâton, le père-noël païen se déplaçait en occupant l'espace et produisant du son. Pourtant, il ne paraîssait pas plus vrai du poste d'observation des spectateurs qu'une traditionnelle mascotte de Noël. Le père-noël païen était le fruit de notre imagination, grossi par des lumières kaléidoscopiques et des sons hallucinatoires.
La performance n'avait aucun dialogue ou mise en scène traditionnelle préétablie. Son objectif déconcertant, et peut-être contradictoire, repose dans l'imaginaire du père-noël et dans l'esprit des spectateurs. Par la suite, en regardant la performance en ligne, je ne pouvais toujours pas déterminer si la divinité ornée d'un globe était réelle. C'était comme regarder les images d'une soucoupe volante.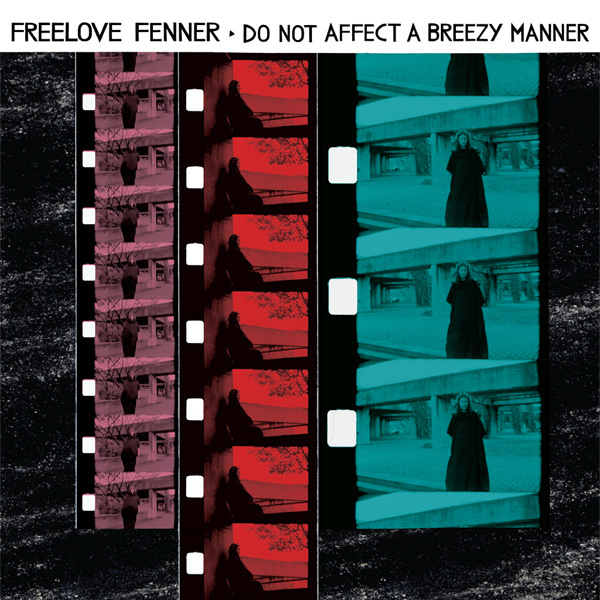 Ephemera of: Freelove Fenner
Existing during the recording of: Do Not Affect A Breezy Manner
Montréal, QC
From the nimble digits of Nick Schofield:
With an element of style, shoulder sway to the basement haze of Freelove Fenner's latest LP, Do Not Affect a Breezy Manner. The Mile-End trio deliver dry-as-bone tone with an audible sepia filter courtesy of the Bottle Garden's analog gear. Straight to tape, Caitlin Loney tracks ultra-caj vox over starry-eyed drums and tightly wound guitar riffs. Meanwhile, de facto producer George Harrison Cat purrs approvingly from behind an Otari MX70 8-track machine and takes stock of the diminishing Quantegy 456 supply. In line with Rule 9, DNABM is a felicitous release, neither fanciful or plain. We popped the bottle with the band to imbibe the elements that produced their instant fixture record.
Freelove Fenner – All Things Break Through
Freelove Fenner – George Harrison Cat
Mr. Brown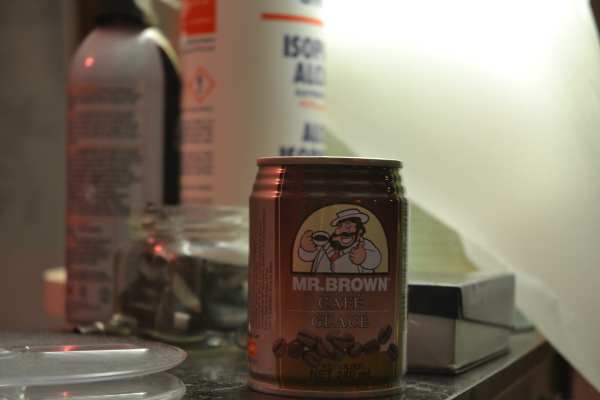 We would drink this a lot during recording sessions. It's like a coffee/milk beverage. You gotta shake it. It's in a very small can and I think it's made in Taiwan. They're at certain deps. You can even mix it with vodka. Caitlin
Tambourine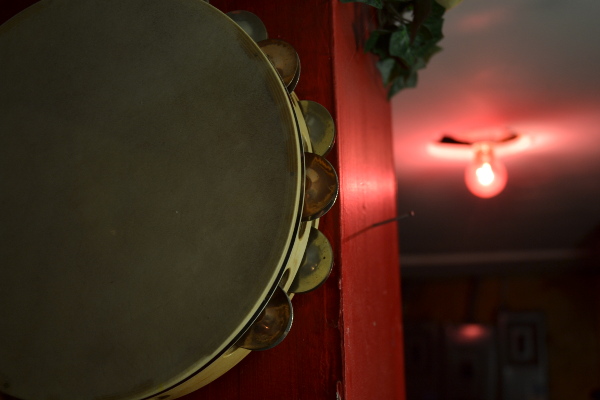 There's always space for a tambourine, even though there's only eight tracks. We make room for it. Caitlin
People are usually scandalized when they find out that I paid over $100 for a tambourine. It did feel pretty painful at the time, but I've used it on almost every song we've recorded. It's a very underrated instrument. People always think of it as an afterthought but for us it's sometimes as important as the drum kit. A lot of our all-time favourite songs have nice tambourine. Peter
Super 8 still/cover art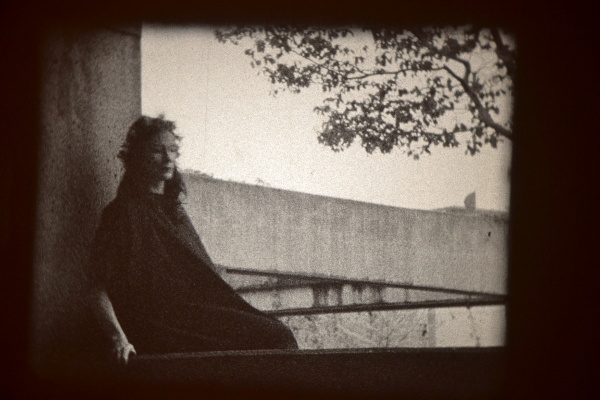 These are scanned Super 8 strips from our video for "In The Sound". We just took stills from that and photographed them with a macro lens for the album's cover art. It's filmed in Parc Viger, the name of the sculpture is the Agora. It's just this bizarre nuevo-Greek structure. I think the word Agora refers to public space. It's basically me in this black robe and vines in my hair. It's a Quebecois architect that designed this space. Caitlin
I do think it's an endangered space; there are some plans to demolish it. As it is right now, it's mostly a brutalist park that heroin addicts like to hang out at. But it's one of my favourite places in Montreal, though. I wish more people would hang out there. Peter
Tape machine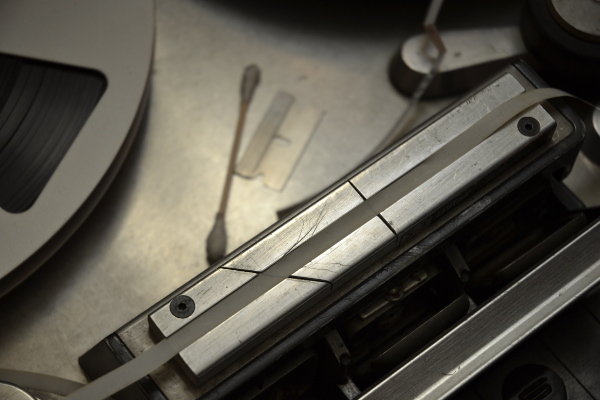 This is the part of the tape machine where we do the cutting on the Studer. The splicing block tends to get worn out from razor blades. It's from making loops. This machine's from 1965; it's been used a lot. Peter
There are usually q-tips everywhere. And for people who don't understand they're for cleaning equipment they think we're really gross dirtbags who have an ear-cleaning fetish. We just constantly have to clean the tape heads. The tape will be rolling and Peter will yell "did you clean the heads?" It's a common thing you hear in the house. Caitlin
Practical Techniques For The Recording Engineer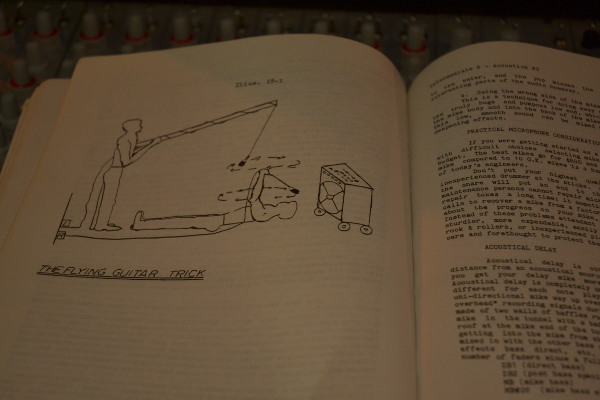 One of my favourite recording books is Sherman Keene's Practical Techniques For The Recording Engineer. He played bass in the band Spirit and worked at Ike Turner's recording studio. It was self published in the '70s; it was typed out. The illustrations in the book look like they were done by a deranged child. He would have the most wonderful advice. Stuff like "don't do too many drugs when you're recording or the client will haggle at the end of the session." This is also coupled with superb technical advice. It's probably the best technical recording book I've ever seen. Peter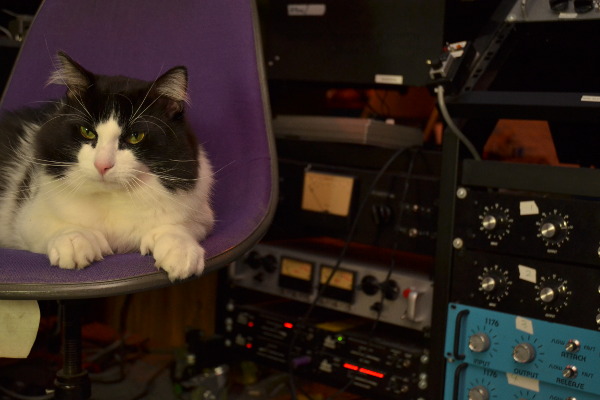 There are probably a lot of songs about him, two on this record. He's pretty special. He's like our boss, I guess. Caitlin
I've written at least five songs about him. Peter
Des chiffres agiles de Nick Schofield:
(Traduit par la nostalgie douce de Catherine Debard)
Avec une touche de style et un roulement d'épaules élégant, descendons dans le sous-sol embrumé de Freelove Fenner, encore imprégné de leur nouveau LP Do Not Affect a Breezy Manner. Le trio du Mile-End livre un son très sec, recouvert d'un doux filtre sepia, gracieuseté de l'équipement analogique de the Bottle Garden. Caitlin Loney dépose sa voix naturellement décontractée directement sur le ruban, au-dessus de la batterie aux yeux étoilés et des riffs de guitares comme des blessures soigneusement dessinées. Pendant ce temps, le producteur de fait George Harrison le Chat ronronne derrière son 8-pistes Otari MX70 et observe la lente diminution des réserves de Quantegy 456. Dans la lignée de Rule 9, DNABM est un album heureux, sans être fantaisiste, ni simplet. Nous avons ouvert une bouteille avec le groupe afin d'imbiber les éléments environnants qui se trouvent dans leur album.
Freelove Fenner – All Things Break Through
Freelove Fenner – George Harrison Cat
Mr. Brown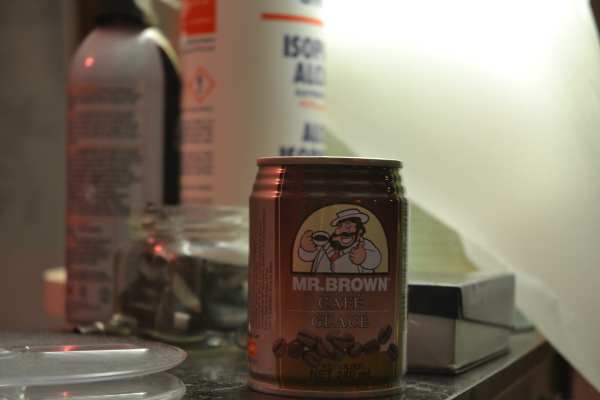 Nous en buvions beaucoup durant nos sessions d'enregistrement. C'est une boisson qui ressemble à un mélange de café et de lait. Il faut la secouer. C'est dans une toute petite boîte de conserve et je crois que ça vient de Taiwan. On peut en trouver dans certains dépanneurs. On peut même la mélanger avec de la vodka.Caitlin
Tambourin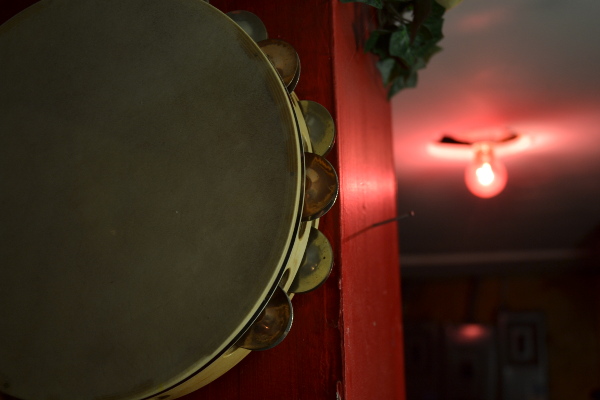 Il y a toujours de l'espace pour du tambourin, même s'il n'y a que huit pistes. Nous faisons de la place pour lui.Caitlin
Les gens sont généralement scandalisés lorsqu'ils apprennent que j'ai payé plus de 100 $ pour un tambourin. Ça a été assez douloureux sur le coup, mais je l'ai utilisé sur presque toutes les chansons que nous avons enregistrées. C'est un instrument très sous-estimé. Généralement, les musiciens y pensent après coup, mais pour nous, c'est parfois aussi important que la batterie. Beaucoup de nos chansons préférées (à vie) contiennent du tambourin. Peter
Image fixe de Super 8 / Visuel de la pochette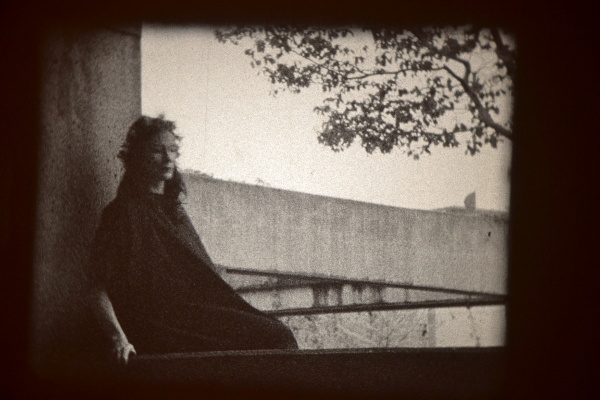 Ce sont des bandes de Super 8 scannées de notre vidéo pour la chanson "In The Sound". On a choisi des images puis on les a photographiées avec une lentille macro pour faire la pochette de l'album. Ça a été filmé au Parc Viger, le nom de la sculpture est "L'Agora". C'est une sorte de structure néo-grecque bizarre. Je crois que le terme "Agora" fait référence à l'espace public. C'est essentiellement moi dans une robe noire avec de la vigne dans les cheveux. C'est un architecte québécois qui a conçu l'espace. Caitlin

Je crois que c'est un endroit en danger; il existe déjà des projets visant à démolir cet espace. Dans son état actuel, c'est principalement un parc inspiré de l'architecture brutaliste où les toxicomanes aiment bien traîner. Ça reste tout de même l'un de mes endroits préférés à Montréal et j'aimerais que plus de gens viennent s'y promener. Peter

Magnétophone

C'est la partie du magnétophone qui permet de faire le montage sur Le Studer. Les blocs de découpage ont tendance à être usés à cause des lames de rasoir. C'est à force de faire des boucles. Cette machine date de 1965, elle a été beaucoup utilisée. Peter

Il y a généralement des cotons-tiges partout. Pour ceux qui ne comprennent pas : c'est pour nettoyer l'équipement, pas parce qu'on est des fétichistes du nettoyage d'oreilles! On doit constamment nettoyer les têtes de bande magnétique. Le ruban sera en train de dérouler et Peter va hurler "As-tu nettoyé les têtes?" C'est une chose qu'on entend souvent à la maison. Caitlin

Practical Techniques For The Recording Engineer

L'un de mes livres préférés sur l'enregistrement est Practical Techniques For The Recording Engineer de Sherman Keene. L'auteur a joué de la basse dans le groupe Spirit et a travaillé dans le studio d'enregistrement de Ike Turner. Il a publié lui-même son livre durant les années 70, tapé à la machine à écrire. Les illustrations ont l'air d'avoir été faites par un enfant un peu perturbé. Ce livre est truffé d'excellents conseils tels que "ne prenez pas trop de drogue lorsque vous enregistrez sinon le client va tenter de marchander à la fin de la session." Ajoutez à ça des conseils techniques superbes et ce livre est probablement l'un des meilleurs livres sur les techniques d'enregistrement que j'aie jamais vu. Peter

Il y a probablement beaucoup de chansons sur ce chat, deux sur cet album. Il est assez spécial. C'est notre patron en quelque sorte.

Caitlin

J' ai écrit au moins cinq chansons sur lui. Peter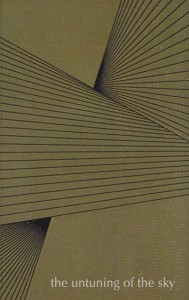 Sarah Davachi
The Untuning of the Sky
Vancouver, BC
From the castle in the sky of Catherine Debard:
(Translated by Catherine Debard)
Close your eyes. Now, let the void into your mind and feel the healing power of sound. Oscillations infiltrate and frequencies vibrate in the ear drum, spreading through the brain in a smooth but firm massage, and filtering out any thoughts for a peaceful half-asleep concentration. Different tones and synthetizer shapes layer into a subtle and sophisticated assemblage. Sines, squares, triangles, sawtooth wave poems, analog wire-dreams and ghostly harmonic manifestations appear and disappear in this soundscape by Vancouver's Sarah Davachi. "Alms Vert" opens it up as a luxurious drone, a cave filled with glowy diamonds where eerie animals hibernate. Pure, fluctuating synth notes cover a lush swarm of melodies. Then, the album softly shifts from one ambience to another, always maintaining a balance of spatiality, resonance and the sacred. Krankyesque Stars of the Lid sound-statues build in your head as consciousness grows towards the light.
Du château dans le ciel de Catherine Debard:
Fermez les yeux. Maintenant, faites le vide dans votre esprit et ressentez le pouvoir de guérison du son. Des oscillations d'ondes sonores et de fréquences s'infiltrent dans le conduit auditif, s'étirent jusqu'au cerveau pour lui donner un massage à la fois doux et ferme, toute pensée est filtrée dans cet état entre l'éveil et le sommeil pour une paisible concentration. Différentes couches de tons et de formes de synthétiseurs se superposent dans un assemblage sophistiqué subtil. Des vagues de poésie en forme de sines, squares, triangles et sawtooth, des rêves au filage analogue et des manifestations fantômatiques d'harmoniques forment une fantasmagorie, dans ce paysage sonore de Sarah Davachi, de Vancouver. "Alms Vert" ouvre sur un drone luxuriant, une grotte de diamants luminescents où hibernent d'étranges créatures. Une couche de son pur et légèrement fluctuant recouvre un foisonnement de mélodies. Puis, l'album change doucement de forme, se déplace d'une ambiance à l'autre en maintenant continuellement un équilibre de spatialisation, de résonance et de sacré. Des statues de son krankyesque à la Stars of the Lid se cristallisent dans votre tête tandis que votre conscience s'élève vers la lumière.
Sarah Davachi – Alms vert [excerpt]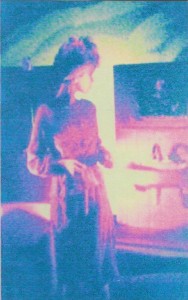 Cassida Pax
Sin by Proxy
Windsor, ON
From the Molly Ringwald heart of Catherine Debard:
(Translated by Catherine Debard)
Listening to Cassida Pax, I suddenly remember the art of pop: crafting a song by finding the true essence of a riff, the ultimate guitar line that will stick in your head. Cassida Pax appears unexpectedly with beats tainted by sweet '80s reverby heaven, like a forgotten four-track-hero, a young Ariel Pink before da fame, with a genuine skill for melodies and catchy lyrics. These solid songs will haunt you until the ribbon is as worn out as your personal best of 1995 mixtape featuring Mariah Carey and Edwyn Collins. Shout out to those teenage years when time stretches endlessly in front of you like a burned orange sunset horizon, when secretely exchanging folded papers with scribbled poetry in class fills you with intense feelings (the carelessness, oh!). If you dig it, you should spend some time in the sunshine world of Memory No. 36 Recordings, Cassida Pax's label. I know I did and almost forgot the snow falling on my fingers as cold as popsicles as I write these words.
Du coeur de Molly Ringwald de Catherine Debard:
En écoutant Cassida Pax, je me souviens soudainement de l'art de la pop. Confectionner soigneusement une chanson en trouvant l'essence même d'un riff, la ligne de guitare parfaite qui va rester dans la tête. Cassida Pax surgit à l'improviste avec ses beats sucrés 80's dans un rêve de reverb, comme un héros-du-quatre-pistes oublié, un jeune Ariel Pink d'avant la gloire, avec un véritable don pour la mélodie et pour les paroles accrocheuses. Quatre solides pièces qui vous hanteront jusqu'à ce que le ruban de la cassette soit usé comme votre mix-cassette personnel de 1995 avec Mariah Carey et Edwyn Collins. Mention d'honneur aux douces années d'adolescence quand le temps s'étire devant soi à l'infini comme un coucher de soleil orange-brûlé à l'horizon, quand échanger secrètement des papiers pliés gribouillés de poèmes nous remplit de sentiments intenses, la désinvolture (l'insouciance, oh!). Et si vous aimez, vous devriez passer faire un tour dans l'univers ensoleillé de Memory No. 36 Recordings, le label de Cassida Pax. En tout cas c'est ce que j'ai fait et j'en ai presque oublié la neige et mes doigts gelés comme des popsicles tandis que j'écris ce texte.
Cassida Pax – Clinging Moments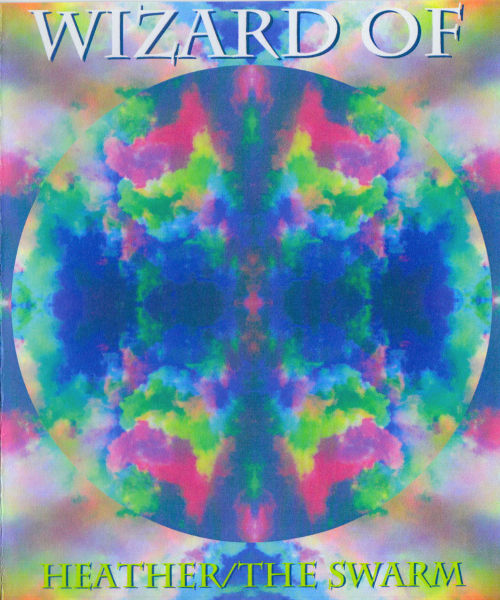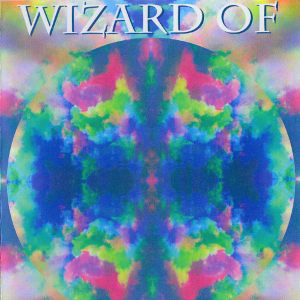 Wizard Of
Heather / The Swarm
(Inyrdisk)
Toronto, ON
From the caffeine rush of Catherine Debard:
(Translated by Catherine Debard)
Ravers from a new era unite and bounce to Wizard Of's multicoloured spells. Loud hip-hop flavored basslines are syncopated at the speed of sound. His music fits perfectly in today's revival (or let's say re-work) of the almost forgotten (and truly exciting) world of IDM. Breakbeat, broken beat, acid dreams, running fast (runlolarun), breathless videogame heartbeats, psychedelic handbang, hardcore electronica, braindance revolution. The dark experimental side of dance music is mesmerizing, dangerously catchy, and meaty like a rare steak. Wizard Of expends the "techno" frontiers into the realms of $wag beats, deep samplin' and never lets you take a break. Gotta fight like high-speed positive warriors, dance like there's no future, create magic.
Du tremblement cafféiné de Catherine Debard:
Ravers d'une ère nouvelle, unissez-vous et déchaînez-vous sur les incantations multicolores de Wizard Of. De lourdes lignes de basse saveur hip hop sont syncopées à la vitesse du son. Sa musique s'inscrit assurément dans le regain actuel (ou plutôt la réappropriation) du monde presque oublié (et extrêmement excitant) de l'IDM. Breakbeat, rythme brisé, rêves acides, courir en malade (courslolacours), à bout de souffle, rythme cardiaque jeux vidéos, psychédélique headbang, hardcore électronica, braindance révolution. Le côté obscur expérimental du mouvement dance est dangereusement aguichant, consistant comme un bon steak bleu. Wizard Of repousse les frontières de la musique techno dans le royaume du $wag Beats et du sampling profond et vous garde captifs, en sueurs, tout le long de cet album. Il faut se battre en guerriers positifs, danser sans lendemain et créer la magie.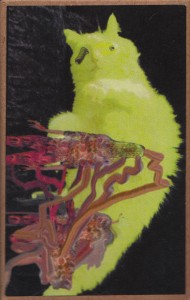 Bile Sister // Wolfcow
Split Tape
Toronto, ON // Toronto, ON
From the wild oscillation of Catherine Debard:
(Cosmic translations by Catherine Debard)
This luxurious 90-minute split is a trip through catchy nihilist (punk) power-pop, flippant DIY expression, two awesome senses of humour and a synth/pedal effects sci-fi party. Up first, Bile Sister's side jams juicy bouncing beats against a robotic hi-NRG voice, eerie I-don't-care-about-the-world synths and constant but subtle distortion to create a sugar-rush addiction; the body is moving strangely, the brain is filled with fizz candies. Listening to short, smashed up earworms like "Mock Sin" and long, trippy synth jams like "Sustained Preventative Medicinal Penetration (Long Version)" feels like chilling in her living room while she's experiencing a crazy inspiration wave. Meanwhile, the gang of teenage street kids in the first TMNT movie would love Wolfcow's side. It's rebellious, lo-fi, inventive, fast-paced and wild, oscilliating between harsh punk-pop, experimental electroclash sequences and strangely smooth synth-layered moments. The voices are buried in effects, while the whole is wrapped in crunchy saturated sound. These guys seem to channel a raw and unpredictable Residents vibe, or Caroliner with a touch of Les Georges Leningrad. All in all, this split activates the production of endorphins, like running a marathon or spending four hours in a Lazer Quest.
Écrit et traduit de l'oscillation démente de Catherine Debard:
Ce luxuriant split de 90 minutes est un voyage powerpop(punk) nihiliste (mais) entrainant, un party sci-fi de synthés et de pédales à effets roulés dans la désinvolture DIY et l'humour désopilant. Tout d'abord, Bile Sister jamme sur de bons gros rythmes gras surplombés par la voix énergique d'une déesse robotique, de sinistres synthés je-me-fous-du-monde-entier et une subtile mais omniprésente distorsion à vous rendre accroc. Le cerveau rempli de bonbons Fizz, le corps danse en se tortillant nonchalamment. En écoutant ces courts hits fracassés (« Mock Sin ») et ces longs périples de synthés hypnotiques (« Sustained Preventative Medicinal Penetration (Long Version) »), on se croirait évachés dans le salon de l'artiste alors que déferle sur elle une vague d'inspiration déjantée. Pendant ce temps, les enfants de la rue du premier film des Tortues Ninjas écouteraient sûrement dans leur baladeur le côté de Wolfcow. Rebelle, lo-fi, inventif, rapide et sauvage, le tout oscille entre un punk-pop corrosif, des moments d'expérimentation électroclash et d'étranges séquences de synthétiseurs planants. Les voix baignent dans les effets et la saturation grésillante. Ces deux-là semblent canaliser une atmosphère crue et imprévisible à la Residents, un peu de Caroliner et une touche de Georges Leningrad. En somme, ce split active la production d'endorphines, tout comme courir un marathon ou passer quatre heures dans un Lazer Quest.
Wolfcow – Whatever's Hovering Above Me
M. Mucci
Dangerous Summer
Guelph, ON
From the suppressed metabolic state of Catherine Debard:
(Translated by Catherine Debard)
The guitar rings like chimes in a wind full of possibilities. Chords resonate in an empty room, filling the silence. A voice is calling you, subtle yet omnipresent. There's a time for sorrow, and a time after sorrow. A time to put a wool sweater in your backpack along with a good book, a bunch of tapes, new batteries for the Walkman, smokes (if necessary) and get out of the city. Sometimes migration is necessary. Listening to M. Mucci's Dangerous Summer feels like walking in an abandoned space, a secret garden, remembering how it feels to be careless. Three instrumental explorations through 12-string guitar for your inner monologues.
De l'hypothermie régulée de Catherine Debard:
La guitare résonne comme un carillon dans un vent chargé de possibilités. Les accords traînent dans une pièce vide, remplissent le silence. Une voix appelle, subtile mais omniprésente. Il y a un temps pour la tristesse, il y a un temps après la tristesse. Un temps pour prendre un gros chandail de laine et le mettre dans son sac à dos avec un bon livre, quelques cassettes, des batteries neuves pour le baladeur, des clopes (si nécessaire) et sortir au plus vite de la ville, sans réfléchir. La migration est parfois nécessaire. Écouter Dangerous Summer de M. Mucci, c'est comme marcher dans un endroit abandonné, un jardin secret, se rappeler comment ça fait être insouciant. Trois explorations instrumentales de guitare à 12 cordes forment une méditation pour vos monologues intérieurs.
M. Mucci – Hand in Hand (excerpt)
---