Tag: catherine debard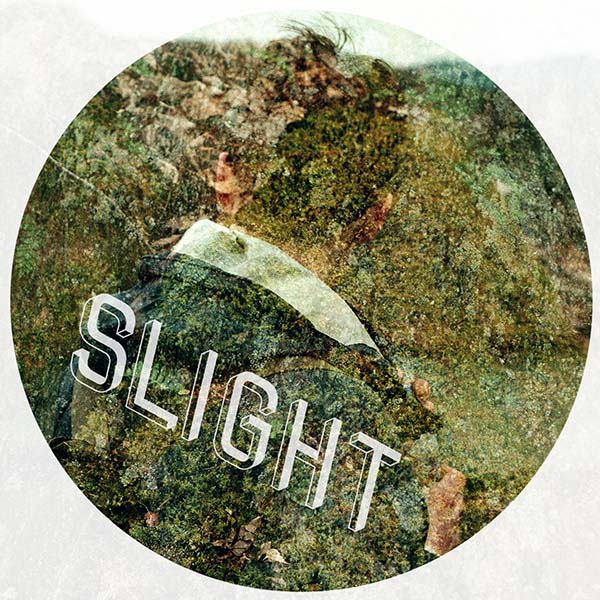 Slight
Spirit School
(Self Released)
Montréal, QC
From the orange mind of Catherine Debard:
Montreal's Slight is channeling 90s psychedelic art rock and shoegazey melodies with this sweet haunting 2-track EP. The repetitive shimmering guitar line on "Spirit School" echoes a distant Sonic Youth pop era, the organ and melody carries us in a Spacemen 3 teenage afterschool hang out in empty parking lots, trashing cans. "Tasting" is heavier sounding, My Bloody Valentine layers of whistling drone and loud bass juxtaposed to prog pop flights of 60s sunshine. The vocals are efficient, as those melodies that stay on your mind. Dark and light, dancey and wild on a meticulously crafted canvas.
De l'esprit orangé de Catherine Debard:
( Catherine Debard)
Le groupe montréalais Slight capte des ondes de rock psychédélique artsy aux teintes shoegazes des 90s dans ce EP de deux chansons. La guitare obsessive et scintillante de "Spirit School" fait penser à la période de solide pop de Sonic Youth, l' orgue et la mélodie nous entraîne dans un chilling d'adolescents après l'école dans un stationnement désert à lancer des canettes, à niaiser avec des paniers d'épicerie en écoutant du Spacemen 3."Tasting" est plus pesante, juxtaposant des couches de drone fumant à la My Bloody Valentine et basse lourde, à des envolées ensoleillées prog pop des 60s. La voix est efficace, comme les mélodies qui te restent dans la tête. Sombre et léger, dansant et sauvage sur un canevas méticuleusement apprété.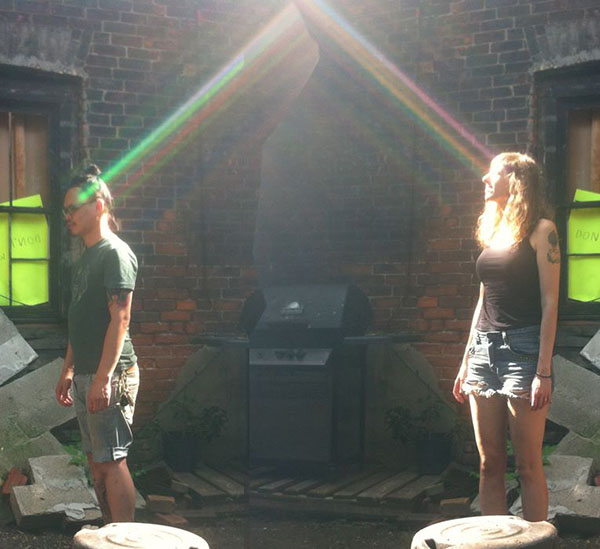 Jeunesse Cosmique
Montréal, QC
From the cosmic youth of Joshua Robinson:
(Translated by the not-so bilingual funky brain of Catherine Debard)
For 5 years, the sacred fog of Jeunesse Cosmique has rolled along the bountiful streets of Montréal, seeping into crevasses and and rising up to fill the ears of those attuned to the sound of the drone-down-below. Chittakone Baccam and Catherine Debard, founders of the hazy-drone label, have been building (along with their many friends) a cosmic sanctuary that is mortared by the glue of sonic experimentation, collaboration, and community-building. We dropped Chi and Catherine a few questions about their humble beginnings and what it means to be a part of a community of like-minded musicians.

Flory Daahboy – Délicieuse Rouge

A Sacred Cloud – Solidarité avec la famille Awan

Einar Jullum – Er hele verden distraherende vag?

A.M. Sci-Fi – I don't know why (Le voyage de Pierre-Luc)
How did Jeunesse Cosmique begin? Can you describe the cosmic spark that initiated the curation of your most wondrously sonorous label?
Jeunesse Cosmique (Chittakone Baccam and Catherine Debard): Saturday morning, five years ago, while cooking pancakes for breakfast. We had almost finished our first Sally Paradise EP, L'Ascension du Mont Shing, and we were wandering around the list of potential record labels we could submit to. Sally Paradise was the first Jeunesse Cosmique project, Catherine's solo project at first, rapidly joined by Chi and at the time, Chloé. The band was a blend of dream pop and noisy shoegaze (a mix of Catherine's ethereal pop vibe and Chi's experimental noise). Already in this project is the essence of pretty much everything we still cling to: wanting to take the references that we like and deconstruct and reshape those as we want.
At the time, there weren't many labels that corresponded to our values that were actually pretty basic: being totally free.
Launching a label was for us, the best way to create a collectivity of artists and mingle together, sharing our human and creative values. The core of the label included different people along the years but some have been and are still important Jeunesse Cosmique characters, like Alexis (Téléphone Maison), Olivier (Eddie Wagner), Rémi (Velvet Glacier), François (Flory Daahboy, Speed Guru), Samuel (Black Givre), Anas Rasta, Sebastian Trafalgar, Hugues (Wiwichu, Cheasypop) among others.
What, in your opinion, is the role of the micro-independent record label in the current Canadian musical landscape?
JC : If we look at the situation from a francophone Montréal point of view, the notion of "independent music" seems to have been appropriated a while ago by labels that are subventioned, the major league let's say. On the other hand, the DIY labels (La Cohu, Los Discos Enfantasmes, Howl Arts Collective, Hobo Cult (RIP), Misery Loves Company, Small Scale Records, etc.) generally help each other and affirm themselves against this machine because there is a mutual respect and a love for a music that is different. A label's mission, for us, is to unite forces and gather artists that create not necessarily for hype or money but for the love or the need to create/ express themselves AND try together to change the cultural landscape.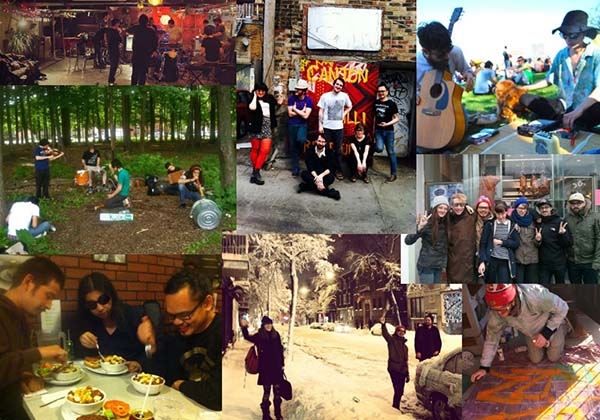 The incorporation into the Jeunesse catalog of the respective personal projects of you, the curators, seems to be integral to the process of cross-collaboration and interconnectedness between the musicians under your label. Can you comment on how this cross-collaboration assists in the presence of the label as an inclusive and community-oriented entity?
JC: Since the beginning, Jeunesse Cosmique has been a kinda spatial refuge for musicians who think about life differently, outside the box. We learned to improvise together, we saw each other evolve over time, both in jams and shows. There is a listening and an infinite respect between us. That creates a safe environment where anyone can try new weird things, learn and exchange influences and techniques, without being afraid to be judged. Cause creating can be intimidating for people lacking confidence, that's why it's essential to have friends around, even if it's just to listen to what you do. The plurality of projects in which people participate together reflects this collaborative vibe, and the albums we release are a physical representation of those encounters. Friends come and go, news friends join in because they feel at home. Our two solo projects, Hazy Montagne Mystique and YlangYlang, both emerged from this label and were influenced/empowered by these relationships. The mixtapes we offer online represent another way to meet and link musicians together, creating a beautiful web of people from everywhere: internet-relations, people we meet at shows or that contact us because they feel connected to us, and also our friends.
The accessibility and inclusivity of safe and accepting performative spaces, where individuals can actively participate in the consumption and presentation of identities and expressions, is incredibly important to the development and sustainability of venues and events that empower the engagement of identities in generative ways. Can you comment on how events and spaces such as Island Frequencies, Noisundaee, and Jardin St. Charles contribute to the culture that Jeunesse Cosmique seeks to motivate and bolster?
François Vienneau (creator of Jardin St-Charles, Flory Daahboy and Speed Guru and member of Jeunesse Cosmique): Not only do these events and places offer an opportunity for artists to perform, they are a fertile ground for interactions between people. The Noisundaéè is linked to this community kitchen where people are invited to eat together. At the Jardin St-Charles, people stay around for hours after the music is done. The appreciation of arts might refer to a thin line between being in our comfort zone and opening our mind to new horizons. It might be true as well for having a bubbling conversation with strangers. From its beginning, Jeunesse Cosmique has always been oriented on acceptance, sharing and the absence of a hierarchy. Jeunesse Cosmique is more than a label; it is a community of people.
JC : The whole structure of Noisundaéè is meant for expression and being open. The idea, shared with was a year-and-a-half ago by Alex Pelchat who contacted us to join him in this adventure, was to reunite four bookers from different scenes and make them invite one act each per show. The bi-monthly event (always pay-what-you-can, PWYC) takes place on Sunday afternoons at the Plant, a space where people live, create, eat, have fun and care about seeing life differently. The line-up is random, and the diversity is revealed as the event takes place: surprises, echoes, friction. The atmosphere is all about listening and respect, in accord with Noisundaéè's mandate to promote music that is different, with new projects, strange attempts, first shows… Island Frequencies is a reoccuring event taking place at Casa del Popolo, an idea of Mos Puella. She included us to help her create a platform for experimental music in a PWYC format in this iconic venue.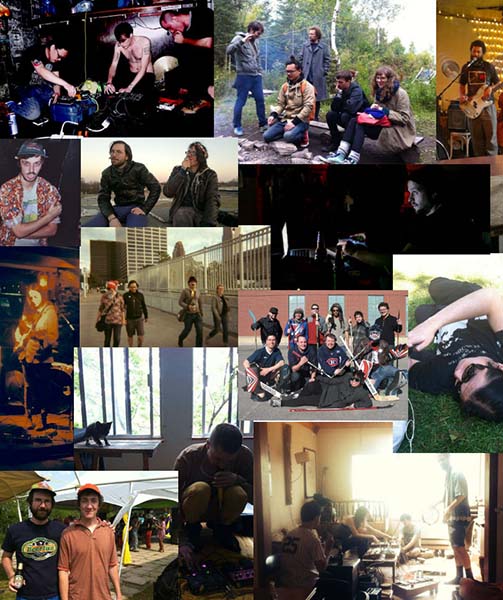 What I find particularly fascinating about Jeunesse Cosmique is the width and breadth of its inclusivity of musicians beyond the arms of its representation. For example, your compilation 'Alpinistes du Vent' is highlighted by the incorporation into the release of many musicians not represented by your label. Why is it important to you to be inclusive of musicians beyond those whom you are immediately involved with?
Generally, we want to meet musicians and people with whom we share certain values (liberty in creation, passion, rebellion, authenticity), so when we make a call for submissions for a mixtape or look for bands to book, we are open to anybody sending us things if they fit our energetic vibe. It's hard to explain but we just feel it, the music, etc. We just want to motivate people to let their music be heard by someone who might like it. So, yes it is inclusive and participative in the limits of our own human capacity. And having projects from different cities and countries is a magical portal through which music can travel. Communication and discovery.
There seems to be a very focused attention on supporting Montréal-based musicians and the Montréal musical community as a whole. What do you feel is your place in the Montréal cultural and musical landscapes, and what is the relationship between yourselves and the community you serve and within which you operate?
JC : Our role in Montréal is to try to have a stimulating variety of sounds and different shapes of magnificent experiences without limiting ourselves to one style or crew in particular. Gotta be careful about isolating yourself or thinking you're the best. We are humble, no-attitude persons forever on the B-Side of the tape and not on the hype side. We want to encourage people that are just starting to actually do it and play shows, record sounds. We are agents who go from scene to scene looking for cosmic persons. We like to hang out and make music and listen too. All our events are PWYC to let everybody who wants to be there to participate. We like organizing events where people feel comfortable and at ease to exchange with each other. Also, those nights have a unique character because the music played is almost always improvised or different from the recordings, and the mood is relaxed and spontaneous. We also believe in humour and fun, which is not always the case in general. It's really personal but we like to have fun and laugh and not take ourselves too seriously, even if the stuff we do is. The energy's got to flow and not be too rigid.
Montréal is a burgeoning musical and cultural geo-space, with identities and ethnographies that are unique, impassioned, and purposeful. In this context, how would you describe the 'identity' of Jeunesse Cosmique? How has the city of Montréal contributed to this conception of the identity that your label is fostering for itself?
JC : Well to begin, we are both francophone and Québécois, our road brought each of us in Montréal so we became Montréalers. Chi is Lao and Catherine is half-French. Both of us have this cultural mix in our family that gives us a bit of distance from the Quebec culture, while being totally into it. In this city, we needed to fight to make ourselves a little place in the scene, in between the different crews. The city is really dense and can be abundant, stimulating, welcoming and closed in on itself in different cliques. It is becoming more open to helping and reaching-out to create a respectful dynamic. This dynamic has definitely forged our rebellious ways and showed us the importance of digging our roots deep into solid values. Eventually, through different circumstances, we started to hang out more and more with people from outside of Montréal. Friends from different countries passing by Montréal for a short or long stay (Japan, France, Morocco, Mexico, and others), or from elsewhere in Canada, wanting to live in our city and seeing it from another perspective, with different eyes. Despite the language frontier, it's crazy as people that are meant to meet actually do.
From Hazy Montagne Mystique to A Sacred Cloud to Telephone Maison, your catalog is home to a variety of musical genres, yet each seems to be imbued with an undercurrent of the 'experimental' and 'avant-garde'. Why is experimentation important in the development of music?
Chi: Most of us didn't study music in a classic way. We make music inspired by what we like. In our mind, music is a language everyone has access to. We don't aim for perfection. We aim for creativity and exploration.
Catherine: Also, what is the interest in re-creating a sound that has been done before? Influence is immanent to the act of creation; it's essential to know what has happened before and to get inspired by it. But it is as important to update it and rub it with other sounds from dreams and fresh ideas from the future. Both Chi and I keep name-dropping stuff we like, the bands that shaped us, that helped us shape our love for music. But the next step is to find a new sound, a sacred door to the unknown, hence the experimentation that layers like a soft fog on all our catalogue and music.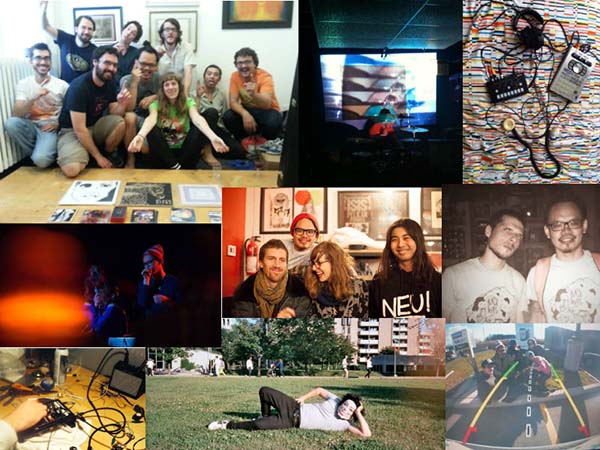 How does Jeunesse Cosmique seek to encourage and empower the presence and presentation of the unique musical identities it collaborates with and supports?
By being everywhere and wide open! Seriously, we have this kind of "Yes" philosophy that brought us into splendid crazy events. Last summer, we went with a small team (Velvet Glacier, Cosi e Cosi and Black Givre) on this strange adventure towards St-Fortunat to play during the night at a futuristic new age trance festival called Earthdance. We met there with our friend Charles Barabé for a night of wandering around in treehouses with obsessive beats and young kids ready to be shipped through space. Playing there was so out of context but dream-like. We have played beside a lake at Duckstock, jammed insane IDM freak-out tracks in a pyramid cabin in the woods with Nava Lulu, Eddie Wagner, Sebastian Trafalgar and Téléphone Maison, did a small USA tour just for fun, improvised and jumped on a trampoline with Bile Sister and ZONES at 8-11, Toronto. Gotta bring magic everywhere!
In Montréal, we ally with people who love to put the strength together and collab to find new ideas for events, friends like La Passe (shout out, seriously, to this small peaceful den of freedom inside of a poetry museum), Cool Fest, Howl Arts Collective or in our dance/video art experiments with Temporal Drone (with Guillaume Vallée (kaleidoscopic wizard) et Alessandra Rigano (mouvement)). The moment you are really interested in exchanging with other persons and to be attentive to what they do, only positive energy can emerge from that, and it's empowering and revitalizing for everybody.
What are you most proud of having accomplished as a micro-independent record label?
The feeling that we are able to create a positive energy; that the work we did had an impact on the people around us. Making life a little better, more creative and outside the boring path. Being respected. Helping the people we like to have their music heard and existing on physical format. And our small community of friends growing bigger. Being totally independent and doing what we want.
Lastly, do you have anything coming to fruition in the immediate future that you are especially excited about?
We are pretty focused on our 5th anniversary right now. Our anniversary will be celebrated on March 9 at Casa del Popolo with a comeback from our first project, Sally Paradise(YlangYlang, Hazy Montagne Mystique, Téléphone Maison and Black Givre). Also we have a few LPs coming up this year like JLK & the Assassins (we are stoked!!!), Hazy Montagne Mystique's first album (after a long period of creation) and Snake Whiskey (a good free jam).
De la jeunesse cosmique de Joshua Robinson:
Durant 5 ans, le brouillard sacré de Jeunesse Cosmique a roulé le longs des rues fourmillantes de Montréal, s'infiltrant dans les crevasses et s'élevant jusqu'aux oreilles des gens synthonisés avec le drone provenant de l'intérieur de la Terre. Chittakone Baccam et Catherine Debard, fondateurs du label drone-vaporeux, ont bâti (à l'aide de leurs nombreux amis) un sanctuaire cosmique cimenté par une colle d'expérimentation sonore, de collaboration et d'esprit de communauté. Nous avons posés quelques questions à Chi et Catherine sur les humbles débuts et sur ce que cela signifie de faire partie d'une communauté de musiciens qui partagent les mêmes valeurs.

Flory Daahboy – Délicieuse Rouge

A Sacred Cloud – Solidarité avec la famille Awan

Einar Jullum – Er hele verden distraherende vag?

A.M. Sci-Fi – I don't know why (Le voyage de Pierre-Luc)
WC : Comment a débuté Jeunesse Cosmique ? Pouvez-vous décrire l'étincelle cosmique qui a initié ce voyage sonore en tant que label?
Jeunesse Cosmique (Chi et Catherine) : Un samedi matin, il y a cinq ans, en cuisinant des crêpes pour le déjeuner. Nous avions presque terminé la création du premier EP de Sally Paradise, L'Ascension du Mont Shing, et nous passions en revue les compagnies de disques potentielles. Sally Paradise était le premier projet Jeunesse Cosmique, au départ un projet solo de Catherine, où s'est rapidement impliqué Chi ainsi que Chloé, à l'époque. Le groupe était un mélange de dream-pop et d'expérimentations shoegaze (une alliance entre le côté pop vaporeux de Catherine et noise expérimental de Chi). Déjà dans ce projet se trouvait l'essence qui nous définit encore aujourd'hui, une envie de prendre des références que nous aimons et les déconstruire et remouler à notre guise.
À l'époque, il n'y avait pas trop de labels à Montréal qui semblaient correspondre avec nos valeurs, qui se résumaient à ce concept assez simple : être totalement libre.
Le nom est arrivé quand on a pensé à notre amour en commun pour Sonic Youth et à leur façon de faire rebelle et désinvolte. Catherine flippait des crêpes et Chi attendait de manger, le nom « Jeunesse Cosmique » est lancé par nos deux cerveaux à l'unison.
Lancer le label était pour nous la meilleure façon de créer une collectivité d'artistes et de se retrouver pour mélanger et partager nos valeurs humaines et créatives. Le noyau du label a inclus plusieurs personnes au fil du temps mais certains ont été et sont toujours très importants Jeunesse Cosmique, Alexis (Téléphone Maison), Olivier (Eddie Wagner), Rémi (Velvet Glacier), François (Flory Daahboy, Speed Guru), Samuel (Black Givre), Anas Rasta, Sebastian Trafalgar, Hugues (Wiwichu, Cheasypop) entre autres.
WC : Quel est, à votre avis, le rôle du label micro-indépendant au sein du paysage musical Canadien?
JC: Si l'on regarde la situation à Montréal, dans la scène francophone, la notion de musique « émergente » semble s'être fait approprier par des étiquettes de disques subventionnées ou disons plutôt, de la ligue majeure. Ils misent sur le mot « indépendant » pour mousser leurs nouveaux artistes, mais en utilisant un marketing plutôt « commercial » et pas vraiment indépendant (Dare to Care, Audiogram, La Tribu, Bonsound, entre autres). Par contre, les labels DIY (La Cohu, Los Discos Enfantasmes, Howl Arts Collective, Hobo Cult (RIP), Misery Loves Company, Small Scale Records, etc.) s'entraident et s'affirment contre cette machine, car il y a un respect mutuel et un amour pour la musique différente.
Pour nous, rôle d'un label, c'est de rallier les forces, de rassembler les artistes qui font de l'art pas nécessairement pour la hype ou l'argent mais pour l'amour et le besoin de créer/de s'exprimer, et tenter de changer ensemble le paysage culturel. En tant que micro-label, il faut dire tout haut ce qu'on n'aime pas, être rebel, et repenser carrément l'expérience autant pour les musiciens que pour le public.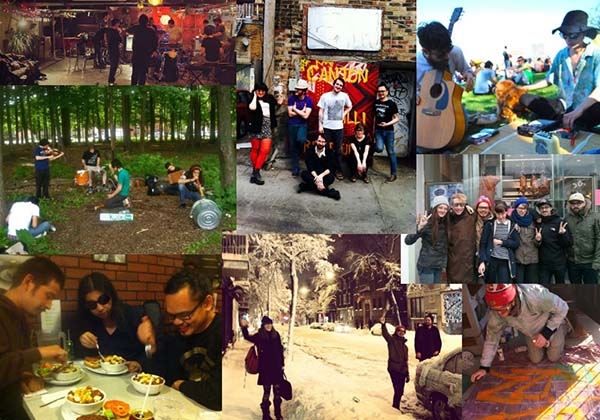 WC : L'incorporation au catalogue de vos projets personnels, les curateurs, semble être intégral au processus de collaboration et d'interconnectivité entre les musiciens sous votre label. Pouvez-vous parler de comment ce réseau de collaboration fait du label une entité inclusive et axée sur la communauté?
JC: Depuis le début, Jeunesse Cosmique est une sorte de terre d'accueil spatiale pour les musiciens qui pensent la vie différemment, en dehors du cadre. On a appris à improviser ensemble, on se voit évoluer au fil des jams, des spectacles, il y a une écoute et un respect infini entre nous. Ça crée un espace de confiance où chacun peut essayer des choses nouvelles, apprendre et s'échanger des influences ou des techniques, sans avoir peur d'être jugé. Parce que créer, ça peut être vraiment intimidant quand on manque d'assurance, c'est tellement essentiel d'avoir des amis autour ne serait-ce que pour écouter ce que tu fais. La pluralité de projets où chacun collabore reflète en quelque sorte cette vie de communauté, les albums que l'on sort, une représentation physique des rencontres qu'on fait. Les amis partent et reviennent, des gens se rajoutent à la collectivité car ils s'y sentent bien. C'est une véritable question de respect et d'entraide. Nos projets solos respectifs, Hazy Montagne Mystique et YlangYlang, ont éclos dans ce label et ont été influencés par ces rencontres. Les compilations que nous offrons en ligne sont une autre façon de rencontrer/faire se rencontrer des musiciens, de créer une toile immense incluant des gens de partout, autant relations-internets, que gens que l'on découvre dans nos concerts et évidemment nos amis. La curation se fait de façon organique, au fil des découvertes que l'on fait sur internet ou dans la vie, et également de gens qui nous contactent car ils se sentent appelés par notre philosophie et façon de faire.
L'accessibilité et l'inclusivité au sein d'espaces performatifs sécuritaires et ouverts, dans lesquels les individus peuvent participer activement en écoutant / en présentant identités et expressions, est vraiment important dans le développement et la durabilité de lieux et évènements qui donnent du pouvoir et s'engagent dans la pluralité d'identités de façon générative. Pouvez-vous commenter la façon que ces évènements et espaces, tels que Island Frequencies, Noisundaéè, et Jardin St. Charles contribuent à la culture que Jeunesse Cosmique cherche à motiver et soutenir?
François Vienneau, créateur du Jardin St-Charles, Flory Daahboy et Speed Guru (ainsi que membre Jeunesse Cosmique des premiers temps) : Non seulement ces évènements et lieux offrent une opportunité aux artistes de performer, ils sont un terrain d'interactions entre personnes. Noisundaéè est lié à la cuisine communautaire où les gens mangent ensemble. Au Jardin St-Charles, les spectateurs peuvent rester des heures après que la musique soit terminée. L'appréciation des arts pourrait être liée à une fine ligne entre sa zone de confort et ouvrir son esprit à de nouveaux horizons. C'est également le cas dans une conversation bouillonnante avec des étrangers. Depuis le début, Jeunesse Cosmique a toujours été orienté vers l'acceptation, le partage et l'absence de hiérarchie. Jeunesse Cosmique est plus qu'un label, c'est une communauté de personnes.
JC : Le cadre du Noisundaéè est fait pour l'expression et l'ouverture. L'idée qu'Alex Pelchat a lancé il y a un peu plus d'un an (lorsqu'il nous a contacté pour se joindre à l'aventure), c'est de regrouper quatre bookers issus de différents milieux du spectre musical montréalais et de les faire agir en invitant une personne par édition. Les spectacles (toujours contribution volontaire) se déroulent un dimanche sur deux, en après-midi, à La Plante, un lieu où les gens habitent, créent, mangent, s'amusent, se préoccupent de voir la vie différemment. L'ordre des groupes est pigé au sort la journée-même, la diversité des genres se découvre sous les yeux de tous, surprend, fait écho, se frictionne. L'ambiance est à l'écoute et au respect, en accord avec le mandat de présenter de la musique différente, des nouveaux projets, des essais, des premiers concerts… Island Frequencies est une soirée récurrente à la Casa del Popolo, une idée de Mos Puella, qui nous a incluse avec elle pour former une plateforme pour de la musique expérimentale dans un format contribution volontaire dans cette salle iconique.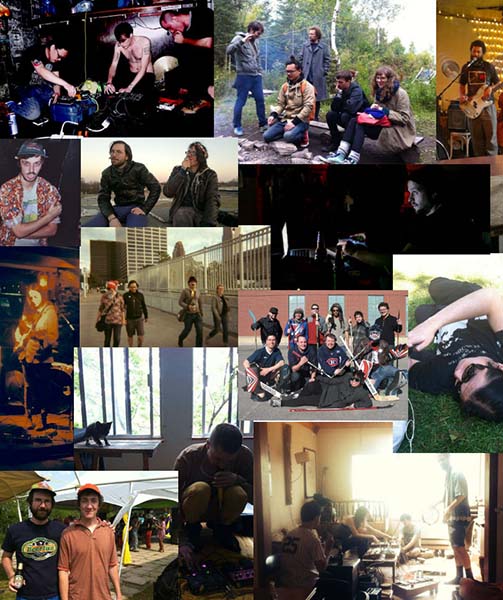 Ce que je trouve particulièrement fascinant à propos de Jeunesse Cosmique est l'étendue de son inclusivité des musiciens au-delà des bras de sa représentation. Par exemple, votre compilation 'Alpinistes du Vent' est marquante de par l'incorporation de beaucoup d'artistes dont plusieurs qui ne sont pas représentés sous votre label. Pourquoi est-ce important pour vous d'inclure des musiciens au-delà de ceux avec qui vous êtes impliqués dans l'immédiat?
JC : En général, on veut rencontrer des musiciens et des gens qui ont des valeurs proches des nôtres (la liberté de créer, la passion, la rébellion, l'authenticité), donc, quand on fait un appel de soumission pour une compilation ou lorsqu'on recherche des groupes pour jouer à des soirées, nous sommes ouverts à ce que les gens nous envoient ce qu'ils font si ça correspond à notre vibe énergétique. C'est compliqué à expliquer mais on le sent, c'est tout. On feel la musique et tout d'un coup, ça se place. Tout ce qu'on veut, c'est motiver les gens à créer et à ce que leur musique soit entendue par quelqu'un qui pourrait aimer ça, communiquer créativement, alors oui, c'est inclusif et participatif, dans les limites humainement possibles pour nous. Et avoir des projets provenant de plusieurs villes et pays est un merveilleux vortex pour faire voyager la musique. Communication et découverte.
Il semble y avoir une attention très concentrée dans le support aux musiciens basés à Montréal ainsi que sur la communauté en général. Quelle place sentez-vous occuper dans les paysages culturels et musicaux montréalais et quelle est la relation entre vous et la communauté que vous serve et dans laquelle vous opérez?
JC : Notre rôle à Montréal est d'essayer d'avoir une variété stimulante de sons et de formes et d'expériences différentes et magnifiques sans se limiter à un style ou à un crew en particulier. Il faut éviter le danger de s'isoler et de se penser bon. Nous sommes des gens humbles et non-attitude, toujours du côté B de la cassette et non de celui de la hype. Tout ce qui nous arrive de bon, on a travaillé fort pour que ça vienne à nous, on fait les choses du mieux qu'on peut et avec coeur et je crois que notre karma doit être assez bon. On encourage les gens qui débutent à foncer et faire leur premier jam, leur premier show, à enregistrer! On est des agents qui se promènent d'une scène à l'autre à la recherche de trippeux, qui aiment passer des soirées à faire de la musique et à en écouter. Tous nos évènements sont « contribution volontaire » pour permettre à n'importe qui d'y assister et d'y être accepté. Nous aimons organiser des soirées dans lesquelles les gens se sentent confortables et à l'aise d'échanger. Également, ces soirées ont un caractère unique car la musique est presque toujours improvisée ou différente des enregistrements, toujours assez relaxes et spontanées. Nous croyons à la dérision et à l'humour aussi, ce qui n'est pas tout le temps le cas en général. C'est vraiment personnel mais on aime bien rire, avoir du plaisir et ne pas trop se prendre au sérieux, même si ce qu'on fait l'est extrêmement. Il faut que l'énergie coule, que ce soit fluide et non rigide, carré.
Montréal est un espace géographique bourgeonnant au niveau musical et culturel, avec des identités et ethnographies uniques, passionnées et déterminées. Dans ce contexte, comment pourriez-vous décrie l'identité de Jeunesse Cosmique? Comment la ville a-t-elle contribué à cette conception d'identité que le label favorise pour elle-même?
JC : Tout d'abord, nous sommes francophones et Québécois, nous avons chacun dans notre parcours déménagé à Montréal et sommes alors devenus Montréalais. Chi est Laotien et Catherine est à demi Française. Nous avons chacun un mélange de culture dans notre famille qui fait de nous des Québécois avec une touche de distance face à la culture québécoise, tout en étant totalement immergés dans celle-ci. Dans cette ville, il a fallu se battre pour se faire une place dans la scène, parmi les différents cercles. La ville est très dense et peut être à la fois foisonnante, stimulante et accueillante, que fermée et repliée en cliques, quoi qu'elle s'ouvre de plus en plus dans une entraide et un respect mutuel. Cette dynamique a définitivement aidé à forger notre caractère rebel et à plonger nos racines dans de solides valeurs. Éventuellement et dans un paquet de circonstances différentes, nous avons commencé à nous tenir de plus en plus avec des gens qui viennent d'en-dehors de Montréal. Des gens de passage provenant de plusieurs pays (Japon, France, Maroc, Mexique, entre autres) ou de ailleurs au Canada, des gens qui veulent s'installer à Montréal et perçoivent la ville avec d'autres yeux que nous. Malgré la barrière du langage, c'est fou comme les gens se retrouvent.
De Hazy Montagne Mystique à A Sacred Cloud et Telephone Maison, votre catalogue contient une variété de genres musicaux, pourtant, ceux-ci semblent tous imprégnés par un courant sous-jacent « expérimental » et «avant-garde ». Pourquoi l'expérimentation est-elle aussi importante dans le développement de la musique?
Chi : Plusieurs d'entre nous ne proviennent pas d'école de musique classique. Nous faisons la musique inspirée de ce que nous aimons. Dans notre esprit, la musique est un langage que tout le monde à accès. Nous ne visons pas la perfection mais bien l'écoute créative et l'exploration.
Catherine : Aussi, quel intérêt y a-t-il à recréer un son qui a déjà existé exactement auparavant? L'influence est immanente dans l'acte de création, c'est essentiel de savoir ce qui s'est passé avant et également de s'en inspirer mais c'est tout aussi primordial de le réactualiser et de le mettre en friction avec d'autres sons qui proviennent des rêves, de territoires inexplorés. Autant Chi que moi énumérons sans cesse nos sources, les groupes qui nous ont forgés, marqués, desquels nous avons appris à percevoir ce qu'on aime dans la musique. Mais après ça, le but est de trouver un nouveau son, une porte sacrée vers l'inconnu, d'où la couche d'expérimentation qui chatoie sur notre catalogue et nos musiques respectives.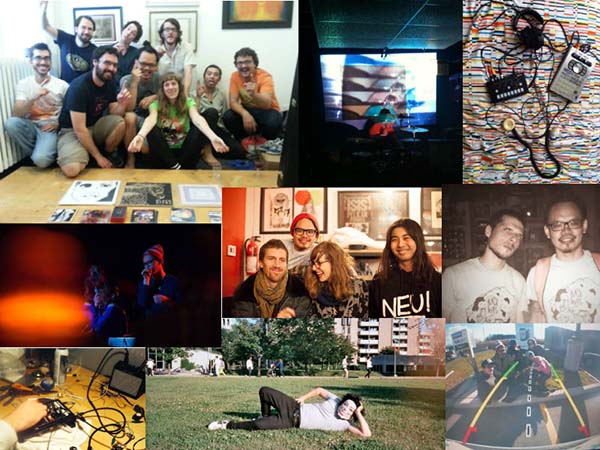 Comment est-ce que Jeunesse Cosmique cherche à encourager et renforcir la présence et présentation d'identités musicales uniques avec qui y collabore et supporte?
En étant partout et grands ouverts! Sérieusement, nous avons une philosophie du « Oui » qui nous a amené à participer à des évènements saugrenus et magnifiques. Cet été, nous sommes partis à l'aventure avec une petite équipe (Velvet Glacier, Cosi e Cosi et Black Givre) vers St-Fortunat pour jouer à un festival de musique trance new age futuriste, le Earthdance, durant la nuit. Nous y avons rejoint notre ami Charles Barabé pour une nuit de déambulation dans les cabanes dans les arbres, beats obsédants et jeunes parés pour le décollage. Jouer à cet événement était tellement hors contexte mais magnifique en même temps. Nous avons joué au bord d'un lac au Duckstock, jammé dans un chalet triangulaire avec Nava Lulu, Eddie Wagner, Sebastian Trafalgar et Téléphone Maison, fait une tournée aux Etats-Unis des plus aventureuses pour le love, improvisé et bondit à la trampoline au 8-11 à Toronto avec Bile Sister et ZONES. Il faut apporter de la magie partout!
À Montréal, nous nous allions avec des gens qu'on aime de tous les milieux pour unir nos forces et collaborer pour trouver de nouvelles idées. Que ce soit avec La Passe (shout out sérieusement, petit antre de liberté dans un musée de la poésie), le Cool Fest, Howl Arts Collective ou dans nos aventures dans le monde de la danse et de l'art vidéo avec Temporal Drone (avec Guillaume Vallée (magicien de l'image) et Alessandra Rigano (mouvement)), la leçon est que lorsque nous sommes vraiment intéressés à échanger avec les autres et à ce qu'ils font, s'en découle que du positif et ça c'est revigorant et stimulant pour tout le monde.
De quoi êtes-vous le plus fier d'avoir accompli en tant que micro-label indépendant?
Sentir que nous créons une énergie positive, que les efforts que l'on fait a des répercussions dans les gens qui nous entourent. Faire que la vie est meilleure, plus créative, hors des sentiers battus. Avoir le respect. Aider à ce que la musique des gens qu'on aime soit entendue et existe en format physique. Créer une petite communauté avec toujours plus d'amis. Être totalement indépendants. Faire à notre tête.
Finalement, y a-t-il quelque chose dans votre avenir immédiat pour lequel vous êtes particulièrement excités?
Notre cinquième anniversaire occupe pas mal nos pensées en ce moment. Nous le célébrons le 9 mars à la Casa del Popolo avec un retour de notre premier groupe Sally Paradise(YlangYlang, Hazy Montagne Mystique, Téléphone Maison et Black Givre). Sinon, nous avons quelques LPs de prévus cette année, dont l'album de JLK & the Assassins (nous sommes très excités!!!), le premier album de Hazy Montagne Mystique (après une longue phase de création) et de Snake Whiskey (un bon jam free).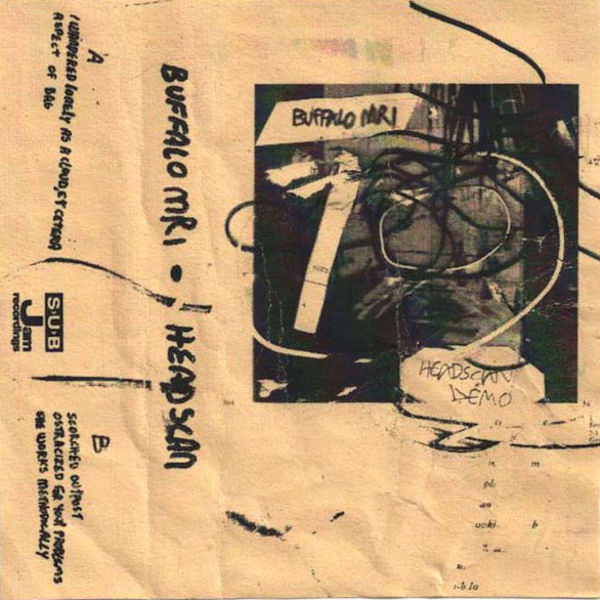 Buffalo MRI
Headscan
(Sub Jam)
Montréal, QC
From the avant blurt of Julie Reich:
Buffalo MRI a.k.a. Vera Brim is the solo project of Montreal's Dominique Alexander. Side A knocks at the door and rings a doorbell on slow, soothing repeat. Pitch-shifted laughs, late-night applause and clattering tin. Side B, my favorite slum, is a chill-sesh in punk village. Sad free-jazz guitar… what am I hearing!? Low buzzing, melancholic hums, and Dom's interspersed voice. An out of tune piano serenades broken avant bursts. These sounds of your brain were recorded from the headscan earlier that day. It's 4 a.m. on a Tuesday and you're in the lobby bar, alone, drinking.
De l'exaltation de Julie Reich:
(Traduit du Café del mar par Catherine Debard)
Buffalo MRI, ou Vera Brim, est le projet solo du Montréalais Dominique Alexander. La face A cogne à la porte et appuie sur la sonnette doucement, dans une répétition relaxante. Des rires pitch-shiftés, applaudissements de fin de soirée et cliquetis de métal. La face B est une session de chillage dans un village punk. De la guitare free-jazz triste… qu'est-ce que j'entends!? Un buzz grave, un bourdonnement mélancolique, et la voix parsemée de Dom. Un piano légèrement désaccordé sérénade juste avant l'explosion. Ces sons de votre cerveau ont été enregistrés par un scan de votre tête plus tôt ce jour-là. Il est 4 heures du matin un mardi et vous êtes dans le lobby d'un bar, seul, un verre à la main.

Buffalo MRI – Ostracized For Your Problems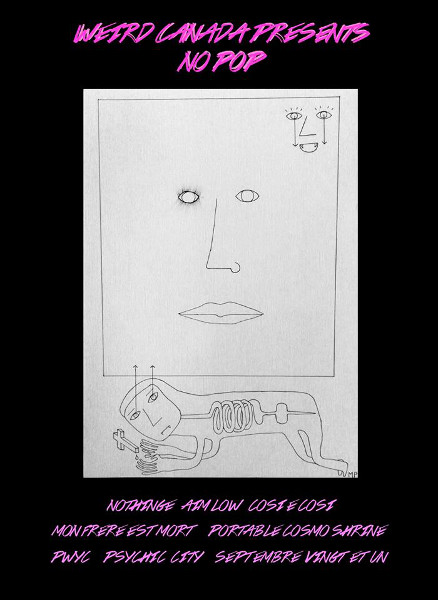 While one of Montreal's major festivals wraps up, some of the city's strangest beasts will be gathering in a dark, red-lit space. Weird Canada presents NO POP in an only-musicians-could-decorate-like-this basement, literally under the ground through sub-surface tunnels.
NO POP
Sunday, September 21
Montréal, QC
While one of Montreal's major festivals wraps up, some of the city's strangest beasts will be gathering in a dark, red-lit space. Weird Canada presents NO POP in an only-musicians-could-decorate-like-this basement, literally under the ground through sub-surface tunnels.
The streets above will be drenched with sponsors, tickets, and biz. But down the stairs and through a tunnel at 3655 St. Laurent Blvd. you will find something for the unincorporated, rebel, hacker, slacker and weirdo.
9:00 pm: Portable Cosmoshrine
9:45 pm: Mon Frère Est Mort
10:30 pm: Così e Così
11:15 pm: Aim Low
12:00 am: Nothinge
Doors: 8:30 pm // PWYC // 3655 St. Laurent basement, Montreal, QC.
FB event: https://www.facebook.com/events/1510620279178961/
Traduit par Catherine Debard
Pendant qu'un des festivals majeurs de Montréal va clôturer ses activités, dimanche le 21 septembre, dans un souterrain sombre et écarlate, un groupe de bêtes montréalaises des plus étranges vont se rassembler. Littéralement sous le sol et à la traversée de tunnels souterrains dans un sous-sol décoré-comme-seuls-peuvent-le-décorer des musiciens, Weird Canada présente No Pop.
Au dessus, la cité sera noyée par les sponsors, billeteries et showbiz ; une partouze lèche-le-cul semblable à NXNE. Mais en bas des marches et à travers un tunnel au 3655 boul. Saint-Laurent, on trouvera quelque-chose pour le non-incorporé , le rebelle, hacker, slacker et weirdo.
21h : Portable Cosmoshrine
21h45 : Mon Frère Est Mort
22h30 : Così e Così
23h15 : Aim Low
Minuit : Nothinge
Portes : 20h30 // Prix facultatif // sous-sol du 3655 St-Laurent, Montréal, QC.
Événement Facebook : https://www.facebook.com/events/1510620279178961/)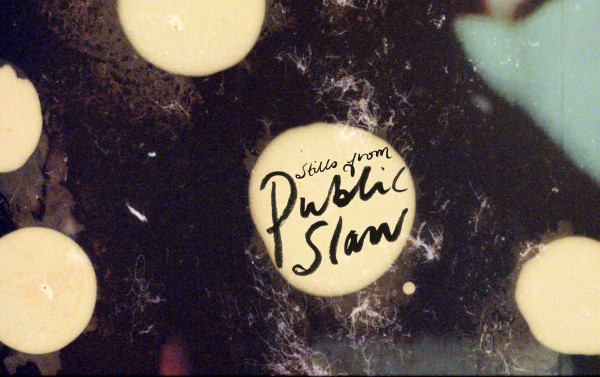 The Public Slaw overloads and overwhelms the senses with a splice 'n' diced opus of gastric proportions. Andrew Zukerman and Winston Hacking, the bugged out brains behind Exploding Motor Car, send this short film, soundtrack and accompanying book on a crash course into scrambled pleasure centres. From the vibrant vignettes of its opening section (kung fu pandas, puppies, and one perplexed vampire) to the b&w cool-out at its close (dancer Minae Omi shrouded in monochrome) this ADHD A/V farrago will leave its viewers finely shredded.
Exploding Motor Car
The Public Slaw
Toronto, ON
From the ravaged plate of Jesse Locke:

Andrew Zukerman – The Public Slaw (pt 1)
The Public Slaw overloads and overwhelms the senses with a splice 'n' diced opus of gastric proportions. Andrew Zukerman and Winston Hacking, the bugged out brains behind Exploding Motor Car, send this short film, soundtrack and accompanying book on a crash course into scrambled pleasure centres. From the vibrant vignettes of its opening section (kung fu pandas, puppies, and one perplexed vampire) to the b&w cool-out at its close (dancer Minae Omi shrouded in monochrome) this ADHD A/V farrago will leave its viewers finely shredded.
The Toronto premiere and book launch of The Public Slaw takes place Friday, Sept. 12 at 811. More information here.
De l'assiette ravagée de Jesse Locke:
(Traduit du sandwich de beurre de peanut et de confiture de Catherine Debard)

Andrew Zukerman – The Public Slaw (pt 1)
The Public Slaw sature et submerge les sens avec un opus-fricassée aux gourmandes proportions gastriques. Andrew Zukerman et Winston Hacking, les cerveaux irrités derrière Exploding Motor Car, ont envoyé ce court film accompagné d'une trame sonore et d'un livre, véritable cours intensif de plaisirs brouillés. Des thématiques vibrantes titillent l'appétit dès l'ouverture (kung fu pandas, animaux cutes, et un vampire perplexe) jusqu'à la période de relaxation finale, une image en noir et blanc de la danseuse Minae Omi enveloppée de monochrome. Ce fractal hyperactif audio-visuel laissera le lecteur finement haché.
The Toronto premiere and book launch of The Public Slaw takes place Friday, Sept. 12 at 811. More information here.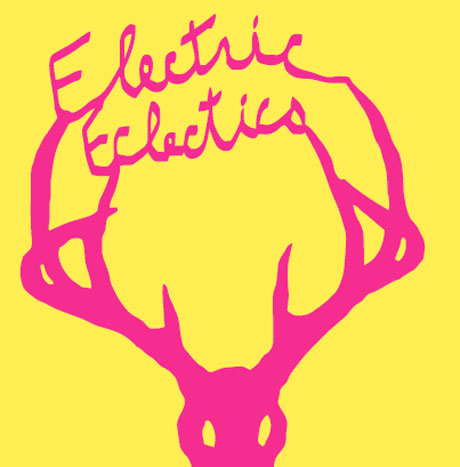 Various Artists
Electric Eclectics
(August 1-3, 2014)
Meaford, ON
From the shimmering delight of Julia Dickens:
Picture a neon soaked field rave with all of your best friends in glitter and gold, sleepy afternoons, noisy meditative drones and sheer shimmering musical delights, all within the solemn beauty of a southern ontario farm. Sweet folky sets, layering landscapes of sound evolving to clashing, smashing dissonance, wild hip shakers bringing you into a night of lysergic drenched dance jams under a sky full of stars.
Electric Eclectics, the avant garde festival of experimental music and art is upon us. Sweet warm winds off the great lakes pull freaks and dreamers away from city exhaust fumes to the quiet magic of Meaford. Absorb a smattering of off-kilter sounds and strange pop from the likes of WTCHS, Ice Cream, Hoover Party, Fresh Snow, Erin Sexton, Jef Barbara, Not the Wind Not the Flag, Loom, Blunt Chunks, and Paul Dutton.
Soak in the synaesthetic bliss of sonic installation and aural sculptures; bask in the waters of the Meaford beach; devour Nepalese treats and food truck BBQ delights. Snatch a spot at the screening of Public Slaw, a film from the wizard brains of Andrew Zukerman and Winston Hacking. In the dark shadows of the night, the glimmering DJ sets of HVYWTR, Petra Glynt and HIGHWORLD will spiral you through the fourth wall and onto the astral plane, protected under the watch of Vanessa Rieger's Nightlifeguard.
Bring camping gear and expect to sleep at sunrise.
Un aperçu d'Electric Eclectics du délice miroitant de Julia Dickens:
(Traduit des têtes ensoleillées de Catherine Debard and Marcin Lasinski)
Imaginez un rave dans un champs trempé de soleil néon avec vos meilleurs amis en costumes étincelants et baignés d'or. Des après-midis ensommeillés, du drone noise mais méditatif et des délices musicaux chatoyants, tout ça dans la beauté solennelle d'une ferme dans le sud de l'Ontario. Des prestations folk douces, des couches de paysages sonores qui évoluent et se frictionnent, dissonance magnifique, des danseuses sauvages qui vous guident vers une nuit lysergique gorgée de danse et de mouvements libres sous un ciel rempli d'étoiles.
Electric Eclectics, le festival avant-garde de musique expérimentale et d'art commence bientôt. Les vents doux et frais balayent les grands lacs et poussent les rêveurs et les weirdos hors des fumées que transpire la ville vers la magie tranquille de Meaford. Aspirez les sons détraqués et le pop étrange avec WTCHS, Ice Cream, Hoover Party, Fresh Snow, Erin Sexton, Jef Barbara, Not the Wind Not the Flag, Loom, Blunt Chunks, and Paul Dutton.
Laissez-vous baigner dans la béatitude synesthésique des installations sonores et des sculptures orales; faites-vous dorer au soleil sur les plages de Meaford; dévorez des mets népalais et des délices de BBQ de rue. Câlez-vous dans un siège à la projection de Public Slaw, un film tiré des cerveaux de mages de Andrew Zukerman and Winston Hacking. Dans les sombres ombres de la nuit, les sets de DJ étincellants de HVYWTR, Petra Glynt et HIGHWORLD vont vous aspirer dans la quatrième dimension et vous attirer dans un avion astral, protégé par la sauveteuse nocturne Vanessa Rieger. Apportez votre équipement de camping et attendez-vous à vous coucher au lever du soleil.
Electric Eclectics Preview by Wyrd on Mixcloud
Tracklist:
1. "In the province of the mind, there are no limits" – Not the Wind, Not the Flag
2. ")" – Erin Sexton
3. "We are at the fucking beach" – Gambletron and Johnny Nawarcaj
4. "Special Special For YOU" – Gambletron
5. "3" – Hoover Party
6. "Wholesome" – LOOM
7. "Pray For My Love To Find Me" – Blunt Chunks
8. "Overkilmer/Some Girls" – WTCHS
9. "Saturation Complete" – Fresh Snow
10. "Plastic" – Ice Cream
11. "I Know I'm Late" – Jef Barbara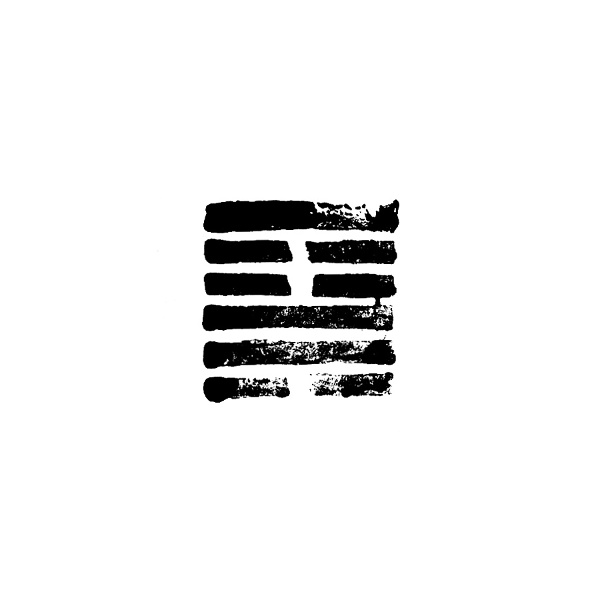 Old Haunt
Empty Heart
Montréal, QC
From the wild blue yonder of Joshua Robinson:
Folk and electric elements whisk within reach, swaying precipitously in time to the breaking of leaves from tree-arms. These interlock to form the canopies through which hushed lullabies creep to find cupped hands clasping for the song that falls from the ether of cumulous mirrors in the sky; welkin as passage to the echos of the wilted recompense that lingers in pockets full of cedar ash apologues.
With pens emptied and pencils stubbed on fraying parchment, the paraphrasing of etched sentiment is sewn into the worn fabrics of a quilted shadow-heavy embrace, keeping warm the inner stirrings of throat lorne singalongs that carry the sentiment of the wild blue yonder. Arms opened, chests heavy and full of leaves, we stir the cindered churns of glyphs worn and frayed by the distances travelled to find interlaced hands in the form of tree-arms that bud anew.
Du grand inconnu azur de Joshua Robinson:
(Traduit des cendres presque phoenix de Catherine Debard)
Des éléments folks et électriques s'agitent à portée de main, se balançant précipitemment à temps pour la chute des feuilles de l'arbre-bras. Ils s'assemblent pour former des pirogues à l'intérieur desquelles des berceuses se glissent pour trouver des mains aux paumes ouvertes, prêtes à y étreindre une chanson qui tombe de l'ether de miroirs cumulus dans le ciel; une voûte céleste passage pour les échos de récompenses qui traînent au fond de poches de pantalon remplies de cendres de cèdres apologues.
À l'aide de stylos vidés et de crayons écrasés comme des mégots sur de frêles parchemins, paraphraser le sentiment ancré, cousu au tissu usé d'une étreinte molletonnée d'ombre pesante. Se tenir au chaud au creux d'une gorge dans laquelle est murmurée une chanson à l'unison porteuse du grand inconnu azur. Les bras ouverts, la poitrine lourde et remplie de feuilles, nous retournons les cendres de glyphes érodés par les distances parcourues, à la recherche de mains enlacées en forme d'arbres-bras en éclosion.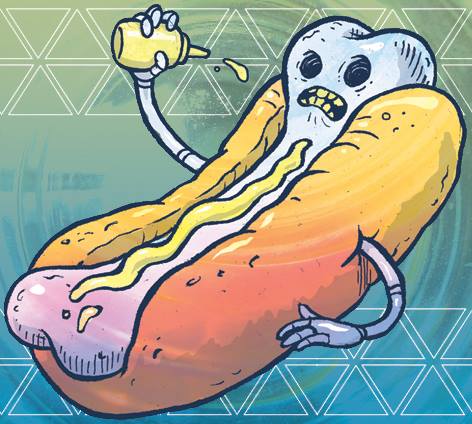 Various Artists
INCLINEΔDECLINE
(July 24-27, 2014)
Guelph, ON
From the Guelph life of Kevin Brasier:
INCLINEΔDECLINE is a DIY music festival taking place in Guelph, Ontario, curated by Brian Schirk and John Pritchard. This mix features music (including some new and unreleased material!) from almost every artist playing the fest. More information can be found here.
De la vie de Guelph de Kevin Brasier:
(Traduit par Catherine Debard)
INCLINEΔDECLINE est un festival de musique DIY basé à Guelph, Ontario, organisé par Brian Schirk et John Pritchard. Cette compilation inclus des chansons (parfois nouvelles et inédites) par presque tous les artistes qui y joueront. Plus d'information sont disponibles ici.
SIDE A
00:00 :: The Ketamines – Sasquatch!
02:37 :: HSY – Milk Chug
05:06 :: WOLFCOW – Abandoned Brains take 2
07:03 :: Bile Sister – Casio SLAM's Metal Church
09:10 :: Black Baron – The Cold Flourescent Light Of Blinding Shame
12:25 :: Jay Arner – T.S.A.T.S
15:00 :: Foam – Brand New
16:39 :: Pool Boy – Donut Boy
18:24 :: DOOMSQUAD – Waka Binaural
22:29 :: Soupcans – D.O.B.
24:03 :: VCR – One Trick Dog
25:20 :: TV Freaks – Easy Target
25:59 :: New Zebra Kid – Romantic Illusions
29:09 :: The Beverleys – Dreams
31:47 :: Teen Tits Wild Wives – B Wing
34:39 :: Badminton Racquet – High Wives
37:01 :: ZONES – Two Cans
45:16 :: Mass Horns – Devil Cry On Me
Side B
48:16 :: Baby Labour – Stay Drunk (Drunk Mix)
51:50 :: Eschaton – Went to sleep for nine days
54:44 :: I Smell Blood – Weird Canada
56:44 :: Noah23 Feat. Lil Shark – Tsunami
59:48 :: ANAMAI – Altar Coals
1:03:11 :: Gasoline Gathers Hands, Gathers Friends – Port of What Comes
1:06:29 :: Dilly Dally – Alexander
1:10:57 :: STÜKA – ENDEARMENT
1:15:08 :: Boar – Elder
1:21:01 :: Not the Wind Not the Flag – Reveal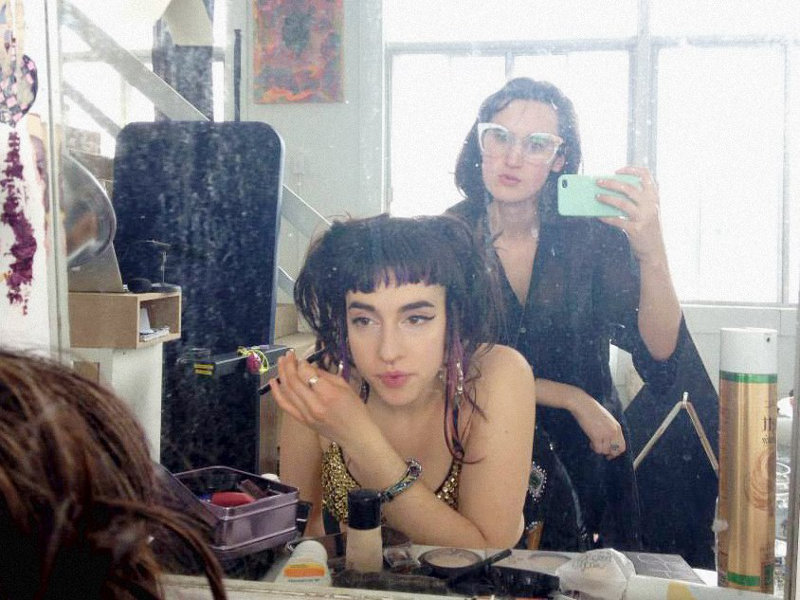 Frankie Teardrop and Samantha Garritano
Founders of Slut Island
Various Venues // June 5-13
Montréal, QC
From the slut heart of Catherine Debard:
About a month ago, I saw there was a call for women / queer / non-conforming artists for a festival called Slut Island in Montreal. I applied quickly because it represents a really important cause for me, as a woman, as a musician, and as a person. I was stoked to learn that I was accepted to play the festival. Here is a little chat with Frankie Teardrop and Samantha Garritano, the founders of Slut Island.
How did you come up with the idea of a FEMME FEST? Did you feel there was a gap to fill in Montreal's music scene?
We feel there is a gap to fill that extends way out of Montreal or any music scene. Sometimes women are made to feel like their access to 'the music scene' in general lies within their ability to 'act like one of the guys'. I (Sam) can attest to this when considering my own female experience. To feel empowered by my femininity rather than shameful about it took a lot of resistance and rejection of the ridicule and shame that society places on it.
Presenting in feminine ways, such as wearing heels and a lot of makeup, puts women in a position of objectification and we are preprogrammed to take away their agency when observing these markers of femininity. Being a femme* and feeling empowered by it and doing it for yourself and not for the purpose of being an object of the male gaze feels like a whole other ball game. It takes a lot of personal deconstruction to reach this point– for example: when we are all conditioned from a young age to call someone a 'pussy' when they don't want to do something, that is literally using female genitalia to shame or embarrass someone for having personal boundaries, which is totally fucked up. How can this make someone feel proud of their femininity? Femmes deal with a lot of bullshit on the day to day– I feel like this is an entire other interview in itself and it's actually really hard to sum up the complexities of this word in a paragraph.
The notion of a FEMME FEST is basically creating a space where there is no place for stigmatization of femininity– a reminder to confront our internalized misogyny, celebrate all the fabulous femmes for continuing to present in a way that feels comfortable to them, and not allowing it to make them feel less worthy of respect.
*For those less familiar with the term, femme in this context means someone who acts and presents in a feminine manner; this person does not have to identify as 'female' to identify as a 'femme.'
Slut Island is described as a queer event. Could you explain what it implies?
Again this is a huge topic so we will do our best to keep it short and sweet. A queer event means there is absolutely no tolerance for any disrespect towards anyone based on their race/class/gender/sexuality/body; any way you chose to act or present yourself so long as it causes no form of harm to anyone in any way is totally fair game. In a mainstream context the word 'queer' tends to just mean 'gay', but it has become an umbrella term which encompasses a lot more than that in modern feminist discourse. We just want our performers and attendees to be people who reject all the prejudice society has instilled in us and rather think critically about the way we think about ourselves and others, deconstruct our harmful patterns, and work constantly on resisting patriarchy and its negative effects on our self image and world views.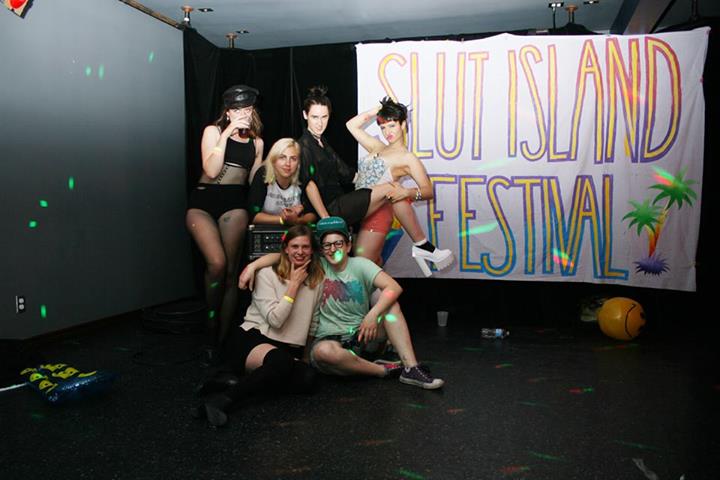 You talk about femme celebration, anti slut shaming, and body positivity. How do you want this positive vibe to manifest itself during the events?
In the imagined magical utopia that is Slut Island, people who represent a wide range of body types will feel free to dress and act as sexy as they feel and not be plagued by the notion that feeling good about your body is reserved for the tiny percent of the population who possess the mainstream perception of what a 'good body' is. This utterly unrealistic standard hinders everyone, although specifically female presenting people from feeling good about themselves on the daily. Not only does our society shame promiscuous women (sluts), but it also dictates what 'type' of body is the kind we're supposed to flaunt, so like, fat sluts are EXTRA not okay? The absurdity of this social norm is utterly infuriating and we, like many women, are so sick of the effects these standards have on our brains and self image. Fat-phobia is such a casual part of our everyday lives– it's horrible, it's oppressive and it needs to stop. No one should feel like their body isn't the right one to feel sexy in… FUCK THAT SHIT. We aren't expecting to put an end to patriarchy by having a festival–ideally, people will see it as a reminder that these things exist and to continue working on changing them. Again, this show is being put on for an by people who reject all that garbage, so hopefully it will manifest in everyone encouraging one another to feel good in whatever they show up in–be it a potato sack or a bikini, whatever.
Tell us a little bit about the line-up. How did you curate the events?
This was the hardest part! We did a submissions call out and received so many incredible responses. The resulting line-ups were our attempts at grouping such dramatically different acts into ways that make sense. To heavily oversimplify each night, this is sort of what you can expect:
June 5th at Playhouse, featuring Ghost Taco, Pretty Boys, Sigh Down One, Brother Moon, Sister Sun and FAKES and DJs Sass War and K7K8. This is more of a punk/performance art night. Expect vaginal soundscapes, blood curdling vocals, etc.
June 6th at La Vitrola has a more electronic, post-punk, no wave kind of vibe with Douce Angoisse, Dekoder, Food Stamps and Cheap Wig. Visuals throughout the night by the amazing J'VLYN, MCd by Peaches Lepage (who will become your queero). Jams brought to you by DJBOYZCLUB and Babi Audi.
The special edition matinee at Il Motore on Sunday, June 8th is a rad progression of five acts starting with more raw/vocal centric acts and progressing to a darker kind of electronic drone set with Charlotte Day Wilson, Empty Disco, Xania, Phoebe & Tanya and Gambletron. To sweeten the deal on this day, we have Domina Kalika and friends recruiting for the League of Lady Wrestling Montreal, with a mini battle and safe play workshop. This day is PAY WHAT YOU CAN at a wheelchair accessible venue.
June 12th at Piccolo Rialto is more of a glamourous dance pop kind of vibe with Lydia Ainsworth, TOPS, The Wayo, Light Fires and Jef Barbara. DJ/MC Mikiki Mikiki and DJ Like the Wolf are legendary queer babes who will blow your mind.
Closing the festival on June 13th at Playhouse is White Poppy, Big Sissy, YlangYlang and Syngja who will seriously activate all of your senses. Expect to hypnotized by all of these performances– analog projections by Zuzu Knew, theremin!!!!, wild vocals: serious trip. Also, in case you can't tell by their amazing DJ names, Miley Highrus and Compton Chic will get you wavvy.
Du coeur de slut de Catherine Debard:
(Traduit par Catherine Debard)
Il y a de cela à peu près un mois, j'ai vu un appel de soumissions pour un nouveau festival à Montréal, Slut Island, demandant à des artistes femmes/queer/non-conformistes en tout genres d'appliquer . J'ai rapidement soumis ma musique, le festival rejoignant totalement mes valeurs en tant que femme, musicienne et tout simplement en tant que personne. J'ai été franchement contente d'apprendre que j'allais jouer! Voici une courte discussion avec les deux fondatrices de l'évènement Frankie Teardrop et Samantha Garritano.
Comment êtes-vous arrivé avec cette idée de FEMME FEST? Est-ce que vous sentiez qu'il y avait un trou à combler dans la scène musicale Montréalaise?
Nous croyons qu'il y a des lacunes bien au-delà de Montréal, ou de n'importe quelle scène musicale. Parfois, les femmes sont amenées à se sentir comme si leur accès à "la scène musicale" en général dépendait de leur habileté à "agir comme les garçons". Je (Sam) peux en attester en considérant ma propre expérience. Ressentir un certain pouvoir par ma propre féminité au-lieu d'en être embarrassée m'a pris beaucoup de résistance et de rejet contre tout le ridicule et l'humiliation que la société y infuse. Se présenter d'une façon féminine, comme par exemple porter des talons hauts et beaucoup de maquillage, place la femme dans une position d'objectivation et nous sommes préprogrammés à enlever à une personne son agentivité dès que nous observons chez elle ces signes de féminité. Être une femme et y prendre du pouvoir et le faire seulement pour soi et non dans le but d'être un objet pour le regard masculin, c'est tout un autre combat. Ça prend beaucoup de déconstruction personnelle pour atteindre ce point. Voici un exemple: Nous sommes tous conditionnés depuis notre jeune âge à traiter quelqu'un de "pussy" quand il ne veut pas faire quelque chose. C'est littéralement utiliser les organes génitaux féminins pour humilier ou embarrasser quelqu'un pour avoir des limites personnelles et c'est franchement n'importe quoi. En quoi ça peut rendre une personne fière de sa féminité? Les femmes doivent composer avec un tas de conneries sur une base quotidienne, je sens que c'est une tout autre entrevue en soi et qu'en fait, c'est assez difficile d'énumérer toutes les complexités de ce mot en un paragraphe. La notion de "FEMME FEST" est à la base de créer un espace où il n'y a pas de place pour la stigmatisation de la féminité et c'est un rappel de confronter notre mysoginie internalisée et célébrer toutes les fabuleuses *femmes qui continuent à se présenter d'une façon qui leur est confortable et ne pas se laisser traiter avec moins de respect qu'elles méritent.
*Pour les gens moins familiers avec le terme, "femme" dans ce contexte, signifie quelqu'un qui agit et se présente de façon féminine. Cette personne n'a pas à s'identifier comme du "sexe féminin" pour être une "femme".
Slut Island est décrit comme un évènement queer. Pourriez-vous expliquer ce que ça implique?
Encore une fois le sujet est chaud, nous allons faire de notre mieux pour garder ça "short and sweet". Un évènement queer signifie qu'il n'y a absolument aucune tolérance pour le manque de respect vis-à-vis n'importe qui, basé sur sa nationalité/classe/genre/sexualité/corps; c'est peu importe la façon que vous voulez agir ou vous vêtir, du moment que ça ne blesse personne d'aucune façon. Dans un contexte plus populaire, le mot "queer" signifie "gai" mais c'est devenu un terme général qui englobe beaucoup plus que ça dans les discours féministes modernes. Nous voulons que nos performeurs et que notre public soient des personnes qui rejettent les préjugés que la société a instillé et qui réfléchissent plutôt de façon plutôt critique sur la manière que nous nous percevons ou percevons les autres, qu'ils déconstruisent les habitudes nuisibles et travaillent constamment à rejeter le patriarcat et son effet négatif sur l'image que nous avons de nous-mêmes et sur notre vision du monde.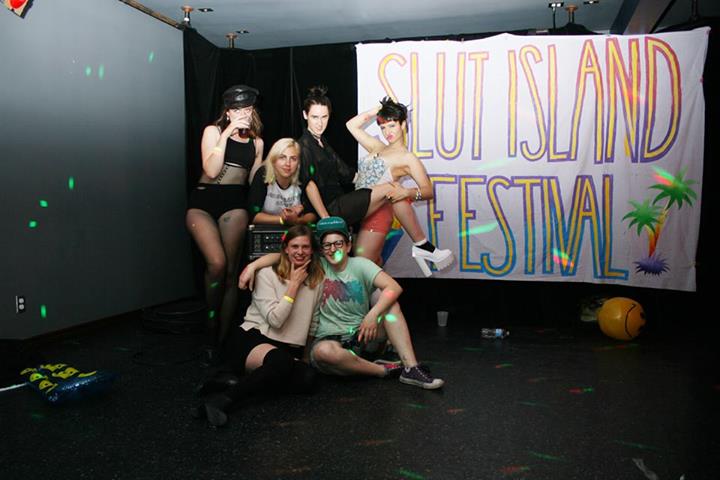 Vous parlez de "célébration de la femme", d'anti-humiliation de la slut et de positivisme du corps, comment voulez-vous que cette énergie positive se manifeste durant les évènements?
Dans le monde utopique magique qu'est Slut Island, des gens qui représentent un vaste éventail de types de corps se sentent libres de s'habiller et d'agir de façon aussi sexy qu'ils le veulent sans être assaillis par la notion que ce sentir bien envers son propre corps est réservé à l'infime pourcentage de la population qui possède les caractéristiques populaires de ce qu'est "un beau corps". Ce standard complètement irréaliste entrave tout le monde, quoique spécifiquement les gens qui se présentent de façon féminine, les empêchant de se sentir bien envers eux-mêmes sur une base quotidienne. Non seulement notre société humilie les femmes "aux moeurs légères" (sluts), mais elle dicte également le "type" de corps de nous devrions exhiber: ça veut dire que les grosses sluts c'est VRAIMENT pas correct? L'absurdité de cette norme sociale est tellement frustrante et nous, comme tant d'autres femmes, sommes exaspérées des effets que ces normes ont sur nos cerveaux et sur notre image de soi. La phobie du gras prend une place tellement banale dans notre vie au quotidien, c'est horrible, c'est oppressant et ça doit cesser. Personne ne devrait se sentir comme si son propre corps n'est pas le bon pour se sentir sexy… FUCK THAT SHIT. Nous ne nous attendons pas à cesser le patriarcat en organisant un festival, idéalement, les gens le verront comme un rappel que ces choses existent et qu'ils continueront à travailler à les changer. En fait, ces spectacles sont mis sur pieds par des gens qui rejettent toute cette merde alors, avec chance, cette attitude va se manifester en ayant tout le monde encourageant autrui à se sentir bien peu importe la façon qu'ils se présentent, que ce soit dans un sac de patates ou dans un bikini.
Parlez-nous un peu de la programmation. Comment avez-vous pensé les évènements?
Ça a été le plus compliqué! Nous avons fait un appel aux soumission et avons reçu tant d'incroyables réponses. La programmation qui en découle représente notre tentative de regrouper des artistes dramatiquement différents en des évènements qui se tiennent. Pour simplifier à outrance chacune des soirées, voici ce à quoi à s'attendre :
Le 5 juin au Playhouse, avec Ghost Taco, Pretty Boys, Sigh Down One, Brother Moon, Sister Sun, FAKES et les DJs Sass War et K7K8, ce sera une soirée plus punk/performance. Il faut s'attendre à des ambiances sonores vaginales, des voix à retourner le sang, etc.
Le 6 juin à la Vitrola aura une atmosphère plutôt électronique, post-punk, no wave avec Douce Angoisse, Dekoder, Food Stamps et Cheap Wig. Les visuels tout au long de la soirée seront faits par l'incroyable J'VLYN et l'animation par Peaches Lepage (qui deviendra votre queero). Il y aura également du good vibe par DJBOYZCLUB et Babi Audi.
La matinée au Il Motore, le dimanche 8 juin, est une progression géniale de cinq artistes, débutant avec des actes plus crus et centrés sur la voix et progressant peu à peu dans vers une ambiance de drone électronique obscure avec Charlotte Day Wilson, Empty Disco, Xania, Phoebe & Tanya et Gambletron. Pour adoucir le tout, nous avons Domina Kalika et ses amies qui recrutent pour la Ligue de Lutte Féminine de Montréal avec un court match et un atelier pour jouer prudemment. Cette journée est PAY WHAT YOU CAN (Donnez-ce-que-vous-voulez) et est dans une salle de spectacle accessible pour les chaises roulantes.
Le 12 juin au Piccolo Rialto, ce sera une soirée plus chic dance pop avec Lydia Ainsworth, TOPS, The Wayo, Light Fires et Jef Barbara. DJ/MC Mikiki Mikiki et DJ Like the Wolf sont des queer babes légendaires qui vont vous éblouir.
Pour conclure le festival, le 13 juin au Playhouse, White Poppy, Big Sissy, Ylang Ylang et Syngja vont sérieusement activer tous vos sens. Attendez-vous à être hypnotisés par ces performances, projections analogues de Zuzu Knew, thérémine!!!!!, vocaux sauvages: méchant trip. Aussi, au cas où vous n'auriez pas vu leurs noms de DJs trop chouettes : Miley Highrus et Compton Chic vont vous faire bouncer.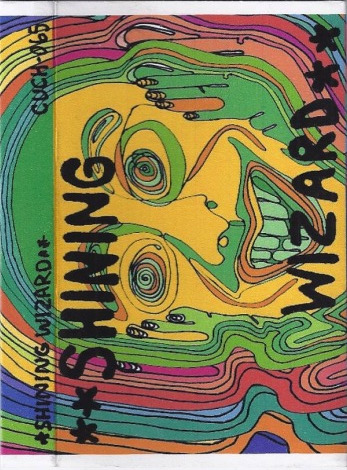 Shining Wizard
No Room For
Montréal, QC
From the barred hyphenation of Javier Fuentes:
A walk into Shining Wizard's world quickly turns into a perpetual stumble and slip. Headspinning shifts that mirror the spectrum-melting artwork courtesy of the Pink Noise's Tara Desmond. Raw tunes hit the burnt pile after filtering through the new-normal radiation levels courtesy of their fellow Montreal tenants. Rogue fuzz pedals conjure up a cloud of tumultuous dust while flangers extend their reach in every direction. A barely standing kit topples to ground level while the drummer gleefully digs into the wreckage to bury the remaining sounds. This is morning music for waking up in a bizarro world.
De la césure interdite de Javier Fuentes:
(Traduit de la tête d'arc-en-ciel de Catherine Debard)
Une promenade dans l'univers de Shining Wizard tourne rapidement en un enchaînement de pas vacillants, c'est tituber et glisser perpétuellement. Les changements de directions abruptes miroitent le visuel de Tara Desmond de the Pink Noise, un spectre de couleurs fondant étourdissant. Des chansons brutes aboutissent sur la pile de sons mutants après être filtrées dans le nouveau niveau de radiation musicale, courtoisie de leurs compères Montréalais. Des pédales de fuzz de voyous font apparaître un nuage de poussière tumultueux tandis que le flanger s'étire dans toutes les directions. Un kit de drum qui se tient à peine s'écrase sur le sol, le batteur fouille dans les décombres en jubilant. Il veut enterrer les débris de son restants. C'est une musique de matin pour se réveiller dans un monde bizarro.
Shining Wizard – Roosevelt Bars the Hyphenated
Shining Wizard – Hollywood Ponders Movie on Book About Snowden
---