Tag: casio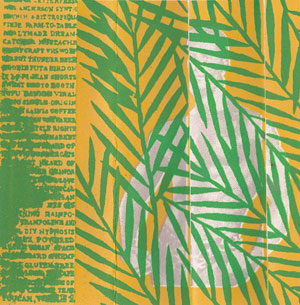 Ocular Gymnastics
Vol. 1
Montreal, QC
From the pedal-jammed meditations of Jesse Locke:
Encased in a squeeze box of screen printed palms, Ocular Gymnastics' debut transmission is as lavishly packaged as it is blissful. Pedal-jammed Casio meditations cast ripples across the mind-pond while the mountain of found-sound percussion clanks and rattles down the cortex. Only Moduli TV could provide suitable visual accompaniment for these C.H.U.D. ravers in a tropical time-warp à la Bamboo For Two.
Des méditations de pédales coincées de Jesse Locke: (Traduit par Odile Leclerc)
Enfermés dans un accordéon de paumes sérigraphiées, la transmission des débuts de Ocular Gymnastic est autant emballé suptueusement que c'est divin. Les méditations de pédale coincée de Casio projettent des ondulations à travers l'étang-esprit pendant que la montage de percussion des sons trouvés cliquète et dégringole dans le cortex. Seul Moduli TV pourrait fournir un accompagnement visuel approprié pour ces raveurs C.H.U.D. dans une dimension parallèle tropicale à la Bamboo For Two.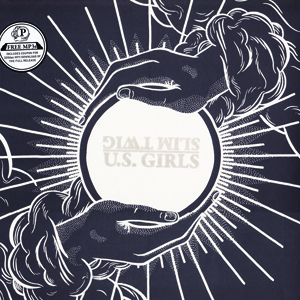 Slim Twig // U.S. Girls
Split
Toronto, ON
From the red velvet curtain of Pam Haasen:
An underground snake charmer melodizes from the catacombs of Olde England to a loungy baritone quiver blared simultaneously out of a helicopter on tour over a war-torn city jungle. Red velvet curtains that never part sway gently behind his confident voice, urging you to wonder what's beyond yet remaining cryptic enough to immobilize you. Flip to a family reunion. You slip mushrooms. Cousin Megan is playing her doo-wop from under the pavilion while Uncle Max blasts RAWK from the El Dorado. The mash turns your stomach until the ambrosia salad laughs at you, and you let it wash over. Bliss.
Du rideau de velours rouge de Pam Haasen:
(Traduit par Odile Leclerc)
Un charmeur de serpent clandestin mélodise des catacombes de Olde England à un détendant frisson de baryton proclamé simultanément hors d'un hélicoptère en tournée au-dessus d'une jungle de ville déchirée par la guerre. Des rideaux de velours rouges qui ne se sont jamais ouvert se balancent doucement derrière sa cvoix assurée, vous pressant à vous demander qu'est-ce qui est au-delà, mais reste assez cryptique pour vous immobiliser. Capotez à une réunion de famille. Vous glissez des champignons. Cousine Megan joue de son doo wop sous le pavillon pendant qu' Oncle Max explose RAWK de l'El Dorado. Ca retourne votre estomac jusqu'à ce la salade ambriosa rie de toi et tu laisse passer. L'extase.
[audio:http://weirdcanada.com/wp-content/uploads/2011/07/Weird_Canada-Slim_Twig-02-Priscilla.mp3|titles=Slim Twig – Priscilla] Slim Twig – Priscilla
[audio:http://weirdcanada.com/wp-content/uploads/2011/07/Weird_Canada-Slim_Twig-05-Ill_Always_Be_A_Child.mp3|titles=Slim Twig – I'll Always Be A Child] Slim Twig – I'll Always Be A Child
[audio:http://weirdcanada.com/wp-content/uploads/2011/07/Weird_Canada-U-S_Girls-06-If-These-Walls-Could-Talk.mp3|titles=U.S. Girls – If These Walls Could Talk] U.S. Girls – If These Walls Could Talk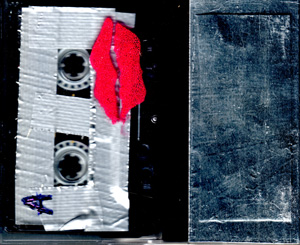 Géraldine
Baiser avec un miroir
(Autoproduit/Indépendant)
Montreal, QC
From the reversed face of Benoit Poirier:
On November 2010, Géraldine, her doll voice and her accomplice Navet Confit put out Sold-out Capitalisme, an intriguing and complex LP of playful gaffer pop and hooded grunge. Five months later, they take out the four-tracks and are back with a tape on which they revisit and thrash down a bunch of the songs from the album with a Casio and a beatbox. The result is a far more spontaneous and jauntier rendering that goes from proto to post while keeping things simple enough to scare the little kids and make the artsy ones dance. (Best of all, side B contains the same tunes as side A, but in reverse – miroir!)
De la face à l'envers de Benoit Poirier:
En novembre 2010, Géraldine, sa voix de poupée et son acolyte Navet Confit ont fait paraître Sold-out Capitalisme un LP instrumenté, intriguant et complexe de gaffer pop ludique et de grunge cagoulé. Cinq mois plus tard, ils sortent leur four-tracks et reviennent avec une cassette sur laquelle ils reprennent et salissent plusieurs des pièces de l'album avec un Casio pis une boîte à rythmes, pour un rendu spontané et encore plus amusé qui va du proto au post tout en gardant les choses assez simples pour faire peur aux enfants et faire danser les artsy kids. (Pis le côté B contient les mêmes tounes que le côté A, mais à l'envers – miroir!)

Géraldine – Tendance

Geraldine – Sold-Out

Geraldine – Ecnadnet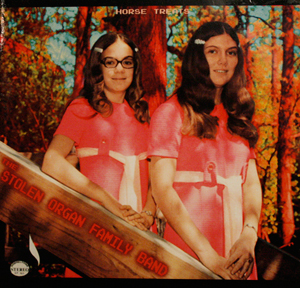 The Stolen Organ Family Band
Horse Treats
(Babynuts Records)
Vancouver, BC
From the xian-beehive K-Mart closet of Jesse Lock:
It'd be pretty dim to call 'em Proggy, but with their multiple movements, tempo changes and quickly shifting moods, the tweaked, twangy tunes of the Stolen Organ Family Band come across like some backwoods strain of Bohemian Rhapsody. Lyrically, singer, songwriter and six-string slinger Conor Mack shares campfire stories of shitty hometowns, divorce and excitable puppies with syrupy sweet choruses that'll get wedged in your brainpan and rattle around for weeks. With back-up vocals, blown-out Casio FX and suitcase percussion by the lovely Miss Kelly Badger plus the Zen-like steadiness of bassist Ari Cipes, the Stolen Organs bring to mind Jonathan Richman and his Modern Lovers slumming it as subway buskers. You might also think of the Meat Puppets when you're listening to these country-fried home-recorded rambles, but the shadow of the almighty Ween looms the largest. Horse Treats is a kind of 'greatest hits so far', and the manifesto on the back might just say it best: "Ain't down with hiss, ain't down with this."
[Levin's Note: Never underestimate the power of Casio.]
Du garde-robe ruche-xian de K-Mart de Jesse Lock:
( Traduit par la boîte à rythmes de Odile Leclerc)
Ça serait plutôt vague de les appeler Prog, mais avec leurs multiples mouvements, les changements de tempo et les humeurs rapidement changeante, les mises au point et les chansons qui nasillent des Stolen Organ Family Band arrivent comme un genre de souche du fond d'une forêt de Bohemian Rhapsody. Lyriquement, le chanteur, compositeur et lanceur d'un six-cordes Conor Mack partage des histoires de villes natales merdiques autour d'un feu de camp, de divorce et de chiots excitables avec des chœurs doux et sirupeux qui vont s'incruster dans un repli de votre cerveau et vibrer pour des semaines. Avec des chants de soutien, du Casio FX à fond et des percussions de mallette par l'adorable Miss Kelly Badger plus la stabilisation zen du bassiste Ari Cipes, les Stolen Organ nous rappellent Jonathan Richman et ses Modern Lovers l'encanaillant comme un musicien de métro. Vous allez peut-être aussi penser aux Meat Puppets  quand vous écoutez ces radotements frits à la paysanne et enregistrés maison, mais l'ombre du grand Ween est le plus imminent. Horse Treats est un genre de ''plus grands hits jusqu'à maintenant'' et la manifeste à l'arrière pourrait bien le dire mieux : ''pas abattu par un sifflement, pas abattu par ça.''
[Note de Levin: Ne sous-estimez jamais le pouvoir de Casio.]
The Stolen Organ Family – Plums
---