Tag: carol fraser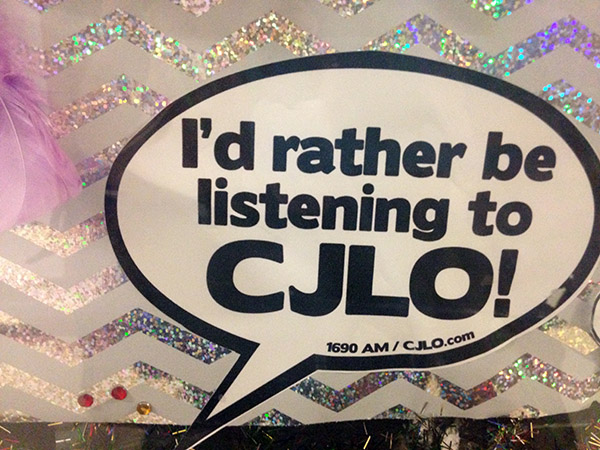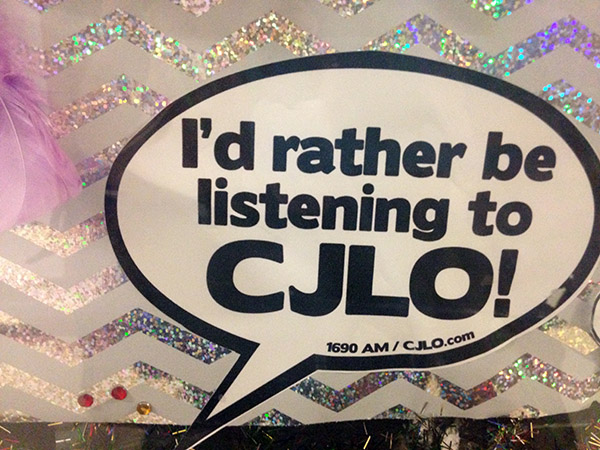 Frequencies :: CJLO 1690 AM (Montréal)
Montréal, QC
(Photos by: Carol Fraser)
From the drowned-out dronefields of Carol Fraser:
Concordia University's campus/community radio station may be a bit hard to find, but it sure isn't hard to love. When not having their Fundrive or just plain having fun, the team at CJLO is hard at work making soundscapes for their city and the world to enjoy.
Recently I met up with three magic-makers: Omar Husain, CJLO's hard-listening Music Director; Denis Arsenault, "Dirty Work" host and CJLO Board member; and Lucy Marshall-Kiparissis, CJLO's Volunteer Coordinator. We met in The Oven, CJLO's recording studio, for a conversation about the station, the state of radio, and never giving up.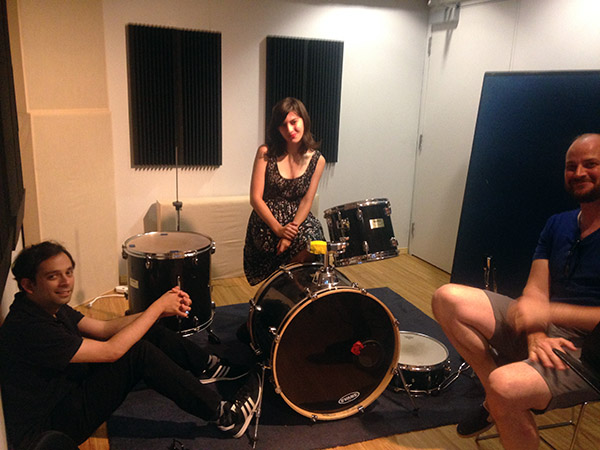 What are the origins of CJLO?
Omar Husain: There were two campus radio stations initially, one on the Sir George Williams campus and one on the Loyola campus, who merged together to become CJLO, which was given this space by the University. From that point onwards, the space has taken different shapes.
When I first started volunteering, this room, The Oven, was offices, and the production studios were all in the small control room (now the on-air studio). The DJ booth, production studios and offices have moved around quite a bit. A few years into CJLO, they decided to turn this room into a full fledged production studio. The odd thing was they were using this as the control room and using a much smaller room as a production studio. I remember being here with the production director at the time, before I was volunteering here, and I just mentioned, "Why don't we switch this?" It was like a lightbulb went off in his head. We took carpets from the station manager's grandma's basement and made it soundproof, even more soundproof than it is today, in my opinion. That's when we started getting bands in to do sessions in it.
There was a lot of charm to how things were run back then. There was a true DIY aesthetic. We had a small group of people, and we just wanted to make a radio station, so we did.
It usually takes much longer for a station to develop a culture, a reputation, quality programming, and to get on air. In a weird sort of way, we've done a lot of that backwards. We had quality programming before we got an AM frequency in 2008, back when we were online-only. We used to say, "If we can only be online, then let's really focus on programming, and push the online aspect." That really helped, because when we flipped the switch to go on AM, we already had professional DJs.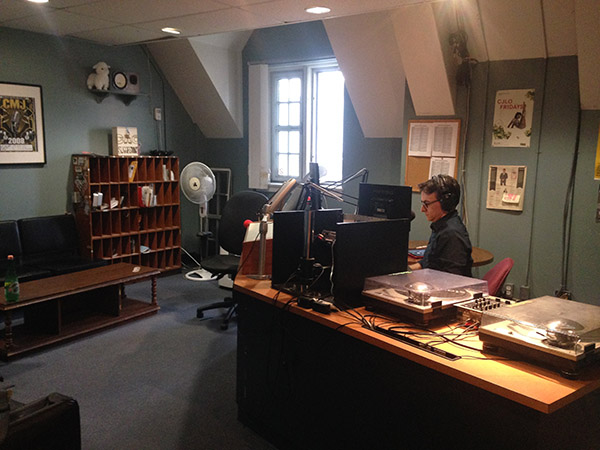 How and why do people get interested and involved in CJLO?
Lucy Marshall-Kiparissis: A lot of the student volunteers and DJs who come in, they've found us by chance. They haven't really found anywhere else on campus or in the city where they can develop their interests or their skills. Campus radio really just attracts a certain kind of person, and that makes for a very vibrant community.
OH: Weirdos is what she means!
LMK: It's people who are bored and restless and want to find an outlet. We're young – we don't have a super rigid structure. If you want to go on air, we have the space for people to really develop what they want to be doing.
How do you think that CJLO supports Weird Canada artists? Where do you see cross-over between CJLO and Weird Canada?
OH: A lot of the bands that are featured on Weird Canada are left of the dial compared to what's on regular radio. That's exactly our mandate: to play new, non-mainstream artists that are doing something interesting, original, weird. A lot of the bands that we catch wind of through Weird Canada are eventually played on CJLO's shows, and many of our volunteers' bands get featured on Weird Canada. There is very much a symbiotic relationship.
LMK: I name-drop Weird Canada a lot on my show, because any given week, if I'm coming up empty, Weird Canada is my first resource, and I know it's the same with a lot of other DJs. A few of us really jumped on getting involved in Drone Day here at CJLO for the past couple of years. Julie Matson of Echo Beach, a long time DJ at the station and a CJLO Board Member, was organizing it here in Montreal. I know she promoted it a lot through CJLO, and I did as well, and there was the Drones against Drones mixtape, too.
What's the relationship between radio and other media? Why do people listen to CJLO specifically?
OH: Radio is where you go to hear a variety of things with human connection instead of an algorithm. I never really liked radio stations where there are no talk spots. What's the point? I might as well just put my WinAmp on shuffle.
LMK: Even if you're listening to us online, you're making the conscious choice to listen to something you don't control. Kids who grew up on being able to curate their music are now choosing to let go. There can be a lot of value in letting someone else choose the music for you. It's something that a lot of young people, who never knew anything but making their own Youtube playlists, are really revelling in.
What's the relationship of CJLO to Montreal, the rest of Canada, and to other campus-community radio stations?
OH: To Montreal, it provides a way for Concordia students and community members to get involved in making radio in the area they want to learn: if they want to go on air, they can come and learn how to do that; if they want to record bands, they can learn that, too. Locally and nationally, it provides a medium for musicians and artists to get their art out to people, another way to help promote it. Sharing your music on Bandcamp or Facebook can only go so far.
LMK: There's a media monopoly in Canada right now. There's just not that many campus-community radio stations in Canada, and we all play an extremely valuable part in the alternative landscape. Not even just for alternative culture – anything slightly beyond the mainstream: we're keeping that alive. The internet has been a boon to music outside of these pre-selected playlists, but you can't rely entirely on the blogosphere.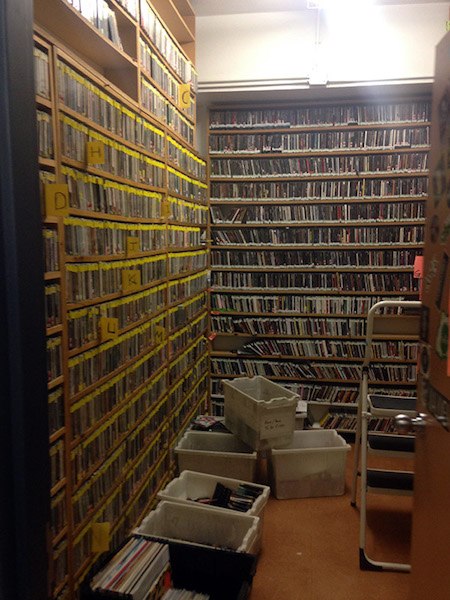 How have you seen the station change and grow in your time here?
OH: It's grown like crazy. When I started it was just a handful of us cobbling things together. Now we have a volunteer base of about 200 people. I don't even know many of their first names, whereas before everyone knew each other and we all hung out together.
It's become what we were hoping it might become. At the same time, there's always room for improvement. It's not quite at the stage where it's exactly how we want it, which is good, because that means there's room to grow.
What advice do you have for radio programmers and musicians?
Denis Arsenault: Don't expect money!
OH: Do it because you love it. 'Cause if you don't love it, you're going to hate yourself. I'm giving you the straight dope here! Honestly, if you're not passionate about it, if you don't love it, if you're doing it 'cause you think it's cool, if you're doing it to get on Pitchfork or Weird Canada or something, you're going to end up hating it and you're not going to keep doing it.
When you put out a record, you don't know how people are going to react. People might love it. People might not even pay attention to it. That can be discouraging. But at the end of the day, it's your art. Are you putting that art out there for yourself? Are you happy with the finished product? Is it something you can look back on and be proud of? If so, you're doing it for the right reasons.
Par les champs de drones étouffés de Carol Fraser:
(Traduit par L. Frank)
Ça se peut que la station de radio communautaire universitaire de Concordia soit difficile à trouver, mais elle n'est pas difficile à aimer. Quand ils ne sont pas en train de faire leur « Fundrive » ou tout simplement de s'amuser, les membres de l'équipe de CJLO sont en plein action créant des paysages sonores pour que leur ville et le monde entier puissent en profiter.
Récemment, j'ai pu rejoindre trois supervedettes de la station: le directeur de musique Omar Husain, l'animateur de « Dirty Work » et membre du conseil d'administration Denis Arsenault et la coordonatrice des bénévoles Lucy Marshall-Kiparissis. On s'est rencontrés dans la salle d'enregistrement de musique de CJLO qui s'appelle [«le four»] On a parlé de la station, de l'état de la radio et de motivation.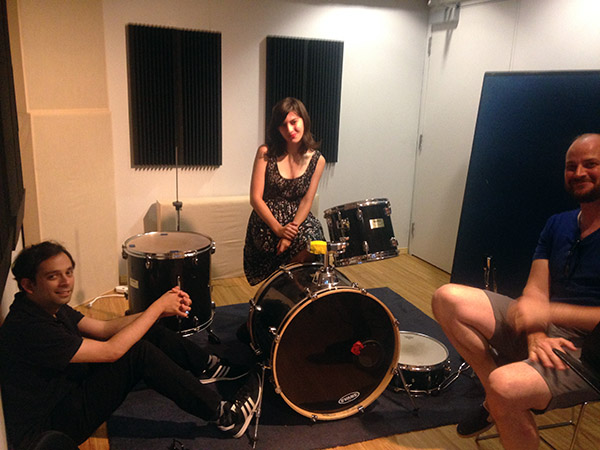 D'abord, parle-moi des origines de CJLO…
Omar Husain: Au début, il y avait deux stations de radio communautaire. La station au campus Sir George Williams et l'autre au campus Loyola se sont fusionnés pour devenir CJLO. L'endroit pour mettre le radio était un don de l'université. D'ici-là, l'espace à pris plusieurs formes.
Quand j'ai commencé, cette salle le four était plusieurs bureaux et les studios de production étaient tous dans la petite salle de contrôle (qui est maintenant le studio en direct). L'espace DJ, les studios de production et les bureaux on tous été déplacés. Quelques années après le début de CJLO une décision a été prise pour que cette salle devienne un véritable studio de production. En fait, c'était bizarre que cette salle ait été utilisée comme salle de contrôle et l'autre comme salle de production même si cette dernière était plus petite. Avant que je me sois impliqué, je me souviens que j'étais ici avec le directeur de production à l'époque et je me suis demandé: « pourquoi pas échanger les salles? ». Pour lui, c'était comme une révélation. On a pris des tapis qui était dans le sous-sol de la grand-mère du gérant et on a insonorisé la salle. À mon avis, la salle était encore plus insonorisé à l'époque qu'aujourd'hui. C'est à ce moment-là qu'on a commencé à avoir des sessions d'enregistrement avec des groupes de musique.
À l'époque, on a géré la station avec beaucoup de charme. Disons que l'esthétique était DIY. Nous étions un petit groupe qui voulait faire une station de radio, alors on l'a fait.
Généralement, ça prend beaucoup plus de temps qu'il nous a fallu pour développer une culture, une réputation, la programmation de qualité et à se mettre en ondes. On l'a fait de façon inverse, ce qui est un peu bizarre. On avait la programmation de qualité avant qu'on soit diffusé sur la fréquence AM en 2008. Auparavant on était diffusé en ligne seulement. On disait, «Si notre seule moyen d'exister est en ligne, concentrons-nous là-dessus et allons au-delà de nous-mêmes. Un fois qu'on a démarré la fréquence AM, on avait déjà des DJ professionnels.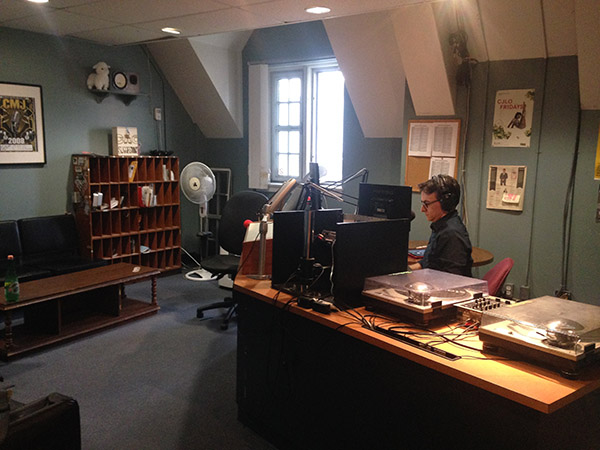 CF: Pourquoi est-ce que les gens peuvent s'impliquer à CJLO? Comment le faire?
Lucy Marshall-Kiparissis: Quant aux bénévoles de la station, un grand nombre d'entre eux sont des étudiants et des DJs qui se sont impliqués incidemment. Ils n'ont pas trouvé d'endroits ni au campus ni en ville où ils pouvaient développer leurs intérêts et leurs talents. Bref, les radios du campus attirent un certain genre de citoyen.ne et ces personnes deviennent le nœud de cette communauté qui est tout à fait vibrante.
OH: La radio communautaire attire des personnes bizarres. C'est ça qu'elle veut vraiment dire!
LMK: Ce sont des gens ennuyés et agités qui veulent trouver une façon de se débarrasser de cette animosité. La plupart d'entre nous sont jeunes et nous n'avons pas vraiment de structure rigide. En effet, si vous voulez vous impliquer, c'est possible: il y a de l'espace pour que les gens puissent vraiment développer ce qu'ils veulent faire.
CF: Est-ce que CJLO soutient des artistes-interprèts de Weird Canada? Est-ce qu'il y a un croisement entre les deux organisations?
OH: Plusieurs groupes qui sont presentés par Weird Canada sont à gauche du cadran quand on les compare avec la radio conventionnelle. C'est notre mandat de jouer des artistes de la relève qui font des choses intéressantes, bizarres et originales. Plusieurs groupes de musique qui ont été médiatisé initialement grâce à Weird Canada sont diffusées à travers nos ondes. De façon inverse, il y a plusieurs groupes de musique de nos bénévoles qui sont publiées par Weird Canada. Il y a vraiment une relation symbiotique.
LMK: Je mentionne Weird Canada souvent pendant mes émissions. Si je n'ai pas de contenu, je consulte Weird Canada et je suis pas mal certaine que bien d'autres DJs de CJLO le font aussi. Depuis quelques années, plusieurs gens se sont impliqués dans [DRONE DAY]. Julie Matson de [Echo Beach] est membre du conseil exécutif et, comme une autre DJ à CJLO, elle était organisatrice de Drone Day ici à Montréal. Elle promouvait l'événement à travers nos ondes, comme je le faisait, et il y avait aussi un mixtape Drones contre Drones.
CF: Pourriez-vous m'expliquer la relation entre la radio et d'autres médias? Plus précisément, pourquoi choisit-on d'écouter CJLO?
OH: La radio est un nœud où on peut y entendre diverses choses qui viennent d'un être humain et non d'un algorithme. Je n'aime pas les stations de radio qui n'ont pas d'espace pour que le monde puisse s'exprimer. À quoi sert-il d'entendre que de la musique? Je préférerais jouer des chansons au hasard de mon WinAmp!
LMK: Même si vous écoutez CJLO en ligne, vous effectuez le choix conscient d'écouter quelque chose qui est hors de votre contrôle. Même ceux et celles qui ont grandi en fabriquant leur propre listes de chansons veulent maintenant l'abandonner. Ça se peut qu'il y a une véritable valeur quand on laisse quelqu'un d'autre choisir. Effectivement, c'est quelque chose que plusieurs jeunes apprécient beaucoup puisque avant ils ne savaient que créer leurs propres playlists Youtube.
CF: Serait-il possible de décrire la relation entre CJLO et Montréal, entre CJLO et le reste du Canada et entre CJLO et d'autres stations de radio communautaires?
OH: Ici, à Montréal, la station offre un moyen de s'impliquer non seulement pour les étudiants de Concordia, mais aussi pour des membres de la communauté. Ceux et celles qui veulent s'impliquer peuvent profiter d'une opportunité dans le domaine qu'ils veulent, soit en direct, soit pour enregistrer de la musique. Il y a plusieurs avenues pour apprendre. Au niveau local et au niveau national la station fourni un moyen aux artistes, aux musiciennes et aux interprètes de promouvoir leurs oeuvres. Au bout du compte, Bandcamp et Facebook ont des limites.
LMK: Présentement, il y a un monopole au Canada. Il n'y a pas grand nombre de stations de radio communautaire et on joue tous un rôle précieux dans le paysage médiatique alternatif. En effet, on offre une bouée non seulement à la culture alternative, mais aussi aux gens qui sont à peine hors de la culture dominante. On ne peut pas se fier absolument à la blogosphère, même si L'Internet a agi comme un coup de pouce pour un genre de musique qui existe hors de ces listes présélectionnées.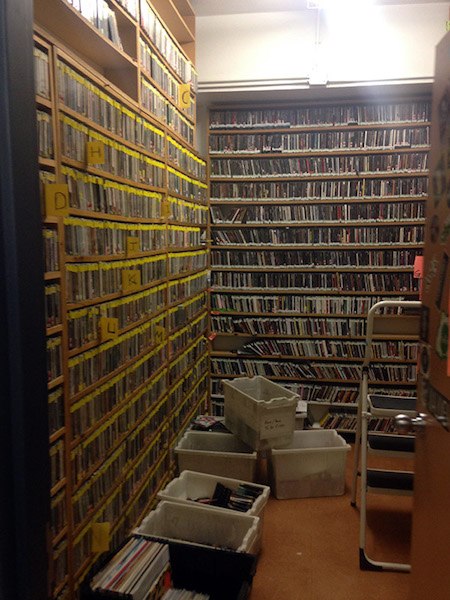 CF: Est-ce que vous avez aperçu des changements à CJLO? Est-ce que la station a connu une importante croissance?
OH: Elle a beaucoup grandi. Au début, c'était une petite poignée de personnes qui bricolaient une station. Maintenant, on a une base de 200 bénévoles. Je ne suis plus au courant des prénoms de la plupart, alors qu'avant je connaissais tout le monde et nous nous soutenions tous.
C'est devenu ce qu'on avait espéré, même si on peut toujours s'améliorer. On pourra dire que nous ne sommes pas arrivés là où on voulait, ce qui est une bonne nouvelle selon moi, parce que ça veut dire qu'il y a quand même du potentiel.
CF: Avez vous des conseils pour des programmeurs radio et/ou pour des musiciens?
Denis Arsenault: Ne vous attentez pas à faire de l'argent!
OH: Faites-le par amour. Si vous n'aimez pas ça, vous allez finir par détester ça. Honnêtement, si vous n'êtes pas passionnés par la radio, si vous le faites parce que vous pensez que c'est à la mode, si vous le faites pour obtenir une revue de Pitchfork ou de Weird Canada, enfin vous détesterez ce que vous faites et peu après vous arrêterez.
Quand vous sortez un disque, la réaction du grand public est toujours inconnue. Peut-être les gens seraient ravis du disque. Peut-être que personne ne tiendra compte du fait que le lancement a eu lieu. Vu que le monde est précaire, on ne sait jamais. Ça peut être décourageant, mais en fin de compte, c'est votre art. Est-ce que vous le faites pour vous-même? Êtes-vous satisfait de l'effort et du processus? Avec le recul, est-ce que vous êtes fier? Si oui, vous le faites pour la bonne raison.
Montreal's CKUT 90.3 FM Campus and Community Radio Station
Montreal , QC
From the drowned-out dronefields of Carol Fraser:
The only way to enter CKUT is through what feels like a back-door, even if it's on the front of a building, which makes even a first-time visitor feel like they're in on the magic of creating radio. Located on the ground and first floors of a residential building near McGill University's campus, CKUT greets you with posters of events past and future, reminding you of your humble place in the great aural universe. With its two production studios and live Master Control Room, as well as offices for seven permanent staff, CKUT is an always buzzing hive, worker bees flying in and out in search of sweet sounding nectar to share with the rest of the world. Broadcasting since 1987 on 90.3 FM, and on a closed-circuit in the Shatner Building for twenty years before that, CKUT continues to push the envelope when it comes to music, news and arts and culture programming.
Joni Sadler is CKUT's Music Department Coordinator and curates CKUT's New Shit, broadcast Mondays from 3-5 PM. (CKUT is known for being non-hierarchical and collectively run, thus the departments have coordinators, not directors).
CF: What makes CKUT special? JS: It's a space that really tries to foster experimentation and innovation. There's always been a sense of adventure and exploration – both in terms of how people host, and how people are encouraged to approach the studio as an instrument. Out of all of the stations I've been involved with, I think it's the most willing to take risks, not only in terms of just programming content, but also trying crazy things – not always sticking with the status quo – and really sticking its neck out in a brave and awesome way.
There are really strong departments – music, arts and culture, news – which is something I haven't found at a lot of stations I've visited or been involved with. It allows for more development within each department. We have a strong news department with a social justice bent – we're explicitly political, and that's something we're proud of. It's something we try to encourage and foster.
CF: What do you see as CKUT's relationship to Montreal and the rest of Canada? JS: CKUT is one of the biggest and most established stations in Canada. It has a solid reputation – a deep, rich history – and a lot of momentum and passion. I'd say it's always been a bit of a trailblazing station – the Homelessness Marathon, for instance, speaks to the ethos that CKUT has, in terms of taking risks and in terms of the causes we want to stand for, whether it's giving voices to marginalized people, or experimental artists who don't have anywhere else to expose their music. We always try to be a resource for people behind the scenes, on air, and performers who are just finding their feet, as artists too.That's really important to us – providing a platform where people can start out and take risks. There's a lot of respect between musical communities and CKUT, and a lot of collaboration. We love to make things happen in the community and it's something we always try to do our best at.
CF: How do you think CKUT supports Weird Canada-like music and arts? Why do you think this is important?
JS: CKUT hosted the NCRA conference in 2009. Aaron Levin approached me with a piece of paper that said "I want to start a website." [Laughs] He had been handing these papers out to other like-minded music directors, and maybe half a dozen of us became contributing writers when it first launched, so it stemmed out of CKUT and campus-community radio in general – in my mind they're pretty closely connected.
We've worked closely with Weird Canada in other capacities – we have a program called If You Got Ears which Weird Canada volunteers curated in October 2014. They brought in a lot of guests and explored a lot of the issues that Weird Canada is focused on – aspects of community, the different segments that go into making art and music in a scene… In a broader sense a lot of our programmers are fans of the website and use it as a resource to find content for their shows. And vice versa… I have friends who find a record in our library or hear it on a show and say "Wow, I want to write about this [for Weird Canada]." I think the inspiration goes both ways. I think it just comes down to people who are passionate about music and interested in supporting things that aren't heard otherwise, in whatever form is good for them.
CF: Who or what brought you to CKUT? JS: I would totally give props to AJ [a former CKUT Music Dept. Coordinator]. I was working in Ottawa previously and whenever I came to Montreal we kept running into each other. As somebody who had more experience in the music community than I did, she was pretty instrumental in not only bringing me to CKUT but in giving me confidence as a female artist and a female sound person as well, in terms of standing up for yourself and not taking bullshit, and establishing your rights in a scene, and being a super strong head of a department here.
Andy Williams is co-host of The Goods, which celebrates its 13th anniversary this year. The Goods broadcasts every Sunday from 2- 4 PM. "It's a way to listen to music that you don't really hear in popular culture, and I've always been fascinated by that."
CF: Was there a specific moment or person that turned you on to CKUT? AW: No, actually…I enrolled at McGill in 1994. I got here in August and one of the first things I did after I unpacked was I went to straight to CKUT to see if I could get involved. I knew people who were doing radio here. We're all connected in a weird way, people doing radio…I wanted to see if I could fit in and there was a place for me there… At the time I guess there wasn't really a way for them to check me out online and see if I was capable of doing it, but just by yacking and chewing the fat with them they realized that 'Oh this guy probably really does know his jazz.' So I signed up to do my own show, called Solo for Two Voices with Dr. Moore, and we did that for about 5 years. And then I joined a team to do a show called Jazz Euphorium, which is still around, and eventually Scott C. and I started The Goods.
CF: What is the role of CKUT in the art you make and the art you love? AW: It's given me freedom! It's fairly easy for me to get my records out but to actually play them on the air – it gives me access to do that, which is really important [as a DJ]. And that's what we do, that's why our show is called The Goods. We play stuff from past, present and what we refer to as "future classics."
CF: Why do people listen to CKUT? Why should they keep listening? AW: You'll never hear the same old thing – I hear new music all the time on CKUT. It sets a precedent for all the other radio stations out there. I don't really hear good radio like that elsewhere. For example Funky Revolutions – they talk about politics, race, gender, news, they'll either play something that pertains to that or something that connects to what's going on. And I think that's needed.
Louise Burns, Sales Coordinator. Louise has worked at CKUT for over 20 years. "My personal philosophy right now is 'Get out of school'"
CF: What's unique about CKUT? LB: It's the cast of characters. It's like what I could consider to be real diversity, which is not just skin tone, you know, it's about socio-economics, it's about different backgrounds, different abilities, it's about music abilities which are really close to people's identity, you know? It's about different sexual preferences, sexual identities, the full scale from 1 to 5 and all the middle too, different religions, different ages…but there's something that is the same as well, which is the kind of concept of alternative voice, which is non-mainstream, non popularity contest… People are there to speak to somebody else. It's an intimate conversation, and it's one of self-expression.
CF: What's CKUT's larger role in Montreal and in Canada? LB: An out of school education, for sure… I was just talking to someone about the anti-austerity movement that's happening right now. We can do that education. Take those five-minute clips about austerity and go on the different music shows, and have a real conversation… have a dialogue. That's when, for me, it's super radical and I've had a lot of those moments here.. which are hard as hell, but totally worth it! I get listeners calling me and continuing the conversation. It's a different point of view. That, to me, is the work of community radio. Even in music, because you can have the same kind of conversation.
CF: How'd you end up at CKUT? LB: I had been in bands, and I had been doing stuff at Concordia radio and I was doing film… Once I ended up in the job I'm doing now, I kind of looked around and said "What's needed?" and I think that was the smartest thing to do, instead of saying "What do I want to get out of this?"
CF: How has the station changed and grown in the time you've been here? LB: I would say that in the diversity of communities and in the moving from a university-based group of people, in terms of mentality, in terms of the people who are the participants, not everyone here has had a university education… In this sense, there was a lot of adjustment of the people who were here. Diversity is hard, by the way. There were a lot of growing pains, in terms of confronting that. It's a challenge. And it's depressing sometimes. Because you see how much bigotry or instinctual protection people have.
There are so many things we didn't anticipate. We didn't anticipate people would stay for 25 years! The programmers especially. I guess I think I didn't even anticipate I would stay. It's kind of like, what? I'm still here? It's part of who I am. It feeds you. It's in your blood. There's one programmer who says it's his therapy. It blows my mind, the programmers who are on from 4-7 AM and they'll do it forever. They come in the middle of the night, in the middle of winter. Clearly that's their thing, it's everything.
No one ever expected that – that they conceived of a radio station and that there would be people for whom the radio station would become their lives, including me. No one ever thought of that.
CF: What is the role of CKUT in terms of the art you make and the art you love? LB: Freedom, for sure. And also – I've heard so many art-that-I-love people nodding to the diversity in their work. People sample each other's work and it becomes a whole new thing. People are exposed to a diversity of sounds. And I guess the lack of formality makes experimentation happen more, you know. The fact that we use our studio as a live venue a lot, that we sit around once a week as a staff and can say to ourselves, "What about if we have a circuit workshop," or "I have this idea," that often comes up. If you don't have a place to speak these ideas they don't tend to happen… But you have a place to make these ideas here.
Par les champs de drones étouffés de Carol Fraser:
(Traduit par Carol Fraser et Hлади́мир Вабо́ков)
La seule façon d'entrer dans CKUT est par une porte qui ressemble à une porte arrière, même si elle est en avant. Cela donne l'impression, même à la première visite, que l'on fait partie de l'équipe de magiciens qui crée la radio. CKUT occupe le rez-de-chaussée et le premier étage d'une maison près du campus de l'université McGill. À l'entrée, CKUT t'accueille avec des affiches qui annoncent des événements passés et à venir. Cela te rappelle que tu n'as qu'une petite place dans l'univers sonore. Les deux studios, la régie centrale et les bureaux des sept employés permanents transforment CKUT en ruche bourdonnante, où il y a toujours une abeille à la recherche de nectar sucré à faire écouter au reste du monde. En ondes sur 90.3 FM depuis 1987 et sur circuit fermé dans l'édifice Shatner vingt ans plus tôt, la programmation des volets musicaux, actualités et arts et culture de CKUT continue de se démarquer.
Joni Sadler est la coordonnatrice du service musical à CKUT et elle est responsable de l'émission [New Shit] (Les nouveautés) (http://music.ckut.ca/tag/new-shit/) diffusée le lundi de 15 h à 17 h. CKUT est réputée pour être une station de radio qui fonctionne de façon collégiale et non hiérarchisée. Par conséquent, les services sont coordonnés et non dirigés.
CF : Pourquoi CKUT est-elle une station de radio hors de l'ordinaire?
JS : C'est un endroit qui essaye d'encourager l'expérimentation et l'innovation. La station a toujours eu un esprit d'aventure et d'exploration tant dans la façon d'animer que dans la façon d'utiliser la station comme un instrument. De toutes les stations avec lesquelles j'ai été impliquée, je pense que c'est celle qui est la plus ouverte à prendre des risques, non seulement sur le plan du contenu de la programmation, mais aussi de choses un peu folles – de ne pas toujours garder le statu quo et de prendre des risques de façon courageuse et géniale.
Il y a des services vraiment solides : musical, arts et culture et actualités, ce que je n'ai pas vu souvent dans les stations que j'ai visitées ou avec lesquelles j'ai travaillé. Cette approche permet de faire évoluer chaque service. Notre service des nouvelles est sérieux et orienté vers la justice sociale, nous avons un caractère explicitement politique, dont nous sommes fiers. C'est aussi quelque chose qu'on tente d'encourager et de favoriser.
CF : Comment décririez-vous la relation de CKUT avec Montréal et avec le reste du Canada?
JS : CKUT est l'une des plus importantes stations de radio du Canada et est bien établie. Elle a une réputation solide, une histoire riche et profonde, et beaucoup d'élan et de passion. Je dirais que la station a toujours aimé sortir des sentiers battus. Le marathon [Homelesness Marathon] (Marathon des sans-abri)(http://ckut.ca/homeless/), est un bel exemple pour illustrer l'attitude de CKUT face aux risques qu'elle est prête à prendre et à ses positions. Que ça soit pour donner une voix aux gens marginalisés ou aux artistes. On essaye de donner un forum aux personnes marginalisées, ou aux artistes émergents qui n'ont pas d'autre vitrine pour leur musique. On essaye toujours d'être une ressource pour les gens en ondes ou en coulisses et aussi pour les artistes qui se découvrent. C'est vraiment important pour nous d'offrir des opportunités aux gens qui veulent se lancer et prendre des risques. Il y a beaucoup de respect et de collaboration entre les communautés musicales et CKUT. On aime donner vie aux projets de la communauté et on essaye de le faire de notre mieux.
CF : Comment pensez-vous que CKUT soutient le même genre de musique et de culture que Weird Canada soutient? Pourquoi croyez-vous que c'est important?
JS : CKUT a accueilli la conférence de l'Association nationale des radios étudiantes et communautaires (ANREC)(http://ncra.ca/) en 2009. Aaron Levin m'a approchée avec une feuille de papier qui disait « Je veux lancer un site Web. » [Rires] Il avait donné ces feuilles aux autres directeurs musicaux, et en fin de compte une demi-douzaine de nous sommes devenus des collaborateurs réguliers du site lorsqu'il a été lancé. Alors, les racines de Weird Canada sont dans CKUT, et dans la radio étudiante et communautaire en général. Dans mon esprit, les deux sont étroitement liés.
On a travaillé en collaboration avec Weird Canada dans d'autres contextes. On a une émission qui s'appelle If You Got Ears lancée par des bénévoles de Weird Canada en 2014. Ils ont fait venir beaucoup d'invités et ils ont examiné plusieurs enjeux chers à Weird Canada : les aspects de la vie communautaire, les différentes parties de la création artistique et musicale sur scène. Dans un sens plus large, plusieurs de nos programmateurs aiment le site Web Weird Canada et l'utilisent pour puiser du contenu pour leurs propres émissions. Et à l'inverse, j'ai des amis qui trouve un disque dans notre discothèque, ou l'entendent pendant une émission et se disent : « Génial, je veux écrire un article à propos de ce disque pour Weird Canada. » Je pense que l'inspiration est mutuelle. Selon moi, en fin de compte, il s'agit de gens passionnés de musique et qui cherchent à appuyer des choses qui ne seraient pas entendues ailleurs, peu importe le média.
CF : Qui, ou qu'est-ce qui vous a attiré vers CKUT?
JS : C'est grâce à AJ [une ancienne coordinatrice du service musical à CKUT]. Avant, je travaillais à Ottawa et chaque fois que je visitais Montréal, on se rencontrait par hasard. Elle avait plus d'expérience que moi dans la communauté musicale et à ce titre. Elle m'a non seulement amenée à CKUT, mais m'a aussi donnée confiance en tant qu'artiste féminine et femme. Elle a été un modèle pour que j'apprenne à m'affirmer, à ne pas me laisser marcher dessus, à définir mes droits sur une scène et à être une chef de département compétente et respectée ici.
Andy Williams est le coanimateur de The Goods qui célèbre son 13e anniversaire cette année. The Goods est diffusé le dimanche de 14 h à 16 h. « C'est une façon d'écouter de la musique qu'on n'entend pas souvent dans la culture populaire, et j'avais toujours été fascinée par ça. »
CF : Est-ce qu'il y a eu un moment ou une personne en particulier qui vous a attiré vers CKUT?
AW : Non, en fait… je me suis inscrit à McGill en 1994. Je suis arrivé en août et une des premières choses que j'ai faites après avoir défait mes bagages est d'aller à CKUT pour voir si je pouvais faire partie de l'équipe. Je connaissais des gens qui faisaient de la radio ici. Le monde de la radio est petit, étrangement, nous sommes tous reliés d'une façon ou d'une autre. Je voulais voir si je pouvais m'intégrer et s'il y avait une place pour moi. À cette époque, ils ne pouvaient pas vraiment se renseigner sur le Web pour voir si j'étais capable de le faire, mais en parlant avec eux, ils ont réalisé que « Oui, le gars s'y connaît probablement en jazz. » Alors, je me suis porté volontaire pour faire ma propre émission qui s'appelait « Solo for Two Voices with Dr. Moore » et est restée en ondes pendant environ cinq ans. Ensuite, je me suis joint à une équipe pour faire une émission qui s'appelle Jazz Euphorium qui existe encore, pour ensuite commencer The Goods avec Scott C.
CF : Quel est le rôle de CKUT dans l'art que vous créez et celui que vous aimez?
AW : La station m'a donné de la liberté! C'est assez facile pour moi de lancer mes albums, mais de les faire jouer en ondes, la station me permet de faire ça, ce qui est vraiment important (comme DJ). Et c'est ça qu'on fait, et c'est la raison pour laquelle notre émission s'appelle The Goods. On diffuse de la musique d'hier et d'aujourd'hui, et ce qu'on appelle « des classiques de demain. »
CF : Pourquoi est-ce que les auditeurs écoutent CKUT? Pourquoi devraient-ils continuer à l'écouter?
AW : Vous n'entendez pas toujours la même chose, j'entends toujours de la nouvelle musique à CKUT. La station montre la voie aux autres stations de radio. Je n'entends pas vraiment de la radio d'aussi bonne qualité ailleurs. Par exemple [Funky Revolutions] (http://ckut.ca/c/en/oldgrid/saturday,14 h), ils parlent de politique, de race, de genres, d'actualité. Ils feront jouer soit quelque chose qui concerne un de ces sujets, soit quelque chose relié à ce qui se passe dans l'actualité. Et selon moi, on a besoin de ça.
Louis Burns, Coordinateur des ventes. Louis travaille à CKUT depuis plus de vingt ans. « Ma philosophie personnelle est "quittez l'école". »
CF : Pourquoi est-ce que CKUT est unique?
LB : Grâce à son personnel. C'est ce que je peux considérer comme une vraie diversité, pas seulement la couleur de la peau, mais le bagage socioéconomique, les différents milieux socioculturels, les différentes habiletés, les aptitudes musicales qui sont vraiment proches de la vraie identité des gens, tu sais? Les préférences sexuelles, l'identité sexuelle, la gamme de 1 à 5 et tout ce qu'il y a entre les deux, les différentes religions, les différents âges…, mais il y a quelque chose de commun aussi, qui est un peu le concept d'une voie alternative, qui est ni le courant dominant ni un concours de popularité… les gens sont ici pour parler à quelqu'un d'autre. C'est une conversation intime et de la libre expression.
CF : Quel est le rôle de CKUT à Montréal et au Canada?
LB : C'est assurément une école en dehors du système scolaire…Je parlais à quelqu'un à propos du mouvement contre l'austérité auquel on assiste. On peut faire cette sensibilisation. Diffusez pendant différentes émissions de courtes séquences de cinq minutes sur l'austérité et avoir une conversation, un dialogue. C'est dans ce temps-là que pour moi, c'est vraiment radical et j'ai vécu plusieurs moments comme ça ici à CKUT… c'est vraiment difficile, mais ça vaut la peine. Des auditeurs m'appellent et continuent la conversation. C'est un point de vue différent. Selon moi, c'est ça le travail de la radio communautaire. Ça peut arriver en musique aussi, parce qu'on peut avoir le même genre de conversation.
CF : Comment êtes-vous arrivé à CKUT?
LB : J'ai été membre de différents groupes de musique, je faisais des choses à la radio de Concordia et je faisais des films… Quand j'ai commencé ici, j'ai regardé autour de moi et je me suis dit « De quoi a-t-on besoin? » et je crois que c'était une des meilleures choses à faire, au lieu de dire « Qu'est-ce que je peux tirer de cette opportunité? »
CF : Comment la station a-t-elle changé et évolué depuis que vous êtes ici?
LB : Je dirais sur le plan de la diversité des communautés, et le fait qu'on n'est plus seulement un groupe de gens du monde universitaire, en termes de mentalités, en termes des participants, ce n'est pas tout le monde qui a fait des études universitaires…Beaucoup de gens qui étaient ici ont changé. En passant, ce n'est pas facile la diversité. Être confronté à ça a amené plusieurs grincements de dents. C'est un défi. Et de temps en temps c'est déprimant. Parce qu'on voit à quel point les gens ont des préjugés et un instinct de préservation. Il y a tellement de choses qu'on n'avait pas prévues. On n'avait pas pensé des gens resteraient ici vingt-cinq ans. Surtout les programmateurs. J'imagine que je n'avais pas pensé que même moi je resterais. C'est comme, Quoi? Je suis ici encore? C'est une partie de ce que je suis. Ça vous nourrit. C'est dans votre sang. Il y a un programmateur qui dit que c'est sa thérapie. C'est difficile à croire, les programmateurs qui sont ici de quatre heures jusqu'à sept heures le matin, et ils le feront pour toujours. Ils viennent en pleine nuit, au milieu de l'hiver. C'est clair, c'est leur passion, c'est leur vie.
Personne n'avait prévu ça, qu'ils avaient mis sur pied une station de radio et qu'il y avait des gens pour qui la radio deviendrait leur vie, y compris moi-même. Personne n'avait prévu ça.
CF : Qu'elle est le rôle de CKUT dans l'art que vous créez et celui que vous aimez?
LB : La liberté, c'est sûr! Et aussi, j'ai entendu tellement d'artistes que j'aime reconnaître la diversité dans leur travail. Les gens écoutent le travail d'autres musiciens et ça change tout. Les gens sont exposés à toute une variété de musiques. Et j'imagine que l'absence de formalité rend l'expérimentation plus facile. Le fait que nous utilisions souvent notre studio pour des performances en direct, que l'on s'assoit tous ensemble, et qu'on se dit « on pourrait faire un atelier circuit » ou quelqu'un dit souvent « J'ai une idée! ». Si on ne peut pas formuler ces idées, c'est difficile de les réaliser. Mais ici, c'est une place pour ces idées-là.
---