Tag: canada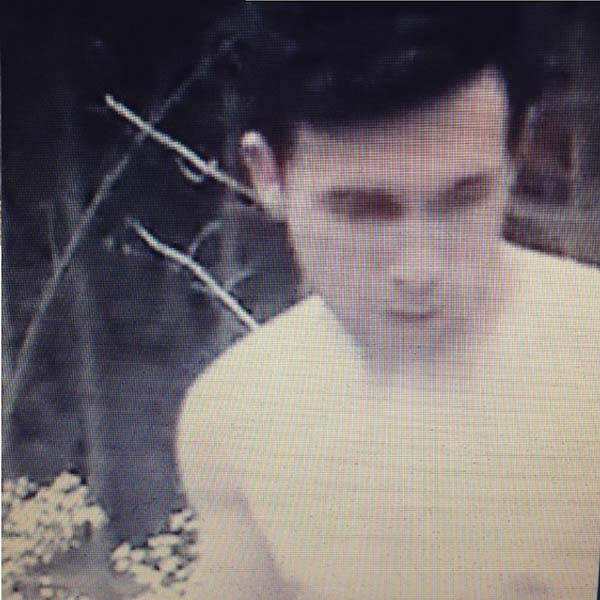 Alex Curtis
Sheer Curtain
(Self-Released)
La Ronge, SK
From the stop-start -isms of Joshua Robinson:
Icy wind and the whir of a stop-start motor on a frozen driveway. Broken is the one whose overtures are those of semi-northernly frigidity; intoned voices commixed to the point of spililng through the frosted windows of a basement too cold to keep itself warm. The yearning is obvious; spoken even. Pale blue eyes and the reckoning of humanity, fragile while loosening itself from the drapery of iconoclastic figures of the past. To breathe while sleeping is a gift, given that nihilism is the sad voyeur whose eyes frost the warm heart in the early dark of a prairie morning.
Des tressaillements de Joshua Robinson:
(Traduit par les yeux ni bleus ni pâles de Maya Keshav)
Le vent glacial et le ronronnement intermittent d'un moteur sur une allée gelée. Brisé est celui dont les ouvertures sont d'une frigidité quelque peu nordique, les voix qui s'élèvent se métissent jusqu'à ce qu'elles se renversent par les fenêtres givrées d'un sous-sol trop froid pour se garder au chaud. Le souhait est clair; même prononcé à voix haute. Les yeux bleus pâles et le jugement de l'humanité, fragile tout en se dénouant de la draperie des personnages iconoclastes du passé. Respirer en dormant, c'est un don, étant donné que le nihilisme est le voyeur triste, duquel les yeux gèlent le cœur chaud dans le noir de la prairie tôt le matin.
Alex Curtis – I Was A Bad Person Blues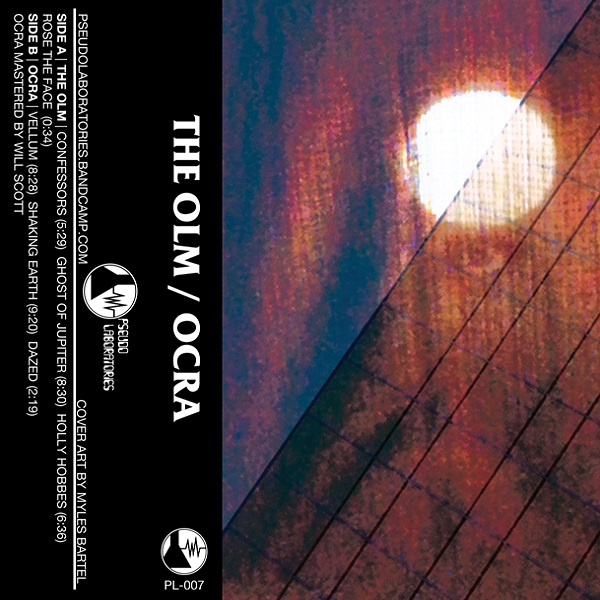 The Olm / Ocra
The Olm / Ocra
Edmonton, AB
From the timeluscent west of Heather Lune:
The Olm moans like a metal wraith, a fossil of the prehistoric ocean that lives in the mountains – badland epigrams malformed. They're a beacon sculling over the solid hide of the skyline, where the sea is held inside sun-risen fumes.
The Ocra hears a ghastly echo of our industrious carvings. Inscriptions knocking into the wind of falling bodies, the mechanisms used to slip through tap dancing waves. The scraping, digging, probing, mining. The generations, the millenia – waterbed bones compressing into an arid ocean floor.
Belonging to us, as we to it, a locked-soul.
Par l'ouest tempslucide de Heather Lune:
(Traduit par l'écho ésotérique des vents ténébreux d' Émily Traichel)
L'Olm gémit comme un spectre en métal, un fossile venu de l'océan préhistorique qui vit dans les montagnes – épigrammes malformées des badlands. Il y a un flambeau qui godille sur la peau solide de l'horizon, où la mer est enfermée dans des émanations solaires.
L'Ocra entend un écho épouvantable de gravures industrieuses. Des inscriptions cognent dans le vent de corps en chute, les mécanismes employés afin de glisser à travers les vagues qui dansent la claquette. Le grattage, creusage, sondage, l'exploitation minière. Les générations, les millénaires – les os du lit d'un fleuve qui se blottissent dans un fond d'océan aride.
Nous appartenant, comme on leur appartient, une âme-barrée.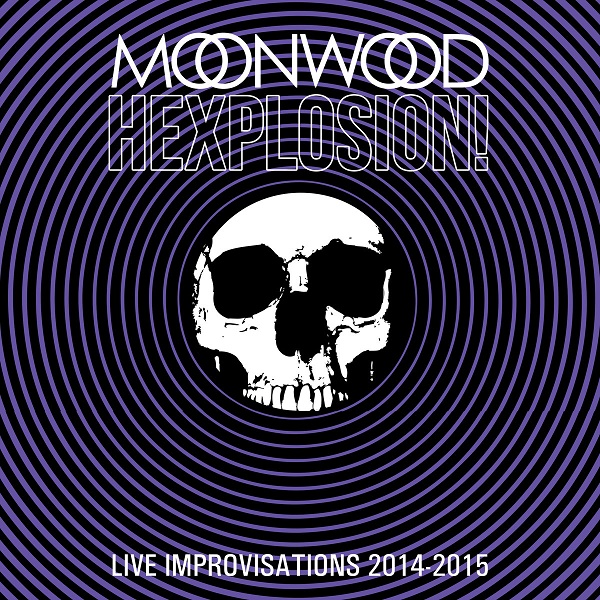 Moonwood
Hexplosion
Toronto, ON
From the impro-drone of Gabe Girard:
The world of improvised drone tends to employ the services of laptops, prerecorded samples and electronics in favour of live instrumentation. The world of impro-drone in the West is, for the most part, a digitized wonderland of electronics, synths and CPUS. Moonwood certainly use their share of binary vibrations, but to come across a live instrumental band that achieves that level of heart BPM reducing, out-of-body experience inducing, whimsically meandering drone that we all know and love is a rare thing indeed.
Par le drone-impro de Gabe Girard:
(Traduit par le méandrement fantasque d' Émily Traichel)
Le monde du drone improvisé a tendance à utiliser les services des ordinateurs portables, des échantillons pré-enregistrés et de l'électronique au profit de l'instrumentation en direct. Le monde du drone-impro dans l'ouest est, pour la plupart, un pays des merveilles de l'électronique, des synthés et des UCs. Moonwood se servent certainement de leur part de vibrations binaires, mais le fait de croiser un groupe live qui atteint un tel niveau de drone réducteur-de-BPM-du-coeur, inducteur-d'expérience-extra-corporelle et fantasquement méandre, que nous connaissons et aimons tous, est effectivement une chose rare.
Moonwood – Cosmic Ratio (2015.5.29)
Moonwood – Set the Overdrive For The Dark Side of the Nile (2015.01.09)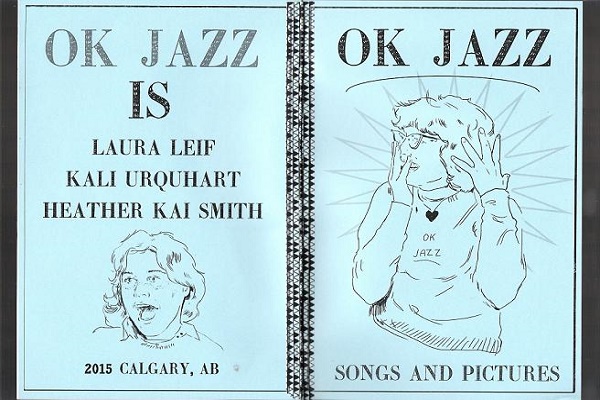 IMAGE
OK Jazz
OK Jazz
(Self-Released)
Calgary, AB
From the swollen biceps of Trevor Angst:
Who remembers weird Canadian sketch comedy Kids in the Hall? OK Jazz do, dedicating a jocular titled track to the pitiful sexist with vegetation for hair. OKJ knows what peeves Cabbage Head and do it best by diving into the fine art of tiered satire. OKJ chants for gender equality in harmonious solidarity. Clean guitar and complimenting overdriven bass tones slither underneath blissful singing. The sound is indefinite and signature throughout their debut. OKJ can belt a shrill voice to drive their take home message; to join their people's club. Anybody is invited. Embrace the state of mind and you won't be waitlisted.
Des biceps enflés de Trevor Angst:
(Traduit par la culture canadienne de Nicolas Coutlée)
Qui se rappelle de Kids in the Hall, cette émission canadienne à l'humour étrange? OK Jazz s'en souvient et dédie un titre plaisantin à ce pitoyable sexiste aux cheveux végétaux. OKJ sait ce qui se trame dans cette tête de chou et l'illustre parfaitement grâce à l'art fin de la satire à niveaux multiples, célébrant l'égalité des sexes dans la solidarité harmonieuse. Une guitare claire complémentée de tons de basse surmultipliée s'immisce sous un chant merveilleux. Sur ce premier album, le son reste indéfini tout en étant distinctif. Mais OKJ peut également scander son message d'une voix stridente : joignez-vous à notre club! Tout le monde est le bienvenu. En adoptant cet état d'esprit, vous pouvez oublier la liste d'attente.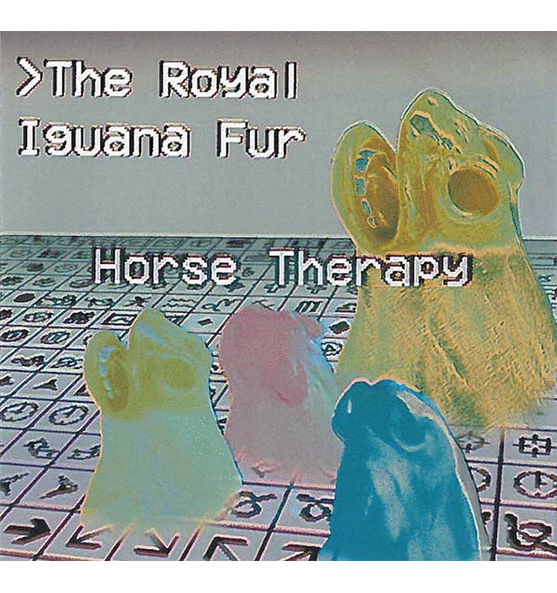 Royal Iguana Fur
Horse Therapy
Edmonton, AB
From the fascist groove of Jared MajeskI:
Physically resembling a Hackers vision of frozen horse surreality, Peace Country wayfarer Alex Linfield's latest vaporized totem delves through playful post-punk hypnosis, bedroom polyrhythms and fretless wormholes. There's a computerized sodality here, futuristically swirling with the punks and weirdos too cool for disco, but who still want to twinge and tweak on the dance floor. It's an interpretation geographically removed that maybe we start to wonder what "back in the day" actually means to people now. Do we appreciate and replicate, or do we make it our own?
Du groove fasciste de Jared MajeskI:
(Traduit par Jessica Grenier)
Ressemblant physiquement à une vision irréelle piratée de chevaux gelés, le dernier totem vaporeux du voyageur de Peace Country, Alex Linfield, réside quelque part entre une ludique hypnose post-punk, une polyrythmie de chambre et des trous de vers sans frette. On y retrouve une confrérie informatisée, en plein tourbillonnement futuriste avec des punks et des bizarroïdes, trop cools pour le disco, mais voulant quand même syncoper sur le plancher de danse. C'est une interprétation géographiquement éloignée invitant à se questionner : que signifie « dans mon temps », dit aujourd'hui? Est-ce qu'on apprécie/reproduit ou est-ce qu'on se l'approprie?

Royal Iguana Fur – Life at Sea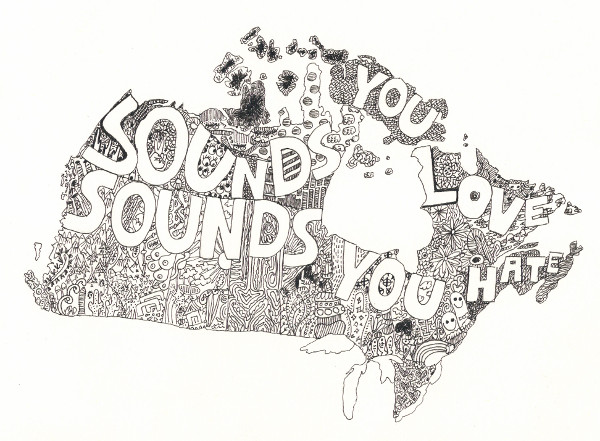 Vancouver New Music has launched a Canada-wide sound curation project entitled Sounds You Love / Sounds You Hate. By creating a Google-mapped archive of sublime intonations from across the country, Sounds You Love / Sounds You Hate breathes life into the diaphragmatic curiosities that keep us stumbling for an explanation in our natural and sonorous world. Vancouver Sound Design maps the sounds that define a particular place. In much the same way that sepia glyphs are memorially imprinted by apertures and flashing filaments, Soundscape Design harnesses frames of sound and fragments of time.
Sounds You Love / Sounds You Hate
Interview with Giorgio Magnanensi of Vancouver New Music
Canada, All of Canada
(Organization is located in Vancouver, BC)
From the summer blizzard brain caves of Katie Jensen, Mailis Rodrigues, Alexandra Jaworiwsky, and Josh Robinson:
Hearts beat. Footsteps echo. Fingers tap. A gentle hum can carry across a room. All of these sounds transform the landscape of the human body and help us relate to and understand each other. If you were to close your eyes, the world would simply disappear, covering you in a blanket of sound. But what if you could tap into the sounds from different places? What if half a world away, you could hear rural Canada covered in snow: the crunch of ice beneath tires, the crackling of dry branches rubbing together in the wind, the bark of a dog across a frozen field? What if you closed your eyes and instead of seeing a place, you heard it?
Vancouver New Music has launched a Canada-wide sound curation project entitled Sounds You Love / Sounds You Hate. By creating a Google-mapped archive of sublime intonations from across the country, Sounds You Love / Sounds You Hate breathes life into the diaphragmatic curiosities that keep us stumbling for an explanation in our natural and sonorous world. Vancouver Sound Design maps the sounds that define a particular place. In much the same way that sepia glyphs are memorially imprinted by apertures and flashing filaments, Soundscape Design harnesses frames of sound and fragments of time.
Giorgio Magnanensi, artistic director for Vancouver New Music, is one of the key organizers for Sounds You Love / Sounds You Hate. He describes His favourite Vancouver sound is a screeching train; metal against metal, tearing through the silence of a ferry terminal at night.
"One night i was in Horseshoe Bay, on the west side of the city near the ferry terminal. There is a train ramp on a very steep curve on the hill. When the wheels hit this curve, there is very strong friction on the metal track. A friend told me there was a fantastic sound every night at midnight… a screeching, high pitched sound of the metal wheels scratching intensely on this steep curve of the track. Some people would say that this is an obnoxious, annoying sound… but I thought it was very eerie, very electronic, very unreal to me."
Sounds You Love, Sounds You Hate allows participants to develop a new musical definition that is unshackled from traditional compositional constraints such as time signature, rhythm and melody.
Voices, wails, tumults, and melody are the phonic fingerprints that smear our glassy countenance: auditory affectations that direct, influence, and empower our belief and faith in sound as a creative force.
Vancouver New Music is asking participants to provide a sound byte alongside location coordinates to be published in an online sound map. Files will be accepted until September 20th, after which the sound map will be prepared for exhibition from late September into October.
Du blizzard estival emplissant la caverne cérébrale de Katie Jensen, Mailis Rodrigues, Alexandra Jaworiwsky, et Josh Robinson:
(Traduit par Jessica Grenier)
Des battements de cœur. L'écho d'un pas. Des doigts qui tambourinent. Un ahem discret peut s'entendre à l'autre bout d'une pièce. Ces sons transforment tout le paysage qu'est le corps humain, ils nous aident à nous rapprocher des autres et à les comprendre. Si vous fermiez les yeux, le monde disparaîtrait complètement, vous enterrant alors sous une couverture de sons. Mais si l'on pouvait puiser dans les sons d'endroits lointains, à l'autre bout du monde ? Si on pouvait entendre la campagne canadienne recouverte de neige : le crissement de la neige sous les pneus, le craquement de branches sèches se frottant l'une contre l'autre par le vent, les aboiements d'un chien répercutés par un champ glacé… Si vous fermiez les yeux, et plutôt que de voir un endroit, vous l'entendiez?
L'organisme Vancouver New Music a lancé un projet de conservation des sons intitulé Sounds You Love / Sounds You Hate à la grandeur du Canda. En créant sur Google Map des archives de sonorités canadiennes sublimes, le projet cherche à donner vie aux particularités diaphragmatiques qui, dans notre environnement sonore naturel, nous font arrêter pour en chercher la provenance. Vancouver Sound Design cartographie les sons qui définissent un endroit précis. Soundscape Design collecte des fragments de sons et de temps, de la même façon que les photographies passent à la postérité par le biais d'ouvertures et de filaments incandescents.
Giorgio Magnanensi, le directeur artistique de Vancouver New Music, est l'un des principaux organisateurs du projet Sounds You Love /Sounds You Hate. Il raconte que le son qu'il aime le plus de tout Vancouver est le cri strident d'un train qui freine, métal contre métal, déchirant le silence nocturne à son arrivée en gare.
« Une nuit, j'étais à Horseshoe Bay, tout près de la gare maritime à l'ouest de la ville. Il y a une colline à cet endroit, et une rampe qui fait une courbe très serrée. Quand le train arrive à la courbe, la friction sur le rail de métal est très intense. Un ami m'avait dit qu'il entendait un son fantastique chaque soir à minuit, le cri perçant produit par le frottement des roues métalliques contre les rails dans la courbe. Certains pourraient dire que c'est un bruit énervant et désagréable, mais je le trouve féérique, il a quelque chose de très irréel, de très électronique pour moi. »
Le projet permet aux participants d'élaborer une nouvelle définition de la musique qui n'est pas restreinte par les contraintes de composition traditionnelles, comme la mesure, le rythme et la mélodie.
Les voix, les gémissements, le tumulte et la mélodie sont les empreintes digitales phoniques qui s'étendent sur le verre de notre expression, des imitations auditives qui dirigent, influencent et renforcent notre croyance en la force créatrice du son.
Vancouver New Music demande aux gens de lui faire parvenir des clips sonores accompagnés des coordonnées du lieu afin de les publier sur la carte de sons en ligne. Les fichiers seront collectés jusqu'au 20 septembre, date à laquelle la carte sera préparée en vue de l'exposition qui aura lieu au mois d'octobre.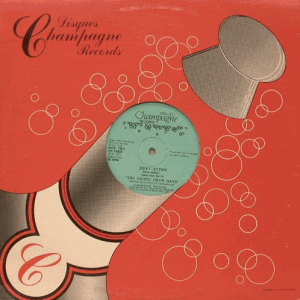 Brandon Hocura
It's My House (A Canadian Disco Experience)
Toronto, ON

In collaboration with
Scion Sessions
, Weird Canadian archivist Brandon Hocura produced an
incredible mix
of vintage Canadian disco, soul, reggae, and island sounds. We're really excited to share this mix with you!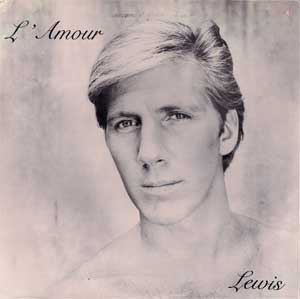 Lewis
L'Amour
(R.A.W. Records)
???, Canada
Originally Released: 1983
From the summer's moon of Aaron Levin:
Thanks to the hard work of Numero Group's Rob Sevier, the world's most epic soft-synth mumbler has been caught with a Canadian citizenship. What started with a chance pull in an Edmonton flea-market by one Jon Murphy, ended in a bewildering world-wide phenomenon of softness. Lewis' lone LP from 1983 is as unusual as it is delicate; an incomprehensible whispered drawl lingers above mysts of smooth-laced synthesizers and nylon guitar as Lewis croons his way through inaudible love, suffering, and mid-afternoon bliss. The confusion accelerates as you begin to dissect the record: dedications to Christie Brinkley, an incredible facsimile on the cover (looking surprisingly like Aaron Levin), a record label named R.A.W., and a history of rip-offs and potential murders (uncovered by multiple individuals tracking members associated with Lewis' LP). In the end there are no answers. Lewis remains a mystery, with only his name (not Lewis), citizenship (Canadian), and a PO Box in Hawaii. I once found five copies in Calgary, Alberta, which makes me believe this unidentified future softness began in the heart of wild roses. But we may only wonder. Until then, enjoy the most incomprehensible album in the universe (yes, it's softer than THOMAS). If you can transcribe the lyrics to "I Thought The World of You" I will give you a rare record. [Special thanks for those involved in uncovering the Lewis mystery (and laughing at me when I began to champion it): Jon Murphy, Rob Sevier, Jack Fernwood, and Douglas McGowan].
De la lune estivale d'Aaron Levin: (Traduit par le clair de lune de Maya Keshav)
Grâce au travail dur de Rob Sevier de Numero Group, le marmonneur soft-synthé le plus énorme du monde a été attrapé avec une citoyenneté canadienne. Ce qui a commencé avec une trouvaille dans un marché aux puces à Edmonton de Jon Murphy a fini en tant que phénomène planétaire déroutant de douceur. Le seul LP de Lewis de 1983 est aussi étrange que délicat; un chuchotement incompréhensible reste au-dessous des brouillards de synthés doux en dentelle et de la guitare en nylon pendant que Lewis chantonne à travers l'amour inaudible, les souffrances, et la joie d'après-midi. La confusion augmente pendant que tu commences à disséquer l'album: les dédicaces à Christie Brinkley, un fac-similé incroyable sur la couverture (qui ressemble étonnamment à Aaron Levin), une étiquette qui s'appelle R.A.W., et une histoire d'arnaques et de meurtres possibles (découverts par plusieurs personnes qui ont suivi les membres associés au LP de Lewis). Au bout du compte, il n'y a aucune réponse. Lewis reste un mystère, avec seulement son nom (pas Lewis), sa citoyenneté (canadienne), et une boîte postale à Hawaii. Un fois j'ai trouvé cinq copies à Calgary, en Alberta, qui me donne l'idée que cette douceur imminente anonyme a commencé au cœur des roses sauvages. Mais on ne peut que se demander. Jusqu'alors, on vous présente l'album le plus incompréhensible dans l'univers (oui, c'est même plus doux que THOMAS). Si vous pouvez transcire les paroles de "I Thought The World of You" je vais vous donner un morceau rare. [J'aimerais remercier surtout ceux qui s'impliquaient dans le dévoilement du mystère de Lewis (et de rire de moi quand j'ai commencé de le défendre): Jon Murphy, Rob Sevier, Jack Fernwood, and Douglas McGowan].
Lewis – I Thought The World of You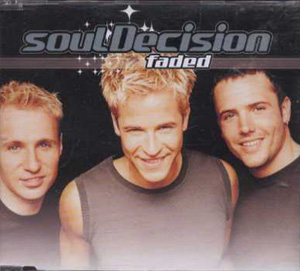 soulDecision
Faded b/w (crappy remixes)
(MCA)
Toronto, ON
From the Thrust raps of Aaron Levin:
The year is 1998. My other single is (coincidentally) lingering in the background as your eyes pan over the Toronto skyline. I'm laced like a jay. Blue from head-to-toe against the orange leather my assistant gripped from Discount Furnitures. Ooh it's kind of crazy money (money that is coincidentally being dried in an apartment below our studio). But it's all so confusing. Why haven't you and I hit it? I like the way you make me move. You've got it and I want it. So, I'll just let my man Thrust mumble some incomprehensible and irrelevant verbage before I get you all alone and take off all your clothes. Confused?
Des raps Thrust d'Aaron Levin: (Traduit par Maya Keshav)
Nous sommes en l'an 1998. Mon autre single apparaît (par coïncidence) dans l'ombre pendant que tes yeux font un panoramique sur la silhouette des immeubles de Toronto. Je m'habille comme un geai bleu. Bleu de la tête aux pieds contre le cuir orange que mon assistant a trouvé à Meubles Rabais. Ooh c'est tellement fou cet argent (cet argent qui par coïncidence est en train d'être imprimé chez l'appartement sous le-nôtre). Mais c'est si mêlant. Pourquoi est-ce qu'on l'a pas encore fait? J'aime ta façon de bouger. Tu l'as et je l'ai envie. Alors, je vais juste laisser mon homme Thrust marmonne quelque verbiage incompréhensible et hors sujet avant que je te trouve toute seule et j'enlève tous tes vêtements. Tu comprends pas?

How to Book a Maybe Successful Tour for a Band That Hasn't Received Hype on Pitchfork, etc.
Written and Designed by: FAMINES
[3-Fold, Xerox]
Edmonton, AB // Montreal, QC
Published: 2010
From less-business savvy mind of Aaron Levin:
With four national tours (and countless regional), and minds capable of organizing vast piles of minutiae, there is no band more fit to compile such a treatise on the topic of harsh Canadian touring than FAMINES. They've made every mistake and achieved every success; packed basements and pseudo-stadium seating alongside the desolation of playing to the opening band. All the while seeking input from every band, venue, promoter, and person at every level. And they've compiled all of this information in a handy pamphlet of strange proportions. Topics covered include: The First Things, Planning a Soft Route, A Note on Pay What You Can, Who to Send, How Many to Send, When, A Short Economics Lesson on Being a Touring Band, and others. Purchase: here. Seriously essential stuff.
De la tête moins calée en commerce d'Aaron Levin: (Traduit par la reine de Maya Keshav)
Avec quatres tournées nationales (et d'innombrables tournées régionales), et les têtes bien capables d'organiser les énormes tas de vétilles, il n'y a aucun groupe qui est plus qualifié pour compiler un tel traité sur le sujet rude des tournées canadiennes que FAMINES. Ils ont commis toutes les erreurs et ils ont réussi partout; les sous-sols bondés et les sièges en gradins pleines à craquer, ainsi que l'affliction de jouer devant la première partie seule. Tout en sollicitant des conseils de chaque groupe, salle, promoteur et individuel à chaque niveau. Et ils ont ramassé toutes ces informations dans une brochure pratique de dimensions bizarres. Les sujets incluent: Tout d'abord, la planification de l'itinéraire, premier arrivé, premier servi, à propos des salles de spectacle, l'argent, au sujet des concerts à participation libre, au suget de votre fourgonnette, entre autres choses. Achetez-le: ici. C'est tellement essentiel.
---