Tag: cameo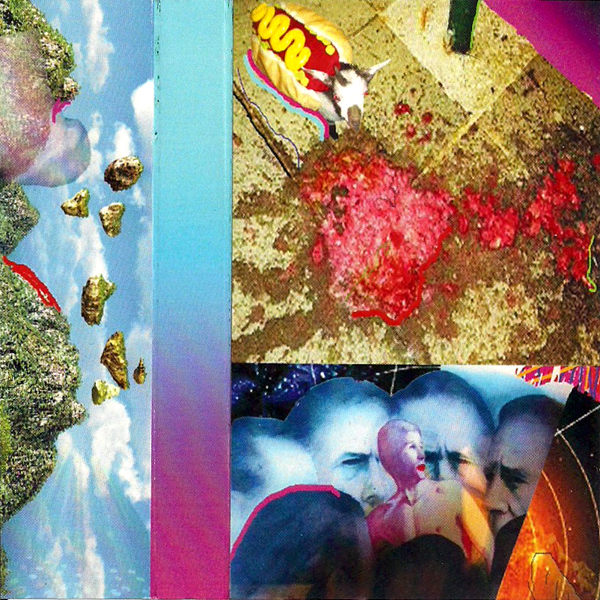 New Cameo from the amazing BILE SISTER! Nick Persons expresses the tweaked result of a '90s hip-hop music consumer baby within a warped '70's disco/soul template to create an innovative style of lo-fi experimental rap.
Nick Persons
Agony Ecstasy
(Self Released)
Montréal, QC
From the dream scheme of Bile Sister:
Radio-wave signals are temperamental when driving between Toronto and Montreal. In classic road trip fashion, your tape deck is broken but at least you got the radio. The search button is permanently pressed, so channels laced with static frantically switch. Normally this drags, but luckily you realize a demented genius has taken over the dials to save your trip vibes. You dig his mind-blowing style and hand the power over to your new DJ, Nick Persons. The destination is known but the journey is full of surprises.
Agony Ecstasy is an abrasive yet chilled out exploitation of recognizable hits juxtaposed with obscure tunes. Nick Persons expresses the tweaked result of a '90s hip-hop music consumer baby within a warped '70's disco/soul template to create an innovative style of lo-fi experimental rap. His pitch-shifted vocals are slyly seductive, while paying tribute to the art of sampling. Mangled, interwoven sounds are chopped at random to pave a bizarro, disjointed beat. While totally authentic, some moments are vaguely familiar, others intentionally recognizable. I vibe this sonic adventure, it takes me places. Agony Ecstasy is an all-night channel-surf party on a helium-rap, noise-sparkled casino cruise.
Feel the sexual groove, the abrasive touch. A DJ mentality combined with an impulsive tick. Nick Persons is a statement, a persona, and a concept embodied. Keep an open mind. Jackson Darby and his drummer/keyboardist sidekick 'Rawky' Rosenberg have tapped into a new genre. Give in and take a dip.
Bile Sister is the weird pop music project of Julie Cylia Reich, who performs live with a full band. Julie also goes by the pseudonym DJ Garbage Body as a promoter, blogger, writer, amateur journalist and 'performance' DJ. Ding!
Du complot rêvé de Bile Sister:
(Traduit d'un nuage de vapeur par Catherine Debard)
Les ondes radios sont capricieuses lorsqu'on roule entre Montréal et Toronto. Un classique du voyage en voiture: le lecteur-cassette est brisé mais au moins, il y a la radio. Le bouton de recherche constamment appuyé, les postes se mélangent frénétiquement avec la statique. C'est généralement assez pénible, mais, imaginez qu'un génie dément prenne possession des ondes pour regénérer l'ambiance du voyage. Vous aimez son style hallicinogène et remettez les pouvoirs à votre nouveau DJ, Nick Persons. La destination est connue mais le chemin, rempli de surprises.
Agony Ecstasy est un agencement abrasif mais chill de tubes reconnaissables juxtaposés à d'obscures perles pop. Nick Persons exprime le résultat tordu d'un hip hop des années 90s grand public intégré dans un modèle déformé de disco/soul des années 70s, pour créer un style innovateur de rap lo-fi expérimental. Ses voix pitch-shiftées prennent des airs de séduction rusée, tout en rendant hommage à l'art du sampling. Des sons méconnaissables entrelacés semblent coupés aléatoirement afin de paver un beat bizarro décousu. Quelques moments sont vaguement familiers, d'autres intentionnellement reconnaissables, mais l'ensemble est totalement authentique. Je sens bien l'aventure sonique, ça me fait voyager. Agony Ecstasy c'est un party où l'on surf dans les postes de télé toute la nuit sur un rap d'hélium, une croisière-casino étincellante de noise.
Sentez le groove sexuel, le toucher abrasif. Une mentalité de DJ avec une coche impulsive. Nick Persons, c'est une affirmation, un personnage, l' l'incarnation d'un concept. Gardez l'esprit ouvert. Jackson Darby et son allié drummer/claviériste 'Rawky' Rosenberg ont tapé dans un nouveau style. Succombez et mouillez-vous un peu.
Bile Sister est le projet weird pop de Julie Cylia Reich, qui se produit sur scène avec un band complet. Julie agit également sous le pseudonyme DJ Garbage Body en tant que promotrice, blogueuse, auteure, journaliste amateure et D.J. "perfomeuse". Ding!
Nick Persons – Eventually Crash
FM
Direct to Disc
Toronto, ON
Originally Released: 1977
From the real time of Jesse Frank Matthews:
In 2001 I took up playing the drums in order to get a psychedelic-heroin-punk band going with two talented Scotts I'd recently meet. We called ourselves The Strag and released one compact disc during our brief run, which we aimed to release on our own imprint, initially called 'Cut Throat Records'. I'd burned a few promotional copies and was eager to pass them to some clubs, then headed to a random show in Hamilton to try to secure an out of town show.
As I perused the records on the merch table I realized who was playing that evening — Nash the Slash (and SIANspheric or maybe Russian Futurists). It appeared that Cut-Throat Records was in fact already taken, and was the name of Nash's own label. We quickly changed our label name before the CDs got printed and distributed.
When I was 15 I inherited my father's eclectic LP collection. One of the real gems was a live recording made in Toronto in 1977 called Direct to Disc by a Canadian band called FM. Nash played in this band for years. I used one of my favourite passages from that record (listen below) as the main element behind a recent JFM track entitled "EENUFF". Only after the old LP sleeve was found again after misplacing it for years, I realized this FM record was in fact the first to not feature Nash, but a rather good imitator instead.
In my own practices I always use bits and pieces from life that engage and inspire me. I don't always know their respective origins and sometimes by the time I'm done I can't recall what it was to begin with. It's the thought that counts. R.I.P. Nash.
JFM lives out by the Atlantic ocean where he makes music for the jellyfish; a pirate without a ship.
Du temps bien réel de Jesse Frank Matthews:
(Traduit par le clavier gazéifié de Geneviève Faubert)
En 2001, je me suis mis à la batterie pour fonder un groupe punk héroïno-psychédélique, The Strag, avec deux gars talentueux nommés Scott que je venais de rencontrer. Au cours de notre brève existence, nous avons produit un disque compact que nous avions l'intention de lancer sur notre propre étiquette, qui s'appelait à l'origine « Cut Throat Records ». J'ai gravé quelques exemplaires promotionnels pour les remettre à des boîtes de nuit, puis je me suis rendu à un concert à Hamilton un peu par hasard afin de trouver un endroit où jouer en dehors de la ville.
C'est en parcourant les albums du stand de vente que j'ai appris qui jouait ce soir-là : Nash the Slash (avec SIANspheric, ou peut-être était-ce Russian Futurists). Apparemment, notre nom d'étiquette Cut-Throat Records était déjà utilisé par nul autre que Nash the Slash. Nous nous sommes empressés de trouver un nouveau nom avant l'impression et la distribution de nos albums.
À l'âge de 15 ans, j'ai hérité de la collection éclectique de disques vinyle de mon père. J'y ai découvert un trésor : Direct to Disc, un disque enregistré en direct à Toronto en 1977 par un groupe canadien du nom de FM, dont Nash a été membre pendant des années. L'un de mes extraits préférés du disque (à écouter ci-bas) a été l'inspiration principale d'une pièce de JFM intitulée "EENUFF". Ce n'est qu'en retrouvant la vieille pochette de l'album, des années plus tard, que je me suis rendu compte que ce disque de FM était en fait le premier album paru sans la contribution de Nash, et qu'il s'agissait plutôt d'une bonne imitation.
J'ai pris l'habitude d'incorporer à mes travaux des éléments glanés au hasard de la vie qui m'inspirent et me font réfléchir. Je ne connais pas toujours leur origine respective, et lorsque je termine un échantillonnage, il m'arrive parfois d'oublier de quoi il était question au départ. C'est la pensée qui compte. R.I.P. Nash.
JFM, pirate sans navire, habite la côte atlantique où il crée de la musique pour les méduses.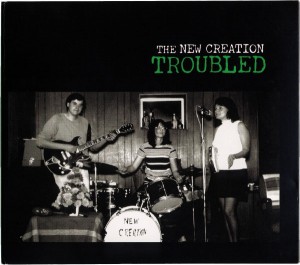 The New Creation
Troubled
(Alphaomega Records // Companion Records)
Vancouver, BC
Originally Released: 1970
From the countdown to revolution of Matthew Swann:
If you ask the average layperson, "Hey! You! What's the best album by a Canadian band in the last half of the 20th century?" Obviously, they're gonna say "Love Tara, by Eric's Trip." Duh, every time. However, ask Jesus the same question, and you're gonna get a different answer; one spoken resolutely in Aramaic, and shouted through an echoplex. Jesus is gonna say… "Troubled, by the New Creation (((((((((((((( !!!!!!!!!!"
And here's why! Originally released in 1970 on Vancouver's Alphomega Records, and finally re-issued on California's Companion Records, Troubled is sloppy, trippy, apocalyptic garage-psych. Imagine the Velvet Underground, Skip Spence, and the Shaggs holed up in a bomb shelter with the Partridge Family, while some loving Quakers homeschool them in Essene eschatology! Now imagine all that in 12 hot tracks. I'm not talking your parent's apocalyptic, Jesus Freak scene (oh wait — it's from the '70's, maybe it is). Anyway, pick this gem up, turn the other cheek (toward the speaker), and get down (((((((((((((( !!!!!!!!!!
Matthew Swann is the mastermind behind Astral Swans and previously haunted ears as Extra Happy Ghost!!!.
Du compte à rebours vers la révolution de Matthew Swann:
(Traduit par le saint-suaire tye dye de Justine Gabias)
Si vous demandez au profane ordinaire, « Hé! Toi! Quel est le meilleur album d'un groupe canadien de la deuxième moitié du XXe siècle? » Immanquablement, il va répliquer: « Love Tara, d'Eric's Trip. » Ça va de soi. Par contre, demande la meme question à Jésus, et tu auras une réponse différente, en araméen bien sûr, et gueulée à travers un Echoplex. Jésus répondra… « Troubled par the New Creation (((((((((((((( !!!!!!!!!! »
Et voici pourquoi! Lancé en 1970 par le label Alphomega Records de Vancouver, et maintenant enfin re-distribué par California's Companion Records, Troubled est du garage-psych bâclé, trippant et apocalyptique. Imagine le Velvet Underground, Skip Spence et les Shaggs terrés dans un abri nucléaire avec la Partridge Family, se faisant enseigner l'eschatologie des Esséniens par de charmants Quakers! Maintenant, imagine tout ça dans 12 chansons du tonnerre. Je ne parle pas des trucs apocalyptiques Jesus freak de tes parents (oh, mais attends… ça date des années '70, alors oui, peut-être.) Qu'importe, empare-toi de cette perle, tends l'autre joue (vers tes haut-parleurs), et laisse-toi aller! (((((((((((((( !!!!!!!!!!
Matthew Swann est le cerveau derrière Astral Swans et a hanté les oreilles dans le passé en tant qu'Extra Happy Ghost!!!.

The New Creation – Countdown To Revolution !
Adrian Verdejo
Modern Hearts: New Music For Electric Guitar
Vancouver, BC
From the black domino of Lael Johnston:
Tell me about the third. Tell me about the sixth. Dad failed me. Don't be defeated by laundry. Travel forwards, travel sideways, alone or with a friend. Canadian "Rye" Cooder. Apparently Greg Godovitz threw the original score of Tubular Bells in a fire. Mike singed his fingers pulling it out.
Lael Johnston is the Music Director at Chestermere High School Calgary.
Du domino noir de Lael Johnston:
(Traduit par l'As de trèfle de Joannie Pharand)
Parle-moi du troisième. Parle-moi du sixième. Mon père m'a laissé tomber. Ne vous laissez pas abattre par le lavage. Allez de l'avant, allez sur les marges, seul ou avec un ami. Le « Rye » Cooder canadien. Il semble que Greg Godovitz ait jeté la bande originale de « Tubular Bells » au feu. Mike s'est légèrement brûlé les doigts en le retirant.
Lael Johnston est le directeur musical de l'école secondaire Chestemere, Calgary.

Adrian Verdejo – The Black Domino (Rodney Sharman, 1988)
Adrian Verdejo – Septet For Six Electric Guitars and Bass (James Tenney, 1981)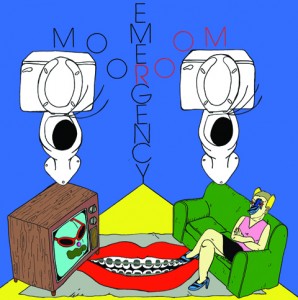 From the Vancouver complication of Janelle Hollyrock:
The Emergency Room was a former fish-processing factory turned back alley recording/performing/practice space in Vancouver's notorious drug- and rat-infested Downtown Eastside. Originally started in 2006 by Keith Wecker of Sex Negatives while hosting shows in Emily Carr University's underground garage with Justin Gradin of Random Cuts and recording engineer Jordan Koop of Twin Crystals, the ER moved to East Hastings in '07 and for a little over a year became the hub of Vancouver's art punk community. When I reviewed this LP for my zine back in 2008 I wrote that the growing popularity of "the ER as a secret, illegal venue is at risk of imploding at any minute" and to get it "before this souvenir becomes an artifact." And sure enough the Emergency Room did end up shutting down soon after this comp was released. But while secret venues and warehouse spaces pop up in East Van just as often as they're closed down, the ER was the first to leave behind a vinyl compilation of what went down.
Optimistically titled "Vol. 1", the comp features eight bands who performed or recorded at the space in its first year including Defektors, Petroleum By-Product, Vapid, White Lung, Mutators, Twin Crystals, Nü Sensae, and Sick Buildings plus a 20-page stitch-bound photo book of bands who played the space like Montreal's AIDS Wolf and others. At the time, Mutators had toured North America and were arguably the most well known outside Vancouver, but that spot's now definitively taken up by the Pitchfork-approved White Lung, who back in 2008 had only released one 7" ("Local Garbage" on Ryan Dyck of B-Lines' label Hockey Dad).
Five years later, I like this comp even more than when it came out. It opens with two straight ahead garage-punk tracks from Defektors (misspelled as Defectors on the sleeve) before offering two more by Petroleum By-Product, who were still going by The Petroleum By-Products at the time and only just beginning to tweak their sound away from a focus on garage-pop towards the minimal-synth-driven New Wave sound they've achieved in the last few years. Side A wraps up with Mish Way screaming over White Lung's raw, frenetic "Therapy" right after Vapid burst off the vinyl with two energetic pop-punk blasts, "Sex Stain" and "Die". After taking a two-year break, Vapid are finally playing shows again, now with The Tranzmitors' Bryce Dunn on drums and a new LP coming out this summer on Nominal / Deranged Records.
On the flipside is Mutators' harsh and experimental "Instinct" and "VVV". Their dark screamo is as intense and confusing as early '80s Vancouver noise band Tunnel Canary. Listening to Twin Crystals and Nü Sensae I can almost taste the cigarette smoke and smell the stale beer and vomit that epitomized shows at the ER. Yet it's the fucked up, scary noise of Sick Buildings' "The Commuter" that tips this LP from just a crazy good compilation of songs to a snapshot of Vancouver's underground DIY ethos.
As important as 1979's Vancouver Complication LP featuring DOA, Subhumans, U-J3RK5 and other seminal Vancouver punk bands, Emergency Room Vol. 1 wasn't just capturing Vancouver's weird punk scene at its pinnacle, it was a jumping off point for a lot of these bands. It's a testament to them that, except for the two sadly defunct noise bands Mutators and Sick Buildings, all are not only still performing but deservedly getting reviewed and approved outside Vancouver. Limited edition vinyl of 924, and I still see this around in record stores. Pick it up if you find it!
Janelle Hollyrock runs Mongrel Zine, a fanzine and record label out of Vancouver, with her partner Bob Scott.
Du fait de la complication vancouvéroise de Janelle Hollyrock:
(Traduit de l'âme vancouvéroise de Dominic MPILÉ)
The Emergency Room était situé dans une ancienne usine d'apprêtage de poisson transformée en lieu d'enregistrement, de spectacle et de pratique dans l'est du centre-ville de Vancouver infesté de rats et où circule de la drogue. Ouvert en 2006 par Keith Wecker de Sex Negatives lorsqu'il animait des spectacles dans un sous-sol de la Emily Carr University aux côtés de Justin Gradin de Random Cuts, et de l'ingénieur aux enregistrements Jordan Koop de Twin Crystals. La ER a ensuite déménagé à East Hastings en 2007 et après un peu plus d'un an, est devenue le lieu par excellence de la communauté punk de Vancouver. Lorsque j'ai écouté ce LP pour mon zine en 2008, j'ai alors écrit que la popularité grandissante de "la ER, un lieu secret, illégal, peut prendre fin à tout moment" et qu'il fallait se procurer le vinyle "avant que ce souvenir ne devienne un artéfact." Évidemment, la Emergency Room a dû fermer ses portes quelques temps après la sortie de cette compilation. Lorsque le lieu gardé secret accueillait des artistes en son sein et gagnait en succès dans l'est de Vancouver juste avant la fermeture, la ER a été le premier lieu de spectacle à accoucher d'une compilation vinyle sur des raisons de sa fermeture.
Titrée avec optimisme "Vol. 1", la compilation réunit huit groupes qui se sont produits ou qui ont enregistré pendant la première année du studio, dont: Defektors, Petroleum by-Product, Vapid, White Lung, Mutators, Twin Crystals, Nü Sensae et Sick Buildings; de plus a été publié un album photo de 20 pages des groupes qui s'y sont produits, comme le groupe Montréalais AIDS Wolf et bien d'autres. À cette époque, les Mutators étaient en tourné en Amérique du nord et étaient sans doute le groupe le plus connu à l'extérieur de Vancouver, mais cette place est depuis tenu par White Lung, encensé par le site Pitchfork. White Lung, en 2008, avait seulement sorti un tube de 7" ("Local Garbage" sur Ryan Dyck de B-Lines du label Hockey Dad).
En effet, cinq ans plus tard, j'aime encore plus cette compilation qu'à sa sortie. Elle débute avec deux chansons underground d'un son sec punk de Defektors (mal écrit sur l'étui comme ceci : Defectors), suivent deux autres chansons produites par Petroleum By-Product, qui à l'époque s'appelaient encore The Petroleum By-Products et venaient tout juste de sampler leur son (différent de sons pop-garage) par le biais du synthétiseur minimaliste produisant du son new wave qu'ils ont produit les dernières années. La face A emballe par la voix de Mish Way qui crie sur ce cru frénétique de White Lung, "Therapy", qui suit Vapid, lequel fait exploser le vinyl avec deux tubes énergiques pop punk, "Sex Stain" et "Die." Après s'être offert une pause de deux ans, Vapid se produit en spectacle de nouveau, accompagné maintenant du membre de The Tranzmitors, Bryce Dunn au tambour, un nouveau LP sortira cet été sur le label Nominal / Deranged Records. Sur l'autre face de l'album, se trouve Mutators avec respectivement des tubes rigoureux et expérimental "Instinct" et "VVV". Leur cri sinistre est aussi intense que confus comme celui du groupe bruitiste de Vancouver du début des années 1980 Tunnel Canary. En écoutant Twin Crystals et Nü Sensae, je peux presque goûter à la saveur de cigarette et sentir le gout de mauvaise bière et de vomi ressentis lors des spectacles à l'ER, mais c'est le foutu et effrayant bruit de la chanson «The Commuter» de Sick Buildings qui fait basculer ce LP de bonne compilation enthousiasmante vers un éthos fait-le-toi-même de l'underground vancouvérois.
Aussi important que Vancouver Complication de 1979, le LP rassemble DOA, Subhumans, U-J3RK5 et d'autres groupes punk séminaux de Vancouver. Emergency Room Vol. 1 ne rassemblait pas seulement l'étrange genre punk de Vancouver à son sommet, mais permettait à plusieurs de ces groupes de s'exprimer. C'est un souvenir pour ces groupes, à l'exception des deux défunts groupes bruitistes Mutators et Sick Buildings, en ce sens que tous ne faisaient pas que se produire en spectacle mais méritaient à juste titre de se faire connaitre et de se faire acclamer hors de Vancouver. Une édition limitée du vinyl de 924 est toujours disponible, et je la vois souvent dans des magasins de disque. Quand vous la verrez, achetez-la!
Janelle Hollyrock dirige Mongrel Zine, un fanzine et label hors de Vancouver, avec son partenaire Bob Scott.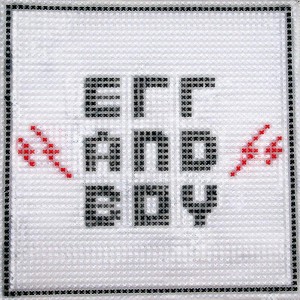 Errand Boy
Errand Boy
(Self Released)
St. John's, NL
Originally Released: 2007
From the knotted thoughts of Adam Bradley:
Over the four years I spent in St. John's plodding through my degree, I rarely went to shows or involved myself directly with the local music scene. While Newfoundland's capital city is flush with talent and a hearty love of music, I never really found myself drawn to the dominant themes of hard rock, trad and hardcore, among other styles that then held sway. However, Bryan Melanson's self-titled 2007 release as Errand Boy rose meekly yet bravely to my attention like a shy kid's hand at the back of a classroom.
This music is boldly vulnerable but retains a sense of wonder, scoring the knotted thoughts of someone ambling over rocky Newfoundland hills hungover, full of regret and fascination jointly. The tones and tone can at any time resemble the jangly guitar work of Do Make Say Think or fade to the patient, crunchy ambience of Múm. Spastic drum loops barrel under many tracks, and in place of vocals, Melanson makes liberal use of sampled dialogue to build themes from disparate elements, following the breadcrumbs of Illinois' emo breakcore forbear and quoted influence, Stunt Rock. On this record, impression gives way to pop mutation, and sees Errand Boy's calculation of so many forms draw together as a shimmering, emotive, mechanical mixture.
Adam Bradley is a concert programmer for Wavelength Music Arts Projects and production manager at The Music Gallery. He designs hand drawn show posters and, among other publications, has contributed to Exclaim! and Offerings.
Des pensées nouées de Adam Bradley:
(Traduit par les fourmis musicales de Stéphanie Trottier)
Durant mes quatre ans à St. John's et ayant bûché pendant mon bac, rares étaient les fois où je fréquentais des shows, où je m'impliquais directement dans la scène musicale locale. Même si la capitale de Terre-Neuve était bourrée de talent et d'un amour fourmillant pour la musique, je n'ai jamais été tant attiré par les thèmes dominants du hard rock, traditionnel et hardcore, parmi d'autres styles régnants. Toutefois, l'album éponyme de Bryan Melanson, lancé en 2007 sous le nom de Errand Boy, a humblement, mais courageusement soulevé mon attention, tel un garçon timide qui lève le doigt du fond de la classe.
Cette musique est audacieusement vulnérable, mais conserve l'essence de l'émerveillement, marquant les pensées nouées d'un tel avec la gueule de bois, s'égarant parmi les collines rocheuses terre-neuviennes, rempli de regrets et de fascination. La tonalité et le ton peuvent à tout moment ressembler à la guitare grinçante de Do Make Say Think, ou flétrir jusqu'à l'ambiance patiente et croquante de Múm. La batterie spasmodique en boucle défile sous plusieurs pistes et, au lieu du chant, Melanson utilise ouvertement des dialogues abrégés, construisant des thématiques à partir d'éléments disparates et suivant les miettes de pain du groupe emo breakcore illinoisais tant cité Stunt Rock. Sur cet enregistrement, l'impression ouvre la voie vers une mutation pop et les maints calculs de Errand Boy se regroupent pour former un mélange mécanique, luisant et émotif.
Adam Bradley est un programmeur de concert pour Wavelength Music Arts Projects et gérant de production chez The Music Gallery. Il conçoit des affiches de concert à la main et a contribué, entre autres, à Exclaim! et à Offerings.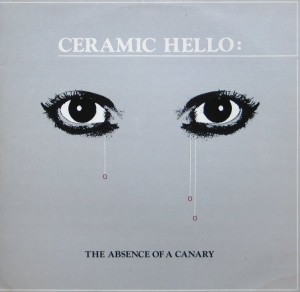 Ceramic Hello
The Absence of a Canary
(Mannequin Records)
Burlington, ON
Originally Released: 1980
From the bedroom breeding ground of Matthew Samways:
My initial instinct to spotlight of one of Canada's most outstanding and unique records was an epic approach, analyzing its prominent contributions to music – cultural and suburban influence, inspirations, aspirations, tools used. I even went to the extent of contacting Brett Wickens – the main songwriter on this truly wonderful masterpiece – to conduct a small interview. Yet as I collected this information, I realized it would prove to be a total contradiction of what makes the album so beautiful: its minimalism.
The Absence of a Canary was originally issued in 1980 by the now defunct Mannequin Records (not to be confused with the great contemporary Italian/German Wave label Mannequin) out of Burlington by-way-of Toronto, Ontario. It has since has seen two comprehensive reissues. The first was a deluxe box set issued by the soon to be legendary boutique label Vinyl on Demand with elaborate, alternate artwork and bonus material. The most recent edition comes from Canadian imprint Suction, whose owner is also the brain behind Solvent and producer of the upcoming modular synth documentary, I Dream Of Wires.
This LP was released in a time where mail order via catalogue was one's only option. You couldn't go to Ceramic Hello's shows, because they never played live. You could find these two young men hiding in their bedrooms at their parents' houses exchanging Kraftwerk LPs, listening to Gary Numan singles on the radio, and of course paying their respects to Brain Eno, whose influence is likely the most prominent, particularly 1974's Taking Tiger Mountain (By Strategy). Wickens later went on to do graphic design for the inimitable Factory Records, notably working on Orchestral Manoeuvers in the Dark's third album Architecture & Morality.
With respect to the up and coming artists chasing a vision based on what was accomplished by groups like Ceramic Hello, I do believe the majority are simply overlooking what makes this music unique – organic creation, naivety, lack of resources – a true dystopia. It's not complicated. Bedrooms were the breeding grounds for the beginning of this era, using affordable pieces of equipment that were available at the time – notably the Korg MS-20, Roland CR-78, Polymoog and Minitmoog. In fact, the whole record was recorded on a borrowed Teac 8-track. Not to sermonize my beliefs, but in my opinion this time was Ground Zero for what is now considered a revived sound. There were no impulses for Brett Wickens and Roger Humphrey to create a groundbreaking sound that would escalate the charts, they were only doing what was natural to them. For that, we will always be grateful for Ceramic Hello's sole LP, which will be celebrated for years to come.
Matthew Samways is the owner and primary operator of Minimal Electronic/Wave imprint Electric Voice Records. He is also the assistant director of Halifax fringe music and arts festival OBEY Convention as well as developing his solo musical endeavour under the moniker Amour Noir.
De la musique de chambre de Matthew Samways:
(Traduit par l'encre minimaliste de Dominic Mpilé)
Ma première idée pour rendre hommage à l'un des plus remarquables et uniques disques canadiens était d'adopter une approche exhaustive à l'extrême et d'analyser ses contributions majeures à la musique – son influence culturelle et banlieusarde, ses inspirations, ses aspirations, les moyens utilisés. Je suis même allé jusqu'à contacter Brett Wickens, le compositeur principal de cet incroyable chef-d'œuvre, pour une petite entrevue. Cependant, alors que je recueillais toute cette information, je me suis rendu compte que ma démarche était en parfaite contradiction avec ce qui faisait la beauté de cet album : le minimalisme.
The Absence of a Canary a été à l'origine lancé en 1980 par la défunte Mannequin Records (à ne pas confondre avec l'étiquette germano-italienne de renom Mannequin) basée à Burlington par l'entremise de Toronto. L'album a depuis fait l'objet de deux rééditions augmentées. Un premier coffret de luxe distribué par le légendaire label à en devenir Vinyl on Demand comprenait une nouvelle pochette et des bonus. On doit la plus récente édition à l'étiquette canadienne Suction, dont le propriétaire est aussi le cerveau derrière Solvent et le producteur du documentaire à paraître I Dream Of Wires sur le synthé modulaire.
Ce LP est paru à une époque où la seule option pour se le procurer était de le commander par catalogue. On ne pouvait pas non plus assister aux concerts du groupe parce qu'il n'en donnait tout simplement pas. Les deux jeunes hommes pouvaient être trouvés dans leur chambre chez leurs parents s'échangeant des albums de Kraftwerk, écoutant du Gary Numan à la radio et bien sûr louangeant Brain Eno, dont l'influence est probablement la plus marquante, en particulier son album de 1974 Taking Tiger Mountain (By Strategy). Plus tard, Wickens travaillerait comme designer graphique pour l'inimitable Factory Records, notamment sur le troisième album de Orchestral Manoeuvers in the Dark Architecture & Morality.
Avec tout le respect que je dois aux artistes de la relève en quête d'une vision s'inspirant de ce que des groupes comme Ceramic Hello ont accompli, je crois que la plupart se méprennent sur ce qui rend cette musique unique : la création organique, l'innocence, les moyens limités – une véritable dystopie. Ce n'est pas compliqué. Les chambres à coucher ont été les terreaux fertiles des débuts de cette ère où on utilisait de l'équipement bon marché disponible à l'époque – notamment le Korg MS-20, le Roland CR-78, le Polymoog et le Minitmoog. D'ailleurs, l'album a été enregistré au complet grâce à un enregistreur à huit pistes Teac emprunté. Je ne voudrais pas porter atteinte à mes convictions, mais à mon avis cette époque était la préhistoire de ce qu'on qualifie aujourd'hui de son remis au goût du jour. Brett Wickens et Roger Humphrey ne cherchaient pas à créer de la musique innovatrice qui gravirait les sommets des palmarès, ils ne faisaient que ce qui leur paraissait naturel. C'est pour cela qu'on aimera toujours l'unique album de Ceramic Hello, lequel sera encore encensé pour bien des années à venir.
Matthew Samways est propriétaire et homme à tout faire de l'étiquette électro minimal Electric Voice Records. Directeur adjoint du festival de musique et d'arts parallèles OBEY Convention, il s'aventure également en des territoires musicaux inexplorés sous le pseudonyme d'Amour Noir.
Ceramic Hello – Climactic Nouveaux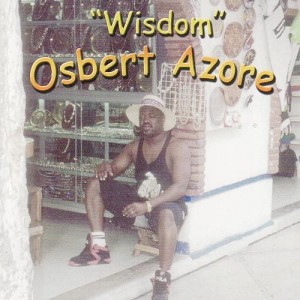 Osbert Azore
Wisdom
(Self Released)
Toronto, ON
From the magical mystery tour of Victoria Cheong and Wolfgang Nessel:
OK so one time maybe 4 or 5 years ago Wolf and I were taking groceries home in a cab from Dufferin Mall and our driver was playing some cool music. When we asked him what it was he turned to us in the back seat and said, "It's the True" and held up this CD, Wisdom, by Osbert Azore. Wolf and I looked at each other, then back at the driver, then at the CD he was holding, then back at each other… uhhhhh, we weren't quite sure what was going on. We were both silently asking ourselves: was the guy on the CD cover the same guy who was driving our cab?
When we got home we searched Osbert Azore on the internet and discovered that "The True" is the title of one of the songs from Wisdom. Another song, "Cab Driver", pretty much confirmed that mysterious and modest man behind the wheel was responsible for these positive Casio-reggae jams. Just another magical, musical day in Toronto. Listen here or take your chances on a West end cab fare.
Victoria Cheong and Wolfgang Nessel are the mystical minds behind Healing Power Records. Visit their webspace for assorted elixirs, and check out their physical releases here.
De la mystérieuse balade magique de Victoria Cheong and Wolfgang Nessel:
(Traduit de la plume reggae de Dominic Mpilé)
Ouais donc un jour, il y a peut-être quatre ou cinq ans, Wolf et moi étions en train de rentrer de l'épicerie en taxi et le chauffeur écoutait de la bonne musique. Quand nous lui avons demandé ce que c'était, il s'est tourné vers nous et a dit : « C'est "The True" » et nous a montré ce CD : Wisdom de Osbert Azore. On s'est regardé avec Wolf, puis on a re-regardé le chauffeur et le CD qu'il tenait, puis on s'est regardé à nouveau… Dans nos têtes, on se demandait tous les deux : « Eeeuuuh, le gars sur la couverture du CD, c'est pas le même qui est en train de nous conduire ? »
Quand nous sommes rentrés à la maison, nous avons cherché Osbert Azore sur Internet et avons découvert que « The True » est tirée de l'album Wisdom. « Cab Driver », un autre morceau, nous a confirmé que le type mystérieux de tout à l'heure derrière le volant était bien responsable de ces jams à saveur Casio-reggae. Encore un jour magique en musique à Toronto. Écoutez ça ici ou avec un peu de chance dans un taxi de l'ouest de la ville.
Victoria Cheong et Wolfgang Nessel sont les deux mystiques derrière Healing Power Records. Visitez leur site pour un assortiment d'élixirs et traquez leurs parutions ici.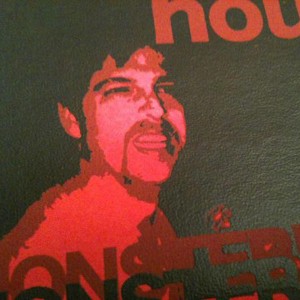 Monsterbator
The Infinity House EP
(Self Released)
St. John's, NL
From the rowche rock rumble of David Lander:
A few years back, rumblings began to surface around St. John's of a talented, loud band with a name that was simultaneously the best and worst in the city. A band that never went on stage before 2 a.m. and, when they finally did, had a puke bucket ready in the corner. While they had a following, they were largely an enigma. As more people began to see what the aforementioned rumblings were about, it quickly became apparent – Monsterbator were one of the most powerful bands on the Rock, and their live show (somehow) only seemed to get better each time they stepped on stage.
Falling somewhere between Scratch Acid, the Jesus Lizard and the Soupcans, The Infinity House is the band's second offering. Although it's only four songs, they manage to pack it with deep grooves, infectious guitar lines (the crunch of "Bad Taste" will be stuck in your head for days), time shifts you don't realize until you're trapped in them, and straight up energy. Giving a glimpse of Monsterbator's live power, this EP is a great introduction to a band that many Newfoundlanders hold so dear, but also leaves an undeniable feeling that their next record is going to destroy you.
David Lander is a guy who was born in Kingston and, somehow along the way, ended up in St. John's, Newfoundland. Mathias Kom and Ariel Sharratt also found themselves in St. John's and, in 2010, they co-founded an independent music and arts festival called Lawnya Vawnya.
Du cri de rocker enroué de David Lander:
(Traduit du cri parti des tripes de Dominic Mpilé)
Il y a quelques années dans le coin de St John's, on a commencé à entendre parler d'un groupe bruyant et plein de talent, arborant simultanément le meilleur et le pire nom en ville. Un groupe qui ne se produisait jamais avant 2 h du matin et, lorsqu'il se décidait, plaçait dans un coin un seau pour gerber. Quoique célèbre, la bande demeurait une énigme. Or au fur et à mesure que la rumeur se répandait et se concrétisait, une chose devint rapidement apparente : Monsterbator était l'un des groupes les plus puissants de la province-roc et ses prestations gagnaient (d'une façon ou d'une autre) en qualité à chaque spectacle.
Quelque part entre Scratch Acid, the Jesus Lizard et the Soupcans, The Infinity House est le deuxième opus du groupe. Bien que l'album ne compte que quatre chansons, la formation parvient néanmoins à le bourrer de grooves intenses, de lignes de guitares accrocheuses (la déflagration sonore qu'est « Bad Taste » vous restera en tête des jours), de changements de mesure dont on ne s'aperçoit qu'une fois pris au piège et de pure énergie. Donnant un bref aperçu de la puissance de Monsterbator en concert, ce EP constitue une excellente introduction à ce groupe que beaucoup de Terre-neuviens portent dans leur cœur, mais laisse aussi l'impression indéniable que leur prochain disque vous annihilera.
David Lander est un gars né à Kingston qui, plus tard par la force des choses, échoue à St. John's sur l'île de Terre-Neuve. Mathias Kom et Ariel Sharratt se sont aussi retrouvés à St. John's et, en 2010, ils ont fondé ensemble un festival de musique et d'arts indépendants appelé Lawnya Vawnya.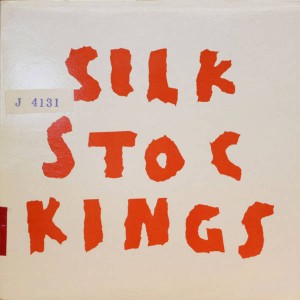 Silk Stockings
A Donde Esta El Mercado?
(BFish)
Toronto, ON
Originally Released: 1987
From the free funk of David Dacks:
I got into jazz through the '80s via Queen St. circa my age of majority. There was a surprising amount of jazz — electric jazz, not Wynton Marsalis clones — in clubs like the Rivoli, Bamboo and the Cameron House. Ornette Coleman's "harmolodic" was the style at the time; a concept of music with no fixed tonal center where rhythm, melody and harmony were equally important. Some called it free funk. Ornette could never truly explain the concept properly, but that didn't stop dozens of bands from trying to figure it out for themselves.
Silk Stockings definitely spoke Ornette's language, although if anything, this records owes more to the Lounge Lizards' work at the time, such as Voice of Chunk. This was a project of prepared guitar sensei Rainer Wiens (then in Toronto, now in Montreal) released on Bill Grove's BFish label. Grove's Whitenoise and Wiens' other band NOMA both owed a heavy debt to free funk, but Silk Stockings' record stands apart. With its careful compositions, bent guitars, extensive free improvisation and globally informed rhythms, A Donde Esta El Mercado? points forward to the next few decades of jazz in Toronto. This record would not sound out of place on either Rat-drifting or Barnyard today.
Mike Murley (of the Shuffle Demons) plays some kind of edgy soprano sax, Rich Bannard grooves hard but slides just as easily into freedom — maybe thanks to his studies from Andrew Cyrille. "Remnants" starts with George Koller's DJ Premier-worthy bass line before the ride gets bumpier. Further outside is "Mirror, No Makeup" where Wiens' trembling, resonant guitar work shines.
David Dacks is the Artistic Director of the Music Gallery in Toronto and writes for Exclaim! and CBC Music.
Inspiré du free funk de David Dacks:
(Traduit par Dominic Mpilé)
A l'approche de ma majorité, j'ai découvert le jazz dans les années 1980 en trainant sur Queen Street. On y jouait un nombre incroyable de musiques jazz (du jazz électrique, différent de celui de Wynton Marsalis) dans certains clubs : Rivoli, Bamboo et the Cameron House. La philosophie musicale harmolodic développée par Ornette Coleman était celle à la mode à cette époque. Il s'agissait d'un concept avant-gardiste : la musique était jouée en l'absence d'un centre tonal, avec une égalité majeure du rythme, de la mélodie et de l'harmonie. Certains l'appelaient alors free funk, concept qu'Ornette Coleman était incapable d'expliquer clairement, ce qui n'a pas empêché plusieurs groupes d'essayer de le découvrir par eux-mêmes.
Silk Stockings avait absolument adopté le style d'Ornette Coleman, bien qu'à l'époque certaines mélodies se rapprochaient davantage du style des Lounge Lizards, comme l'opus Voice of Chunk. Jouée avec une guitare sensei, il s'agissait d'une musique Rainer Wiens (d'abord à Toronto, et maintenant à Montréal) sortie sous le label BFish Bill Grove's. Whitenoise, une mélodie de Grove, et un groupe avec lequel joue Wiens NOMA produisent tous des sons allant du grave au free funk, mais la musique de Silk Stockings est unique. A Donde Esta El Mercado? est le résultat d'une composition minutieuse, avec guitare courbée, improvisation totale et rythme effréné, et annonce l'avenir du jazz à Toronto. Cet enregistrement ne pourrait plus être disponible sur Rat-drifting ou sur Barnyard aujourd'hui.
Mike Murley (the Shuffle Demons) joue une variété de saxophone soprano, Rich Bannard interprète un rythme groovy, mais pouvant être joué en toute liberté— peut être grâce à des cours suivis chez Andrew Cyrille. « Remnants » que George Koller (bass) débute en première ligne avant que les harmoniques ne deviennent plus toniques. « Mirror, No Makeup » est plus différent, Wiens vibre, sa guitare raisonne et rayonne.
David Dacks est le directeur artistique de the Music Gallery à Toronto et rédige des articles pour Exclaim! et pour CBC Music.
Silk Stockings – No Mirror No Makeup
---