Tag: calgary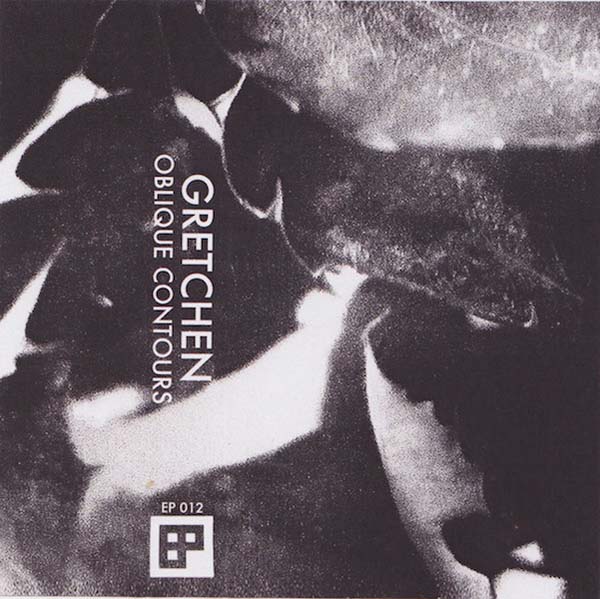 Gretchen
Oblique Contours
Montréal, QC
From the salt crust of Katie Jensen:
A drag race on a long desert plain. The crowd squints through a cage of slatted fingers. Muffled snares struggle beneath impatient feet while guitars churn, stoking revving engines with an ill-tempered, sour heat. Useless torque gathers traction and flings it forward. A brief moment of fervid acceleration, then:
The cord pulls taut, straining against the grip of two nervy guitars. The road becomes a fluttering roll of soiled organza, scattered with bouncing, jagged metal; a conveyor belt sending parts in all directions. Sweat collects in beads, eagerly saved for later, to be drunk in the misery of a darkened basement.
De la croûte de sel de Katie Jensen:
(Traduit par les essuie-glaces désynchronisés de Julie Mayer)
Une course d'accélération sur une longue plaine désertique. La foule plisse les yeux à travers une cage faite de lattes en doigts. Les caisses claires assourdies peinent sous des pieds impatients pendant que les guitares cinglantes ravivent des moteurs vrombissants d'une aigre chaleur maussade. Un couple inutile crée une traction et la projette vers l'avant. Un bref moment d'accélération fervente, puis :
La corde se tend et se débat contre la poigne de deux guitares stressantes. La route se transforme en rouleau flottant d'organza souillé, parsemé de métal denté et bondissant : un convoyeur qui envoie des pièces dans tous les sens. Les perles de sueur recueillies sont gardées avec empressement pour plus tard, afin d'être bues dans la misère d'un sous-sol assombri.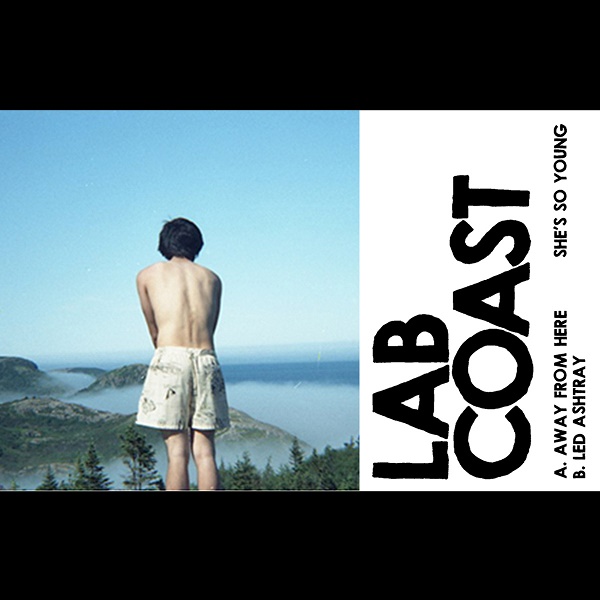 Lab Coast
Away From Here
Calgary, Alberta
From the unending summer breeze of Matthew Swann's hihat hit head:
Oh Lab Coast – ya got me again. You got so many hooks that I'm barbed, reeled in, and hit over the head like a high-hat. You got so many hits that ya bang my dizzy head, and wrap it back up in ribbons of fuzzy, compressed tape. You've got such an amazing cover of late 80's 'the Pursuit of Happiness' that I actually YouTubed 'The Pursuit of Happiness'. All three disparate jams are gold – alchemized from 1 part pop, 1 part cancon throwback, and 1 part pastiche.
De la brise estivale sans fin du crâne-cymbale double de Matthew Swann:
(Traduit par la pierre philosophale de Julie Mayer)
Oh, Lab Coast… Tu m'as encore eu. Tu es si accrocheur que j'ai mordu à l'hameçon. Ramené au moulinet, j'me fais taper sur le crâne comme si c'était une cymbale double. T'as tant de hits que j'en ai la tête qui tourne et se rembobine en rubans de bande magnétique compressée et floue. T'as une interprétation tellement étonnante de « The Pursuit of Happiness » de la fin des années 80 que j'ai vraiment YouTubé « The Pursuit of Happiness ». Les morceaux disparates valent tous les trois de l'or, composé alchimique formé d'une part de pop, une part de retour vers le contenu canadien et une part de pastiche.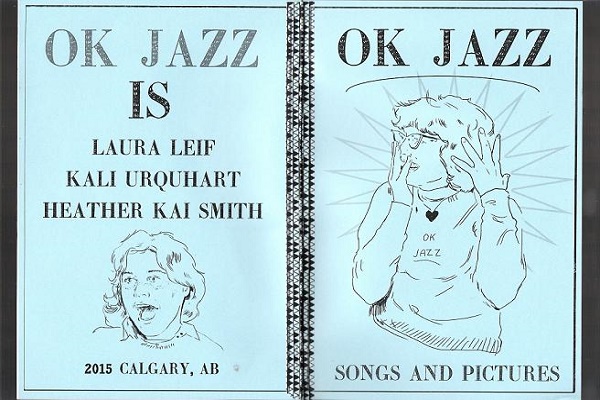 IMAGE
OK Jazz
OK Jazz
(Self-Released)
Calgary, AB
From the swollen biceps of Trevor Angst:
Who remembers weird Canadian sketch comedy Kids in the Hall? OK Jazz do, dedicating a jocular titled track to the pitiful sexist with vegetation for hair. OKJ knows what peeves Cabbage Head and do it best by diving into the fine art of tiered satire. OKJ chants for gender equality in harmonious solidarity. Clean guitar and complimenting overdriven bass tones slither underneath blissful singing. The sound is indefinite and signature throughout their debut. OKJ can belt a shrill voice to drive their take home message; to join their people's club. Anybody is invited. Embrace the state of mind and you won't be waitlisted.
Des biceps enflés de Trevor Angst:
(Traduit par la culture canadienne de Nicolas Coutlée)
Qui se rappelle de Kids in the Hall, cette émission canadienne à l'humour étrange? OK Jazz s'en souvient et dédie un titre plaisantin à ce pitoyable sexiste aux cheveux végétaux. OKJ sait ce qui se trame dans cette tête de chou et l'illustre parfaitement grâce à l'art fin de la satire à niveaux multiples, célébrant l'égalité des sexes dans la solidarité harmonieuse. Une guitare claire complémentée de tons de basse surmultipliée s'immisce sous un chant merveilleux. Sur ce premier album, le son reste indéfini tout en étant distinctif. Mais OKJ peut également scander son message d'une voix stridente : joignez-vous à notre club! Tout le monde est le bienvenu. En adoptant cet état d'esprit, vous pouvez oublier la liste d'attente.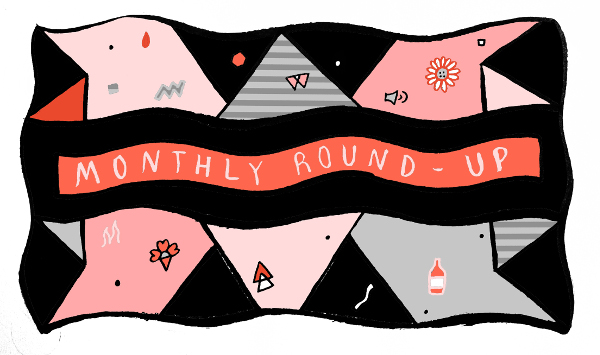 From the Lizard Cove:
In our ongoing pursuit to encourage, document, and connect creative expression across Canada, we cut through waves upon waves of ethereal sounds, wyld shreddery, and brooding drones. It is magnificent. Some of the best grips escape our grasping fists. We list them here:
Yankee Yankee – Segments (Calgary, AB)
Valiska – Shifts (Calgary, AB)
Gunwale – Red Earth (Edmonton, AB)
En Ami – En Ami (Edmonton, AB)
An Ant And An Atom – Overtones (Lethbridge, AB)
VIDEO: Stefana Fratila – memory ep (Vancouver, BC)
Nathan Shubert's Pirate Ship – Moorage, Captain, Port & Chambers (Vancouver, BC)
JOHN MUTTER WAS RAISED BY WOLVES – Up The Hill We Come (Vancouver, BC)
Skinny Kids – Strangers (Vancouver, BC)
The Repossessors – 20 Angry Months (Vancouver, BC)
Strange Fires – Walkabout EP (Edmonton, AB)
The Civil Dead – Bird Bones (Vancouver, BC)
the passenger – dreamland park (Vancouver, BC)
i.o – Parasite Architect (Victoria, BC)
pjs – sweet la vie (Victoria, BC)
Lizard Cove:
( )
Notre quête constante visant à encourager, à mettre en contact et à décrire les pratiques d'expression créatrice au Canada nous fait traverser vague après vague de sons éthérés, de shreds déchaînés et de sinistres bourdonnements; et c'est magnifique. De véritables joyaux échappent parfois à nos mains avides. Ils sont énumérés ici :
Yankee Yankee – Segments (Calgary, AB)
Valiska – Shifts (Calgary, AB)
Gunwale – Red Earth (Edmonton, AB)
En Ami – En Ami (Edmonton, AB)
An Ant And An Atom – Overtones (Lethbridge, AB)
VIDEO: Stefana Fratila – memory ep (Vancouver, BC)
Nathan Shubert's Pirate Ship – Moorage, Captain, Port & Chambers (Vancouver, BC)
JOHN MUTTER WAS RAISED BY WOLVES – Up The Hill We Come (Vancouver, BC)
Skinny Kids – Strangers (Vancouver, BC)
The Repossessors – 20 Angry Months (Vancouver, BC)
Strange Fires – Walkabout EP (Edmonton, AB)
The Civil Dead – Bird Bones (Vancouver, BC)
the passenger – dreamland park (Vancouver, BC)
i.o – Parasite Architect (Victoria, BC)
pjs – sweet la vie (Victoria, BC)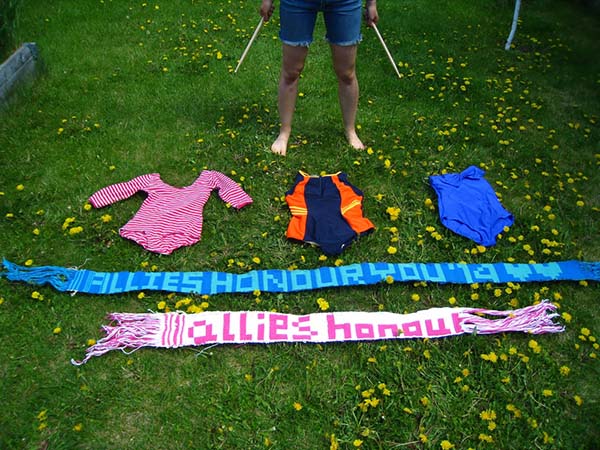 a preview of the upcoming performance work ALLIES HONOUR YOU at Queen City Pride Festival in Regina next week (!!)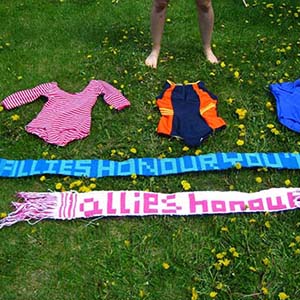 Wednesday Lupyciw
Video, performance, and textile artist
Calgary, AB
From the bootstrapping of Randee Keiver: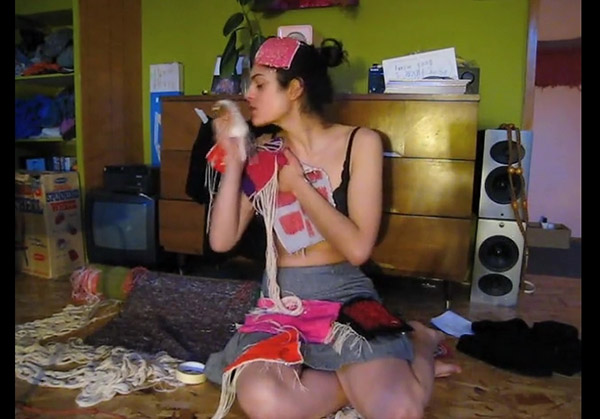 a still of the video Bed Of Intimacy, 2014.
Calgary's Wednesday Lupypciw is known for her candid, humorous, and absurd video work that investigates the strange and murky intersections of art, craft, identity, feminism, sexuality and relationships. Wednesday's personal grapplings with these issues become a means through which we can poke fun at our own attempts to rectify personal, political, and creative desires for satisfaction within a realm littered with obstacles. Here we discuss her home in Calgary, the Canadian art scene, sincerity & vulnerability, cunt-art, collaboration, art, and activism.
Your video work approaches, with a wry humour, matters of personal failure, intimacy, and the common awkwardness of relationships. It seems very sincere even when it is being sarcastic, and I think this is because of a lack of pretense and artifice. Have you always been so candid in your work? If not, was there a moment or breakthrough that allowed you to access this subject matter?
I think there was a show at Stride back in the day called Sincerity Overdrive. I agree with you that there's a lot of awkwardness and wholeheartedness in my work. It's because I use the first and only takes of myself rolling around these elaborate sets in my bathtub… My intentions are always the best! And I think there is a place for this in contemporary art and scholarship! I studied in the ACAD Textiles department, where there was this really heavy emphasis on 2nd Wave Feminist performance art from the 1970s, because it's what the instructors at the time knew and came of age with. Again and again, we were drilled with the idea that The Personal Is Political, and eventually it rubbed off in this way that totally endeared me to Cunt Art. I WANT TO BE CUNT ART SO MY VIDEOS BRING THE PUSSY, but in a way that acknowledges that it's the 21st Century and we know better than all of those essentialist ideas that were floating around 40 years ago. Cunt Art v2.0.
Also, I realized, I think just finishing and getting out of art college, that work I made earnestly and impulsively stood on its own a lot better in the world than work that was made to be Art and fare well in crits. That probably isn't totally clear–of course I make things as art, I show these things in galleries, I apply for grants and file my taxes as an artist etc. etc. I'm in the cult or whatever. I just know, if I see something that's really beautiful and slick and well-made, I only get so much out of it and then move on. So I want to make work that is a little restless and uncomfortable and incomplete and unsettled, work I keep on trying to figure out. The whole messy story is trying on the nerves, but more valuable than the demo reel.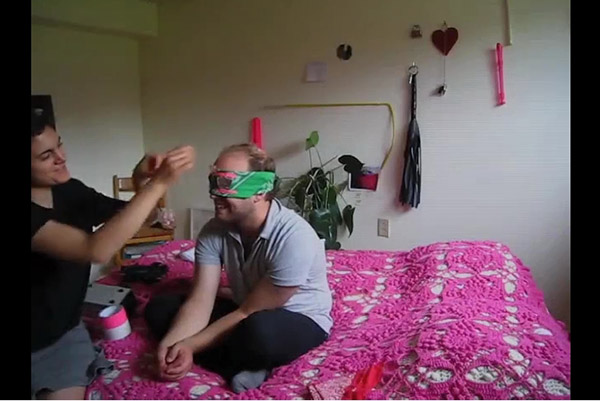 a still of the video Bed Of Intimacy, 2014.
Embracing the soft, vulnerable, messy aspects of self and of relationship/community is an important tool for casting doubt on the values of dominator culture. Presenting those in a professional/academic art space wherein the values of individual success/"bootstrapping" (and the inherent diminishing of systematic oppression) and the institutionalized privileges still very much linger is an important aspect of feminist art traditions. What sorts of responses have you encountered from people who are made uncomfortable by your work, and in what ways do you see problematic dynamics being maintained?
Well, from the get-go my work only ends up in a very specific kind of institution and context. I'm often programmed because the piece is supposed to make people mildly uncomfortable, to fulfill a promise and moral duty to be "thought provoking" because it's colourful and silly and certainly not going to be the "masterfully crafted" one! Some shows I get into–grab-bag survey shows based on geography (ex. any Biennial), or vag-only shows (conflating Feminism with female-ness, sisterhood based on assumption)–have their own way of normalizing very different practices, simply by being so extensive. Or, the show is marketed to a certain group from the beginning. Work is curated to fill that demographic need. These preconceptions and marketing are sometimes problematic because they can cheat work out of its full meaning.
I like doing solo exhibitions or working with independent curators, because then it feels like there is intelligence in how the host place relates to the work; their advocacy of it is holistic. Doing performance art in public places, even if it's in a museum or something, is more confrontational and direct and the audience squirm factor is high. I think people are conditioned to believe that anyone doing performance art is gonna barf or bleed all over something! The only thing I've noticed is that people immediately withdraw or walk away if they're uncomfortable with what's happening. Or they tune out if it takes them longer than 3 seconds to assess what's going on. People–audiences, curators, prep crews–aren't in the habit of sitting with things they don't like, or trying to express why they don't like it. And that's fine. I don't like everything either.
What has been your experience been doing community based performance work, ie. your queer solidarity drum circle with FAG?
Oh man, I totally love that you picked up on the QUEER NOISE SOLIDARITY performance because it's one of my favourites. QUEER NOISE SOLIDARITY was co-presented by the Feminist Art Gallery (FAG) and FADO Performance Art in Toronto. More so than community-based, I'd classify it as a conscious collaboration work. Community-based sounds like it would be more open than what I did. Maybe I'm not as breezy as I'd like to be about some details! I sifted through contact lists and Bandcamp pages for months before approaching specific people to join the group of 12 drummers. Everyone who was involved in that work was paid a proper artist fee, and was paid to rehearse. That is always important to me. Rita McKeough, my mentor, collaborator, and performance art hero, has worked like this too. You maintain authorship of the work, but you provide meaningful–hopefully meaningful–opportunities to many people who help you realize the vision. The vision that was a 20-foot equilateral triangle lined with female drummers thrashing and screaming with me from sunset to sundown on a grassy plain.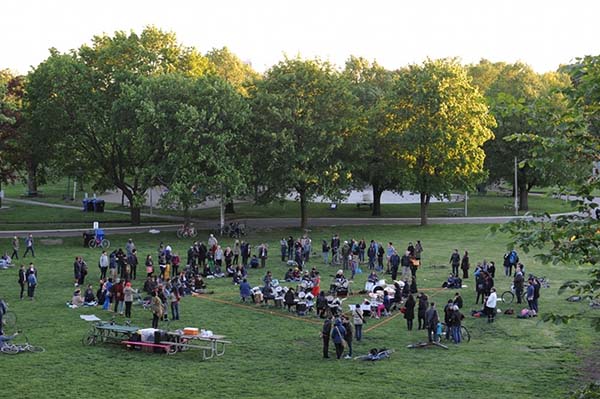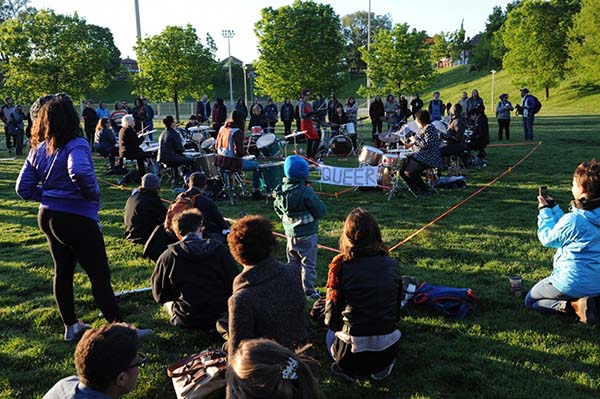 performance stills from QUEER NOISE SOLIDARITY, 2013. Photo credit Henry Chan for these.
I felt very networked, very legit, and very purposeful doing that performance in that context (and then I came back to Calgary where people often doubt Feminism haha!). I'm currently working towards similarly epic, but different drum-based performances in Regina and Calgary.
I'd like to one day do something community-based, but that seems like it would have to have a broader focus than a one-night only gig. I think the key to community-based projects is that they go out of the organizer's hands to accommodate a fuller part of the collaborators' opinions, ideas, aesthetics, etc.
Though your work addresses and employs traditional craft labour practices, I get the sense it is more about the human experience of working to survive, of striving to connect with others, and of struggling against systematic oppression. Was there a process by which your work came to be more about the latter than about, say, fibre art pure and simple, or were you always more concerned with the dialogue?
I do have concerns about craft and craft theory, but they are mostly about how people perceive crafts, the social settings in which crafts were made historically, and how crafts are being made today. I use craft media because I've been using craft media as long as I can remember, because I appreciate my formal training in textiles, because crafting is political in some ways, and because on some deep level I must enjoy yarn and soft things.
It's always funny for me to see people walking up to my work, because they'll do things like squint and pore over minute details in a textile, trying to glean some meaning from it, whereas I totally didn't even think about that detail and I made the thing!
My work has always been a repository of emotional and psychic content for me. That is the richness, and a solid entry point. The textile is something I may have spent hundreds of hours making, but I was preoccupied about many things, like feeling it sit on my thighs instead about worrying about how it looked as it grew. I'll put crafts into a show so that they can work in concert with everything else–the videos, the sound, the performers, the room. Basically, take a craft out of my whole setup and it's just a pale anaemic object. Deirdre Logue from the Feminist Art Gallery said something really nice to me once about wanting "something with DNA on it" as a memento of a performance. I get it.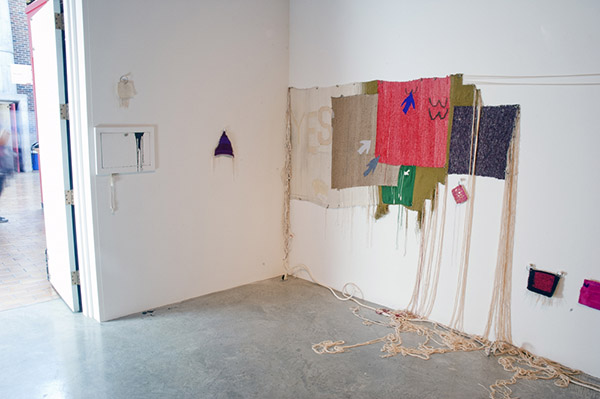 a still of the installation MY SEX WEBSITE, 2014. Photo credit Stacey Watson for this one.
Du tremplin de Randee Keiver:
(Traduit par Wanying Zhang)
Wednesday Lupypciw de Calgary est connue pour ses vidéos candides, comiques, et absurdes qui examinent les intersections étranges et obscures de l'art, de l'identité, du féminisme, de la sexualité et des relations. La lutte personnelle de Wednesday avec ces problèmes se transforme en moyens qui nous permettent de se moquer de nos tentatives de rectifier les désirs personnels, politiques, et créatifs afin d'être satisfait dans un royaume parsemé d'obstacles. Ici, nous discutons de son chez-soi, à Calgary, de la scène artistique canadienne, de la sincérité & de la vulnérabilité, du cunt-art, de la collaboration, de l'art et de l'activisme.
Votre vidéo frôle, avec un humour ironique, des sujets d'échecs personnels, d'intimité, et de malaises naturelles dans les relations. C'est très sincère même quand c'est sarcastique, et je pense que c'est parce qu'il n'y a pas de faux-semblant, ou d'artifice. Avez-vous toujours été si candide dans votre travail? Sinon, y a t'il eu un moment, ou une percée qui vous a permis d'aborder ce sujet?
Je pense qu'il existait une présentation à Stride dans le passé qui s'appelait « Sincerity Overdrive ». Je suis d'accord avec vous qu'il y a beaucoup de malaise et de sincérité dans mon travail. C'est parce que j'utilise la première et la seule prise de moi-même lorsque je tourne dans ma baignoire, entourée de cette mise en scène élaborée…Mes intentions sont toujours les meilleures! Et je pense qu'il y a une place pour ça dans l'art contemporain et l'érudition! J'ai étudié au département du Textile d'ACAD, où ils mettent vraiment un gros accent sur la performance artistique des années 1970 pendant la seconde vague du féminisme. C'était ce que les professeurs connaissaient et ce avec quoi ils avaient grandi. Maintes et maintes fois, on nous a martelé avec l'idée que « l'aspect Personnel est Politique », et éventuellement, j'en étais imprégnée et c'est ce qui m'a fait adorer le cunt-art. JE VEUX DEVENIR LE CUNT-ART, MES VIDÉOS AMÈNENT DONC LE PUSSY, mais dans un sens qui reconnait le fait que nous sommes dans le 21e siècle et que nous comprenons mieux ces idées d'essentialisme qui circulaient il y a quarante ans. Le cunt-art version.2.0.
En plus, je m'en rendais compte, juste après avoir fini et être sortie d'une école d'art, que les œuvres que je faisais honnêtement et impulsivement se tenaient mieux dans le monde que les œuvres qui étaient faites pour être de l'Art et s'en tiraient bien lorsque critiquées par d'autres étudiants en arts… Cela n'est probablement pas très clair—bien sûr, je transforme des choses en art, je montre ces choses dans des galeries, je fais les demandes pour des bourses et je déclare mes impôts d'artiste, etc. Je suis dans un culte, ou whatever. Je sais juste que si je vois quelque chose qui est vraiment beau et super et bien fait, j'en retire ce que je peux et je passe à autre chose. Donc, je veux créer des œuvres qui sont un peu agitées et gênantes et incomplètes et perturbées, des œuvres que je continue d'essayer de comprendre. Le but ultime, même si maladroit, et de mettre les nerfs à l'épreuve, mais que ça ait une plus grande valeur que le démo.
En adhérant à la faiblesse, à la vulnérabilité, aux complications de soi-même et aux relations et à la communauté est un outil important pour semer le doute dans les valeurs de la culture dominante. Présenter ces idées dans un espace d'art professionnel/académique, où les valeurs de réussite individuelle/bootstrapping (et la diminution inhérente de l'oppression systématique) et les privilèges institutionnalisés qui persistent encore fortement est un important aspect des traditions en art féministe. Quelles sortes de réponses avez-vous trouvées de gens qui sont perturbés par votre travail, et de quelles façons voyez-vous l'entretien des dynamiques de problématiques?
Eh bien, de prime abord, mon travail se retrouve seulement dans un genre d'institution et de contexte très spécifiques. Je suis souvent programmée parce que la pièce est supposée de perturber modérément les gens, de remplir une promesse et un devoir moral de susciter la réflexion parce qu'elle est colorée et débile et elle ne sera certainement pas celle qui sera « façonnée de mains de maître »! Les expositions auxquelles je suis admise—les expositions fourre-tout fondées sur la géographie (ex. Une biennale), où les expositions vag-only (regrouper le féminisme avec le fait d'être femme, la solidarité féminine fondée sur les suppositions) – ont leurs propres façons de normaliser des pratiques très différentes, simplement en étant si approfondies. Ou bien, l'exposition est lancée à un groupe particulier dès le début. Le travail est organisé afin de répondre aux besoins démographiques. Ces idées préconçues et le marketing sont souvent problématiques, car ils peuvent sacrifier la pleine signification de l'oeuvre.
J'aime faire des expositions en solo, ou travailler avec des conservateurs indépendants, puisqu'il me semble qu'il y a plus d'intelligence dans la relation entre la salle et la façon dont l'œuvre en est imprégnée; cette promotion est holistique. En faisant de l'art performance dans des lieux publics, même dans un musée ou quelque chose comme ça, il y a plus de confrontation et c'est plus direct et le degré de tortillement du public est élevé. Je pense que les gens sont conditionnés à croire que tout le monde qui fait de l'art performance va dégobiller ou saigner partout ! La seule chose que j'ai remarquée est que si les gens sont perturbés, ils se retirent calmement ou s'en vont immédiatement. Ou bien ils décrochent complètement si ça leur prend plus de 3 secondes pour évaluer ce qui se passe. Les gens—le public, les conservateurs, l'équipe technique—ne sont pas habitués de travailler avec des choses qu'ils n'aiment pas, ou d'essayer d'exprimer la raison pour leur aversion. Et c'est correct. Je n'aime pas toutes les choses non plus.
Quelles sont vos expériences de travail pour les oeuvres de performances en milieu communautaire, c.-à-d. votre solidarité gai et votre relation avec FAG ?
Super ! Je suis absolument ravie que tu aies reconnu la performance de QUEER NOISE SOLIDARITY parce que j'ai adoré. QUEER NOISE SOLIDARITY était présenté conjointement par le [Feminist Art Gallery (FAG)] (https://www.facebook.com/FeministArtGallery et FADO Performance art à Toronto. Plus qu'une performance en milieu communautaire, je le classifierais comme un travail de collaboration délibéré et réfléchi. Ce genre de performance me semble amener plus d'ouverture que ce que je faisais. Peut-être que je ne suis pas aussi jovial que j'aimerais être pour certains détails ! Pendant des mois, j'ai filtré une liste de contacts et des pages de Bandcamp avant d'aller vers des gens en particulier pour qu'ils se joignent au groupe de 12 percussionnistes. Tous ceux qui étaient impliqués dans ce travail étaient rémunérés une somme appropriée pour des artistes et ils étaient payés pour répéter. C'est toujours important pour moi. Rita McKoough, ma conseillère, ma collaboratrice, et mon héroïne de l'art performance, elle, travaillait aussi comme ça. Vous gardez la paternité de l'œuvre, mais vous fournissez des occasions significatives –enfin, vous espérez qu'elles soient ainsi- aux gens qui vous aident à réaliser votre vision. La vision qui était un triangle équilatéral de 20 pieds garni des tambours féminins qui se débattent et hurlent avec moi de l'aurore jusqu'au coucher de soleil sur une plaine couverte d'herbe.
Je me suis sentie très connectée avec les gens, très réglo, et très déterminée en faisant cette performance dans ce contexte (et puis je suis retournée à Calgary où les gens doute souvent de l'existence du féminisme haha!) En ce moment, je travaille vers une performance à Régina et à Calgary basée sur des tambours aussi enlevants, mais différents en même temps.
Un jour, j'aimerais faire quelque en milieu communautaire, mais il me semble que ça devrait avoir un focus plus large que si c'était pour un seul gig. Je pense que la clé des projets communautaires est qu'elle sorte des mains de l'organisateur afin de satisfaire une plus grande partie des opinions des collaborateurs, de leurs idées, et de leur esthétique, etc.
Bien que votre travail traite des pratiques d'art traditionnel et à recours à ces dernières, j'ai l'impression qu'il s'agit plus de l'expérience humaine de travailler pour survivre, de vouloir absolument connecter avec les autres, et de lutter contre l'oppression systématique. Yavait-il un processus par lequel votre travail venait plus de ce dernier au lieu de, par exemple, le textile pur et simple, ou étiez-vous toujours plus préoccupé par le dialogue ?
En fait, j'ai des intérêts pour l'art et la théorie de l'artisanat, mais c'est surtout par rapport à la façon dont les gens comprennent les arts, les milieux sociaux dans lesquels les arts sont créés historiquement, et la façon les arts sont faits aujourd'hui. J'utilise les métiers d'arts médiatiques, parce que c'est ce que je fais depuis toujours, parce que j'apprécie ma formation institutionnelle dans le domaine des textiles, parce que l'artisanat est politique à certains égards, et parce qu'au fond, j'aime bien les fils et les choses douces.
Ça m'amuse toujours de voir les gens s'approcher de mes œuvres, parce qu'ils font des choses comme de plisser les yeux et examiner les détails minuscules dans un textile, essayer de trouver un sens dans tout ça, tandis que je n'ai absolument pas pensé à ce détail et c'est moi qui ai créé la chose !
Mes œuvres ont toujours été un entrepôt de contenu émouvant et psychique pour moi. C'est ce qui fait sa richesse, et un point d'entrée solide. Le textile est quelque chose que j'ai peut-être passé des centaines d'heures à fabriquer, mais j'étais préoccupée par beaucoup de choses, telles que de sentir le textile sur mes cuisses au lieu de m'inquiéter de son apparence au fur et à mesure de sa croissance. Je mets de l'art artisanat dans des expositions afin qu'il puisse travailler de concert avec toutes les autres choses—les vidéos, le son, les acteurs, l'espace. En gros, éliminez l'artisanat de l'ensemble de mes oeuvres et ça devient juste un pâle objet anémique. Une fois, Diedre Logue de Feminist Art Gallery a dit quelque chose de très beau par rapport à « vouloir quelque chose avec de l'ADN dessus » comme un souvenir de la performance. Je comprends.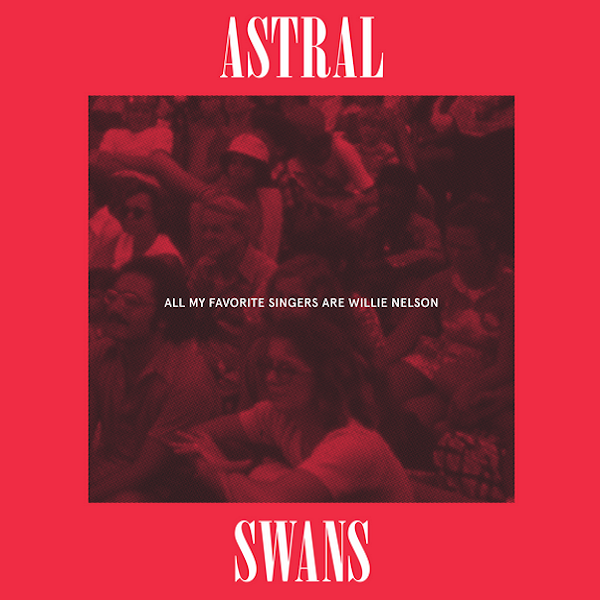 Astral Swans
All My Favourite Singers are Willie Nelson
Calgary, AB
From the mismatched puzzle pieces of Mike Roy:
Though no stranger to musical endeavours after work in groups like Extra Happy Ghost!!!, Matthew Swann's latest project Astral Swans finds him assembling a colourful musical pastiche made up of influences, desires and universal turmoil. This construction of layered traits of 90s sludge rock à la Eric's Trip and 60s folk rock akin to the Doors meshes expertly with Swann's anxiety-ridden lyrics, painting a portrait of the beauty when nature doesn't notice you at all. Swann is careful to never let these external forces consume him; his creation is a timeless being far more beautiful than history relays.
Des morceaux de casse-tête disparates de Mike Roy:
(Traduit par Jessica Grenier)
Habitué à la création musicale depuis qu'il a travaillé avec des groupes comme Extra Happy Ghost!!!, Matthew Swann présente son plus récent projet, Astral Swans, pour lequel il a composé un pastiche musical multicolore de divers désirs, influences et tourments universels. C'est un amalgame de traits de sludge rock des années 90 à la Eric's Trip et de folk rock des années 60 à la the Doors, parfaitement entremêlés par les paroles anxiogènes de Swann – qui dépeignent la beauté, lorsque la nature ne porte pas attention. Swann s'assure de ne jamais laisser ces forces externes le consumer : sa création est hors du temps, plus belle encore que ce que raconte l'histoire.
Astral Swans – Let Their Faces All Blur Out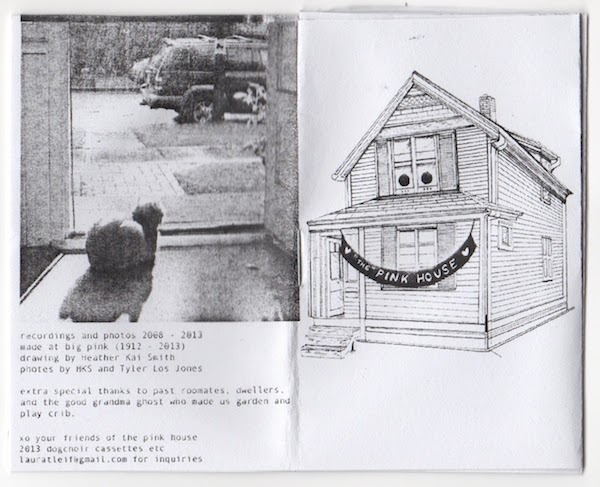 Friends of the Pink House
The Pink House
(Self Released)
Calgary, AB
From the forever house parties of Matt Swan:
Is there anything sweeter than friendship? Imagine if the dude from space oddity wasn't alone in that floating tin can, and instead had a case of wine and a couple of besties? What once was a solemn, oblivion bound meditation on loss quickly becomes a space party! The Pink House cassette, is like that, but instead of a tin can, it's a giant pink house in Calgary that has housed a rotating cast of some of the city's finest. This warped, blissful bricolage was recorded at various times by various artists under the same pink roof. The tracks run from silly to sublime – weird, blown out, and wrecked, to downright beautiful, and never boring – The Pink House documents how raw and whimsical creativity can be, particularly when combined with friendship.
De la maison aux fêtes éternelles de Matt Swan:
(Traduit par Jessica Grenier)
Il n'y a rien de mieux que l'amitié. Imaginez que le gars de Space Oddity n'ait pas été tout seul dans cette canne de conserve flottante, mais qu'il ait plutôt eu une caisse de vin et quelques bons amis. Ce qui était solennel au départ, une méditation sur la perte vouée à être oubliée, devient rapidement une fête spatiale! La cassette The Pink House est comme ça, mais au lieu d'une canne de conserve, c'est une gigantesque maison rose à Calgary qui a accueilli une distribution changeante composée de ce que la ville a de mieux à offrir. Ce bricolage tordu et merveilleux a été enregistré à divers moments et par différents artistes sous le même toit rose. Les pistes vont d'absurdes à sublimes – en passant par bizarres, éclatées, démolies et carrément belles, mais jamais ennuyantes. The Pink House démontre à quel point la créativité peut être crue et fantaisiste, particulièrement quand elle va de pair avec l'amitié.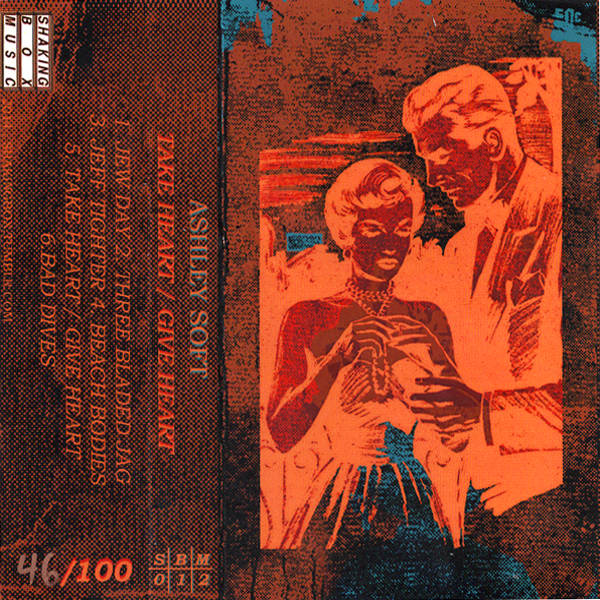 Ashley Soft
Take Heart / Give Heart
Calgary, AB
From the frenzied mania of Matthew Swan:
Sometime in early 2013, Calgary eccentric and ex-Bikeland experimenteur Clarke Mcleod vanished from rodeo town. While details of his absence stay mysterious (evidence of a highly creative Montreal pilgrimage emerged), the results are manifest. Not only has a new project (Ashley Soft) surfaced, but also a completed EP, written and recorded in a month-long frenzy of manic, musical construction. Showcasing his finest work to date, Take Heart/Give Heart trades in Bikeland's buzzsaw guitar shrieks (don't worry they still make cameos) for infectious Malkmus-like jangle-hooks, Silkworm-esque charm, and bucket loads of contemporary quirk. Released via Devin 'Bitter Fictions' Friesen's label Shaking Box Music, Take Heart/Give Heart once again proves that natural gas ain't the only thing coming outta the Alberta underground.
De la manie frénétique de Matthew Swan:
(Traduit par Jessica Grenier)
À un moment donné au début de l'année 2013, l'excentrique calgarien et ex-expérimentateur de Bikeland, Clarke Mcleod, a disparu de la ville du rodéo. Bien que cette absence demeure mystérieuse (des détails prouvant une espèce de pèlerinage hautement créatif vers Montréal ont fait surface), les résultats sont manifestes. Non seulement un nouveau projet (Ashley Soft) est apparu, mais un nouveau EP complet également, écrit et enregistré en un mois frénétique de folle construction musicale. Constituant son meilleur travail jusqu'à maintenant, Take Heart/Give Heart remplace les cris de scie mécanique des guitares (n'ayez crainte, elles font tout de même des caméos) par des accroches contagieuses à la Malkmus, un charme rappelant Silkworm et une tonne d'excentricité contemporaine. Lancé par le label Shaking Box Music de Devin « Bitter Fictions » Friesen, Take Heart/Give Heart prouve une fois de plus que le gaz naturel n'est pas la seule chose pouvant être puisée dans le sous-sol albertain.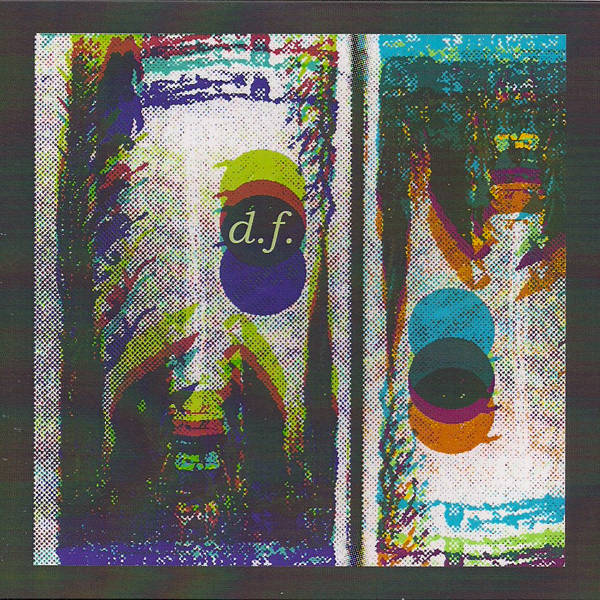 D.F.
Snowshell + Tape Decay Works
Calgary, AB
From the snow's hell of Jesse Locke:
Devin Friesen breaks out his frozen gtr for another trudge through analog atrophy and shuddering drum machine dread. This CD edition collects the original grip-or-it's-gone Snowshell lathe with six additional blasts of dome-clearing desolation, bottoming out with the 15-minute "Return of the Raiders." Stay frosty…
De l'enfer de neige de Jesse Locke:
(Traduit par les bas de laine troués de Jessica Grenier)
Devin Friesen est sorti de sa GTR glacée pour une autre marche pénible à travers l'atrophie analogique et le frisson d'une boîte à rythme terrifiante. Cette édition en CD rassemble Snowshell (l'original, dépêchez-vous avant qu'il n'y en ait plus!) et six autres explosions dévastatrices à faire sauter le plafond, et se conclu avec les 15 minutes de « Return of the Raiders ». Alors, faites attention…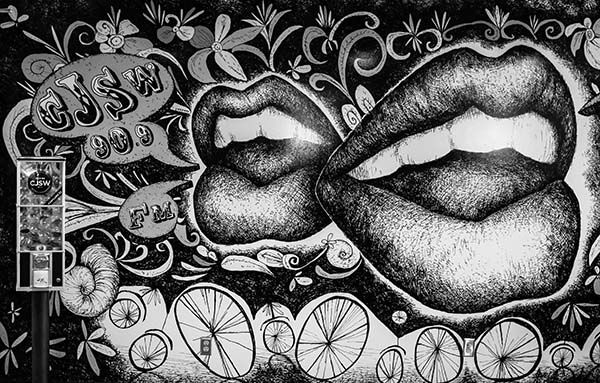 Calgary's CJSW 90.9FM Campus and Community Radio Station
Calgary, AB
From the duct-taped corners of Preacher Katie:
Through the neat and tidy hallways of the University of Calgary lays CJSW 90.9FM, Calgary's solitary campus and community radio station. CJSW is whispered through the radio circuit to be a cut above campus and community radio stations, upon 30 seconds of arriving it becomes clear why this title follows. The walls are colorful with thoughtful designs, the type of designs that are organized with effort. Kind staff and volunteers work diligently at their individual desks. No corner is duct taped, no paint is peeling and no toilet seat is covered in piss. Equipped with three closed offices, a meeting room, three production rooms, an on air booth, an extensive physical music library, a tech room, a kitchen and spacious communal area, CJSW is not your average campus and community radio station. It is an establishment.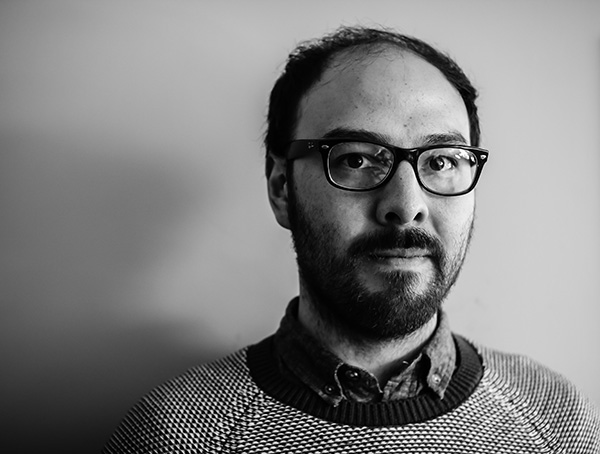 Whitney Ota, the music director sheds an in-depth overview of the station:
His own label: Unit Structure Sound Recordings
PK: What do you think is special about CJSW?
W: There is a pretty incredible community here. It is a family. We just moved up here a couple of years ago from the basement. The old CJSW was rougher around the edges. We are the only station that plays experimental music, metal, punk, noise and have a commitment to local and developing artists that no other station in town has. We are the only station in Canada that I'm aware of that has an experimental chart. I am really into experimental music. My love for experimental music spans many genres. In each genre of music, I appreciate those that are doing something unique and interesting. Things get really boring when you hear the same ideas rehearsed over and over again; I'm always interested in hearing boundaries being pushed. I love challenging art in all forms, it is exciting that Weird Canada is getting into covering "weird" written word, video and other forms of art. It's an exciting time for us weird Canadian weirdos.
The live band room is becoming more developed; this is going to be a big project for this next year. We are working towards becoming the best live band room in the country, better even than CBC.
PK: In what ways is CJSW working towards this goal?
W: Everything really, we want to look at the way it is designed, the interior decorating, the gear- making sure it is state of the art. Most importantly the sound, making sure that everything sounds amazing. We also want to get it setup with video cameras and such, so that we can video tape all of the sessions that come through. That is sort of the big project we are looking at for this year. More podcasting. We also got a bigger tower put up recently, therefore we get to broadcast with greater range now.
PK: Why do you work here?
W: Well music of course, is my passion. A job that I get to listen to music all day long is just ideal for me, it's crazy. It's a great atmosphere; the people I work with are fantastic. I mean I have been to a few other stations, and I have never seen a station like this before. I think people are kind of surprised when they come in, they expect that campus and community vibe, where things are less organized, though I love that. But I feel like it is very establish here, within itself and the Calgary music scene.
PK: Is there an artist, event, person or song that brought you to CJSW? Why did you decide to get involved?
W: The first time CJSW rang out for me, was when I was in high school, I remember the day, I turned on the radio and there was this crazy track that sounded like it was two separate tracks played at the same time. It was like this crazy weird noise, experimental thing. And I was like, how the hell is this on the radio? This is crazy. And I remember the numbers, 90.9FM. I kept listening over and over. Eventually I thought: I need to find out who these people are! So I just came in, started volunteering, and eventually I got my own show- years later and yeah…now I work here as the music director. Its pretty fun!
PK: Who should we listen to in Calgary?
W: Valiska, he is doing really beautiful ambient electronic music, his stuff is world class. That is kind of what I search for, is this from Calgary I ask myself. If it is from Calgary then it's not really my taste.
PK: Then what would you consider is Calgary's sound?
W: I don't know, there is a pretty hardcore community here; a lot of people are kind of into that stuff. I am into it but Valiska is doing something really unique for a Calgary sound. There is a sound, like the Garbage Daze kids. A lot of them are in the same bands, it is almost an incestuous sound. There is a limited amount of creative people in Calgary, most have to work with the same people and switch it up. There is a weird aggressive tone. Calgary music is kind of intense. That is why I bring up Valiska, he is just doing something completely different from a totally different angle. I think it is something Calgary needs, something beautiful to listen to. Alberta Hardcore!
PK: How is your station supporting WC bands and why do you think this is important?
W: Weird Canada is doing a fantastic job of covering Canadian music that doesn't have many other outlets in the written media. Weird Canada is an amazing resource for up-and-coming artists as well as those that are just too strange to really have anyone else care enough to write about them. CJSW has a similar mandate to help nationalize micro-communities from local areas. It can be difficult for local bands to break out of their communities, but WC/CJSW are doing our best to help spread the word. It can help these bands establish fan-bases outside of their areas which can help with touring, album sales etc!
PK: Why should people keep listening to radio?
W: I don't think radio will die anytime soon. As long as people have radio dials, there will be radio stations playing music and delivering content to listeners. I feel that mainstream radio will lose value over the years, but campus/community stations will become more and more vital as we will be some of the only resources around that represent our local community. With the help of internet radio and online podcasting, we will be able to spread the word even further that there is amazing stuff coming out of Calgary. Campus/community radio is all about sharing ideas; getting people talking and informing people of important issues or things that are happening in our communities. With a million and one online music resources available, it can become overwhelming trying to decide which to listen to, especially as many of them do not engage at all with local communities.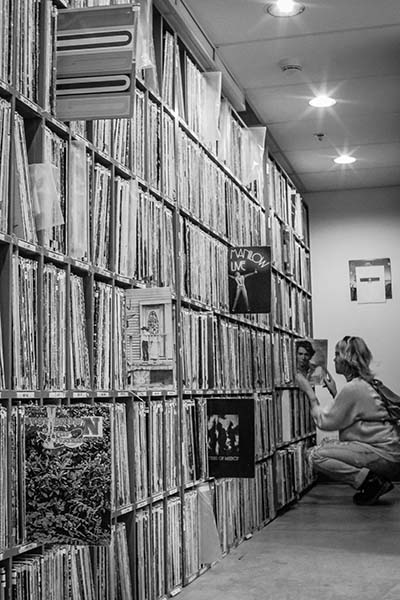 CJSW is a musical foundation for bands, they offer big and small time bands a great degree of professionalism. Bands that play live in CJSW's band room receive great publicity through the stations high amount of listeners and supporters. In addition, bands that may not have access to a studio or equipment are able to acquire a quality recording of their music. Hag Face is among many that have used their recordings from the studio to publish an album on bandcamp. Thus CJSW continues to be a huge supporter of Canadian and independent music.
Des coins couverts de duct tape de Preacher Katie:
(Traduit par Jessica Grenier)
La station radio étudiante et communautaire de Calgary, CJSW 90.9FM, se cache derrière une série de corridors proprets de l'Université de Calgary. Entre les branches radiophoniques, on chuchote qu'elle est une coche au-dessus des autres stations radio étudiantes et communautaires – et on comprend pourquoi quelques secondes après y être arrivé. La décoration des murs (les couleurs et le design), est visiblement réfléchie, du genre qui demandé beaucoup de travail. Les employés et les bénévoles – tous amicaux – travaillent assidument à leurs bureaux respectifs. Pas de duct tape dans les coins, ni de peinture écaillée, ni de siège de toilette recouvert d'urine. Plutôt trois bureaux fermés, une salle de réunion, trois salles de production, une cabine de diffusion, une vaste bibliothèque (physique) de musique, une salle de technologie, une cuisine et un espace communautaire spacieux. CJSW n'est pas une station radio étudiante et communautaire typique : c'est un établissement.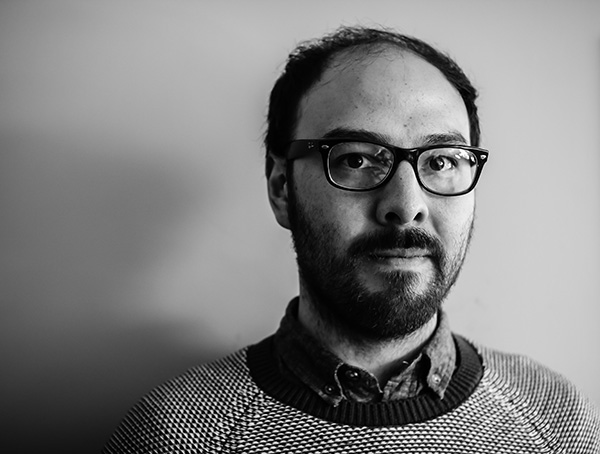 Whitney Ota, le directeur musical, décrit le parcours de la station :
Son propre label : Unit Structure Sound Recordings
PK : Qu'est-ce qui rend CJSW si spéciale?
W : Ici, l'esprit de communauté est vraiment génial. C'est une famille. Avant, on était dans le sous-sol, le déménagement jusqu'ici s'est fait il y a environ 2 ans. L'ancienne CJSW était un peu plus brouillon. On est la seule station en ville qui diffuse de la musique expérimentale, du métal, du punk, du noise et qui encourage activement les artistes locaux et émergents. À ma connaissance, on est la seule station au Canada qui a un classement de musique expérimentale. J'adore la musique expérimentale, et cet amour touche plusieurs genres de musique. Particulièrement ceux qui font quelque chose d'unique et d'intéressant. Ça devient ennuyant quand on entend toujours les mêmes idées se répéter. Ce qui m'intéresse, c'est quand on repousse les limites. J'aime l'art provocateur sous toutes ses formes, c'est excitant de voir Weird Canada se pencher sur la couverture de mots écrits, de vidéos et d'autres formes d'art « weird ». C'est une époque excitante pour nous, les "weirdos" de Weird Canada.
La salle de musique en direct se développe de plus en plus, ça va être un gros projet pour l'année qui vient. On travaille à ce qu'elle devienne la meilleure du pays, même meilleure que celle de CBC.
PK : Comment CJSW travaille-t-elle pour y parvenir?
W : C'est dans tout ce qu'on fait : tant dans la façon dont elle est conçue (la décoration intérieure), que l'équipement – en s'assurant qu'il est à la fine pointe. Mais surtout, on s'assure que le son soit génial pour tout. On veut aussi installer des caméras vidéo et tout, pour pouvoir enregistrer les séances qui s'y passent. C'est pas mal le gros projet que nous avons en vue cette année. Plus de podcasting. Aussi, une tour plus grosse a été installée récemment, alors on a une plus grande portée de diffusion.
PK : Pourquoi travailles-tu ici?
W : La musique est évidemment ma passion, donc un travail, si je peux passer la journée à écouter de la musique, c'est vraiment l'idéal, c'est fou. L'atmosphère est géniale, les gens avec qui je travaille sont fantastiques. J'ai déjà été dans d'autres stations, mais je n'en ai jamais vu une comme ici. Je pense que les gens sont toujours un peu surpris quand ils arrivent : ils s'attendent à une atmosphère étudiante et communautaire, à ce que les choses soient moins organisées – même si c'est quelque chose que j'aime aussi. Mais j'ai l'impression que la station est vraiment établie ici, en elle-même et dans la scène musicale de Calgary.
PK : Est-ce qu'il y a un artiste, un événement, une personne ou chanson qui t'a amené ici? Pourquoi as-tu choisi de t'impliquer chez CJSW?
W : Je me rappelle la première fois que j'ai entendu CJSW, j'étais à l'école secondaire. Un jour, j'ai ouvert la radio, et il y avait une piste folle qui sonnait comme si deux pistes différentes étaient jouées en même temps. C'était un genre de noise expérimental vraiment bizarre. Je me suis dit : « Voir que ça joue à la radio? C'est fou! » Je me suis souvenu des chiffres (90.9 FM) et j'ai continué a écouté le poste de radio. J'en suis venu à me dire : il faut que je sache qui sont ces gens! Alors, je me suis présenté, je suis devenu bénévole; j'ai eu mon émission des années plus tard et ouais… maintenant je suis le directeur musical. C'est vraiment plaisant!
PK : Qu'est-ce qu'on devrait écouter à Calgary?
W : Valiska fait de la belle musique électro ambiante, de calibre mondial. C'est ce genre de truc que je recherche. Je me demande : est-ce que c'est de Calgary? Si oui, ce n'est pas vraiment mon genre.
PK : Alors selon toi, quel serait le son de Calgary?
W : Je ne sais pas… il y a une communauté assez hardcore ici et beaucoup de gens ont l'air d'aimer ça. J'aime aussi, mais Valiska fait quelque chose de vraiment unique pour un son de Calgary. Il y a un son comme celui de la clique de Garbage Daze. Beaucoup des musiciens font partie des mêmes groupes : ça donne un son presque incestueux. La quantité de gens créatifs à Calgary est limitée, alors la plupart ont à travailler ensemble et changent de groupe de temps en temps. Il y a une tonalité agressive et étrange. La musique de Calgary est assez intense. C'est pour ça que je mentionne Valiska : il fait quelque chose de complètement différent et d'un angle totalement différent. C'est quelque chose de beau à écouter, et je pense que Calgary en a besoin. L'Alberta est hardcore!
PK : Comment la station encourage-t-elle les groupes mentionnés sur Weird Canada et pourquoi penses-tu que c'est important?
W : Weird Canada fait un excellent travail en traitant de ce type de musique canadienne qui n'a pas vraiment d'autre place dans les médias écrits. C'est une ressource sans pareil pour les artistes de la relève comme pour ceux qui sont juste trop bizarres pour intéresser quelqu'un d'autre à écrire à leur sujet. CJSW a un mandat similaire qui est celui d'aider à nationaliser les microcommunautés locales. Faire parler de soi peut être difficile pour les groupes locaux, mais WC et CJSW font de leur mieux pour passer le mot; ce qui peut aider ces groupes à se faire des fans dans d'autres régions et permettre des tournées, des ventes d'albums, etc.!
PK : Pourquoi les gens devraient-ils continuer à écouter la radio?
W : Je ne pense pas que la radio soit près de mourir. Aussi longtemps que les gens auront des cadrans radio, il va y avoir des stations qui vont diffuser leur musique aux auditeurs. J'ai l'impression que la radio grand public va perdre en valeur dans les années à venir, mais les radios étudiantes/communautaires vont devenir de plus en plus vitales puisqu'elles seront les seules ressources représentant les communautés locales. Avec l'aide de la radio sur internet et du podcasting, on va pouvoir répandre encore plus tous les trucs géniaux qui se font à Calgary. Le but d'une radio étudiante/communautaire est de partager les idées, de faire discuter les gens et de les informer sur les problèmes importants ou ce qui se passe dans leur communauté. Avec les milliers de ressources musicales accessibles en ligne, il peut être très difficile d'essayer de trouver quelque chose à écouter, surtout quand la plupart des stations s'engagent très peu dans les communautés locales.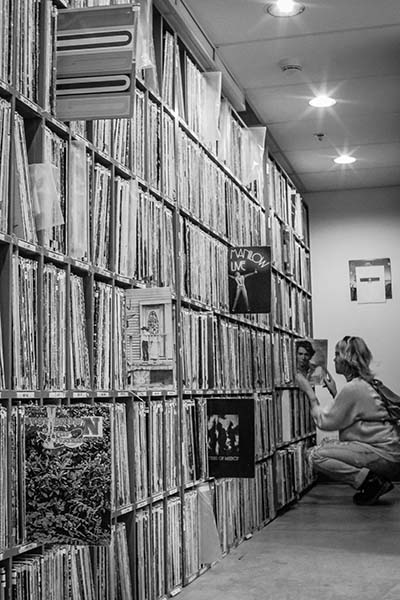 CJSW est une fondation musicale qui œuvre avec beaucoup de professionnalisme auprès des groupes petits et grands. Les groupes qui jouent en direct dans la salle de musique de CJSW reçoivent une excellente publicité auprès de ses très nombreux auditeurs et partisans. De plus, elle offre un accès à un studio ou à de l'équipement qui permet d'obtenir des enregistrements de qualité – ce qui n'aurait pas nécessairement été possible pour certains groupes. Hag Face est au nombre de ceux qui ont pu utiliser leurs enregistrements du studio pour publier un album sur Bandcamp. CJSW continue donc d'être un important défenseur de la musique indépendante canadienne.
---