Tag: calgary Wish Lash
Altar of Doubt
Calgary, AB
From the distant party of MCLF:
One hand reaches out and the world opens up. We're not bound by the wires, we're bound up in the silent air, our words tender in the the precious dirt and the greens emerging. These are our bodies. We're dancing.
A mutant weirdo crew holding together this mass of circuits and wires, deep trouble, pulsing and smoking hot where things cross, where the solder wears thin. Thousands of tendrils drift over us, around us, pulling us apart and back together again: different, better.
Du souffle de feu de MCLF:
Une main se tend et le monde s'ouvre. Nous ne sommes pas liés par les câbles, nous sommes liés dans le silence , notre mots dans le précieux dirt et les greens en émergence. Ce sont nos corps. Nous dansons. Une équipe de weirdos mutants tenant ensemble cette masse de circuits et de fils, ennuis profonds , pulsant et fumant à chaud là où les choses se croisent, où la soudure s'use très peu. Des milliers de vrilles dérivent sur nous, autour de nous, nous séparant et nous ressaisissant: différent, meilleur.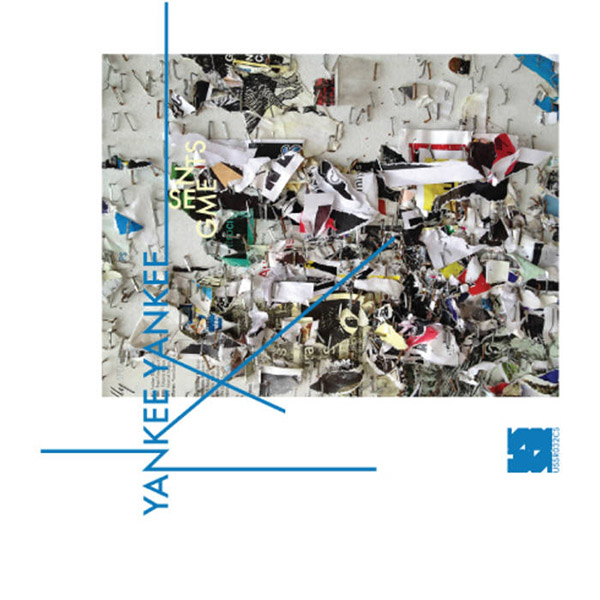 Yankee Yankee
Segments
Calgary, AB
From the guilty conscience of Katie Jensen:
Scram, scramble, flail. Slip into the grimy alley outside the reactor. Fingers digging into swirling space, mouths opening like dry fish. Waves of liquid synthesizers glide across polyphonic keys, drifting mercury desperately seeking cinnabar. Splintered chips making a slow transit across the sun, skin blistering, crust puckering. Rainbowed teeth floating into silicon space. Isolated letters tugged into orbit, tethered by minted floss. Thumbprint craters, alkaline water pooling in the hollows of eyes, a rippled disturbance, wobbling, tilted, reversing orbit. Eject into deep space via Calgary with the harsh ambient synths of Yankee Yankee's Segments.
De la conscience coupable de Katie Jensen:
(Traduit par les poissons de Maya Keshav)
Dégage, défile-toi, débats-toi. Passe dans la ruelle sale en dehors du réacteur. Les doigts puisent au fond de l'espace tourbillonnant, les bouches ouvrent comme des poissons secs. Les vagues de synthé liquide planent à travers les touches polyphoniques, le mercure vagabond qui cherche désespérément le cinabre. Les éclats qui font un voyage lent à travers le soleil, les ampoules sur la peau, les plis dans la croûte. Les dents arc-en-ciel qui volent dans l'espace en silicium. Les lettres isolées qui sont attirées à l'orbite, attachées à la soie dentaire à la menthe. Les cratères d'empreinte, l'eau alcaline qui s'accumulent dans les creux des yeux, un tapage ondulé, l'orbite chancelant, penchée, contraire. Propulse-toi en espace lointain via Calgary avec les synthés crus et enveloppants de Segments de Yankee Yankee.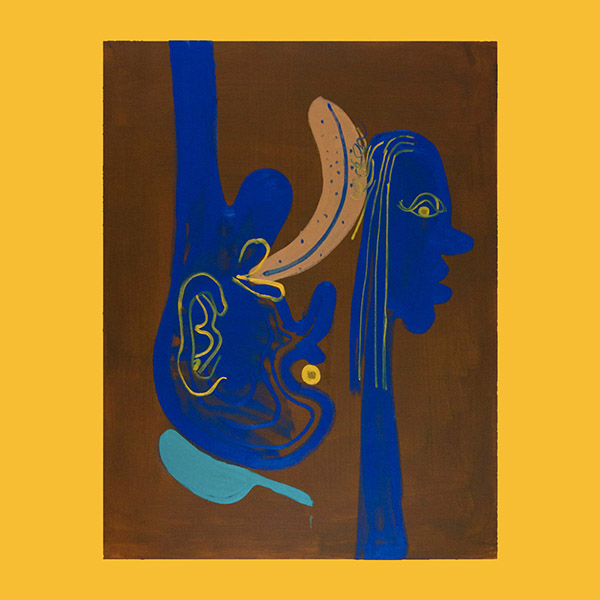 Aleem Khan
U R B A N A C H A M P A I G N
Calgary, AB
From the sparkling, small city of Joel Thibert:
There are so many options. P E O R I A F A N T A? A K R O N P E R R I E R? Aleem Khan has already decided: U R B A N A C H A M P A I G N. The bottle that's been kept hidden in the back of the fridge. Playful, self-assured, and inviting, it's the sort that can make you feel warm while still being plenty cool. When the final sip, that free-as-can-be closer, holds its 9.5 minute reign, there is only one sparkling beverage, one mid-sized, mid-western locale.
De la ville petite et pétillante de Joel Thibert:
(Traduit par Alison McReynolds )
Il y a tellement d'options. P E O R I A F A N T A? A K R O N P E R R I E R? Aleem Khan a déjà décidé: U R B A N A C H A M P A I G N. La bouteille cachée dans l'arrière du frigo. Espiègle, confiante et invitante, c'est le genre qui peut te rendre chaud tout en étant froid. Quand la dernière petite gorgée, un fond libre comme l'air, prend son règne de 9,5 minutes, il ne reste qu'une boisson pétillante, un endroit au midwest de taille moyenne.
Aleem Khan – U R B A N A C H A M P A I G N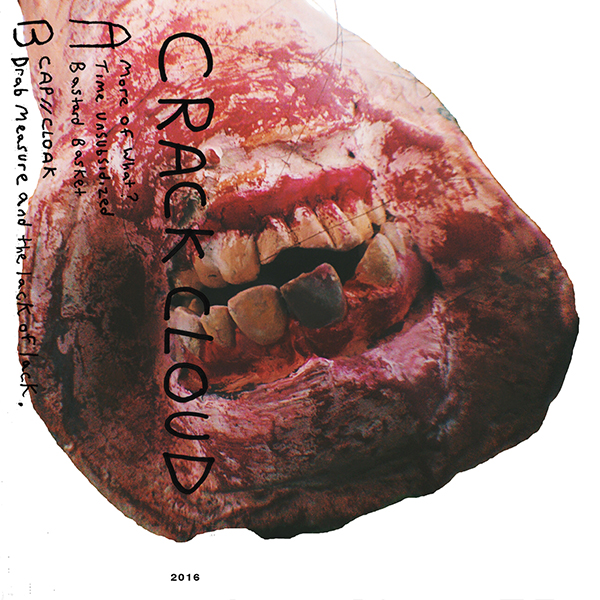 Crack Cloud
Crack Cloud
(Self-Released)
Calgary, AB
From the elixirs of Hailey Celesse McCarthy:
Suspending thick, substantial bass in acidic solutions of jagged, angular guitar strokes and stabilizing percussive rhythms, Crack Cloud achieves an emulsive substance, like mayonnaise, on their self-titled EP. Radiating, the scattering of sonic droplets throughout Crack Cloud's EP gives it a Tyndall hue. The dispersive and continuous phases of the album coalesce on the boundary track Cap//Cloak, with its initial post-punk whip and its wind out drone, the preceding and following elements focus and reflect inward and out.
Des élixirs de Hailey Celesse McCarthy:
(Traduit par la mayonnaise sonique de Maya Keshav)
En suspendant la basse épaisse et solide dans les solutions acides de coups de guitare dentés et angulaires et de rythmes équilibrants de percussion, Crack Cloud atteignent une substance émulsionnable, comme la mayonnaise, avec leur EP éponyme. Rayonnant, les gouttelettes soniques éparpillées à travers l'EP de Crack Cloud lui donnent une couleur Tyndall. Les phases dispersives et continues de l'album se fondent dans le morceau hybride Cap//Cloak, avec son fouettement initial de post-punk et le drone de sa fin, les éléments précédents et suivants se focalisent et réfléchissent vers l'intérieur et l'extérieur.
Crack Cloud – Time Unsubsidized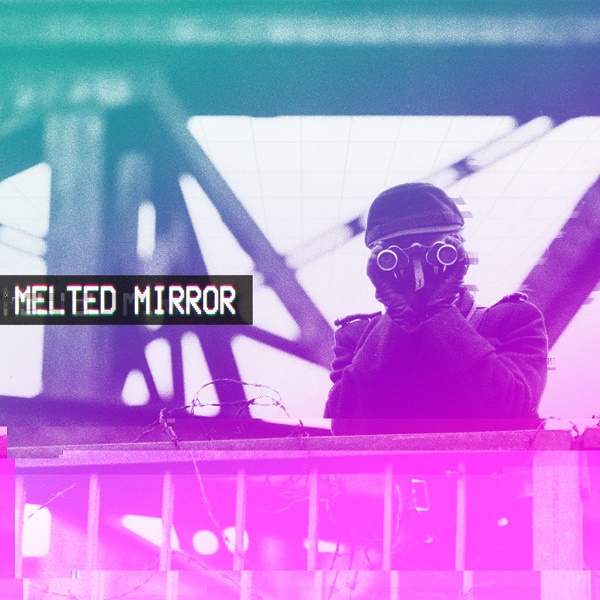 Melted Mirror
Melted Mirror
(Self-Released)
Calgary, AB
From the Summer Soul of Steph Kvellestad:
Melted Mirror's six-track album hits you like that third cup of booze at the end of a late January house party. The lyrics are warm with soft-edges that blend into the electric snap of the instrumentals. From here, we go on a journey through synthpop, riding the head-nodding, leg-bouncing buzz of fuzzy electronic beats. Flowing seamlessly from one song to the next, Melted Mirror create a nostalgic throwback to 80s film scores that will leave you replaying the album all day (and night) long.
De l'âme d'été de Steph Kvellestad:
(Traduit par le rythme électronique d' Odile Leclerc)
L'lbum de six pistes de Melted Mirror vous frappe comme un troisième verre d'alcool à la fin d'une fête tardive du mois de janvier. Les paroles son chaudes et douces et se mélangent aux claquements électriques des instruments. D'ici, nous embarquons dans un voyage à travers la musique pop du synthétiseur, chevauchant le bourdonnement du rythme électronique flou qui nous fait hocher la tête et taper du pied. Coulant fluidement d'une chanson à une autre, Melted Mirror créer un retour nostalgique vers les pistes sonores des films des années 80 qui va vous laisser rejouer l'album tout au long de la journée et de la nuit).
Melted Mirror – Subway Moonlight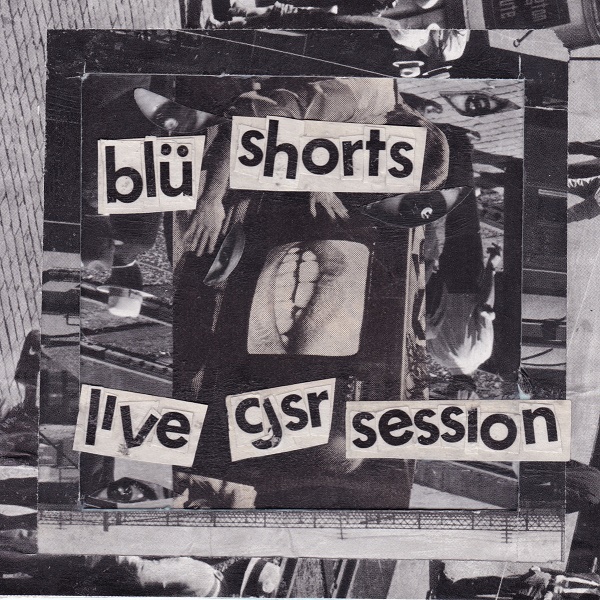 Blü Shorts
CJSR Session
(Self-Released)
Calgary, AB
From the joyful panic of Eleanor Wearing:
At the heart of an overcrowded amusement park is the messy, maniacal fun-house of Calgary's Blü Shorts. At its entrance, suspense tugs at an endless line of attendees as they feverishly await their taste of the upside down. Inside, Blü Shorts do not disappoint. The din of the park amplifies, distorts; laughter twists into screams, talking becomes nonsensical. Jagged smudged mirrors shoot grotesque faces across floors and walls that tilt and sink as they please. Joy crashes with panic, fear engulfs insanity. It is violent, it is unpredictable, it is sublime.
De la panique joyeuse d' Eleanor Wearing:
(Traduit par Sergio Calla)
Au cœur d'un parc d'attractions bondé se trouve la maison enchantée désordonnée et délirante de Blü Shorts, groupe de Calgary. La file interminable à l'entrée montre une foule attirée par l'angoisse qui attend fiévreusement sa dose de vertige. À l'intérieur, Blü Shorts ne déçoit pas. Le bruit du parc s'amplifie et se déforme. Le rire se transforme en cris, les paroles deviennent insondables.Les miroirs déformés tachés renvoient des visages grotesques sur les sols et les murs qui se penchent et sombrent comme bon leur semble. La joie se mêle à la panique, la peur engloutit la folie. C'est violent, c'est imprévisible, c'est sublime.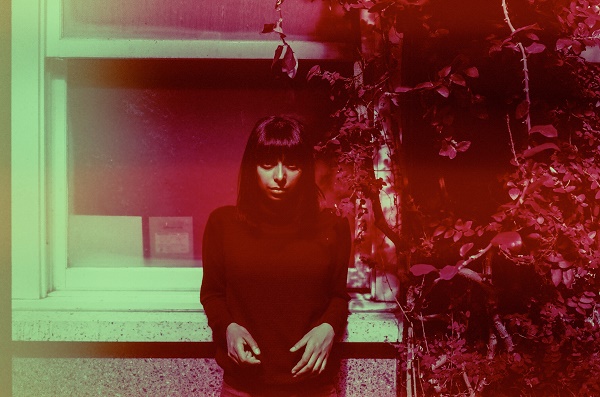 Aleem Khan
Aleem Khan
(Self-Released)
Calgary, AB
From the salty lip of Hailey Celesse McCarthy:
Aleem Khan's self-titled release achieves a synthesis of delicately and intimately arranged sounds. The bay of Aleem's vocals acts as an estuary for the emotive, sensuous and, nostalgic elements of each piece. The album is like a river meeting a sea: blurring is diffused, the curves of sediment emerge and, the salient, spatial variability allows us to escape delineation. Flooded with cinematic freak folk murder ballad tones, Aleem Khan is a specimen not to be left undiscovered.
De la lèvre salée de Hailey Celesse McCarthy:
(Traduit par la dent sucrée de Joannie Pharand)
L'album éponyme d'Aleem Khan fait entendre une synthèse de sons arrangés délicatement et intimement. La baie de la voix d'Aleem agit comme une entrée pour des éléments émotionnels, sensuels et nostalgiques sur chaque pièce. L'album est comme une rivière qui rencontre la mer : la confusion est estompée, les courbes des débris ressortent et la variabilité saillante et spatiale nous permet d'échapper à la délimitation. Submergé par les tons d'une ballade meurtrière cinématographique de folk déformé, Aleem Khan est un spécimen à conserver sous la loupe.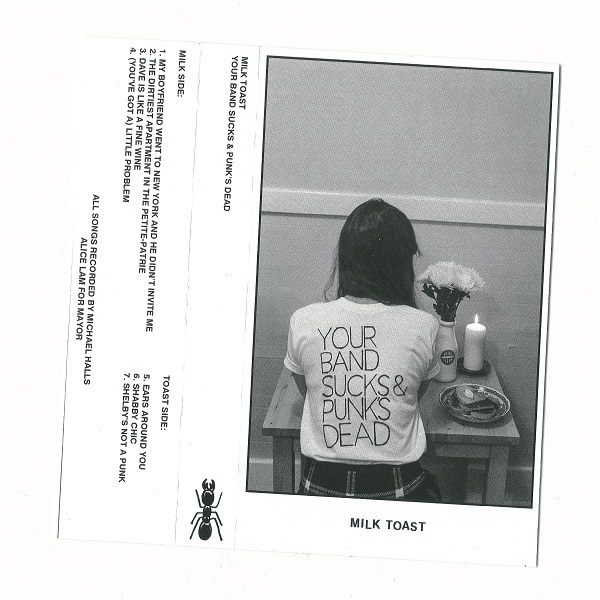 Milk Toast
Your Band Sucks & Punk's Dead
Calgary, AB
From the insulated Ontarios of Mitch Jackson:
What place does punk occupy within the spaces of aggregated, reblogged and retweeted content? Undead punks wander the streets of Canadian cities, looking like Canadian Classic cigs carrying Crass CDs, looking for authenticity. If Calgary's Milk Toast has any say, punk died, and it fuckin' sucked anyways. The only way to fight the surviving incestual punXXX and neo-grunge chic is snarky commentary and Montreal guitar pop with added bite from some westernly wit sculpted in the image of prairie circumpolar winds. Here is a much needed survival guide.
Par les Ontarios isolés de Mitch Jackson:
(Par les humeurs printanières d' Émily Traichel)
Quelle place occupe le punk parmi les lieux du contenu agrégé, rebloggué et retweeté? Les punks mort-vivants flânent dans les rues des villes canadiennes, avec l'air des cigarettes Canadian Classic portant des CDs de Crass, à la recherche d'authenticité. Si Milk Toast de Calgary a son mot à dire, le punk est mort, et c'était crissement nul de toute façon. Le seul moyen de combattre les incestueux punXXX et chic neo-grunge survivants, ce sont les commentaires narquois et le guitar-pop montréalais avec du mordant ajouté par un esprit de l'ouest sculpté à l'image des vents circumpolaires des prairies. Voici un guide de survie très attendu.
Milk Toast – My Boyfriend Went to New York and He Didn't Invite Me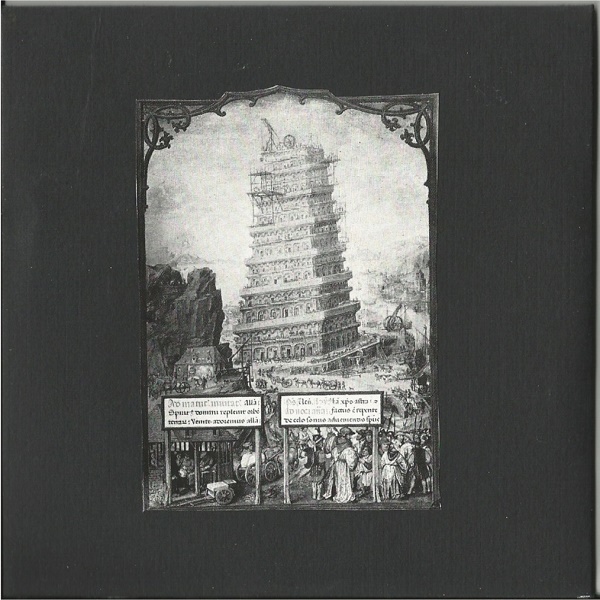 Forager
To Carthage then, I came
(Self-Released)
Calgary, AB
Des ruminations en décombres de Mark Anthony Brennan:
(Traduit par Aliké Harel)
Les cordes de guitare pincées et battues jouent un air mélancolique au milieu d'une ruine à la croisée du temps. Elles sont les feuilles qui bruissent entre les bâtiments fantômes. Souvenir d'une gloire passée.
Grondement imperceptible. La complainte sonore d'un orgue annonce un vent nouveau. La venue d'une tempête. Présage de mort et de destruction. Quelque beauté et fierté qui y persistent sont confinées à jamais derrière les décombres de ces murs.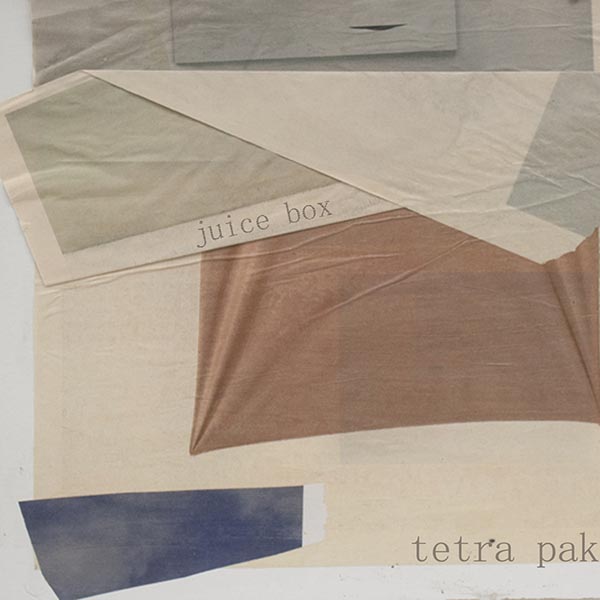 Juice Box
Tetra Pak
(Self-Released)
Calgary, AB
From the gnawed appendages of Piper Curtis:
Voices raised against the musical patriarchy.
Take a sip. We've got a problem.
Take another sip. They'll make you laugh, they'll make you care. Now take a bigger sip. Drink your juice.
Don't swallow what the boys club feeds you.
Des appendices rongés de Piper Curtis:
(Traduit par de Wie Gehts)
Des voix dissidentes contre le patriarcat musical. Buvez une gorgée. Le problème est grave.
Buvez une autre gorgée par la suite. Elle vous fera rire. Elle vous fera prendre des choses en considération.
Maintenant, prenez une gorgée encore plus grande. Buvez votre jus.
N'avalez pas ce que ce patriarcat systématique, ce club fermé, ce club de dinosaure vous nourrit.
Juice Box – Straight White Boys Texting
---