Tag: bryce warnes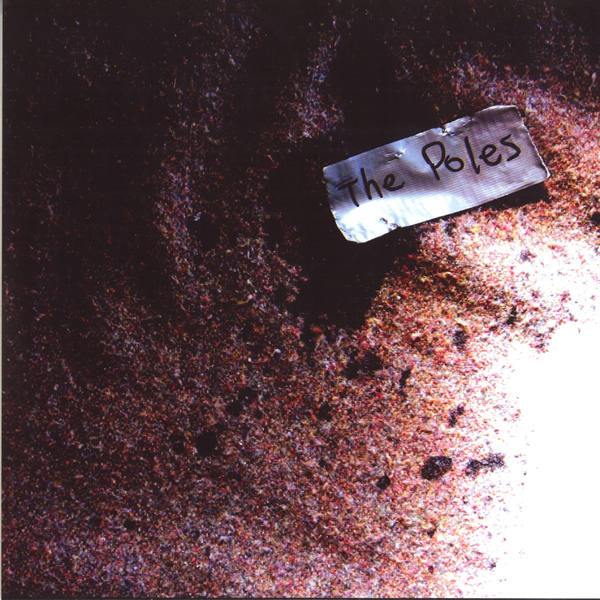 The jury is out on whether 180 gram vinyl sounds better than your standard platter. But in the case of The Poles' pleasingly hefty debut 7", there's a chance the extra weight is necessary to stably support the Vancouver sludgemongers' crushing grooves. Side A's barnacled jammer "Merman" breaks up the laments of a shrieking ancient mariner with almost too-pretty atmospheric strumming, the terror culminating in a stinging guitar solo at the bridge. Side B's "Pest" rides a meaty bassline and red-eyed laments to a conjunctivitic chorus. A spectre is haunting Terminal City. The uprising of the Poletariat is here.
The Poles
Merman / Pest
(Self Released)
Vancouver, BC
From the barnacled jammers of Bryce Warnes:
The jury is out on whether 180 gram vinyl sounds better than your standard platter. But in the case of The Poles' pleasingly hefty debut 7", there's a chance the extra weight is necessary to stably support the Vancouver sludgemongers' crushing grooves. Side A's barnacled jammer "Merman" breaks up the laments of a shrieking ancient mariner with almost too-pretty atmospheric strumming, the terror culminating in a stinging guitar solo at the bridge. Side B's "Pest" rides a meaty bassline and red-eyed laments to a conjunctivitic chorus. A spectre is haunting Terminal City. The uprising of the Poletariat is here.
D'une très bonne chanson au thème aquatique de Bryce Warnes:
(Traduit par Andreanne Dion)
On délibère encore à savoir si les vinyles de 180 grammes ont un meilleur son que les disques ordinaires. Mais dans le cas du premier 7" agréablement lourd de The Poles, il est possible que le surplus de poids soit nécessaire afin de soutenir adéquatement les rythmes dévastateurs de ces vendeurs de Sludge de Vancouver. Sur la face A, la chanson au thème aquatique « Merman » vient rompre les lamentations perçantes d'un vieux marin avec des grattements de guitares atmosphériques presque trop jolis, avant que la terreur ne prenne fin dans un solo de guitare cinglant lors de la transition. Sur la face B, « Pest » se laisse porter par de la basse bien juteuse et se lamente sur un refrain contagieux. Un spectre hante Terminal City. La révolte du « Poletariat » est arrivée.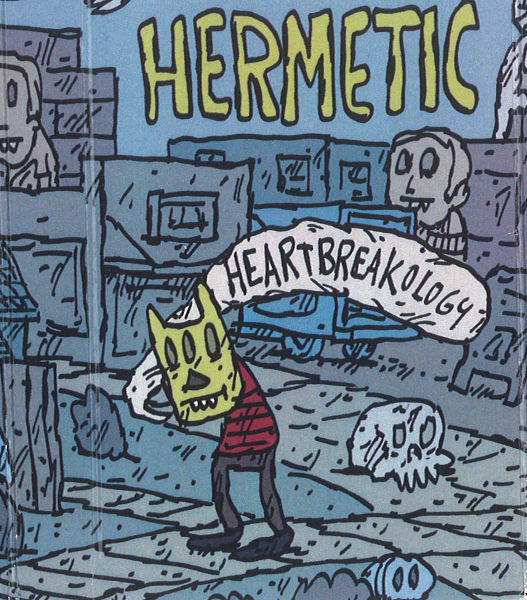 Hermetic
Heartbreakology
(Alarum Records)
Vancouver, BC
From the loveseat intimacy of Bryce Warnes:
Hermetic's fuzzy-wuzzy post-something pop jams provide a smooth and impossibly catchy underpinning for literate, walking-home-alone lyricism. On "Company You Keep," Eric Axen (Sightlines) complains of being "too bored to think," while "Conspicuous Production" hurls verbal volleys at a vacuous music industry, "commerce just like anything else." Axen's baritone guitar, Bart Newman's skin-tight drumming and the pair's shared honeysweet vocal duties crush the sound space on this too-short tape into loveseat intimacy, "a place where flesh dissolves and minds embrace" ("Man of Letters"). Recommended for advanced students of the science of heartbreak.
De l'intime causeuse de Bryce Warnes:
(Traduit en solidarité par Nadine Tkatchevskaia)
Les chansons chaleureuses post-quelque chose d'Hermetic fournissent une fondation fluide et remarquablement accrocheuse au lyrisme lettré du genre « je rentre à la maison seul ». Dans « Company You Keep », Eric Axen Sightlines) se plaint de s'ennuyer trop pour penser (« too bored to think ») tandis que « Conspicuous Production » jette des ballons verbaux à l'industrie musicale bête, le commerce comme tout (« commerce just like anything else »). La guitare baryton d'Axen, la batterie moulante de Bart Newman et le partage au goût de miel du devoir de chanter écrasent l'espace du son sur cette bande bien trop courte en une intime causeuse, un espace où la chair se dissout et les esprits s'entrelacent (« a place where flesh dissolves and minds embrace ») (« Man of Letters »). Recommandé pour les étudiants avancés de la science du chagrin.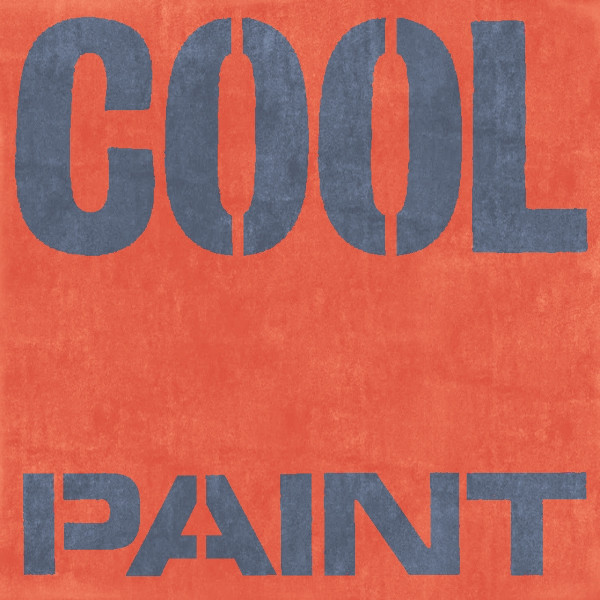 From the splotched pallette of Bryce Warnes:
Cool's chromatic corpus comprises a quest for the quintessence of colours ranging the spectrum from pearlescent pink to glimmering gold, a seen-sound synaesthesia wrapped in irresistible funk rhythms and punk franticity. "Purple" chases Don Henley guitar to chorus vocals that carome into bruise-hued splotches, and "Red"'s Babybel horn stabs counterbalance lyrical anxiety. The gang draws on a rich palette of Terminal City ability, with ex-Apollo Ghosts Adrian Teacher and Amanda Pezzutto, and the the eponymous Shawn Mrazek from Shawn Mrazek Lives! — plus an in-house mini-orchestra. Hot stuff!
De la palette éclaboussée de Bryce Warnes:
(Traduit par Benoit Arcand)
Le corpus chromatique de Cool est le fruit d'une quête de la quintessence des couleurs qui couvrent le spectre allant du rose opalescent à l'or luisant, une synesthésie son-couleur enveloppée d'irrésistibles rythmes funk et de frénésie punk. « Purple » pourchasse la symbiose guitare-refrain de Don Henley qui se carambole en éclaboussures violacées, et les assauts des cuivres Babybel de « Red » font contrepoids à l'angoisse des mots. La bande puise son savoir-faire à même une riche palette Terminal City, avec les ex-Apollo Ghosts Adrian Teacher et Amanda Pezzutto, et l'éponyme Shawn Mrazek de Shawn Mrazek Lives! — mini-orchestre de salon en sus. Chaud devant!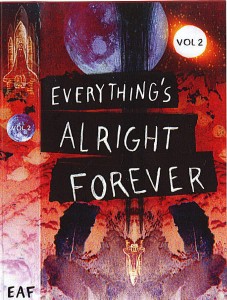 Various Artists
Everything's Alright Forever Vol. 2
Asterisk, CA
From the ramblin' fever of Bryce Warnes:
This tape compilation is not pure canonical CanCon, as it features tracks from artists both north and south of the 49th. But for the blissed-out and haggard psych-rock wayfarer, EAF's carefully curated selection of blog faves packs a heady re-up of Canuck jammers. The broken-hearted can look to Wicked Witches' horn-supported hate-letter for zero solace but near-infinite vitriol. The Great Machine commit themselves to pouring out soul straight from the lower intestine, and Sun Stone Revolvers stretch out some serpentine blues for the red sun. The Dirty Frigs' simmering bar-rock and Psyche Tongues' flashback fantasia ease the tension, while Loom and Li-on Grevier go full soft with subtle salves to sooth the burnt-out brain/body. EAF Vol. 2 satisfies consistently. Grip it, pop it in, and drop out.
De la fièvre bavarde de Bryce Warnes:
(Traduit par Andréanne Dion)
Le contenu de cette cassette n'est pas purement canadien, puisqu'elle contient des chansons d'artistes aussi bien du nord que du sud du 49e parallèle. Mais pour le voyageur heureux et hagard fan de rock psychédélique, la sélection minutieuse des favoris de EAF comporte un mélange enivrant d'artistes canadiens. Ceux qui ont le cœur brisé peuvent se tourner vers l'animosité sur fond de cuivres de Wicked Witches pour zéro réconfort mais un vitriol presque infini. The Great Machine s'engagent à nous verser du soul directement venu des intestins et Sun Stone Revolvers s'étendent sinueusement dans le genre Blues for the Red Sun. Le rock bouillonnant de The Dirty Frigs et les souvenirs fantaisistes de Psyche Tongues dissipent la tension, alors que Loom et Li-on Grevier adoucissent le ton avec des baumes subtils pour apaiser nos cerveau/corps épuisés. EAF Vol. 2 est systématiquement satisfaisant. Saisissez-le, écoutez-le, relaxez.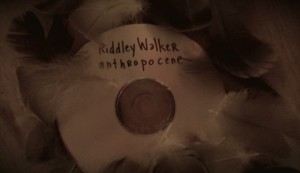 Riddley Walker
Anthropocene
(Self Released)
Vancouver, BC
From the sage words of Bryce Warnes:
Way up on his own side of the mountain, old man Walker is squatting a clearcut and planting apple trees in anticipation of the crash. RW may sing his prophesies in a voice as fresh and spry as a sapling, but his messages carry a cosmic sagacity beyond his years. On "21st Century Children" he bemoans Gen Why youth whose talents are wasted fueling "coal-powered hearts" and "smoke stacks for brains." Walker dedicates his work to future children born with "faulty wiring," the influence of anthropocene society. He points them toward something more, just beyond "The Boundary of it All" described in Walker's same-titled raga. Walker the mystic sees something in our banal star-stuff that suggests a way to "believe yourself away," in the sage words of "Master Chanjis." Anthropocene is available physically by special request only and arrives by post, lovingly hand-packed in Canadian goose feathers.
Des sages paroles de Bryce Warnes:
(Traduit par le câblage défectueux de Virginie Langlois)
Tout en haut de son propre côté de la montagne, le bon vieux Walker occupe le terrain d'une zone de coupe à blanc et y plante des pommiers en prévision de l'effondrement. RW chante peut-être ses prophéties d'une voix fraîche et entraînante à la manière d'une jeune pousse, mais ses messages sont porteurs d'une sagacité cosmique qui n'a rien à voir avec son âge. Sur "21st Century Children", il déplore le fait que les jeunes de la génération Y gâchent leurs talents à alimenter des "cœurs qui carburent au charbon" et possèdent des "cheminées en guise de cerveaux". Walker dédie son œuvre aux futurs enfants nés avec un "câblage défectueux", influence de l'anthropocène. Il les incite à aller plus loin, au-delà des frontières ultimes que Walker décrit dans son ragga intitulé "The Boundary of it All". Walker le mystique voit quelque chose dans nos banales poussières d'étoiles qui suggère un moyen de "s'échapper de soi", pour reprendre les sages paroles de "Master Chanjis". Anthropocene est disponible sur support physique sur demande spéciale uniquement; il vous arrivera par la poste, emballé à la main avec amour dans des plumes d'oie canadienne.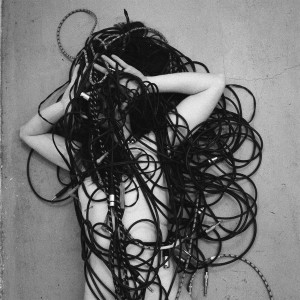 From the black market wetware of Bryce Warnes:
Koban's semi-automatic goth punk paints an image of a Gibsonian nightmare world. Britt of Lié fame's synth crashes and moans from the mouth of a dark alley, while Samuel's drum machine crackles with poisonous needlegun rhythms. All the cyberpunk kids are getting messed up on black market wetware and making out to "L'Ombre". "Re-entry" rattles flesh-prison bars and "Not Broken" longs for an escape to the wide-open expanse of the flat field. Welcome to the future. Everything is amazing and nobody is happy.
Des pouvoirs bioniques du marché noir de Bryce Warnes:
(Traduit depuis la prison gothique d'Andréanne Dion)
Le punk gothique semi-automatique de Koban peint le portrait d'un monde gibsonien cauchemardesque. Le synthétiseur de Britt, connue pour son rôle dans Lié, s'écrase et gémit depuis l'entrée d'une ruelle sombre, alors que la boîte à rythme de Samuel grésille avec des cadences empoisonnées de poivrière. Tous les cyberpunks se défoncent aux pouvoirs bioniques du marché noir et se tripotent au son de « L'Ombre ». « Re-entry » secoue les barreaux des prisons de chair et « Not Broken » aspire à s'évader dans la vaste étendue des plaines. Bienvenue dans le futur. Tout est extraordinaire et personne n'est heureux.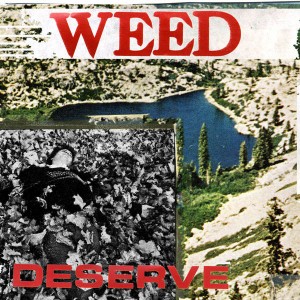 Weed
Deserve
Vancouver, BC
From the scrawled sheets of Bryce Warnes:
Weed's bummed-out love music has always been delivered on tsunami-magnitude fuzz waves, Will Anderson's vocals deep six in the mix and almost incomprehensible. The murk fits with sludge-pop's other aesthetic signifiers: scrawled lyrics sheets, all-ages shows, a blog full of tour pics that could have come from a thrift shop photo cube. On earlier releases this haze threatened to swallow superior songwriting and musicianship, nonetheless leaving intact bittersweet melodies that hang around like old takeout boxes in the back of a station wagon.
Deserve is a new story. The sludge is still there, but it pops. Anderson screams himself hoarse on "Gun Shy", Hugo Jr.'s bass propels "Silent Partner" with diabolic intensity, and on album opener "Heal," Bobby's toms are almost hypnotic. Lyrically, it's still all (obliquely) about the touring life, estranged love, failure. Amber and Ryan, liner note protagonists since With Drug b/w Eighty, continue to make appearances. It's all familiar, but so, so fresh. For the newcomer, this record is a high-fidelity gateway into Weed's sonic universe. For the aficionado, it's a long-awaited long-play debut, one that gives the band the space and sound they deserve.
Des feuilles griffonées de Bryce Warnes:
(Traduit par le flegme bouillonnant de )
La musique d'amour vagabonde de Weed a toujours été servie par vagues distorsionnées de l'ampleur d'un tsunami, la voix de Will Anderson submergée à la limite de l'incompréhensible. Le brouillard convient aux autres signifiants du sludge-pop : pages de textes griffonnées, spectacles pour tous les âges, un blog rempli de photos de tournée qui auraient pu provenir d'un cube photo dans une boutique d'occasion. Dans les parutions précédentes cette brume menaçait d'avaler la composition et la musicalité supérieure, gardant tout de même intactes des mélodies aigre-douce qui traînent comme de vieux plats pour emporter à l'arrière d'une station wagon.
Deserve est une autre histoire. Le sludge est toujours là, mais il éclate. Anderson hurle de sa voix rauque sur "Gun shy", la basse de Hugo jr propulse "Silent Partner" avec une intensité diabolique, et sur la piste d'ouverture "Heal", les toms de Bobby sont presque hypnotique. Côté lyrique, tout se ramème encore (obliquement) à la vie en tournée, l'amour à distance, l'échec. Amber et Ryan, protagonistes des textes de pochette depuis With Drug b/w Eighty, continuent de faire des apparitions. Ça demeure familier, mais tellement, tellement frais. Pour le nouveau venu, cet album est une incursion haute-fidéité dans l'univers sonique de Weed. Pour le mordu, c'est un long-jeu longuement attendu, qui donne au groupe l'espace et le son qu'il mérite.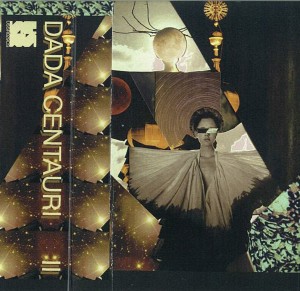 Dada Centauri
II
Calgary, AB
From the space jamb of Bryce Warnes:
When Max Ernst's clone is recruited to design the next ISS module, you can expect that he'll require the on-board sound-system to blast this tape at full volume. Andrew Hume and Whitney Ota of Burro fame reunite under the Dada Centauri banner to pump out a C60's worth of nebulous space jams. II careens from cosmic tideline ambience to foreboding quasar pulse, computer bleep-bloop to the drone of singing spheres. Occasionally, a loop or phrase straight from the library raises its hauntological head. A stellar grip courtesy of the astro-avant-garde.
Du montant spatial de Bryce Warnes:
(Traduit du balcon d'Andréanne Dion)
Quand le clone de Max Ernst est recruté pour créer le prochain module de la Station spatiale internationale, on peut s'attendre à ce qu'il ait besoin de la chaîne audio à bord pour faire jouer cette cassette à plein volume. Andrew Hume et Whitney Ota, connus pour leur rôle dans Burro, sont réunis à nouveau sous la bannière de Dada Centauri pour produire l'équivalent d'une C60 de sessions spatiales nébuleuses. II oscille entre une ambiance de démarcation cosmique et les battements prémonitoires des quasars, entre les bruits d'ordinateurs et le ronronnement de l'Harmonie des sphères. De temps à autre, un son en boucle ou une expression directement tirée de la bibliothèque pointe le bout de son nez fantomatique. Une emprise stellaire, offerte par l'avant-garde astrale.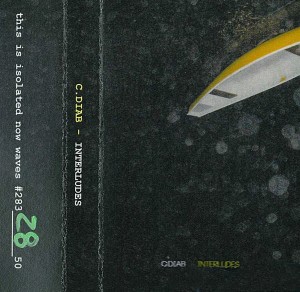 C.Diab
Interludes
Vancouver, BC
From the tectonic slow-dance of Bryce Warnes:
These petrichoral arrangements moan and stutter and sing, summoning Cascadia in dripping canopies and tectonic slow-dance. Working primarily with bowed guitar, C.Diab deposits tones in layers, building sedimentary dronescapes, wistful core samples of moments and moods gone by. Split into four parts, "In Seven" is a rainy improvisation featuring Colby Sparks and Nam Shub jam-mate Bill Young, weaving a thread through the album and wrapping the whole in an unsettling, ritual atmosphere. Starting off side B, "The Valley and Its Night" brings it all back home with beachfire-warm fingerpicking. Interludes is a limited-run, must-grip deep listening experience for the innerspace wayfarer.
Du slow tectonique de Bryce Warnes:
(Traduit du stylo grinçant de Dominic Mpilé)
Cet album, telle une odeur plaisante des premières pluies, est grinçant, saccadé et bourdonnant. Il lance un appel à la Cascadie par des sons qui simulent des auvents qui gouttent et des slows tectoniques. Jouant principalement de la guitare frottée, C.Diab empile les tons et produit une ambiance de drone sédimentaire, de carottage mélancolique qui laisse passer le temps et les états d'âme. Scindé en quatre parties, "In Seven" est une pluie d'improvisations, dont la collaboration de Colby Sparks et de Bill Young, compagnon de jam de Nam Shub, permet d'enfiler son style à travers l'album et d'envelopper le tout dans une atmosphère troublante et rituelle. Depuis la face B, "The Valley and Its Night" nous ramène aux sources, grattant de la guitare sur la plage, près d'un feu de camp. Interludes, sorti en quantité limitée, est une expérience saisissante et profonde pour les voyageurs intérieurs.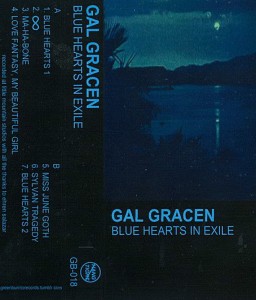 Gal Gracen
Blue Hearts in Exile
Vancouver, BC
From the electrified exotica of Bryce Warnes:
Seven chill communications from Role Mach janglist Gal Gracen make up Blue Hearts in Exile. Alternating between instrumentals and songs – electrified guitar exotica and wavering, soulful proclamations of love – this cassette creates the perfect atmosphere for a romantic night-time beach picnic or basement couch makeout party. "Love Fantasy, My Beautiful Girl" chugs along with an earworming bassline, while "Sylvan Tragedy" glistens with sleazy, falsetto melancholia. These are soft 'n sexy jams for summer '13's Casanovan conquests.
De l'exotisme électrisant de Bryce Warnes:
(Traduit sous la pleine lune par Patrick Du Tremble)
Sept transmissions décontractées par Gal Gracen (projet solo de Patrick Geraghty de Role Mach) constituent Blue Hearts in Exile. En alternant instrumentaux et chansons – entre l'exotisme électrisant de la guitare et les déclarations d'amour chancelantes et émouvantes – cette cassette crée l'ambiance parfaite pour un pique-nique romantique au clair de lune sur la plage ou pour les câlins sur le canapé du sous-sol. La ligne de basse qui transporte "Love Fantasy, My Beautiful Girl" reste ancrée dans la tête, et "Sylvan Tragedy" scintille d'un curieux falsetto mélancolique. La bande sonore douce et sexy des conquêtes casanoviennes de l'été 2013.
---