Tag: bryce warnes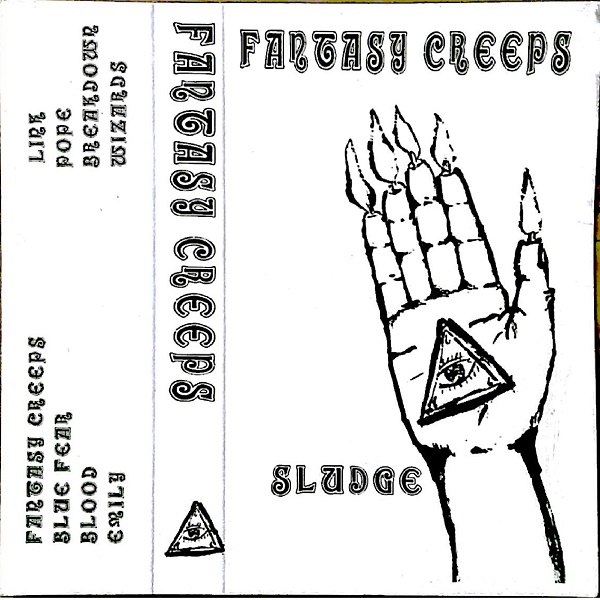 Fantasy Creeps
Sludge
(Self-Released)
Victoria, BC
From the Monster Manual of Bryce Warnes:
Fantasy Creeps check for weirdness and roll a natural 20. Complete with a front cover typographic tribute to Ozzy et al., "Sludge" is blacklit nostalgia for junior high basement sesh paranoia. Vocalists trade duties, creating a shoulder-angel, shoulder-devil dichotomy of faded angst-moan and classic rock wail. Keeping with this damaged aesthetic, the tape audio is janked, wavering in and out, constantly retreating and advancing. Which makes it hard to focus, sometimes, like reading the Monster Manual through thick clouds of nag champa. Ensorcelling nonetheless. "Sludge" is eight-track art brut for red-eyed dungeon crawlers.
Du Manuel des monstres de Bryce Warnes:
(Traduit par le sourire du dragon Julie Mayer)
Fantasy Creeps effectue un test de bizarrerie et obtient un 20 naturel au lancer de dés. Fourni avec une pochette rendant un hommage typographique à Ozzy et cie., Sludge est la nostalgie à lumière noire du temps où, ados, on devenait parano grâce aux séances de spliffs dans le sous-sol. Les chanteurs se relayent, créant une dichotomie ange-démon de gémissement d'angoisse estompé et de geignement rock classique. Suivant cette esthétique accidentée, la bande audio est en zigzag, ondule par intermittence, bat en retraite et attaque constamment. Ce qui rend des fois la concentration difficile, comme si on lisait le Manuel des monstres à travers d'épais nuages de nag champa. Ensorcelant néanmoins. « Sludge » est composé de huit morceaux d'art brut pour les explorateurs de donjon aux yeux rougis.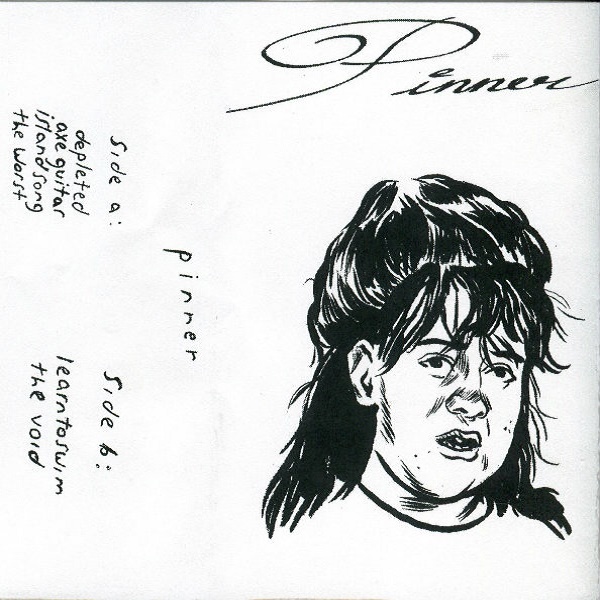 Pinner
#2 Demo
(Self-Released)
Victoria, BC
From the hundred watts of Bryce Warnes:
They may tag themselves "slacker" on Bandcamp and share their name with a lunch-break-sized marijuana cigarette, but Pinner work their asses off. Playing countless local shows has honed the four-piece into something acerbic, heartfelt and completely their own. See: "Island Song," where a lover is discarded for their detrimental effects on mellow. See: "Learn to Swim," a disaster fantasy set on the Queen of Victoria's smoke deck. Three vocalists, each coly their own beast, deliver indefatigable hooks. Pinner is making music that almost forces a reviewer to use the adjective "timeless."
Des cent watts de Bryce Warnes:
(Traduit par les pieds de vent de Marie-Pier Chevrier)
Ils ont beau se définir comme paresseux sur Bandcamp et avoir adopté le nom d'un petit joint de marijuana, les membres du groupe Pinner travaillent d'arrache-pied. Offrir d'innombrables performances locales a affûté le groupe de quatre membres, pour en faire quelque chose d'acerbe, de senti et qui lui est entièrement propre. Voir Island Song, où un amant est rejeté à cause de ses effets néfastes sur l'humeur. Voir Learn to Swim, un désastre imaginaire se déroulant sur le pont des fumeurs du Queen of Victoria. Trois chanteurs, trois bêtes en soi, qui jouent des vers d'oreille infatigables. Pinner crée de la musique qui oblige presque les critiques à la décrire comme «intemporelle».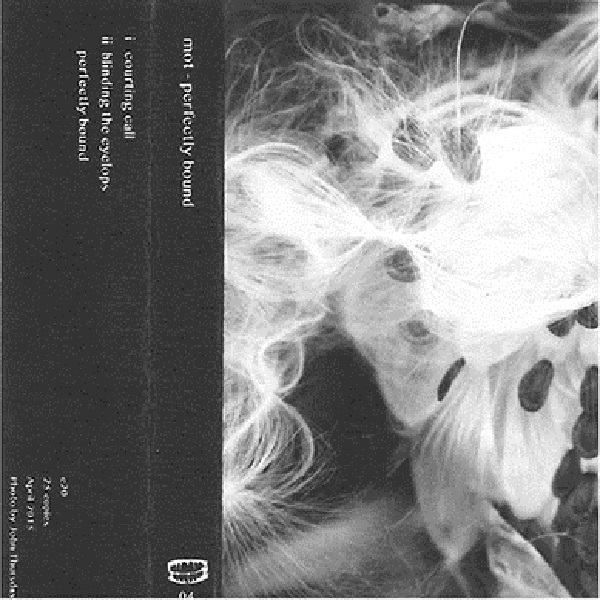 MOT
Perfectly Bound
(Ludamae)
Victoria, BC
From the perfect binding of Bryce Warnes:
Listen to MOT's previous two tapes. In "sands…," released via his Ludamae clearing-house, drones dissolve like dune-tips in the wind. His self-titled recording on Isolated Now Waves is comparatively wetter – throbbing, organic, run through with interstellar communiques, snatches of almost-song. On his latest tape, he flirts with atavistic crunch worship. With admirable self-control, "Courting Call" transitions via air loom transmissions from two-stroke brutalism to an impassable noise wall. Side two moves from an Aghartan festival to a catastrophic tunnel collapse. "Perfectly Bound" is a short ride, but worth the price of admission.
De la reliure parfaite de Bryce Warnes:
(Traduit par le bouchon de cérumen de Julie Mayer)
Écoutez les deux dernières cassettes de MOT. Dans « sands… », lancé par l'entremise de son bureau central dénommé Ludamae, les drones se dissolvent comme la crête des dunes sous le vent. Son enregistrement éponyme produit sous Isolated Now Waves est, en comparaison, plus humide : palpitant et organique, transpercé de communiqués interstellaires et de bribes de quasi-morceau. Sur sa cassette la plus récente, MOT flirte avec un culte du crépitement atavique . Doté d'une maîtrise de soi admirable et transmis au moyen d'une machine à tisser les flux aériens, « Courting Call » passe d'un brutalisme à deux temps à un mur du son infranchissable. La face B passe d'un festival aghartien à un effondrement de tunnel catastrophique. « Perfectly Bound » est une promenade de courte durée, mais qui vaut le prix d'entrée.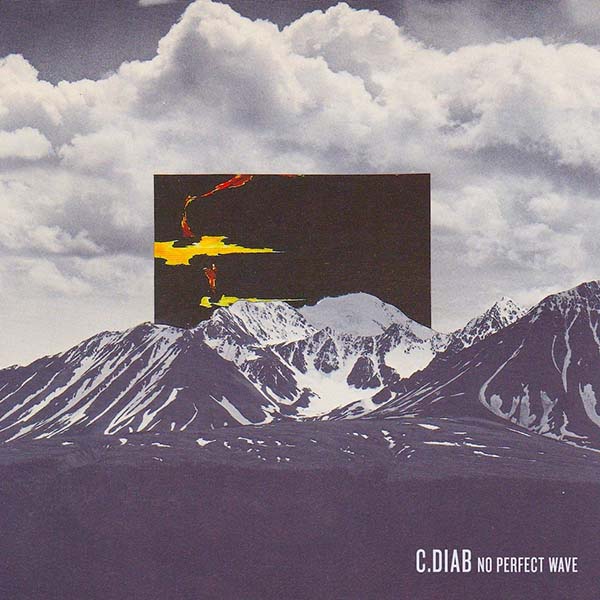 C. Diab
No Perfect Wave
(Self Released)
Vancouver, BC
From the flawed undulation of Bryce Warnes:
Bowed guitar forms the core of C. Diab's expansive sound vision. It's an ongoing meditation at once wistful, melancholy and coy. On this album, his third transmission, he evolves beyond the mother-instrument by incorporating piano, organ and trumpet. Vancouver tape decayer Ian William Craig plays a role in the project too. You can hear him in the crackling ghosts of "Your Interruption," and in the way "Stars Fall to Flames (Shootout)" disintegrates on re-entry. This is crucial music, and perhaps Diab's most cohesive message to date. An extended love song for the crooked valley made by trough and crest.
De l'ondulation imparfaite de Bryce Warnes:
(Traduit par Jessica Grenier)
La révérence des guitares est au cœur de la vision sonore expansive de C. Diab; c'est une méditation continuelle qui est à la fois pensive, timide et mélancolique. Sur cette troisième transmission, il va au-delà de l'instrument-mère en incorporant piano, orgue et trompette dans son album. L'esthétique de la désintégration du Vancouvérois Ian William Craig est également de la partie. On peut l'entendre dans les crépitements fantomatiques de « Your Interruption » comme dans l'entrée désintégrée de « Stars Fall to Flames (Shootout) ». Cette musique cruciale est probablement l'ensemble le plus cohérent de Diab jusqu'à présent : une longue chanson d'amour pour sa vallée tortueuse, toute de crêtes et de dépressions.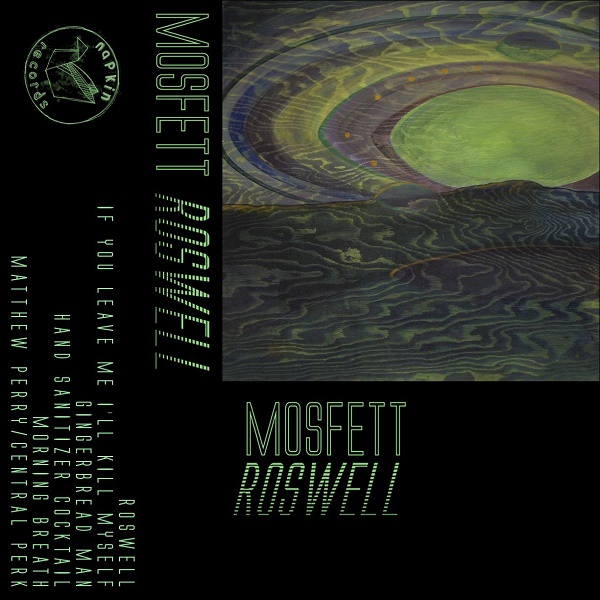 MOSFETT
Roswell
Vancouver, BC
From the metal–oxide–semiconductor field-effect transistor of Bryce Warnes:
MOSFETT (née Hemogoblin)'s name is a bastardization of the acronym for a type of transistor that, if you believe science, can make stuff louder. And rest assured, the Vancouver three-piece has arrayed their components to produce maximum hesh. It's like someone spiked Sleep's weed butter with bathsalts. The titular track is an extraterrestrial head trip laced with naked tenderness. The closer, "Matthew Perry/Central Perk," could play in the background of that lost episode of Friends where Chandler finally just, like, snaps. And between these two wailers? Plenty of greasy, freaked-out crunch. Get amped.
Du transistor à effet de champ métal-oxyde semi-conducteur de Bryce Warnes:
(Traduit par Jessica Grenier)
Le nom MOSFETT (anciennement Hemogoblin vient de l'acronyme dénaturé d'un type de transistor qui, si on en croit la science, permet d'amplifier les choses. Et c'est certain que le triptyque de Vancouver a arrangé ses composantes pour produire un maximum de hesh. C'est comme si quelqu'un avait ajouté des bathsalts dans le beurre au pot de Sleep. La piste éponyme de l'album est un trip extraterrestre hallucinant rempli de tendresse pure. La dernière, « Matthew Perry/Central Perk », pourrait servir de trame sonore pour l'épisode perdu de Friends où Chandler pète enfin sa coche. Et entre ces deux gueulards? C'est follement croquant et graisseux. Soyez prêts.
MOSFETT – Hand Sanitizer Cocktail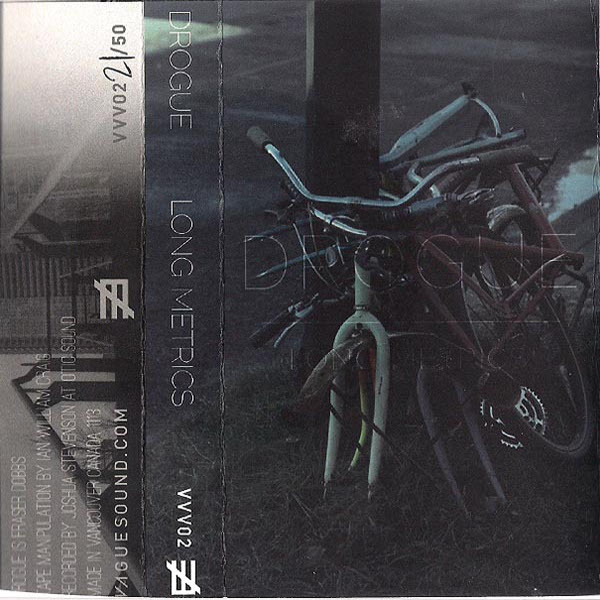 Drogue
Long Metrics
Vancouver, BC
From the tick-ticking of Bryce Warnes:
Crystalline drone poems set to the metronomic tick-ticking of our universe's inevitable heat death. Dance music for heliotrope pirouettes or the blowfly boogie-woogie. It's hard not to evoke these big-beautiful/small-gross parts of non-human Creation: Drogue's Long Metrics approaches the Kantian sublime, draws piss shivers from the immortal soul. Today is a beautiful day for a long walk.
Du tic-tac tictaquant de Bryce Warnes:
(Traduit par les grains de sable de Jessica Grenier)
Des drone-poèmes cristallins suivant le tic-tac métronomique de l'inévitable mort thermique de notre univers. De la musique dance pour des pirouettes héliotropiques ou le boogie-woogie des asticots. C'est difficile de ne pas évoquer ces parties non humaines, belles et grosses/petites et laides, de la Création : Long Metrics de Drogue s'approche du sublime kantien, arrache à l'âme immortelle des frissons intimes. Aujourd'hui, c'est une journée parfaite pour une longue promenade.

Drogue – Iona Aline (Versions II)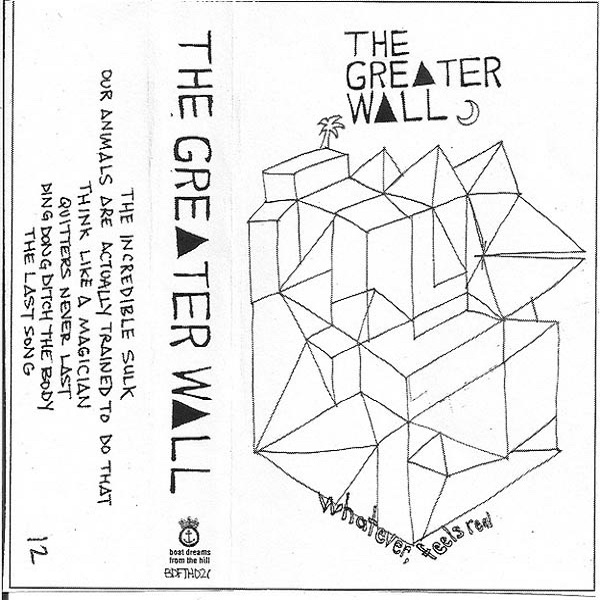 The Great Wall
Whatever, Feels Real
Vancouver, BC
From the snot nose of Bryce Warnes:
The Greater Wall are bummed out and cranky. Which is a good place to be, emotions ­wise, when you're chugging out pop punk songs about being bummed out and cranky. "Quitters Never Last" is the story of a person who feels really lame and doesn't want to get intimate. "The Last Song" is about two people who are together but eventually they will have to break up and that really sucks. All this despair comes in a sweet, chewy, snot­-nosed package, reminding you with catchy choruses and righteous riffs that nothing is fun and everyone sucks.
Du nez morveux de Bryce Warnes:
(Traduit par Jessica Grenier)
The Greater Wall sont déprimés et grincheux. Et c'est un bon endroit où être, émotivement, quand tu halètes des chansons pop punk sur le fait d'être déprimé et grincheux. « Quitters Never Last », c'est l'histoire d'une personne se sentant vraiment nulle qui fuit l'intimité. « The Last Song », celle de deux personnes qui sont ensemble, mais qui vont bientôt devoir se séparer, ce qui est vraiment poche. Tout ce désespoir est livré dans un enrobage sucré, moelleux et morveux, vous rappelant avec des paroles accrocheuses et des bons riffs que rien n'est plaisant et que tout le monde est con.
The Greater Wall – Ding Dong Ditch the Body
The Greater Wall – Our Animals Are Actually Trained To Do That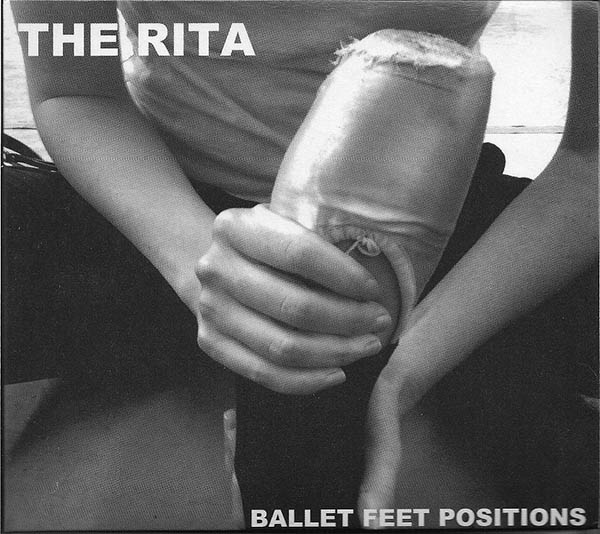 The Rita
Ballet Feet Positions
Vancouver, BC
From the five positions of Bryce Warnes:
The Rita is obsessed with ballet feet exercises. He stuck contact mics to dancer Kelly Davis as she cycled through various positions, and processed the signal live. Davis' lectures on technique interweave with the stochastic crunching her movements produce. Intermittently soothing and claustrophobic, it feels like the prelude to a panic attack or a ruptured Achilles. By the track's final quarter, constancy is achieved; we've hit the wall. Close your eyes and make sure you're sitting down. (Featuring bonus text from ballet self-flagellant Simone Paget and a bonus rework by Swiss artist CALIGULA031.
Des cinq positions de Bryce Warnes:
(Traduit par Jessica Grenier)
The Rita est obsédé par les exercices de pieds du ballet. Il a installé des micros de contact sur la danseuse Kelly Davis qui a ensuite fait une routine de mouvements, puis il a traité le signal directement. Les explications techniques de Davis s'entremêlent avec les crissements stochastiques de ses gestes. Entre relaxation et claustrophobie, l'impression générale est celle précédant une attaque de panique ou une rupture du tendon d'Achille. Avant le dernier quart de piste, on atteint une constance, ou plutôt un mur. À écouter assis, les yeux fermés. (En prime : un texte de la danseuse classique aux tendances autoflagellatoires, Simone Paget, et une reprise de l'artiste suisse CALIGULA031.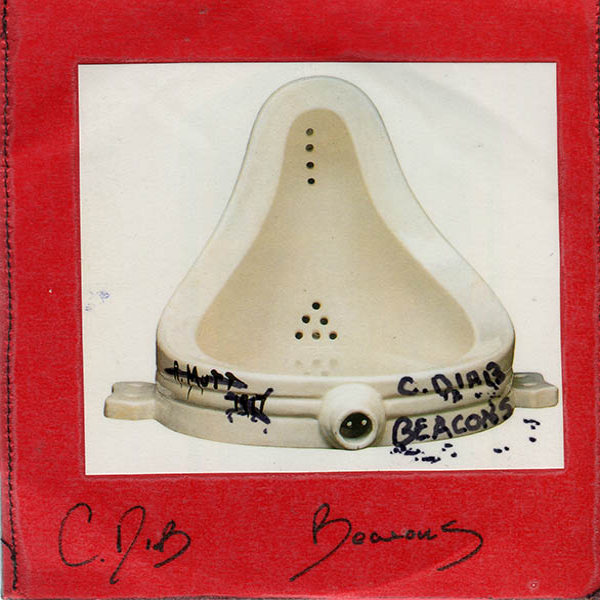 C. Diab
Beacons
(Self Released)
Vancouver, BC
From the thorax thrum of Bryce Warnes:
Beginning with an Al Purdy-quoting siren call to summon spring buds ("Awake, Little Creatures!") and closing with a heaping climax fit for the carnage of falling leaves ("Young Hums"), Beacons shines. The Cascadian petricore C. Diab first outlined on Interludes grows into its body on this latter transmission. "Ships" passes like a boatful of doomed Northmen in the night, and "Pastoral, Drunk in Summer" is a tinkling attempt to capture star-shrouded bucolia. For those new to Diab's thorax-thrumming meditations, Beacons is an appropriate way to test the waters. For the initiated, it's a promise of something more beyond the waves.
Des vibrations thoraciques de Bryce Warnes:
(Traduit par la phalange acoustique de Jessica Grenier)
Beacons est un phare commençant par une citation de Al Purdy – un chant de sirène pour éveiller les bourgeons du printemps (« Awake, Little Creatures! ») – et terminant par un apogée qui accompagnerait parfaitement le carnage des feuilles mortes (« Young Hums »). Comme une odeur de pluie de la Cascadie, C. Diab, que nous avions d'abord aperçu dans Interludes se montre épanoui dans cette dernière transmission. « Ships » vogue dans la nuit comme une embarcation de vikings condamnés, et « Pastoral, Drunk in Summer » est un chatouillement essayant de capturer la campagne dans son linceul d'étoiles. Pour ceux qui ne connaissent pas les vibrations thoraciques des méditations de Diab, Beacons est une bonne façon de se tremper l'orteil. Pour les initiés, c'est la promesse que quelque chose d'autre se cache derrière les vagues.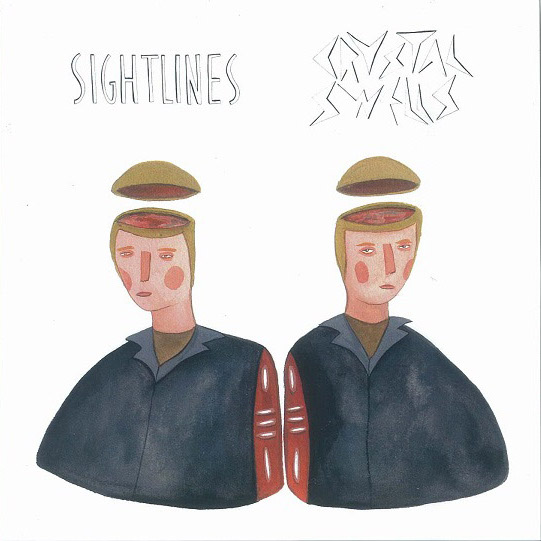 Sightlines // Crystal Swells
Split 7″
(Alarum // TRBL FCKR)
Vancouver, BC
From the commiseration of Bryce Warnes:
Eric Axen's pop rock 'n roll project Sightlines traces a 20/20 vision of shared suffering. "It's raining and it's pouring / it's beautiful and boring," he sings on "Commiseration"; sympathy can be the devil. On the flipside, Crystal Swells' twin ursine jammers could serve as opening and closing themes for a cartoon about a hard-drinking Spirit Bear who picks up a surfboard, takes to the waves and shows No Fun City how to party again. Mood-wise, this is a pink vinyl yin-yang. Cold hard tunes for summer's coming hot days and soft nights.
Des commisérations de Bryce Warnes:
(Traduit par Louis-Félix Pellerin)
Sightlines, le projet rock n' roll pop d'Eric Axen, illustre une vision impeccable de souffrance partagée. « It's raining and it's pouring/it's beautiful and boring » chante-t-il dans « Commiseration »; la sympathie s'allie parfois avec le diable. En revanche, les morceaux ursins du groupe musical Crystal Swells pourraient servir de génériques de dessin animé racontant l'histoire d'un Ours fantôme assez fêtard qui, armé d'une planche de surf, se lance dans les vagues et ramène le party à No Fun City. Côté ambiance, c'est un yin yang vinyle rose; des tounes pures et dures pour les chaudes journées et les douces nuits d'été.
---