Tag: bruised tongue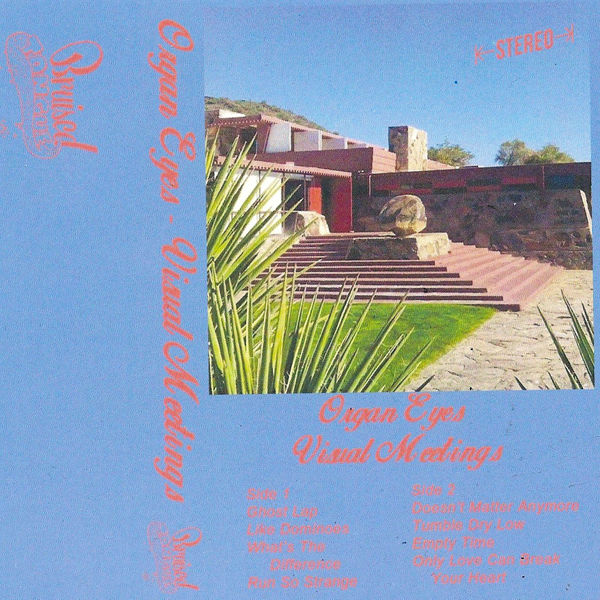 Organ Eyes
Visual Meetings
Ottawa, ON
From the daybreak and eventide of Brian Fauteux:
At dawn, Visual Meetings is perhaps the darkest. Waves of heavy fog, moving in from beyond. Rolling hills break up the heavy, low clouds with a hypnotic rhythm that mirrors our pulse. Yet, there is a warmth that carries through. As it brightens, strings and "Ahs" and an upbeat kick call-and-respond to a poppy psychedelic sensibility. Glowing, growing, spiraling and winding into a room that echoes, revealing its vastness. At dusk voices near and far, past and present, remind us that it's only love that will break our hearts.
De l'aube jusqu'aux dernières lueurs de Brian Fauteux:
(Traduit au rythme de Louis-Félix Pellerin)
C'est aux premières lueurs du jour que Visual Meetings est à son plus sombre. Un épais brouillard surgit de l'au-delà. Un vallon de collines perce les nuages volant à basse altitude avec un rythme hypnotique qui évoque notre pouls. Pourtant, on peut sentir le passage d'une certaine chaleur. Alors que la journée avance, des coups de cordes, des multiples « Ah ! » ainsi qu'un bon coup enjoué réagissent harmoniquement à une sensibilité pop-psychédélique. Le son brille, croît, serpente et se répercute à l'intérieur d'une chambre avec un écho qui révèle son immensité. Au crépuscule, des voix de près et de loin, d'antan et d'aujourd'hui nous rappellent qu'il n'y a que l'amour qui peut nous briser le cœur.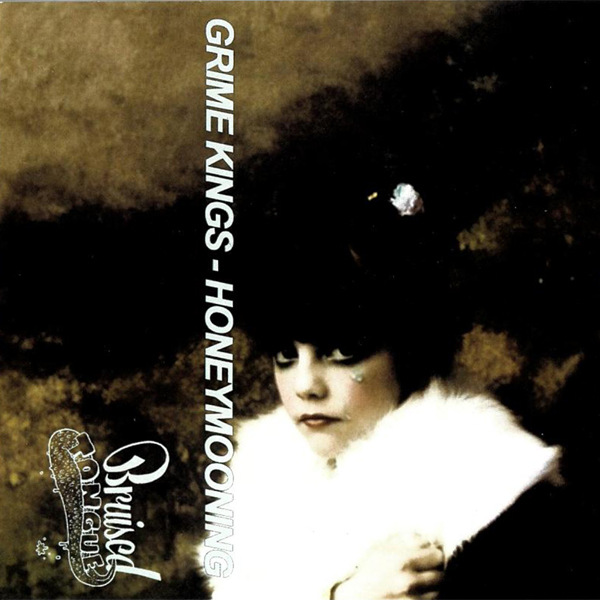 Grime Kings
Honeymooning
Ottawa // Belleville, ON
From the weathered palms of Kim Edgar:
Grime Kings' Honeymooning is a companion when your life is falling apart. This album is a reminder that music can so often be an intimate glimpse into the inner workings of someone's mind. It is cradling a baby bird in your cracked, weathered palms. It's startlingly easy to get swept up into the crescendos of harmonies that fit like interlocking fingers, in the time signatures, phrasing, rhythms which are always in flux. If this album was an object it would be a light-leaked, slightly out of focus photograph; weathered, faded, and a talisman imbued with all your memories. If this album was a colour it would be a tanned leather yellow.
Des paumes usées de Kim Edgar:
(Traduit par le stylo rouillé datant de l'école primaire de Louis-Félix Pellerin de Chevigny)
Honeymooning de Grime Kings est là pour vous lorsque la vie s'effondre. Cet album nous rappelle que bien souvent, la musique est un coup d'œil intime dans l'esprit de quelqu'un. C'est un peu comme de tenir un oisillon au creux de ses paumes usées et craquelées. C'est surprenant à quel point il est facile de se laisser emporter par ce crescendo d'harmonies qui se mêlent à un flux constant de mesures, de phrases et de rythmes, tels des doigts qui s'entrelacent. Si cet album était un objet, ce serait une photo un peu floue avec des fuites de lumière; usée et décolorée, c'est un talisman qui contient tous vos souvenirs. S'il était une couleur, ce serait le jaune cuir tanné.

Grime Kings – One Of Us Is Lonely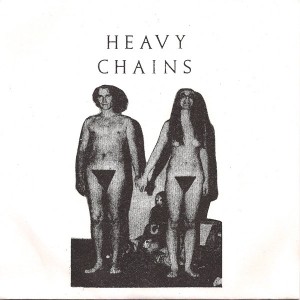 Heavy Chains
7"
Vancouver, BC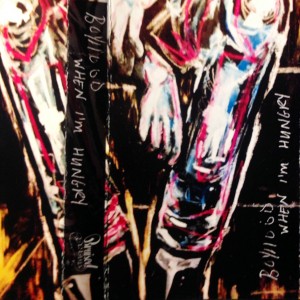 Boyhood
When I'm Hungry
Ottawa, ON
From the tardy basement incubator of Pavan Brar:
An all-encompassing and soothing coziness cloaks the 10-track span of Boyhood's When I'm Hungry. The album unconceals a familiar and intimate kind of bedroom-solipsism, carving out delta waves in static and crafting out lo-fi hummed lullabies. Let ocean-fuzz seep through the pores of your speakers, reverberating through the room in an embryonic warmth that's all too sedating to not become immersed in at once.
De l'incubateur au ralenti de Pavan Brar:
(Traduit par l'encéphale mou de Nicolas Coutlée)
Une douceur enveloppante et curatrice recouvre les dix pièces de Boyhood sur When I'm Hungry. Dévoilant une sorte de solipsisme de chambre à coucher intime et familier, l'album taille dans la statique des ondes delta au son des berceuses lo-fi fredonnées. Laissez le fuzz océanique infiltrer les pores de vos haut-parleurs et se réverbérer à travers la pièce telle une chaleur embryonnaire beaucoup trop anesthésiante pour ne pas vous y noyer aussitôt.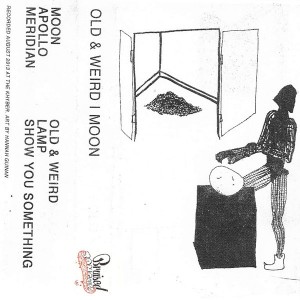 Moon // Old and Weird
Split
Halifax, NS // Halifax, NS
From the prime meridian of Josh Silver:
This split release from Bruised Tongue is a musical juxtaposition. Moon's jangly guitars materialize visions from another world as sparkling cymbals clash, taking the listener on a trip through spaces of both resonance and dissonance. On side two, Old and Weird provides an off-kilter complement with narrative songs of young life. The music flows in the same fashion as the story contained in the lyrics; floating guitars and vocals held in place by a punching rhythm section. In only four songs, these complexities and contradictions create a rich experience, leaving you wanting more.
Du premier méridien de Josh Silver:
(Traduit par Jan Karza)
Le dernier split cassette de Bruised Tongue est une juxtaposition musicale. Les guitares cacophoniques de Moon matérialisent des visions d'un autre monde tandis que des cymbales étincelantes se repercutent, faisant voyager l'auditeur à l'intérieur d'espaces de résonance et de dissonance. Sur le deuxième côté, Old and Weird fournit un complément décalé avec des chansons narratives d'une jeune vie. La musique coule de la même manière que l'histoire contenue dans les paroles; des guitares et des voix flottantes, maintenues en place par une section rythmique coup de poing. En seulement quatre chansons, ces complexités et contradictions créent une expérience riche, vous laissant sur votre faim.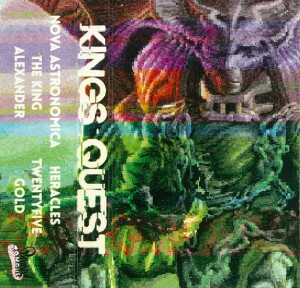 Kings Quest
Kings Quest EP
Ottawa, ON
From the magic mirror of Brendan Lehman:
From the vaunted halls of Bruised Tounge, another rewind-inducing gem rides in with the form of the Kings Quest EP; an homage to the mind of Roberta Williams. A musical sojourn of the fingers behind Ottawa's video game collective Dirty Rectangles, the tape quickly sets sail south from Daventry, riding waves of crisp harmony up through a starry sky. Winds of the dreamiest pop carry our hero forth on the whimsical and dangerous quest to rescue the king. The hero, delving the dungeons of faraway lands for great treasures, is grabbed by infectious guitar hooks that refuse to let go, invading the mind from some distant sonic plane. In the end, the hero — with a king rescued and treasures earned — sails into the sun on a cloud of shimmering noise, waiting eagerly for the next quest.
Du miroir magique de Brendan Lehman:
(Traduit de la figure de proue de Catherine Gaucher)
Du réputé château de Bruised Tounge, nous arrive le EP Kings Quest, un autre joyau entraînant une envie insatiable de rembobiner encore et encore; un hommage à l'esprit de Roberta Williams. Le périple musical de cette bande magnétique, également derrière le collectif de jeux vidéos d'Ottawa Dirty Rectangles, met rapidement le cap vers le sud de Daventry, voguant sur de fraîches harmonies sous un ciel étoilé. Des vents de pop rêveuse transportent notre héros vers une quête périlleuse et dangereuse pour sauver le roi. Fouillant les donjons des terres lointaines à la recherche de grands trésors, notre héros est attrapé par des hooks de guitares contagieux qui refusent de le laisser partir et qui envahissent son esprit depuis des avions soniques. À la fin du récit, le héros, un roi rescapé ainsi que les trésors mérités naviguent sur un nuage chatoyant de bruit en direction d'un soleil brûlant. Le héros attend sa prochaine quête avec impatience.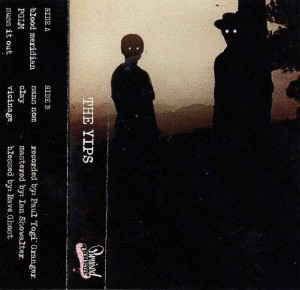 The Yips
The Yips EP
Ottawa, ON
From the nighttime dangers of Jenya Doudareva:
The Yips are howling like a pack of wolves, piercing the cold night air. It's nighttime in a remote village surrounded by dense dark woods, the kind of night when you can't shoo the menace away. This six-song EP is what makes the hair on the back of the villagers' necks stand. The older folk might even be telling their younglings that the Yips hide under their beds at night, ready to pounce if they misbehave.
Opener "Blood Meridian" starts with spine-chilling riffs and grows into something fiery and vibrant. "Clay", "PGLM", and "Sans Nom" bring forth rhythm and noise as menacing and fascinating as nature itself. "Suss it Out" reminds us that spending one's life fearful of the outside world is a dull affair, and perhaps embracing the nighttime dangers is worth it. Finally, "Vicinage", a soulful and eerie tale of loneliness and heartbreak, contrasts the EP's initial ghostliness with touching humanity.
Les cauchemars diurnes de Jenya Doudareva:
(Traduit par les cauchemars diurnes de Catherine Gaucher)
The Yips hurlent comme une meute de loups, perçant l'air froid de la nuit. C'est la nuit dans un village isolé, entouré d'une épaisse forêt, le genre de nuit durant laquelle il est impossible de chasser la menace au loin. Si les villageois ont les cheveux dressés sur la tête, ce EP de six titres en est la cause. Les aînés pourraient même faire croire aux jeunes enfants qu'une fois la nuit venue, les Yips se cachent sous leur lit, prêts à bondir s'ils se méconduisent.
En ouverture, "Blood Meridian" débute avec des accords vous glaçant l'échine et progresse avec fougue et dynamisme. "Clay", "PGLM" et "Sans Nom" mettent de l'avant des rythmes et des bruits aussi menaçants et fascinants que la nature elle-même. "Suss it Out" nous rappelle que passer son existence à craindre le monde extérieur est une terne affaire et peut-être qu'embrasser les dangers nocturnes en vaut la peine. Finalement, "Vicinage" , un mélancolique et étrange conte dépeignant solitude et chagrin, contraste avec l'initial aspect spectral de ce EP par une touche d'humanité.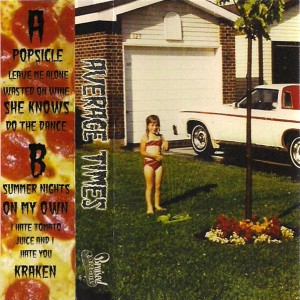 Average Times
Average Times
Ottawa, ON
From the exceedingly average Alex Hamlyn:
The first band in a while to provide the audio equivalent of a devious and mischievous 12-yr-old with a slingshot, Average Times have already set our capital's bruised tongues a wagging. Fuzz-laden guitars buzz like nectar-drunk honey bees, leading the charge with horn-like riffs until the rest of the band is ready to dogpile on you with hook after hook. If you can't be with the cool dude or dudette you like, your boss is a jerk and the pizza you ordered is late, pop this on and turn it all the way up. Day improved 100%, guaranteed — just be prepared for the sugar high you'll be feeling all week.
Du démesurément moyen Alex Hamlyn:
(Traduit par les 400 coups de Nicolas Coutlée)
Premier groupe depuis un bail à nous offrir l'équivalent audio d'un vilain garnement de douze ans armé d'une fronde, Average Times a déjà commencé à faire parler les langues meurtries de la capitale. Les guitares croulantes de fuzz bourdonnent comme des abeilles ivres de nectar et mènent la charge avec leurs riffs aux allures de cor tandis que le reste du groupe s'apprête à fondre sur vous mélodie après mélodie. Si vous ne pouvez être avec ce gars ou cette fille qui vous plait, que votre patron vous fait chier et que le livreur de pizza est en retard, faites tourner ce disque et montez le volume au max. Votre journée s'améliorera de 100%, c'est garanti — préparez-vous seulement à être sur un high de sucre toute la semaine.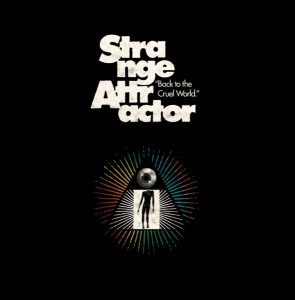 From the akashic record of Brendan Lehman:
From only the finest of decrepit driveways and dingy, rock-filled basements of Sudbury come the latest wonder from Strange Attractor. This garage punk trip hits you in the best of strange ways, like somebody fiddled with the knobs on the way out of the time machine, freaking out as the jams swirl in a sweaty haze of indignant distortion. Throw the Stooges out into the woods for a while and this is what you'll get. That, or it'll just make you want to get naked and climb the rafters. Loud, capricious, and making bad decisions. Mammoth Cave said it's too bad nobody will listen to this record. Prove them wrong.
Des annales akashiques de Brendan Lehman:
(Traduit par les griffes Joannie Pharand)
C'est uniquement sortie des plus belles entrées délabrées et des sous-sols défraîchis remplis de roches de Sudbury que la plus récente merveille de Strange Attractor surgit. Ce voyage garage punk vous frappe d'une façon des plus étranges et agréables à la fois, comme si quelqu'un avait manipulé les poignées en sortant d'une machine à voyager dans le temps, paniquant, pendant que les jams tourbillonnent en une brume moite de distorsion indignée. Jetez les Stooges dans les bois pour un certain temps et voilà le résultat. Soit ça, ou vous aurez une envie de vous dénuder et de grimper sur les chevrons. Bruyant, capricieux et prenant de mauvaises décisions. Mammoth Cave a dit que ce sera bien dommage que personne n'écoute cet album. Prouvez-leur qu'ils ont tort.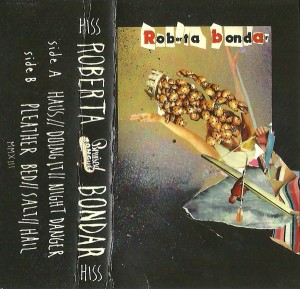 Roberta Bondar
Hiss EP
Ottawa, ON
From the eyedropper blues of Adam Bradley:
Straight-sampled Moondog opens the Hiss EP with a humble jangle of bells and found train-whistle sound before the calm is cracked sidelong by a sledge of garagey 'tude. An eyedropper's worth of blues is swallowed up in a vat of steaming punk-rock pitch. Denim-shredding tones, dented rhythms and proto-Karen O vocals slap you square in the gob. Roberta Bondar are yet another jewel in the crown of Ottawa's Bruised Tongue.
Du blues au compte-goutte d'Adam Bradley:
(Traduit par les mots cabossés d'Andréanne Dion)
Moondog ouvrent l'album Hiss avec un modeste tintement de clochettes et le sifflement d'un train, avant que le calme ne soit fendu sur tout son long par une masse d'attitude garage. Un compte-goutte de blues est englouti dans une cuve de sons punk-rock fumants. Des tonalités à déchirer vos jeans, des rythmes cabossés et des chants qui rappellent Karen O vous giflent directement au visage. Le groupe Roberta Bondar est un joyau de plus dans la couronne de Bruised Tongue.
---