Tag: brian's tape label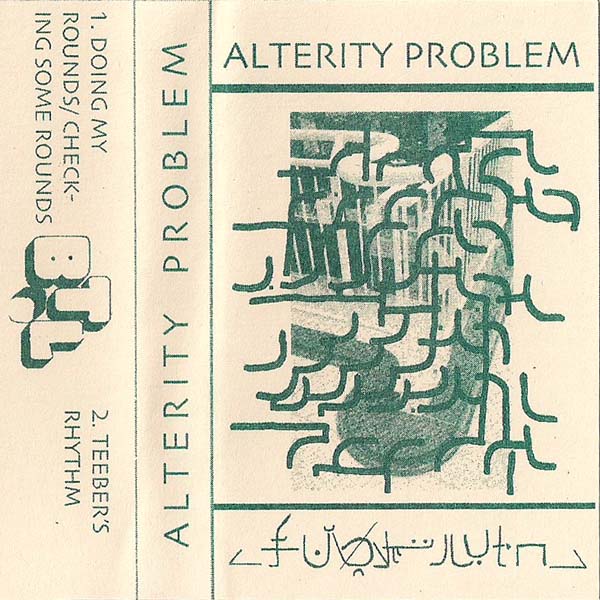 Alterity Problem
Doing My Rounds/Checking Some Rounds
Toronto, ON // Montréal, QC
From the moonboots of Jesse Locke:
The final release from Alterity Problem is a long-distance collabo from the long-running duo of burner mind Alex Moskos and beloved avant-comedian Joel Taylor. Before tragically succumbing to pancreatic cancer — "an old man's disease" writes Moskos in his lengthy, love-filled liners — the late Taylor laid down the guts for this skeletal squelch heater, "copping the groove" from a moony disco mix and rounding out into the infinite.
Various Artists
Montreal Knows No Wave, No?
Montreal, QC

If Doc Brown had a tape label, he'd speed us straight back to healthier livers, slightly less wrinkled faces and bands who have now mostly disappeared, or evolved into new mutations. A time warp to five years past,
Montreal Knows No-Wave, No?
, captures two live happenings and many passing incarnations of Montreal swampy
noisenik lurkers
, anywhere from harsh to very harsh to noise-obliteration. Peep
the infomercial
and grip.
Full spread
.
Du rides de Gabriel Jasmin:
Si Doc Brown sortait des cassettes, on y retrouverait nos foies plus en santé, nos visages moins ridés et des bands qui ne survivront pas ou qui finiront transformés. Cinq ans en arrière, Montreal Knows No-Wave, No? capture deux happenings et une douzaine d'incantations locales de bébittes noise, tous perdus à quelque part entre bruitiste, très bruitiste et bye-bye-les-tympans bruitiste. Primo, voir l'infopub, deuzio, se le procurer.
[audio:http://weirdcanada.com/wp-content/uploads/2012/07/dreamcatcher-pothole-wilds.mp3|titles=Dreamcatcher – Pothole Wilds] Dreamcatcher – Pothole Wilds
[audio:http://weirdcanada.com/wp-content/uploads/2012/07/mondaymorningerection-radio-chaude.mp3|titles=Mondaymorningerection – Radio Chaude] Mondaymorningerection – Radio Chaude
---