Tag: brendan lehman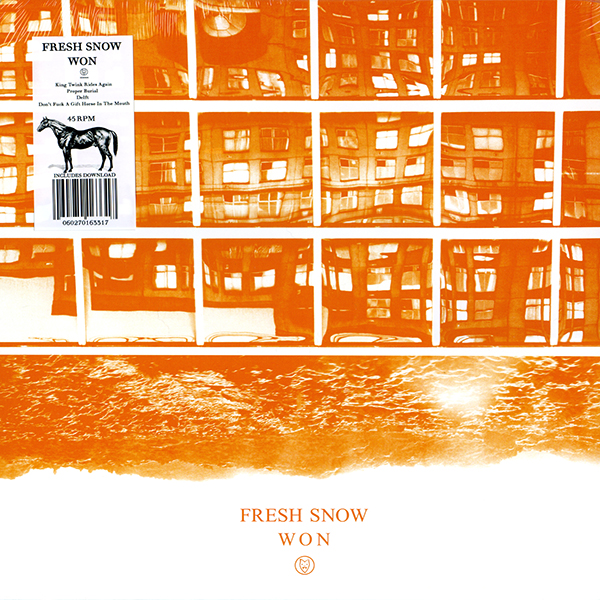 Fresh Snow
WON
Toronto, ON
From the frozen technology of Brendan Lehman:
City streets, forest paths; in and out, up and down. Running from one dirty thrill to the next euphoric hell. Fresh Snow is the score to your chase, sprinting with you as the graceful noise tears down walls and trees alike. Yet still, the sun will rise tomorrow.
De la technologie gelée de Brendan Lehman:
(Traduit par le soleil pensif de Maya Keshav)
Les rues de la ville, les chemins forestiers; ici et là, en haut et en bas. En courant d'un frisson louche vers le prochain enfer euphorique. Fresh-Snow est la bande sonore de ta chasse, qui court à toute vitesse avec toi pendant que les bruits gracieux démolissent les murs et les arbres. Mais tout de même, le soleil se lèvera demain.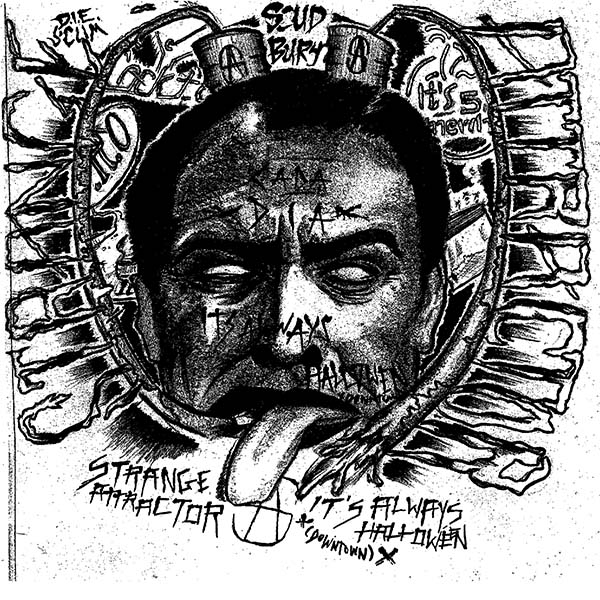 Strange Attractor
It's Always Halloween (Downtown)
Sudbury, ON
From the February costume of Brendan Lehman:
Real life and the night life – two versions of the same city. As the debate rages as to which is the new normal, each is populated with their own share of freaks and punks. Everyone in their work uniform, from denim suits to long johns to a button-covered leather jacket. Who is the real freak? Probably you and probably me. All in a swirl of Strange Attractor's distorted haze with the rest of the people hanging out downtown.
Du costume de février de Brendan Lehman:
(Traduit par la garde-robe trouée de Jessica Grenier)
La vie quotidienne et la vie nocturne – deux versions d'une même ville. Alors que le débat fait rage à savoir laquelle est la nouvelle normalité, chacune a sa dose de bizarroïdes et de punks : tous ont leur uniforme, du costume en jean aux caleçons longs en passant par le blouson en cuir couvert de boutons. Qui est le plus bizarre? Probablement toi et moi… et tous les autres qui se tiennent au centre-ville dans un des tourbillons de brume distordue de Strange Attractor.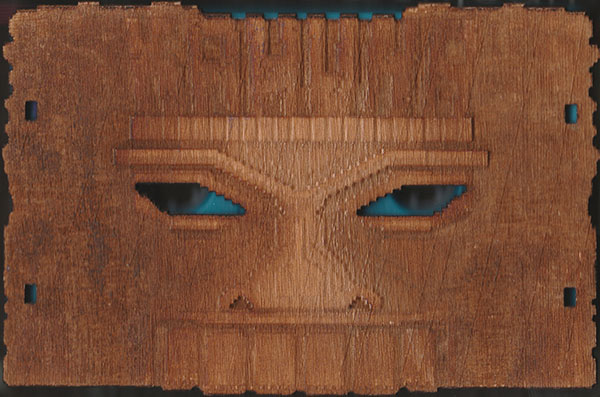 Kahuna
$TEPPING $TONE
Toronto, ON
From the Cyberspace 7 of Brendan Lehman:
Your vision comes into focus just in time to see the wireframe meshes of the world around you form with texture. Almost automatically, you take off running. Suddenly, a blinding explosion of light – laser shots tickle your body from both sides. Ducking and rolling as a graceful dancer on the biggest stage, mind further detaches from body. At the summit, colours of the surroundings return to the wireframe of cyberspace; the weight of the flag lifted – your goal completed. ROUND TWO.
Du Cyberspace 7 de Brendan Lehman:
(Traduit par Jessica Grenier)
Ta vision devient claire juste à temps pour voir ressortir la texture de la structure filiforme du monde tout autour. Tu te mets à courir presque immédiatement. Soudain, une explosion lumineuse t'aveugle – des lasers chatouillent ton corps des deux côtés. Tu sautes puis roules pour les éviter, comme un danseur gracieux sur une scène gigantesque. Ton esprit se détache un peu plus de ton corps : à l'apogée, les couleurs environnantes retournent dans la structure du cyberespace – le drapeau a été levé, le but est atteint. DEUXIÈME ROUND.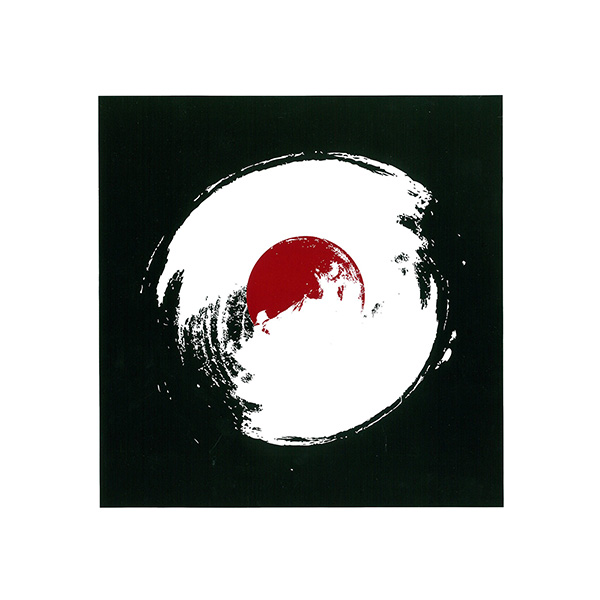 Sudbury's Geyser are soaked in as much whiskey and youth as distortion and haze, guitars buzzing and basses swirling before kicking in the door to sharp hooks and unruly vocals.
Geyser
Geyser EP
Sudbury, ON
From the rivers and skies of Brendan Lehman:
First in the catalog of Sudbury DIY imprint Radiclaw Records, the fuzz-tastic three-piece Geyser rock with an energy rarely seen. Soaked in as much whiskey and youth as distortion and haze, guitars buzz and basses swirl before kicking in the door to sharp hooks and unruly vocals: an homage to a bygone decade. Cold nights power gritty anthems, indignant to their backdrops, longing for the next chance to put the top down, throw the map away, and just ride.
Des cieux et des rivières de Brendan Lehman:
(Traduit par Jessica Grenier)
D'abord aperçu dans le catalogue DIY de Radiclaw Records (de Sudbury), le fuzz-tastique groupe tripartite Geyser rock avec une énergie rarement vue. Baignant autant dans le whiskey et la jeunesse que dans une distorsion brumeuse, les guitares bourdonnent et les basses tourbillonnent avant de transpercer la porte à coup de crochets et de voix désordonnées : un hommage à une décennie révolue. Des hymnes brutaux aux nuits froides, s'insurgeant de leurs paysages dans l'attente brûlante du prochain saut dans la décapotable pour jeter la carte et rouler droit devant.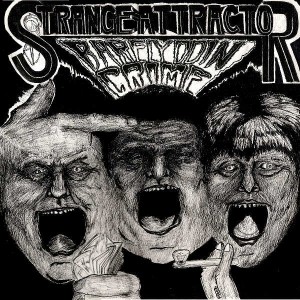 Strange Attractor
Barely Doin' Crime
Sudbury, ON
From the personal cheque of Brendan Lehman:
With the coals of Back To The Cruel World still warm, Strange Attractor gas the fire again with an equally raucous EP. Probably cooked in the same lab as the infamous Noise Tape, these six jams crammed into a 7" run the gamut from a dangerous trip to a dangerous trip and a press release. Mental corruption runs thick through these driving bangers, rife with breach of trust and altered documents: the seedy underbelly of a drunken façade. We're burning down the walls of conservative values, one screaming riff at a time. Sounds like my kind of party.
Du chèque personnel de Brendan Lehman:
(Traduit par le doux murmure d'Anaïs Njike)
De la braise encore chaude de Back To The Cruel World, Strange Attractor rallume le feu avec un EP tout aussi tapageur. Probablement conçu dans le même labo que la notoire Noise Tape, cet ensemble de 6 morceaux condensés sur un 7 po vous fait voyager d'un danger à l'autre en passant par un communiqué de presse. La corruption mentale tourne à fond dans ces débris à roulettes, blindés d'abus de confiance et de faux documents : la face cachée miteuse d'un ivrogne. On fait tomber les barrières du conservatisme, un riff criant après l'autre. Ça c'est mon genre de fête.

Strange Attractor – I Need to Kill My Neighbours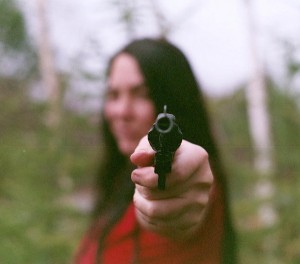 The Almighty Rhombus
Lucid Living
Sudbury, ON
From the big basement of Brendan Lehman:
The Almighty Rhombus is unabashedly a pop band. One has but to experience them, however, to realize that a thing boils beneath their collective surface. What is that thing? Maybe it is something born of a remote lodge filled with a smokey haze emanating from everywhere but the fireplace. You can feel it percolating in the toned stoner pop of songs like "Fluorescent". Perhaps it's the smoke from the superstack seeping its way into the dive bars, causing mayhem as it flows, transforming ridiculously catchy hooks to crescendos of sounds past. One thing you can count on though, is the precision with which this chess game of an album will catch your ear and not let go. Coffee?
De la chaise confortable de Brendan Lehman:
(Traduit par Kristen Lavallee)
The Almighty Rhombus est, sans honte, un groupe de pop. On n'a qu'à éprouver l'expérience pour se rendre compte que quelque chose mijote sous leur surface collective. Quel est ce truc? Peut-être c'est quelque chose né d'un chalet isolé rempli d'un brouillard de fumée émanant de partout sauf de la cheminée. Vous pouvez le sentir se répandre dans les mélodies sublimes, comme par exemple, dans la chanson « Fluorescent ». C'est peut-être la brume du Superstack s'écoulant son chemin dans les bars miteux qui sème la pagaille pendant que les musiciens joues, transformant les crochets ridiculement entraînants et les crescendos de sons passés. Une chose que vous pouvez compter, c'est la précision avec laquelle ce jeu d'échecs d'un album qui va réussir à attraper votre oreille, et la garder! Café?

The Almighty Rhombus – Fluorescent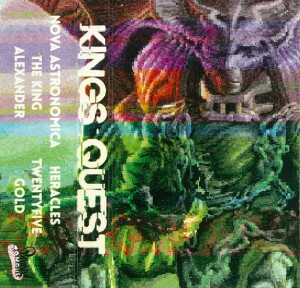 Kings Quest
Kings Quest EP
Ottawa, ON
From the magic mirror of Brendan Lehman:
From the vaunted halls of Bruised Tounge, another rewind-inducing gem rides in with the form of the Kings Quest EP; an homage to the mind of Roberta Williams. A musical sojourn of the fingers behind Ottawa's video game collective Dirty Rectangles, the tape quickly sets sail south from Daventry, riding waves of crisp harmony up through a starry sky. Winds of the dreamiest pop carry our hero forth on the whimsical and dangerous quest to rescue the king. The hero, delving the dungeons of faraway lands for great treasures, is grabbed by infectious guitar hooks that refuse to let go, invading the mind from some distant sonic plane. In the end, the hero — with a king rescued and treasures earned — sails into the sun on a cloud of shimmering noise, waiting eagerly for the next quest.
Du miroir magique de Brendan Lehman:
(Traduit de la figure de proue de Catherine Gaucher)
Du réputé château de Bruised Tounge, nous arrive le EP Kings Quest, un autre joyau entraînant une envie insatiable de rembobiner encore et encore; un hommage à l'esprit de Roberta Williams. Le périple musical de cette bande magnétique, également derrière le collectif de jeux vidéos d'Ottawa Dirty Rectangles, met rapidement le cap vers le sud de Daventry, voguant sur de fraîches harmonies sous un ciel étoilé. Des vents de pop rêveuse transportent notre héros vers une quête périlleuse et dangereuse pour sauver le roi. Fouillant les donjons des terres lointaines à la recherche de grands trésors, notre héros est attrapé par des hooks de guitares contagieux qui refusent de le laisser partir et qui envahissent son esprit depuis des avions soniques. À la fin du récit, le héros, un roi rescapé ainsi que les trésors mérités naviguent sur un nuage chatoyant de bruit en direction d'un soleil brûlant. Le héros attend sa prochaine quête avec impatience.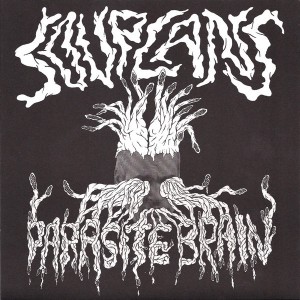 The Soupcans
Parasite Brain EP
Toronto, ON
From the substantia nigra of Brendan Lehman:
Enter the Soupcans. Enter the Soupcans into a world of dystopian chaos, one of grinding distortions and impenetrable walls of sound. Manic screams guide you through dim-lit alleyways vaguely remembered. Living here, it sometimes calms down into a groove, but more days than not it's the unceasing noise of your state oppressor, eating away at your once-sane consciousness. It's hard to tell if it's the cocktail your guy down the street cooked up for you or if that's just the way it has become. Thoughts are fleeting, and you begin to wonder if anyone could ever help. Until you re-emerge, standing in the crowd of your local punk bar, listening to the Soupcans blow your mind. Thankfully it's not the brain-oozing hell you thought it would be, just really good punk.
De la substantia nigra de Brendan Lehman:
(Traduit de la contre-utopie effrayante de Catherine Debard)
Entrez dans Soupcans. Entrez dans Soupcans, dans un monde dystopique, un cauchemar chaotique de distortion écrasante et de murs du son impénétrables. Des cris déments vous guident le long de sombres ruelles vaguement familières. Ici, parfois, ça se calme dans une sorte de groove, mais la majorité du temps, les journées sont imprégnées du bruit incessant de votre oppresseur, qui bouffe tranquillement votre conscience jadis intacte. C'est assez nébuleux, à savoir si c'est le cocktail que ce type en bas de la rue a cuisiné pour vous ou si c'est juste ce que les choses sont devenues maintenant. Les pensées s'enfuient et vous vous demandez si quelqu'un pourra un jour vous aider. Jusqu'à ce que vous émergiez debout dans une foule, dans votre bar punk local, en écoutant Soupcans et en hallucinant carrément. Heureusement, ce n'est pas l'enfer cérébral suintant que vous imaginiez, c'est juste du punk vraiment bon.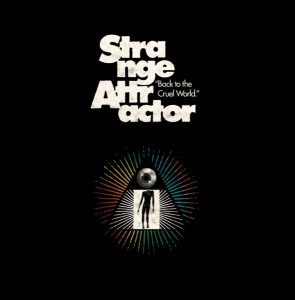 From the akashic record of Brendan Lehman:
From only the finest of decrepit driveways and dingy, rock-filled basements of Sudbury come the latest wonder from Strange Attractor. This garage punk trip hits you in the best of strange ways, like somebody fiddled with the knobs on the way out of the time machine, freaking out as the jams swirl in a sweaty haze of indignant distortion. Throw the Stooges out into the woods for a while and this is what you'll get. That, or it'll just make you want to get naked and climb the rafters. Loud, capricious, and making bad decisions. Mammoth Cave said it's too bad nobody will listen to this record. Prove them wrong.
Des annales akashiques de Brendan Lehman:
(Traduit par les griffes Joannie Pharand)
C'est uniquement sortie des plus belles entrées délabrées et des sous-sols défraîchis remplis de roches de Sudbury que la plus récente merveille de Strange Attractor surgit. Ce voyage garage punk vous frappe d'une façon des plus étranges et agréables à la fois, comme si quelqu'un avait manipulé les poignées en sortant d'une machine à voyager dans le temps, paniquant, pendant que les jams tourbillonnent en une brume moite de distorsion indignée. Jetez les Stooges dans les bois pour un certain temps et voilà le résultat. Soit ça, ou vous aurez une envie de vous dénuder et de grimper sur les chevrons. Bruyant, capricieux et prenant de mauvaises décisions. Mammoth Cave a dit que ce sera bien dommage que personne n'écoute cet album. Prouvez-leur qu'ils ont tort.
---