Tag: brazilian money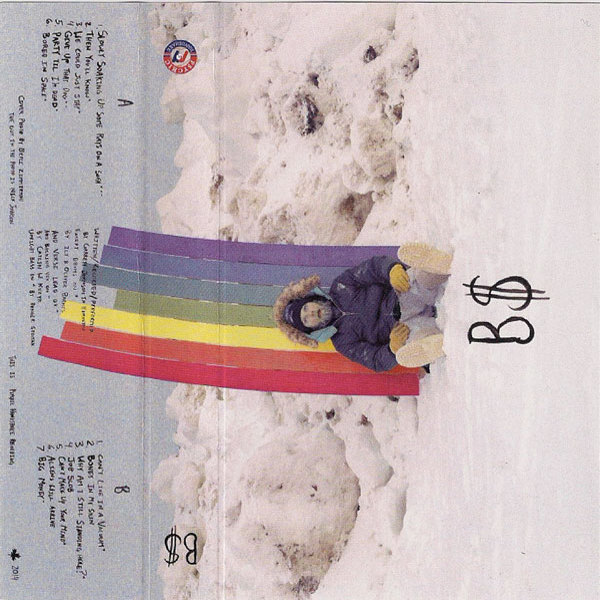 Brazilian Money
Brazilian Money
(Psychic Handshake)
Montréal, QC
From the pizza-burnt tongue of Josh Rohs:
Brains, space, couches, aliens, slacking: some of the many muses of one Garrett Johnson throughout this s/t cassette. Yelping, snarling, giggling, nasal-crooning, pizza-burnt-tounge howling: the various vocalizations of the very same. Call it B$ Redux: beloved steamboat-dreamboat Johnson ressurects the old ones and drags 'em kickin' and screamin' into mid-fi slack-rock paradise. All the hits – this one's a no brainer, people.
De la langue brulé de pizza de Josh Rohs:
(Traduit par « oui, I You, Ohh! »)
Des cerveaux, l'espace, des divans, des extraterrestres, le relâchement : ici quelques des méditations de Garrett Johnson durant cette s/t cassette. Jappement, grognement, gloussements, le fredonner nasal, le hurlement d'une langue brûlé par pizza: les expressions vocales variées de la même chose. Ça pourrait être nommé B$ restoré: le renommé, bateau à vapeur, homme de rêve Johnson ressuscite les vieux et il les traîne contre leur gré vers mi-fidélité paradis du rock lâche. Tous titres phares – gens, c'est pourtant simple.

Brazilian Money – Can't Live in a Vaccuum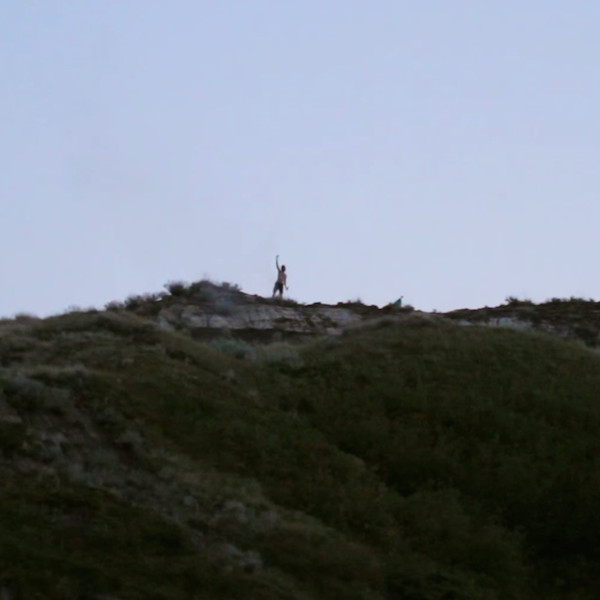 Brazilian Money
Give Up That Dog
(Director: Catlin W. Kuzyk)
Montréal, QC
From the psychedelic hoodoos of Jared Majeski:
Brazilian Money's new dry island mushroom trip burns and cross-dissolves through the ghost towns, petroglyphic buffalo jumps and last chances of southern Alberta lore. "Give Up That Dog" sees the transient central urbanites journey through frantic cuts and premonitions to the dusty steps of an infamous, kitschy museum. Imagine a gopher museum getting even weirder, yeah, it just happened.
De la poisse psychédélique de Jared Majeski:
(Traduit par la machine de Rube Goldberg alimentée par des rongeurs de Louis-Félix Pellerin)
Le nouveau trip de champignons magiques au coeur du parc Dry Island de Brazilian Money brûle à travers les villes fantômes, les précipices à bisons couverts de pétroglyphes et les dernières chances de folklore sud-albertain, tel un fondu enchaîné. « Give Up That Dog » voit des citadins de centre-ville plutôt voyageurs entreprendre un périple à travers coupes et prémonitions frénétiques jusqu'aux marches poussiéreuses d'un musée kitsch tristement célèbre. Si vous pensiez qu'il ne pouvait pas y avoir plus bizarre qu'un musée dédié aux gaufres, bah détrompez-vous, on en est rendu là.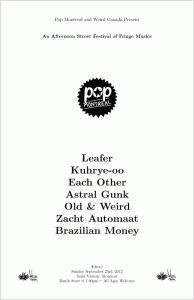 Weird Canada + Pop Montreal
Weird Pop MTL
Montreal, QC

In conjunction with Pop Montreal 2012 and the third annual Journée des bons voisins event, Weird Canada is excited to present a free outdoor show on Sunday, Sept. 23! To celebrate World Car Free Week, the street of Saint Viateur (between Jeanne Mance and Saint Urbain) will transform into a pedestrian zone closed to east-west vehicular traffic from 11 am to 7 pm.
The musical line-up curated by Weird Canada will include the following artists:
Leafer
Kuhrye-oo
Each Other
Astral Gunk
Old & Weird
Zacht Automaat
Brazilian Money
Other activities include Puces Pop taking place simultaneously within St Michael's church, Naada Yoga giving a class in the street (on a bed of sod) from 12 pm to 1:30 pm, bike repair workshops, and more all-ages fun from the YMCA du Parc. Hope to see you there!
# Event Details
– Date: Sunday September 23, 2012
– Location: Saint Viateur (263 Rue Saint Viateur), Montreal, QC
– Time: 1pm – 6pm
– Price: $(free)
– Set Times:
1:00 – Old & Weird
1:45 – Leafer
2:30 – Each Other
3:15 – Kuhrye-oo
4:00 – Zacht Automaat
4:45 – Brazilian Money
5:15 – Astral Gunk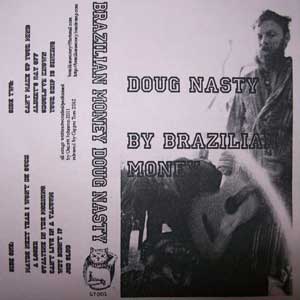 Brazilian Money
Doug Nasty
(Gripper Tore)
Edmonton, AB
From the jived shuckin' of Jared Majeski:
Hey, you over there. Brazilian Money is back didn't cha know? Led by bespectacled teen heartthrob Garrett Johnson and a new backing trio of friendly and familiar faces, these boys on the bus are back to what they do: making artfully warm and warbly pop wormholes. Their latest release Doug Nasty asks questions: "What do ya do when a guy comes and shits on your floor?" and ponders the simple things: "Nothing is free, some things are cheap." Maybe it was the product of several late night acid parties; maybe it was just the people. Maybe it's for the dance floor slackers, burned out, thinking about the incomprehensible. Either way, it's fuuuuuuuuun! Glad to see Johnson still shuckin' and jivin' in yer minds, giving you reason to think.
Du décorticage balançant de Jared Majeski: (Traduit par la traductrice Maya Keshav)
Hé, toi, ouais je parle à toi. Brazilian Money est de retour, tu savais pas? Dirigé par la coqueluche ado à lunettes Garrett Johnson et un nouveau trio d'accompagnement de visages amicables et familiers, ces garçons sur le bus sont retournés à ce qu'ils font le mieux: faire les trous de ver habilement chaleureux et gazouillants de pop. Leur dernier morceau Doug Nasty posent des questions: "What do ya do when a guy comes and shits on your floor?" ["Tu fais quoi quand un gars vient et chie sur le sol de ta salle?"] et ils se demandent les choses simples: ["Nothing is free, some things are cheap." [Rien n'est gratuit, quelques choses sont pas chères.] Peut-être que c'était le produit de plusieurs fêtes nocturnes d'acide; peut-être que c'était juste les gens. Peut-être que c'est pour les fainéasses du dancefloor, tannés, qui pensent de l'incompréhensible. De toute façon, c'est rigolooooooooo! C'est bon de voir que Johnson continue de balançe dans vos têtes, en vous donnant une raison pour penser.
Brazilian Money – Can't Make Up Your Mind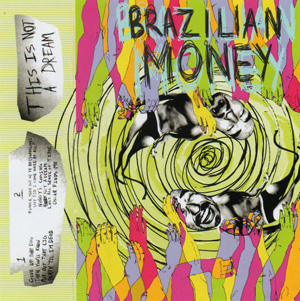 Brazilian Money
This Is Not A Dream
Edmonton, AB
From the sweaty palms of Jesse Locke:
The boys from Brazil (ian Money) throw it all at the wall on their latest c32 dispatch, and — surprise, surprise — everything sticks. Like an overheated Pizza Pop™, This Is Not A Dream bursts at the seams with genre-blurring gunk rockers, bellyachin' bummer folk and falsetto piss 'n' vinegar. Guitars warble and strum with hand-bleeding repetition, horns squeal like a second line and frontman Garrett Johnson hog hollers in a variety of voices. Wake up and grip with the sweaty-palmed quickness.
Des paumes moites de Jesse Locke: (Traduit par le pizza pop surchauffé qui est Maya Keshav)
Les gars du Brésil (ian Money) lancent tout contre le mur avec leur dernière dépêche de c32 et — quelle surprise— ça marche complètement. Comme un pizza pop surchauffé, This Is Not A Dream est plein à craquer des chansons balançantes, crasseuses, et genre-croisantes; de bummer folk chialant; et de falsetto pisse-et-vinaigre. Les guitares gazouillent et se grattent avec la répétition qui font saigner les mains, les cuivres crient comme une deuxième ligne, et le chanteur Garrett Johnson gueule dans une gamme de voix. Réveillez-vous et achetez avec la vitesse d'une paume moite.
Brazilian Money – Party Til I'm Dead
Brazilian Money – Then You'll Know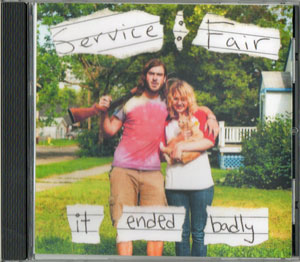 Service:Fair
It Ended Badly
Edmonton, AB
From the revisionist pop grunge of Michael Deane:
Killing it with laid-back breezy, catchy downers and high-strung musical exclamations, Catlin Kuzyk and co. create an immensely addictive mix of swamp-sheened pop-rock gems. Evincing energetic melancholy and homemade warmth, this Brazilian Moneyennaire effortlessly belts out strangled wails and powerful vocal refrains that are always on the move between sadness and excitement. Though it's ostensibly a contemplation on failed romance, It Ended Badly is a colossal success. The best way to listen to this driving semi-sloppy hook-filled revisionist pop grunge is on repeat.
Du grunge pop révisionniste de Michael Deane: (Traduit par Odile Leclerc)
N'en déchirant avec de jovial et décontracté relaxants accrocheurs et des exclamations musicales agitées, Catlin Kuzyk et co. créer un mix immensément addictant de merveilles pop-rock de marais lustré. Démontrant une mélancolie énergique et une chaleur faite maison, cet argentennaire brésilien fait sortir sans effort des hurlements étranglés et de puissants refrains vocaux qui sont toujours entrain d'osciller entre tristesse et excitement. Malgré que c'est prétendument une contemplation sur de la romance échouée, It Ended Badly est un succès colossal. La meilleure façon d'écouter cet entraînant grunge pop révisionniste rempli d'accroche et semi-maladroit est sur répéter.
---