Tag: brad casey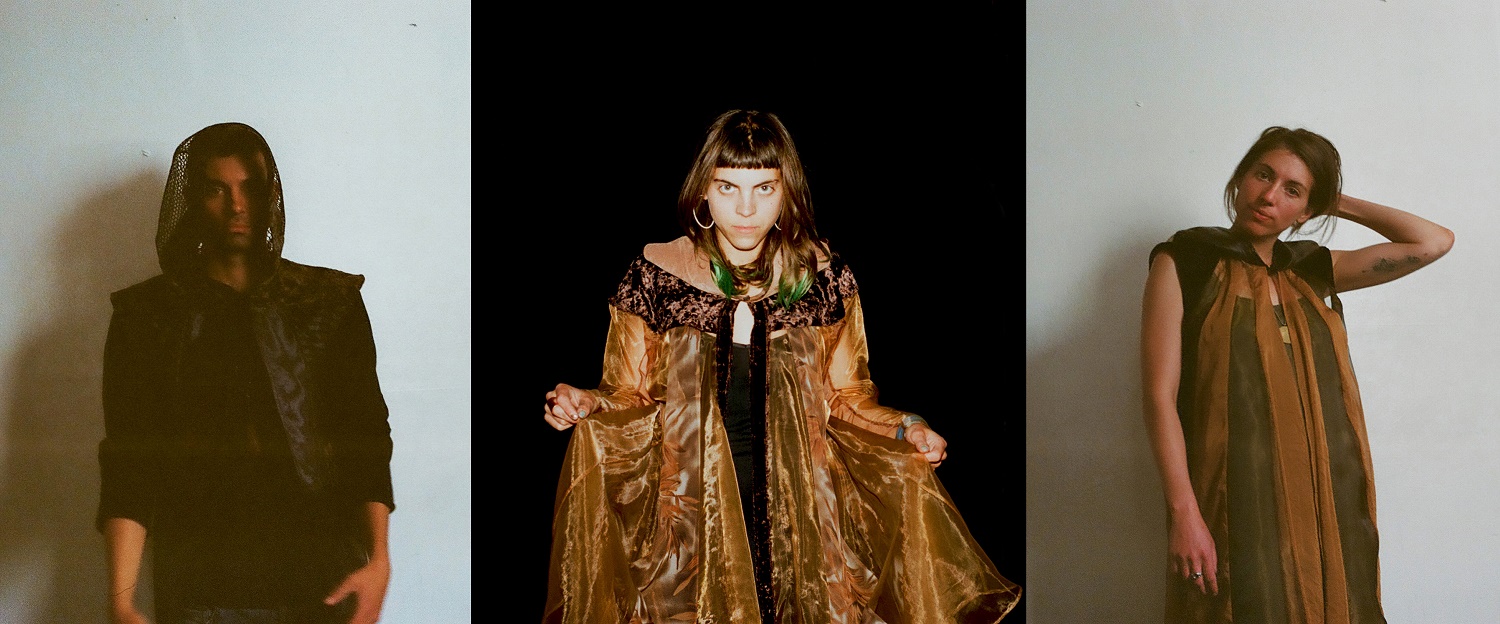 Ephemera of DOOMSQUAD
Existing During the Recording of the Pageantry Suite EP
Toronto, ON
Photos by Brad Casey
From the "yeah"s and "amazing"s of Brad Casey:
Jaclyn Blumas of brother/sister trio DOOMSQUAD is a woman open to the world from the perspective of another world entirely. She talks about mystical experiences with a casualness that most people would reserve for a story about a trip to the grocery store. She moves with an airy quality, like a dancer, but with a childlike nature, a wonderful gracelessness. Everything that comes from her mouth is positive. It's all, "yeah!" and "amazing!", and she speaks to you directly, you're her only focus. When she moves away she's away and somewhere else completely. Her home, which teeters between gypsy comfort and organized mess is warm and well composed. It's no wonder the music that DOOMSQUAD produces is deceivingly complex. It's like a hypnosis wheel; from a distance it's simple and contrasting colours but get close and it's moving uniform into what seems like infinity.
DOOMSQUAD, comprised of Jaclyn, Allie and Trevor Blumas, formed in 2010, making formal, Carter family-like folk music. They quickly and rightly set their acoustic instruments aside for an electro-journey beginning with their Land 'O the Silver Birch EP. That trip brought them into their first full length album, Kalaboogie, a reverb drenched and chant filled album with a light touch of pop sensibility, then into their latest Pageantry Suite EP, which is influenced as much by Talking Heads as it is smoke-filled, bass heavy, dark after-hours weekend parties. They've toured with Tanya Tagaq and Fucked Up, and their next full length album, scheduled to be released in late 2015, will surely bring them to another level of success entirely.
Jaclyn was kind enough to allow us at Weird Canada to photograph some of the ephemera that keeps her moving forward as an artist and a person and to touch on the stories of what gives her precious objects weight.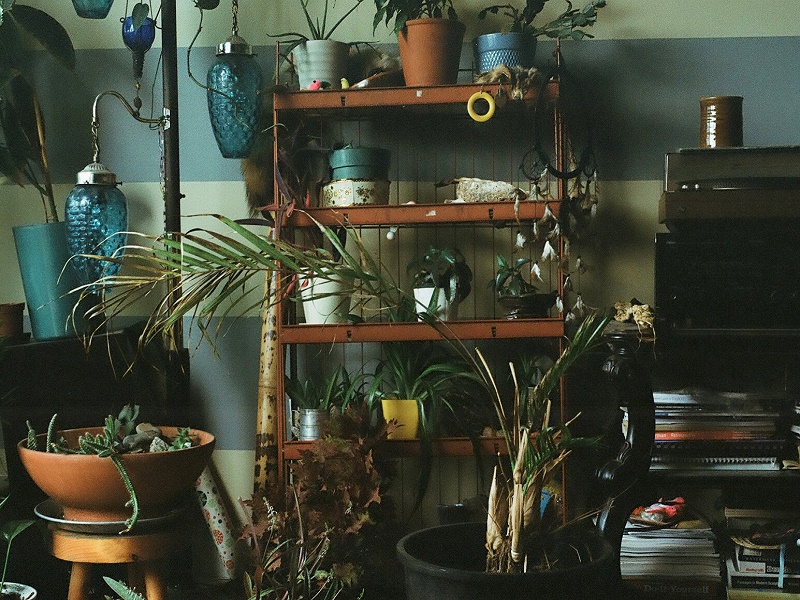 Plants
They're all different, some of them are from my roommate's girlfriend. This one is from my Nanny, we used to decorate it like a Christmas tree. This is a Christmas cactus, this plant turns red in the summer and green in the winter. I don't know the names of anything. I know how to take care of them though, I move them around until they're happy.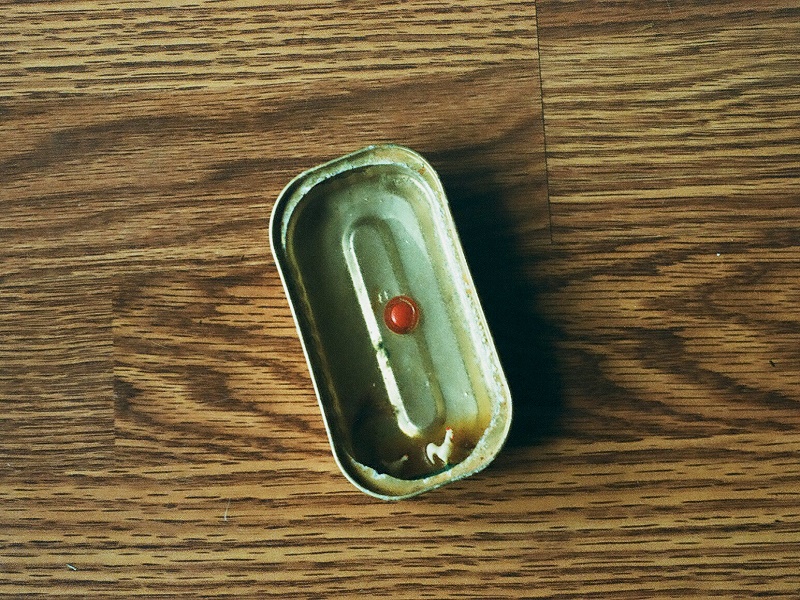 Found Item Art
My roommate and his girlfriend made this. They make these kinds of things then throw them out but I wanted this. It's a sardine can, resin, a little chicken and a sun.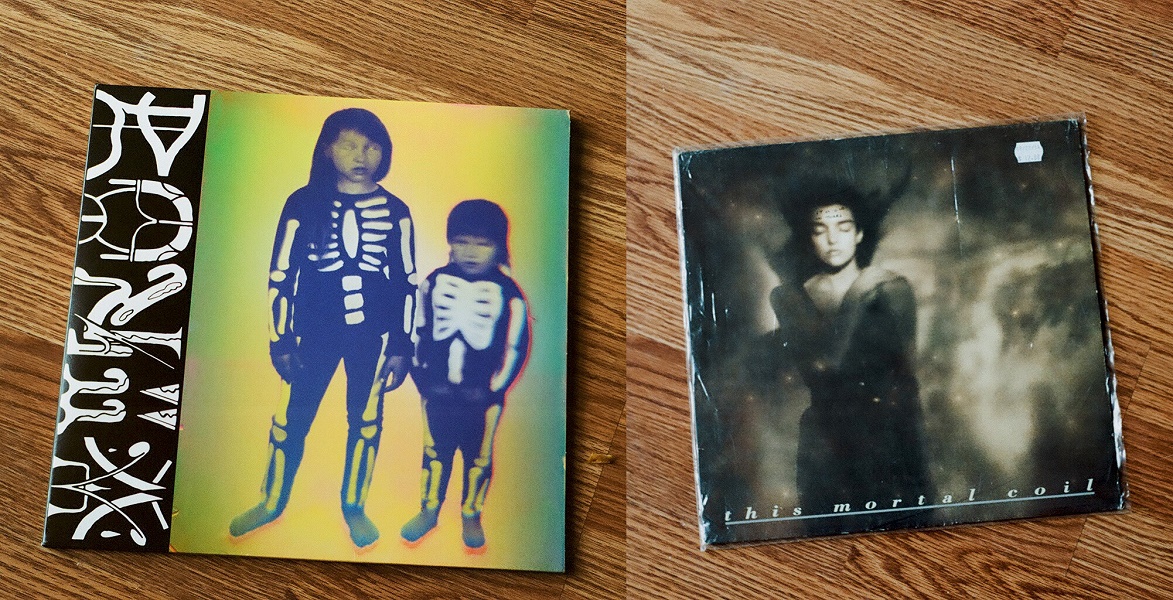 Favourite Records
I'm trying to promote the shit out of Roniia. This is one of my favourite records right now. We know these guys from North America and Roniia are friends of theirs, we hung out with them in Minneapolis. They're so fucking good. They should be playing stadiums, they've got it all figured out. Also, This Mortal Coil. It's a compilation from the 80s, it's so good, it has these great covers of Kangaroo and Song to the Siren.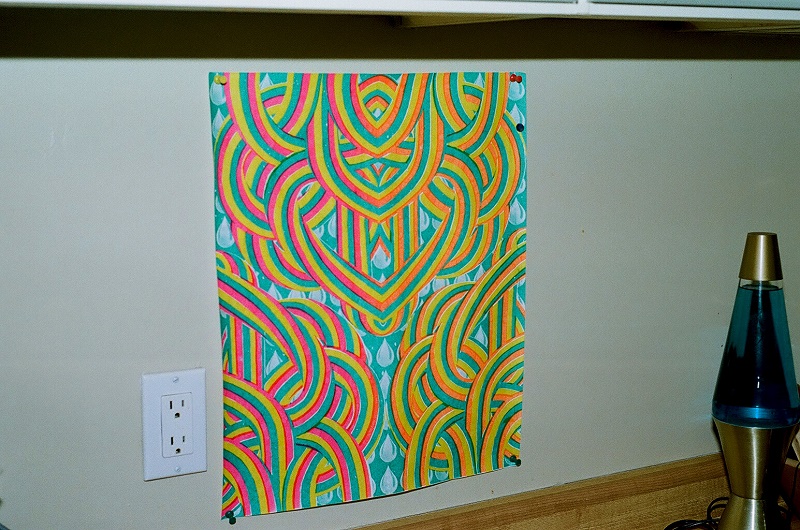 Alex MacKenzie's Art
Alex did this for Come Up to My Room, an event I helped organize at The Gladstone. She made a Moroccan tent with this design. When the light changed from blue to red this would pop out and move. It was this active, moving tent. This is a print of that.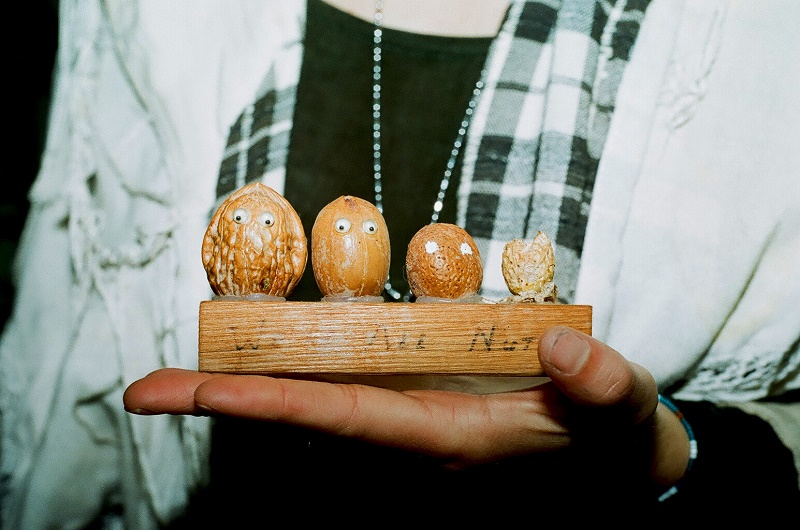 We Are All Nuts
Our family cottage was in Calabogie. We ended up saying goodbye to it last year. It's where we wrote our album Kalaboogie. The cottage was full of things that were important to my grandparents and this was one of them. A little mouse came and ate the peanut out of this nut on the end. It says "We Are All Nuts."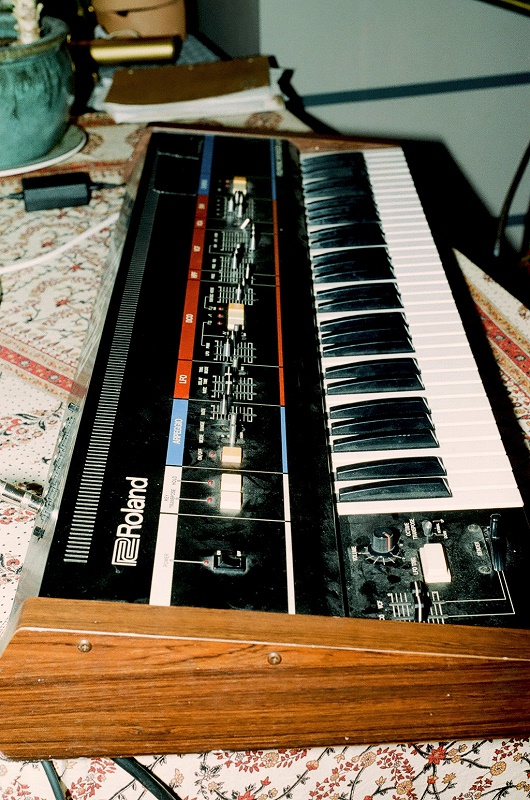 Roland Keyboard
This was given to me to borrow indefinitely. The person hasn't asked for it back yet, I've had it for seven years. His grandparents had it and he didn't know what it was. I've used it on almost every DOOMSQUAD recording. It's too finicky to travel around with.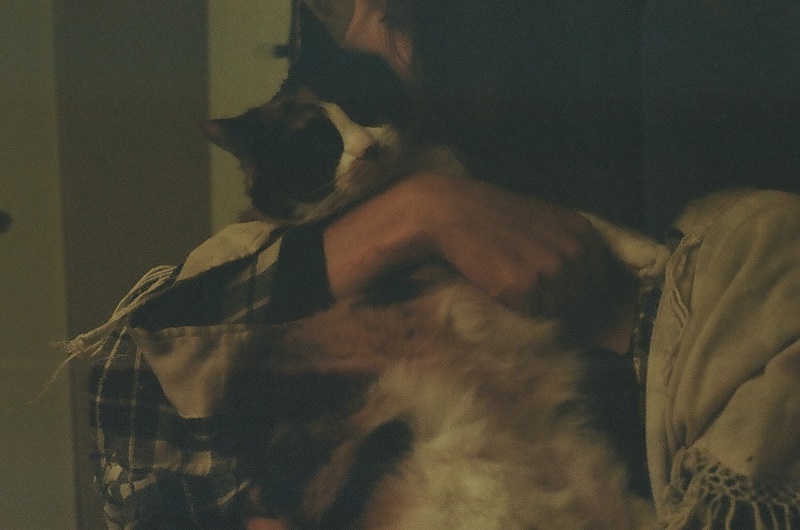 Bowie the Cat
This is Bowie. I got her in Vancouver from a whore house in Surrey, BC. They said she was a boy. All I wanted was a boy cat because all I've ever had were girls, so I was like, "Can you please just make sure it's a boy." The girl was like, "Girl, I've been doing this for years," she had zit cream all over her face and was like, "it's a boy." So for three months me and Bowie were hanging out and I was treating her like a boy. I took Bowie in to get neutered and she came out spayed. The vet was like, "Well, she's a girl." I said, "Are you sure?" and they were like, "Yup. We spayed her." I've had her for nine years.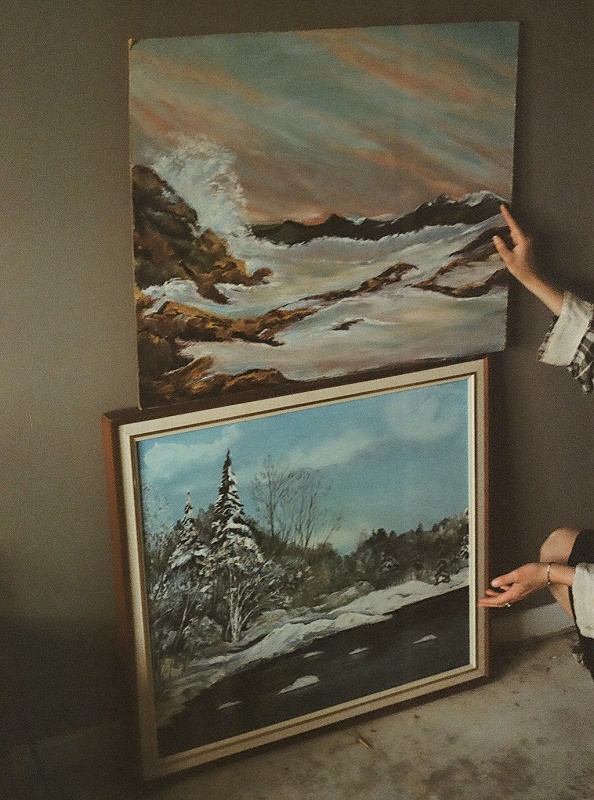 Family Paintings
My grandmother painted both of these. She's a painter, she has nine fingers. She still paints every day.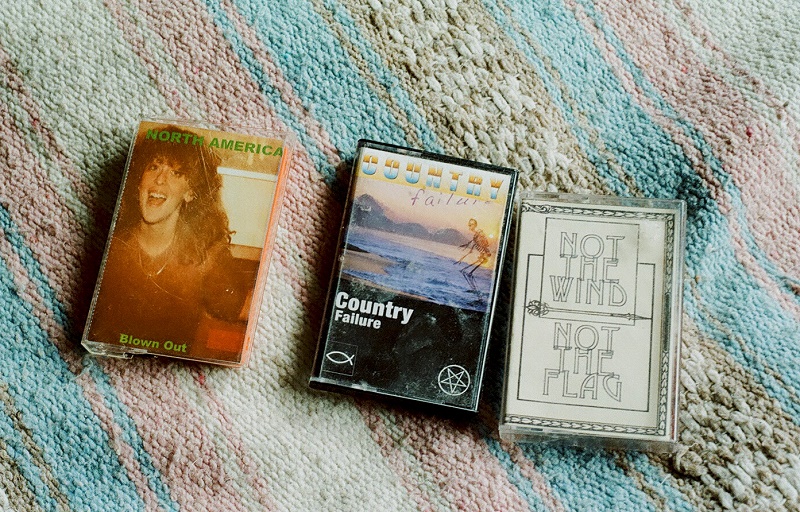 Favourite Cassettes
These are the three cassettes I listen to the most. North America, babes from New York. Their music was love at first sight, for me. It's two brothers who play psychedelic desert rock. Country from Montreal, Beaver Sheppard is the front guy. He's doing all these amazing new things, it's like apocalyptico pop music with freaky dance vibes. This Not the Wind Not the Flag is from a live show that they did a few years ago, Healing Power put it out. I was listening to this tape all through a break up, through moving out of a studio space, everything I did that was traumatizing for me and didn't know how to get through. I would put this tape on and go to another place.
Par les "yeah" et les "génial" de Brad Casey:
(Traduit par les méninges riches en fructose d' Émily Traichel)
Jaclyn Blumas du trio frère/soeur DOOMSQUAD est une femme ouverte au monde, à la perspective d'un autre monde entier. Elle parle d'expériences mystiques avec une désinvolture que la plupart des gens se réserverait pour raconter une simple course à l'épicerie. Elle se déplace avec légèreté, comme une danseuse, mais avec une nature enfantine, une merveilleuse inélégance. Tout ce qui sort de sa bouche est positif. On entend que des "yeah!" puis des "génial!", et elle s'adresse à nous directement, on est son unique centre d'intérêt. Lorsqu'elle nous quitte, elle est complètement ailleurs dans un autre monde. Sa maison, qui vacille entre le comfort bohémien et le bordel organisé, est chaleureux et bien équilibré. Ce n'est pas surprenant que la musique produite par DOOMSQUAD nous trompe avec sa complexité. C'est comme une spirale d'hypnose; de loin c'est simple et les couleurs se contrastent, mais lorsqu'on s'approche, elle avance uniformément vers ce qui semble être l'infini.
DOOMSQUAD, qui comprend Jaclyn, Allie et Trevor Blumas, s'est formé en 2010, créant de la musique trad formelle, style famille Carter. Ils n'ont pas tardé (à juste titre) de mettre leurs instruments acoustiques de côté en échange d'un nouveau départ électro-voyage avec leur EP Land 'O the Silver Birch. Ce voyage les a mené à leur premier album complet Kalaboogie, un album trempé de réverbération et rempli de chants scandés avec un léger brin de sensibilité pop, ensuite vers leur dernier EP, Pageantry Suite, qui fut autant influencé par Talking Heads que par de ténébreux partys de weekend «after-hours» enfumés et lourds de basse. Ils ont tourné avec Tanya Tagaq et Fucked Up, et la sortie de leur prochain album complet, prévu pour fin 2015, leur rapportera surement un tout autre niveau de succès.
Jaclyn était assez sympa pour nous permettre, nous à Weird Canada, de photographier certains articles éphémères qui la motive en tant qu'artiste et en tant que personne, et d'aborder les histoires qui donnent de l'importance à ses objets précieux.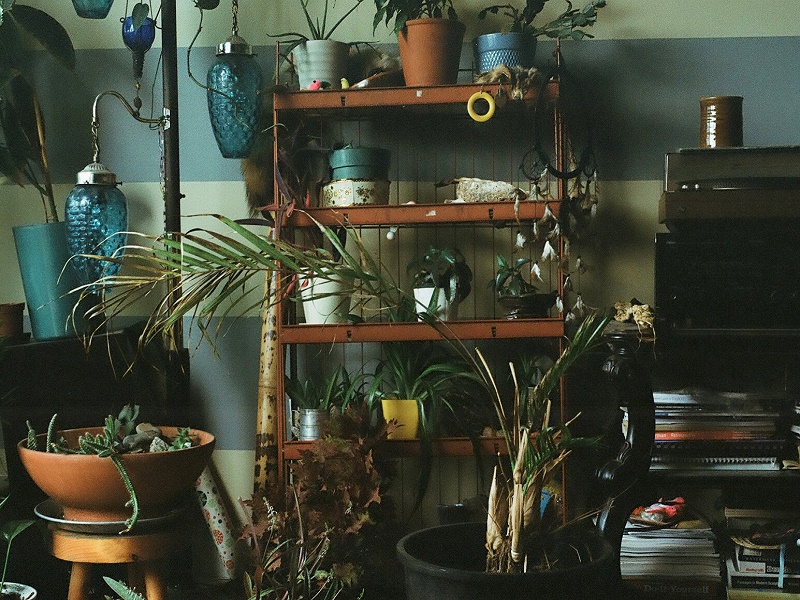 Plantes
Elles sont toutes différentes, certaines viennent de la blonde de mon colocataire. Celle-ci vient de ma nanny- on s'habituait à la décorer comme un sapin de Noël. Voici un cactus de Noël: cette plante devient rouge pendant l'été et verte pendant l'hiver. Je ne connais aucun des noms. Je sais comment m'en prendre soin par exemple, je les déménage de place en place jusqu'à ce qu'elles soient heureuses.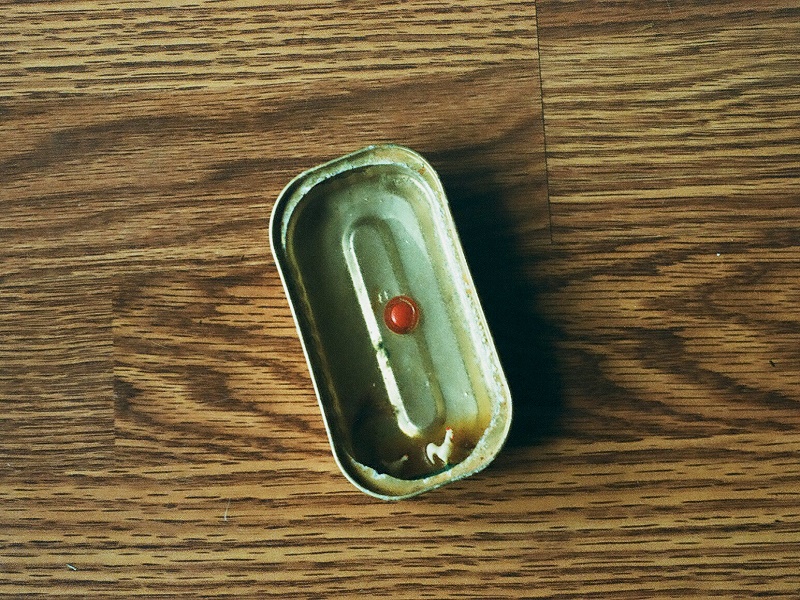 Art objet trouvé
Mon colocataire et sa blonde ont créé ça. Ils créent ce genre de choses et ensuite les jètent, mais celle-ci je voulais la garder. C'est une canette de sardines, de la résine, un petit poulet et un soleil.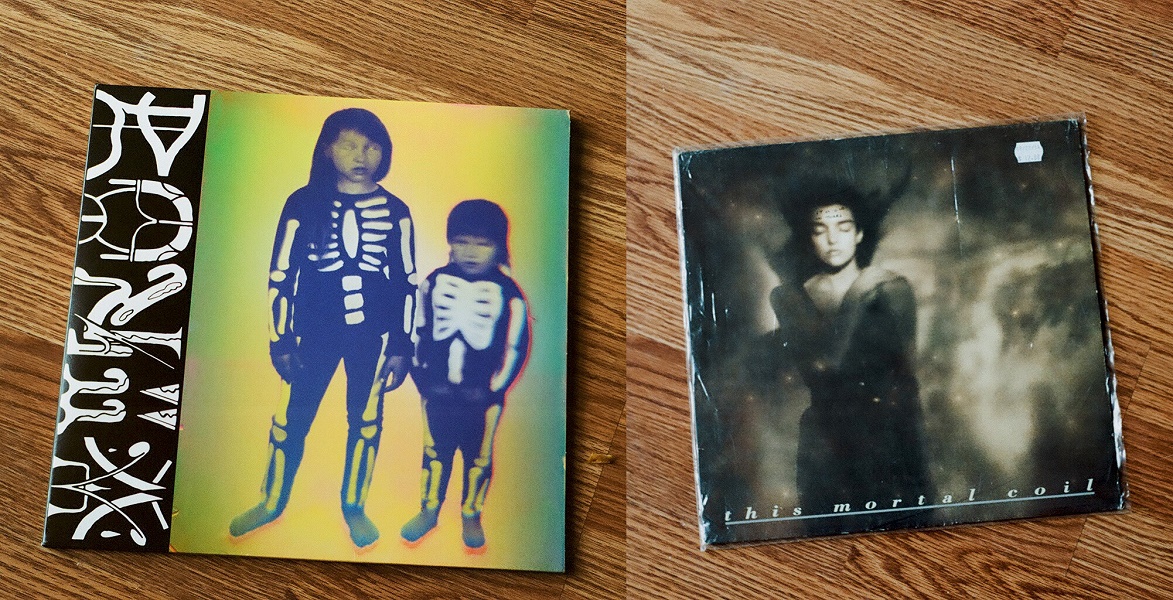 Albums préférés
J'essaie de promouvoir Roniia au max. Voici un de mes albums préférés en ce moment. On les connait de North America et Roniia sont amis avec, on s'est tenu avec eux à Minneapolis. Ils sont crissement bons. Ils devraient jouer dans les stades, ils l'ont vraiment leur affaire. Aussi, This Mortal Coil. C'est une compilation des années 80s, c'est trop bon, il y a des reprises géniales de Kangaroo et de Song to the Siren.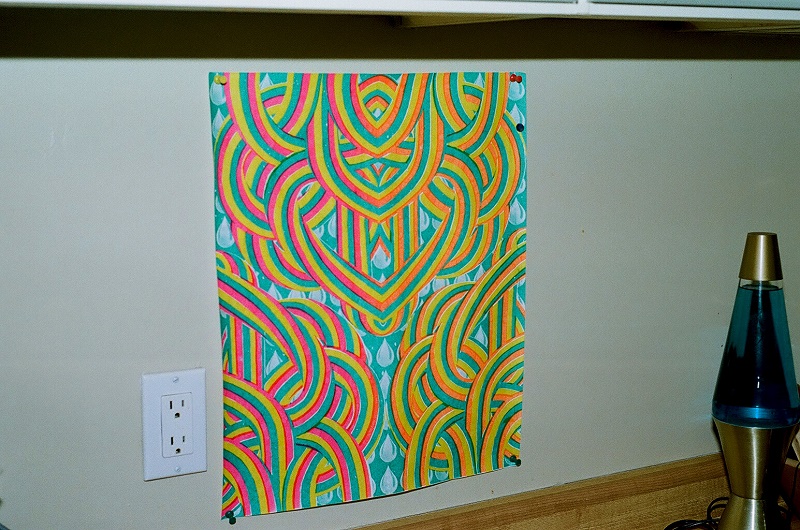 L'art d'Alex MacKenzie
Alex a fait ça pour Come Up to My Room, un évènement que j'ai aidé à organiser au Gladstone. Elle a fabriqué une tente marocaine avec ce motif. Quand la lumière changeait de bleue à rouge, ça sautait aux yeux et ça bougeait. C'était une tente active, dynamique. Ceci en est une image.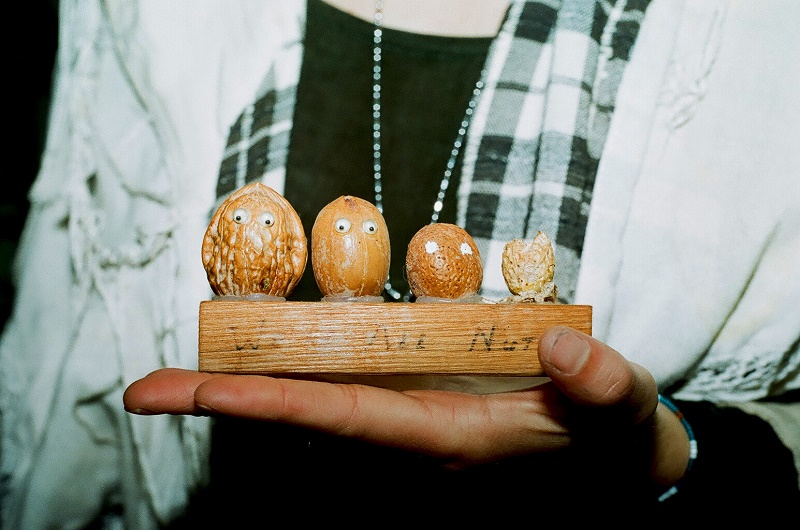 « We Are All Nuts »
Notre chalet de famille était en Calabogie. On y a fait nos adieux l'année passée en fait. C'est là où on avait écrit notre album Kalaboogie. Le chalet était rempli de choses qui étaient importants pour mes grand-parents et ceci en était une. Une petite souris est venue manger la peanut ici au bout. Ça dit « We Are All Nuts. »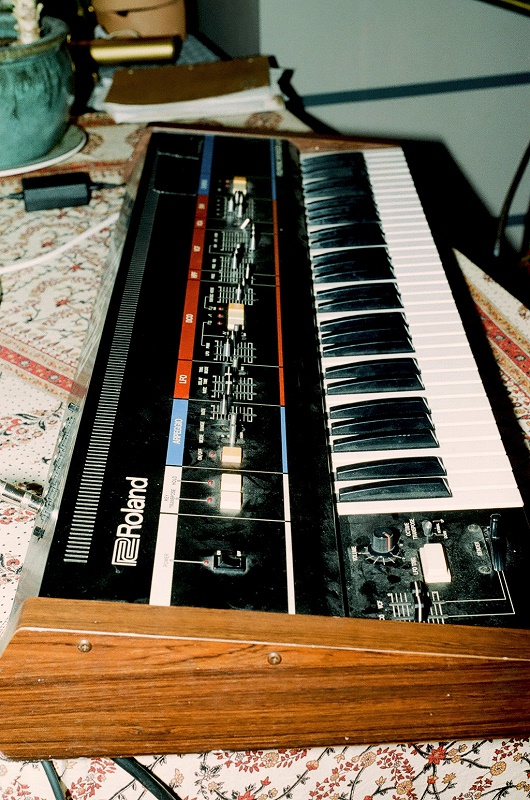 Clavier Roland
Ceci m'a été donné à emprunter indefinitivement. La personne n'a pas encore demandé de le ravoir, ça fait sept ans que je l'ai. Ça appartenait à ses grand-parents puis il ne savait pas ce que c'était. Je m'en suis servie pour presque chaque enregistrement de DOOMSQUAD. Il est trop capricieux pour amener en voyage.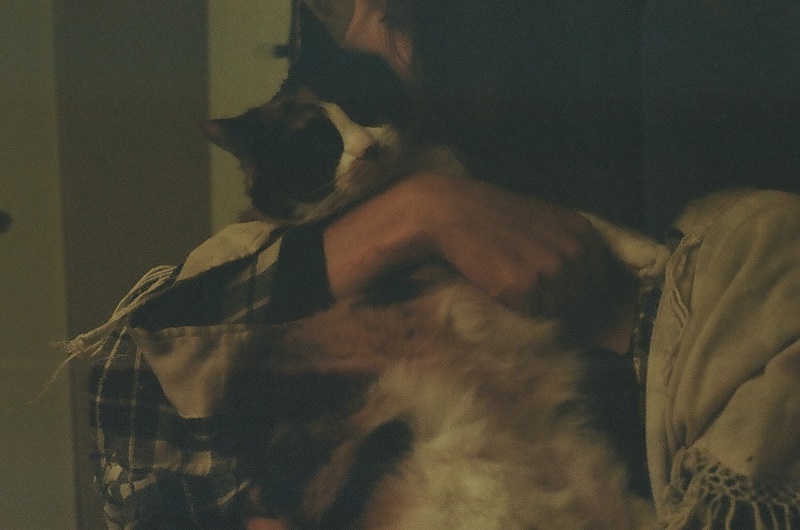 Bowie la chatte
Voici Bowie. Je l'ai eue à Vancouver dans un bordel à Surrey, CB. Ils ont dit qu'elle était mâle. Je voulais surtout un chat mâle parce que je n'ai eu que des chattes, alors j'ai dit, « Pouvez-vous s'il vous plaît juste vérifier que c'est un mâle. » La fille a dit « Écoute, ça fait des années que je fais ça, » elle avait la face pleine de crème pour les boutons et me dit, « c'est un garçon. » Alors pendant trois mois moi et Bowie on se tient ensemble puis je la traite comme un garçon. J'ai amené Bowie se faire stérélisé puis ils lui ont fait une hystérectomie. Le vétérinaire il dit, « Eh bien, c'est une fille. » J'ai dit « Êtes-vous sûr? » puis ils disent, « Oui. Nous lui avons fait une ovariectomie. » Ça fait neuf ans que je l'ai.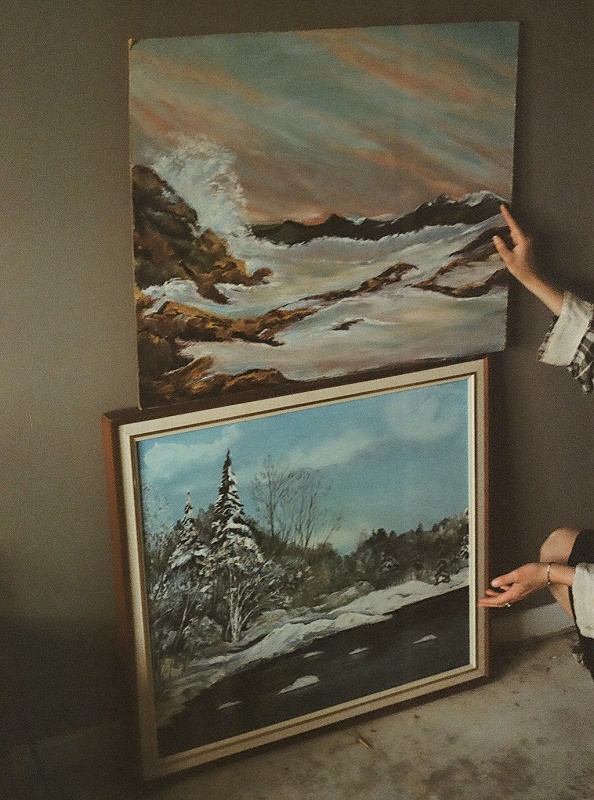 Peintures de famille
Ma grand-mère a peint ces deux-cis. Elle est peintre, elle a neuf doigts. Elle peint encore à tous les jours.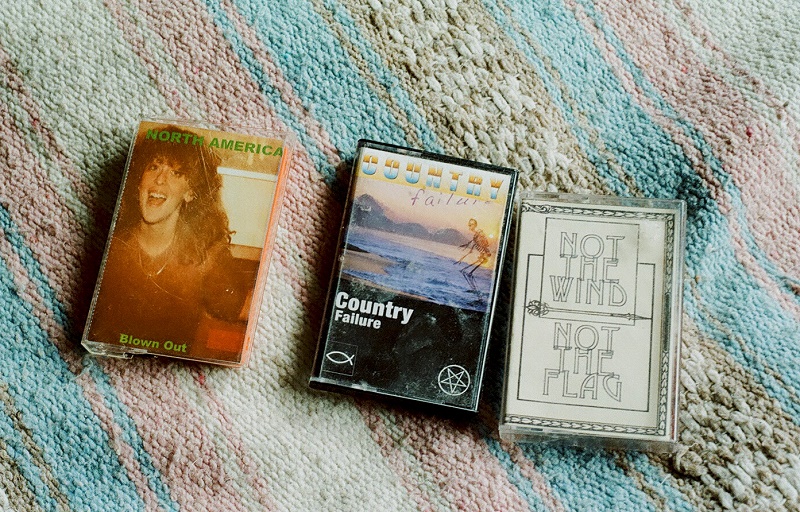 Cassettes préférées
Voici les trois cassettes que j'écoute le plus. North America, mes chéris de New York. Leur musique était le coup de foudre pour moi. Ce sont deux frères qui jouent du desert rock psychédélique. Country de Montréal, Beaver Sheppard est le leader. Il fait plein de nouvelles choses interessantes, on dirait de la musique pop apocalyptico avec un air de danse marrant. Celle-ci de Not the Wind Not the Flag vient d'un gig qu'ils ont fait il y a quelques années, Healing Power l'a publié. J'écoutait cette cassette tout au long d'une rupture, pendant que je déménageais d'un studio, tout ce que je faisais qui m'était traumatisant et que je ne savais comment endurer. Je branchais cette cassette puis je voyageais ailleur.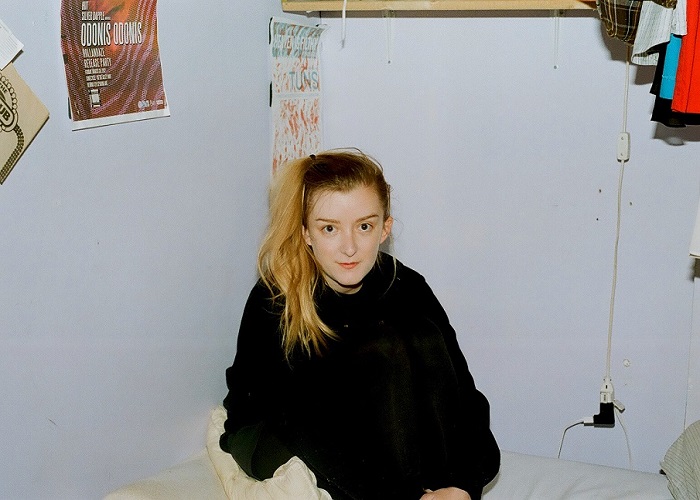 Ephemera of: Anamai
Existing during the recording of: Sallows
Toronto, ON
Photos by: Brad Casey
From the small objects of Brad Casey:
"As a kid I was always into small things. I think all the things I think are special are really small objects." Anna Mayberry is leading me through her small apartment that she shares with her partner and HSY bandmate Jude in Toronto's Chinatown. It's a white, one room dwelling, almost barren but for scattered books and show posters, basic necessities that make a home like pots and pans, a mattress on the floor. The kitchen doubles as a living room, the bedroom is low-ceilinged below a storage space and there is barely any natural light. She explains to me that this is meant to be a temporary housing solution as HSY rests between tours and any left over money goes into projects like the ethereal, beautiful, dark ANAMAI.
ANAMAI is comprised of Anna Mayberry and Dave Psutka, with Allie Blumas helping with live support when not wrapped in duties with her band DOOMSQUAD. After releasing a lo-fi, self-titled EP in late 2013 with Buzz Records, ANAMAI went into Halocline Trance studios in Toronto to record their first full length, Sallows. It's just under an hour of songs that push and pull between formal songwriting and formless structure, often with a drone in the background keeping the listener grounded to Anna's strong, small voice.
Anna tells me, before I begin photographing, "I feel like I've gotten rid of so many things and tried to detach from things. So choosing the most special things? I've been trying hard not to do that!" But a detachment, a poverty of things, doesn't mean she's lacking in special objects. Anna proudly displays to me the things she hasn't yet detached from, each with a story that pulls her back, sometimes hundreds of years, into family, love and the magic with which most special objects are imbued.
Barbie the Bike: It used to be pink and purple and I named it Barbie. I had it for a few years and now it's just a reminder that you have to take care of your bike. I named it Barbie because it was really girly but it was awesome, like a tough road bike. Until I have a new bike I'll keep Barbie under my table.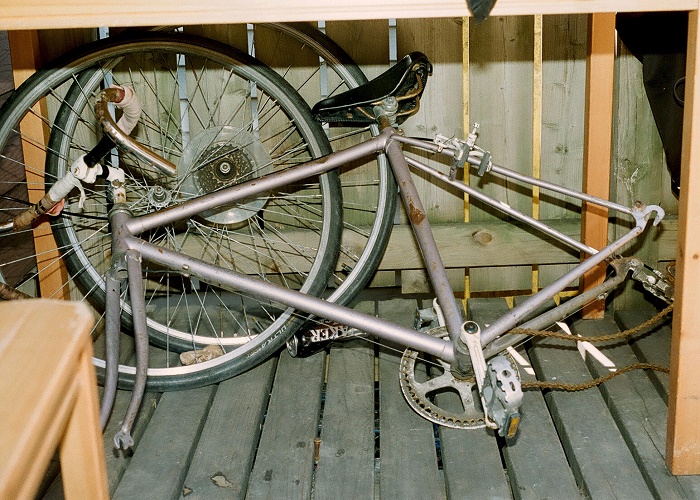 Winter Coat: This coat reminds me of the Lion King. It always makes me feel like a more awesome, animal version of myself. I got it at this store in Montreal, I went in five times to look at it and it was always still there. Every time I went in and talked to the guy who ran the store he'd tell me things about myself while I wore it. Like, "Oh, it goes with your eyes. You want people to look at you." And I'd be like, "Noooo!" (laughs).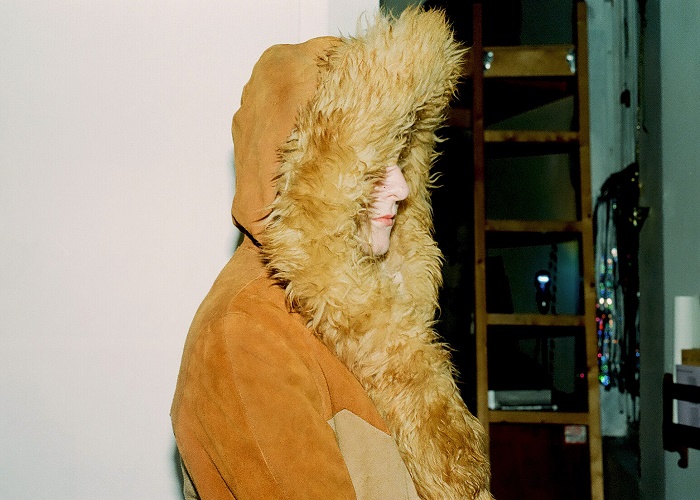 Swedish Book of Psalms: My Swedish grandmother gave this to me. I think it was my great-great grandmother's. I can't read Swedish. This is really old, there's a date in here…1825. It's all hand stitched together. I posted a picture of it to a blog from Sweden and someone said it was the most unreal, illegible Swedish they'd ever read. I think it's a bunch of psalms but there's funny little notes in it and this two of spades for some reason, which is a pretty auspicious thing for a person who's very Christian to keep in this book.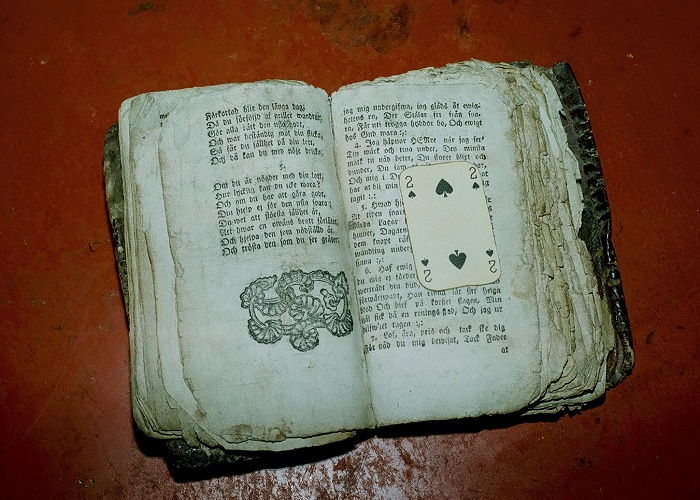 Secret Tin: I've had this for a long time. It was my secret tin when I was younger. When I was a kid I also went through all the provinces on road trips so it's like a token of my childhood. I don't think I've seen all those flowers though.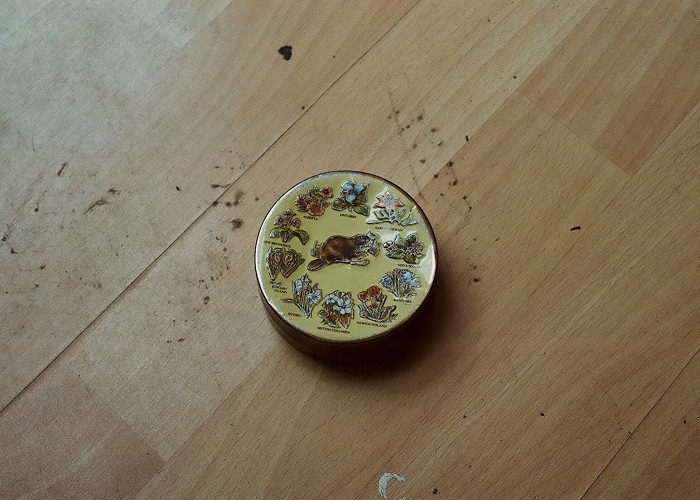 Dead Air Plant: I got an air plant and it died because I didn't water it. So I put this guy in the water. I think this is like how I feel. I'm not good at taking care of plants but I think I'm getting better.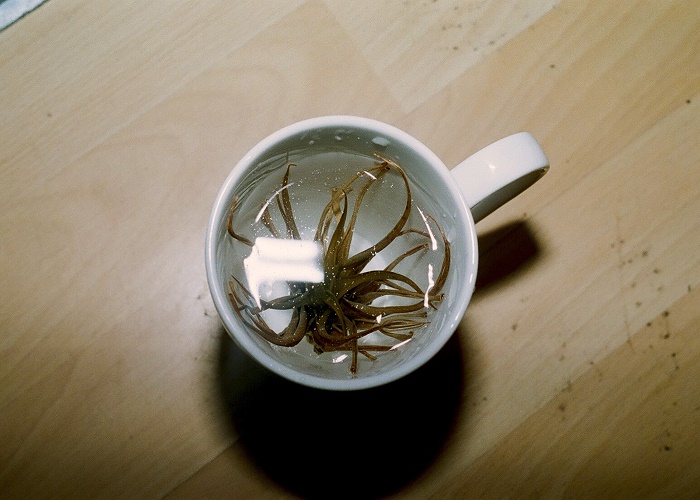 Problem Book: This I found in a second hand store. It's called "Drum and Candle: First Hand Experiences and Accounts of Brazilian Voodoo and Spiritism." There's a lot of interesting problems with this. It's all about witchcraft but it's from this very colonial perspective. It's by this white guy who investigated witchcraft, but there's some great graphics in it. I've always wanted to use them for something. I like the clinical, sort of colonial way all these crazy, awesome spiritual events are written about. Like, why are these characters in suits? I don't think this is how it happened at all.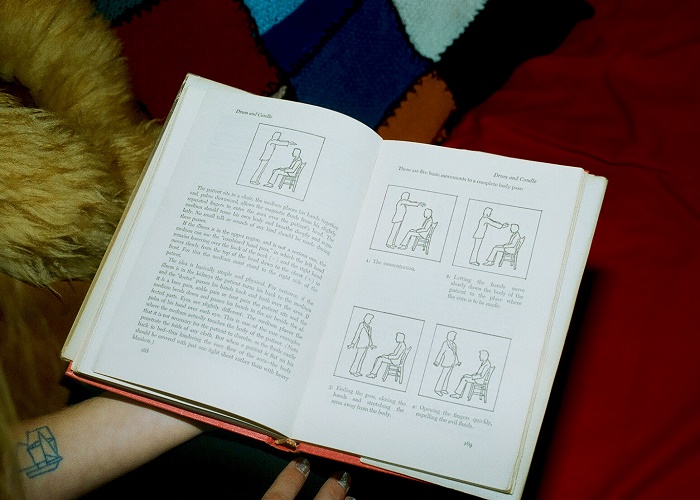 Strange Elvis: This was a gift. I don't know anything about it. I mean, it's Elvis but I don't know what these symbols mean. It's just funny to me. I like how someone went to all the trouble to make this and varnish it. Maybe it was someone's school project? I hope those symbols say, "Elvis," or, "The King."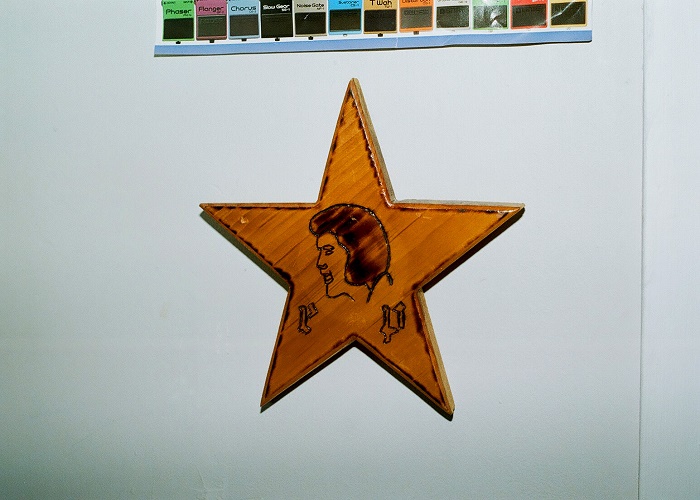 Light Refracting Glass: These are made to refract light. This brown one is kind of sad because we don't get light in this window, plus there are these bars, so it's kind of depressing. But I like the blue and clear ones.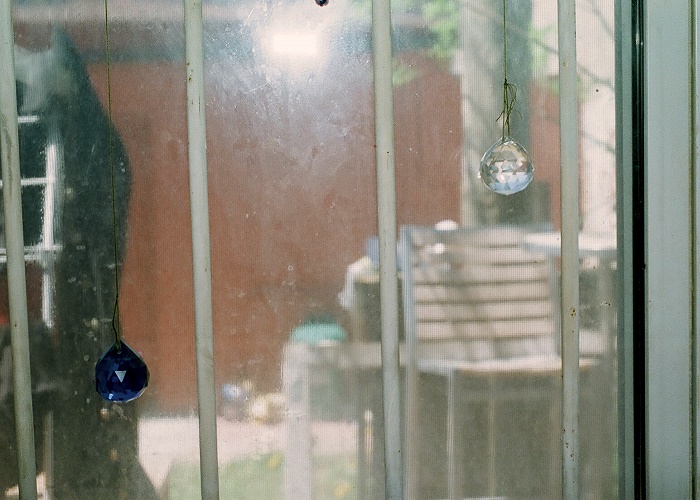 Tiny Elephants: My Dad used to have a couple little carved elephants. At some point I decided that elephants were "his thing" so I always used to find little elephants and give them to my Dad. Even though he only had two, it's like I made him start collecting elephants. So this is for him.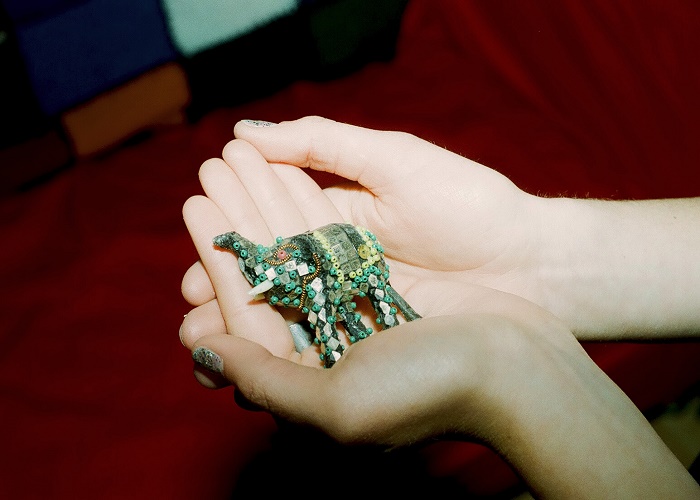 Des petits objets de Brad Casey:
(Traduit par le capharnaüm de petits objets d' Aliké Harel)
« Petite, j'aimais toujours les petites choses. Je crois que toutes les choses que j'aime sont de petits objets. » Dans le quartier chinois de Toronto, Anna Mayberry me guide dans son petit appartement qu'elle partage avec Jude, conjoint et co-membre de HSY. L'habitation se résume à une pièce aux murs blancs, presque dénudée, hormis çà et là quelques livres et affiches de spectacle, les essentiels d'une maison, ustensiles, chaudrons et un matelas au sol. La cuisine fait également office de salon, sous un espace de rangement se trouve la chambre à coucher au plafond bas, et la lumière du jour y est rarissime. Elle m'explique qu'il s'agit d'un logement temporaire pour poser pied à terre entre les tournées de HSY et pour que tout surplus d'argent retourne dans les projets comme le beau, sombre et éthéré ANAMAI. ANAMAI comprend Anna Mayberry et Dave Psutka, Allie Blumas au soutien technique pendant les concerts… lorsque le devoir ne l'appelle pas pour son propre groupe DOOMSQUAD. Après le lancement d'un album EP lo-fi à la fin de 2013 pour Buzz Records, ANAMAI s'est rendue chez Halocline Trance studios à Toronto pour l'enregistrement d'un album LP, Sallows. Un peu moins d'une heure de chansons qui oscillent entre la composition en règle et la structure sans règles, un drone en trame de fonds accompagne souvent la petite et forte voix d'Anna et garde le mélomane sur la terre ferme. Avant que je commence à prendre les photos, Anna me dit : « J'ai l'impression que je me suis débarrassée de tant de choses pour essayer de me détacher. Choisir les choses les plus spéciales… je me suis vraiment efforcée de le faire! » Un détachement, une pauvreté de biens ne signifie en rien qu'elle manque d'objets spéciaux. Anna me montre fièrement les choses desquelles elle ne s'est pas départie, chacune a une histoire qui la ramène, parfois des centaines d'années en arrière, à la famille, à l'amour et à la magie qui se sont imprégnés dans chaque objet.
Le vélo Barbie: Il était rose et mauve avant, je l'ai donc appelé Barbie. Je l'ai utilisé quelques années et maintenant il me rappelle simplement qu'il faut prendre soin de son vélo. Je lui ai donné le nom de Barbie parce qu'il fait vraiment petite fille, mais il est génial, un vélo de ville solide. Jusqu'à ce que j'aie un nouveau vélo, je vais garder Barbie sous la table.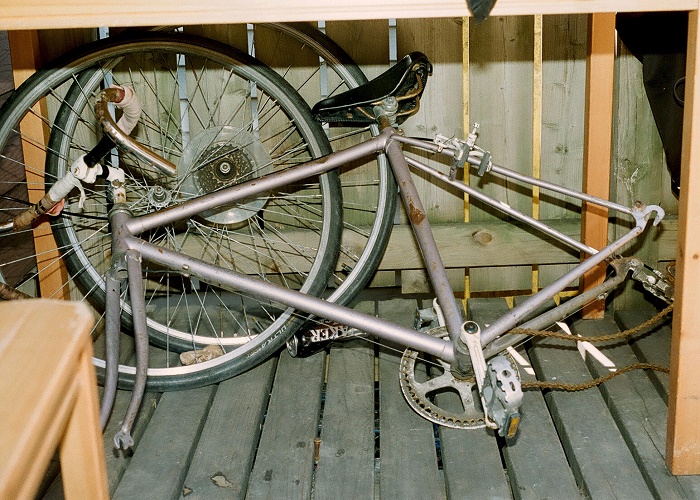 Manteau d'hiver: Ce manteau me fait penser au Roi Lion. Il me donne l'impression d'être une autre moi, une version augmentée et bestiale de moi-même. Je l'ai déniché dans une boutique de Montréal, j'y suis entré cinq fois pour le regarder et il y était toujours. À chaque fois que j'entrais et parlais avec le gars propriétaire de la boutique, il faisait des commentaires à mon sujet pendant que je portais le manteau. Du genre « Oh, ça match avec tes yeux. Tu veux attirer le regard. » Ce à quoi j'ai répondu, « Nooon! » (rires).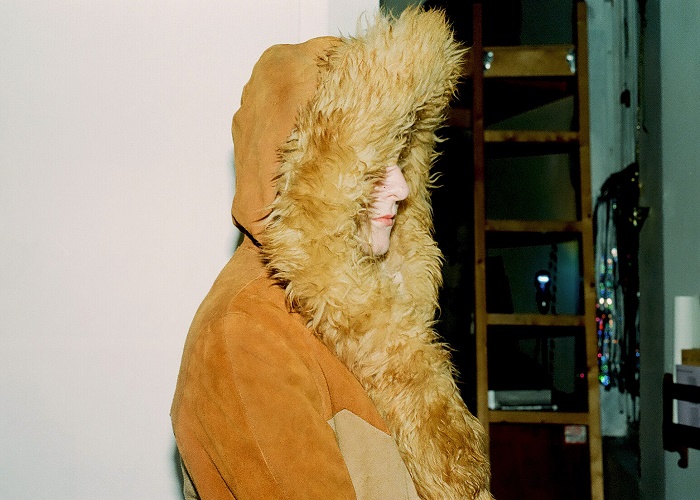 Les Psaumes en suédois: Ma grand-mère suédoise m'a donné ce livre. Je crois qu'il appartenait à mon arrière-arrière-grand-mère. Je ne sais pas lire le suédois. C'est vraiment un vieux bouquin, il y a une date à l'intérieur…1825. Il a été assemblé à l'aiguille. J'en ai envoyé une photo à un blogue suédois et quelqu'un a dit que c'était le suédois le plus irréel et indéchiffrable jamais lu. À mes yeux, ce ne sont rien que des psaumes, mais il y a de drôles de notes d'écrites et ce deux de pique, pour je ne sais quelle raison… un peu louche qu'une personne très croyante l'ait gardé dans un livre biblique.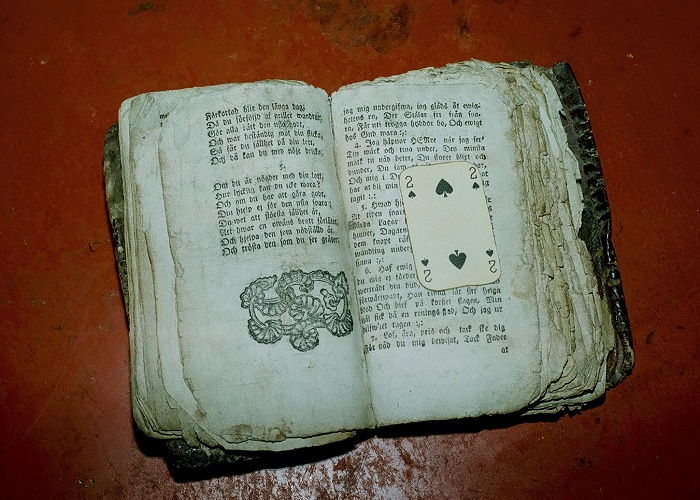 Coffret secret: J'ai ce coffret depuis longtemps. C'était mon coffre secret étant petite. Quand j'étais plus jeune, j'ai aussi voyagé dans toutes les provinces, donc ce coffre représente mon en enfance. Je ne crois pas avoir vu toutes ces fleurs par contre.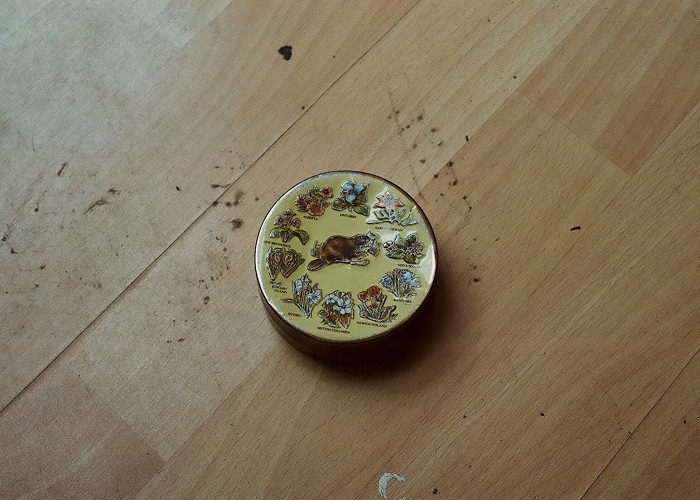 Fille de l'air morte: J'avais cette plante, une fille de l'air, et elle est morte parce que je ne l'arrosais pas. Alors, je l'ai mise dans l'eau. Je crois que c'est comme ça que je me sens aussi. Je n'ai pas le tour pour m'occuper des plantes, mais je crois que je m'améliore.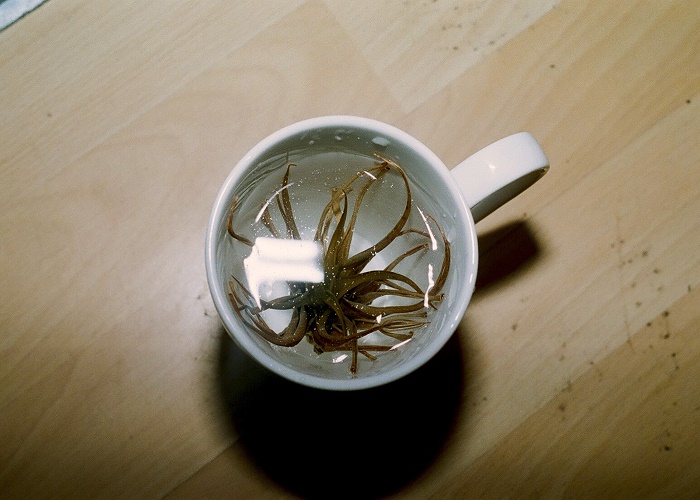 Livre à problèmes: J'ai trouvé ce livre dans une boutique d'occasion. Il s'intitule « Tambour et chandelle : Expériences et témoignages de vaudouisme et de spiritisme brésiliens ».* Ce livre pose une foule de problèmes. Il parle de sorcellerie, mais d'un point de vue totalement colonialiste. L'auteur est un Blanc qui a étudié la sorcellerie, les images restent intéressantes. J'ai toujours voulu les utiliser pour un projet. J'aime l'approche clinique, un peu coloniale utilisée pour raconter des expériences spirituelles déroutantes et fantastiques. Par exemple, pourquoi tous les personnages sont en habit-cravate? Je suis certaine que ça ne s'est pas du tout passé comme ça.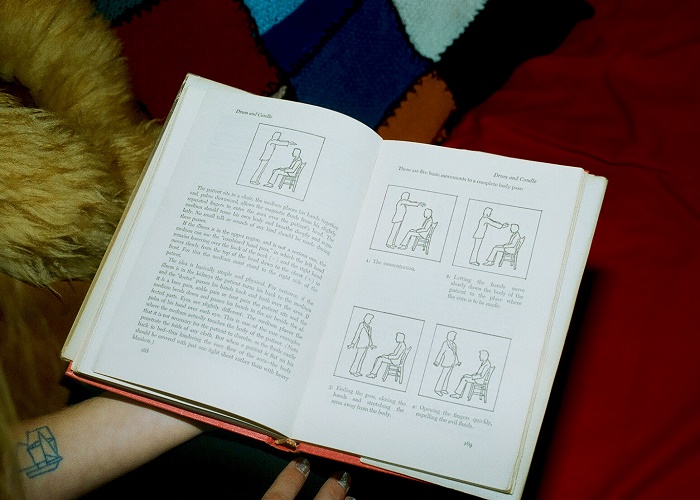 Étrange Elvis: Je l'ai eu en cadeau. Je ne sais rien de son histoire. Oui, c'est Elvis, mais je ne connais pas la signification des symboles. C'est un objet étrange. J'aime savoir que quelqu'un s'est démené pour le fabriquer et le vernir. Un projet scolaire, peut-être? J'espère que ces symboles veulent dire « Elvis » ou « The King ».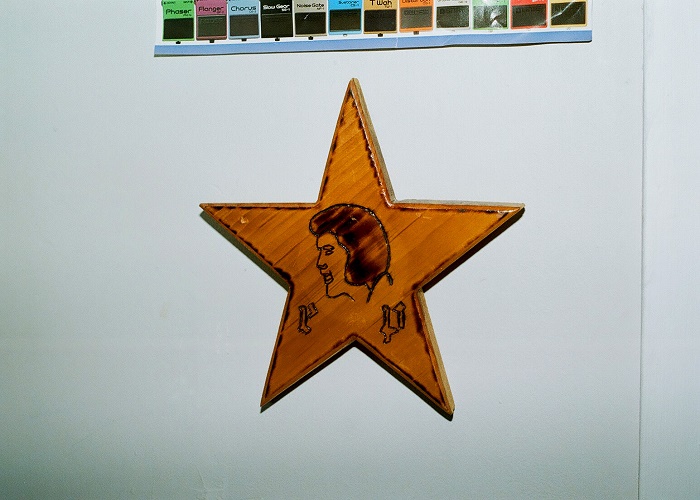 Pierre qui réfracte la lumière: Ces pierres servent à réfracter la lumière. La brune est un peu triste parce la lumière ne traverse pas cette fenêtre. En plus, il y a ces barreaux, c'est plutôt déprimant. Par contre, j'aime la bleue et la transparente.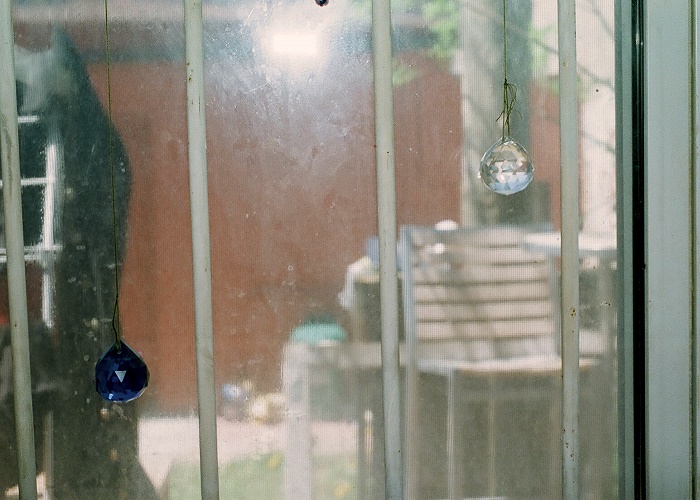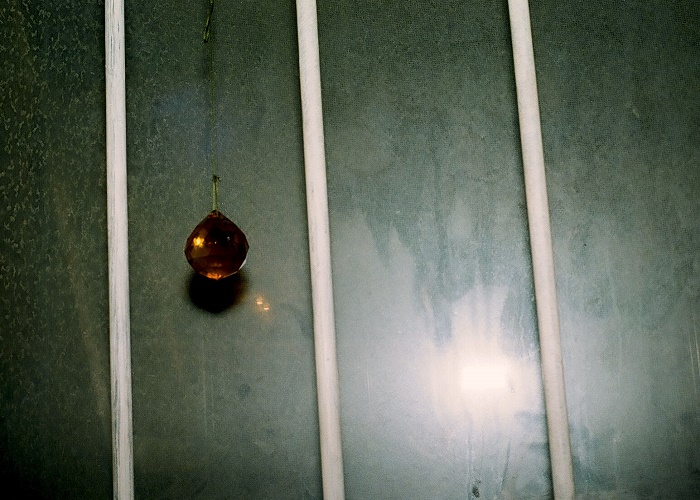 Éléphants miniatures: Mon père avait quelques petites sculptures d'éléphants. À un moment donné, j'ai décidé que, les éléphants, c'était « son truc » et je trouvais tout le temps de petits éléphants à lui donner. Il en avait pourtant seulement deux. C'est comme si je l'avais poussé à collectionner les éléphants. Celui-ci, c'est pour lui.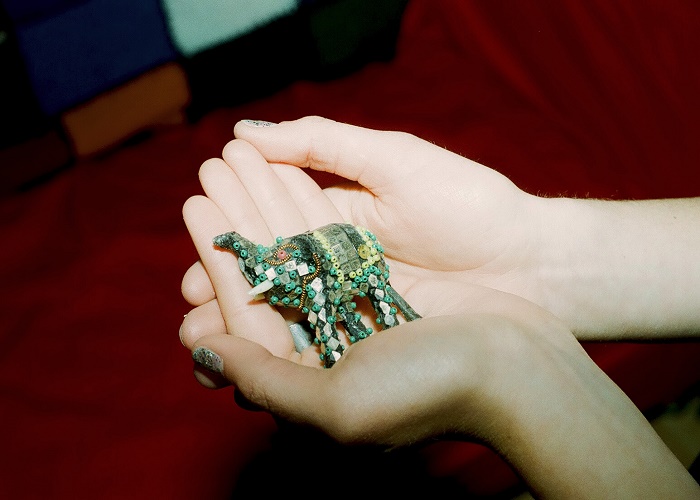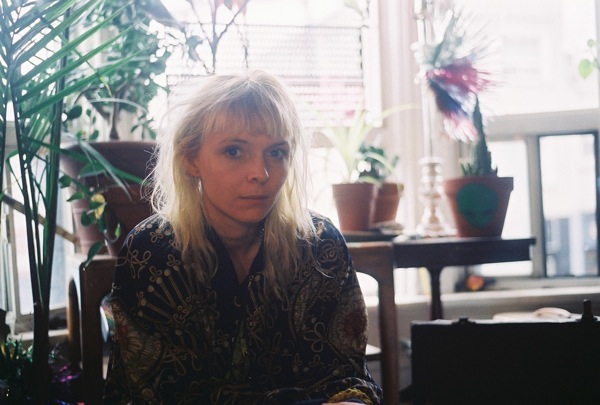 Ephemera of: Alexandra Mackenzie
Existing the recording of: Petra Glynt
Toronto, ON
Photos by: Brad Casey
From the yoyo hand of Brad Casey:
"Is this ephemera?" Alex Mackenzie, who is Petra Glynt, keeps asking me. Alex has a nervous energy that comes across charming, she fiddles with her fingernails and looks into the middle distance, away from you, when she speaks. When she does make eye contact she opens her eyes wide, her eyes constantly asking, "Right? You know what I mean?" with a demure, reserved sort of affection. She giggles a lot. She gets you on her wavelength this way. I reassure her constantly that whatever she wants to show me can be ephemera, as long as it's important to her. Everything seems important to her. She covers every object she owns with her personality. She chooses her few words in quick bursts. She expresses herself most strongly in her visual art and her music. And her music is expressive. Sharp, multi-layered, foreboding, warm, with a darkness that doesn't overpower her very bright light.
Petra Glynt released her lush 5-song EP Of This Land in 2013. Currently she is recording a full length which she aims to release late 2015. The photos contained herein were taken both at her Toronto apartment on Bloor St and at her partner Brian's apartment in Parkdale.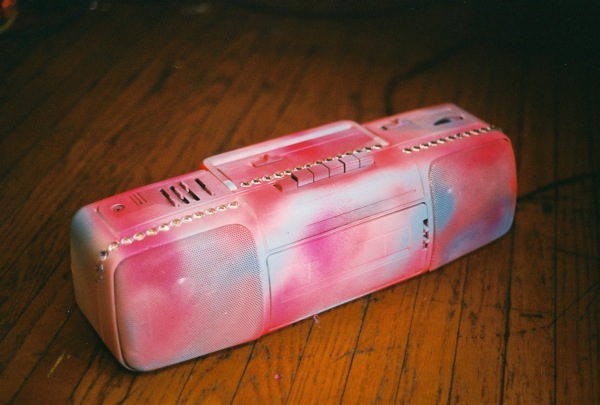 I got this to listen to the radio. I listen to Coast to Coast a lot. It's a conspiracy radio show. Sometimes it's good, sometimes it's super out there. It's really entertaining.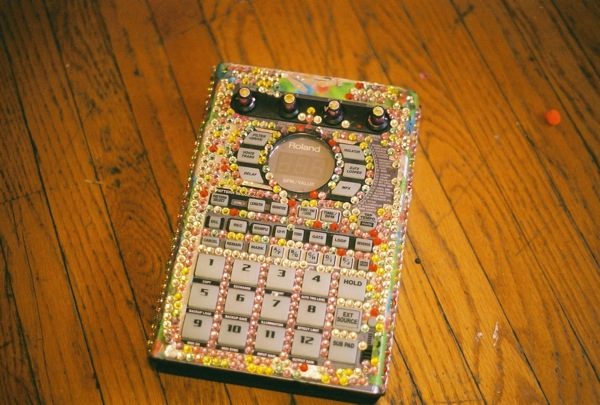 I cover a lot of things in rhinestones. Mostly I don't like to look at the brands. I use this sampler for live shows a lot.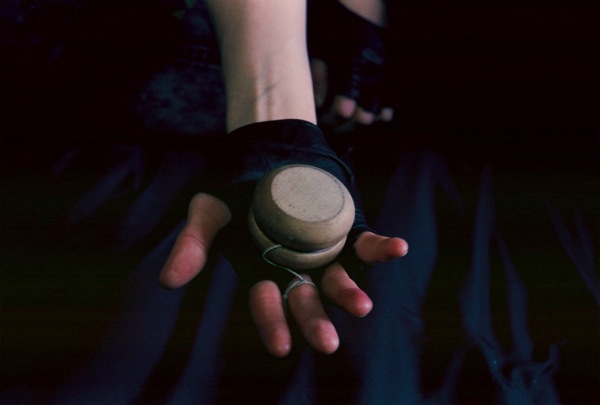 One day I decided I really wanted a yo-yo. My friend, she's a bike courier, she was delivering stuff and she went out of her way and delivered this to me. I can't do any tricks on it, it's the kind you just use. I want to get one of those fancy weighted ones.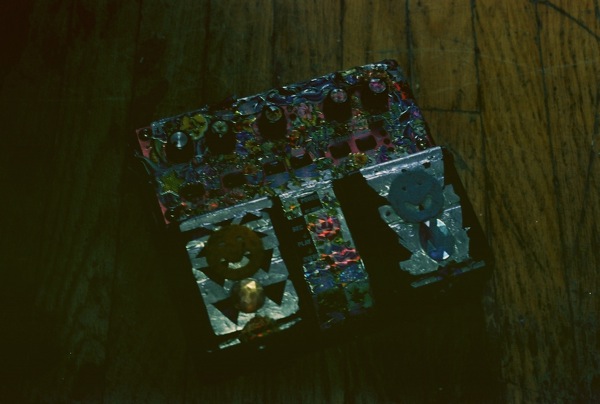 This one has lots of stories. It was one of my first pedals I ever got and it opened up my whole world. I was like shit, I can jam with myself. So I started doing that a lot, it's a lot of fun.
I used these patterns for an event at the Gladstone recently. I was DJing reggae songs in this huge tent and this pattern was surrounding it. I used three screens to make this print, which I've used a couple times now.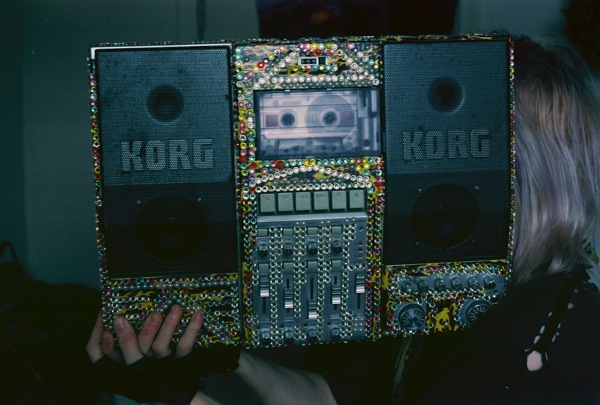 I bought this off eBay. It's really funny, it has speakers and effects. It has a doom metal setting! It's very tacky, like serious kitch. I used to record to it all the time. Not as much anymore though.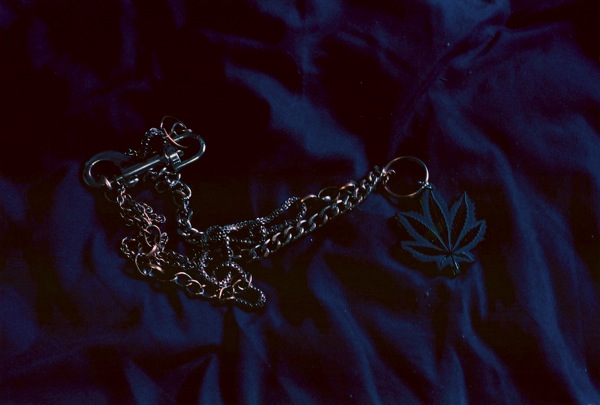 I wear this a lot. My friend made it. He works at Toronto Laser Services and he made it at work with lasers. I attached it to a bunch of metal chains.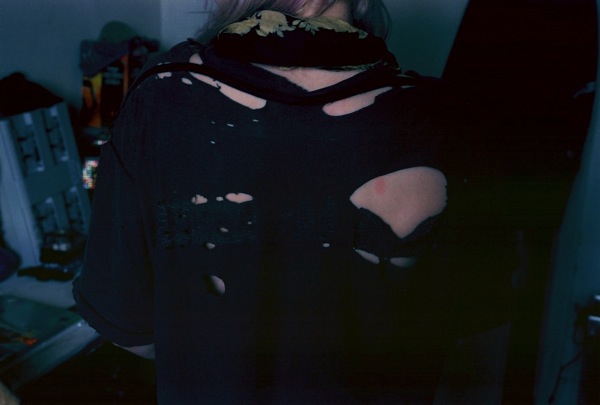 It's not nice but it's my friend Blake's Dad's shirt so it's important. Blake is my buddy. We lived together, he made the video for "Sour Paradise". I don't see him much now. I miss him.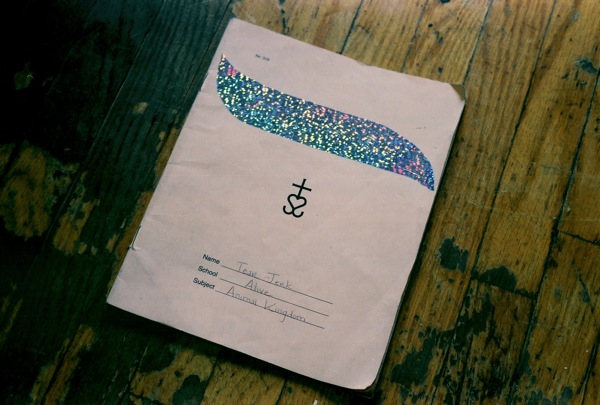 This is a journal. I write dreams and songs in it. I have a bunch of these. I like them because they are short and small so I can fill them quick and move on to the next one. I like to start a new book, it's exciting that way.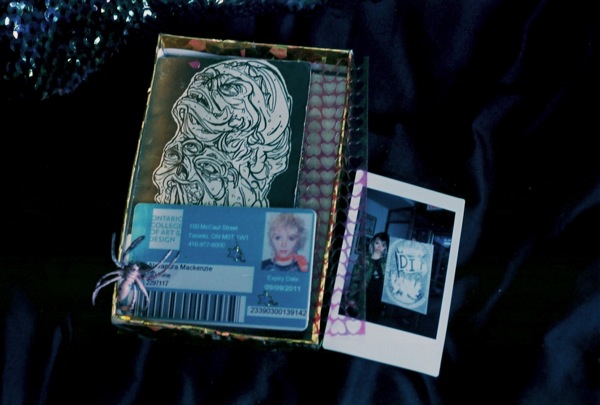 This is a box I gave to Brian. There's a spider ring, my old student ID, an old business card and a picture of me. That's ephemera, right?
De la main au yo-yo de Brad Casey:
(Traduit par Jessica Grenier)
« Est-ce que c'est éphémère? » C'est ce qu'Alex Mackenzie, alias Petra Glynt, n'arrête pas de me demander. Son énergie nerveuse la rend charmante : elle joue après ses ongles et quand elle parle, elle regarde dans le vide, à mi-chemin entre elle et moi. Quand elle établit le contact visuel, elle écarquille les yeux, comme s'ils demandaient, à chaque instant, « Tu vois ce que je veux dire? », avec une cordialité timide, pudique. Elle ricane souvent, et c'est de cette façon qu'elle t'amène sur sa longueur d'onde. Je la rassure sans cesse en lui disant que tout ce qu'elle veut bien me montrer peut être dans Ephemera, tant que c'est quelque chose d'important pour elle. Et tout semble important pour elle. Elle étale sa personnalité sur tous les objets qu'elle possède. Elle choisit ses quelques mots par élans impulsifs. Elle s'exprime plus fortement en art visuel et en musique – et sa musique est expressive : incisive, multidimensionnelle, précurseure, chaleureuse, avec une obscurité qui ne parvient pas à éclipser son éclat brillant. C'est en 2013 qu'est sorti Of This Land, son premier EP de cinq chansons luxuriantes. Elle enregistre présentement un album complet, qui devrait être terminé vers la fin de 2015. Les photos figurant ici ont été prises dans son appartement sur la rue Bloor, à Toronto, et dans celui de son copain, Brian, à Parkdale.
Chanson : (Of This Land) Chanson : (Sour Paradise)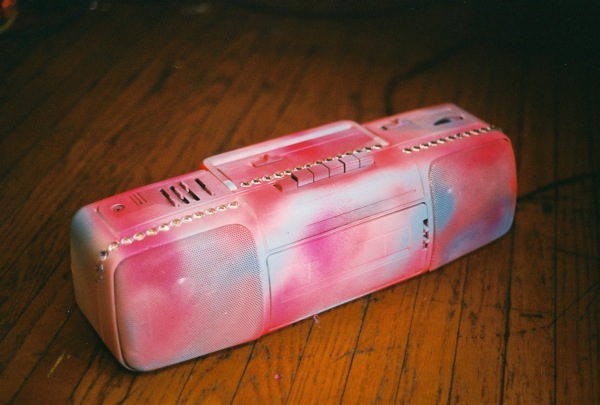 Je l'ai achetée pour écouter la radio. J'écoute souvent l'émission conspirationniste Coast to Coast. Des fois c'est bon, des fois c'est vraiment n'importe quoi, mais c'est toujours divertissant.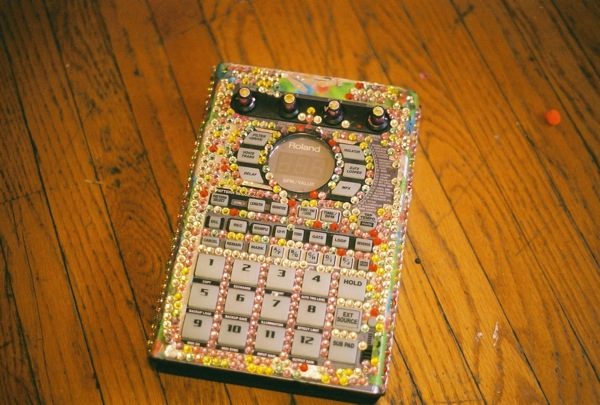 Je recouvre plein de trucs de faux brillant, principalement parce que je n'aime pas voir les noms de marque. J'utilise souvent cet échantillonneur pour mes spectacles en direct.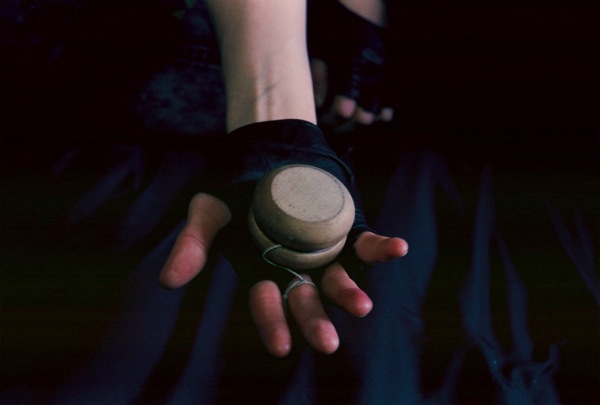 Un jour, j'ai décidé que je voulais vraiment avoir un yo-yo. Une amie, qui est messagère à vélo, était en pleine livraison, mais elle a fait un détour pour venir m'en porter un. Je ne sais pas faire de figures, c'est plus le genre avec lequel tu ne fais que jouer. J'en veux un lesté, de luxe.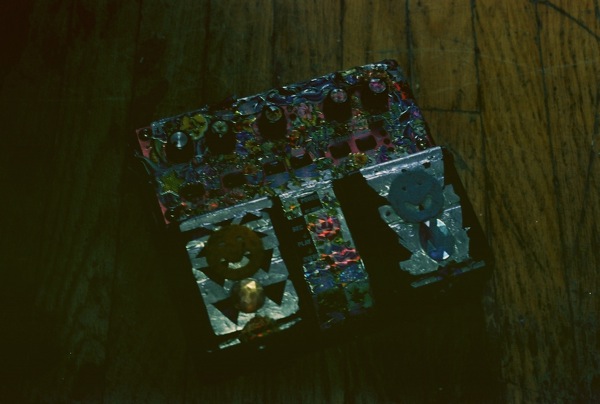 Il y a beaucoup d'anecdotes sur celle-là : c'est une de mes premières pédales, elle a ouvert mon univers. J'étais comme : shit, je peux jammer toute seule. Alors, j'ai commencé à le faire souvent, c'est vraiment l'fun.
J'ai utilisé ces motifs récemment, pour un événement au Gladstone. Je faisais jouer des chansons reggae sous un chapiteau qui avait ce motif tout autour. Ça fait quelques fois que je l'utilise, il a fallu trois pochoirs pour le faire. (4-Track)
Je l'ai acheté sur eBay. C'est vraiment drôle parce qu'il a des haut-parleurs et des effets. Il y a même un réglage doom metal! C'est vraiment quétaine, genre kitch assumé. Avant, j'enregistrais plein de trucs dessus, mais c'est plus vraiment le cas aujourd'hui. (Chaîne avec feuille de pot)
Je la porte souvent. C'est un ami qui l'a faite où il travaille, avec des lasers (il travaille chez Toronto Laser Services). Je l'ai attachée à des chaînes en métal. (Chandail déchiré)
Il n'est pas beau, mais c'est le chandail du père de mon ami Blake, alors il est important pour moi. Blake, c'est un copain, on a déjà habité ensemble. Il a fait le vidéo pour « Sour Paradise ». Aujourd'hui, je le vois moins souvent. Je m'ennuie de lui.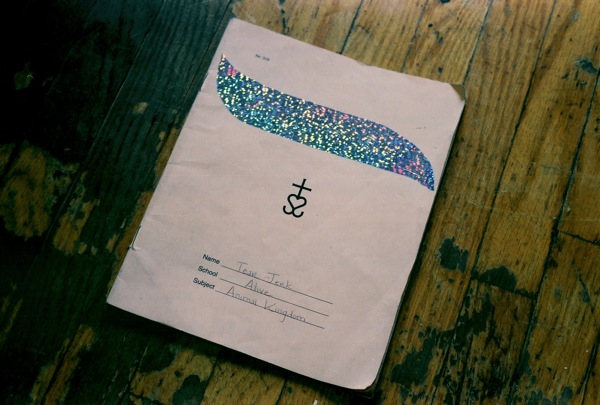 C'est un journal où j'écris des rêves et des chansons. J'en ai plein comme ça. J'aime ces cahiers parce qu'ils sont petits et minces, alors on peut les remplir rapidement et en commencer un autre. J'adore commencer de nouveaux carnets, c'est stimulant.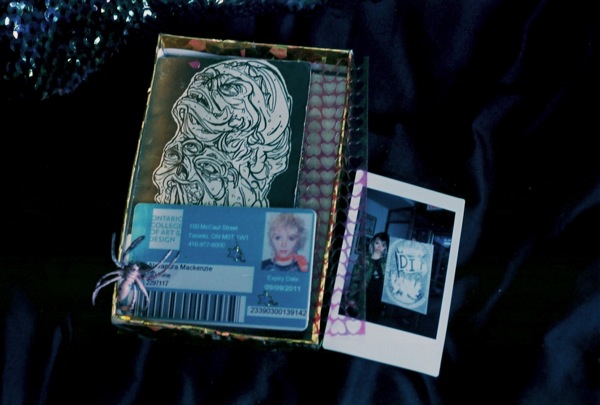 J'ai donné cette boîte à Brian. Dedans, il y a une bague en araignée, mon ancienne carte étudiante, une vieille carte d'affaires et une photo de moi. C'est éphémère, tu crois?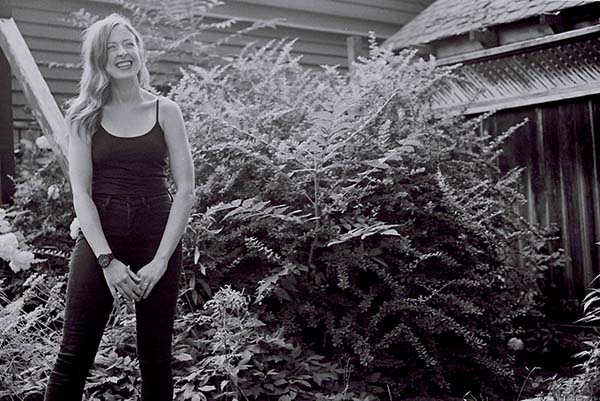 Ephemera of: Brooke Manning
Existing during the recording of: LOOM's Epyllion
Toronto, ON
Photos by: Brad Casey
From Brad Casey:
There is something incredibly delicate at the core of the music made by LOOM, like the ache that follows falling in love or the floating feeling of falling out of it. Brooke Manning, who is the main songwriter and driving force of LOOM, released a quiet, swirling EP in 2009. It was recorded in her living room with Thom Gill as well as Dan and Matt Pencer who improvised behind the songs on subtle, sweet keyboards and horns. A meditative collection with a strong focus on songwriting, it laid the foundation for what would become her full length, Epyllion, recorded on Toronto Islands. Made up of new songs and reworked songs from her EP, Epyllion featured a heavier, darker side of LOOM brought out with tunnel-reverb harps, frightening, distortion soaked synths and, at times, war-like percussion. Since Epyllion's release LOOM has expanded into a backing band with members of Silver Pools and Gates to work on a follow up. LOOM's words, her slow ease into a vibe, create a settling. Sit and breathe.
Weird Canada asked Brooke to show us objects that she holds sacred. She allowed us into her Toronto home and showed us things nostalgic, painful and held dear, all of which contribute to the words and music made by her slow and gentle hand.
Feel free to listen to these two songs from Epyllion as you view these photos. All words were dictated by Brooke, recorded and transcribed by Brad Casey.
Loom – There is Blood in My Body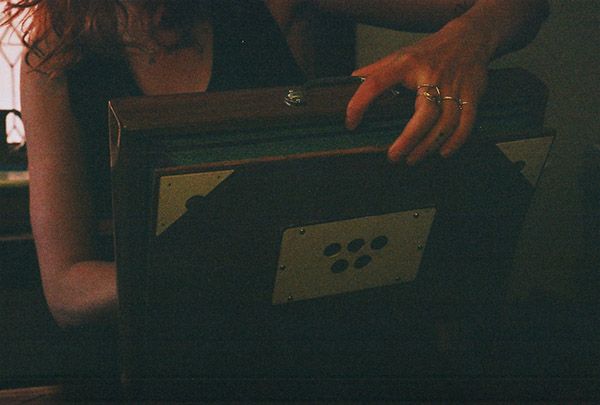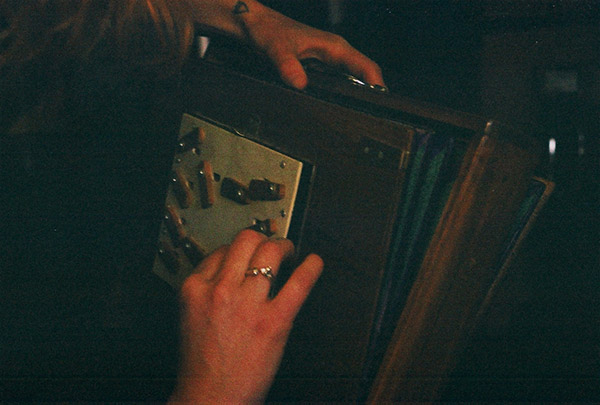 Shruti box
Sometimes if I'm feeling a block I sit with this for a while. It's like a drone machine. I bought it at the Musideum in the Richmond building back in 2008. A friend also gave me another one in different key 5 months ago. I find them really nice to sing to.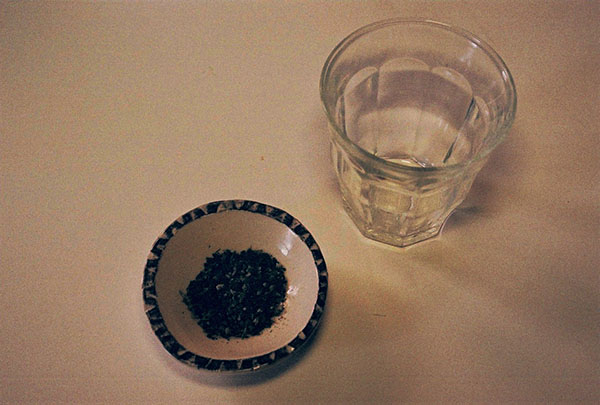 Uninhibitors
When I'm writing, if I feel nervous, I have some smokables and some wine. I don't have any wine right now but I drink it out of this cup.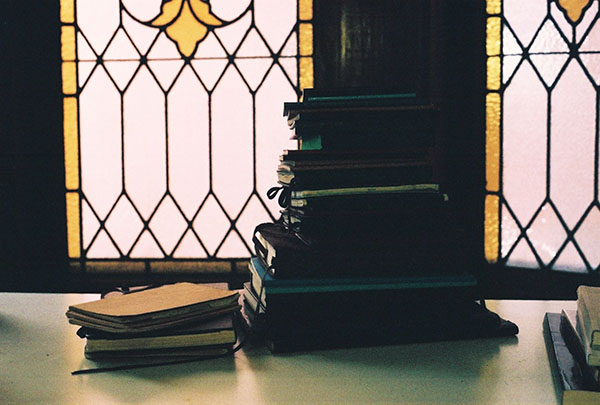 Journals
If I'm having problems lyrically, which rarely happens, I flip through old journals and old books of poetry that I wrote. I try to channel what's happening in that moment but sometimes if I'm wishing to speak about a certain moment or thing or cause or idea and I can't get there I'll go to my books.
Tinctures
Sometimes my anxiety gets in the way. It used to more when I was younger. I had a hard time performing knowing that someone was in my house, like my Mom or roommates, so I'd cloister myself in small spaces. Now things are better but when my anxiety comes back I take these tinctures and I swear they work. I know this older woman, she's this amazing mystic, she makes this tulsi tincture for women.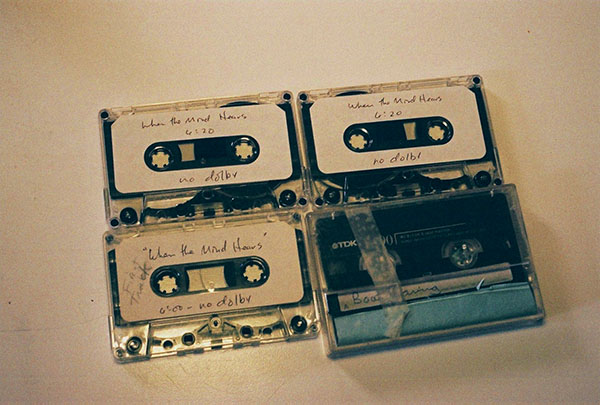 Deaf Recordings
A teacher of mine gave me these tapes. They're recordings of her daughter, who is deaf, just being around the house playing. They were part of a project she did and she thought I could use these. I grew up around a lot of deaf people because my parents worked at a school for the deaf. I went to kindergarten with a lot of deaf kids. I feel like there's a different, more mindful way of listening to them. I use these tapes for inspiration. It's good to hear that sense of silence when you're trying to create something with sound.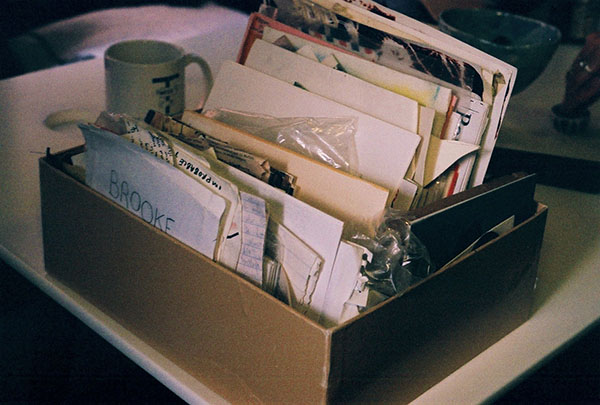 Love Letters
This is a box of notes from friends, family, lovers and people who have deeply influenced me. Sometimes I look through it but very rarely.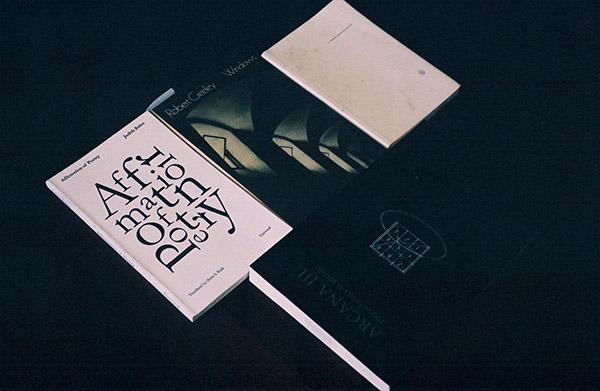 Books
These are my favourite books. Sometimes I open it up and read a page and try to place myself on that page, with the idea. I try to envision what's written about and it sets the tone for awareness in my body. It's a great thing for visualizing.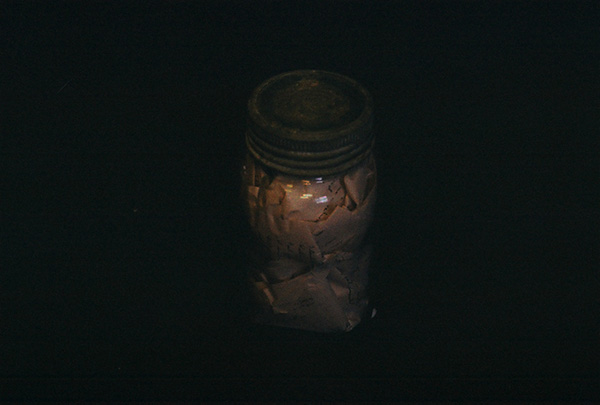 Jar of Souls
This is something I've had since I started playing and I'd bring it to shows. I did this funny project where I'd ask people if they could imagine their soul as something in a vessel, what would it be? I put an ad on craigslist and I got people to send them to me, these pieces of paper, and held them for a year and cared for them. I was never allowed to open the vessels because the vessels would release the soul. I've never opened it.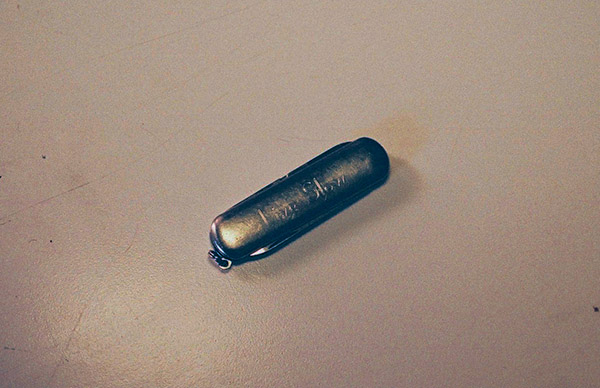 Live Slow Knife
This was my Grandpa's. Right before he died he was watching boats and I think he knew he was going to pass away. There a boat that kept travelling back and forth past the harbour and he would call me whenever he saw it and on the back it said 'Live Slow.' We had a lot of conversations then about what it meant to live slow and how he wished he had lived slower. Sometimes I lose it but it always gets sent back to me.
De Brad Casey:
(Traduit par Chantale Renée)
Il y a quelque chose d'incroyablement délicat au cœur de la musique de LOOM, comme la douleur qui suit le sentiment de tomber en amour ou la sensation de flottement lorsqu'on ne l'est plus. Brooke Manning, compositrice et force motrice de LOOM, a publié un EP calme et tourbillonnant en 2009. Il a été enregistré dans son salon avec Thom Gill ainsi que Dan et Matt Pencer, qui ont improvisé derrière les chansons avec des claviers subtiles et de douces cornes. Une collection méditative avec un fort accent mis sur ​​l'écriture, il a jeté les bases de ce qui allait devenir son album, Epyllion, enregistré sur les îles de Toronto. En constituant de nouvelles chansons et des chansons retravaillées de son EP, Epyllion présente un côté plus lourd et sombre que LOOM, avec des réverbérations de harpes, des synthés imbibés de distorsion, et, parfois, des percussions aussi effrayantes que la guerre. Depuis la sortie d'Epyllion, LOOM est devenu un back up band avec des membres de Silver Pools et Gates pour travailler sur un autre album. Les mots de LOOM, ainsi que sa facilité à créer une atmosphère, vous convient de vous Asseoir et de Respirer.
Weird Canada a demandé à Brooke de nous montrer des objets qui lui sont sacrés. Elle nous a permis de la rencontrer dans sa maison de Toronto et nous a presenté des choses qui pour elle sont nostalgiques et douloureuses, des objets qui lui tiennent à cœur et qui contribuent aux paroles et à la musique établi par sa tendresse.
N'hésitez pas à écouter les deux chansons de Epyllion pendant que vous regardez ces photos. Ce texte a été dicté par Brooke, et enregistré et transcrit par Brad Casey.
Boite Shruti
Parfois, si je me sens comme un bloc, je m'assois avec ça pour un moment . C'est comme une machine de drone. Je l'ai acheté au Musideum dans le bâtiment Richmond en 2008. Un ami m'en a aussi donné un autre, il y a cinq mois. Ils sont vraiment agréables à utiliser en chantant.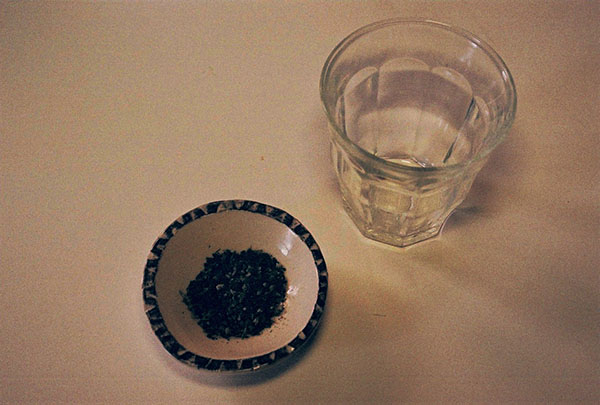 Uninhibitors
Quand j'écris, si je me sens nerveuse, je fume quelques cigarettes et bois du vin. Je n'ai pas de vin en ce moment, mais je le bois de cette tasse.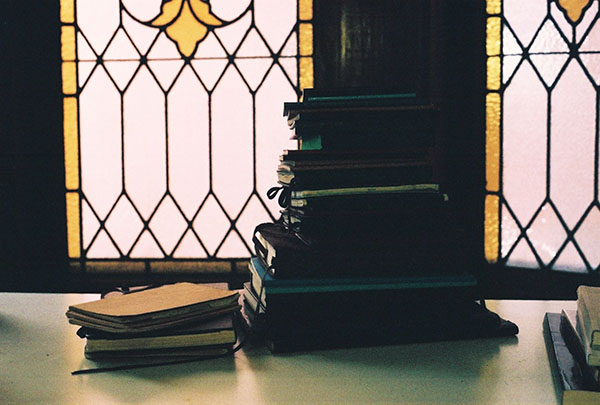 Journals
Si j'ai des problèmes à trouver des paroles, ce qui arrive rarement, je feuillette mes anciens journaux et vieux livres de poésie. J'essaie de canaliser ce qui se passe dans ce moment précis, mais parfois si je désire parler d'un certain moment, d'un objet, d'une cause ou d'une idée et que je ne peux pas y arriver, je retourne à mes livres.
Tinctures
Parfois, mon anxiété prend trop de place. Elle était souvent présente quand j'étais plus jeune. C'était difficile de pratiquer sachant que quelqu'un était dans la maison, soit ma mère ou mes colocataires, donc je me cloitrais dans des petites espaces. Maintenant, les choses vont mieux, mais quand mon anxiété fait surface, je prends ces teintures et je jure qu'elles fonctionnent. Je connais une femme plus âgée, elle est incroyable et mystique, elle fabrique cette teinture Tulsi pour les femmes.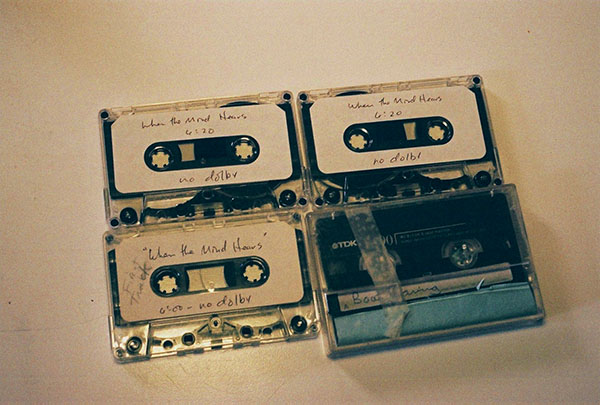 Deaf Recordings
Ceci appartenait à mon grand-père. Juste avant sa mort, il regardait attentivement des bateaux et j'imagine qu'il se doutait que sa vie s'achevait. Il y avait un bateau en particulier qui passait souvent dans le port. À l'arrière du bateau, on pouvait lire les mots "Vivez Lentement". Nous avons eu beaucoup de discussions à ce sujet, car mon grand-père souhaitait avoir pris plus son temps pour vivre. Parfois, je perds cet objet, mais il me revient toujours de nouveau.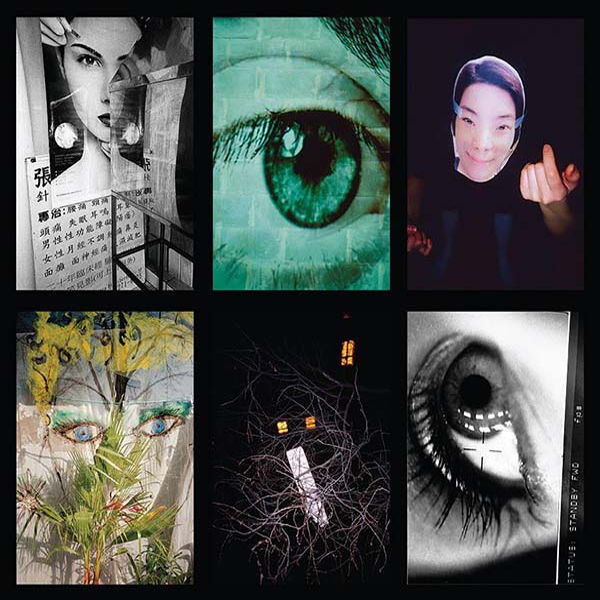 From the diner talk of Brad Casey:
There's this one boy in your class. He doesn't make eye contact with anyone. His hair is like a black rooster's comb. His jawline is so defined it's almost monstrous. He's thin but his skin is so tight he's vacuum sealed. Sometimes you glance across the expanse of bodies at their desks, hoping he'll look back, but he's casually drawing faces with a copycat Egon Schiele grotesqueness. His headphones drape around his neck like a dead animal. The bell will ring, and he'll walk out of the room shrouding the sides of his face with those same dead animal headphones while you wonder what he's listening to. You'll fantasize about telling him about Lee Paradise, how you'll put the needle to the record in his room. Everything smells like summer and he smiles and you could die like this. Just like this.
Du souper-causerie de Brad Casey:
(Traduit par Jessica Grenier)
Il y a ce garçon dans ta classe. Il ne croise jamais le regard des autres. Ses cheveux ressemblent à une crête de coq noire. Sa mâchoire est tellement bien dessinée qu'elle en est presque monstrueuse. Il est maigre – la peau étirée au point où il a l'air emballé sous vide. Parfois, tu jettes un regard sur l'étendue de corps assis à leur bureau en espérant croiser le sien, mais il est généralement en train de griffonner des visages grotesques à la Egon Schiele. Ses écouteurs pendent à son cou comme un animal mort. La cloche va sonner et il va se lever pour quitter la pièce, ensevelissant au passage les côtés de son visage dans ses écouteurs-animaux-morts pendant que tu vas te demander ce qu'il peut bien écouter. Tu t'imagineras lui parler de Lee Paradise. Déposer l'aiguille sur le disque dans sa chambre. On dirait l'été. Il sourit, et tu pourrais mourir à cet instant. Exactement comme ça.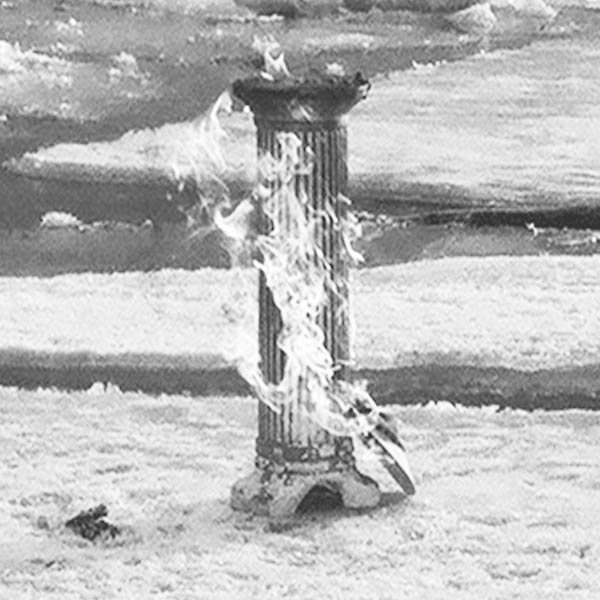 Vierance
Semblance
Toronto, ON
From the eyes like stars of Brad Casey:
Your grandmother once told you this: That someday you'd find yourself driving, and would realize that you didn't remember getting in the car, or how you got there. Then you'd stop, and what you did next was the most important. She was right, but you're outside and you're walking and it's deep night. The people in the streets are wearing white makeup, and capes hide their thin and anemic bodies. They don't notice you, or they hide in the shadows, and you can see their eyes like stars pulsing white through the alley space. You think about Garcia Lorca. You don't feel alone. You curse the dawn, and put on your headphones. This is what living must sound like from here, through the darkness.
Des yeux étoilés de Brad Casey:
(Traduit par Jessica Grenier)
Ta grand-mère l'avait prédit qu'un jour tu te retrouverais en train de conduire une voiture dans une direction inconnue sans aucun souvenir d'y avoir monté. Puis, tu arrêterais la voiture, et l'action posée ensuite serait la plus importante. Elle avait raison… mais tu es dehors, marchant dans la nuit sombre. Les gens dans la rue sont maquillés de blanc, et des capes recouvrent leurs maigres corps anémiés. Ils ne te remarquent pas, ou ils se cachent dans l'ombre – tu peux voir leurs yeux qui pulsent comme des étoiles blanches depuis l'allée. Tu penses à Garcia Lorca. Tu ne te sens en rien à part. En maudissant l'aube, tu mets tes écouteurs. Ce son doit être celui que produit la vie lorsqu'on l'entend d'ici, dans les ténèbres.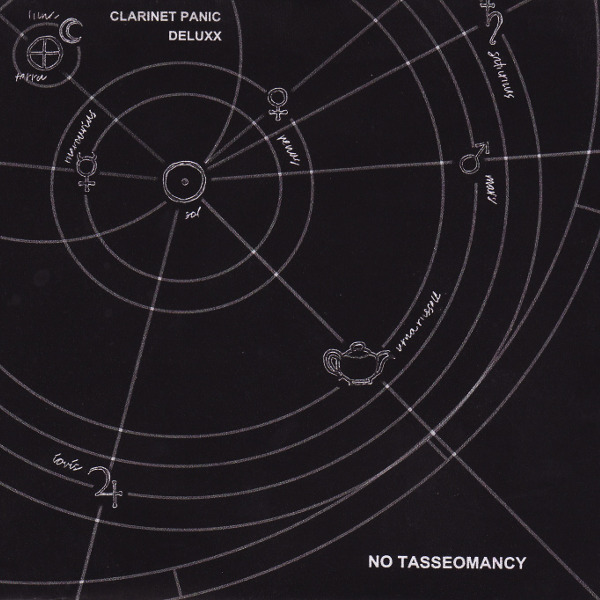 It's strange that this album is called No Tasseomancy. Often lines of sound follow different time signatures only to meet together abruptly and divide again. It is the synchronicity of events leading to an inevitable outcome. Much like the intuitive mysticism of tea leaf readers, this music finds tiny dots of connection in the chaotic movements of the universe. Maybe the movement away from tasseomancy conveys a forethought of the composer(s). No matter, it's a thoughtful sound.
Clarinet Panic Deluxx
No Tasseomancy
(Self Released)
Toronto, ON
From the tea leaves of Brad Casey:
It's strange that this album is called No Tasseomancy. Often lines of sound follow different time signatures only to meet together abruptly and divide again. It is the synchronicity of events leading to an inevitable outcome. Much like the intuitive mysticism of tea leaf readers, this music finds tiny dots of connection in the chaotic movements of the universe. Maybe the movement away from tasseomancy conveys a forethought of the composer(s). No matter, it's a thoughtful sound.
Des feuilles de thé de Brad Casey:
(Traduit par Sarah Mignano)
Il est étrange que le titre de cet album soit No Tasseomancy. Souvent, les ondes sonores se propagent dans différentes directions ne serait-ce que pour venir se croiser soudainement, puis se séparer à nouveau. C'est la synchronicité des évènements menant à un résultat inévitable. Comme le mysticisme intuitif des devins qui lisent dans les feuilles de thé, cette musique parvient à trouver de minuscules points de jonction au cœur des mouvements chaotiques de l'univers. Peut-être cette négation de la tasséomancie nous dévoile-t-elle une certaine prévoyance de la part du/des compositeur(s). Peu importe, il s'agit bien d'un son réfléchi.

Clarinet Panic Deluxx – No Tasseomancy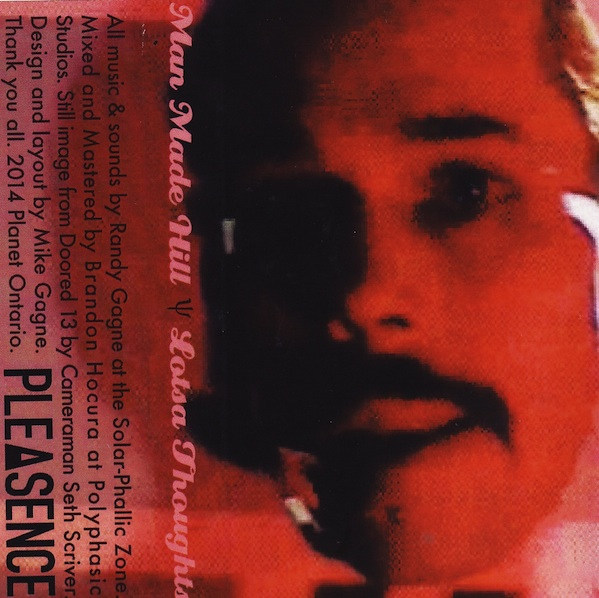 Man Made Hill
Lotsa Thoughts
Toronto, ON
From the engulfing blob of Brad Casey:
Imagine an old high school friend is visiting. You moved to the city and haven't seen him in 10 years. He never left your small hometown. Ever. You two go to a bar. The bar is empty but there's a closed off back room and it sounds like there's a party happening back there. You both open the doors to the back room. There's a flash of light. Everything sounds like it's underwater. There's a man onstage and he's planking on top of a ladder. His whole body is painted silver and music is shooting from his body in colourful light as he spins like a record. The crowd is one anomalous blob of furries and they engulf your friend. Later, you'll find him covered in sparkles, wearing only a t-shirt that says Man Made Hill and reciting the words to "Ballad of a Thin Man" as if in a trance.
Du blob vorace de Brad Casey:
(Traduit par l'appétit pour les mots de Louis-Félix Pellerin)
Imagine qu'un ami du secondaire te rend visite. Vous ne vous êtes pas vus depuis dix ans parce que tu as déménagé à la grand'ville et lui n'a jamais, jamais, quitté votre patelin d'enfance. Vous allez boire un verre. Le bar est vide, mais vous entendez ce qui est clairement un party venir de l'arrière-salle. En ouvrant les portes, de la lumière en jaillit. Vous avez l'impression d'être rendus sous l'eau. Sur la scène, un homme fait la planche au sommet d'une échelle. Son corps est recouvert de peinture argentée et la musique jaillit en rayons de lumière colorée de son corps qui tourne tel un vinyle. La foule est un étrange troupeau de furries qui s'empresse d'engloutir ton ami. Plus tard, tu le retrouves, étincelant, en train de réciter les paroles de "Ballad of a Thin Man" comme s'il était en transe, avec comme seul vêtement un t-shirt qui dit Man Made Hill.
Man Made Hill – Repetitive Party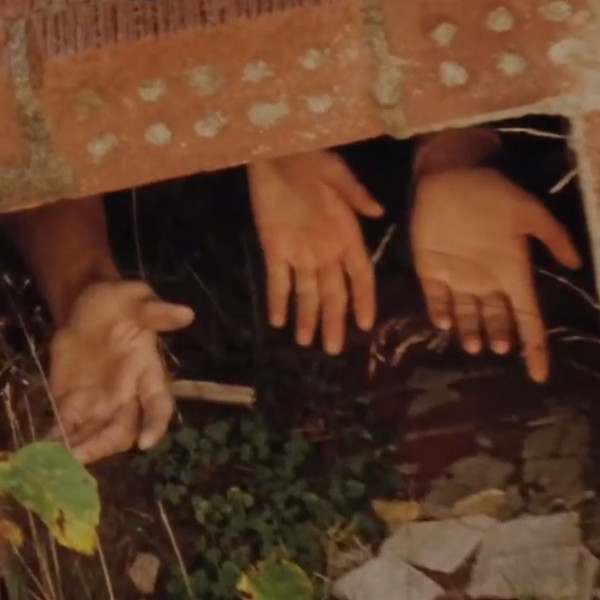 Doomsquad
"Ovoo"
(Directed by Chris Boni)
Toronto, ON
From the dark heart of Brad Casey:
The murdered voices of the Headless Nun and the Dungarvan Whooper frighten children away from the darkness of New Brunswick forests. Filmed in an intuitive moment in the province's heart, director Chris Boni leads the Blumas siblings of Doomsquad through a black ritual, invoking spirits while the drone in the background of "Ovoo" captures the feel of the sound of a silent day here wandering.
Du coeur sombre de Brad Casey:
(Traduit par la noirceur de Julie Forget)
Les voix assassinées de Headless Nun et de Dungarvan Whooper effraient les enfants dans la noirceur des forêts du Nouveau-Brunswick. Ayant filmé dans un moment intuitif au cœur de la province, le directeur Chris Boni guide les frères et sœurs Blumas de Doomsquad dans un rituel noir, invoquant les esprits pendant que le bourdonnement en arrière-plan d'« Ovoo » capture la sensation du son d'une journée silencieuse qui vagabonde.
Phèdre
Golden Age
Toronto, ON
From the painted face of Brad Casey:
Dan and April, the heads of Daps Records, cut their teeth to a point in Hooded Fang and have since added their voices and hands to HUT, Tonkapuma and Phèdre, their darkest and most accessible band yet. Golden Age is their second offering, a heart-on-sleeve blending of the stylistically high and low brow into a spooky, fashion model Halloween party. Everything about Phèdre points to an ugly past romanticized and reordered, rendered beautiful in the contemporary condition. Their 'Golden Age' is heard in the tape hiss, a silent record, or the 4-track background noise. The echo of every sound. The mythical, heartbroken figure. It's '80s synth pop of the dirty New York underground heard through modern Toronto ears, made for abandoned 4 am buildings, your faces painted.
Du visage peint de Brad Casey:
(Traduit par le sourcil dubitatif de Nicolas Coutlée)
Dan et April, fondateurs de Daps Records, se sont d'abord fait les dents avec Hooded Fang pour ensuite joindre leurs voix et leurs mains à HUT, à Tonkapuma et à Phèdre, leur plus sombre et accessible groupe à ce jour. Golden Age, une deuxième parution qui respire la sincérité, combine cérébral et viscéral à la manière inquiétante d'un mannequin de party d'Halloween. Tout ce qui a trait à Phèdre pointe vers un passé sordide qu'on aurait romancé et remodelé en quelque chose de sublime. Leur « âge d'or » s'entend à travers le crépitement d'une cassette, un disque sans musique ou les bruits de fond analogiques d'un enregistreur. L'écho de tous les sons, la figure mythique au coeur brisé. Voici une pop synthétique surgie des bas-fonds sales du New York des années 80, perçue par des oreilles contemporaines de Toronto, conçue pour les bâtiments abandonnés au petit matin, pour vos visages peints.
---