Tag: book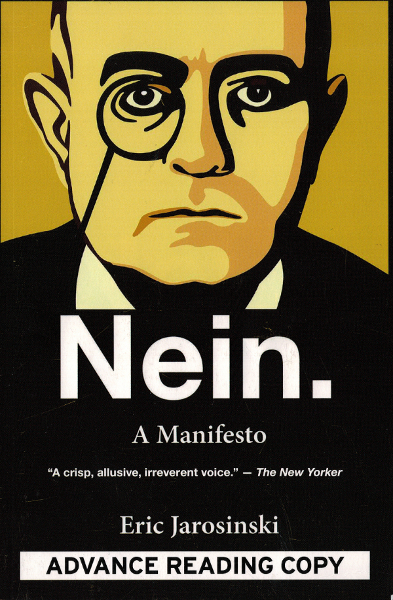 Eric Jarozinski
Nein. A Manifesto
New York, NY
~122, paperback, perfect binding
From the Nein. of Kevin Godbout:
Lives drown in an ocean of meaningless words. In a culture where every word is kept and broadcasted, aesthetic deletion, suppression, erasure are the radical acts of the artist. Maybe it's time to not only admire the silence of nature, but to follow in those footsteps. Twitter may be the platform for the revolutionary revival of the popular aphorist.
Eric Jarosinski suffered from the pressures of a tenure track Ivey league University job and found his academic freedom (or rather his freedom from academia) on social media. Some heavyweights have noticed: see the image of Žižek in bed …that Žižek favorited. While Jarosinski may have fewer followers than student debt dollars, at least there's a mug for that —"Bottomless Despair Not Included" with your meaningless commodity.
Dream of the bald, yellow facsimile of Adorno staring through the screen disapprovingly—Jarosinski actually has a great head of hair—the monocle haunts the subject, and its tautologies. Like a father judging a child, like Sauron gazing upon Middle-Earth, like the banker watching the security camera footage.
When Nein writes: "#DefiningTerms / Yes, there's a distinction. / Between negation and nihilism. / But 1. It's false. / And 2. It doesn't matter." this represents a direct assault on those identity politics that are backbone of culture, and of Twitter in the first case. "Nein is not no. Nein is not yes. Nein is Nein." This is Nein. A Manifesto. This is also @NeinQuarterly on Twitter. The Twitter version is free. But the book survives the great post-Internet crash.
Du Nein. de Kevin Godbout:
(Traduit par Kevin Godbout)
Les vies se noient dans un océan de paroles sans signification. Au sein d'une culture où chaque mot est conservé et diffusé, l'effacement, la suppression et l'annulation esthétique deviennent des actes radicaux pour l'artiste. Peut-être faut-il non seulement admirer le silence de la nature, mais aussi en suivre la piste. Twitter sera vraisemblablement le tertre de la réanimation révolutionnaire de l'aphorisme populaire. Eric Jarosinski croulait sous la pression d'un poste professoral dans une université de l'Ivey League quand il a trouvé la liberté universitaire ou plutôt sa liberté de l'université sur les médias sociaux. Certains grands l'on remarqué : il faut voir la photo de Žižek dans son lit… que Žižek a lui-même aimé. Le poids des admirateurs de Jarosinski est moins lourd que celui de sa dette étudiante, mais au moins… il y a une tasse les premiers — « Désespoir infini non inclus » à l'achat de cet article insignifiant.
Cet Adorno jaune et chauve au regard désapprobateur n'est qu'un fac-similé — Jarosinski a une véritable crinière —, son monocle hantant le sujet et ses tautologies comme un père jugeant son enfant, comme Sauron observant la Terre du Milieu, comme le banquier fixant l'enregistrement de la caméra de surveillance.
Quand Nein écrit : « #DéfinirLesTermes / Oui, il y a une distinction. / Entre la négation et le nihilisme. / Mais 1. Elle est fausse. / Et 2. Elle ne change rien. », cela constitue une attaque directe envers l'identité politique; la base de la culture et de Twitter, dans le premier cas. « Nein ne veut pas dire non. Il ne veut pas dire oui. Nein, c'est Nein. » Voici Nein. A Manifesto. Et @NeinQuarterly, sur Twitter. La version Twitter est gratuite, mais le livre survivra au grand effondrement suivant la chute de l'Internet.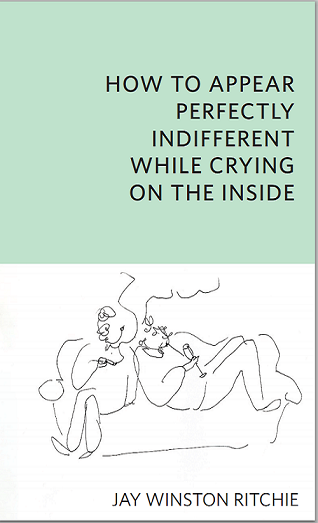 Jay Winston Ritchie
How To Appear Perfectly Indifferent While Crying On The Inside
Montreal, QC
47 pages, saddle stitch
From the fuzzy event horizon of Sara Frank:
Wounds left by the loss of our previous inconvenient and squishy human life, combined with the paradoxical loneliness of our new interconnected cyborgian condition, cause a certain ache which persists constantly – thrumming beneath everyday tedium and triumph. It could be nostalgia or grief for things which have since become hard to find: unserveilled thoughts and whims, a genuine sense of community that extends beyond our feeds, or the wherewithal to visit an actual lake rather than listen to loon calls on Youtube at home.
In a familiar Montreal permeated throughout by the surreal, Richie takes a funny and unsentimental approach to the anhedonic crawl through early adulthood in the digital age, as his characters download computer viruses to their brains, search fruitlessly for the Kim Kardashian sex tape, and question the legitimacy of their entire existence inside of a recognizably indifferent universe.
De l'horizon noir flou de Sara Frank:
(Traduit par l'horizon surréel de Kevin Godbout)
Des blessures laissées par la disparition de notre vie humaine, incommode et gargouillante, se combinant à la solitude paradoxale de notre nouvelle condition cyborg interconnectée; tout cela cause une certaine douleur qui persiste constamment, comme un vrombissement d'ennui et de triomphe du quotidien. Ce pourrait être la nostalgie ou le chagrin des choses qui sont maintenant difficiles à trouver; des pensées et des caprices sans surveillance, un véritable sentiment de communauté qui s'étend au-delà de nos flux, ou le moyen de visiter un vrai lac au lieu d'écouter des appels de huards sur YouTube à la maison.
Au sein d'un Montréal imprégné partout par le surréel, Richie adopte une approche comique et impersonnelle au rampement anhédonique à travers l'âge jeune-adulte dans l'ère numérique: ses personnages téléchargent des virus informatiques à leurs cerveaux, ils cherchent en vain pour le sex tape de Kim Kardashian et ils questionnent la légitimité de leur entière existence à l'intérieur d'un univers visiblement indifférent.
Jay Winston Ritchie
Something You Were, Might Have Been, Or Have Come to Represent
Montreal, QC
From the caricature of Dianne Lalonde:
"The idea of encountering another human being seemed paradoxical to being human." A person-shaped hole is formed for each individual by others – expectations coalescing to fit perfectly the physical body. Jay Winston Ritchie details how the productions of Something You Were, Might Have Been, Or Have Come to Represent pummel the body like hundreds of fish rocketing out of a tube to reinforce their stock. Blows mold you in accordance to what the other's desire projects onto you. You're nothing but signifiers: your neighborhood, the music you play, the hummus you brought to the party Immersion into your hole lessens the brain noise, but not the frustration when confronted with something that cannot be rehearsed or pre-empted. By those words that cannot be easily translated into the symbolic order—stuck in your throat—I meant to say…
De la caricature de Dianne Lalonde: (De la fren-caricature de Kevin Godbout) « The idea of encountering another human being seemed paradoxical to being human. » Chaque individu crée un trou de la taille d'une personne pour y enfouir les autres – les attentes s'unissant jusqu'à former parfaitement l'enveloppe physique. Jay Winston Richie détaille comment les productions de Something You Were, Might Have Been, Or Have Come to Represent labourent le corps comme des centaines de poissons projetés dans un lac pour le réensemencer; les coups te modelant en fonction des désirs que l'autre projette sur toi. Tout ton être n'est que signifiants : ton quartier, la musique écoutée, l'hummus apporté à la soirée. L'immersion dans ton trou réduit les bruits dans ta tête, mais pas la frustration éprouvée quand tu fais face à une chose ne pouvant être répétée ou anticipée. Par ces mots pris dans ta gorge que l'ordre symbolique n'arrive pas à traduire facilement… Ce que je voulais dire c'est…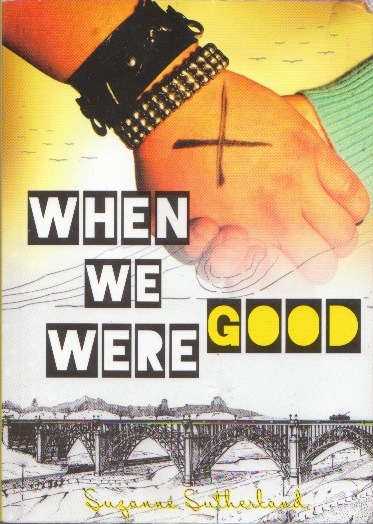 When We Were Good
Suzanne Sutherland
Toronto, ON
227 pp., perfect bound
From the out of step heart and head of Annelise Dowd:
Stand in any busy hallway, whether it's comprised of doctors or students or the recently bereaved, and you're guaranteed to hear a word so many times its one syllable no longer makes sense. A word so overused and meaningless that it feels gaseous and light between your teeth because it constantly occupies space there. This word is "good." But what truly entails being "good"? The clean and hollow euphoria of puritanical ethics? Or simply, to feel "good" within oneself? During teenage-hood, as the main character of Suzanne Sutherland's excellent When We Were Good attests, it's difficult to feel anything but "lying-in-my-room-alone-with-a-CD-on-good."
Sutherland's decidedly queer/feminist YA novel follows Katherine Boatman, a sixteen-year-old Torontonian grappling with depression in the wake of familial loss. A disillusioned Katherine parts through grief's thick fog to find a mysterious straight edge punk named Marie and a place where lyrics are poetry, X's on hands are religious iconography, and punk shows can shake one's innermost being with spiritual fervor. The strictly punk soundtrack (think Jawbreaker, Sonic Youth, and Minor Threat references) Marie introduces is raw and visceral, mirroring the electricity of teenagehood's first touches, heartbreaks, and unbridled rage.
When We Were Good doesn't eschew teenage romance and bildungsroman narratives, but instead employs them through the lens of queerness and mental health, transforming them into something new and gleaming and important. With every mixtape exchanged Katherine's relationship with Marie moves through mild fascination, to steadfast friendship, to love. Katherine finds that if to be "good" is to be at home, then home is not found between the words of any straight edge rulebook, but instead lies within the recesses of the identity she accepts herself. And it is here where Sutherland transfigures the classic Salinger "Who am I?" for a more timely and significant sentiment: "How can I figure out who I am and be okay if everyone is calling me a slut and a dyke?"
Du coeur et de la tête déconnectés de Annelise Dowd:
(Des pensées quasi-francophones de Kevin Godbout)
Tenez-vous au milieu d'un couloir occupé, que vous y voyiez des docteurs ou des étudiants ou des récemment endeuillés, vous êtes garanti d'entendre un mot tellement souvent que sa seule syllabe perd tout son sens. Un mot tellement surutilisé et dépourvu de sens qu'il ressemble à une forme gazeuse et légère entre vos dents, car il occupe toujours un espace dans votre bouche. Ce mot est ­«bon» (good). Mais qu'entend-on par être «bon»? L'euphorie nette et vide d'une éthique puritaine? Ou tout simplement, de se sentir «bon» soi-même? Durant les tristes moments de l'adolescence, comme le dit le personnage principal de l'excellent roman When We Were Good de Suzanne Sutherland, il est difficile de se sentir autre que «à-terre-dans-ma-chambre-seul-avec-un-CD-bon» (lying-in-my-room-alone-with-a-CD-on-good).
Ce roman pour jeunes adultes, aux tons décidément féministes/queer de Sutherland, suit Katherine Boatman, une adolescente de seize ans de Toronto aux prises avec une dépression à la suite d'un deuil familial. Désillusionée, elle diffuse l'épais brouillard de sa tristesse pour trouver une punk mystérieuse nommée Marie, et un endroit où les paroles de chansons sont des poèmes, des ­«X» sur les mains sont des icônes religieux, et des concerts punk peuvent secouer l'être intérieur de tous avec une ferveur spirituelle. La bande sonore strictement punk (il faut penser aux groupes Jawbreaker, Sonic Youth, and Minor Threat) introduite par Marie est brute et viscérale, en plus de refléter les premiers contacts électriques de l'adolescence, les coeurs brisés et la rage pure.
When We Were Good ne rejète pas l'amour entre des ados, ni la narrative d'un bildungsroman, mais utilise ces éléments perçus à travers la lentille d'une réalité queer et de problèmes de santé mentale. Cet état les transforme en quelque chose de nouveau, étincelant et important. Avec chaque mixtape qu'ils s'échangent, la relation de Katherine envers Marie évolue de la fascination, vers une grande amitié, et même jusqu'à l'amour. Katherine réalise que si pour être ­«bon» il faut être chez soi, alors ce chez-soi ne se trouve pas dans un livre de règles, mais existe plutôt à l'intérieur des cavités de l'identité qu'elle accepte elle-même. Et c'est ici que Sutherland transfigure le ­«qui suis-je» (Who am I) de Salinger pour un sentiment plus contemporain et significatif: «Comment vais-je découvrir qui je suis et l'accepter si tout le monde m'appelle une pute et une gouine?»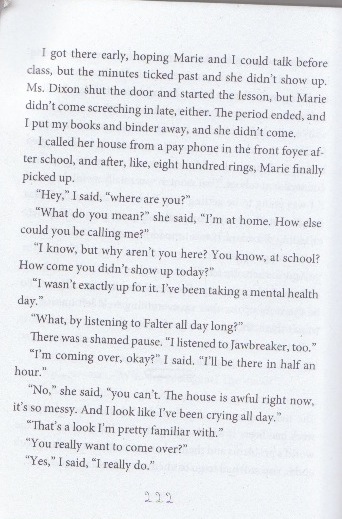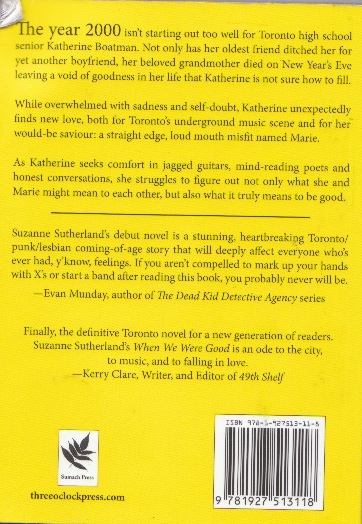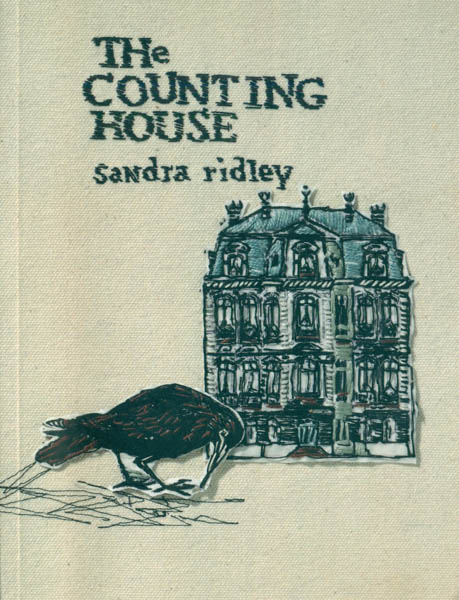 Sandra Riley
The Counting House
(BookThug)
Toronto, ON
96 pages, perfect bound
From … Dianne Lalonde:
Room to breathe in Sandra Riley's writing – slack action – a courtesy not often afforded. Not being one of two witnesses in love and domination, we are offered glimpses into elements of the unconscious all too familiar. Projection, rejection.
Questions regarding the productive nature of violence/docility. Who I am after you? Eventually only ghosted – thoughts, a voice, a presence long after.
"I deny I fell – I curtsied."
De … Dianne Lalonde:
(Traduit par Jessica Grenier)
Les écrits de Sandra Riley laissent un peu de place pour respirer, un luxe que l'on se permet rarement – de l'action épisodique. N'étant pas l'un des deux témoins de l'amour ou de la domination, on peut apercevoir des éléments d'un inconscient déjà trop familier. Projets, rejets…
Un questionnement sur la nature productive de la docilité/violence. Qui suis-je après toi? Et puis, un jour, seulement le fantôme d'une idée, d'une voix, d'une présence qui nous manque.
« Je n'ai pas chuté – j'ai tiré ma révérence. »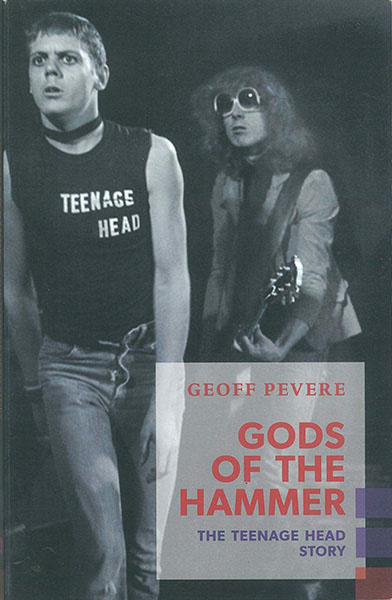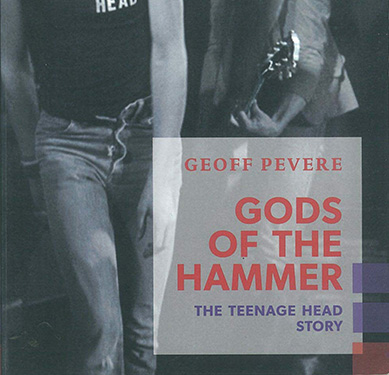 Gods of the Hammer: The Teenage Head Story
Geoff Pevere
136 pages, soft-cover, perfect bound
Toronto, ON
From the hormone-addled mind of Brian Fauteux:
From Hamilton to Toronto and beyond, Gods of the Hammer is a journey through the ups and downs of Teenage Head. With a basement-born work ethic Teenage Head emerged in the late 1970s with an urge to react against the "old ways of making noise". This reaction was propelled by sites that helped build a scene around the band. The Ontario College of Art, the basement of the Colonial Tavern on Yonge Street, and the Horseshoe Tavern.
Pevere is present in the story of Teenage Head, as a fan both then and now. He cuts in with thoughts on and memories of the band then and now. We experience the release of Teenage Head in 1979 when the recorded album was though to not match the intensity of the band's live show. Today, Pevere tells us that the album has reached "classic status." His "ears hear it differently now than they did back then."
Punk's place in popular music history is full of stories about sounds and scenes in New York and the U.K. but Canada remains fairly undocumented and under-appreciated. This is changing for the better with the help of Gods of the Hammer.
De l'esprit sous l'influence des hormones de Brian Fauteux:
(Traduit par la froideur logique de Louis-Félix Pellerin)
De Hamilton à Toronto et plus loin encore, Gods of the Hammer est un périple à travers les hauts et les bas de Teenage Head. Avec une déontologie qui a vu le jour dans un sous-sol, Teenage Head a émergé dans les années 70 avec une forte envie d'aller à l'encontre des "anciennes méthodes de création du son". Cette réaction a été amorcée par des sites qui ont contribué à créer une scène autour du band comme l'Université de l'École de l'art et du design d'Ontario, le sous-sol de la Colonial Tavern sur la rue Yonge et la Horseshoe Tavern.
Pevere est un fan, alors et maintenant, avec une présence intégrale dans l'histoire de Teenage Head. Il s'interpose avec les pensées et les souvenirs du groupe, alors et maintenant. On revit [la sortie de Teenage Head en 1979] (https://www.youtube.com/watch?v=v45OxMvZOpQ, lorsqu'il était dit que l'album studio n'accotait pas l'intensité des représentations en direct du groupe. Selon Pevere, l'album est aujourd'hui considéré comme un "classique". Ses "oreilles l'entendent différemment qu'ils l'entendaient dans le temps."
La place du punk dans l'histoire de la musique populaire est abondante d'histoires de sons et de scènes provenant de New York et du Royaume-Uni, mais le Canada reste non documenté et sa vraie valeur échappe à plusieurs. Mais, avec l'aide de Gods of the Hammer, la situation est en train de changer pour le meilleur.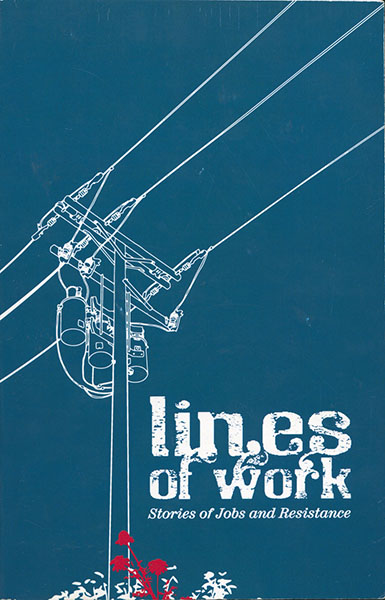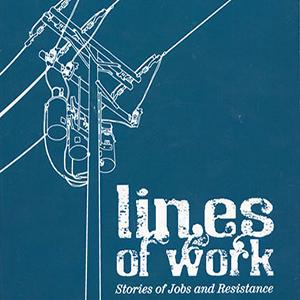 Lines of Work: Stories of Jobs and Resistance
Various Authors
Edited by Scott Nikolas Nappalos
236 pages; soft cover, perfect bound
Edmonton, AB
From the working class hands of Meghan Sangster:
Fuck work. Fuck feeling like shit and falling asleep at the wheel and almost crashing your truck. Fuck chronic pain and its accompanying short fuse that affects your relationships with friends, family, and lovers. Fuck not having a dental plan. Fuck the capitalist mechanization of care work that generates worker apathy and ableist assumptions about the elderly. Fuck depression, but first fuck the job insecurity and hounding poverty that keeps it so strong. Fuck the colonial borders that divide and destroy so many families. Fuck not-for-profits that mistake their neoliberal ethos for radical subversion. Fuck the managerial decisions that force genderqueer people to use washrooms that are not of their choosing (fuck gender binaries). Fuck racism and its constant, bone grinding assaults. Fuck misogyny and its ever-close companion patriarchy. Fuck how exploitive managerial techniques echo the emotional abuse and economic vulnerability that so often traps people in domestic violence. And fuck the alienation that tells workers there is nothing they can do about any of the above.
Misogyny is everyone's labour issue. Racism is everyone's labour issue. The continued colonization of Canada and the maintenance of colonial borders is everyone's labour issue. Lines of Work is a collection of beautiful testaments from people who are working everyday, constantly negotiating these tandem oppressive systems lodged in the sludge of capitalist machinery. Lines of Work shares what workers do against the deadening, indefinite assaults of labour's daily grind and the possibility for resistance in the very process of encountering something unknown and seemingly limitless. We can look at Goliath and tremble – sometimes there is no other choice – but well aimed rocks can accomplish incredible things.
Des mains ouvrières de Meghan Sangster:
(Traduit par la soif de justice de Louis-Félix Pellerin)
Fuck la job. Fuck manqué avoir un accident en s'endormant au volant parce qu'on se sent comme de la marde. Fuck la douleur chronique qui nous rend agressifs avec nos proches, nos amis et nos amants. Fuck pas avoir d'assurance dentaire. Fuck la mécanisation des services de santé qui entraîne l'apathie chez les employés et les préjugés découlant du capacitisme à propos des personnes âgées. Fuck la dépression, mais surtout, fuck la précarité d'emploi et la pauvreté rampante qui la nourrissent. Fuck les frontières coloniales qui divisent et détruisent un nombre incalculable de familles. Fuck les groupes sans but lucratif qui prennent leur philosophie néolibérale pour une subversion radicale. Fuck les décisions administratives qui forcent les personnes genderqueer à utiliser des salles de bain qui ne correspondent pas à leur identité (fuck le binarisme des genres en passant). Fuck le racisme et ses attaques qui nous broient les os. Fuck la misogynie et son horrible p'tit copain le patriarcat. Fuck la façon dont les techniques de gestion exploitatrices font écho à l'abus émotionnel et à la vulnérabilité économique qui confinent trop souvent les gens dans une situation de violence familiale. Et fuck le cynisme qui fait croire aux travailleurs qu'ils ne peuvent rien faire contre tout ça.
Nous sommes tous concernés par la question de la misogynie dans le monde du travail. Nous sommes tous concernés par la question du racisme dans le monde du travail. Nous sommes tous concernés par la colonisation constante du Canada qui maintient les frontières coloniales. Lines of work est une collection de poignants témoignages de gens qui luttent chaque jour contre ces systèmes oppressifs qui se chevauchent, embourbés dans la gadoue du capitalisme. Ce recueil parle du combat quotidien mené par les travailleurs contre les assauts incessants et abrutissants de la corvée qu'est le travail, ainsi que de la possibilité de résister face à quelque chose d'inconnu et d'apparemment sans limites. On peut continuer de trembler devant Goliath, on peut rarement faire autrement; mais parfois, une roche bien placée peut accomplir de grandes choses.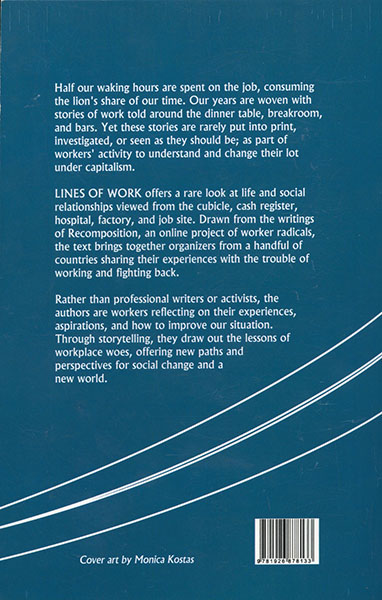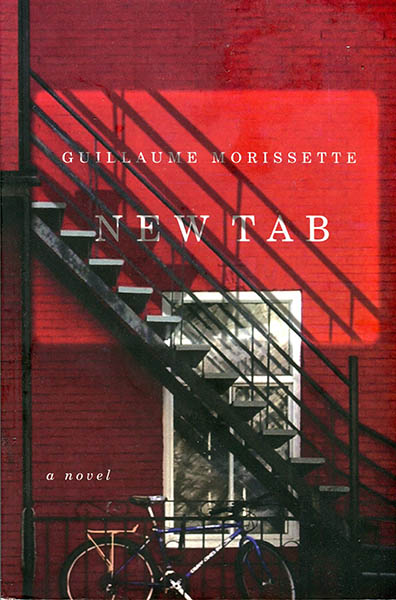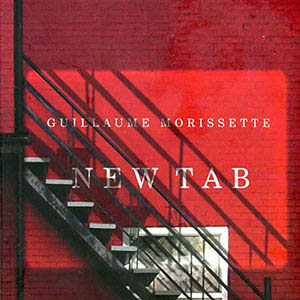 New Tab
Guillaume Morissette
212 pages, perfect bound
Montréal, QC
From the groove/routine/rut (D.C. al Fine) of Jordan Voith:
In New Tab, Morissette maintains a quotidian focus, and the effect is one of bittersweet boredom and comfort in familiarity. Protagonist Thomas navigates empty employment, abortive courtships, and casual substance abuse; it's an old landscape, arable for a type of solidary ease, but not much more. Comfort invites inertness, and inertness invites lack. In response, Morissette proffers a Seinfeldian zen as panacea. He gives the void a bear-hug (might as well get cozy with your most enduring companion), and in his embrace, absence starts to look an awful lot like substance. Sure, a steady diet of bad beer and worse hangovers might not be enough in the conventional sense, but when you think about it, it's not not enough, either. The universe abides, man.
Du rythme/de la routine/du ronron (D.C. al Fine) de Jordan Voith:
(Traduit par Jessica Grenier)
Dans New Tab, Morissette continue de s'intéresser au quotidien en dépeignant le confort de ce qui est familier et la douce amertume de l'ennui. La vie de Thomas, le protagoniste, est ponctuée de relations avortées, du manque d'emplois et de consommation occasionnelle de drogue. C'est un ancien paysage, parfait pour une certaine aisance solidaire, sans plus. Le confort invite l'inertie, et l'inertie amène le manque. Pour réponse, Morissette présente comme panacée une zénitute Seinfeldienne. Il donne un gros câlin au vide (aussi bien être à l'aise avec son compagnon le plus persistant); et dans cette étreinte, l'absence se met à ressembler énormément à de la substance. C'est sûr qu'au niveau conventionalité, une routine de mauvaise bière et de gueules de bois encore pires n'est peut-être pas suffisante, mais quand on y pense, ce n'est pas pas suffisant non plus. C'est simple, l'univers approuve.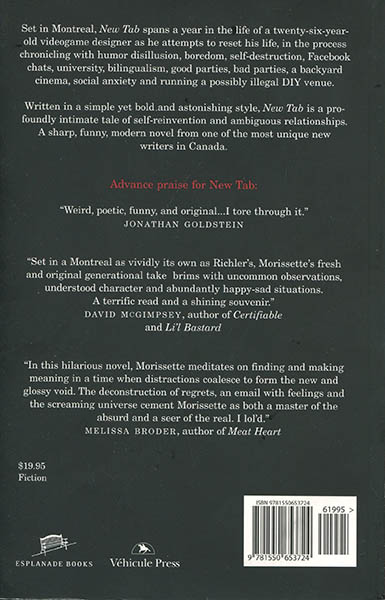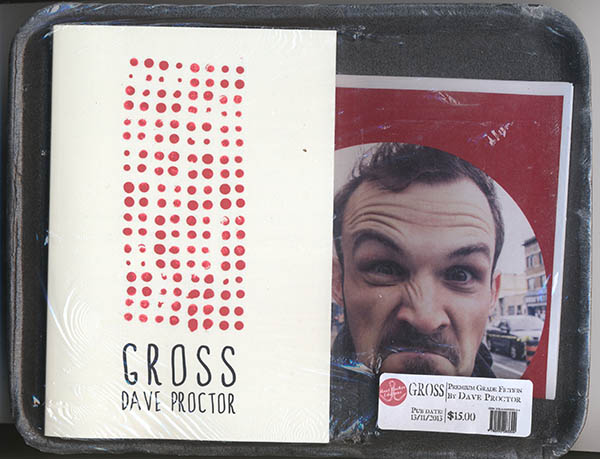 David Proctor's Gross shines a beacon of light, indicating the redemptive power of art as our generation's only hope. Proctor performs a post-mortem on western culture, opening us up, putting our hopes, fears, and values on display. Take a look at what you consume.
Gross
David Proctor
186 pages, perfect bound
Toronto, ON
2013
From the memorial hospital mortuary of David Steinberg:
You are sick. Maybe everyone is sick. Maybe our culture is sick, or maybe our culture is the sickness. All consumed, all consuming. And if consumerism is the sickness, then what is the cure? If the crucified working class can't rub the sleep from its eyes, who can? And if David Proctor's Gross never completely restores sobriety to our inebriation, in a moment worthy of Proust, it nevertheless shines a beacon of light, indicating the redemptive power of art as our generation's only hope. Proctor performs a post-mortem on western culture, opening us up, putting our hopes, fears, and values on display. Take a look at what you consume.
Du mortuaire de l'hôpital mémorial de David Steinberg:
(Traduction retrouvée sur le monument en la mémoire de Louis-Félix Pellerin)
Vous êtes malade. Peut-être que tout le monde, ou même notre culture l'est. Ou peut-être que la maladie est notre culture elle-même. Tarie par la consommation, elle est elle-même voracement consommatrice. Et si le consumérisme est la maladie, existe-t-il un traitement? Si la classe ouvrière lasse ne peut s'enlever la fatigue des yeux, qui pourra le faire? Et si Gross, de David Proctor, ne nous tire jamais complètement de notre état d'ébriété pour nous ramener vers la sobriété, dans un moment digne de Proust, il projette néanmoins la lumière d'un brillant fanal indiquant le pouvoir rédempteur de l'art en tant que seul espoir de notre génération. Proctor effectue une autopsie sur la culture occidentale, allant chercher en nous nos peurs, nos valeurs et nos espoirs pour les exposer. Regardez bien ce que vous consommez.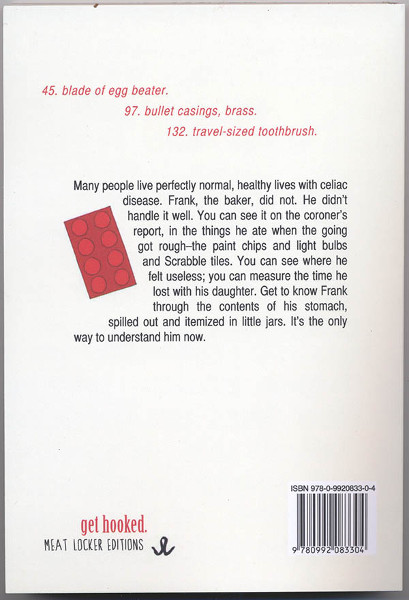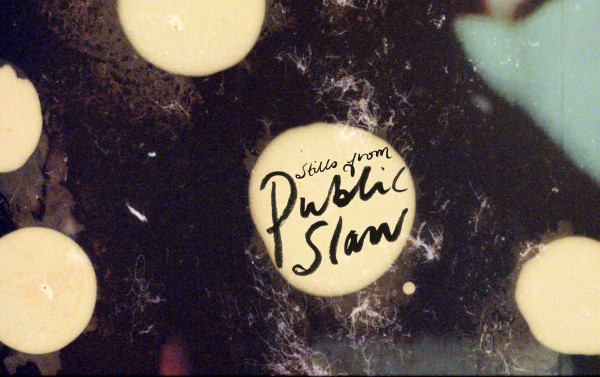 The Public Slaw overloads and overwhelms the senses with a splice 'n' diced opus of gastric proportions. Andrew Zukerman and Winston Hacking, the bugged out brains behind Exploding Motor Car, send this short film, soundtrack and accompanying book on a crash course into scrambled pleasure centres. From the vibrant vignettes of its opening section (kung fu pandas, puppies, and one perplexed vampire) to the b&w cool-out at its close (dancer Minae Omi shrouded in monochrome) this ADHD A/V farrago will leave its viewers finely shredded.
Exploding Motor Car
The Public Slaw
Toronto, ON
From the ravaged plate of Jesse Locke:

Andrew Zukerman – The Public Slaw (pt 1)
The Public Slaw overloads and overwhelms the senses with a splice 'n' diced opus of gastric proportions. Andrew Zukerman and Winston Hacking, the bugged out brains behind Exploding Motor Car, send this short film, soundtrack and accompanying book on a crash course into scrambled pleasure centres. From the vibrant vignettes of its opening section (kung fu pandas, puppies, and one perplexed vampire) to the b&w cool-out at its close (dancer Minae Omi shrouded in monochrome) this ADHD A/V farrago will leave its viewers finely shredded.
The Toronto premiere and book launch of The Public Slaw takes place Friday, Sept. 12 at 811. More information here.
De l'assiette ravagée de Jesse Locke:
(Traduit du sandwich de beurre de peanut et de confiture de Catherine Debard)

Andrew Zukerman – The Public Slaw (pt 1)
The Public Slaw sature et submerge les sens avec un opus-fricassée aux gourmandes proportions gastriques. Andrew Zukerman et Winston Hacking, les cerveaux irrités derrière Exploding Motor Car, ont envoyé ce court film accompagné d'une trame sonore et d'un livre, véritable cours intensif de plaisirs brouillés. Des thématiques vibrantes titillent l'appétit dès l'ouverture (kung fu pandas, animaux cutes, et un vampire perplexe) jusqu'à la période de relaxation finale, une image en noir et blanc de la danseuse Minae Omi enveloppée de monochrome. Ce fractal hyperactif audio-visuel laissera le lecteur finement haché.
The Toronto premiere and book launch of The Public Slaw takes place Friday, Sept. 12 at 811. More information here.
---