Tag: bonnie doon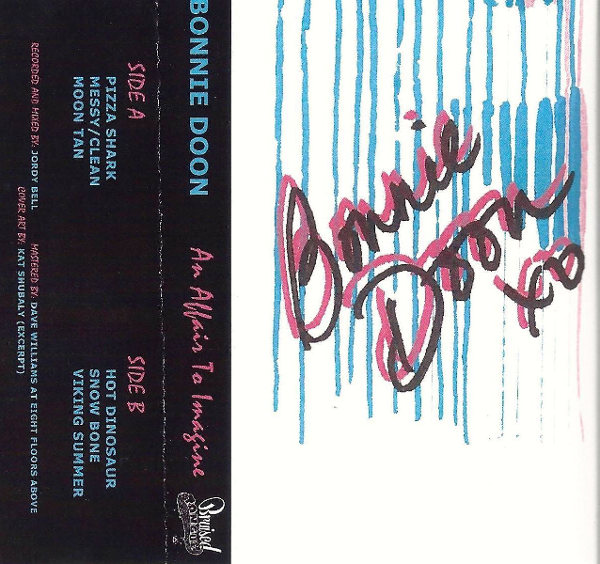 Bonnie Doon
An Affair to Imagine
Ottawa, ON
From the Frankenstein monster of Penny Clark:
Bruised Tongue slams another release out of the park with distorted, two bass glam-punk tape sounds from Bonnie Doon. The band immortalizes cheap slice Ottawa eatery Pizza Shark and the hot dinosaur who earns a living at the record store. They do this with vocals that are like some kind of insane Monster Mash/Bikini Kill Frankenstein monster. These Ottawa toughs crack wise sharper than anybody else.
Du monstre Frankenstein de Penny Clark:
(Traduit par Benoit Arcand)
C'est une autre garnotte étampée Bruised Tongue qui s'ébroue ici au-delà des palissades du champ gauche. Toutes basses glam-punk distordues brandies, Bonnie Doon rend au passage un térébrant hommage aux peu chères pointes de chez Pizza Shark et à ce dinosaur qui trime chez le disquaire, et tout ça sur des airs qui tiennent de l'hybridation démente de Monster Mash et de Bikini Kill. Ces durs à cuire ottaviens raillent plus profondément que les concurrents.
For Edmonton readers, I'd like to remind you that on Saturday September 5th Weird Canada will be presenting the The Wicked Awesomes!'s LP release party at Bonnie Doon Bowling Lanes. Music and bowling.
Weird Canada Presents
The Wicked Awesomes! "Punk Holograms" LP Release Party!!!
… WITH …
The Wicked Awesomes! (Edmonton, AB)
Myelin Sheaths (Lethbridge, AB)
Moby Dicks (Lethbridge, AB)
Grown-Ups (Calgary, AB)
Come down to Bonnie Doon Bowling Lanes for the one-night-only extravaganza of the year. "Punk Holograms," the debut LP by Edmonton's uber-weirdos The Wicked Awesomes! is sure to be the most talked about record from Edmonton this year. And they'll be coming back from a North American tour that received a huge amount of press, including a glowing review on the Brooklyn Vegan blog!
Joining The Wicked Awesomes will be a weird-punk invasion from Lethbridge and Calgary. We have the Myelin Sheaths, who devastated crowds at the Sled Island Music Festival and will be releasing a 7″ on the fabled HoZac Records label (home to Smith Westerns, Blank Dogs, Nobunny, Nothing People, and a host of other underground talent). Tagging along will be the Moby Dicks, whose weird lo-fi garage is sure to turn the heads of folks fortunate enough to catch them now (before they explode – KABOOM!). And coming up from Calgary will be this unknown band Grown-Ups whose MySpace I loved so much I asked them to drive all they way to Edmonton for this show!
***BONNIE DOON BOWLING LANES ::: LOCATED AT 85 st. and 82 ave.(in the bonnie doon shopping mall)****
Yes, the event will take place at Bonnie Doon Bowling Lanes! This is fantastic. Not only does the venue serve beer but it's ALL AGES as well! The lanes will be open all night, so there will also be a BOWLING COMPETITION!! Win radical stuff!
And now for the bands!
The Wicked Awesomes!
weird canada review
File-Under: burnt puke-garage & psychedelic mizrahi-surf
Myelin Sheaths
weird canada review
File-Under: Psy-fi garage-punk
Moby Dicks
weird canada review
File-Under: Cavernous garage revival
Grown-Ups
web: http://www.myspace.com/wearegrownups
File-Under: lo-fi teen-angst
Monies: $5
Doors: 7:00pm
Bands Start: 8pm (sharp)
Band Order (theoretical): (??surprise??) -> Grown-Ups -> Moby Dicks -> Myelin Sheaths -> The Wicked Awesomes!
Please tell all your friends! This is going to be a lot of fun!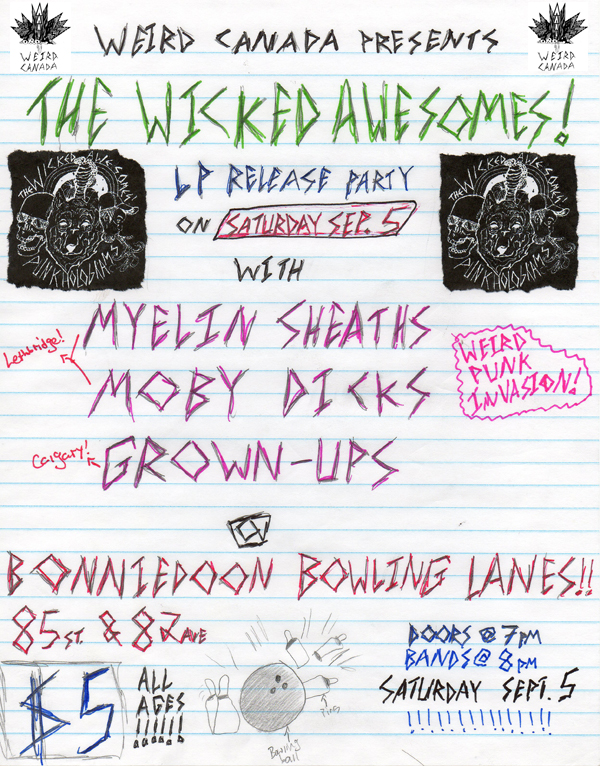 ---