Tag: benoit arcand
Nimbes
Des kiwis pour ma fiancée
Quebec, QC
From the airtight held breath of Benoit Arcand:
(Translated by the crackling campfire of Odile Leclerc)
In the semi-darkness, a barely phosphorescent mirage, Nimbes imposes without intrigue the iridescence of its presence. No need for a campfire near a beach cabin, young and mournful: here everything crackles around your head, licks your cheek like a wave of heat. Instead make yourself a sarong from these pyramidal keyboards, plant yourself on this homeopathic surf and caress this abyssal groove.
Don't forget to shine in the night.
De l'apnée hermétique de Benoit Arcand:
Dans la demi-pénombre un mirage à peine phosphorescent, Nimbes impose sans intrigue l'iridescence de sa présence. Pas besoin de feu de camp au bord d'un shack de la plage, jeune mélancolique: ici tout crépite autour de ta tête, te lèche la joue comme une vague de chaleur. Fais-toi plutôt un paréo de ces claviers pyramidaux, plante-toi sur ce surf homéopathique et caresse ce groove abyssal.
N'oublie pas de briller dans la nuit.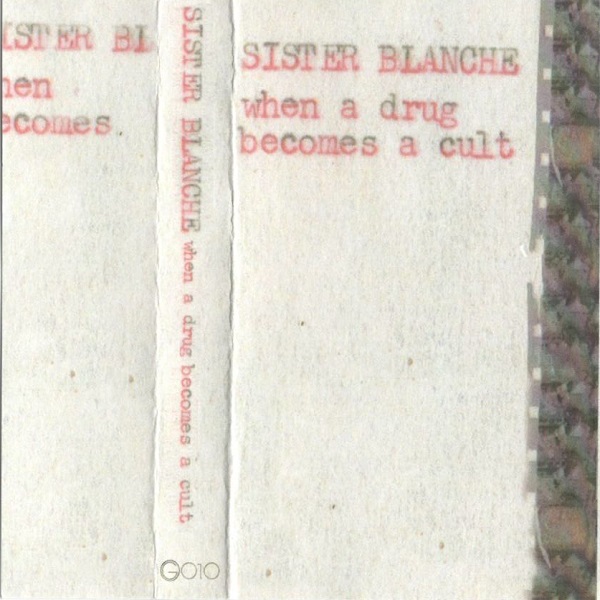 Sister Blanche
When a Drug Becomes a Cult
(Gary Cassettes)
Victoria/Vancouver, BC
From the gnawed appendages of Piper Curtis:
Wandering through a witchy haze, feet not quite touching the ground. Waves of discontent fill the air. Feeling intensely lovely, calm amongst unrest and agitation. There is a dissonance between us and this fuzzy dreamscape.
Static, moving all around. Witches watch through a shroud of fog. Dusk descended before we awoke here and remains, permeating.
Par les appendices rognés de Piper Curtis:
(Traduit par la scansion sabbatique de Benoit Arcand)
Errance dans une brume de sabbat, les pieds pas tout à fait au sol. Des ondes de discorde emplissent l'atmosphère. Le sentiment d'être ardemment aimable et posé dans ce tumulte, ce trouble. Il y a dissonance entre nous et ce paysage onirique flou.
La statique fluctuant tout autour. Des sorcières guettent à travers des linceuls de brouillard. Le crépuscule tombe avant que nous nous réveillions, et demeure, prégnant.
Sister Blanche – When A Drug Becomes A Cult
Corridor
Le voyage éternel
(Self-Released)
Montréal, QC
From the apocryphal odyssey of Benoit Arcand:
(Translated by the bottle of Julie Mayer)
No QR code will open a window here to let in a fresh breeze of signifiers. To hear the apocryphal odyssey that is Le voyage éternel, you will have to row upside down, walk the tightrope of a groundswell, then drop right in the hatchway, between Moloch's toes. This hyperbole won't have been vain: with the plume snatched out from the cherub you now tickle the mermaids' bottom while singing trash, the world is trash, waltz with Lazarus among the ruins, delouse the Minotaur and, since you are there, reconstitute the titanomachy with its arthropods. Such is the size of the labyrinth lying under your feet where rock is revealed in a clamour of cyclopean riffs, and sublimated under the pressure of saxifrage rhythms. Carry along its nuggets of good news with this straw until your substantive skull blooms.
Corridor – L'entrée du portail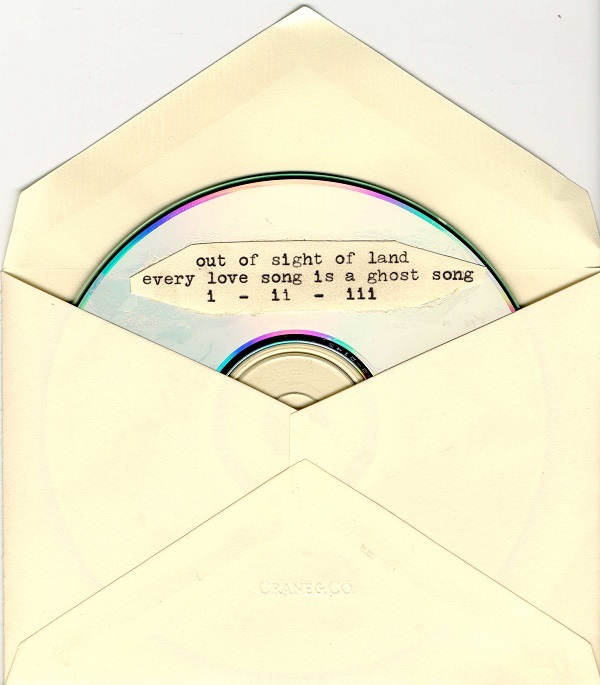 Out of Sight of Land
Every Love Song Is a Ghost Song
Quebec, QC
Du New York-Québec express insomniaque de Benoit Arcand:
(Translated by the so-so British side of Julie Mayer)
L'heure grise. Ceux qui avaient quelque chose à crier se sont enfin couchés tandis que ceux qui n'ont rien à dire ne sont pas encore levés. C'est cet entre-deux, quand le bourdonnement du monde se tait, meurt presque, que la musique d'Out of Sight of Land invoque. Oh, vous n'entendrez pas dans les cantiques inversés d'Every Love Song Is a Ghost Song le soupir éploré de ces spectres que le pur amour rendrait palpables. Ce sont les vivants que l'accordéon à la dérive, la voix éthérée de Damon Hankoff exorcisent des bruits ambiants, de toute inanité sonore: ces fantômes opaques qui vont par les mêmes rues que nous, et le soir se couchent à nos côtés.
Out of Sight of Land – Every Love Song Is A Ghost Song – i
Out of Sight of Land – Every Love Song Is A Ghost Song – iii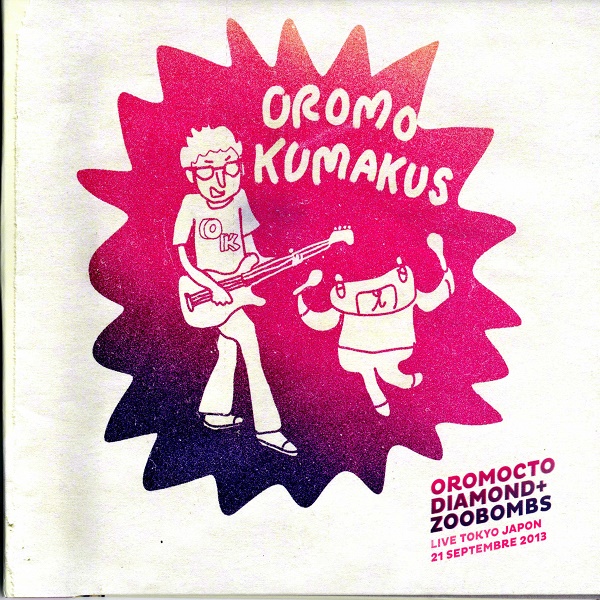 Oromocto Diamond / Zoobombs
Oromo Kumakus
(P572)
Quebec, QC
From the degenerate monstrosity of Benoit Arcand:
The brute energy of Oromo Kumakus gushes from everywhere and intrudes on your favourite paradoxes: time and space. Zenon is shooting herself in the foot while Oromocto Diamonds fly to Tokyo for a one-night collaboration – a 22 hour flight for 22 minutes of music – with the brute but docile force of Zoobombs.
Everything dilates, everything implodes. The music, fueled by the promise of the last night, dilapidates its energy into the spirit of being snapped up by eternity. The old wounds of Zenon crackle in the roll of rock past and future. The fire is saved.
De la monstruosité dégénérée de Benoit Arcand:
(From the Bescherelle of Zoë Christmas)
L'énergie brute d'Oromo Kumakus fuse de partout et piétine les plates-bandes de vos paradoxe préférés; le temps, l'espace : Zénon se tire dans le pied pendant qu'Oromocto Diamonds s'envole vers Tokyo pour une collaboration d'un soir –un vol de 22 heures pour 22 minutes de musique– avec la force brute ductile de Zoobombs.
Tout se dilate, tout implose. La musique, attisée par la promesse de la dernière nuit, dilapide son énergie dans l'espoir d'être happée par l'éternité. Les vieilles blessure de Zénon grésillent dans le roulis du rock passé et à venir. Le feu est sauf.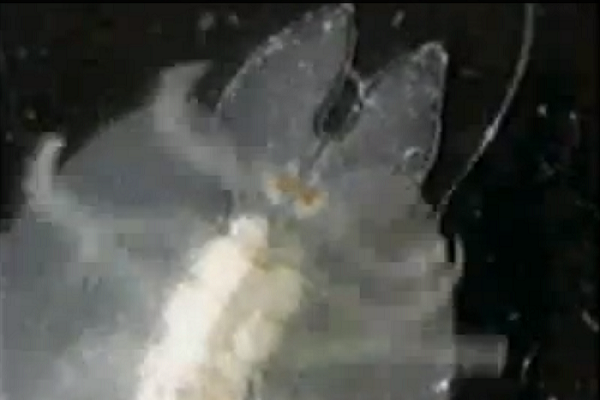 Colliding Canyons
Tsaxis
Nanaimo, BC
From the diseased flea bitten squirrel tails of Preacher Katie:
Colliding Canyons' parasitic visionary dial tones are infectious. As a friendly host, they crawl under your skin to create a symbiotic relationship that multiplies into various melodic shapes. This new microscopic disease will recycle the vital organisms you let shrivel up and die.
Des queues d'écureuil pleines de puces de Preacher Katie:
(Traduit par les abonnés proliférants de Benoit Arcand)
Les tonalités parasitaires et visionnaires de Colliding Canyons sont contagieuses. Elles rampent sous votre peau d'hôte accueillant et y établissent une relation symbiotique d'où prolifèrent les formes mélodiques les plus variées. Cette nouvelle maladie microscopique recyclera les organismes vitaux que vous laissez se désagréger et mourir.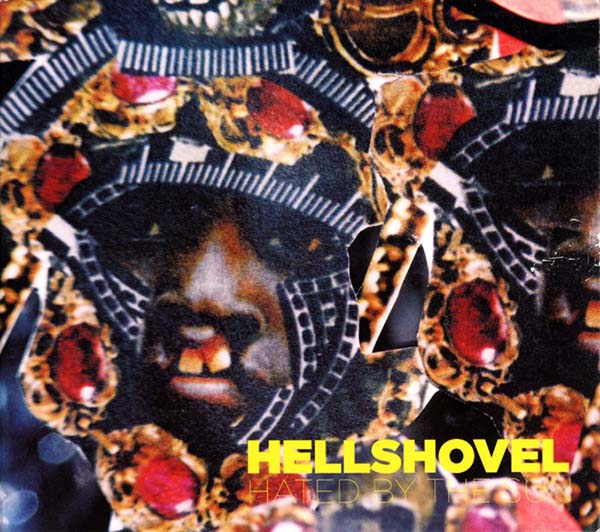 HELLSHOVEL
Hated By The Sun
Montréal, QC
From the sporadic diaspora of Benoit Arcand:
A new man in black is at the doors of the city. Jeff Clarke stops in front of each house still tagged by the devil's claw years earlier. Seeking truth in the sand, he spits on its gold and reveals its blood. With his sidekicks Dox Grillo and Bloodshot Bill, they manipulate the mysteries of country, summon the telluric force of punk in his crucibles, then distill bubblegum in psychedelic acid. The kids follow these panurgic jokers behind cascades of fuzz and through hollow ravines of twang, where they tame the bite of the sun and eat the scorpion's nectar.
The world divides itself into two categories: those who never will find treasures and those who dig. Hope to be one who digs.
De la diaspora sporadique de Benoit Arcand:
Nouvel homme en noir aux portes de la ville, Jeff Clarke s'arrête devant chaque maison où est encore la griffe du diable fichée là des années plus tôt. À la recherche de la vérité dans le sable, crachant sur son or, révélant son sang, il manipule, avec ses acolytes Dox Grillo et Bloodshot Bill, les arcanes du country, fait converger la force tellurique du punk dans ses creusets, puis distille le bubble gum dans l'acide psychédélique. Les enfants suivent ces farceurs panurgiques derrière les cascades de fuzz et dans les ravins creusés par le twang, où ils apprivoisent la morsure du soleil et goûtent le nectar du scorpion.
Le monde se divise bien en deux catégories: ceux qui ne toucheront jamais au trésor et ceux qui creusent. Espère être de ceux qui creusent.
HELLSHOVEL – Drifting Through the Galaxy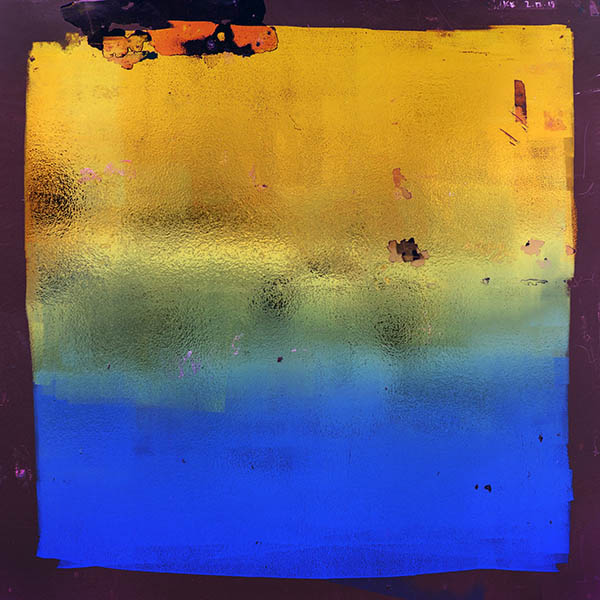 Ian William Craig
A Turn of Breath
Vancouver, BC
Du fatum élégiaque de Benoit Arcand:
Paysage dans la brume, les débris d'humanité révèlent un monde désenchanté. Nous ne sommes pas ici dans l'ornière du cliché post-apocalyptique, mais dans l'orbe de l'authentique révélation, sybilline et obvie. Le drone anthume de A Turn of Breath vous dépouille de toute ironie, de toute frivolité. En bon émule de la décadence, vous prenez ensuite place dans le char d'Hermès et montez à l'assaut de l'ineffable, muraille qui se donne à qui sait entendre. Alors vous verrez. Des ruines sans désespérance. La dignité dans le chaos. La grâce dans la voix humaine. La foi au bout du souffle.
From the elegiac fatum Benoit Arcand:
(Translated by L. Langille)
A landscape in mist, humanity's debris reveals a disenchanted world. We're not here in the ordinary post-apocalyptic cliché, rather we're in the sphere of authentic revelation, symbiotic, in the met-and-done-away-with. The authentic drone of A Turn of Breath strips you of all irony and friviolity. A good disciple of decadence, you then take the place on Hermes' throne and mount the height of ineffability, a wall which gives to those who know how to listen. Then you see. Ruins without despair. Dignity in chaos. Grace of the human voice. Faith at the end of a breath.

Ian William Craig – One the Reach of Explanations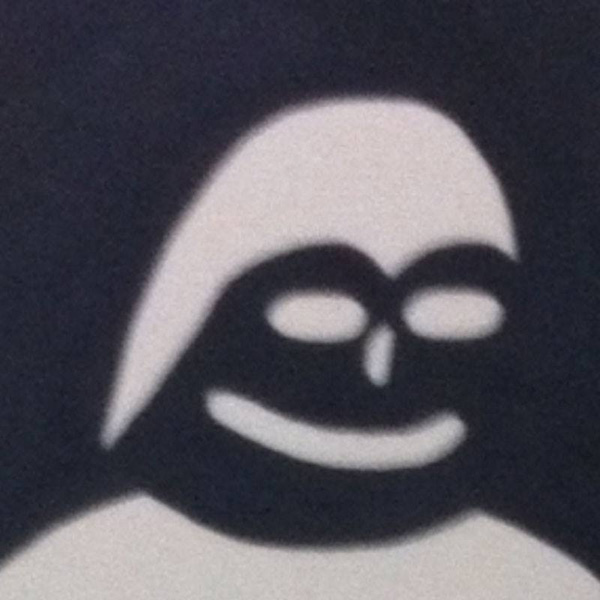 Cellphone
Excellent Condition
Toronto, ON
From the galactic hedonism of Julia Dickens:
Projections of the future are always more appealing when viewed from the past. Nostalgia for an imagined post apocalyptic future punk society looks best with CGI-free green screened special effects. The cold synthesized soundtrack has a comforting, warm warble. Cellphone's past/future vision evokes nihilistic teenage gangs roaming dilapidated cities on their hover boards. Punks hijacking a space ship on a hedonistic tear through the galaxy and straight into hell. Cackle and grin as you twist the knobs on your motorcycle-turned-time-machine and blast off into galactic oblivion.
De l'hédonisme galactique de Julia Dickens:
(Traduit par le nihilisme pimpant de Benoit Arcand)
Vues du passé, les prospections futuristes ont toujours fière allure. Les effets spéciaux plaqués sur écran vert font bien paraître la nostalgie d'une société punk post-apocalyptique fantasmagorique. Douillet, réconfortant même est le silement que produit sa froide trame sonore synthétique. Cette vision d'un passé/à venir est habitée par des bandes d'adolescents sans foi ni loi flânant dans la cité délabrée sur leurs planches flottantes. Des punks détournent une navette spatiale de plaisance et se ruent sans escale en enfer. Fendez-vous donc d'un sourire, d'un ricanement, tandis que la poignée que vous tournez fait vrombir votre moto patentée en machine à remonter le temps, et propulsez-vous dans l'amnésie galactique.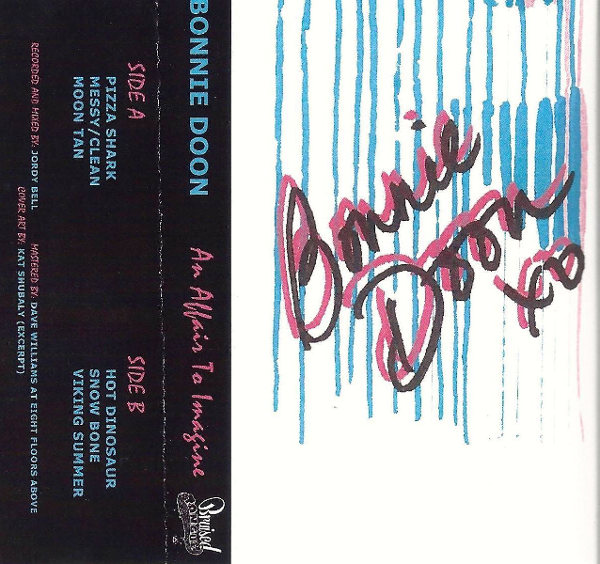 Bonnie Doon
An Affair to Imagine
Ottawa, ON
From the Frankenstein monster of Penny Clark:
Bruised Tongue slams another release out of the park with distorted, two bass glam-punk tape sounds from Bonnie Doon. The band immortalizes cheap slice Ottawa eatery Pizza Shark and the hot dinosaur who earns a living at the record store. They do this with vocals that are like some kind of insane Monster Mash/Bikini Kill Frankenstein monster. These Ottawa toughs crack wise sharper than anybody else.
Du monstre Frankenstein de Penny Clark:
(Traduit par Benoit Arcand)
C'est une autre garnotte étampée Bruised Tongue qui s'ébroue ici au-delà des palissades du champ gauche. Toutes basses glam-punk distordues brandies, Bonnie Doon rend au passage un térébrant hommage aux peu chères pointes de chez Pizza Shark et à ce dinosaur qui trime chez le disquaire, et tout ça sur des airs qui tiennent de l'hybridation démente de Monster Mash et de Bikini Kill. Ces durs à cuire ottaviens raillent plus profondément que les concurrents.
---