Tag: benjamin anderson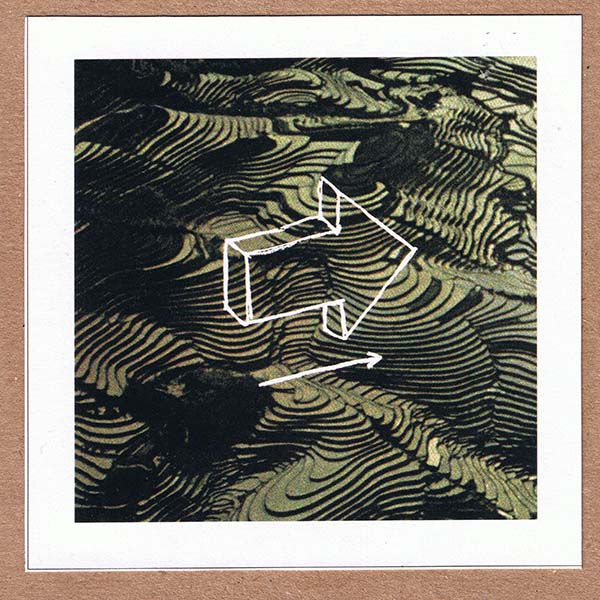 Mauno
Rough Master
(Self Released)
Halifax, NS
From the symphonic sear of Benjamin Anderson:
The stake blazes alight. All around voices like blacksmiths' strikes sing and smoulder on. Cries of "witchcraft" untangle themselves from the din. Bloodthirst glints like an oil slick across irises. The flames are licking your feet, the sear is symphonic; it feels of soaring strings. All for conjuring up tones that shape-shift and maneuver in and out of the ear like a salt water tide gurgling through a rusted pipe. Night is a muscle; you burn in the flex of it.
Du brûlement symphonique de Benjamin Anderson:
(Traduit par Louis-Félix de Chevigny, qui scande avec la foule enflammée)
Le bûcher s'enflamme. Autour de lui, tel un forgeron qui fait chanter son enclume, fusent des voix. Des accusations de «sorcellerie» jaillissent du tumulte. Des yeux qui pétillent d'une lueur assoiffée de sang, telle une nappe de fioul qui s'étend sur leurs iris. Les flammes te lèchent les pieds, leur brûlure est symphonique; tel des cordes en délire. Tout cela évoque des tons qui se métamorphosent et manœuvrent le canal auditif telle une marée d'eau salée qui gargouille dans un tuyau rouillé. Tu brûles dans le fléchissement du muscle de la nuit.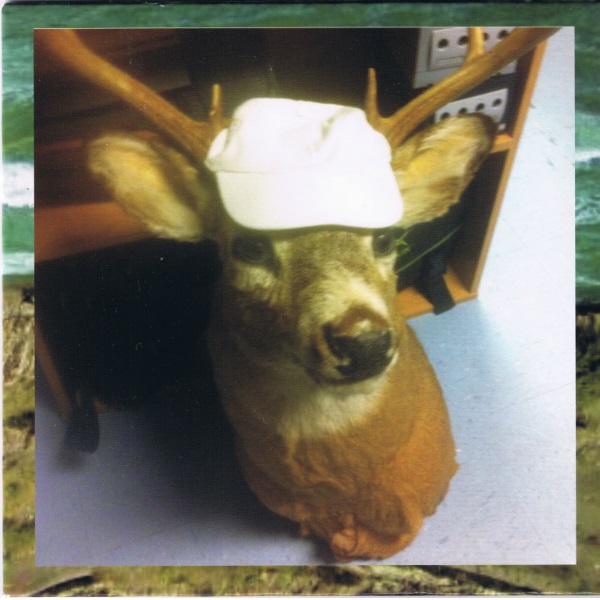 no problem
s/t
(Self-Released)
Truro, NS
From the bottomed ship of Benjamin Anderson:
Smoke is pouring its non-dimensions out from under the door, you can hear something stirring – no – you won't get in through there. You sneak in through the back – yes – this is what you came for. Figures that aren't quite bodies shift and lock together while up on the execution block there stands droogs, gully rats, and sonic gunslingers. Yellowing widths and lengths ooze from the crouching instruments, their wielders opaque but barely. You're nervous at first, but they are imploring you forward; closer. You give into the blind bliss of sun-worn tongues and bottomed-ship songs. Don't resist.
De l'épave submergée de Benjamin Anderson:
(Par la coquille à la derive d' Aliké Harel)
La fumée s'échappe en nuées adimensionnelles depuis le seuil de la porte, tu entends bien du mouvement à l'intérieur… mais — non — l'entrée n'est pas de ce côté-ci. Il faut se faufiler par la porte de derrière — c'est bien ça — que tu cherches. Des silhouettes qui n'ont pas tout à fait de corps tanguent, puis se figent les unes contre les autres, debout sur l'échafaud, acolytes, écumeurs et mercenaires soniques. Les instruments courbés tout de lambeaux défraîchis, et leurs interprètes, opaques, mais à peine. Tu es nerveux au début, mais ils t'implorent d'avancer, de t'approcher. Tu t'abandonnes aveuglément au plaisir des langues burinées par le soleil et des ritournelles d'épaves submergées. Ne résiste pas.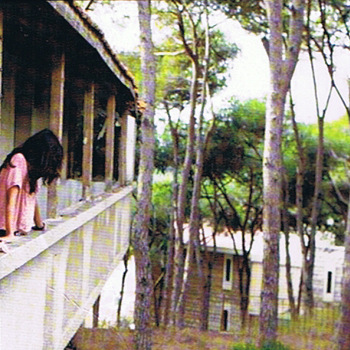 Ostrea Lake
Dear Outside The Woods EP
(Self Released)
Halifax, NS
From the wordless feet-stamping of Benjamin Anderson:
Frontman Elias Abi Daoud affectionately uncurls fingers of smoke into the inky night, drifting off into dreams of bonfires and walking mandolins. Partly recorded in Agricola Street's illustrious Open Mic House, partly recorded deep in the woods, Ostrea Lake's second EP is a despondent labourer, wordlessly stamping its feet in the thin mist of dawn on the Halifax Harbour. With a new EP due out in the spring on All We've Got Records, this is a group to keep a heavy-lidded eye on.
Des Foulées Sans Mots de Benjamin Anderson:
(Des plumes imperméables de Flora Hammond)
Le chanteur Elias Abi Daoud délie délicatement des doigts de fumée dans la nuit noir encre et s'égare au milieu de rêveries de feux de joie et mandolines. Enregistré dans la rue Agricola à l'illustre Open Mic House, mais aussi aux confins d'une sombre forêt, le second EP d'Ostrea Lake est un ouvrier abattu qui, à l'aube, sans mot dire, appose l'empreinte de sa démarche lourde au creux de la brume du port d'Halifax. Un nouvel EP est attendu au printemps chez All We've Got Records: gardez vos yeux entr'ouverts sur la trajectoire de ce groupe.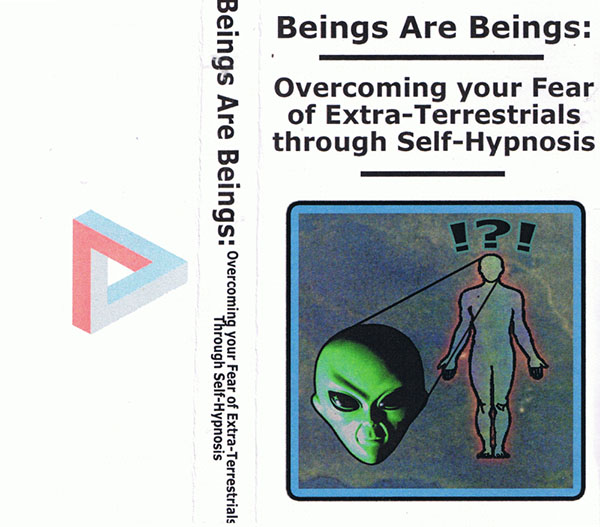 Unknown
Beings Are Beings: Overcoming your Fear of Extra​​-​​Terrestrials through Self​​-​​Hypnosis
Montréal, QC
From the otherworldly paranoid delusions of Benjamin Anderson:
A chillingly over-dubbed wretched echo of a voice gleams like black ice over a pulsating, anfractuous soundscape. This isn't beautiful; this isn't trying to be beautiful. It's hard to make sense of this piece even after countless listens; is this the crudely scrawled suicide note of this individual's sanity? Is this just strange for the sake of being strange? Shining unequivocally through our haze of uncertainty on this audio manifestation of otherworldly paranoid delusions is the sincerity and innocence in this person's message. Seriously, listening to this thing will leave you wanting to give this guy a hug.
Oh and the self-hypnosis works, just ask the Pope.
Du délire paranoïde surnaturel de Benjamin Anderson:
(Traduit par le séjour institutionnalisé de Jessica Grenier)
L'écho pitoyable d'une voix effrayante miroite comme la glace noire recouvrant les anfractuosités mouvantes d'un paysage. Ce n'est pas beau, et ça n'essaye pas de l'être. Même après d'innombrables écoutes, il est difficile de tirer du sens de cette pièce… — est-ce que c'est le gribouillis de suicide de la santé mentale de quelqu'un? Est-ce que c'est étrange juste pour le plaisir de l'être? L'innocente sincérité évidente du message brille à travers le brouillard de notre incompréhension face à cette manifestation audio d'un délire paranoïde surnaturel. Sérieusement, cette écoute va vous laisser avec l'envie de donner un câlin au gars.
Oh, et l'autohypnose fonctionne, demandez au pape…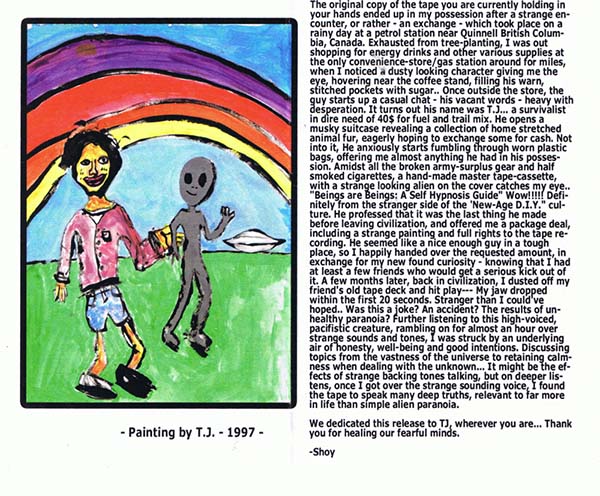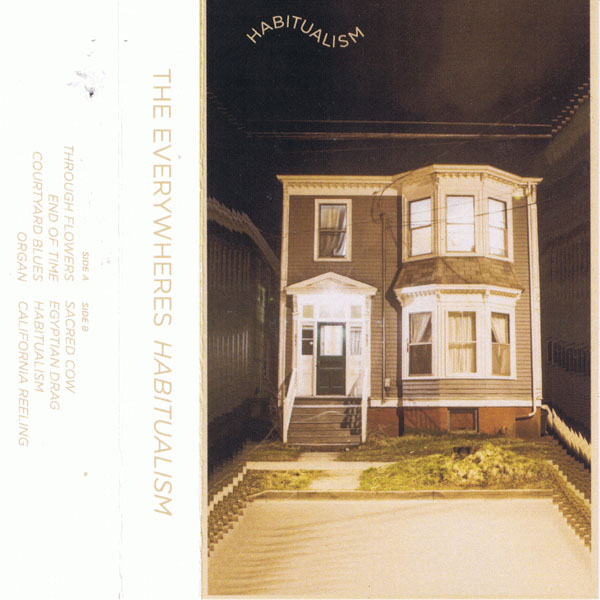 The Everywheres
HABITUALISM
Halifax, NS
From the distinct melancholy of Benjamin Anderson:
The Everywheres have been busy, with their freshman and sophomore albums both released in 2013. Each has the potency to put even the most sullen of listeners into a psychotropic trance, tongue lolling and head banging (albeit in slow-motion). With HABITUALISM, the Halifax-based four piece show consistency, sticking with sleepy vocals courtesy of Samuel Hill, shimmering guitar leads, and meditative drumming. While on the surface the album appears to be unrelentingly effulgent, further inspection reveals a distinct melancholy seeping through. It's a reminder that lazy summer days filled with sunburns, ferry rides, and second hand highs turn into chilly summer nights (and you forgot your sweater on the ferry).
De la mélancolie distincte de Benjamin Anderson:
(Traduit par le retour à la normale de Louis-Félix Pellerin)
The Everywheres étaient bien occupés récemment avec leur premier et deuxième albums tous deux sortis en 2013. Les deux ont le potentiel de mettre le plus maussade des auditeurs dans une transe psychotropique, la langue pendante et la tête en plein headbang (au ralenti, toutefois). Avec HABITUALISM, le quatuor de Halifax se montre cohérent et s'en tient aux paroles endormies de Samuel Hill, à une guitare d'avant-plan éclatante et à une batterie méditative. Bien qu'à première vue l'album semble s'acharner dans sa radiance, un second regard révèle une mélancolie distincte qui s'infiltre. Celle-ci sert à nous rappeler que ces jours d'été bien relax remplis de coups de soleil, de balades en traversier et de délires d'occasion se transforment en fraîches nuits d'été (et que vous avez oublié votre veste sur le traversier).

The Everywheres – Through Flowers
---