Tag: bedroom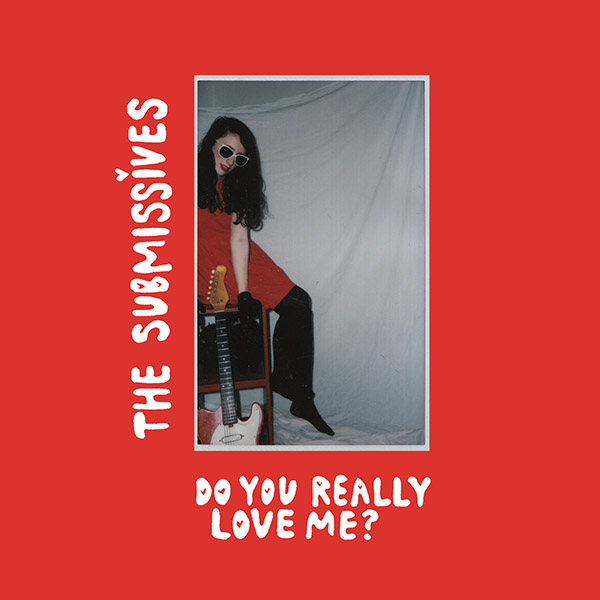 The Submissives
Do You Really Love Me?
Montréal, QC
From the Lovesick Daydream of Eleanor Wearing:
The Submissives' Do You Really Love Me? is the soundtrack to a never ending road trip towards an unreachable destination. Sun beats through dirty car windows. Soft air conditioning hums and sighs as the passengers do the same. Heat melts from a lazy blue expanse, conjuring highway mirages and lucid daydreams. Sweet stale air seeps and suffocates, whispering secrets to the reluctant beat of hands against knees. Finally, the sun slinks out of sight. Stars clatter and clink into place. But there is no rest for the lovesick so the car surges ahead, towards an elusive paradise.
Du rêverie languit d'amour du Eleanor Wearing:
(Traduit par Alison McReynolds)
Do You Really Love Me? de The Submissives est la bande-originale d'un road trip ayant une destination hors de portée. Le soleil tapait à travers des vitres sales. Un climatiseur doux chantonnait et soupirait pendant que les passagers faisaient de même. La chaleur fondait d'une étendue bleue et paresseuse évoquant des mirages de la grande route et de rêveries lucides. L'air doux et rassis coule et nous étouffe chouchotant des secrets aux battements réticents de mains qui frappent sur les genoux. Finalement, le soleil s'éclipse de vue. Les étoiles cliquettent et tintent en place. Mais il n'y a pas de repos pour celui qui souffre d'amour alors la voiture continue de l'avant vers un paradis élusif.
The Submissives – Do You Really Love Me?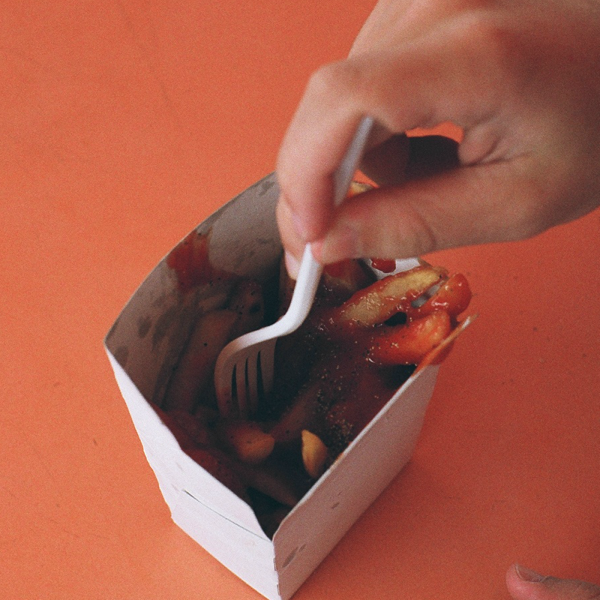 LA ROSE
lean period
(Self-Released)
Toronto, ON
From the scraped knees of Joshua Robinson:
Bedroom sophistry unfurls late-night curlicues, its lo-fi heartache screaming synthesized apologies that bounce off walls to rest, at long last, in the deepening emptiness of the space between weary ears. A catalogue of downtrodden pop-plunderphonics that bleed soft-spoken requiem; these entries are retreating voices and cigarette smoke, turning bright and polished daydreamed lovery into pale, ghostly, mournful parables. Intoned sepia dreams; clouded glasses and knees scraped against sharp pavement. The answer to the echoes that dance upon an upside down stage eyes hooked to the shadows that move across quiet ceilings.
Des genoux râpés de Joshua Robinson:
(Traduit par les roucoulades douces de Maya Keshav)
Le sophisme d'alcôve déroule des enjolivures nocturnes, pendant que son chagrin lo-fi hurle des excuses synthétisées qui rebondissent sur les murs jusqu'à ce qu'elles se reposent, enfin, dans le vide de plus en plus grand entre des oreilles fatiguées. Un catalogue des pop-plunderphonics opprimés qui dispersent le requiem doux; ces entrées sont des voix en retraite et de la fumée de cigarette qui transforment les roucoulades rêvées brillantes et bien polies en paraboles pâles, spectrales, et funèbres. Les rêves sépia entonnés; la buée sur les lunettes et les genoux égratinés par la chaussée rugueuse. La réponse aux échos qui dansent sur une scène à l'envers, les yeux rivés aux ombres qui se déplacent sur les plafonds silencieux.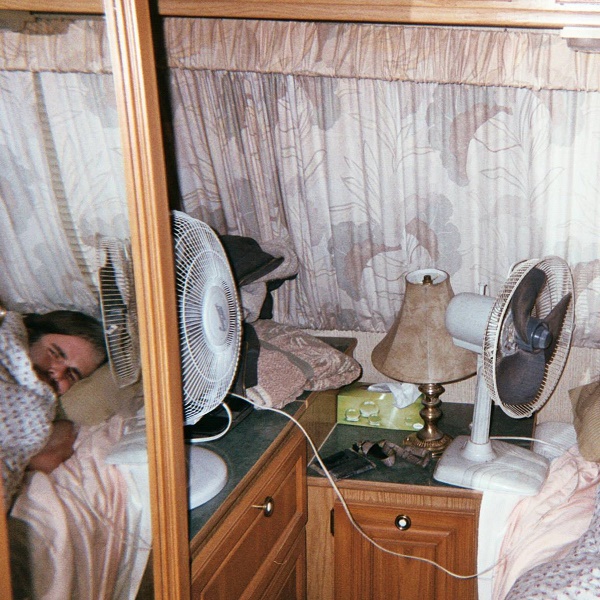 aaronke
backlight on this tablet is starting to hurt my eyes :/
(Self-Released)
Charlottetown, PEI
From the multi-dimensional resonance of Simon Petley:
You shiver from shoulder to hip as the smell of molten rubber seeping up from the tarmac mingles with memories of seawater blasting down your throat. Soon you'll have left, with a tangle of severed emotional tendrils in your wake.
You defy the course of the Trans Canada and rendezvous with solid ground five hours and five provinces later. The scene you left behind morphs beyond your field of vision.
You're left with patchwork: a zine in the mail or a 140 character morsel delineate your narrow lense. A weak connection distills these depictions down to a pixelated array, or else a single frozen frame. But the visage that remains in gleaming high fidelity assures you that this country's grand expanse isn't grand enough to keep swelling hearts from colliding. You'll be back.
De la résonance multidimensionnelle de Simon Petley:
(Traduit par le caoutchouc fondu de Maya Keshav)
Tu frissonnes de l'épaule à la hanche quand l'odeur de caoutchouc fondu qui s'infiltre du tarmac se mélange aux souvenirs de l'eau de mer qui coule dans ta gorge. Bientôt ,tu seras partie,, avec un enchevêtrement des vrilles coupées d'émotions dans ton sillage.
Tu défies le cours de la Trans Canada et te retrouves avec la terre ferme cinq heures et cinq provinces plus tard. Les paysages que tu as laissés derrière toi disparaissent au-delà de ton champ de vision.
Il ne te reste qu'une mosaïque : un zine dans le courrier ou un morceau de 140 caractères qui délimite ton angle étroit. Une mauvaise connexion distille ces représentations jusqu'à un étalage des pixels, ou sinon un seul arrêt sur image. Mais le visage qui reste en haute fidélité étincelante t'assure que la vaste étendue de ce pays n'est pas assez vaste pour empêcher les coeurs qui se gonflent d'entrer en collision. Tu reviendras.
aaronke – backlight on this tablet is starting to hurt my eyes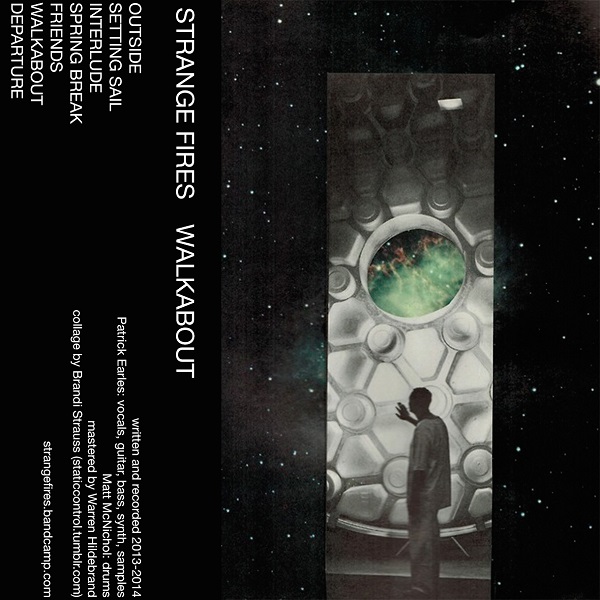 Strange Fires
Walkabout
Edmonton, AB
From the twinkly toes of Kelly MacNeil:
Walkabout is a tumble through town, showing us all of the secret and special places. Edmonton's Strange Fires yips into culverts, taping the echoes and keeping them warm in their front breast pocket. Together we wander, throw stones in ponds, staring at the ripples, watching fish dart. Walkabout is a time of solemn remembrance, the kind that fills your heart with sparks and makes your toes wriggle. Beneath layers of dust, dirt, and snow we come to see the beauty in the old places we know.
Des orteils brillants de Kelly MacNeil:
(Traduit par Julie Mayer)
L'album Walkabout nous montre tous les endroits secrets et spéciaux de la ville qu'il traverse à la course. Originaire d'Edmonton, le groupe Strange Fires jappe dans les caniveaux, enregistre les échos et les garde au chaud dans sa poche poitrine. Ensemble, nous vagabondons, nous lançons des cailloux dans les mares, nous fixons les ondes et regardons les poissons s'enfuir. Walkabout est un moment de commémoration solennelle, du genre qui remplit votre cœur d'étincelles et fait tortiller vos orteils. Sous les couches de poussière, de saleté et de neige, nous parvenons à voir la beauté des lieux qui nous sont bien familiers.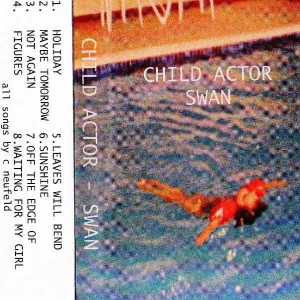 Child Actor
SWAN
(Self Released)
Montréal, QC
From the static happiness of Joshua Robinson:
The perplexities of the bedroom dweller are familiar to many of us: long stretches of abject isolationism and agoraphobia, friends found in ink blots, on desktops and in the fibers of wool socks. And for some reason, this disposition has leaked into my preference for particular genres of music. So it comes with a somewhat unfamiliar welcoming that an artist has lightened, if only for a brief time, my derangement in thinking that patterns on desks and in socks are valid substitutes for lighter and more sociable moods. Child Actor's SWAN is as much a call to get over oneself as it is an urging to punch a hole in a wall. Equal parts actualization and affirmation; a static-infused happiness that destroys vainglory and despondency. From distant shores, Child Actor's Charlie Neufeld has crafted lullabies against our overruling bitterness, killing the inner emotional demagogue pandering to our low spirits and trivial gripes.
Du bonheur statique de Joshua Robinson:
(Traduit en portant des bas de laine par Andréanne Dion)
Les incertitudes de quelqu'un qui vit dans sa chambre sont familières à beaucoup d'entre nous: de longs moments d'isolation abjecte et d'agoraphobie, des amis trouvés dans des taches d'encre, sur le dessus de bureaux et dans les fibres de nos bas de laine. Pour une raison ou pour une autre, cette tendance a débordé jusque dans mes préférences pour certains genres musicaux. Qu'un artiste ait allégé, quand bien même un bref instant, la démence qui me fait penser que de trouver des motifs sur des surfaces des bureaux et dans des bas sont des substituts valables à d'autres états d'esprit plus légers et sociables est un changement quelque peu inhabituel, mais bienvenu. SWAN de Child Actor est autant un appel à se surpasser qu'un encouragement à percer un trou à coup de poing dans un mur. Réalisation et affirmation en parts égales, c'est un bonheur statique qui détruit la vanité et le découragement. Depuis les côtes éloignées de distant shores, Charlie Neufeld de Child Actor a composé des berceuses pour contrer l'amertume qui nous domine, tuant le démagogue émotionnel intérieur qui se plie à notre moral bas et à nos irritations futiles.
Child Actor – Waiting For My Girl
Spools
Spools
(Self Released)
Montreal, QC
From the sproolian diskos of Aaron Levin:
Somewhere between a rave-induced, casio-blown pop ritual and the netherworld of nuanced bedroom wizardry lurks an unassuming champion of weirdo minimalism. Several journeys through Spools' cosmique varieté will induce a space-gaze of drum machine rhetoric, riddum annihilation, and post-ritual keyboard jammery. A rare glimpse into the streaming consciousness of precious obscurity.
Des diskos sprooliens d'Aaron Levin: (Traduit par Maya Keshav)
Quelque part entre un rituel de pop casio-explosé et causé par une rave, et les enfers de la sorcellerie subtile de chambre, un champion modeste du minimalisme bizarre se cache. Plusieurs voyages à travers la variété cosmique de Spools provoque un space-gaze de rhétorique boîte à rythme, d'anéantissement de rythme, et de bœufs clavier post-rituel. Un aperçu rare dans la conscience coulante d'obscurité précieuse.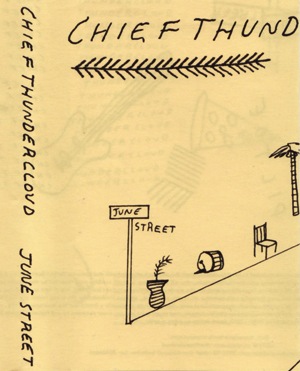 Chief Thundercloud
June Street
Halifax, NS

A collected batch of strung out six string slumps, some barely audible and some blown-out noisy, sewn together to give a rough impression of Chief Thundercloud's inner demons. At times so very close and personal, it feels like listening in through a door crack to your roommate playing silently. Side A holds 19 short originals and the B side is 12 surprising, hollowed-out cover songs, ranging from the
Spice Girls
to
CCR
to the most uncool,
anti-wanker
version of Freebird ever recorded.
De la porte entrouverte de Gabriel Jasmin:
Une collection de pièces acoustiques fantomatiques, certaines à peine présentes et d'autres jouant du coude avec le noise, qui esquissent un portrait brut des démons intérieurs de Chief Thundercloud. Certains passages très fragiles donnent même l'impression d'écouter secrètement, par une porte entrouverte, quelqu'un gratter silencieusement sa guitare. La face A contient 19 courtes pistes originales et on trouve 12 covers surprenants et épuisés sur la face B, des Spice Girls à CCR à la version la plus anti-cool et anti-vantarde de Freebird.
[audio:http://weirdcanada.com/wp-content/uploads/2011/09/Weird_Canada_-_Chief_Thundercloud_-_Almost_Gone.mp3|titles=Chief Thundercloud – Almost Gone] Chief Thundercloud – Almost Gone
[audio:http://weirdcanada.com/wp-content/uploads/2011/09/Weird_Canada_-_Chief_Thundercloud_-_Freebird.mp3|titles=Chief Thundercloud – Freebird] Chief Thundercloud – Freebird
[audio:http://weirdcanada.com/wp-content/uploads/2011/09/Weird_Canada_-_Chief_Thundercloud_-_Stuck_Underwater.mp3|titles=Chief Thundercloud – Stuck Underwater] Chief Thundercloud – Stuck Underwater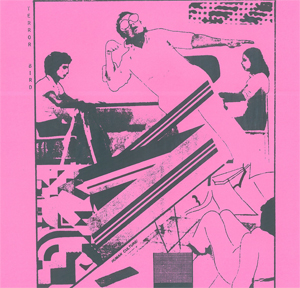 Terror Bird's anthems shine from a thick lacquering in stiff drum machine syncopation and the rough gloss of
digital keyboard circuitry
. Throughout 13 heartfelt numbers driven by Nikki Never's majestic crepitant vocals, a genuine sensibility cuts straight through the plastic shell.
Human Culture
's clear LP in a vibrant,
hand-screened jacket
feels like finding diamonds in a bright pink toy chest.
Du coffre à jouets de Gabriel Jasmin:
Les hymnes de Terror Bird brillent, vernis d'une couche épaisse de syncopation rigide typique des boîtes à rythme et du gloss brut des synthétiseurs digitaux. Mais entrainée par la majestueuse voix crépitant de Nikki Never, une authentique sensibilité coupe directement, et heureusement, à travers leur enveloppe plastique. Avec treize titres rayonnants, Human Culture est un vinyle transparent dans une pochette rose fluo sérigraphiée à la main, et dégage un impression d'avoir trouvé des diamants dans un coffre à jouet rose fluo.
[audio:http://weirdcanada.com/wp-content/uploads/2011/08/Weird_Canada-Terror_Bird-Make_Believe.mp3|titles=Terror Bird – Make Believe] Terror Bird – Make Believe
[audio:http://weirdcanada.com/binary/Weird_Canada-Terror_Bird-We_Were_Monsters.mp3|titles=Terror Bird – We Were Monsters] Terror Bird – We Were Monsters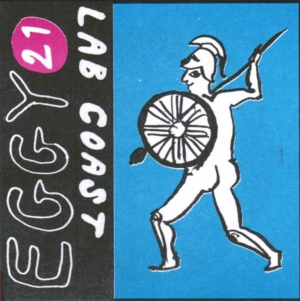 Lab Coast
Pictures on the Wall
Calgary, AB

For us Canadians, spring comes with a peculiar feeling of delight, and this is precisely the kind of soundtrack you need when waking up from
winter hibernation
. Lively yet relaxed, Pictures on the Wall is jam-packed with hooks, sunny vocal harmonies and smooth bedroom-fi fuzz. With 12 short songs packed into 19 minutes of tape, Lab Coast show excellent focus and economy in crafting fine laid-back pop. It's springtime, life is good again, so stay in bed a little longer and then
go ride your bike
or something.
Du snooze matinal de Gabriel Jasmin:
Nous, habitants des grands froids, savons qu'un bonheur tout particulier accompagne l'arrivée du printemps, et cet album est précisément le genre dont on a besoin au moment de sortir de notre torpeur d'hibernation hivernale. Énergique mais posé, Pictures on the Wall est une bonne dose de hooks, d'harmonies vocales ensoleillées et de la distortion digne des enregistrements de sous-sol. Avec 12 chansons en 19 minutes, l'excellente pop décontractée de Lab Coast s'y trouve concentrée et économe. On l'aime parce que c'est le printemps, parce que la vie est belle et parce qu'après une sieste prolongée, on ira faire une balade à vélo.
[audio:http://weirdcanada.com/wp-content/uploads/2011/05/Weird_Canada-Lab_Coast-Radio.mp3|titles=Lab Coast – Radio]Lab Coast – Radio
[audio:http://weirdcanada.com/wp-content/uploads/2011/05/Weird_Canada-Lab_Coast-On_My_Jeans.mp3|titles=Lab Coast – On My Jeans]Lab Coast – On My Jeans
---