Tag: beats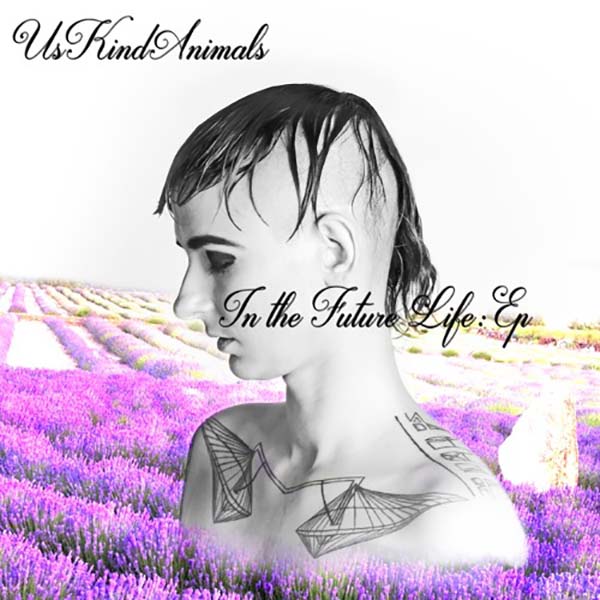 UsKindAnimals
In the Future Life EP
(Self-Released)
Montréal, QC
From the 4am catharthis of Heather Lune:
Is it holy to dance? Flee a frozen night in the dark underground chambers, to carve into the archaic beats and feel so new, so modern. And the summer comes: the long long sun, you need to get drunk in that hot light with desperation. But the anxiety as the frost creeps in again, the sun slips. In the manic chill, UsKindAnimals sing wild hymns to the soul over blindness-seeking carnal rhythms. Hear the auld disco dirge of ecstatic mourning? It's the death dance of winter, a skeleton shaking yourself out of your own cold corpse.
De la purge matinale de Heather Lune:
(Traduit par Sergio Calla)
La danse est-elle sacrée ? Fuir des tunnels souterrains pendant une nuit glaciale pour s'intégrer dans les sons archaïques afin de se régénérer et de se moderniser. Puis l'été arrive avec ses rayons de soleil étendus, donnant envie de se soûler désespérément dans cette lumière chaude pour encore une fois angoisser au départ du soleil et à l'arrivée du gel. Dans cette frénésie frisquette, UsKindAnimals chantent à l'âme des hymnes sauvages cherchant aveuglement des mélodies bestiales. Faire un deuil euphorique en écoutant de la bonne vieille musique d'enterrement? C'est la macabre danse hivernale. Un squelette qui vous secoue pour vous faire sortir de votre propre corps refroidi.
UsKindAnimals – Animal Dream feat. Emilie Monnet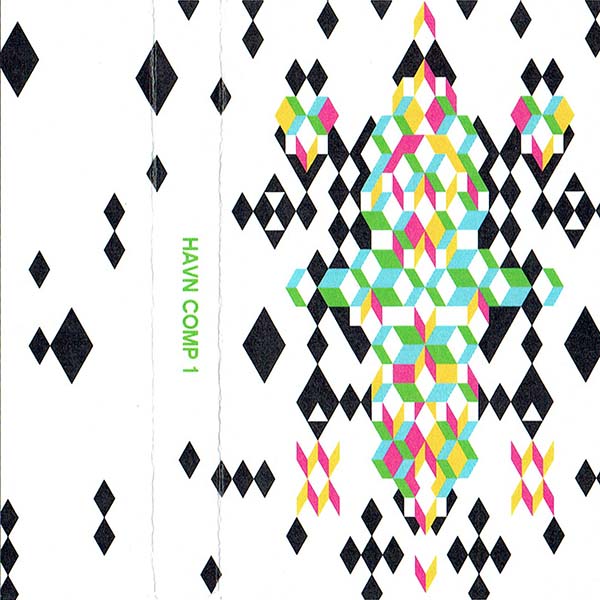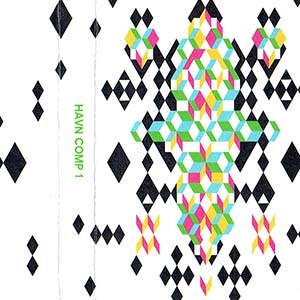 Various Artists
HAVN COMP 1
(HAVN)
Hamilton, ON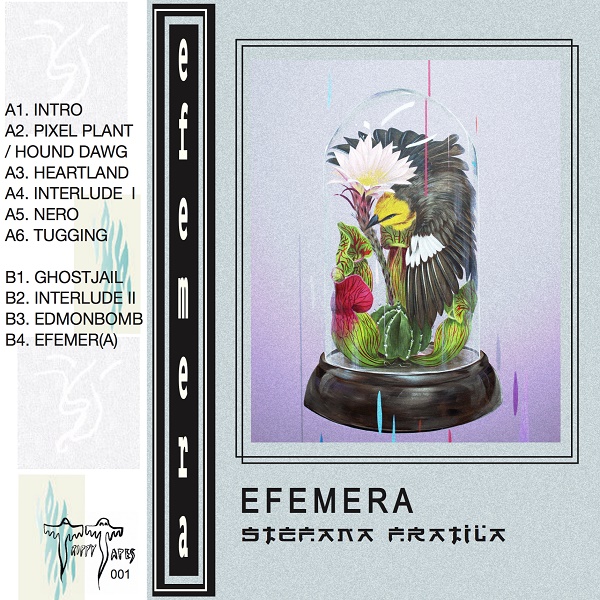 Stefana Fratila
Efemera
(Trippy Tapes)
Vancouver, BC
From the function space of Sara Frank:
It's summer, and the ghost from your childhood home has gotten out again. Efemera steals through your curtains with the crushing sunlight, pollinating gauzy fields inside your clammy afternoon dreams. Elegiac reverberations ooze from the trees. Old sorrows ablate with the rain. You can't remember putting the record on, but it's playing anyway.
Par l'espace-fonction de Sara Frank:
(Traduit par la conscience ruisselante Émily Traichel)
C'est l'été, et le fantôme de la maison de votre enfance s'est échappé de nouveau. Efemera se glisse à travers vos rideaux avec l'écrasante lumière du jour, pollinisant les champs vaporeux de vos rêves fiévreux d'après-midi. Des réverbérations élégiaques suintent des arbres. Les vieux chagrins se dissipent avec la pluie. Vous ne vous souvenez pas d'avoir mis le disque en lecture, mais voilà qu'il joue.
Stefana Fratila – Pixel Plant/Hound Dog
Sea Nymph Science
I do the Beats, I do the Rosary
Montreal, QC // Yellowknife, NWT
From the soaked fingers of Katie Jensen:
Bubbling blackness seeps into the pelagic gloom like a pool of spilled ink.
The suction of compressed air rises and falls with each intake of breath. A slow tidal pulse pulls and tugs, sending swollen bodies swaying in syncopation.
Incongruent geometric microorganisms float past a clutch of moaning hatchetfish with mouths pressed close together. Long-echoing snares collide with filtered vocals in a waterlogged tangle.
A grey-lipped, underslung jaw of jagged, interlocking teeth snap open and shut silently, catching nothing but dark water for infinity.
Des doigts trempés de Katie Jensen:
(Par les neurones néréïdés d'Aliké Harel)
Une noirceur bouillonne et perfuse dans l'obscurité pélagique, puis s'étend comme une tache d'encre.
La succion d'air compressée s'accentue et s'apaise à chaque respiration. Le battement de la vague va et vient lentement, et rapporte les corps gonflés ballottant sur une même onde.
Les micro-organismes aux formes géométriques et incongrues flottent devant un banc de characidés, geignant, les mâchoires serrées l'une contre l'autre. L'écho lointain des percussions se heurte aux voix dans le remous des vagues.
La mâchoire retombante aux lèvres grises et hérissées de dents juxtaposées claque en s'ouvrant, mais se referme en silence pour n'attraper que l'eau sombre à l'infini.

Sea Nymph Science-There is a Cloud in Our Vision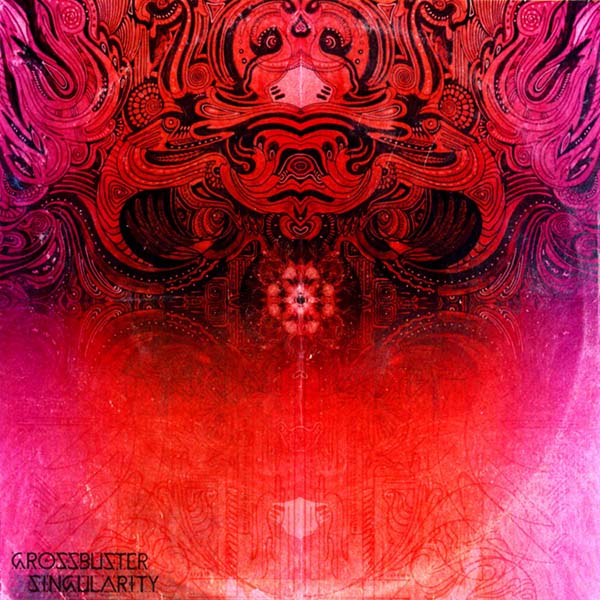 Grossbuster
Singularity
(Self Released)
Victoria, BC
From the rapid fingertips of Johnnie Regalado:
Take a mad stack of rare tapes and boil them down in the brain basin, rinse 'em through the rhythm veins, and fire 'em off through rapid fingertips . Grossbuster blasts an injection of the raw and analogue into a dose of dance music rarely heard on island time. Fresh loops lapping waves of bliss mist against the shores of our audible bays.
Du bout des doigts rapides de Johnnie Regalado:
(Traduit par la non-insulaire Mylène Quevillon)
Prenez une quantité folle de cassettes rares et faites les bouillir dans le bassin du cerveau, rincez-les à travers le rythme des veines, et faites les éclater par un mouvement rapide du bout des doigts. Grossbuster fait exploser une injection de sons crus et analogiques en une dose de musique dance rarement entendu au rythme de l'île. Un nouveau circuit de clapotis de vagues de brouillard extatique contre les rives de nos calanques audibles.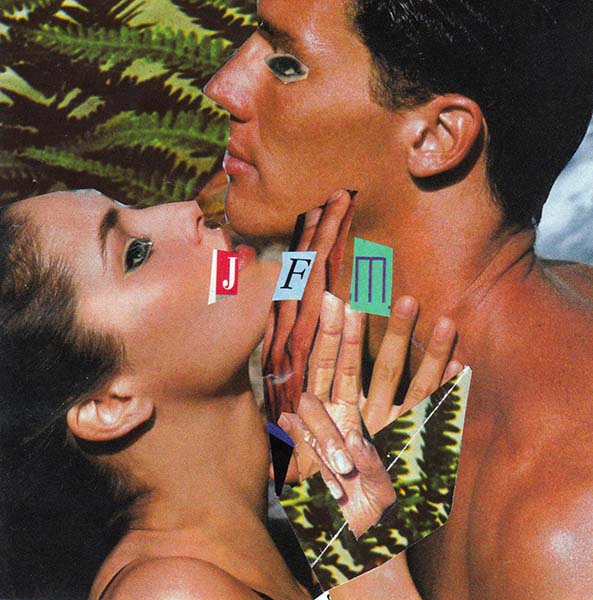 From the cloaked time of Jesse Locke:
On his second release of 2014, Maritime wavejumper Jesse Frank Matthews stretches bugged-out beatscapes into new shapes of fractured FX expressionism. From the hop 'n' bounce of "101 Dimensions" to the warbling dreams of "Flesh It Out" to the flickering flutes and ragga rhythms of "Fall Asleep With Candles Lit", Moult serves up a JFM buffet. At its core, "Eeenuff" delivers a tribute to an early inspiration with sorrowful strings bumped up to dance far beyond curfew.
Du temps voilé de Jesse Locke:
(Traduit par Jessica Grenier)
Sur son deuxième album sorti en 2014, lewavejumper maritime Jesse Frank Matthews étire des paysages rythmés délirants pour en faire de nouvelles formes fracturées d'effets expressionnistes. Des bonds de « 101 Dimensions » aux rêves gazouillants de « Flesh It Out » en passant par les flutes défaillantes et les ragga-rythmes de « Fall Asleep With Candles Lit », Moult de JFM est un véritable buffet. La pièce centrale, « Eeenuff », rend hommage à une de ses premières influences avec des cordes mélancoliques de plus en plus intenses, prêtes à danser bien plus tard que le couvre-feu.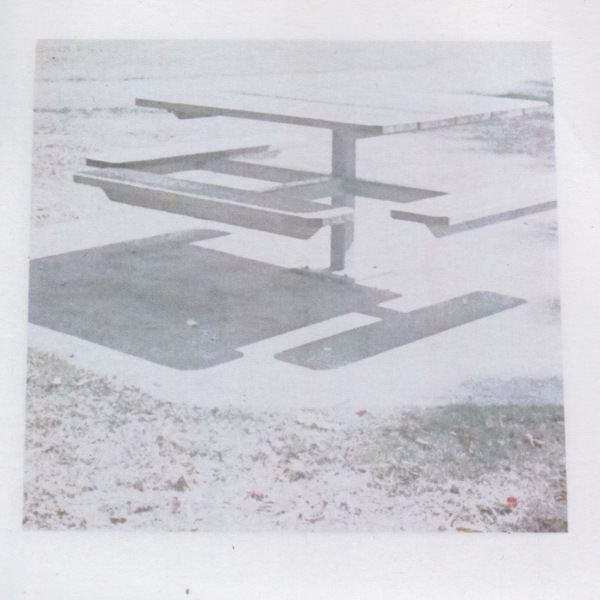 Warm-wave syncopation and ambient washery commix at the point where petrichor becomes mistaken for the redolence of dream-smoke delirium. Soft echoes bounce off swaying arms symptomatic of space seekers gathering en masse; dirigible minds at the confluence of arteries where grey areas expand between the here and there.
Flash Palace
Ceiling All
(Self Released)
Vancouver, BC
From the calm-Kraut of Joshua Robinson:
Warm-wave syncopation and ambient washery commix at the point where petrichor becomes mistaken for the redolence of dream-smoke delirium. Soft echoes bounce off swaying arms symptomatic of space seekers gathering en masse; dirigible minds at the confluence of arteries where grey areas expand between the here and there. These tepid waters lap against the granulated microcosms of brain-gelled banks as cranial overstimulation pushes us further into the deepening depths of calm-Kraut while the impressible features of cotton-soft cataclysms are worn as guards against mechanosensation-al listlessness.
Du calm-Kraut de Joshua Robinson:
(Traduit par Andréanne Dion)
Des syncopes fiévreuses et des vagues ambiantes se rencontrent là où l'on confond le petrichor avec l'odeur d'un délire aux contours oniriques. De doux échos rebondissent sur des bras qui ondulent, un symptôme de ces grands rassemblements où se réunissent ceux qui [recherchent l'espace(http://weirdcanada.com/2014/03/new-canadiana-each-other-being-elastic/). Des esprits dirigeables là où les artères se croisent, là où les zones grises se dilatent entre ici et là-bas. Ces eaux tièdes lapent les grèves gélatineuses de microcosmes granuleux, alors que le surplus de stimulations crâniennes nous pousse plus loin dans les profondeurs profondes du calm-Kraut, pendant que les particularités impressionnables de cataclysmes doux comme du coton sont portées comme des armures contre la lassitude mécanique des sens.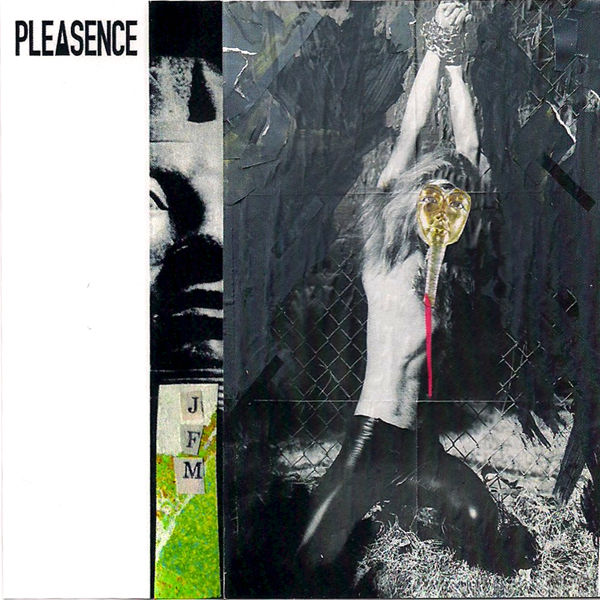 From the crass cranium of Farah Barakat:
JFM (Jesse Frank Matthews) constructs groovy soundscapes using a sampler and effects. For his cassette debut on Pleasence Records, the loops are minimally constructed, maximally effective. One carefully chosen beat, riff or rhythm is looped for minutes at a time, as intricate tweaks are added to create titillating audio collages before switching the vibe. Squat is a long, pleasant (pun intended) city drive late at night, with identical streetlights guiding you down the road like outstretched arms.
Du crâne insensible de Farah Barakat:
(Traduit par le doux murmure d'Anaïs Njike)
Producteur de musique décalée et compositeur solo de musique électronique, JFM (Jesse Frank Matthews) crée une atmosphère musicale groovy à partir d'un sampleur et d'effets sonores. Sa première cassette sortie sur Pleasence Records est l'exemple d'une boucle minimale, pour un effet maximal. Une rythmique ou un riff minutieusement choisis qui constituent une boucle répétée pendant plusieurs minutes, à laquelle s'ajoutent des éléments complexes pour créer un univers audio émoustillant avant de passer à l'ambiance suivante. Squat est aussi agréable qu'une longue virée en voiture tard dans la nuit, dans une ville dont les réverbères, identiques, vous tendent les bras pour guider votre chemin.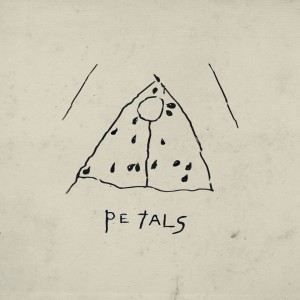 Josh Furey
Petals
Calgary, AB
From the ceramic outpouring of Joshua Robinson:
Found somewhere in that lurid boundary beyond the commonplace, Nocturne Records founder Josh Furey exists as an angelic force. His hip-hop-influenced samples and electronic dirges coalesce to smother one in the rich overtones of a hushed and quilted enculturation. Petals, the follow-up to 2008's successful Archaeology, bears the same sort of imminently professed profundity, a ceramic outpouring of creation. This music is molded and fire-hardened from the clays of the underground, shaped to resemble the vestiges of blues and jazz-inspired infusions of early '90s fame. Furey's collaboration with Khalik Allah is evidence of his kinetic momentum. There is motion herein, deliberate yet subdued; intentional yet understated. The nonverbal refrain, inferred rather than implied, is one of a slow calm ruling the day. A pulsing, surging, enlivened crawl to the apex of these artefactual firmaments housing slow-motion scrawls written on asphalt in terracotta cursive.
Du déversement en céramique de Joshua Robinson:
(Traduit par les couleurs fraîches de Julie Forget)
Se trouvant quelque part dans cette limite macabre au-delà de l'ordinaire, Josh Furey, fondateur de Nocturne Records existe en tant que force angélique. Ses samples influencés par le hip-hop et ses chants funèbres électroniques s'unissent pour nous faire suffoquer dans les connotations riches d'une enculturation étouffée et capitonnée. Petals, qui suit l'excellent album Archaeology (2008), comporte le même genre de profondeur déclarée de façon imminente, un déversement de création en céramique. Cette musique est modelée et durcie à partir d'argile souterraine, façonnée afin de ressembler aux vestiges des infusions inspirées du blues et du jazz de la gloire du début des années 90. La collaboration de Furey et de Khalik Allah prouve l'élan cinétique du producteur. Nous y trouvons un mouvement délibéré mais silencieux ; intentionnel mais discret. Le refrain non-verbal, déduit plutôt qu'insinué, se voit être un calme lent régnant sur le jour. Un lent pas animé battant et déferlant vers le sommet de ces firmaments d'artéfacts logeant des gribouillages au ralenti écrits sur l'asphalte en cursive couleur ocre brun.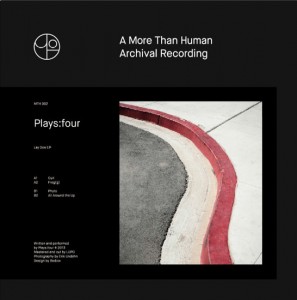 Plays:four
Lay Doe EP
Vancouver, BC
From the soothing disembodiment of Kristian Voveris and Yu Su:
The breathing flow and looping samples of Plays:four (Sam Beatch, Jonathan Scherk and Ellis Sam) craft a soothing sense of disembodiment as the mundane world rolls steadily through your windows on a grey, disoriented morning. Opening with an inviting trickle of watery, tropically warm sounds punctuated with an irregular kicking groove, "Cuit" eventually gives way to a sweltering ambience, driven by laid back percussion. Keeping the EP alive from falling asleep in its haze, or rather guiding its somnambulist listener, are scattered snippets of unique clatters and clinks, or moments like the dreamy climax in "Phyto", with a nostalgic Jan Jelinek-inspired landscape strangeness. The warmth of analog electronics paired with intricate production turns even more obfuse melodies into pleasing hooks. These are sounds that find their own ways into places in your consciousness if you let them.
De la désincarnation apaisante de Kristian Voveris et Yu Su:
(Traduit par Astrid Arlove)
Le flot aéré des échantillons en boucle de Plays:four (Sam Beatch, Jonathan Scherk et Ellis Sam) crée un sentiment apaisant de détachement, alors que le monde banal défile sans interruption à travers votre fenêtre au cours d'un matin grisâtre et désorientant. Débutant avec le ruissellement invitant de sons tropicaux liquides et tièdes ponctués d'un groove irrégulier et claquant, « Cuit » se transforme finalement en une ambiance accablante, dirigée par des percussions décontractées. Des bribes éparpillées de cliquetis et de tintements uniques ou des moments comme l'apogée rêveuse de « Phyto », qui offre un paysage étrange à la Jan Jelinek, empêchent cet album de s'endormir dans son confort embrumé, ou plutôt guident son auditeur somnambule. La chaleur des appareils électroniques analogiques, mariée à une production complexe, transforme même les mélodies les plus obtuses en d'agréables airs. Ce sont des sons qui font leurs propres chemins à l'intérieur de votre conscience, si vous les laisser faire.
---