Tag: bart records
Fuck The Tundra
Grin Diesel
Edmonton, AB
From the teen steamings of Jesse Locke:
Midway through their final set at the Bart Records showcase for Sled Island 2010, Fuck the Tundra's hyperactive frontman pushed the crowd back, tucked to his toes and hucked a massive flat ground back flip. That gymnastic feat was impressive enough, yet it was still overshadowed by a pitch-perfect performance of all six songs from their debut cassette, one of this year's most jaw dropping releases. Throughout Grin Diesel's succinct 16 minutes, the quartet tears into 31G-style post-hardcore with pulse quickening drum fills, spidery dueling guitars and mathematical change-ups, all peppered with their bizarre sense of humor. Most surprising is the serenely summery yet still mathy instrumental "Eliminator Boat Duel," an ear-pleasing interlude amidst the chronicles of ridiculous.
De l'ado furieux qui est Jesse Locke: (Traduit par l'ado heureuse qui était Maya Keshav)
Au milieu de leur dernière chanson à la vitrine de Bart Records pour Sled Island 2010, le chanteur hyperactif de Fuck the Tundra a repoussé la foule, s'est penché aux orteils, et il a fait un énorme saut périlleux arrière. Cet exploit de gymnastique était déjà assez impressionnant, mais c'était encore éclipsé par une spectacle simplement parfaite de toutes les six chansons de leur début cassette, un des plus bouleversants enregistrements de cette année. Pendant les 16 minutes succinctes de Grin Diesel, le quartette explose en post-hardcore à l'air 31G avec des fills de batterie qui fait pulser le coeur, des guitares minces en duel, et les changements mathématiques, tout éparpillé avec leur sens bizarre de l'humour. Le plus surprenant, c'est le morceau sereinement estival mais aussi mathématique "Eliminator Boat Duel", un intervalle agréable entre les chronicles ridicules.

Fuck The Tundra – Gintro

Fuck The Tundra – Eliminator Boat Duel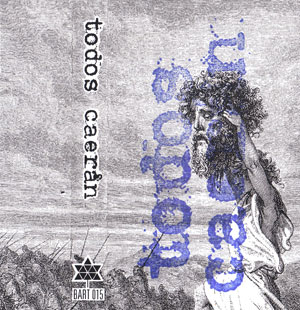 Todos Caerán
Todos Caerán
Edmonton, AB
From the mid-90s emo nostalgia of Paul Lawton:
When I randomly checked Todos Caerán a few weeks back, I felt four things. 1) Shame: in not running from something labeled "emo/hardcore." 2) Confusion: for thinking I had long left my emo/hardcore days once it started getting co-opted by Vans Warped Tour and mall-punks. 3) Nostalgia: the first wave of mid-90's proto-emo bands in Alberta – a welcome respite from the glut of Fat Records wannabes droning on for many boring hours in half-empty community halls. They came as a reaction to the forms that were readily being co-opted. Moss Icon, Portraits of Past, Frail, Angel Hair were a way out, and though it didn't last very long, it was really great while it did. 4) Inspiration: the best emo/hardcore bands, like Todos Caerán, inspire. Despite already playing in 100 bands, I want to start another group in this vein. I want to play shows with Todos Caerán, go on awful tours, and soak in the idealism that is at work here. Todos Caerán's first cassette just gets it so right. I can't wait to hear more.
De la nostalgie emo des années 90 de Paul Lawton: (Traduit par la saturation de Maya Keshav)
Quand j'ai découvert au hasard Todos Caerán il y a quelques semaines, j'avais quatre différents sentiments. 1) La honte que je me suis pas enfui de quelque chose avec l'etiquette "emo/hardcore". 2) La confusion, parce que moi j'ai pensé que j'ai fini ma phase emo/hardcore une fois que c'était coopté par Vans Warped Tour et les voyous du centre commercial. 3) La nostalgie pour la première vague de groupes proto-emo des années 90 en Alberta— une pause bienvenue de la saturation des imitateurs de Fat Records qui radotaient pendant plusieurs heures ennuyeuses dans les salles du coin mi-vides. Ils étaient une réaction aux formes qui étaient facilement admises. Moss Icon, Portraits of Past, Frail, et Angel Hair étaient une sortie, et même s'ils ne duraient pas longtemps, c'était tellement bien quand ils étaient là. 4) L'inspiration. Les meilleurs groupes emo/hardcore, comme Todos Caerán, inspirent. Même si je joue déjà avec 100 groupes, j'ai envie de commencer un autre groupe dans cette veine. Je veux jouer les spectacles avec Todos Caerán, faire des tournées affreuses, et assimiler l'idéalisme qui vit ici. La première cassette de Todos Caerán est simplement si parfaite. J'ai hâte d'entendre plus.

Todos Caerán – Comfort in Chaos

Todos Caerán – The Futility of Fight of Flight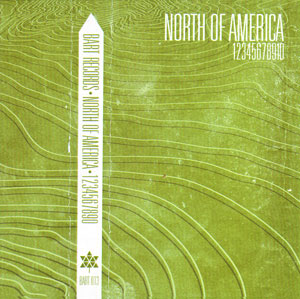 North of America
12345678910
Halifax, NS
From the North of America fanboydom Jesse Locke:
Other than the guy from Japan who flew to Montreal for their final farewell show a few months back, Bart Records founder Kevin Stebner is quite likely the biggest North of America fan on the planet. Standing next to Stebs at said gig, I was regaled with anecdotes and factoids regarding the members' current day-jobs, how he caught them live in Europe and just how stupidly excited he is to have now released a rarities compilation from his all-time favourite band. Along with other comp tracks and the previously unearthed jam "Hot Work," side A is culled from the same sessions that produced NoA's swan-song LP Brothers, Sisters (a serious tour de force if you've never had the pleasure). From the pulverizing guitar-work and clockwork-calculated percussion of barn burners "Beyonce", "Hate The Player" and "We Had To Call Your Parents" to the slower tempo heart-on-sleever "I Like Everything This Much" and curious electronic interlude "Let's Get Glitch," 12345678910 is veritable Mana for Maritime math-rock devotees. Somebody update the wikipedia.
Du garçon-fandom d'Amérique du nord de Jesse Locke:
(Traduit par Odile Leclerc)
Autre que le gars du Japon qui a vol à Montréal pour son spectacle d'adieu final quelques mois passés, le fondateur de Bart Records, Kevin Stebner, est assez probablement le plus grand fan de l'Amérique du Nord sur la planète. Me tenant près de Stebs au dit concert, Je fus régalé d'anecdotes et de faits concernant le présent travail quotidien des membres, comment il les avec attrapé en direct en Europe et à quel point il est juste stupidement excité d'avoir maintenant mise en vente une compilation de raretés de son groupe favori depuis toujours. Avec d'autres pistes de compilation et le jam précédemment non découvert ''Hot Work'', le côté A est trié des mêmes sessions qui ont produit la chanson-signe de NoA, LP Brothers, Sisters (un sérieux tour de force si vous n'avez jamais eu le plaisir). Du travail de guitare pulvérisant et la percussion précisément calculé de l'évènement ''Beyonce'', ''Hate The Player'' et ''We Had To Call Your Parents'' au tempo plus lent qui vous apporte la main sur le cœur ''I Like Everything This Much'' et la curieuse interlude électronique ''Let's Get Glitch,'' 12345678910 est un véritable Mana pour les adeptes de math-rock du Maritime. Quelqu'un mettez à jour le wikipedia
North of America – Let's Get Glitch
North of America – Hate The Player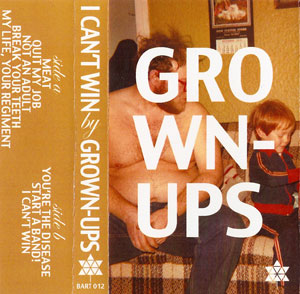 Grown-Ups
I Can't Win
(Bart Records)
Calgary, AB
From the post-pubescent sludge of Jesse Locke:
From The Cramps (radical) to Mates of State (barf) to the Plastic Ono Band (radical barfing), musical married couples are nothing new. However, what sets thee Grown-Ups' Sara and Josiah Hughes apart is that they're cuter than a pair of bulldogs on snowboards that know how to turn up the rock and turn down the suck. Joined by third member/producer Darrell on "dad guitar" (nice Conchords reference, guys), they've now teamed with the almighty Bart for tape release number two. Eight songs of angry punk sludge that sound just as pitted as their debut but now with more Crazy Horse guitar solos (see: opener "Meat") and Art Brut-esque motivational meta-songs (see: "Start A Band!"). This is the soundtrack for the skateboarding video game you invented in your brain. The musical equivalent of a cherry-coke slurpee with a stolen chocolate bar tucked in the cup. The creepy-lovable cover photo rules too, but I really just wish it was a drawing of Odie crossed with Jughead.
Des vidanges post-pubères deJesse Locke:
(Traduit par la boîte à rythmes de Odile Leclerc)
Venant des The Cramps (radicale) à Mates of States (vomit) aux Plastic Ono Band (vomir radicalement), les couples musicaux mariés ne sont rien de nouveau. Cependant, qu'est-ce qui différencie Sara et Josiah Hugues de Grown-Ups est qu'ils sont plus mignons qu'une paire de bulldogs sur planche-à-neige qui sait comment faire monter le rock et descendre le nulle. Joints par le troisième membre/producteur Darrell sur ''la guitare papa'' (joli référence à Conchords les mecs), ils ont maintenant fait équipe avec le tout-puissant Bart pour une sortie de cassette numéro deux. Huit chansons de bourbe punk fâchée qui sonne autant grêlées que leurs débuts mais maintenant avec plus de solos de guitare de Crazy Horse (voir; ouvreur ''meat'') et d'art Brut-esque de méta-chansons motivationnelles (voir; ''Start a Band!''). C'est la bande sonore pour les jeux-vidéo de planches-à-roulettes que vous avez inventés dans votre cerveau. L'équivalent musical d'une slush au coke-cerise avec une barre de chocolat volée coincée dans la tasse. L'adorable et terrifiante photo de couverture règne aussi, mais vraiment je souhaite juste que c'était un dessin d'Odie croisé avec Jughead.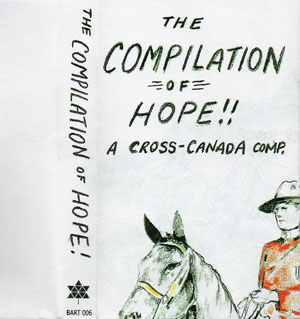 Various Artists
The Compilation of Hope!!
******, Canada
From the compiled danglings of Jesse Locke:
The Comp of Hope starts off with a serious wallop: the 1-2-3 whirligig of Vancouver's Damages, Nova Scotia's Minivan Halen (snagging the prize for Best New Band Name) and Toronto's Place Hands, three groups with distinct yet equally imposing approaches to the post- / proto- / avant- / eff-it-let's-just-get-rowdy hardcore continuum. Bart Records founder Kevin Stebner seems to favour the tuff gnarl stuff, with seven of the comp's 10 acts setting their phasers to beatdown. From the spazzy attack of Abbotsford's GSTS! to the rastafried "turbo jamz" of Edmonton's Slates, Missisauga's Whiskey Priest and unfuckwithable label faves Gift Eaters closing it off, this cassette could provide the perfect aggro soundtrack for any hesher's backyard mini-ramp sesh. The softer side of weird Canadiana is also represented with the Strokes-meet-a-blown-out-Casio addictiveness of Swwords (the former project of this very site's founder), Montreal's math-pop dangereux duo Special Noise and a live jam from the inimitable dd/mm/yyyy. Another top-notch tape release from Bart, with awesome foldout liner art (front & back) from Calgary's Heather Kai Smith.
[Levin's Note: This has the most links of any review on Weird Canada. Which means you get to virtually travel across Canada, all thanks to Bart Records. Benjoy!]
Des ballants compilés de Jesse Locke:
(Traduit par Maya Keshav)
The Comp of Hope commence avec une beigne grave: le tourniquet 1-2-3 de Damages de Vancouver, Minivan Halen de la Nouvelle-Écosse (qui gagne le prix du meilleur nouveau nom de groupe) et Place Hands de Toronto, trois groupes avec des approches distinctes mais également imposantes à la gamme post-/ proto-/ avant-/ on-s'en-fou-tombons-la-chemise hardcore. Kevin Stebner, le fondateur de Bart Records, a l'air de préférer les choses dures et affreuses, vu que sept des 10 actes du comp mettent leurs phaseurs à beatdown. De l'attaque crétine de GSTS! d'Abbotsford jusqu'au "turbo boeufs" rasta de Slates d'Edmonton, Whiskey Priest de Missauga, et terminant avec les imperturbables chéris des labels Gift Eaters, cette cassette pourrait fournir la bande-son parfaite aggro pour la session mini-ramp chez-soi de n'importe quel hesheur. Le côté plus doux du canadiana bizarre est aussi present avec l'entraînance Strokes-se-marient-avec-un-Casio-explosé de Swwords (l'ancien projet du fondateur de ce site-web lui-même), le duo math-pop dangereux de Montréal Special Noise et un boeuf live de l'inimitable dd/mm/yyyy. Un autre enregistrement cassette de premier ordre de Bart, avec une couverture fantastique (avant & arrière) de Heather Kai Smith de Calgary.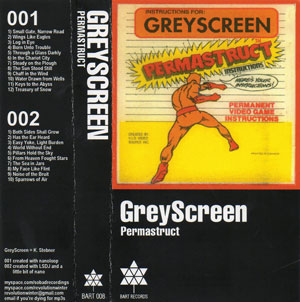 GreyScreen
Permastruct
Calgary, AB
From the GameBoy™-gripping hands of Jesse Locke:
As far as music made on old school handheld video game systems goes, GreyScreen (a.k.a. Bart Records founder and retro pop culture fanatic Kevin Stebner) is the Michael Jordan of Caddilacs. The Charles Bronson of Chiptune? From the immaculate Value Village bargain bin packaging to the poetic RPG-inspired song titles (and of course the 8-bit chirps, burps and bleeps that make up these 22 songs), everything about GreyScreen's debut tape reminds of a more innocent time spent agonizing over Alien Olympics 2044 AD in your parents' basement. Of course, Stebs also uses modern technology like Nanoloop and LSDJ to concoct these micro-epics, but his DIY punk rock ethos is maintained all the same. Need more proof? Check his killer cover of Black Flag's "Spray Paint" by downloading this comp.
[Levin's Note: The world was so much simpler when everyone had a Gameboy™. All a we had to do was level-up and the monsters went away. How do the kids sleep at night today? Look back to the dot-matrix; listen to the trailing ends of MIDI; and always remember to keep a fairy in the jar. Poppa don't hit me no mo'.]
Des mains agripantes de GameBoy™ de Jesse Locke:
(Traduit par la boîte à rythmes de Odile Leclerc)
Aussi loin que la musique faite sur des systèmes de jeux vidéos à main-tenu façon vieille école va, GreyScreen (a.k.a. le fondateur de Bart Records et le fanatique de culture retro pop Kevin Stebner) est le Micheal Jordan des Caddilacs. Le Charles Bronson de Chiptune? De l'emballage de bacs à aubaines immaculés de Value Village aux poétiques titres de chansons inspirés RPG (et bien sûr les 8-bit gazouillis, rots et les bips qui font ces 22 chansons), tout à propos de la cassette des débuts de GreyScreen nous rappelle d'un temps plus innocent passé à agoniser sur Alien Olynpics 2044 AD au sous-sol de nos parents. Évidemment, Stebs utilise aussi la technologie moderne comme Nanoloop et LSDJ pour concocter ces micro-épics, mais son punk rock ethos DIY est maintenu tout de même. Besoin de plus de preuves? Regardez sa couverture de la mort "Spray Paint" de Black Flag en téléchargeant ce comp.
[Note de Levin: le monde était tellement plus simple quand tous avait en Gameboy™. Tout ce que nous avions à faire était de monter de niveau et les monstres s'en allaient. Comment les jeunes arrivent à dormir la nuit de nos jours? Rappelez –vous le dot-matrix; écoutez les derniers bouts de MIDI; et vous allez vous souvenir de garder une fée dans un pot. Poppa ne me touche pas non plus.]
Greyscreen – Water Drawn from Wells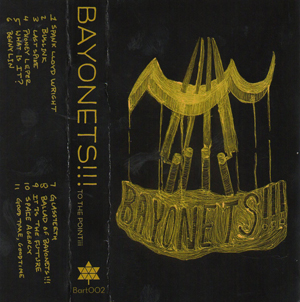 Bayonets!!!
To the Point
Edmonton, AB
Eleven thirty-second art-punk anthems straddling a thin-line between no-pop and art-wave (it would have been a lot less interesting for me to say "no-wave and art-pop," so deal with it). Take ex-Mark Birtles Project and Wolfnote members and put them through the Homosexuals' school of everything-under-a-minute rock-anthemy as taught by Devo. You might be close. There's nothing frivolous and only the good art is spared. It's music; to the point. They obviously have a sense of humour, but the not the kind that gives you the "no" feeling. Bayonets!!! give me a "yes" feeling.
*Onze hymnes de trente second art-punk* chevauchant une fine ligne entre le non-pop et l'onde-art (ça aurait été beaucoup moins intéressant pour moi de dire ''non-onde'' et ''pop-art'', alors arrangez-vous avec ça). Prenez les ex-membres de Mark Birtles Project et Wolfnote et mettez les à travers l'école de Homosexual de l'hymne de rock de tout-est-sous-une-minute comme appris par Devo. Vous êtes peut-être proche. Il n'y a rien de frivole et seul le bon art est épargné. C'est la musique; direct au but. Ils ont évidemment un sens de l'humour, mais pas le genre qui vous donne le sentiment de 'non'. Baïonnettes!!! Donnez-moi un sentiment de 'oui'.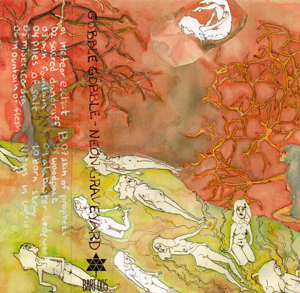 GOBBLE GOBBLE
Neon Graveyards
(Bart Records)
Edmonton, NB
From the nostalgic words of Aaron Levin:
There is nothing you can do to prepare for the body-vibrato-inducing onslaught of the 32-bit gravitron-pop that comprises GOBBLE GOBBLE. When I was 16 I saw Carrot Top live in Las Vegas with my mom; we sat next to Steven Speilberg's brother and were told not to look at him. The whole time I was listening to The Jackson 5 on cassette and thinking about seeing Ed Tempelton as we drove through Huntington Beach. The sum of all these experiences (summer, confusion, pop, skateboarding, absurdity, humanity, my mom, and Carrot Top) is my only point of comparison to the aural space-scape of GOBBLE GOBBLE's debut. For those of you who are not me, Neon Graveyard is like a combination of Dan Deacon and the new Dirty Projectors; experimental pedal pushing meets 91.7 The Bounce FM pop sensibilities. It's incredibly lasting and rewarding after multiple listens (unlike Carrot Top). The live show is a different entity in itself; brain-altering displays of fluorescence with wine-bottle percussion, fiber optics, and a lot of dancing. GOBBLE GOBBLE for president.
Des mots nostalgiques d'Aaron Levin:
Il n'y a rien qui peut vous préparer pour l'assaut provoquant des frissons du 32-bit-gravitron-pop qui compromet GOBBLE GOBBLE. Quand j'avais 16 ans, J'ai vu Carrot Top en direct à Las Vegas avec ma mère; nous nous sommes assis à côté du frère de Steven Spielberg et on nous a dit de ne pas le regarder. Durant tout le temps j'écoutais The Jackson 5 sur cassette et je pensais à avoir vu Ed Tempelton pendant que nous conduisions à travers Huntington Beach. La somme de toutes ces expériences (l'été, la confusion, le pop, la planche à roulette, l'absurdité, l'humanité, ma mère et Carrot Top) est mon seul point de comparaison au paysage de l'espace auriculaire des débuts de GOBBLE GOBBLE. Pour ceux de vous qui ne sont pas moi, Neon Graveyard est comme une combinaison de Dan Deacon et le nouveau Dirty Projectors; la poussée expérimentale de pédale rencontre les sensibilités pop de 91.7 The Bounce FM. C'est incroyablement durable et gratifiant après plusieurs écoutes (contrairement à Carrot Top). Le spectacle en direct est une entité différente en soi; des expositions de fluorescence modifiant le cerveau avec des percussions de bouteilles de vin, de fibres optiques et beaucoup de danse. GOBBLE GOBBLE pour président.
---