Tag: bangers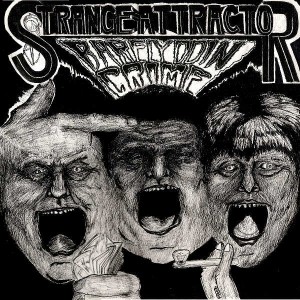 Strange Attractor
Barely Doin' Crime
Sudbury, ON
From the personal cheque of Brendan Lehman:
With the coals of Back To The Cruel World still warm, Strange Attractor gas the fire again with an equally raucous EP. Probably cooked in the same lab as the infamous Noise Tape, these six jams crammed into a 7" run the gamut from a dangerous trip to a dangerous trip and a press release. Mental corruption runs thick through these driving bangers, rife with breach of trust and altered documents: the seedy underbelly of a drunken façade. We're burning down the walls of conservative values, one screaming riff at a time. Sounds like my kind of party.
Du chèque personnel de Brendan Lehman:
(Traduit par le doux murmure d'Anaïs Njike)
De la braise encore chaude de Back To The Cruel World, Strange Attractor rallume le feu avec un EP tout aussi tapageur. Probablement conçu dans le même labo que la notoire Noise Tape, cet ensemble de 6 morceaux condensés sur un 7 po vous fait voyager d'un danger à l'autre en passant par un communiqué de presse. La corruption mentale tourne à fond dans ces débris à roulettes, blindés d'abus de confiance et de faux documents : la face cachée miteuse d'un ivrogne. On fait tomber les barrières du conservatisme, un riff criant après l'autre. Ça c'est mon genre de fête.

Strange Attractor – I Need to Kill My Neighbours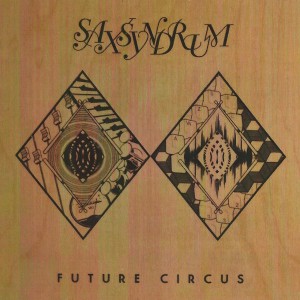 Saxsyndrum
Future Circus
(Self Released)
Montréal, QC
From the all night discotheque of Matt Lazenby:
Saxsyndrum have created a collection of electro-jazz bangers that would be equally at home on a packed dance floor as they would providing the soundtrack to your journey home in the wee hours. For this album, Nick Schofield (drums and synth) and David Switchenko (tenor sax) have enlisted a wealth of Montreal stalwarts such as Sea Oleena, Holobody and Akua Carson to provide lush vocal textures over their signature onslaught. But what makes Future Circus jump isn't just the duo's drive, it's the melodic intricacies mixed so seamlessly within the grooves. This is ever-present in tracks such as "Heartstrings" and "Yoyo Wah", walking the tightrope between full-on dance music and dreamy atmospherics.
De la traversée nocturne à la discothèque de Matt Lazenby:
(Traduit par la course diurne d'Aliké Harel)
Saxsyndrum a créé un album d'électro-jazz rythmé qui convient autant à une piste de danse pleine à craquer à la maison que dans la voiture sur la route du retour aux petites heures du matin. Pour cet album, Nick Schofield (batterie et synthé) et David Switchenko (saxophone ténor) se sont entourés d'inconditionnels de la scène montréalaise, tels que Sea Oleena, Holobody et Akua Carson pour donner une texture vocale riche à leur déchaînement consacré. Le duo ne se démarque pas seulement par l'énergie insufflée à Future Circus; en plus, le détail des mélodies s'harmonise sans heurts au groove. Délice des plus palpables sur les pistes comme « Heartstrings » et « Yoyo Wah », où les artistes jouent aux funambules entre la musique dance à fond la caisse et l'ambiance onirique.

Saxsyndrum – Heartstrings (feat. Holobody)
---