Tag: ballad
Fallopian Grooves
Big Fun Partie Mix
(Self Released)
Calgary, AB
From the tropicalia thunder of Jean-Sebastien Audet:
After proving themselves exemplary through a series of grueling tasks associated with the hazing of new Calgary bands, Fallopian Grooves leaked through the cracks of literally dozens of other groups fronted by these fellas. The four songs portray a definite heartbreak and are essentially full-on emotional drainage but also seem to evoke the brighter side of losing your one true love. Portions of tropicalia shower over the primarily executed stylings of '60s balladeers and songmen. It's like The Supremes wearing fruit hats. Get on it.
Du tonnerre tropical de Jean-Sebastien Audet: (Traduit par Odile Leclerc)
Après s'être prouvés exemplaire à travers une séries de tâches éreintante associées avec l'embrumage des nouveaux groupes de Calgary, Fallopian Grooves coule à travers les craques de littéralement des douzaines d'autres groupes face à ces camarades. Les quatres chansons portraient une peine d'amour définie et sont essentiellement pleine de drainage émotionnel, mais semble aussi évoquer le côté plus brillant de perdre votre véritable amour. Des fractions de tropicalie pleuvent au-dessus des styling primairement exécutés des balladeurs des années 60 et des songmen. C'est comme The Supremes portant des chapeaux de fruits. Embarquez.
Fallopian Grooves – Beach Babies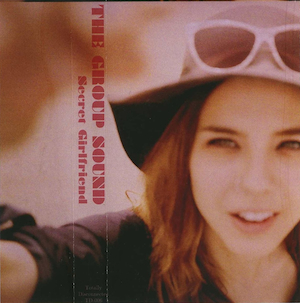 The Group Sound
Secret Girlfriend
Edmonton, AB
From the love letters of Pam Haasen:
The ebb and flow of washy guitars echoing across the Pacific form the most beautiful sunset of sweet lyrics on Secret Girlfriend. Dance on the horizon and cast the longest shining reflection that reaches your toes as you dip into the Group Sound. Love letters written in sand dunes on the warmest night in July remind you why you loved pop when you were young and thirsty. These road songs for a trip rise to the top of Mt. Fuji and scream "baby please don't go!" as you skydive down to earth and land in a banana split.
The Group Sound – Secret Goilfriend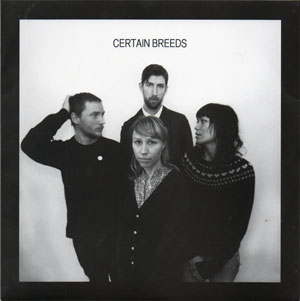 Certain Breeds // Terror Bird
(Walk in Sleep b/w Who's Sorry Now?)
Vancouver, BC
From the unapologectia of Aaron Levin:
There couldn't be a better pairing of 80s pop glamor. Driving Hollywood-vibes permeate both somber-summer jams from these Vancouver new-jacks. Certain Breeds emerge subtly with their 50-second build into devastating romantic nihilism; urgent bass-lines, sweeping synthetic horns, and a latter-third that blows our cohesive cosmic identity into brilliant shards of chromatic dust. Terror Bird's side is a welcomed breather, moving seamlessly into beguiled piano-pop balladry, pulling this strange gaunt through iconic anthemy back into our future reality. Limited, colour vinyl versions exist for the hasty gripper!
Du sans-regret d'Aaron Levin:
(Traduit par Odile Leclerc)
Il ne pouvait pas y avoir un meilleur assortiment de glamour pop des années 80. D'entraînantes sensations d'Hollywood se répandent dans les jams sombres d'été de ses nouveaux gars de Vancouver. Certain Breeds émerge subtilement avec leur ascension de 50 secondes vers un nihilisme romantique; d'urgentes lignes de basse, de balayant cors synthétiques et a dernier tiers qui explose nos identités cosmiques en brillants éclats de poussière chromatique. Le côté de Terror Bird est un répit bienvenu, bougeant harmonieusement dans des ballades séduites de piano pop, tirant à nouveau cet étrange décharné à travers un hymne iconique vers notre réalité future. Limité, les versions vinyles en couleur existent pour ceux qui ont la main rapide!
Certain Breeds – Walk In Sleep
---