Tag: bad vibrations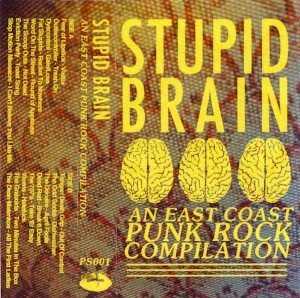 Various Artists
Stupid Brain: An East Coast Punk Rock Compilation
Halifax, NS // Dartmouth, NS // Moncton, NB
From the pizza buffet of Alison Lang:
This flinty little comp is filling and half wholesome, half greasy like a good Pizza Delight buffet, showing off a satisfying assortment of the Maritimes' finest punkers (aside from the curious absence of a couple good 'uns). Maybe you feel like fun, rangy, Brutal Knights-style wrasslin' punk? The Graboids provide with their snappy choice cut, "Two Minutes In The Box." Elsewhere, band of local legends Dyscontrol brings the straight-up 'Du-meets-Wipers vibe with "Gain/Loss", probably one of the most assured and economical tunes on the tape. Dearly departed power-pop outfit Tongan Death Grip's "Out of Control," is a tune so spotlessly clean and elegantly constructed that you could eat garlic fingers off of it; Dartmouth's Scoop Outs out-Plaskett everyone else on the endearment front with their grungy, sweetly mordant "Not Dead" and Moncton's Fear of Lipstick contribute a desperate and romantic ode to aliens, which would work solidly in their favour even if the song wasn't good (it is.) Then there's the all-girl hardcore outfit Vixens who may or may not still exist and spit through all the tidy harmonized boyish platitudes like snake milk with "Hatefuck." There's even a band called the Donairs, fer fuck! This tape is loaded.
De la pizza du coin Alison Lang:
(Traduit par la platitude puérile de Vincent Rondeau)
Cette solide petite compilation, nourrissante, mi-saine et mi-grasse comme un bon buffet Pizza Delight, présente une excellente sélection des meilleurs groupes punk des Maritimes, malgré l'absence de quelques formations notables. L'énergique « Two Minutes in the Box » de The Graboids plaira aux fans de punk plaisant et combatif à la Brutal Knights, tandis que les légendes locales de Dyscontrol fournissent une des chansons les plus confiantes et économiques de cette cassette avec « Gain/Loss », à la manière de Hüsker Dü et des Wipers. « Out of Control » de la regrettée formation de power-pop Tongan Death Grip est impeccablement construite et élégante, tandis que Scoop Outs, de Dartmouth, surpassent tous les pseudo-Plaskett pour ce qui est d'être attachants avec « Not Dead », doucement mordante et grunge à souhait. De Moncton, Fear of Lipstick entonnent une ode désespérément romantique aux extra-terrestres, ce qui jouerait en leur faveur même si la chanson n'était pas bonne (et elle l'est). Il y a aussi le groupe de hardcore féminin Vixens, dont le statut présent est incertain, et qui tranchent dans le vif des platitudes harmonisées et puériles avec la cinglante « Hatefuck », et même un groupe qui porte le nom The Donairs. Bref, une cassette toute garnie.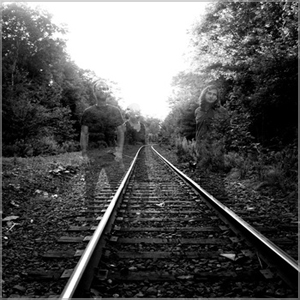 Bad Vibrations
Black Train
Halifax, NS
From the bong-water depths of Alison Lang:
From the bowels of Haligonian earth comes, at last, a full-length offering of ruminations and rumble-punk from these three ramblers. Instant hits like "My Way" cut like a knife through an overall atmosphere of groovy murk, while "Muddy Waters" takes you to the rippling bong-water depths of classic grunge. Black Train hearkens back to moments of Moncton miasma while conjuring up an atmosphere of heavy, bleary bliss and magic all its own. My favorite album of 2011 can now become yours. Take a ride on this long strange trip.
Du fond du bong d'Alison Lang: (Traduit par les longues voyages de Maya Keshav)
Des entrailles de la terre haligonienne il arrive, enfin, un don long-métrage de cogitations et de rumble-punk de ces trois vagabonds. Les succès immédiats comme "My Way" taillent comme un couteau dans l'air général d'obscurité balançante, pendant que "Muddy Waters" t'amène au fond ondulant du bong qui est le grunge classique. Black Train rappelle les moments du miasme à Moncton en faisant apparaître un atmosphère de joie lourde et troublée propre à lui. Mon album préféré de l'an 2011 peut maintenant devenir le-vôtre. Promenez-vous avec ce voyage tellement longue et tellement bizarre.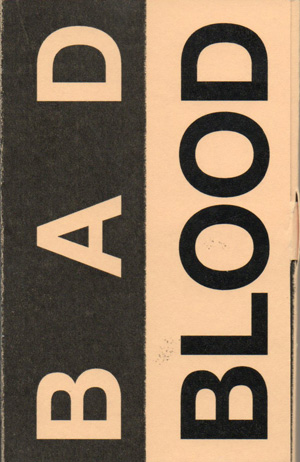 Bad Vibrations // Bloodhouse
Bad Blood
(Brotherhood Cassettes)
Halifax, NS // Halifax, NS
From the melancholic fuzz of Benoit Poirier:
On one side, Bad Vibrations turn their twisted power-pop-punk down a little bit to show off their flannel shirts on a bumpy trail of melancholic fuzz, iterative drums and ethereal voices. They say "hi" to c88-90 grunge with a look both sad and angry at once, because grunge is tough. On the other, Bloodhouse turn the punk up, making their wall of sound thinner to let more fun into the psych-garage. They compel you to until-it-bleeds foot-stompin', halfway between a John Dwyer of then and now. Halifax shines again.
Du mauvais sang et de la maison des vibrations de Benoit Poirier:
D'un côté, Bad Vibrations délaisse quelque peu le power-pop-punk tordu qui caractérisait son premier maxi pour s'exposer la flanelle sur un sentier cagneux de fuzz mélancolique, de tambours itératifs et de voix éthérées et dit « allo » au grunge c88-90 d'un air à la fois triste et fâché, parce que le grunge c'est compliqué. De l'autre, Bloodhouse se magne le punk, amincit son mur du son pour laisser passer plus de fun dans son psych-garage et incite sérieusement au tapage de pied jusqu'à ce que ça saigne, entre un John Dwyer d'avant et un de maintenant. Halifax l'a, l'affaire.

Bloodhouse – Endless Vacation

Bad Vibrations – Waking Up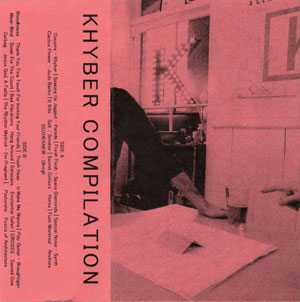 Various Artists
Khyber Compilation
(Self Released)
Halifax, NS
From the steady doggin' it of Aaron Levin:
Halifax's premier fringe-art playhouse has pulled together a mammoth compilation capturing the recent wave of do-it-with-everyone artists roaming the Haligonian landscape. Where other cities devolve into scene sectarianism, Halifax bursts with cross-genre vigor, laying the streetwork for steadfast artifacts like the Khyber Compilation. Similar in spirit to the Emergency Room comp., Khyber wins for the sheer spread of pressure-waves; from the red-lined raw-fi of Fuck Montreal to the casio-blown R&B of Pastoralia, it seems that every buckeyed freak managed to explode with colour beneath the Khyber's magnificent arches. Includes many new-jacks to the scene, too! Proceeds from the tape go to future renovations at the Khyber. Bands included: Cousins, Soaking Up Jagged, Fresh Flesh, Special Noise, Cactus Flower, It Kills, Secret Colours, Fuck Montreal, DUZHEKNEW, Bloodhouse, Trash Heap, Play Guitar, Mean Wind, Bad Vibrations, Datacave, CROSSS, Catbag, The Rhythm Method, and Pastoralia.
De la tracasserie constante d'Aaron Levin: (Traduit par la nourriture surprenante de Maya Keshav)
Le meilleur théâtre de fringe-art à Halifax a ramassé une énorme compilation qui saisit la vague récente des artistes qui collaborent avec tout le monde qui erre dans le paysage haligonien. Alors que les autres villes se transforment en le sectarisme des scènes, Halifax explose avec la vigueur à travers les genres, en posant les bases des artéfacts inébranlables comme la Khyber Compilation. Dans un esprit similaire à celui de la compilation Emergency Room, Khyber gagne avec son envergure d'ondes de pression; depuis le raw-fi ligné en rouge de Fuck Montreal jusqu'aux R&B casio-explosé de Pastoralia, il semble que chaque mordu aux yeux exorbités ait réussi à explosé avec couleur sous les arches magnifiques de Khyber. Y compris plusieurs nouveaux artistes aussi! Toutes les recettes seront reversées aux rénovations à venir au Khyber. Les groupes comprennent: Cousins, Soaking Up Jagged, Fresh Flesh, Special Noise, Cactus Flower, It Kills, Secret Colours, Fuck Montreal, DUZHEKNEW, Bloodhouse, Trash Heap, Play Guitar, Mean Wind, Bad Vibrations, Datacave, CROSSS, Catbag, The Rhythm Method, et Pastoralia.
Mean Wind – Down for The Count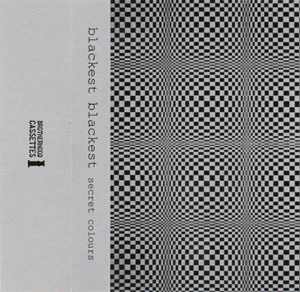 Secret Colours
Blackest Blackest
(Brotherhood Cassettes)
Halifax, NS
From the blackest black of Aaron Levin:
Totally washed-out cultic vibrations beam from every inch of Secret Colours' magnetic debut. It's the perfect weirdo basemental projection radiating from the brightest fields of cassette culture; blankets of ethereal synth, tape-warbled choralic vocals, and Tresvant sensitive low-end. From the brilliant mind of Evan Cardwell. Double grip!
Du noir le plus noir d'Aaron Levin: (Traduit par la blancheur blanche de Maya Keshav)
Les sensations cultuelles complètement délavées rayonnent de chaque pouce du début magnétique de Secret Colours. C'est la projection weirdo parfaite du sous-sol en respirant des champs les plus brillants de la culture des cassettes; les couches de synthé aérien, le chant choral gazouillé par la cassette, et le low-end sensible à Tresvant. De la tête brillante d'Evan Cardwell. Achetez et achetez encore!
Secret Colours – Bad Vibrations
---