Tag: babysitter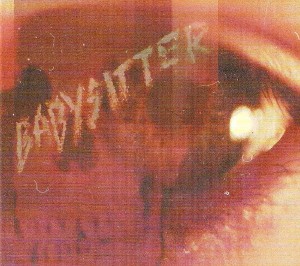 Babysitter
Eye
Victoria, BC
From the Canrock monarchy of James Lindsay:
For years, Babysitter's drop-out-fuzz lent itself perfectly to the less-than-perfect hiss of the cassette tape, so it took a great label like Psychic Handshake to have the keen ear to massage their sound onto long play vinyl without losing what was always so enduring. It still sounds like DRI jamming on Crazy Horse, but the music has taken on a more epic quality, something, that in the best sense of the denim/flannel stereotype, sounds Canadian as fuck while also evoking Grunge's greatest ideals. "Never gonna die! Never gonna die!" screams "Talking 'Bout The New Generation", an anthem for the ne'er-do-wellkids with hair in their faces and holes in their jeans, spilling Blue all over the basement floor as they slamdance to keep warm during long winters. With dedicated touring, prolific releases, and a new association with one of the country's best indies, Eye is set to position Babysitter as modern Canrock kings.
De l'humour Bleue de James Lindsay:
(Traduit par le rire jaune de Nicolas Coutlée)
Durant des années, le fuzz parasite de Babysitter s'est prêté parfaitement au sifflement moins-que-parfait de la cassette; il a donc fallu l'oreille attentive d'une maison de disques de renom comme Psychic Handshake pour transmuer leur son sur vinyle sans perdre ce qui a toujours fait sa marque. On a encore l'impression d'entendre DRI jammer avec Crazy Horse, mais la musique prend ici des proportions épiques, un son canadien comme le crisse, dans le meilleur sens du stéréotype denim/flanelle, qui évoque en même temps les plus grands idéaux grunge. « Never gonna die! Never gonna die! » entend-on hurler sur « Talking 'Bout The New Generation », un hymne pour les jeunes bons à rien, cheveux dans face et jeans troués, éclaboussant de la Bleue partout sur le plancher du sous-sol tandis que le mosh pit va bon train, question de se garder au chaud durant les longs hivers. Couplé à des tournées constantes, des parutions innombrables et une nouvelle collaboration avec l'un des piliers indie du pays, Eye place Babysitter en bonne position pour accéder au titre de rois des temps modernes du rock canadien.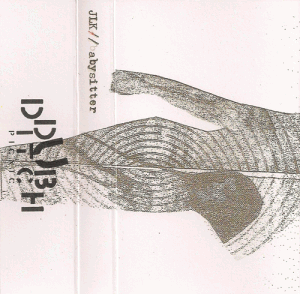 JLK & Babysitter
c30
Montreal, QC & Victoria, BC
From the garbage bag of Christopher Laramee:
Some more prime-ass outer limits holler courtesy of the fine folks at Winnipeg's Dub Ditch Picnic. The product of a healthy jam between Montreal's JLK and Victoria's Babysitter, this tweaker's moan sounds like they decided to do some straight up cover of Lynch's Eraserhead soundtrack, recorded inside of the chassis of some burnt out Greyhound bus. Not for the faint of heart or ear. Of these three tracks of lurker's compensation, this scribe's favourite has gotta be the last one, "Wanderings", a very apt description of what goes down. Is this blues? Yes it is, a very special and lonesome kind of blues. Sorta sounds like what it would be like to be a toddler and watch your favourite stuffed animal slowly light itself on fire. You've been warned…
Du sac poubelle de Christopher Laramee: (Traduit par la peluche brûlée de Maya Keshav)
Davantage de limites ultimes de choix hurlent grâce aux gens gentils de Dub Ditch Picnic à Winnipeg. Le produit d'un bon bœuf entre JLK de Montréal et Babysitter de Victoria, le grognement de ce morceau a l'air d'être une reprise exacte de la bande-son Eraserhead de Lynch, enregistré dans le châssis d'un autobus périmé de Greyhound. Ce n'est pour ni les faibles cœurs ni les faibles oreilles. Parmi ces trois morceaux de compensation rôdeuse, le préféré de l'auteur est certainement le dernier, "Wanderings", une description tellement approprié de ce qui se passe. C'est du blues? Bien sûr, une sorte de blues tellement spéciale et solitaire. Ça vous donne l'impression d'être un tout-petit qui regarde ta peluche préférée s'enflamme lentement. Vous êtes prévu…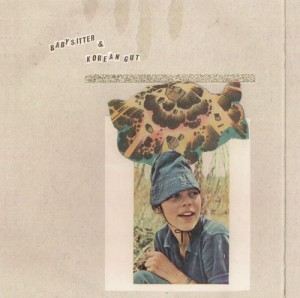 Babysitter // Korean Gut
Split 7″
Victoria, BC // Vancouver, BC
From the genetic hitchhiking of Jesse Locke:
The coastal cavemen return with a reboot of two banner jammers plucked from the primordial muck of Tape I. As skuzzed as these recordings might sound to the untrained canal, they're at least a few evolutionary steps forward in the genetic drift (plus bonus sax wiggle). Van City surf-rats Korean Gut sound a little tougher than previous trips on the flip, making easy bedfellows with their beach blanket bingo master's breakout.
D'auto-stop génétique de Jesse Locke:
(Traduit par la crise de bingo de Maya Keshav)
Les hommes préhistoriques maritimes sont de retour avec une repris de deux morceaux arrachés de la boue primordiale de Tape I. Aussi chelou que ces enregistrements pourraient ressemble pour le tympan inexercé, ils sont au moins quelques pas de l'évolution plus avancé dans la dérive génétique (avec même plus de déhanchement du saxo). Korean Guts, les rôdeurs de Vancouver ont l'air un peu plus coriace que leur dernier trips sur la cassette, qui s'entendent bien avec leur crise de bingo sur la plage.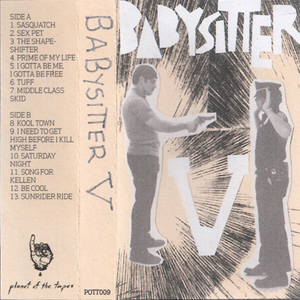 Babysitter
Tape V
Victoria, BC
From the middle class skiddery of Aaron Levin:
It's no secret. The shadowy lizard government pulling the strings behind Weird Canada HQ is fully brainwashed by Babysitter's revolutionary rhetoric. The fifth chapter in their ever-evolving saga of sub-island urban wastoids is a fully realized dogma of red-lined rock absurdity. With western flair they drive through 60s mellow with surprising seriousness, espousing their living word in trinkets as clear as "I'm riding on a plane / a real astral plane". The blend of rural-rock, 90s hair-pop, and completely burnt punk has never been weirder, as tracks like "be cool" and "sex pet" rip asunder fledging notions of genre. A serious favorite in the nation of fringe. GRIP AND GET FREE.
Du dérapage de classe moyenne d'Aaron Levin:
(Traduit par Odile Leclerc)
Ce n'Est pas un secret. L'ombrageux gouvernement lézard tirant les ficelles derrière le QG de Weird Canada s'est complètement fait lavé le cerveau par la rhétorique révolutionnaire de Babysitter. Le cinquième chapitre de leur saga toujours évoluante de wastoïde urbain de sous-îles est un dogme pleinement réalisé d'absurdité de rock ligné de rouge. Avec une style western ils conduisent à travers des mélodieux des années 60 avec un sérieux surprenant, épousant leur mots vivant en bibelots aussi clair que "I'm riding on a plane / a real astral plane". Le mélange de rock rural, de pop de cheveux des 90s et du punk complètement brûlé n'A jamais été aussi bizarre, alors que des pistes comme "be cool" et "sex pet" déchire en morceaux des notions de genre encore titubantes. Un favoris sérieux dans la nation du marginal. ATTRAPEZ ET SOYEZ LIBRE.
[audio:http://weirdcanada.com/wp-content/uploads/2011/09/06-middle-class-skid.mp3|titles=Babysitter – Middle Class Skid] Babysitter – Middle Class Skid
[audio:http://weirdcanada.com/wp-content/uploads/2011/09/05-i-gotta-be-me-i-gotta-be-free.mp3|titles=Babysitter – I Gotta Be Me, I Gotta Be Free] Babysitter – I Gotta Be Me, I Gotta Be Free
[audio:http://weirdcanada.com/wp-content/uploads/2011/09/12-be-cool.mp3|titles=Babysitter – Be Cool] Babysitter – Be Cool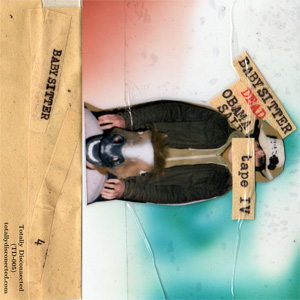 Babysitter
Tape IV
Victoria, B.C.
From the witch's finger of Jesse Locke:
The latest chapter in the Babysitter's club saga finds Victoria's finest sticking to the plot with a few fresh twists. Tape IV's revolution rock riff-o-rama is as gloriously busted as ever, teeming with teenage lobotomy jangle and howled manifestos to tear down the walls. Yet this time around, the band also dims the lights for a jellybean slow dance with your junior high squeeze, then smokes out the gym for the eight-minute blazer jam "Marijuana Overdrive." Lock up your daughters and look for these hooligans crossing Canada in the fall.
Du doigt de sorcière de Jesse Locke:
(Traduit par Odile Leclerc)
Le dernier chapitre dans la saga des Babysitters trouve les plus raffinés de Victoria suivant l'intrigue avec quelques tournures fraîches. Le riff-o-rama de rock révolution de Tape IV est aussi glorieusement éclaté que jamais, grouillant de cliquetis de lobotomie d'adolescence et a hurlé manifeste pour mettre les murs à terre. Mais encore cette fois, le groupe tamise aussi les lumières pour un danse slow de jellybean avec votre pincement de junior secondaire, puis enfume le gymnase pour le jam blazer de huit minutes ''Marijuana Overdrive.'' Enfermez vos filles et faites attention à ces voyous traversant le Canada durant l'automne.
[audio:http://weirdcanada.com/wp-content/uploads/2011/07/Weird_Canada-Babysitter-01_born_superior.mp3|titles=Babysitter – Born Superior] Babysitter – Born Superior
[audio:http://weirdcanada.com/binary/Weird_Canada-Babysitter-10_1000_girls.mp3|titles=Babysitter – 1000 Girls] Babysitter – 1000 Girls
[audio:http://weirdcanada.com/wp-content/uploads/2011/07/Weird_Canada-Babysitter-04_Waste.mp3|titles=Babysitter – Waste] Babysitter – Waste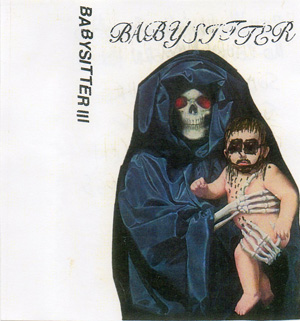 Babysitter
Tape III
(Self Released)
Victoria, BC
From the sibling rivalry of Joni Sadler and Aaron Levin:
Babysitting is a rite of passage for many suburban teens, much like drinking covert beer and jamming the Stooges is for many more a rebellious youth. It's not a stretch to think that the dudes of Babysitter spent their formative years doing just that – listening to beer-drenched shreddery built from minimal beats, lacerating riffs and howling vocals. Thankfully, they play it all with enough recklessness and discipline to make it seem genuinely wild, permeating your mind with brilliant teenage nostalgia.
De la rivalité légère entre Joni Sadler et Aaron Levin: (Traduit par la sœur plus talentueuse de Maya Keshav)
Le baby-sitting, c'est un rite de passage pour nombreux ados de banlieue, tout comme boire de la bière secrète et passer les Stooges l'est pour nombreux ados plus rebelles. Ce n'est pas ridicule de supposer que les gars de Babysitter ont passé leurs jeunesses à faire exactement ça: écouter le shred trempé de bière construit des rythmes minimaux, les riffs déchirants et le chant hurlant. Heureusement, ils jouent tout ça avec assez d'abandon et de discipline pour qu'il y ait l'air réellement fou, en pénétrant ta tête avec la nostalgie brillante de l'adolescence.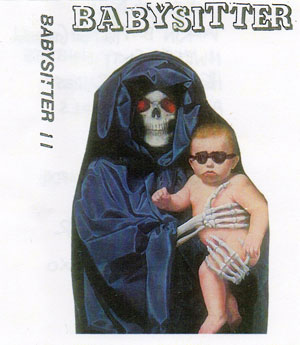 Babysitter
Babysitter II
(Self Released)
Victoria, BC
From the gnu generation of Aaron Levin
Leaping over formidable heaps of genre-fuckery, Victoria's Babysitter have eclipsed the cresting waves of our modern pop singularity. Babysitter II is an enslaving excursion into hybridized pop-punk and thrash-it-yourself hard-rock with the wildest hook-filled gruntfoolery that-side of anywhere. Tuneless jangles permeate the anthemic hooks ("never gonna die! never gonna die! never gonna die!") while ripping leads, busted solos, and unmitigated rhythmania hurl Babysitter II through your aural ethosphere. A real favorite around Weird Canada HQ, spawning multiple e-mail threads and putting into question my e-mail organization skills (lesson: if you don't hear back, try again). GRIPORDIE!!!!
Writer's Byline Writer's Name:
(Traduit par Translator's Name)
French Review

Babysitter – Nineteen Sixty Nineties


Babysitter – Talkin' 'Bout the New Generation


Babysitter – Angel of Death
---