Tag: babysitter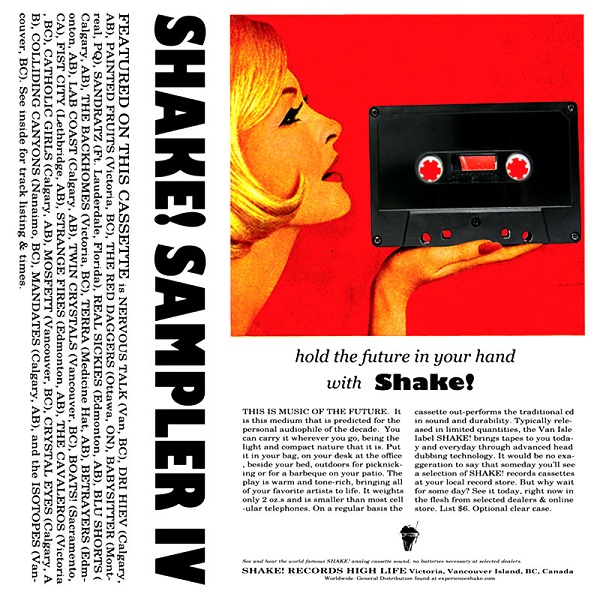 Various Artists
Shake! Sampler IV
Victoria, BC
From the curdling milk of Preacher Katie:
"Hold the future in your hand" while drinking a strawberry milkshake in your other hand that was made by a lady named Ronda from Dennys. No need to leave your lawn chair these days because Shake! Records delivers everything you need, contained into Shake!'s IV sampler cassette is 23 different bands of North America's best. So shake it, twist it, smoke it, squirt it and chug it to this sun-kissed mix tape. Make sure you remember to bring all the boys to the yard.
Du lait caillé de Preacher Katie:
(Traduit par la saveur magnifique de Maya Keshav)
« Tiens l'avenir dans ta main » pendant que de l'autre tu bois un milkshake à la fraise qui a été préparé par une dame qui s'appelle Ronda from Dennys. Pas besoin de quitter ta chaise longue ces temps-ci parce que Shake! Records fournit tout ce dont tu as besoin; la cassette IV de Shake! contient un échantillon de 23 des meilleurs groupes de l'Amérique du Nord. Alors, secoue-le, tourne-le, fume-le, injecte-le et descends-le avec cette compilation bronzée. Assure-toi de ne pas oublier d'amener tous les garçons dans la cour.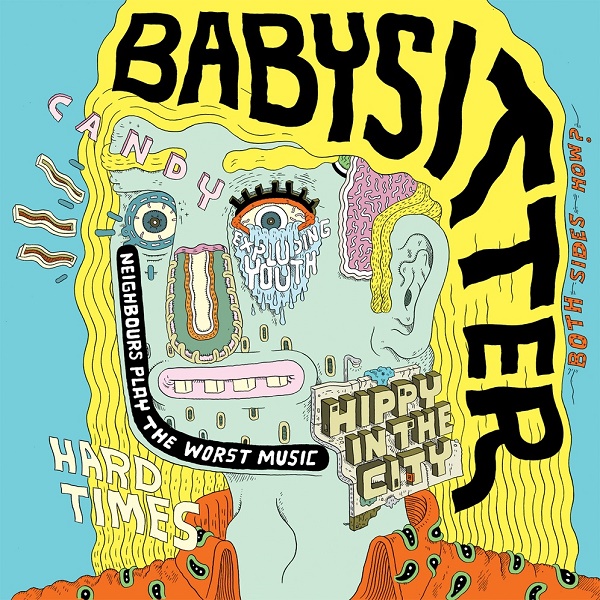 Babysitter
Babysitter
Montreal, QC
From the ascending fistpump of Rachel Bellone:
With over a baker's dozen releases since 2013 including collaborations with Hag Face and JLK, the hair raising Babysitter have become self-proclaimed civic targets. This album illustrates how they transcend the death of rock and roll. Its pre-election release seems to beg for a vigilant eye in a treacherous political climate. I don't know about you, but I'm in the mood for some hard jams, and cathartic atonal solos from guitars, horns, or babies crying.
De l'éloge ascendant de Rachel Bellone:
(Traduit par DIVESTMENT-MAINTENANT)
Avec plus qu'une bonne douzaine de sorties musicales depuis 2013, y compris des collaborations avec Hag Face et JLK, Babysitter, qui fait dresser les cheveux, est devenu une cible civique autoproclamé. L'album illustre comment le groupe transcende la mort de la musique rock. La sortie préélectoral semble demander qu'on soit vigilant dans un climat politique périlleux. Je ne sais pas en ce qui vous concerne, mais j'ai envie d'écouter des jams durs et des solos atonaux et cathartiques de guitares, de klaxons ou de bébés qui pleurent.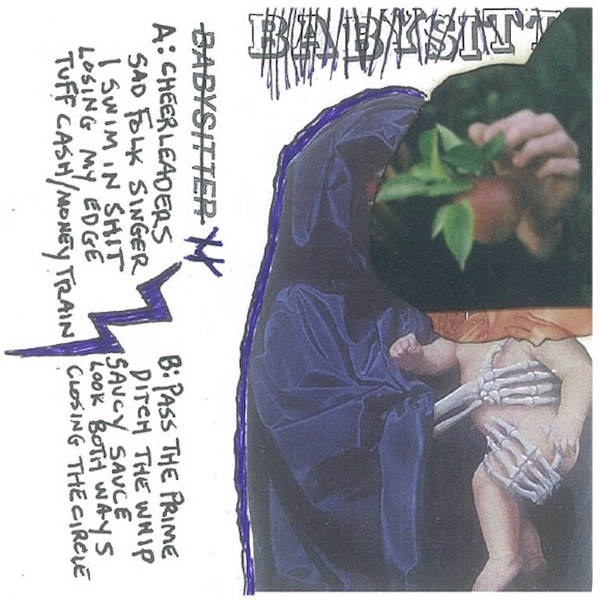 Babysitter
Tape 7
Montréal, QC
From the ditched whip of Jesse Locke:
The seventh entry in Babysitter's cassette series is a clogged knot of hair, cigarrette butts, and burnt ramble-riffs. The mouthful of gravel that we've come to know and love now sound like the inner monologue to a bleary-eyed daydream with the black mould on your roof spinning overhead. The only way to bust out of this sofa surf haze is to get back with your crew, grab a sax, and set fuzzboxes on stun.
Du fouet abandonné de Jesse Locke:
(Traduit par Jessica Grenier)
La septième entrée de la série de cassettes de Babysitter est un paquet de cheveux emmêlés, de mégots de cigarettes et de riffs brûlés. Cette bouchée de gravier qui nous est devenue si chère sonne comme le monologue intérieur accompagnant une rêverie, les yeux à moitié ouverts, sous un plafond tournoyant couvert de moisissure. Le seul moyen pour se sortir de ce surf de sofa vaporeux est d'aller retrouver tes chums, de mettre la main sur un sax et de régler les boites à fuzz sur paralyser.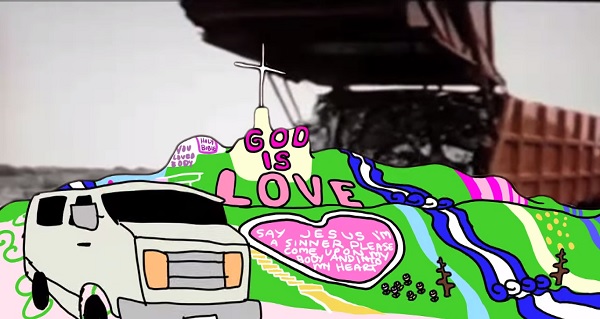 From the glazed-over eyes of Chris Yee:
The closest thing we have today to flash-baking a year of transcontinental touring into your cerebral cortex. Empty your mind, and find yourself in the middle of America in a smoke-filled van, summer wildfires and roadside landmarks of salvation flitting past the windows as it hurtles back to the West Coast . Inexplicably, JLK and Babysitter's collaboration II is in the tape deck. How… wyrd?
Des yeux vitreux de Chris Yee:
(Traduit par le bioport infecté de Jessica Grenier)
Aujourd'hui, c'est ce qui est le plus près de nous sauvegarder un an de tournée transcontinentale dans le cortex cérébral. Faites le vide dans votre esprit – vous êtes dans une van remplie de fumée quelque part en Amérique, des feux de forêts estivaux et des indications routières pour Salvation Mountain papillonnent de chaque côté de la voiture qui roule à toute vitesse vers la côte ouest. Inexplicablement, la deuxième collaboration entre JLK et Babysitter est dans le lecteur cassette. Vraiment… wyrd?
From the nooks and crannies of Preacher Katie:
The backbeat of dark cobblestoned alleyways, the rugged shorelines of the mystic Pacific, the raindrops of 1862's history, and the musical heterogeneity in the city's nooks and crannies are a few of the reasons why Victoria is a poetic city. In an afternoon you can wander the dramatic and spacious streets, venture in and out of art galleries, thrift and record stores, cafes and venues, all while eating a fresh, caught-that-day fish taco. Youthful spirits and old souls of all sorts paint the rhythmic mountainous spaces. With the same entertainment of a metropolis, this little harbour city is accessible on foot or bike. You cannot resist Victoria's small town community vibe, and will bump into someone you know, whether you want to or not! Listen to Darth Vader play violin, watch a man draw 18th century murals with sidewalk chalk, spark up a conversation with a stranger, try on costumes, or just simply throw bread at the seagulls; anything goes in Victoria. It's a city that doesn't discriminate, and there is something for everyone.
To only name a small few, here are some of my favourite scenes in Victoria.

David P. Smith – The Lonely Astronaut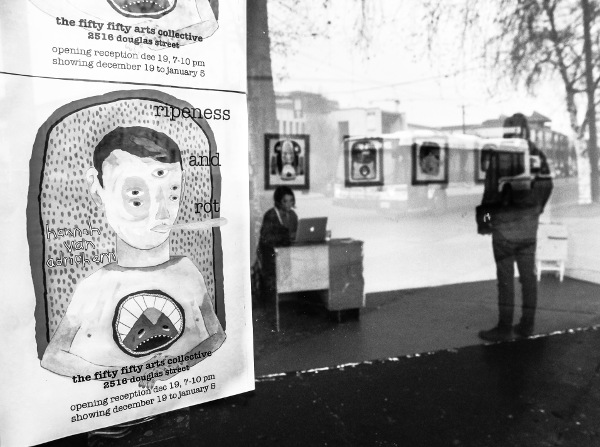 The Fifty-Fifty Arts Collective is a non-profit, artist-run centre that provides a space and an opportunity for a variety of artists who have not yet been developed in the mainstream. This gem is managed by a small group of volunteers working extremely hard to promote the independent scene through their art gallery, film showings, and live performances as well as on and off-site events throughout the Victoria area. Fifty Fifty provides underground artists with an appropriate, affordable and endearing venue to showcase their talents. Check out their killer locally-induced compilation on bandcamp.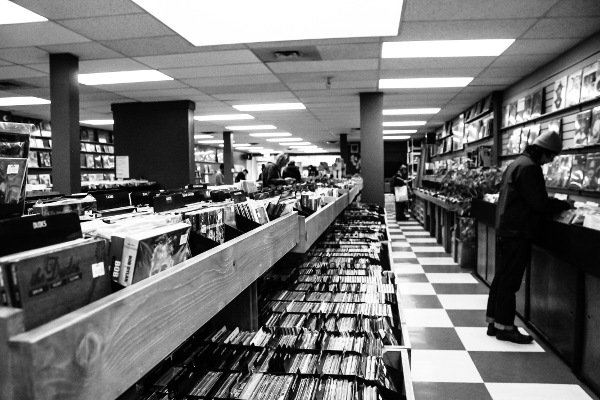 Ditch Records & CDs is an independent record store carrying used & new vinyl, CDs and DVDs. This narrow, cave-like shop is irresistible and stimulating even for those with the highest degrees of ADD, with unique music playing, poster-covered walls and endless tempting vinyl in well organized, homemade racks. Ditch offers a wide variety of the obscure with a knowledgeable, smiley staff. I challenge you to walk out of there without buying your favourite new record. A great supporter of the community's arts scene, they offer consignment albums for local artists and tickets for live shows.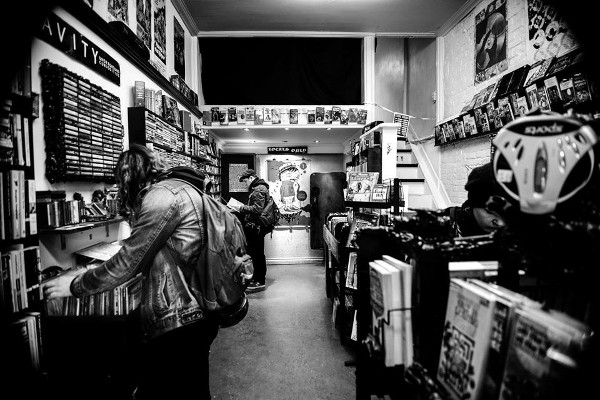 Based downtown, Talk's Cheap (downstairs) and CAVITY Curiosity Shop (upstairs) is Victoria's most potent record store and pop culture galley. Covered in vintage movie posters, this two-leveled, intimately grunge store focuses mainly on punk, new wave, garage and power pop. If you're looking for hard-to-find records, Talk's Cheap will become your new locale. Make sure to check out the crates on the floor too, you might have to dig but you could find a record as low as $1 that will be worth your time. With an extensive selection of new and used records, cassettes, CDs, music books, underground comics, horror movies, t-shirts and pins, it will become evident why this record store is my favourite. I have yet to walk out of there without buying the record they were playing in-store. These gentlemen know what they're doing. They have sharp online music reviews, a charismatic atmosphere, occasional live shows featuring local underground bands, plus limited edition prints and art. It's a Weird Canadian's dream.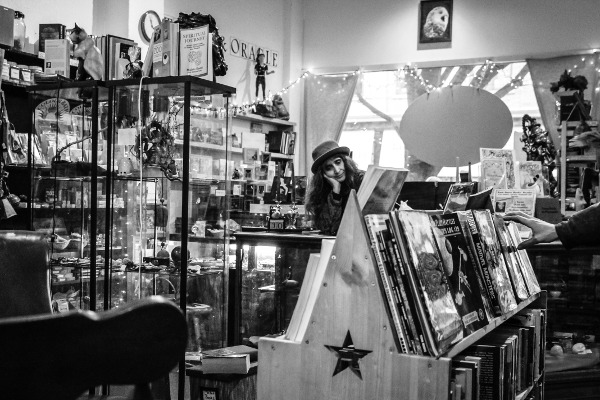 The Dark Horse is Victoria's most unique and magical new and used bookstore. The walls are illustrated in an array of literature, most of which specialize in occult, counterculture and subversive expertise. However, they do offer other genres. This wizardly emporium's cynosure is hard-to-find books. They also offer a variety of metaphysical products including tarot cards, oracles, incense, wands, smudge sticks and jewelry. My favourite part is their diversified crystal collection and wooden circled sales table, which normally contains radical political compositions. The staff is knowledgeable and friendly, yet they keep their distance and allow endless wondering for those with restless souls (this comes easy in a store like Dark Horse). Often, this mystical shop will host local talent including music, educational workshops and psychic readings. Far from monotonous, this witch-like sliver in the wall is a must.
<<< read more >>>
2620 Quadra Street
Contact: 250-381-0585
(Wheelchair accessible, no stairs, LGBTQ friendly)
[Photo: Preacher Katie]
This collective is named in honour of the camas plant, which is cultivated and harvested as a root vegetable by the local Lekwungen people who were oppressed by European colonialism. Camas is far beyond a small bookstore. It is a volunteer-run space, which incorporates used books, artisan-produced items, free wi-fi, workshops, and guest speakers into an autonomous zone that favors anti-authoritarian and non-hierarchical activism. Through their distribution of radical publications and artwork, Camas advocates alternatives to all forms of exploitation. Inspiration and anarchist thoughts will creep your lingering cognition upon your first steps into this welcoming and warm environment. Stop by, say hi, read their bulletin board, use their internet, skim through their penetrating book selection or spark up a quixotic conversation with a fellow revolter. This community-orientated locale is worth a stop.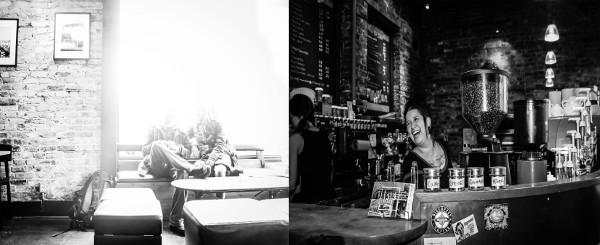 1301 Gladstone Ave
Contact: 250-381-1884
(Wheelchair accessible, no stairs, LGBTQ friendly)
[Photo: Preacher Katie]
Located in the trendy neighbourhood of Fernwood, Corner Stone Café is a social experience equipped with delicious local coffee. Hang out, meet your neighbours, access local information and events on their overwhelming bulletin board, listen to live music, and use their free wireless internet while eating their famous banana coconut chocolate chip bread! This progressive café not only provides an exciting atmosphere but also reinvests all of their income back into the neighbourhood through Fernwood's Neighbourhood Resource Group's programs and services. Plus, they produce nearly zero waste through their recycling and composting programs. Wednesday evenings feature bluegrass music, and Friday evenings are their open-mic nights.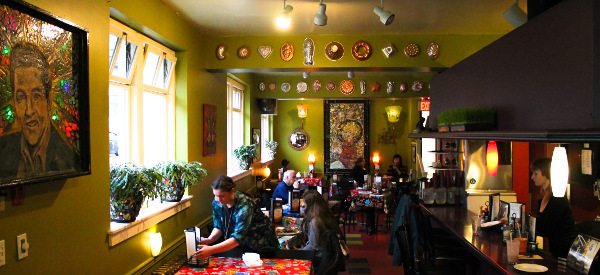 50 Bastion Square
Contact: 250-361-9223
(Possible wheelchair accessibility, stairs, LGBTQ friendly)
[Photo: Preacher Katie]
Re-Bar is a vegetarian restaurant that even meat lovers will enjoy! It is located near Bastion Square, which is where hangings used to occur, and some say this space is haunted. You will find Re-Bar at the end of a cobblestoned alley across from an Irish pub. Since 1988 this healthy, labour of love has been providing its customers with food and juices that are handmade with local ingredients in a trendsetting atmosphere. It's a hip and busy place, so service can vary somewhat as a result, but that's expected. However with a relaxed vibe, a touch of femininity, and unique décor, it is worth the wait. Re-Bar also has a vegetarian cookbook, which you can find directly through the restaurant itself here. Re-Bar's coconut cream pie is my favourite to-go treat to eat down by the harbour, which is only a stone's throw away from the restaurant. Dine in with the vibrant decor or enjoy a juice and snack on the salty docks by the ocean.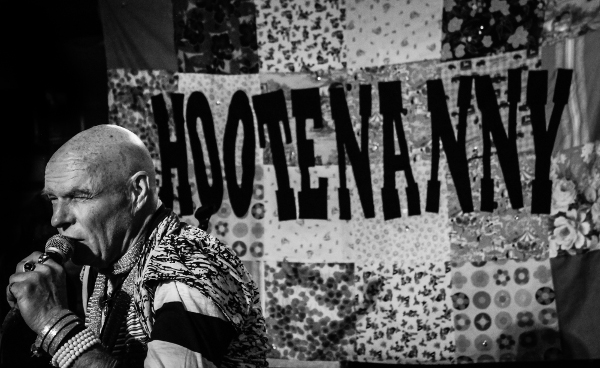 1821 Cook St, Victoria BC
Contact: 250-360-2711
(Wheelchair accessible, LGBTQ friendly)
[Photo: Preacher Katie]
Logan's is by far my favourite entertainment space; it is Victoria's best non-classy venue for live independent music. Its interesting mix of characters, dungeonous bathrooms and moderately priced drinks are guaranteed to erupt some chuckles. Hootenannys, which happen every Sunday from 4 to 9 pm, is where you will find talented local performers with a hint of some nutty screwball performances. Order their famous poutine with a pitcher, smoke a dart with friendly locals, and begin to embrace your bats in the belfry.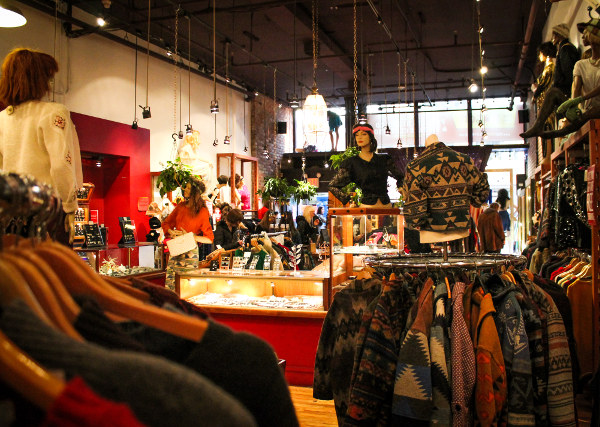 719 Yates Street
Contact: 250-384-7070
(Wheelchair accessible, LGBTQ Friendly)
[Photo: Preacher Katie]
If you're looking for a kaleidoscopic experience with a matching appearance, then The Patch Clothing store is a timeless realm where you will spend the rest of your day. Shimmy shake while trying on high quality vintage, retro or contemporary finery to nostalgic tunes. Some items are priced more expensively and others are modest. Either way, try on some costumes with your friends or find your new go-to outfit for the month. Since 1995, The Patch Clothing has been dedicated to up-cycling for vintage appreciators. All demographics, styles and personalities wander in and out of The Patch. It can be overwhelming but if you appreciate treasures then you will relish in the endless racks.
100 Cook Street
Contact: (250) 361-0600
JOHNSON STREET BRIDGE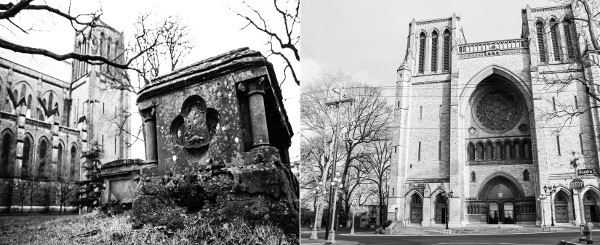 Quadra St. and Rockland Ave.
Contact: 250-383-2714
(Wheelchair accessible, stairs, LGBTQ Friendly)
[Photos: Preacher Katie]
Don't want to spend money? Unlike some cities, Victoria can be entertaining even with a hole in your pocket. Beacon Hill Park is located close to downtown, so take a stroll along the ocean or through the streams, gardens and goat petting area.
Johnson Street Bridge is not as hard to conquer as one might think. Unfortunately, this bridge is being demolished within the year. Normally climbing this bridge is a secret, but the secret is out! The view from the top needs to be fancied while it is still standing. It is a high climb and can be slippery when wet. Obviously don't be an idiot, but it is the best view of Victoria you can get. You will be surrounded by the ocean and city, plus a clear view of the mountains. The bridge is accessible from the public walkway, and there is a metal sheet over the steps, but if you hold on to the railings then you can wiggle your way up. Don't look suspicious; just own it and nobody will notice.
The cemetery and church located on Quadra St. and Rockland Avenue. (close to downtown) is surrounded by tired trees and tombstones. Take a silent break from your day and walk around in the eerie hallways and pews of the church. Stained glass envelops you, and the high, ancient ceilings will make you realize the insignificance of your troubles. After, take a stroll in the little park/cemetery located beside the church. It is filled with characters and stories; this space will reveal some of Victoria's secrets.
Des coins et recoins de Preacher Katie:
(Traduit par AnneMarie Papillon)
Les échos des ruelles pavées de noir, les rivages escarpés du mystique Pacifique, les gouttelettes historiques de 1862 et l'hétérogénéité musicale de chaque coin et recoin de la ville ne sont que quelques raisons qui font de Victoria une ville si poétique. En un après-midi, il est possible de flâner à travers les larges rues aux accents dramatiques, d'aller et venir entre galeries d'art, friperies, magasins de disques, cafés et salles de spectacles, et tout cela en dégustant un taco de poisson, pêché le jour même. Les jeunes esprits comme les vieilles âmes de toutes sortes peignent la beauté mythique de ses espaces montagneux. Bien qu'elle comporte tout le brouhaha culturel d'une grande ville, Victoria est accessible à pied ou en vélo. Il est difficile de résister à son atmosphère de petite communauté; vous croiserez immanquablement quelqu'un que vous connaissez! Écoutez Darth Vader jouer du violon, regardez un homme dessiner des murales du XVIIIe siècle avec de la craie, déclenchez une conversation avec un étranger, essayez des costumes ou donnez simplement du pain à des goélands; tout est possible à Victoria. C'est une ville qui ne discrimine pas et où il y a quelque chose pour tous.
En n'en nommant que quelques-uns, voici mes lieux favoris à Victoria.

David P. Smith – The Lonely Astronaut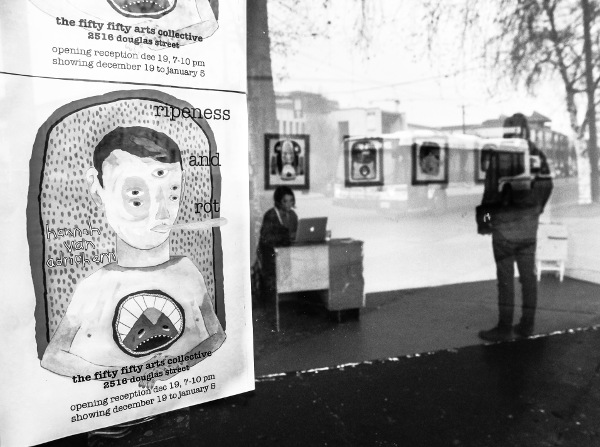 Le collectif artistique Fifty-Fifty est un organisme à but non lucratif, géré par les artistes, qui a pour mission de fournir un espace et l'opportunité d'une variété d'artistes marginaux. Ce joyau est géré par un petit groupe de bénévoles qui travaillent extrêmement fort pour promouvoir la scène indépendante, et ce, avec leur galerie d'art, la projection de films ainsi que des performances live, en plus de présenter des évènements ailleurs à Victoria. Fifty-Fifty offre aux artistes marginaux un endroit abordable, approprié et plaisant où présenter leur talent. Écoutez cette compil locale déchaînée sur bandcamp.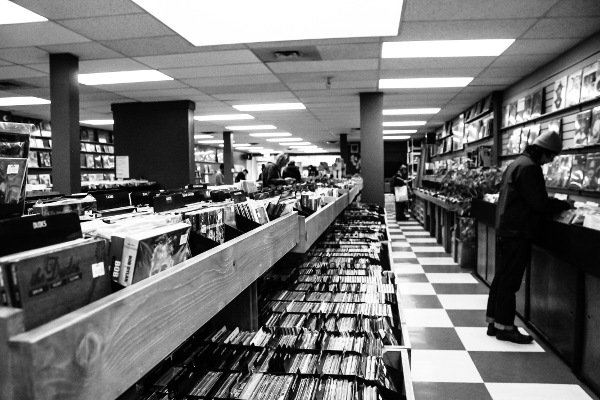 Ditch Records & CDs est un magasin de disques indépendant spécialisé dans les disques vinyles, les disques compacts et les DVDs, nouveaux et usagés. Cet étroit commerce à l'effet caverneux est à la fois charmant et stimulant même pour les gens intensément atteints de déficit de l'attention; on y joue toujours de la musique unique, les murs y sont couverts d'affiches et les vinyles sont infiniment tentants, si bien organisés dans leurs présentoirs faits maison. Ditch offre une immense sélection de trucs obscurs et ses employés sont souriants et connaisseurs. Je vous mets au défi de sortir de là sans acheter votre nouveau disque favori. L'établissement est un supporteur de la communauté artistique locale; il prend les albums d'artistes locaux en consignes et vend des billets de spectacles.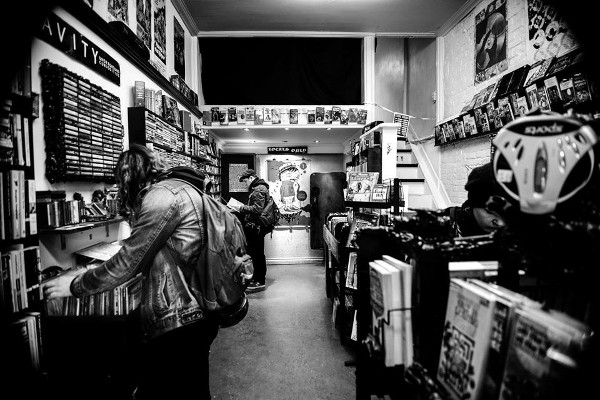 Ayant pignon sur rue au centre-ville, Talk's Cheap (en bas) et CAVITY Curiosity Shop (en haut) est un pilier puissant de la culture pop de Victoria. Les murs couverts de posters de vieux films, ce magasin de deux étages intimement grunge se concentre principalement sur la musique punk, new wave, garage et power pop. Si vous cherchez des albums difficiles à trouver, Talk's Cheap deviendra rapidement votre endroit favori. Prenez le temps de faire le tour des bacs de disques sur le plancher; vous aurez besoin de fouiller mais vous trouverez quelque chose à votre goût pour seulement 1$. Avec une sélection étendue de disques neufs et usagés, de cassettes, de CDs, de livres sur la musique, de bandes dessinées, de films d'horreur, de t-shirts et de pins, il deviendra sans doute votre nouvel endroit favori. Je n'ai pas encore réussi à en sortir sans acheter l'album qui jouait en magasin. Ces gens savent ce qu'ils font. Ils partagent d'intelligentes critiques d'albums en ligne, l'atmosphère de l'endroit est charismatique, ils présentent des concerts de groupes locaux en boutique en plus d'avoir des affiches et des pièces d'art en édition limitée. C'est un rêve inspiré de Weird Canada.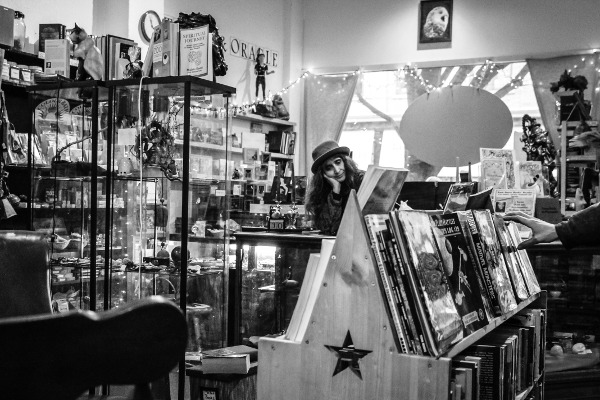 The Dark Horse est le plus unique et le plus magique de tous les magasins de livres neufs et usagés de Victoria. Les murs illustrent un immense tableau littéraire principalement spécialisé dans l'occulte, la culture marginale et l'expertise subversive. Il propose aussi d'autres genres. Le point de mire de cet ensorcelant emporium est la sélection de livres rares. Il offre aussi une sélection de produits métaphysiques: des cartes de tarots et d'oracles, de l'encens, des baguettes magiques et des bijoux. Ma partie favorite est la collection diversifiée de cristaux et la table de vente en bois sur laquelle repose habituellement des zines politiques radicaux. Les employés sont connaisseurs et amicaux, mais ils gardent quand même leurs distances et permettent à toutes ses âmes agitées (elles sont communes au Dark Horse) d'errer sans fin. Souvent, ce commerce mystique offre des activités; des musiciens locaux, des ateliers éducatifs et des lectures psychiques. Loin d'être monotone, ce coin un peu sorcier est un impératif.
<<< la suite >>>
2620 Quadra Street
Contact: 250-381-0585
(Les gens s'identifiant comme LGBTQ sont bienvenus. Accessible en fauteuil roulant.)
[Photo: Preacher Katie]
Ce collectif fut nommé en l'honneur de la plante Camas qui est cultivée et récoltée comme un légume-racine par le peuple local Lekwungen, jadis opprimé par le colonialisme européen. Camas est beaucoup plus qu'une librairie. C'est un espace géré par des bénévoles qui incorpore livres usagés, items fabriqués par des artisans, wi-fi gratuit, ateliers et conférenciers, le tout dans une zone autonome qui favorise l'activisme non hiérarchique et antiautoritaire. Grâce à la distribution de publications et de pièces d'art radicales, Camas propose et soutient des solutions de remplacement pour toutes formes d'exploitations. L'inspiration et les pensées anarchistes s'immisceront dans votre tête dès vos premiers moments passés dans ce lieu invitant et chaleureux. Arrêtez dire bonjour, lire le babillard, utiliser l'internet, faire le tour de la collection pénétrante de livres ou avoir une conversation chimérique avec un autre révolutionnaire. Ce lieu orienté vers la communauté vaut la peine.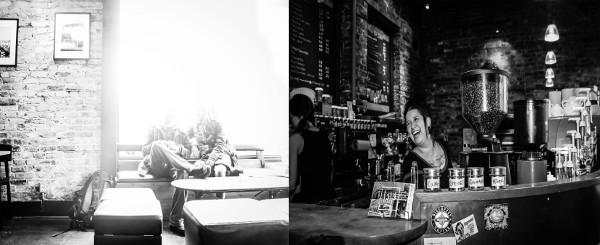 1301 Gladstone Ave
Contact: 250-381-1884
(Les gens s'identifiant comme LGBTQ sont bienvenus. Accessible en fauteuil roulant.)
[Photo: Preacher Katie]
Situé dans le quartier en vogue de Fernwood, le Corner Store Café est une expérience sociale agrémentée de café local délicieux. Venez y relaxer, rencontrer vos voisins, consulter l'immense babillard rempli d'informations et d'évènements locaux, écouter des gens jouer de la musique et utiliser l'internet gratuitement, tout ça pendant que vous dégustez un fameux pain banane-chocolat-noix de coco! Ce café alternatif offre non seulement une ambiance excitante, mais il réinvestit aussi tous ses profits au voisinage dans les programmes et services de Fernwood's Neighbourhood Resource Group. Aussi, il ne produit presque aucun déchet grâce à son programme de recyclage et de compostage. Le mercredi soir est une soirée Bluegrass et le vendredi soir, c'est la scène libre.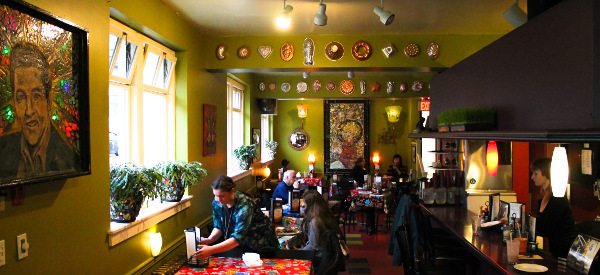 50 Bastion Square
Contact: 250-361-9223
(Les gens s'identifiant comme LGBTQ sont bienvenus. Accès possible en fauteuil roulant, il y a quelques marches.)
[Photo: Preacher Katie]
Re-Bar est un restaurant végétarien qui plaira même aux carnivores! Il est situé près de Bastion Square, où auparavant, avaient lieu les pendaisons et certains pensent que l'endroit est hanté. Vous trouverez Re-Bar au bout d'une petite rue pavée de pierres, en face d'un pub irlandais. Depuis 1988, ce sain labeur plein d'amour offre à ses clients de la nourriture et des jus faits à la main avec des ingrédients locaux, le tout dans un environnement avant-gardiste. C'est une place à la mode et très occupée, alors le service peut s'en faire ressentir, mais on s'y en attend. Par contre, son ambiance détendue, son décor unique et sa touche féminine valent la peine. Re-bar a aussi produit son livre de recettes végétarien. Vous pouvez le trouver directement sur le site du restaurant. Leur tarte crème et noix de coco est un délice indétrônable à déguster près du port situé juste à quelques pas. Soupez dans la salle à manger parmi le décor vibrant ou apportez un jus et une collation sur les quais au bord de l'océan.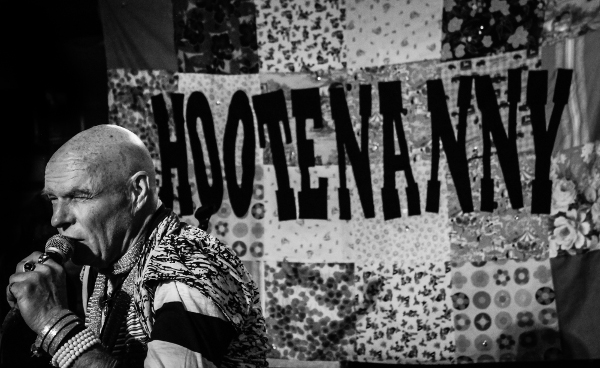 1821 Cook Street
Contact: 250-360-2711
(Les gens s'identifiant comme LGBTQ sont bienvenus. Accessible en fauteuil roulant.)
[Photo: Preacher Katie]
Ce pub est de loin mon lieu de divertissement favori: c'est le meilleur endroit alternatif pour écouter de la musique indépendante à Victoria. Son mélange intéressant de personnages, ses toilettes similaires à des donjons et ses boissons à prix modiques vous garantissent quelques rires. Lors de la soirée Hootenannys, qui a lieu chaque dimanche de 16h à 21h, vous découvrirez les performances de talents locaux avec un brin de trucs déjantés. Commandez sa célèbre poutine avec un pichet, jouez aux dards avec des habitués et acceptez avec plaisir votre petit côté cinglé!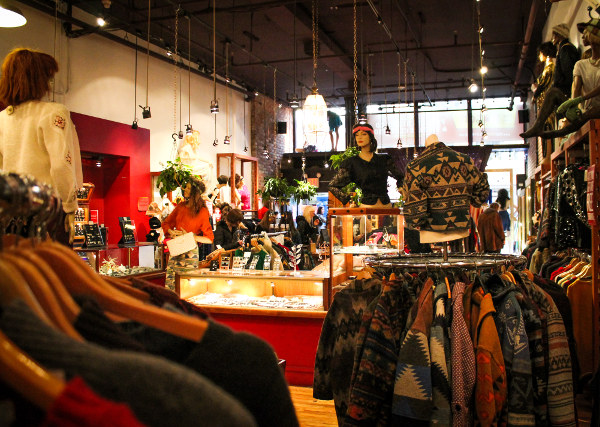 719 Yates Street
Contact: 250-384-7070
(Les gens s'identifiant comme LGBTQ sont bienvenus. Accessible en fauteuil roulant.)
[Photo: Preacher Katie]
Si vous êtes à la recherche d'une expérience kaléidoscopique avec une apparence aussi colorée, alors le magasin The Patch Clothing deviendra un espace où le temps est oublié et où vous passerez le reste de votre journée. Vous danserez sur des tubes rétro tout en essayant des vêtements vintage de qualité datant de la même époque. Certains articles sont plutôt chers mais d'autres le sont moins. Quoi qu'il en soit, essayez-y des costumes avec vos amis et dénichez votre nouvel ensemble favori du mois. Depuis 1995, The Patch Clothing se dévoue au « up-cycling » des vêtements usagés. Des gens de partout, de tous les styles et de toutes les personnalités aiment vagabonder dans le Patch. L'expérience peut sembler accablante, mais si vous appréciez les trésors, vous savourerez les allées sans fin.
100 Cook Street
Contact: 250-361-0600
JOHNSON STREET BRIDGE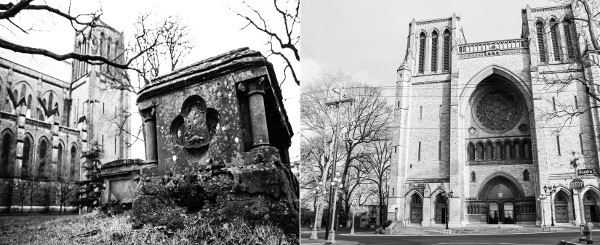 Quadra Street et Rockland Ave.
Contact: 250-383-2714
(Les gens s'identifiant comme LGBTQ sont bienvenus. Marches par endroits. Accessible en fauteuil roulant.)
[Photo: Preacher Katie]
Pas envie de dépenser de sous? Contrairement à certaines villes, Victoria peut être divertissante malgré des poches vides. Le parc Beacon Hill est situé près du centre-ville; faites une promenade sur le bord de l'océan ou des canaux, à travers les jardins et près de la petite ferme de chèvres.
Le pont de Johnson Street n'est pas si difficile à escalader qu'on pourrait le penser. Malheureusement, il sera démoli cette année. Habituellement, escalader ce pont est un secret, mais plus maintenant! La vue du sommet a besoin d'être appréciée pendant que c'est encore possible. C'est une longue escalade qui peut être glissante quand elle est mouillée. Évidemment, ne soyez pas idiots, mais c'est la plus belle vue que vous pouvez trouver à Victoria. Vous serez entourés de l'océan et de la ville en plus d'avoir une vue très claire des montagnes. Le pont est accessible à partir de la promenade et il y a une petite clôture en métal devant les marches, mais si vous vous faufilez un peu, vous les atteindrez. N'ayez pas l'air suspicieux; faites comme si de rien n'était et personne ne vous remarquera.
Le cimetière et l'église situés au coin de la rue Quadra et de l'avenue Rockland (près du centre-ville) sont entourés d'arbres fatigués et de vieilles pierres tombales. Prenez une pause de tranquillité et errez à travers les étranges couloirs et bancs de l'église. Les vitraux vous envelopperont et les anciens plafonds majestueux vous feront réaliser l'insignifiance de vos soucis. Ensuite, faites une promenade dans le petit parc/cimetière derrière l'église. Il est rempli de personnages et d'histoire; cet endroit vous révélera quelques-uns des secrets de Victoria.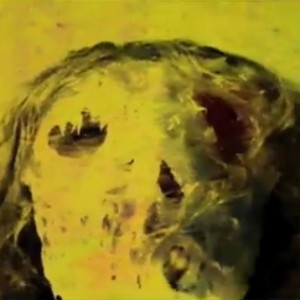 Babysitter
"Cemetary House"
(Directed by Phil Osborne)
Victoria, ON
From the melted mouth of Johnnie Regalado:
How quickly does the phrase 'face-melting' come to mind when you hear cuts from Babysitter? For the song "Cemetary House", which appears on both Tape 666 and the Monster Treasure split, Ottawa-based artist Phil "Uncle Phil" Osborne has sculpted and layered a video that aesthetically emulates these shredders' ability to mush your mind. That mask is probably what you looked like the first time you saw Babysitter live.
De la bouche fondue de Johnnie Regalado:
(Traduit par la fonte des glaces de Julie Forget)
À quelle vitesse est-ce que l'expression « face-melting » vient à l'esprit, lors de l'écoute d'extraits sonores de Babysitter ? Pour la chanson « Cemetary House », qui apparaît sur Tape 666 ainsi que sur le split Monster Treasure, Phil « Uncle Phil » Osborne, artiste établi à Ottawa, a sculpté et superposé en strates d'images une vidéo dont l'esthétique imite l'aptitude de ces destructeurs de son à mettre votre esprit en bouillie. Ce masque est probablement ce à quoi vous ressembliez après votre première présence à un show de Babysitter.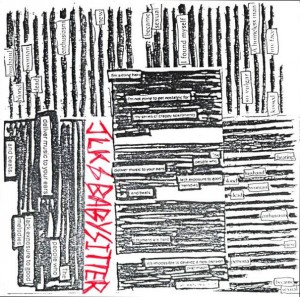 JLK & Babysitter
II
(Self Released)
Montreal, QC // Victoria, BC,
From the super highway of Eamon Quinn:
JLK & Babysitter's second collaborative release is every bit as gleeful as their first outing. This cassette documents the Victorian trio's trip down the rabbit hole as they and Jane L. Kasowicz wiled away a productive unofficial 2013 Montreal summer residency bein' illegal and developing a third eye revision of their sound. If previous releases showed off the group's lurching Bonehead Crushin' chops, even during the most song-oriented moments ("Super highway", "Fur rust ray shone"), II appears to hitch that vibe onto the cracked avant-garage of more emotionally-varied no-fi psych like Photograph Burns or, even more accurately, Cyborgs Revisited.
The rarest hear-it-to-believe-it takes, for my money, are on the spookier end of the affair. Here, JLK's voice is a standout: a downright chilling presence over the percussion-led unmade monster movie soundtrack "Humans are hard" or in her disembodied blues vocalizations on the way-gone lunar boogie of "A homeless man kissed my face". And finally, recalling the Haino / Fushitsusha school of world-embracing psych, the twin weepy balladeering guitars of album closer "All saints down" tunnel like two divining rods towards eerie, dizzying six-string excess. Nothing is left in its wake but the hope they've got their own Double Live in the works. Already sold out at the source, so look out for the upcoming reissue courtesy of Pleasence.
De la méga autoroute d' Eamon Quinn:
(Traduit de source sure par Nicolas Coutlée)
La deuxième collaboration entre JLK et Babysitter s'avère tout aussi jubilatoire que leur première. Cette cassette documente le périple du trio de Victoria jusqu'au fond du terrier du lapin, à l'occasion d'une résidence estivale non officielle d'une prodigieuse productivité à Montréal; en compagnie de Jane L. Kasowicz, les garçons se sont complus gaiement dans l'illégalité tout en révisant leur son à partir d'un tout nouveau troisième oeil. Si leurs parutions précédentes nous ont montré toute la brusquerie de leurs riffs à la Bonehead Crushers, II emboîte le pas (même durant les moments mélodiques de « Super Highway » et de « Fur rust ray shone ») et s'aventure sur les routes rocailleuses avant-garage au dénivelé émotionnel prononcé du no-fi psychédélique de Photograph Burns ou encore plus précisément de Cyborgs Revisited.
À mon avis, les morceaux qu'il faut entendre pour le croire se retrouvent du côté obscur de cette galette. La voix de JLK y est époustouflante : une présence à vous glacer le sang qui flotte sur la trame sonore percussive du film de monstres jamais tourné « Humans are hard » ou encore ces vocalisations blues désincarnées sur le [boogie lunaire] anémique de « A homeless man kissed my face ». Et pour finir, rappelant l'école psychédélique universelle de Haino/Fushitsusha, les guitares jumelles larmoyantes de la ballade ultime, « All saints down », s'élancent comme deux baguettes de sourcier vers un débordement étourdissant et effrayant de six cordes. Rien ne survit à cette éruption, sauf l'espoir qu'un Double Live soit en cours de production. Le tirage initial s'étant déjà écoulé, gardez l'oeil pour la réédition à venir sur Pleasence.
JLK & Babysitter – Super Highway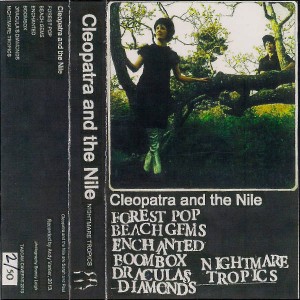 Cleopatra and the Nile
Nightmare Tropics
(Self Released)
Victoria, BC
From the eroded sapphires of Kristian North:
Cleopatra and the Nile is not a new band. They've been donning bejeweled turbans and creating haunted soundtracks to film projections for at least five years (if my damaged memory serves me). Nightmare Tropics, recorded live to tape at the Roxy Theatre, is the first release and it shreds like a monkey with a razorblade. Paul Pedrosa plays synths, bass, drum machines and always drives rad cars. Sarah Murphy plays the theremin all calm and cool with amazing technique (if you've ever waved yer hand in front of one of these things you know it's not the easiest instrument). Together they make music that's refreshingly organic in a genre that's moved so heavily towards laptops and all that man or machine shit. Dang-a-lang do they got style. When they play the anthemic Lil Wayne cum John Carpenter opening track "Dracula's Diamonds" live Paul runs his pre-recorded, Auto-Tuned vocals through the sampler and just plays the bass in his sweet getup, all dreaaamy. "Beach Gems" stalks you like a faceless serial killer in an attic and "Forest Pop" explodes like ballerinas falling through stained glass windows. Shades of hip-hop, science fiction, ambient noise, dated futures, Giallo, alien funk, neon lit diners, and every imaginary film playing inside yer head. xo.
Kristian North is the lead shredder in Victoria's Babysitter. Join their revolution by catching them on their infinite tour.
Des saphirs érodés de Kristian North:
(Traduit avec une touche giallo par Dominic MPILE)
Cleopatra and the Nile n'est pas un nouveau groupe. Ses membres ont porté des turbans décorés de joyaux et ont créé des bandes sonores hantées pour des projections de films pendant au moins cinq ans (si ma mémoire endommagée est bonne). Nightmare Tropics, leur premier album, a été enregistré en direct sur bande au Roxy Theatre, et déchire comme un singe avec une lame de rasoir. Paul Pedrosa joue du synthétiseur, de la basse et de la boîte à rythme, et conduit toujours des voitures formidables. Sarah Murphy joue du thérémine et reste de marbre, en jouant avec une technique incroyable (si vous avez déjà essayé, vous savez que ce n'est pas l'instrument le plus facile à jouer). Ensemble, ils font de la musique agréablement organique dans un genre qui est devenu énormément axé sur les ordinateurs portables et dont on se demande toujours s'il est produit par un homme ou par une machine. Ils ont un style fou lorsqu'ils jouent le morceau d'ouverture en spectacle, une hymne qui rappelle à la fois Lil Wayne et John Carpenter, intitulée « Dracula's Diamonds » : Paul fait jouer un pré-enregistrement de sa voix passée à l'Auto-Tune à travers l'échantillonneur, et joue simplement de la basse dans sa belle tenue, en nous faisant rêver. « Beach Gems » vous traque comme un tueur en série sans visage dans un grenier; et « Forest Pop » explose comme des ballerines qui tombent à travers des vitraux. Nuances de hip-hop, science-fiction,noise ambiant, futurs démodés, Giallo, funk extraterrestre, soupers aux néons…tous les films imaginaires jouent dans votre tête. xo.

Kristian North est le guitariste solo du groupe Babysitter, de Victoria. Joignez-vous à leur révolution en allant les voir en tournée.

Cleopatra and the Nile – Boom Box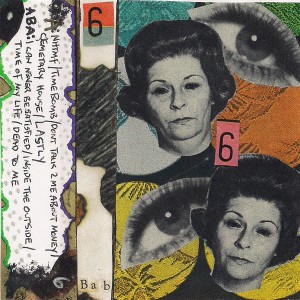 Babysitter
Tape 666
(Self Released)
Victoria, BC
From the deranged ride of Joel French:
Don't let the name fool you. Babysitter has no business being around children. They're loud. They've got riffs. They've got lots of hair. They can be as bizarre as they can be beautiful and it's all wrapped up in recordings so fuzzed out they hum. Tape 666 is a deranged ride (a six-sided triple cassette, to be specific) through the minds of wizards – pissed wizards who dig grunge, like to trip out and have one hell of a pop sensibility. Just lean back, close your eyes and see what dark corners and strange places these tapes will take you.
De l'embarqué déroutante de Joel French:
(Traduit par la plume voyageuse d' AnneMarie Papillon)
Ne vous laissez pas tromper par le nom. Babysitter n'est pas pour les enfants. Ils jouent fort. Ils ont des riffs. Ils ont du cheveu en masse. Aussi bizarre que sublime, leur son est tellement saturé qu'il en bourdonne. Tape 666 est une ballade déroutante (six faces réparties sur trois cassettes, pour être précis) au cœur de l'imaginaire de sorciers – des sorciers dérangés qui tripent sur le grunge, qui hallucinent fort et qui démontrent toute une sensibilité pop. Asseyez-vous confortablement, fermez les yeux et observez dans quelles contrées sombres et mystérieuses ces cassettes vous amèneront.
Babysitter – Way High on the Highway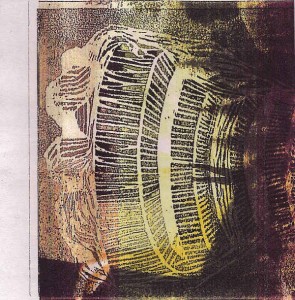 Highway X
Highway X
(Self Released)
Victoria, BC
From the eternal throb of Christopher Laramee:
Andy from Victoria BC's killer Babysitter lets one waft up to the ceiling in a full-blown drift study of wide and sky high proportions. Seven untitled parts slither into yer cortex and shake some serious dust from a bro's bootheels. The first near 11-minute epic sounds like being dragged underneath an 18-wheel semi trailer while some smartass trickles cough syrup and laughter on your forehead. Some dub shadows get thrown on the second track, Twin Peaks-stylee. Did I say this thing SLITHERS? Oh yeah, I did. For fans of strange late night pizza spots, tailpipes, fine cinema and even finer wine, throwing beers at buses and that thing that hurts so much, yet remains nameless. The second half of this fucker gets creepy quick, so make sure no Huns are present. We straight?
De l'éternel battement rythmique de Christopher Laramee:
(Traduit par Julie Forget)
Andy, du prodigieux groupe Babysitter (Victoria, C.-B.), vous fait flotter jusqu'au plafond dans une expérience complètement exaltante atteignant des proportions vertigineuses. Sept compositions sans titre se glissent dans votre cortex en soulevant brutalement la poussière de vos talons de chaussures. La fabuleuse première piste de presque onze minutes semble être traînée sous un 18-roues pendant qu'un petit malin fait dégouliner des gouttes de rire et de sirop contre la toux sur votre front. On reconnaît des traces de dub dans le deuxième morceau, Twin Peaks-stylee. J'ai dit se GLISSE? Oui, c'est bien c'que j'ai dit. Pour les fans d'étranges petites places à pizza de fin de soirée, de tuyaux d'échappement, de bons films et de vins encore meilleurs, pour ceux qui aiment lancer des bières aux autobus et cette chose qui fait si mal, mais qui demeure sans nom. La deuxième partie ne tarde pas à donner des frissons; il est déconseillé de l'écouter en famille. Vous m'comprenez?
---