Tag: awesome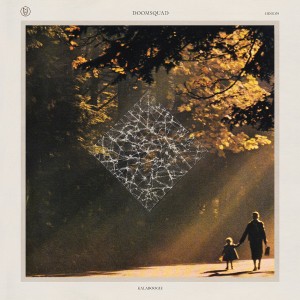 Doomsquad
Kalaboogie
Toronto, ON // Montréal, QC
From the heard terminus of Adam Bradley:
Born from the marriage of Moon and Crocodile, they emerge fully formed from the holy soil of eroded aeons. The bones of all beings rattle, their cells vibrating, muscles trembling. Skies heathered dark, lighting explodes across the earth as these three beings, contrived of the same infinite blood, rise higher, higher. Six iridescent eyes penetrate the minds of every man, woman, child. Their mouths move in union, with words heard heavily and forever: "Hear. The Terminus Approaches. So Now. Dance."
Du terminus entendu d'Adam Bradley:
(Traduit par Vincent Rondeau)
Nés de la rencontre de la lune et du crocodile, ils jaillissent à l'état adulte hors du sol sanctifié des éternités corrompues. Chaque créature sent ses os tressaillir, ses cellules vibrer, ses muscles trembler. Sous la bruyère sombre des cieux, une explosion d'éclairs parcourt la terre et ces trois êtres, engendrés du même sang infini, s'élèvent toujours plus haut. Six yeux irisés pénètrent l'esprit de chaque homme, femme et enfant. Leurs bouches prononcent à l'unisson ces mots, qui résonnent pesamment et perpétuellement : « Hear. The Terminus Approaches. So Now. Dance. » (« Entendez. Le terminus approche. Alors maintenant. Dansez. »)

Doomsquad – Head Spirit (for our Mechanical Time)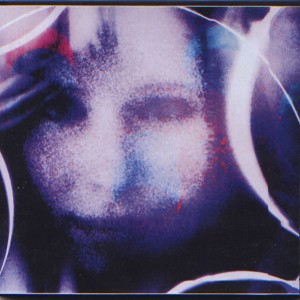 Nouveau Zodiaque
Nouveau Zodiaque EP
Montréal , QC
From the medina full of flowers of Hugo Hyart:
(Translated by the half-common, half-occult co-existence of Hugo Hyart)
Subterranean behemoth Hobo Cult Records presents four new pieces by Xarah Dion of Les Momies des Palerme in her Nouveau Zodiaque alias, each containing an entire universe. These songs arise from a half-common, half-occult co-existence of synthesisers, rhythm machines, Arabic, Albanian and Turkish instruments, plus Dion's diva-esque chants. "Au Parc Jarry" could be a new visit to "À la claire fontaine", while "Combustible" conjures mist darkening into big clouds full of rain. A meeting of modern, ancient and timeless.
De la médina fleurie d'Hugo Hyart:
Le béhémoth souterrain Hobo Cult Records présente quatre nouvelles pièces par Xarah Dion des Momies de Palerme, sous le nom de Nouveau Zodiaque, chacune porteuses d'univers différents. Ces morceaux donnent lieu à des coexistences mi-courantes-mi-occultes entre synthétiseurs, boîtes à rythme et instruments arabes, albanais et turcs, sur lesquelles viennent s'enfiler pareils à des draps flottants, les chants lyriques et divaesques de Dion. « Au Parc Jarry » pourrait être une nouvelle viste « À la claire fontaine », tandis que « Combustible » invoque une brume qui s'assombrit en de gros nuages de pluie. Une rencontre entre le moderne, l'ancien et l'intemporel.
Nouveau Zodiaque – Au Parc Jarry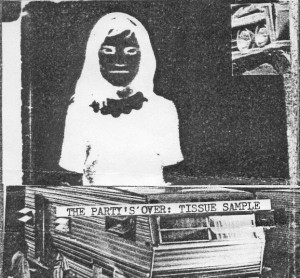 The Party's Over
Tissue Sample
(Some Records)
Toronto, ON
Originally Released: 1981
From the room-clearing mixtape of Jesse Locke:
Decades before filesharing, Discogs and the 'Tube democratized musical knowledge, news of the Industrial Revolution could only arrive on this side of the pond through word of mouth or at the cost of pricey imports. Alongside contemporaries like March of Values, Diner's Club (featuring a nascent Brian Ruryk) and local legends Fifth Column (all of whom appear on Urban Scorch, Toronto's answer to No New York), The Party's Over were a gang of art-school insurgents who got the memo and decided to spread it around town however they could. The squelched electronics, Xerox paste-jobs (1, 2) and lab horror imagery of their 1981 cassette not only point the way to countless post- and post-post-punk iterations, but also parallel the earliest budgeted efforts of Cronenberg. Though members would go on to achieve higher levels of notoriety in Kids on TV and the Cure-worshipping combo Century's End, it's the contagious Tissue Sample that's most likely to cause a future outbreak.
Du mixtape qui disperse les gens dans la salle de Jesse Locke:
(Traduit par la pandémie de Maya Keshav)
Des décennies avant que le partage de fichiers, Discogs, et Youtube aient démocratisé la connaissance musicale, les nouvelles de la révolution industrielle pouvaient seulement arriver à ce côté de l'océan par le bouche à l'oreille ou au prix des imports chers. À côté des tels contemporains que March of Values, Diner's Club (mettant en vedette un Brian Ruryk naissant), et les légendes du coin Fifth Column (dont tous passent à Urban Scorch, la réponse de Toronto à No New York). The Party's Over étaient un gange des insurgé d'école d'art qui ont reçu le memo et ont décidé de le faire passer autour de la ville peu importe comment ils le pouvaient. L'électronique marécageuse, les couper-collers de Xerox (1, 2), et les images d'horreur de leur cassette de 1981 montrent le chemin à d'innombrables itérations post- et post-post-punk, mais qui sont parallèles aussi aux efforts économiques les plus tôts de Cronenberg. Même si les membres ont atteint plus tard les plus grands niveaux de notoriété dans Kids on TV et le combo Cure-vénérant dit Century's End, c'est le Tissue Sample contagieux qui est le plus probable de provoquer une pandémie à l'avenir.
The Party's Over – Action Seeks Violence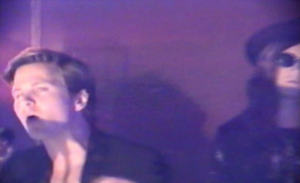 Ben Cook and Matt DeLong have been slugging it out together for a long time now, but this sleaze-pop transformation is a bit of a shocker. From the hard-phat hardcore of
No Warning
to
Marvelous Darlings
' '77 strut, the duo's emergence as synth-toting casanovas with guitar pyrotechnics à la
Egyptian Lover
is a breath of fresh hairspray. Danielle Nemet follows up her previous clip for fellow east-side hooligans
Actual Water
with a voyeuristic VHS glimpse into the barfly scene, where blacklit bartenders, boomboxes and gold dresses go bump in the night.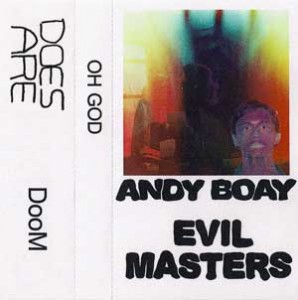 Andy Boay
Evil Masters
(Does Are)
Montreal, QC
From the gripping overlord of Aaron Levin:
The infinitely astonishing half of the Brothers Tonstartss has unleashed a prophetic tome of popular drone. Andy Boay's disharmonic orchestra eschews a wondrous pop dialectic; streams of incredible catch coalesce within tempered vibrations and dense bowed riffery while swathes of warm, ecclesiastical timbers mellow with hypnotic ease. Evil Masters brings us mere nanometers towards understanding the creative behemoth that is Andy Boay; yet the face doth melt and the hand grippeth ever more.
Du suzerain achetant d'Aaron Levin: (Traduit par le souterrain chantant de Maya Keshav)
La moitié infiniment étonnante des frères Tonstartss a déchaîné un tome prophétique de drone populaire. L'orchestre dissonant d'Andy Boay émane une dialectique merveilleuse de pop; les flots d'accroches incroyables se fondent dans les vibrations placides et la rifferie intense et baissée pendant que les bandes de bois chaleureux et ecclésiastique détendent avec l'aise hypnotique. Evil Masters nous amènent par les nanomètres plus proche à comprendre le géant créatif qui est Andy Boay; mais le visage fond et la main continue d'acheter.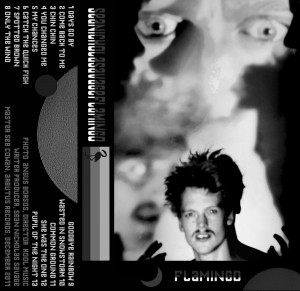 Sean Nicholas Savage
Flamingo
Montreal, QC
From the carnie games of Pam Haasen:
If small town fairs were hip to the culture of cheap thrills and cheese appeal that speaks to my inner child, I'd hear Flamingo on the tinny speakers beside my head while I wait in line for elephant ears and ride vouchers. Sean Savage is calmer and quieter here than I've known him to be. These are vaguely erotic hand-holding and ferris-wheel-secret-telling songs. I want to win the big bear prize for my gal and make promises to her while the sun sets. Lovely meets funny as Sean trills, woos and oohs you.
Des jeux carnies de Pam Haasen: (Traduit par Odile Leclerc)
Si les foires de petite ville étaient branchées à la culture des sensations bon marchés et de charme du fromage qui parle à mon enfant intérieur, j'écouterais Flamingo sur les petits haut-parleurs à côté de ma tête pendant que j'attends en ligne pour des oreilles d'éléphant et des coupons de tours. Sean Savage est plus calme et silencieux ici que je l'ai connu d'être. Ceux-là sont du tenage de mains vaguement érotique et des chansons de secret conter sur la grande roue. Je veux gagner le gros ours en prix pour ma fille et lui faire des promesses au coucher du soleil. L'adorable rencontre l'amusant alors que Sean vous roucoule, courtise et vous fait des oohs.
Sean Nicholas Savage – She Was The One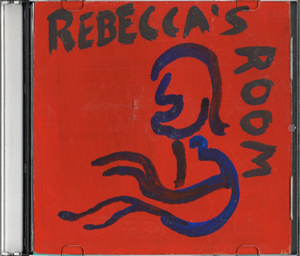 Rebecca's Room
The Burned CD II
(Self Released)
New Waterford, NS
From the glass menageries of Aaron Levin:
With wild strokes of coloured psychedelia, Rebecca's Room return with another lazer-graphed tome brimming with pop-lysergia. Languishing within their popular bedlam, the bedroom-laced mono-pop sizzles with uncanny waves of Eastern abandon; Dylonian moves displaced by a wicked array of tabla pounding beneath the devil's anvil. A ridiculously curious leap forward for the New Waterford native. Deft grippage, please.
De la ménagerie de verre d'Aaron Levin: (Traduit par Odile Leclerc)
Avec de furieux coups de psychédélie colorée, Rebecca's Room revient avec un autre tome tracé au laser débordant de lysergie pop. Se languissant dans leur pagaille populaire, le mono-pop entrelacé de chambre grésille d'ondes mystérieuses d'abandon de l'est; des mouvements Dylonien déplacé par une gamme malade de battement de tabla sous l'enclume du diable. Un saut ridiculement curieux vers l'avant pour le natif de New Waterford. Attrapage agile, s'il-vous-plaît.
Rebecca's Room – Happiness Rings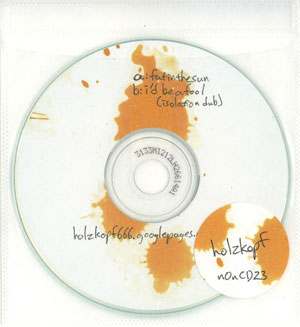 Holzkpf
Fat in the Sun b/w I'd be a Fool (Isolation Dub)
(nOnCapable)
Vancouver, BC
From the nostalgic words of Aaron Levin:
The heaviest dance music on earth is composed live with pedals and samplers by this dual-pony-tailed Vancouverite performing under the elusive Holzkopf moniker. Originally from Saskatoon, Holzkopf's ghetto-techno took years to craft into its current state (spending some time in Edmonton in the process); a blend of harsh noise, lo-fi, and improvised tech. It's really something you need to see and hear live, but this two-track CDR contains the best recordings I've heard of his work to date (for his dancey stuff). Layers of distorted tape-squeal hover above truncations of drum loops programmed on the fly by Holzkopf as he takes the mic and screams into DIY-fischerprice-dom. The reggie-fused I'd Be A Fool (Isolation Dub) is a definite favorite. Does it get any better than a no-bit quantized dancehall riff?
The MP3s I've posted are super low-quality (96kbs) as the files were too big. You should support Holzkopf on his Canadian tour and pick up a CD when he comes to your town! He is definitely one of the best live performances I've ever seen!
Holzkopf – I'd Be A Fool (Isolation Dub)
Des mots nostalgiques d'Aaron Levin:
(Traduit par l'esprit rétro de Maya Keshav)
Le dance le plus heavy du monde est composé en live avec les pédales et les échantillonneurs par cet vancouverois avec deux queues de cheval qui joue sous l'appellation insaisissable de Holzkopf. Originaire de Saskatoon, le ghetto-techno de Holzkopf a demandé des années pour se réaliser son état actuel (en passant du temps à Edmonton pendant ce temps-là); un mélange de noise discordant, lo-fi, et la technologie improvisée. C'est vraiment quelque chose qu'il faut voir et entendre en live, mais ce CD-rom à deux voies comprend les meilleurs enregistrements de son travail que j'ai jamais entendus jusqu'à maintenant (pour ses choses ayant l'air de dance). Les couches de crissement-cassette déformées planent au-dessus des coupures des boucles de percussions programmées sur le pouce par Holzkopf pendant qu'il prend le micro et crie à DIY-fischerprice-essence. Peut-on demander mieux qu'un riff aucun-bit quantifié d'une boîte de nuit? Tu devrais soutenir Holzkopf sur sa tournée canadienne et acheter un CD quand il visite ton coin! Il est sûrement un des meilleurs spectacles que j'ai jamais vu!
Holzkopf – I'd Be A Fool (Isolation Dub)
---