Tag: avant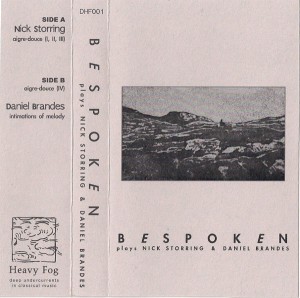 Bespoken
Plays Nick Storring & Daniel Brandes
Toronto, ON
From the necessary notes of James Lindsay:
Divorce Records' first offering from its classical cassette imprint, Heavy Fog, is a study in the massive emotional impact that can be made with utmost minimalism. Cello, piano, autoharp, kalimba, melodica, pitch pipe, and bird call all make up the sophisticated junkyard orchestra. These tiptoe around Nick Storring's Aigre-Douce movements like a wandering, sleeping sickness, inducing only the most essential sounds before putting them to rest and moving on. The second half of the program, Daniel Brandes' Intimations of Melody, sheds away even more superfluous resonance, leaving only the most necessary notes to construct a delicately humming, devotional giant. The overall feel is akin to hearing a newly constructed instrument being played for the first time. Imagine it as very large, made out of petrified wood and with many steel stings to be bowed and plucked. Now imagine that instrument being played by careful hands on a winter beach, and you start to get an idea of this beautiful bleakness.
Des notes nécessaires de James Lindsay:
(Traduit par les neurones en délire de Julie Forget)
Heavy Fog, la première offre de Divorce Records provenant de leur empreinte cassette classique, est une réflexion dans l'énorme choc émotionnel qui peut être fait avec le plus grand minimalisme. Le violoncelle, le piano, l'autoharpe, la kalimba, le mélodica, le diapason et l'imitation du cri des oiseaux composent cet orchestre-entrepôt de ferraille sophistiqué. Tous se déplacent sur la pointe des pieds autour des mouvements d'Aigre-Douce de Nick Storring comme une maladie vagabonde et endormie, déclenchant les sons les plus essentiels avant de les faire taire et de passer à autre chose. La deuxième partie du programme, Intimations of Melody de Daniel Brandes, répand des résonances encore plus superflues, laissant seulement les notes nécessaires pour construire un colosse pieux fredonnant délicatement. Le sentiment d'ensemble est semblable à l'écoute d'un instrument nouvellement construit et joué pour la première fois. Imaginez-le très grand, fait de bois pétrifié et comportant de nombreuses aiguilles d'acier se faisant courber et pincer. Imaginez maintenant cet instrument joué par des mains attentionnées sur une plage d'hiver et vous commencez à comprendre l'idée de ce beau caractère sombre.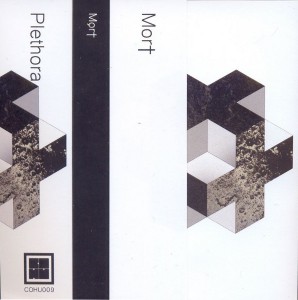 Mor†
Plethora
(La Cohu)
Montréal, QC
From the transdimensional portal of Javier Fuentes:
Renowned audio scientists Jesse Osborne-Lanthier, Samuel Vipond and Matthew Wadell have been working on new reality bending technologies catering to the burgeoning extraterrestrial marketplace. Working in state of the art circuit-bending laboratories funded by interplanetary arts grants, they've decided to release their annual shareholders report in the form of a 40 minute tape. Having travelled through the transdimensional portal themselves, they have included field recordings from nymph colonies and other distant systems. Their intricate synth manipulations chronicle this meta exploration through warbling frequencies and static squalls that build and unravel like a pinball machine on autopilot. Recent stock reports point to a high demand for these groundbreaking works, so hurry up and tune in before the signal gets overrun.
Du portail transdimensionnel de Javier Fuentes:
(Traduction par Jacinthe Laplante)
Les célèbres scientifiques du son Jesse Osborne-Lanthier, Samuel Vipond et Matthew Wadell travaillent sur des technologies qui altéreraient la réalité afin de répondre au marché extraterrestre en pleine croissance. Bossant dans des laboratoires de pointe du circuit bending financés par des subventions interplanétaires en arts, ils ont décidé de publier leur rapport annuel aux actionnaires sous la forme d'une cassette de 40 minutes. Ils y incluent des enregistrements de colonies de nymphes et d'autres lointains systèmes captés lors de leurs propres voyages dans le portail transdimensionnel. Leurs manipulations complexes des synthétiseurs racontent cette métaexploration à l'aide de fréquences gazouillantes et de rafales de parasites qui se construisent et se défont comme une machine à boule sur pilote automatique. Selon les derniers rapports d'inventaire, il y a une forte demande pour ces œuvres révolutionnaires, alors hâtez-vous d'être à l'écoute avant que le signal ne disparaisse.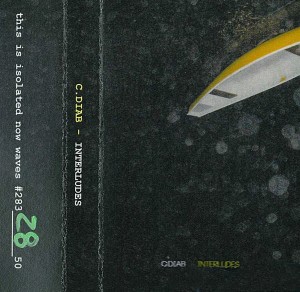 C.Diab
Interludes
Vancouver, BC
From the tectonic slow-dance of Bryce Warnes:
These petrichoral arrangements moan and stutter and sing, summoning Cascadia in dripping canopies and tectonic slow-dance. Working primarily with bowed guitar, C.Diab deposits tones in layers, building sedimentary dronescapes, wistful core samples of moments and moods gone by. Split into four parts, "In Seven" is a rainy improvisation featuring Colby Sparks and Nam Shub jam-mate Bill Young, weaving a thread through the album and wrapping the whole in an unsettling, ritual atmosphere. Starting off side B, "The Valley and Its Night" brings it all back home with beachfire-warm fingerpicking. Interludes is a limited-run, must-grip deep listening experience for the innerspace wayfarer.
Du slow tectonique de Bryce Warnes:
(Traduit du stylo grinçant de Dominic Mpilé)
Cet album, telle une odeur plaisante des premières pluies, est grinçant, saccadé et bourdonnant. Il lance un appel à la Cascadie par des sons qui simulent des auvents qui gouttent et des slows tectoniques. Jouant principalement de la guitare frottée, C.Diab empile les tons et produit une ambiance de drone sédimentaire, de carottage mélancolique qui laisse passer le temps et les états d'âme. Scindé en quatre parties, "In Seven" est une pluie d'improvisations, dont la collaboration de Colby Sparks et de Bill Young, compagnon de jam de Nam Shub, permet d'enfiler son style à travers l'album et d'envelopper le tout dans une atmosphère troublante et rituelle. Depuis la face B, "The Valley and Its Night" nous ramène aux sources, grattant de la guitare sur la plage, près d'un feu de camp. Interludes, sorti en quantité limitée, est une expérience saisissante et profonde pour les voyageurs intérieurs.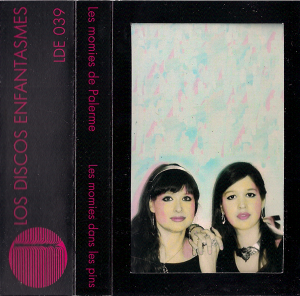 Les momies de Palerme
Les momies dans les pins
Montreal, QC
From the lifted veil of Hugo Hyart:
Mummies in the pines, in the pines, in the pines, pines, pines, pines. The first time I ever heard les momies was the La Loge de Sel video by Jasper Baydala, and it really moved me. Far away. Here are out-takes recorded at the Pines during the same sessions as their last album: Brûlez ce Cœur. A collection of studio exercises perhaps? Out-takes often give me a feeling of strangeness; rejects, orphans, lost. That's not necessarily a problem, especially for this cassette, a beautiful collection of sonic impressions from another face, cavernous in some places, of the brain. It is good to allow ourselves such rambles sometimes. This small odyssey is out on Los Discos Enfantasmes, the Montreal label counting the great Bernardino Femminielli among its staff. It proposes other similar amusements. Also to be noted is the movie Je suis dans un Band, starring Xarah, one of the mummies, which should come out this year.
Du voile relevé de Hugo Hyart:
(Traduit par Nicolas Coutlée & Hugo Hyart)
Des momies dans les pins, dans les pins, dans les pins, pins, pins, pins. La première fois que j'ai entendu Les Momies, c'était sur cette vidéo de Jasper Baydala pour « La Loge de Sel » et ça m'avait vraiment transporté. Ici, nous avons des outtakes enregistrées aux Pines lors des sessions de Brûlez ce Cœur, leur dernier album. Une collection d'exercices en studio peut-être? Les outtakes m'emplissent souvent d'un sentiment d'étrangeté, elles m'apparaissent souvent comme rejetées, orphelines, perdues. Ce qui n'est pas forcément un problème, surtout pour cette cassette, recueil d'impressions sonores d'une autre face, caverneuse par endroits, du cerveau. Petite odyssée parue sur le label montréalais Los Discos Enfantasmes, qui propose d'autres amusements similaires, et dont l'un des fondateurs est le grand Bernardino Femminielli. À noter aussi la sortie du doc Je suis dans un Band auquel participe notamment Xarah, une des Momies, attendu dans l'année si j'ai bien compris.
Les momies de Palerme – Infirmiere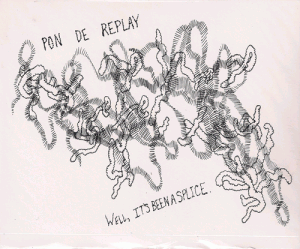 Pon de Replay
Well, It's Been a Splice
(Inyrdisk)
Montreal, QC

In the past, sampling pop music has easily come off as irony for irony's sake or overly obvious to the point of being
obnoxious
. But in the loving hands of Pon De Replay, the opening riff from
"Jeremy"
and the horns from
"Creep"
are tenderly cradled with a genuine respect. At no time does he ever fling it in your face as if screaming, "Remember this? Well, how do you like it now that I've had my way with it?" Rather, it's like a friend playing a song for you that you've heard a hundred times, but only now, with them, do you really hear it. And like a good friend, he chooses the high road of sincerity over irony, elegantly weaving source material that could have been pulled from
Value Village CDs
with the reoccurring sounds of a flock of seagulls (a real flock of seagulls, not the band in lowercase), a splashy resurfacing beat, tape effects, and rapturous ranting. The effect is not unlike lying outside in August and staring at the sky, if the sky was made from our childhood memories of MuchMusic. Inyrdisk on a roll.
Pon de Replay – #3 (version 2)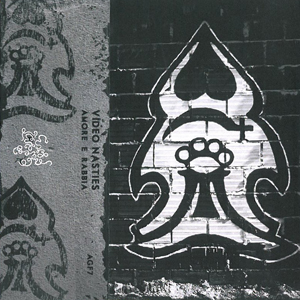 Video Nasties
Amore e Rabbia
Montreal, QC

Subliminal dub vibes strut through the Yamaha netherzone of Rob Feulner's latest blitz. Though not as overtly blunted as the territory patrolled by the
White Dog Family Band
these cosmic currents still jolt where the average synthesist is content to merely shimmer. Portuguese label
A Giant Fern
has housed a limited edition in
screenprinted caskets
, offering a fittingly eye-pleasing package for Wyrd MTL's resident projectionist, coming soon to
a screen near you
.
[audio:http://weirdcanada.com/binary/Weird_Canada-Video_Nasties-Amore.mp3|titles=Video Nasties – Amore Side 1] Video Nasties – Amore: (1) Weak History Text (2) Where Were We? (3) Their Last Days As Children (4) …Those Who See May Become Blind.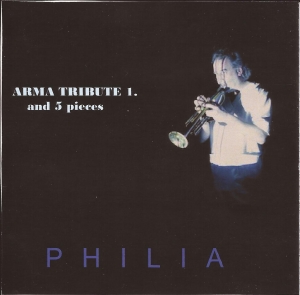 Philia
Arma Tribute 1. and 5 Pieces
(Self Released)
Winnipeg, MB

Not all of us can take the trip that is the
Assiniboine Music Armada
, canoeing from Brandon to Winnipeg with psych-folk band
Twin
to communities through wilderness, but some can certainly admire the spirit, for those of us who believe in spirits anyhow. Phantom embodied, Greg Hanec's tribute to the tour (performed and recorded at Twin's return show to Winnipeg) plays like an
NFB nature doc
— expansive, quiet stretches, sounds of water splashing, and birds chirping — accompanied by Philia's concentrated atonal arsenal. Elsewhere, he's making music out of whatever he can get his hands on: cello samples, the open back of a piano, and his own field recordings of a bus door opening and closing. What's at play is what usually isn't played, and the subdued floats on down, up, and by.
[audio:http://weirdcanada.com/binary/Weird_Canada-Philia-arma.mp3|titles=Philia – Arma Tribute 1] Philia – Arma Tribute 1
[audio:http://weirdcanada.com/wp-content/uploads/2012/01/02-Cellogroove.mp3|titles=Philia – Cellogroove] Philia – Cellogroove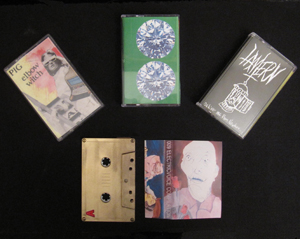 Matt Samways is a young upstart from Truro, the so-called 'hub' of Nova Scotia. Before touching the age of 20 he led the pitiless doom punk of
Pig
, started the
Electric Voice
imprint, and played sideman to
Scribbler
and
the Friendly Dimension
. He has once again departed on another musical continuum with his latest project,
Transfixed
, a more sinister and contemplative vision of the
futuristic isolation
and robotic vocals of Kraftwerk and Gary Numan.
Electric Voice is not exclusive to the regional talent of the 902, but has entertained releases from across Canada, with ambitions to release music from around the globe. Up next is a 12" from Jeff & Jane Hudson, who were part of the New York No Wave movement during the late '70s and early '80s, arguably one of the greatest incubators for creative music of all genres, ever. Matt kindly took the time to answer some questions.
Zachary Fairbrother
Contributor
Weird Canada // Lantern
http://weirdcanada.com // http://lantern.bandcamp.com
[audio:http://weirdcanada.com/wp-content/uploads/2011/09/02-Coaxial-Mirage.mp3|titles=Transfixed – Coaxial Mirage] Transfixed – Coaxial Mirage
What inspired you to start a label?

It was conceived as a vanity label in 2008 with a partner I was collaborating with at the time, who actually titled the label. It was suggested by a peer that we began documenting our releases to enhance professionalism. We had no intentions of channeling anything other than our own material. As our group was disbanding a personal desire to continue the archive still existed. My friends are all making extremely good music and I can't suppress supporting it materialize.

Since Pig split, you've devoted much of your attention to Electric Voice. Are you taking a break from music or do you prefer running label?

I wasn't really interested in performing or releasing my own music at the time, but I wanted to keep contributing to the physical production of it. I hold a strong value in the aesthetic of sound and its presentation, and the idea of being able to manipulate it is appealing to me. About a year ago I started receiving funding from the Government of Nova Scotia via the Emerging Business Music Program on behalf of Electric Voice. That defiantly provided me with a lot of motivation to get the label off the ground and start working outside the current community in Halifax and Montreal. Though I am becoming passionate about the label, I am a musician first and still focus on writing and recording with aspirations of touring the material. Putting a lot of energy into the label in turn benefits my musical endeavors.

Transfixed is quite a departure from your previous musical adventures. How is it related/un-related to other projects?

The formation of Transfixed was completely organic. It is a collaborative project between myself, Ian Phillips and a number of rotating musicians. We had no intentions of forming a group when we first started playing together, but when we discovered that the house we had been jamming in was previously owned by Ian's grandparents in the early '60s, and that his grandfather grew up in the house, we decided to channel our time spent there with Transfixed. It has become an interesting and rapidly progressing project that there's no reason to stop. Our ideas are constantly abstracting themselves and moving faster than we create the music. It's exciting and with the lack of expectation we have become more prolific than any other project I've been involved with.

With my other projects/collaborations there has been a lot more premeditation on the sounds and how they should be presented. It becomes tough when a collective of people share the same visions without matching the logistics. The extrasensory parts of music can be difficult to communicate. I also work with Troy Richter and the Friendly Dimension in molding his sounds.
[yframe url='http://www.youtube.com/watch?v=VIG5TfymdZ4′]
Synthesizers or guitars?

Guitars that sound like synthesizers. I think the combination can be a masterful force when properly conducted. I am ultimately a guitar player, but I've been spending a lot of time learning the keyboard. For the last few months I've hardly touched my guitar.

You hitchhike between Truro and Halifax. It seems like hitchhiking is a fading activity. Do you enjoy it, and do you have any good stories? Have you met some interesting people? Where is the farthest you've hitched?

It's never really been something I enjoyed, but it's done out of necessity. When I cannot afford to be bussing back and forth, it's usually my only means to get to practices/gatherings, as all of the bands I play in are based in Halifax. I live back and forth from Halifax and Truro, which are about an hour's drive apart. Truro is very isolated and is a great environment to work in, though can be compromising with my schedule.

I've only been hitching through Nova Scotia and Newfoundland for the last five years. I've been consistently traveling this way and have never encountered any trouble. Dress nice with a clean appearance. A lot of mothers have picked me up, also on- and off-duty police officers. The only questionable encounter was a lady who spoke in a thick rural Nova Scotian tongue. She picked my friend and I up in the dark and was drinking Faxe 10 (strong beer). She had what looked like 3-4 empty cans on the floor of her side of the car. It was a little unsetting but she was considerably collected and coherent. She had a bizarre way of twisting her words together that was oddly poetic.

You seem like an ambitious young man. What are your dreams for the Electric Voice Label?

I don't class my visions with the label as dreams, because I don't think they are anything we can't achieve. The people I surround myself with are individually gifted at what they do. Thankfully all of the resources are presented, making it simple to have a pragmatic sense of work. I certainly am young; therefore I am not looking to execute the foundation process in short time. I will keep experimenting with formats and presentation, and try not to exhaust our resources. In time I will spend time refining the label and as expected with any small business or hobby, sustainability is key.
[yframe url='http://www.youtube.com/watch?v=z10qdhnu1BI']
What other labels do you find inspiring and/or really dig and why?

To those who know me this may sound biased because Brett is a good friend, but I really like what he has done with Campaign For Infinity. He has released some of my favourite cassettes in the last few years (notable: Teenage Panzerkorps, Horrid Red, Grand Trine, Rape Faction). I also have a lot of respect for Darcy Spidle and Divorce Records, as it was a prominent influence of my origins in the community of Halifax. He is really passionate about what he does and it shows in his work. OBEY Convention is a festival he puts on every year or so and is the highlight of the year in Halifax, in my opinion. I am happy to be helping him with the festival in 2012.

I have some collaborative release coming out with Danish label Skrot Up as well as works with Montreal's Hobo Cult. Some other notable active labels: Bruised Tongue, Captured Tracks, Dark Entries Records, FLA Tapes & Records and Arbutus Records. I also really dig the consistency in the aesthetic of labels like Sacred Bones and Night People.
Electric Voice Discography (to date)
EV001
::
Albino Slug II
–
EP
(Cassette, 2008)
EV002
::
Pig
–
Everything Isn't EP
(CD-R, 2009)
EV003
::
Vacuum
–
Tormented Bear EP
(Cassette, 2009)
EV004
::
Pig
–
Elbow Witch
(Cassette, 2009)
EV005
::
Church Hammer
–
Vol. I
(Cassette, 2010)
EV006
::
Church Hammer
–
Vol. II
(Cassette, 2010)
EV007
::
Church Hammer/Vacuum
–
Split
(Cassette, 2010)
EV008
::
Pig
–
I've seen the future and it's no place for me Compilation
(Cassette, 2010)
EV009
::
Various Artists
Electric Voice Compilation Vol I
(Cassette, 2010)
EV010
::
Milksnake
–
EP
(Cassette, 2010)
EV011
::
Friendly Dimension
–
Live: In the Pleasant Horrors of Space EP
(Cass., 2010)
EV012
::
Lantern
–
Deliver me from Nowhere
(Cassette, 2010)
EV013
::
Gigas
–
Tied Down to the Ones You Love LP
(Cassette, 2010)
EV014
::
Friendly Dimension
–
Bath Tub EP
(Cassette, 2011)
EV015
::
Duzheknew
–
LOL HELL EP
(Cancelled)
EV016
::
Wicked Crafts
–
"No Cure" EP
(Cass. (split w/ Campaign for Infinity, 2011)
EV017
::
U.S. Girls
–
EP
(7″, 2011)
EV018
::
The Friendly Dimension // 30 Year Old City Hex
–
"Poltergeist City"
(Cass., 2011)
EV019
::
Babysitter
–
"Paul's Cab" Single
(Cassette, 2011)
EV020
::
Monroeville Music Center
–
Les Defauts des Fabrication EP
(Cassette, 2011)
EV021
::
Milksnake
–
Lenny Bruce EP
(Cassette, 2011)
EV022
::
Membrain
–
EP
(Cassette, 2011)
EV023
::
Lantern // The Ether
–
Split
(Cassette, 2011)
EV024
::
Play Guitar
–
Single
(Cassette, split release w/ Craft Singles, 2011)
EV025
::
Grand Trine
–
Single
(Cassette, split release w/ Craft Singles, 2011)
EV026
::
Bad Vibrations
–
Single
(Cassette, split release w/ Craft Singles, 2011)
EV027
::
Transfixed
–
Single
(Cassette, split release w/ Craft Singles, 2011)
EV028
::
Crosss
–
Single
(Cassette, split release w/ Craft Singles, 2011)
EV029
::
Bloodhouse
–
Single
(Cassette, split release w/ Craft Singles, 2011)
EV030
::
Hand Cream // Crosss
–
Split
(Cassette, 2011)
EV031
::
Passion Party
–
EP
(Cassette, 2011)
EV032
::
Cat Bag // Transfixed
–
Bunker // Body Language
(12″ w/ Claire Dragon, 2011)
EV033
::
Rape Faction // Chevalier Avant Garde
–
Split
(Cassette, 2011)
EV034
::
Various Artists
Electric Voice Compilation Vol. II
(12″ Cassette, 2011)
EV035
::
Jeff & Jane Hudson
–
In My Car // Computer Jungle (+ Club mixes)
(12″, 2011)
EV036
::
Visual works by Jacqueline Lachance
(VHS, 2012)
(Editor's Note: Certain titles from this discography were not released by Electric Voice proper. As history's nature is to continually re-write itself, so, too, shall we gaze pastward at Matt's creative efforts and understand his temporal stream within the vision of Electric Voice.)
---