Tag: avant-guitar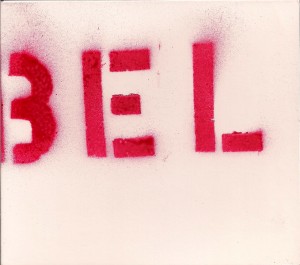 Babel
Heurter
Toronto, ON
From the vile vortice of JT Stephenson:
Performed like some ancient rite to awaken the demons chilling in his Fender Telecaster, Babel gives voice to evil through mallets, loops and delays. However, this ain't your regular evil, this is a special side-show blend: Evil music that lures you into an oxymoronic vortex of warm and fuzzy dread, yet never without moments of light within its droney darkness. Although not proggy enough to score a Dario Argento film, there is definitely a horror show aspect lurking within Heurter. Do yourself a favour: listen to this before you sleep to soundtrack your sweetest nightmares.
Des vils vortex de JT Stephenson:
(Traduit par la musicalité horrifique de Julie Forget)
Jouées comme un ancien rite pour réveiller les démons qui se détendent dans sa Fender Telecaster, les compositions de Babel donnent une voix au mal à l'aide de maillets, de boucles et de retards. On ne parle cependant pas du mal habituel, mais plutôt d'un mélange de divertissements particuliers de second ordre : de la musique diabolique qui vous leurre dans un vortex oxymorique de terreur chaleureuse et trouble, mais jamais sans certains moments de lumière dans son obscurité bourdonnante. Le style d'Heurter n'est pas assez progressif pour faire partie d'un film de Dario Argento, mais un aspect de spectacle d'horreur s'y cache clairement. Faites-vous plaisir : écoutez ces morceaux avant de dormir afin d'en faire la bande originale de vos plus beaux cauchemars.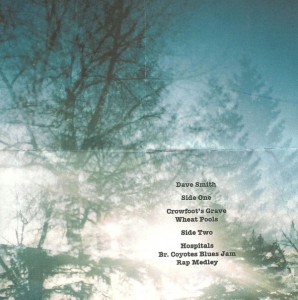 Dave Smith
Dave Smith
(Self Released)
Calgary, AB // Toronto, ON
From the rap medley of Kevin Stebner:
Somewhere between a Canadiana Jandek, or a tone-deaf Neil Young, prairie-born Dave Smith drops a few of his strongest Going Down the Road-styled slices. Smith's jams are often nothing more than tape buzz and harmonica-folk devolving into windy noise but with enough personality to shame Shotgun Jimmie into submission. Man of the land.
Du medley rap de Kevin Stebner: (Traduit par la femme de la terre Maya Keshav)
Quelque part entre un Jandek canadien ou un Neil Young qui n'a pas d'oreille, Dave Smith des prairies présent quelques uns de ses pointes les plus fortes du façon Going Down the Road. Les mélodies de Smith sont souvent rien que le buzz de cassette et le harmonica-folk qui dévolue en bruit venteux, mais il y a assez de personnalité pour couvrir Shotgun Jimmie de honte pour qu'il soumette. Il est un homme de la terre.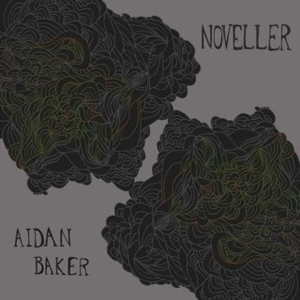 Aiden Baker / Noveller
Colourful Disturbances
Toronto, ON
From the portal-books of Jesse Locke:
For those keeping track at home, Aidan Baker's discography is starting to stretch longer than both his beard and onstage guitar jams. On this split LP, the multi-instrumentalist and founding member of "Ambient Doom" duo Nadja is in full-on minimalist mode, filling the entirety of his side with the soft-focus tone workout "Disturbances pt. 1 & 2." Movement wise, it's as unhurried as Eno or Stars of the Lid, and equally iridescent. On the flip, Brooklyn's Sarah Lipstate (a.k.a. Noveller) – a member of Rhys Chatham's Guitar Army, Glenn Branca's 100 Guitar Ensemble and formerly Parts and Labor – contributes two shorter songs. In comparison to Baker's piece, her haunting "White Rabbit" and ornate "Under The Color Cave" sound positively lively. This one could be a desert island pick, if that island happened to be Myst.
[Levin's Note: Having played Myst (blind subway!), Myst II: Riven (hang-man language thingy!), and Myst III: Exile (bee-hive!), I concur with everything Mr. Locke has stated, and more!]
Des livres-portails de Jesse Locke:
(Traduit par la boîte à rythmes de Odile Leclerc)
Pour ceux qui suivent de la maison, la discographie d' Aidan Baker commence à devenir plus longue que sa barbe et ses jams de guitare sur scène. Sur ce LP divisé, le multi-intrumentaliste et membre fondateur du duo "Ambient Doom" Nadja est en plein mode minimaliste, emplissant l'intégralité de son côté avec l'entraînement de tons au focus doux "Disturbances pt. 1 & 2". Concernant le mouvement, c'est autant lent que Eno ou Stars of the Lid, et également iridescent. D'un autre côté, Sarah Lipstate de Brookyn (a.k.a. Noveller)—un membre de Rhys Chatham's Guitar Army, 100 Guitar Ensemble de Glenn Banka et anciennement Parts and Labor — donnent deux courtes chansons. En comparaison à la pièce de Baker, son hantant "White Rabbit" et l'orné "Under The Color Cave" sonnent positivement joyeux. Celui-là pourrait être le choix d' une île déserte, si cette île était Myst.
[Note de Levin: Ayant joué Myst (métro aveugle!), Myst ll: Déchiré (le truc du langage du bourreau!), et Myst lll: L'éxile (ruche d'abeilles!) Je suis d'accord avec tout ce que Mr. Locke a déclaré et encore plus!]
---