Tag: avant-garde
Electric Eclectics

July 29th – 31st, 2016

Various Artists
Meaford, ON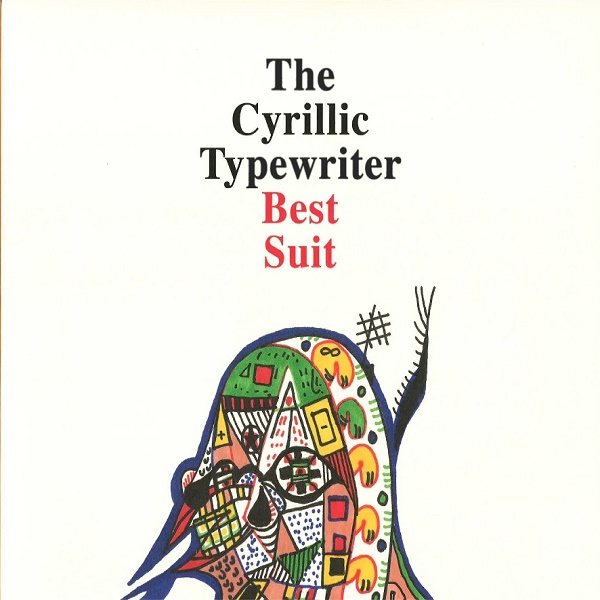 The Cyrillic Typewriter
Best Suit
Vancouver, BC
The Cyrillic Typewriter – Light Upon Feet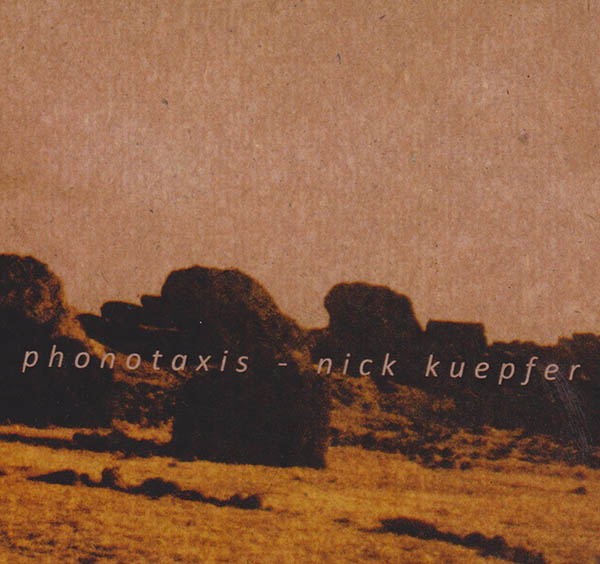 Nick Kuepfer
Phonotaxis
(Self Released)
Montréal, QC
From the synaptic mind-fogs of Joshua Robinson:
Delirium mind-fog hovers as the hazy overgarment that shrouds this release in an ethereality that is the aged and wondrous archetype of drone-glory. Manipulating the analog sepias of the bleeding starkness that blurs the fineries of static stasis and zoetic flux, Nick Kuepfer cossets these participles of the ever grand and particulate astral body. They are the intoned splendor paeans of spirit guides lost in the expansive diameters of limitless amplitudes, their waves brushing and then breaking against the littoral skins of syndetic pastures.
Du brouillard synaptique de Joshua Robinson:
(Traduit par Jessica Grenier)
Un brouillard délirant gagne les esprits, une cape floue enveloppant cet album d'une immatérialité propre à l'ancien archétype du drone dans toute sa splendeur. En manipulant la sépia analogique de l'austérité blessée qui trouble les parures de la stagnation statique et de la fluctuation zooétique, Nick Kuepfer dorlote ces participes, matière particulaire du corps astral grandiose. Ce sont les louanges splendides chantés par des guides spirituels perdus dans les diamètres expansifs d'amplitudes sans limites, leurs vagues frôlant puis se brisant sur les peaux du littoral des pâturages reliés.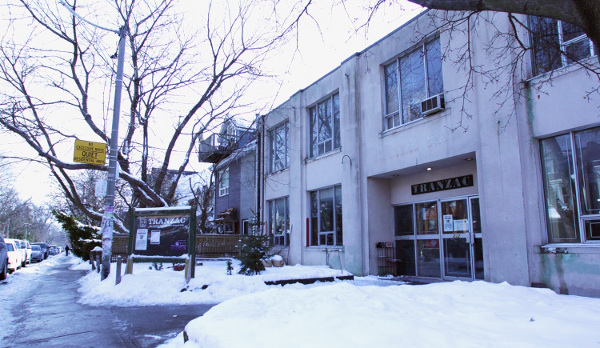 Robbie Luster
Manager / Booker of the Tranzac
(Photo: Jackson Fishauf)
Toronto, ON
From the southern cross of Gabe Girard:
Toronto has long been a home away from home for expats from Australia and New Zealand. In 1931, a community space for these nationalities was founded, preserving their culture while functioning as a co-op and general club. The Tranzac (an abbreviation of "Toronto Australia New Zealand Club") has gone through many incarnations and locales over the years, gradually broadening its horizons and becoming more inclusive of other nationalities and practises. Today, the Tranzac is one of the city's most versatile live music and arts venues. It caters to just about all styles of music, while being slightly partial to the avant-garde and experimental scenes. The Tranzac is known as a non-profit community center, zine library, theatre, music venue, and artistic hotbed of creativity. What holds all the disparate aspects of this space together? A DIY approach and spirit of independence are characteristic of the club. Combine that with positive community relations and an open-minded approach to the arts, and the picture starts to become clear. We caught up with manager/booker Robbie Luster to set us straight.
Gabe Girard: The Tranzac began as a community space for immigrants from New Zealand and Australia. Is this rich history still present today?
Robbie Luster: The Tranzac was founded in 1931 by Aussies and Kiwis, and its association with them is still going on. For decades it was devoted solely to them. There were rugby teams, Maori dances and other things that preserved their culture. The Tranzac was also associated with a big festival called Caravan, representing different cultures in pavilions all across the city. The biggest pavillion was the Aussie one at the Tranzac where they held sheep shearing competitions. The Tranzac's participation in Caravan was the start of the transition where it became more inclusive of other nationalities… and other people in general.
When did the Tranzac start featuring live music? When did it start branching off into avant-garde jazz?
There has always been live music here. Slowly, in the past 20 years, it started catering to more avant-garde music. The managers, Sandra and Cassandra, changed the focus of the musical acts. It was an organic transition. It always catered to DIY, independent sort of acts. Music that might not be found elsewhere. It took off when Saint Dirt Elementary School started playing. That's when the balance tipped and started getting associated more with that scene.
What kinds of music do you cater to the most?
We cater to all kinds of music. Programming in our Southern Cross room has a big focus on avant-garde jazz, quirky indie pop, and alt folk. We really do have everything, all kinds of music, the whole gamut. From classical to opera to hip hop. Anything with a spirit of independence, and a DIY ethos. Since we're a non-profit organization on a shoestring budget, it's only natural that we would gravitate towards the DIY indie scene.
The Tranzac is a community hub for a lot of groups and organizations. You have partnerships with the Toronto Zine Library, Blocks Recording Club and other labels such as Barnyard and Rat-Drifting. How does this help the organization and the community itself?
We're trying to build a community, and all trying to help each other. It's important to have relationships with the labels, zine library, as well as traditional folk music groups. The Morris Ale dancers are a big part of the club. Our chief goal as a non-profit is to foster and contribute to the arts community, particularly on the more avant-garde/independent/DIY side of things, whenever we see a vital and important niche that might be overlooked by more corporate interests. As Toronto's downtown core becomes increasingly expensive and caught up in the rat race, the need to fill such a niche is more vital now than ever, for the health of the arts and our neighbourhoods.
What do you think sets the Tranzac apart from more profit-driven music venues?
I think what sets us apart is the fact that our primary objective is fostering the arts community — we even have a mandate in our "constitution" to do so — as opposed to a drive for profit. Although, of course, we are always working to keep revenue up!
Does being a non-profit organization give you any advantages or disadvantages?
The fact that we're non-profit is the most important thing about the Tranzac, I'd say. You can sense it in the attitude and spirit of the volunteers; it really shows that we're a non-profit. It means we have no budget or a very limited budget, and get the benefit of volunteers who are eager to help out. Overall there is a good vibe.
If someone were looking to book an event at The Tranzac – in any of the spaces you offer – what would you recommend they do?
If one were looking to book an event at the Tranzac — any size! any kind of event! — they can contact me (Robbie) at booking (at) tranzac (dot) org.
De l'enceinte avant-gardiste de Gabe Girard:
(Traduit par la plume et l'encre d' Aliké Harel)
Toronto est depuis longtemps la terre d'accueil des expatriés d'Australie et de la Nouvelle-Zélande. Un centre communautaire a été fondé dès 1931 pour les nouveaux arrivants de ces pays afin de préserver leurs cultures. Le centre a également rempli les fonctions de coopérative et de club. Le Tranzac, acronyme de « Toronto Australia New Zealand Club », s'est réincarné sous plusieurs formes et a été le théâtre de nombreux types de scène. Au fil du temps, le Tranzac a élargi ses horizons et a ouvert la porte à d'autres nationalités et à d'autres traditions culturelles. Le Tranzac est maintenant une salle de spectacle des plus hétéroclites de la scène musicale et artistique. Le club présente pour ainsi dire tous les styles de musique, quoique particulièrement enclin à mettre sur scène de la musique expérimentale ou avant-garde. Le Tranzac est connu comme un centre communautaire, un organisme à but non-lucratif (OBNL), un centre d'archivage de zines, un théâtre, une salle de spectacle et espace de création bouillonnant. Comment parvient-on à former un tout de ces ingrédients éclectiques? L'approche DIY et l'esprit d'indépendance font déjà l'apanage du club. S'ajoutent à la toile une relation harmonieuse avec le milieu et une vision de l'art à large déploiement… alors, le portrait commence à se raffiner. Nous avons rencontré le gérant et planificateur, Robbie Luster, pour avoir l'heure juste.
Gabe Girard: Le Tranzac a d'abord été un lieu communautaire pour les immigrants d'Australie et de la Nouvelle-Zélande. Ce riche passé a-t-il laissé une trace jusqu'à nos jours?
Robbie Luster: Le Tranzac a été fondé en 1931 par des Oz et des Kiwis, et l'association originale existe toujours. Pendant plusieurs décennies, le club s'occupait uniquement de ce groupe culturel. Il y avait des parties de rugby, de la danse maorie et d'autres activités pour préserver leur culture. Le Tranzac collaborait aussi à Caravan, un festival de grande envergure, au cours duquel on érigeait des scènes à l'effigie des différentes cultures dans toute la ville. La plus grande scène était celle des Australiens au Tranzac, où des concours de tonte de mouton avaient lieu. La participation du Tranzac au festival Caravan constitue le début de l'inclusion d'autres nationalités… et l'ouverture à l'ensemble du milieu.
Quand le Tranzac a-t-il commencé à présenter des performances musicales? À quel moment s'est-il tourné vers l'avant-garde jazz?
Les performances musicales ont toujours eu une place ici. Depuis les 20 dernières années, le Tranzac a tranquillement commencé à mettre de l'avant plus de musique d'avant-garde. Les gérantes, Sandra et Cassandra, ont changé le style des performances au menu. La transition s'est faite de façon naturelle. Le Tranzac avait toujours accueilli des performances de type DIY, du milieu indépendant. De la musique qu'on n'entend pas ailleurs, quoi! L'étincelle a jailli lorsque Saint Dirt Elementary School a commencé à jouer ici. C'est alors que le Tranzac a pris un virage vers la scène émergente.
Quels types de musique présentez-vous le plus?
Nous présentons de la musique de tout genre. La programmation de la salle Southern Cross comprend beaucoup de jazz avant-gardiste, du indie pop émergeant et du folk alternatif. Toutefois, on en a vraiment pour tous les goûts, de tous les genres de musique! Notre gamme musicale est vaste : classique, l'opéra, hip-hop… Tout groupe avec un esprit d'indépendance ou une philosophie DIY est le bienvenu. Puisque nous sommes un OBNL, avec budget serré, il est tout naturel que nous gravitions autour de la scène de la musicale indépendante.
Le Tranzac est un phare pour de nombreux groupes et organismes. Vous collaborez avec la Toronto Zine Library (une fanzinethèque torontoise), le Block Recording Club et d'autres producteurs, dont Barnyard et Rat Drifting. Quels rôles jouent ces collaborations pour votre organisme et pour le milieu?
Nous contribuons tous ensemble à bâtir une communauté et nous nous entraidons les uns les autres. Il est important d'entretenir des relations avec les producteurs, le milieu du zine ainsi qu'avec les groupes de folk traditionnel. La troupe de danse Morris Ale est un partenaire majeur du club. Notre mission est de promouvoir et de soutenir le milieu artistique. Nous sommes interpellés à chaque fois que nous dénichons un créneau incontournable qui pourrait passer sous le nez des grandes corporations, tout particulièrement lorsqu'il s'agit des représentants de l'avant-garde, du DIY et des artistes indépendants. Aux prises avec une opération de nivelage vers le haut, il devient de plus en plus cher de vivre au cœur du centre-ville de Toronto, de sorte qu'explorer ce créneau devient une nécessité plus que jamais, afin de maintenir un milieu artistique et humain équilibré.
Qu'est-ce qui distingue, selon vous, le Tranzac des autres salles à vocation lucrative?
Je crois que c'est notre mission de promouvoir le milieu artistique, qui nous distingue de ceux qui, pour leur part, s'intéressent aux profits. Cette mission est même inscrite dans le mandat que nous nous sommes donné dans notre « constitution ». Évidemment, nous cherchons, tout de même, à constamment générer des revenus!
Être un OBNL comporte-t-il certains avantages ou désavantages?
Le fait d'être un OBNL est, je pense, déterminant pour le Tranzac. C'est palpable dans l'attitude et l'énergie des bénévoles, notre travail respire le dévouement. Une constitution en OBNL signifie avoir peu ou pas de budget et bénéficier de l'aide de bénévoles motivés. En somme, notre environnement est rempli de bonnes ondes.
Que recommandez-vous à quiconque souhaiterait organiser un spectacle au Tranzac, dans n'importe quelle de vos salles?
Vous souhaitez jouer sur une scène du Tranzac? Quelque soit l'envergure ou le style de votre projet, communiquez avec moi (Robbie) au booking (at) tranzac (dot) org.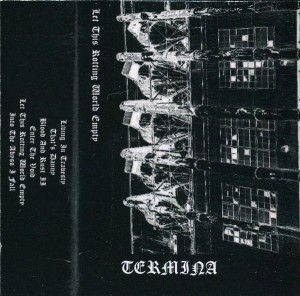 Termina
Let This Rotting World Empty
Montréal, QC
From the ominous urge of James Lindsay:
This minimal, mechanized noise sounds like a field recording from an abandoned warehouse where a cold wind howls through its ribs. Inside, a single microphone amongst rotting VHS tapes captures the band playing at half-speed when no one's around. Hidden behind all this grave decay is a melodic drone that does much of the work, going about its job like an emotionally dead surgeon, clinically augmenting an ominous urge. Another mysterious and limited (30 copies!) release by Magic Mother, who seem to have made it their mission to exclusively offer up music that sounds like the bleakest winter. (Termina now perform under the name La Naegleria)
Du désir irrépressible de James Lindsay:
(Traduit par Joannie Pharand)
Minime et mécanisé, ce bruit sonne comme un enregistrement fait sur le terrain d'un entrepôt abandonné où hurle, à travers les tripes de la structure, un vent froid. À l'intérieur, un seul micro parmi des cassettes VHS avariées capte le groupe jouant leur musique au ralenti lorsqu'il n'y a personne sur les lieux. Derrière tout cet imposant pourrissement se cache un ronronnement mélodieux s'occupant d'une partie du travail, s'attardant à la besogne comme un chirurgien sans émotion et faisant cliniquement accroître un désir irrépressible. C'est une autre édition limitée (30 copies!) et mystérieuse de Magic Mother, qui semble avoir pour mission d'offrir exclusivement de la musique qui sonne comme l'hiver le plus sombre. (Termina est maintenant connu sous le nom de La Naegleria)
Termina – Let This Rotting World Empty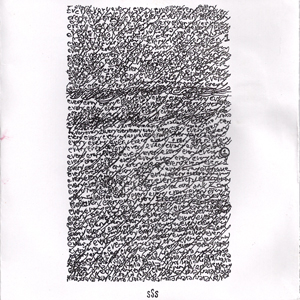 Matthew A. Wilkinson
sSs EP
(Self Released)
Grand Prairie, AB
From the magnetic fields of Jesse Locke:
Quick as a cricket, Grand Prairie's holiest warbler zaps us through the post with his latest enchantment. The sSs EP picks up right where the spellbinding Namers left off, spiraling into black echoes for a series of cinematic miniatures, scraped strings, plucked banjos and touched electronics. The creeping horror culminates in "Cen eTe neR", a nine-minute scorched earth awakening of cooing kitties and the post-rock dawn of its "secret song." Discover Alberta.
Des champs magnétiques de Jesse Locke: (Traduit par les chatons chantonnants de Maya Keshav)
Aussi vite qu'un grillon, le gazouilleur le plus sacré de Grand Prairie nous zigouille dans le courrier avec son dernier enchantement. L'EP sSs commence exactement où l'ensorcelant Namers a fini, en tourbillonnant dans les échos noirs pour une série de miniatures cinématographiques, de cordes grattées, de banjos frappés et d'électronique transformée. L'horreur insidieuse se termine par "Cen eTe neR", un éveil terre brûlée de neuf minutes, fait de chatons chantonnants et d'aube post-rock de sa "chanson secrète." Découvrez l'Alberta.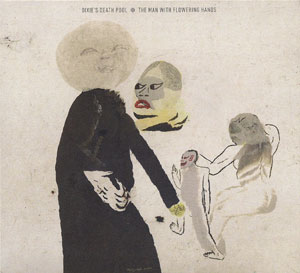 Dixie's Death Pool
The Man With Flowering Hands
Vancouver, BC
From the wilting wisps of Jesse Locke:
Shuffling and smiling through a moon-hung Ren. Faire when the dandelion wine has kicked in for the minstrels, electroacoustic jazzbo Lee Hutzulak dips into that crazy river. Tucked underneath his faded poncho, the twinkle-eyed lifeguard of Dixie's Death Pool unleashes a squadron of steam punk arachnids to undertake his mystical bidding. Rev up your electric flute, grab a Mackie Blackjack and get jiggy.
Du feu follet de Jesse Locke: (Traduit par les pissenlits pompettes de Maya Keshav)
En traînant les pieds et souriant à travers une Ren. Faire trempé de lune quand le vin de pissenlit a commencé d'affecter les ménestrels, le jazzbeau électroacoustique Lee Hutzulak saute dans ce rivière fou. Caché au-dessous de son poncho délavé, le sauveteur avec les éclats dans les yeux de Dixie's Death Pool déclenche un escadron d'arachnides steam-punk pour faire ses ordres mystiques. Alors montez en régime votre flûte électrique, prenez un Mackie Blackjack et dansez la gigue.
Dixie's Death Pool – Paper That Folds Itself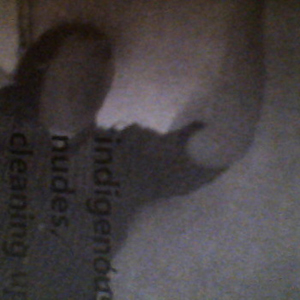 Indigenous Nudes
Cleaning Up For AI
(Girl Boss)
London, ON
From the forced city freak-out of Pam Haasen:
Tech Supporters Nicholas and Cheddle channel all thoughts of "kill roommate" into buzz, wind, fire, distortion and incantations. Indigenous Nudes play with heat guns as séance sounds churn from their guts; writhing a full-term demon baby from underwater delivery through the annals of time/space. Cheddle's glasnost lingers in the box on the floor that reads "fragile" while ichola scoops up broken glass to throw at anyone who gets too close. To listen is to watch a candle burn with the TV on while mother bakes rotted mincemeat pies and calls from a distance that dinner's ready.
De la crise urbaine obligée de Pam Haasen: (Traduit par Maya Keshav)
Les Tech Supporters Nicholas et Cheddle transforment toutes les pensées de "tuer le coloc" en bourdonnement, vent, feu, distorsion et invocations. Indigenous Nudes jouent avec les pistolets thermiques pendant que les sons de séance de spiritisme tourbillonnent dans leurs boyaux; un bébé démon se tortille à terme dans un accouchement sous-marin à travers les annales du temps et de l'espace. La glasnost de Cheddle reste dans la boîte par terre qui se lit "fragile" pendant qu'ichola ramasse du verre cassé pour lancer à n'importe qui vient trop proche. Écouter, c'est regarder une bougie brûler avec le télé allumé pendant que maman cuisine les pâtés de viande pourrie et crie au loin que le souper est prêt.
Indigenous Nudes – God, Forgive Satan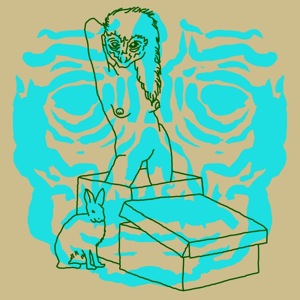 Six Heads
Cardboard Oracle
(Wintage Records & Tapes)
Toronto, ON
From the corrugated ESP of Jesse Locke:
With decade-spanning CVs instilling sonic seasickness, Toronto's smirking surrealists have become an underground institution of near NSB proportions. Carboard Oracle marks Six Heads' inaugural expedition on vinyl, and it's a seriously woozy cruise. Sipping from the same strange brew as Smegma, A-side "Smaller, Larger, Lighter (Incantation of the Naugahyde Witch)" finds Twin Peaks' little man from another place bubbling up the bong and raiding a kid's tickle trunk to find a kalimba. The flip slides even further sideways, as "Carnival Dust" spins on a not-so-merry-go-round of smeared signals, chimes and disconnected static from the depths of the Devil's Triangle. Not for the faint of stomach.
De la perception extrasensorielle de Jesse Locke: (Traduit par les six têtes de Maya Keshav)
Avec les CV qui passent les décennies en distillant le mal de mer sonique, les surréalistes souriants de Toronto sont devenus une institution avant-garde de dimensions presque égales à celles de NSB. Carboard Oracle est l'expédition inaugurale de Six Heads en vinyle, et c'est une croisière tellement enivrante. En sirotant de la même infusion bizarre que Smegma, la face A "Smaller, Larger, Lighter (Incantation of the Naugahyde Witch)" trouve le petit homme d'un autre endroit de Twin Peaks en train de faire bouillonner un bong et de dévaliser la planque de jouets d'un enfant pour trouver une sanza. L'autre face est même plus tordue, quand "Carnival Dust" tourbillonne sur un carrousel de signes tachées, de carillon et de larsen déconnecté du fond du triangle de l'enfer. C'est pas pour les estomacs faibles.
Six Heads – Smaller, Larger, Lighter (Incantation of the Naugahyde Witch) (excerpt)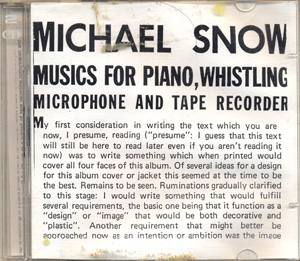 Michael Snow
Music For Piano, Whistling, Microphone and Tape Recorder
(Chatham Square Productions)
Toronto, ON
Originally Released: 1972
From the halcyon days of Alexander Moskos:
I'll admit to never having actually found this record despite having searched for years. Pictured is a homemade CD bootleg someone made in the '90s (1). Michael Snow's best work hangs from the roof in Toronto's Eaton Center (2) but this 2LP is so decidedly lo-fi and otherworldly that it belongs in the canon of Great Canadiana. Sadly, it will likely never be on any public school-system curriculum. Each of the four sides contain one long piece beginning with a solo whistling excursion, sounding at times like pygmies and at others like Dolphy. Snow just leaned over his reel-to-reel machine, puckered and blew a side of whistling, at times jaunty, at others, just straight OUT! Side 2 is repeated block chords slowly increasing in tonal violence, not unlike a piano version of the Shepard tone. Snow plays back side 2 on sides 3 and 4 at alternating speeds on the reel to reel machine, slowing it down so the low-end notes on his piano resonate glacially, coming off like a cruddy tape copy of Tim Hecker's better moments. The whole package comes wrapped in typically clever and self-referential liner notes written by the man himself.
(1) I remember buying a Well-tuned Piano booted CD-R set for an exorbitant price in those halcyon days.
(2) Snow's structural films are considered some of Canada's great works of 20th century avant-garde, albeit slow moving ones. Also, Snow managed to sue Eaton's for putting bows on his Flight Path installation. The thing resonates; hell, a V-formation just flew overhead now.
Des jours heureux de Alexander Moskos: (Traduit par Maya Keshav)
J'admets qu'en fait j'ai jamais trouvé cet enregistrement même si je le cherchais pendant des années. Pictured est un CD fait-maison de pirate que quelqu'un a créé dans les années 90 (1). Le meilleur travail de Michael Snow est accroché au toit du Centre Eaton à Toronto (2) mais ce 2LP est si complètement lo-fi et éthéré qu'il mérite d'être dans l'œuvre du meilleur art du Canada. Malheureusement, il semble peu probable qu'il sera dans un programme lycée public. Chacun des quatre voies comprend un longue morceau qui commence avec une balade solo de sifflement, qui a l'air parfois de pygmées et parfois l'air de Dolphy. Snow s'est penché sur son magnétophone, il a fait la bouche en cul-de-poule, et il a siffloté, parfois enjoué, ou parfois, juste LOUFOUQUE! La face 2 comprend les double-cordes répétées qui augmentent lentement le niveau de violence tonale, comme une version piano de la gamme de Shepard. Snow repasse la face 2 aux faces 3 et 4 aux vitesses alternantes sur la boîte bobine-bobine, en le ralentissant pour que les low-end notes de son piano résonnent à pas de tortue, ayant l'air d'une copie cassette merdique des meilleurs moments de Tim Hecker. Les textes sur la pochette sont caractèristiquement vives et autoréférentielles, écrites par l'homme lui-même.
(1) Je me souviens de payer énormément cher pour un CD-R de Well-tuned Piano dans ces jours heureux.
(2) Les films structurels de Snow sont estimé d'être parmi les plus grands œuvres d'avant-garde vingtième siècle au Canada, bien qu'ils soient lents. En plus, Snow a réussi à attaquer Eaton's en justice pour avoir mis les nœuds de ruban sur son installation Flight Path. Qui résonne; merde, une flotte aérienne a volé au-dessus de nous à l'instant.
Michael Snow – Side A (excerpt)
---