Tag: astral gunk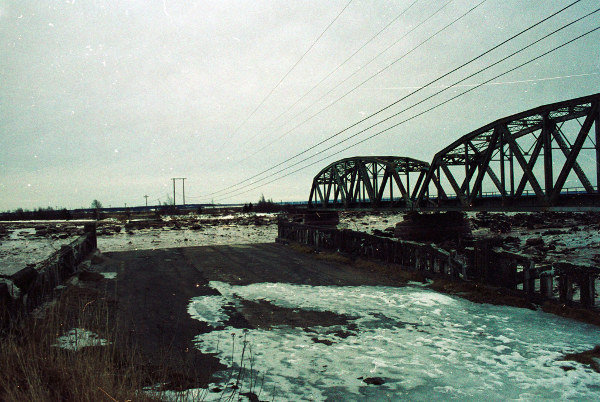 Stereophonic 12
January 22-24
Sackville, NB
Photo: Colin Medley
From the snow-flecked eyebrows of Kevin Brasier:
Stereophonic, is a winter fundraiser/hellraiser for Sackville's community station, CHMA 106.9FM. If you've ever wondered "what's in that Sackville water" that produces the finest bands in the land, the answer is CHMA's FM-freakuencies. Stereophonic is how Sackville says thank you to CHMA for offering the community free postering services, PA equipment for shows, and much more. Far from an ordinary fundraiser– co-directors Scott Brown and Ilse Kramer (also bandmates in the mighty Kappa Chow) are throwing a three-day rager featuring musical legends from bag-town and beyond including Astral Gunk, Bry Webb, Old and Weird, and Monomyth. Check out the release video for the full-line up, and listen to the festival mix-tape to preview the sweetest sounds of the marshes.
Des sourcils parsemés de flocons de neige de Kevin Brasier:
(Traduit par le nez incandescent de Jessica Grenier)
Stereophonic est une collecte de fonds infernale/hivernale pour la station radio communautaire de Sackville, CHMA 106.9FM. Si vous vous êtes déjà demandé ce qu'il y a dans l'eau de la ville pour qu'elle produise les meilleurs groupes du pays, la réponse se trouve dans les freakences de CHMA. Stereophonic, c'est aussi Sackville qui dit merci à CHMA pour le service d'affichage qu'elle offre gratuitement à la communauté, l'équipement de sonorisation lors des spectacles, et bien d'autres choses encore. Stereophonic est loin d'être un spectacle-bénéfice ordinaire : les codirecteurs Scott Brown et Ilse Kramer (aussi membres du grandiose Kappa Chow préparent une fête de trois jours avec des légendes de la musique povenant de la ville ou d'ailleurs, comme Astral Gunk, Bry Webb, Old and Weird et Monomyth. Regardez l'annonce vidéo pour savoir la programmation et écoutez la cassette du festival pour vous donner un aperçu des meilleurs sons du marécage.
1 Best Fiends – "Uh Huh"
2 Zakary Slax – "Remains"
3 Monomyth – "Candleholder"
4 Coach Longlegs – "Baycation With You"
5 Klarka Weinwurm – "TMSB"
6 Bry Webb – "Prove Me Wrong"
7 Corey Isenor – "Beneath The Bramble"
8 Jon Mckiel – "I Know, I Know"
9 Astral Gunk – "Astral Theme"
10 Heaven For Real – "Hard Done By"
11 Union Suit – "Delirious Vista"
12 Adam Mowery – "Follow Me To The Bottom*"
13 The Kavorkas – "The Grocery Store (demo)*"
14 Old and Weird – "She Seems Stressed"
15 Legendary Golden River Show Band – "Stay Yonder (Honeysuckle)"
16 Zachary Lucky – "Salty Air"
17 Old Bones – "I Can See Through You*"
18 Painful Shivers – "Blu"
* denotes that the track is unreleased
Crosss // Astral Gunk
Split 7″
Toronto, ON // Sackville, NB
From the prophetic dirge of Josh Boguski:
Darkness envelopes a barren landscape as cloaked figures surround their fallen chapter. Though trembling, we are euphoric as the beast they've summoned welcomes us into its arms. Crosss seamlessly combine doom and post-punk with the disorienting pop sensibilities that we've come to expect from Halifax. And they're destined to the throne. On the flipside, chain-gun percussion accompanies the proclamation that punk is not dead. In their own maniacal language, Sackville's Astral Gunk abandon convention and leave the capitol in search of unpredictable territory.
De l'hymne funèbre prophétique de Josh Boguski:
(Traduit par elfranc)
L'obscurité enveloppe un paysage aride alors que des personnages cagoulés entourent leur acolyte tombé. Malgré les tremblements, nous sommes euphoriques : la bête qui a été invoquée nous accueille dans ses bras. Crosss combinent sans couture le doom et le post-punk avec la sensibilité pop désorientante d'Halifax. Ils sont destinés au trône. De l'autre côté, des rythmes de mitraillette accompagnent la proclamation que le punk n'est pas mort. Dans leur propre langue maniaque, Astral Gunk, de Sackville, abandonnent les conventions et quittent le Capitole à la recherche de territoires imprévisibles.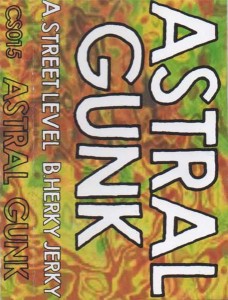 Astral Gunk
Street Level
Sackville, NB
From the aural carrion of Max Cotter:
Astral Gunk bombards the soul with unabatedly compressed frenetic surges of feral riffing pervaded by an overdriven badass attitude. Thick in the deep murky haze lurks a mesmeric and magnetic swampy delay, garbled in a feedback feast. The gnawing noise of this Craft masterpiece preys on aural carrion, teasing and embalming for just long enough to make it through this breakneck four-minute tape.
De la charogne sonore de Max Cotter:
(Traduit du grésillement médusé de Catherine Debard)
Astral Gunk bombarde l'esprit sans relâche avec de frénétiques jaillissements compressées sauvages crachés d'une attitude badass dans le tapis. Enfoui dans une brume profondément sombre, un delay hypnotique, magnétique, marécageux déformé par un festin de feedback. L'effet de tiraillement de cette œuvre ronge la charogne sonore, séduit, embaume juste assez longtemps pour passer à travers cette cassette complètement démente de quatre minutes.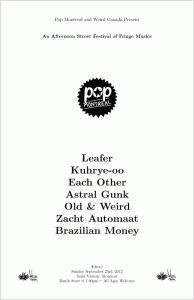 Weird Canada + Pop Montreal
Weird Pop MTL
Montreal, QC

In conjunction with Pop Montreal 2012 and the third annual Journée des bons voisins event, Weird Canada is excited to present a free outdoor show on Sunday, Sept. 23! To celebrate World Car Free Week, the street of Saint Viateur (between Jeanne Mance and Saint Urbain) will transform into a pedestrian zone closed to east-west vehicular traffic from 11 am to 7 pm.
The musical line-up curated by Weird Canada will include the following artists:
Leafer
Kuhrye-oo
Each Other
Astral Gunk
Old & Weird
Zacht Automaat
Brazilian Money
Other activities include Puces Pop taking place simultaneously within St Michael's church, Naada Yoga giving a class in the street (on a bed of sod) from 12 pm to 1:30 pm, bike repair workshops, and more all-ages fun from the YMCA du Parc. Hope to see you there!
# Event Details
– Date: Sunday September 23, 2012
– Location: Saint Viateur (263 Rue Saint Viateur), Montreal, QC
– Time: 1pm – 6pm
– Price: $(free)
– Set Times:
1:00 – Old & Weird
1:45 – Leafer
2:30 – Each Other
3:15 – Kuhrye-oo
4:00 – Zacht Automaat
4:45 – Brazilian Money
5:15 – Astral Gunk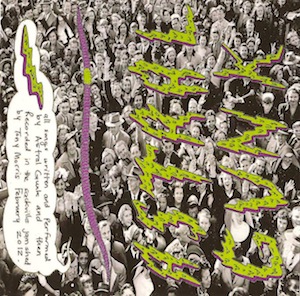 Astral Gunk
Astral Gunk
Sackville, NB

Sackville, New Brunswick
used to be a soporific, folk guitar-addled college town where
dreamy lullabies
made kids sway back and forth like the reeds of their breezy marshes. But
Astral Gunk
are not the chaste marsh children of yesteryear; they are creatures from the
freshly unshackled swamp
. And at night, through the fog and gale-force Maritime gusts, they emerge only to find refuge in a desolate railroad-side jam shack on the outskirts of town, there submerging themselves in noise and gnarlitude. I wish there had been more bands like this back when I did my undergrad there.
---