Tag: art-punk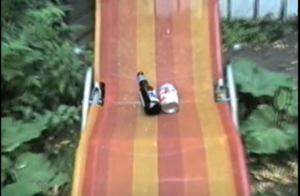 The Ether
I Have Seen the Smile
[Dir. By: Jacqueline Lachance]
Montreal, QC
From the stop-motion back-rub of Aaron Levin:
An audacious chronicle of the family Solanaceae. Jacqueline Lachance takes The Ether's infinite disharmony into ridiculous arrays of VHS mashery, forcing the stop-motion absurdity through burnt colour palettes and neck-churning cut-ups. Wither beside the translucent Tomato-narrative and abandon all attempts to capture the disparate fiction. Shred.
Du grattage de dos d'animation en volume d'Aaron Levin:
(Traduit par Odile Leclerc)
Une audacieuse chronique de la famille des Solanaceae. Jaqueline Lachance apporte l'infini désharmonie de The Ether vers un éventail d'écrasement VHS, forçant l'absurdité de l'animation en volume à travers des palettes de couleurs brûlées et de coupures à en tourner le cou. Flétrissez à côté de la narration de tomate translucide et abandonnez toute tentative de capturer la fiction disparate. Déchire.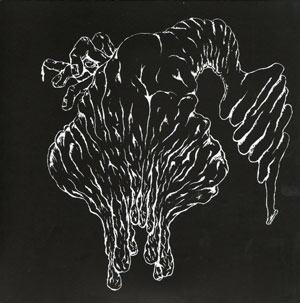 Induced Labour
Untitled 7″
Toronto, ON
From the ritual bloodlettings of Jessica Faulds:
Borne on tsunamis of guitar malice, Leslie Predy's gremlin mutterings harsh the mellow of the past year's beach-tinged zeitgeist. Funhouse mirror distortion perverts carnivalesque hooks, begetting a potential soundtrack to Pogo The Clown's ritual bloodlettings. The face-liquefying thrashery is referenced in the cover's flesh-drippings, and Induced Labour boil it all down into a thick, bloody gravy. Serve hot on a bed of hardboiled terror.
Writer's Byline Writer's Name:
(Traduit par Translator's Name)
French Review

Induced Labour – Whore Eyes

Induced Labour – Condo Party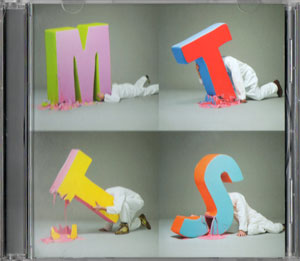 AIDS Wolf
March to the Sea
Montreal QC
From the rented catholicism of Aaron Levin:
March to the Sea explodes with seven oppressing manifestations of philosophical guitar violence. Crushing armies of viral slot machines channel Chloe's undulating vocal pandemonium into an ear wrenching death-camp for cosmic noise hippies. Rhythmic death warrants churn this chaos into a miasma smelting your grey matter with fractal impurities. Days later their majestic penetration shall rear its polluted palette with beautiful results. Phenomenal. Canada's most divisive band? Indeed. Their cover of Throbbing Gristle's "Very Friendly" is devastating. But I'll save that for future enthusiasm. Until then…
Du catholicisme loué d'Aaron Levin:
(Traduit par Maya Keshav)
March to the Sea éclate avec sept manifestations oppressives de la violence philosophique de la guitare. Les armées dévastatrices de machines à sous virales transforment le chaos chanté ondulat de Chloe en camp de la mort assourdissant pour les hippies cosmiques du noise. Les ordres d'exécution rythmiques façonnent un miasme qui fond ta matière grise avec la contamination fractale. Quelques jours après, leur pénétration majesteueuse va pointer le bout de son nez pollué avec de beaux résultats. Phénoménal. Le groupe le plus controversee du Canada? Bien sûr. Leur reprise de "Very Friendly" est dévastatrice. Mais ça c'est toute une autre histoire. À plus…

AIDS Wolf – Suck Is Happiness

AIDS Wolf – Cake on August 1st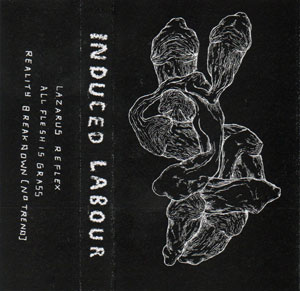 Induced Labour
Induced Labour
(Self Released)
Toronto, ON
From the forced pregnancy of Aaron Levin:
Frenetic, heavy, and relentless art-punk from Toronto featuring the gif-conjuring shrieking of illustrator and Weird Canada logo-creator Leslie Predy. Induced Labour's debut c4 (!!) is a pulverizing tour through cassette-hell; a face-smashing, ankle-snapping, crouton-crushing puke-punk heaven. Gorge yourself in the glory of their ritual.
De la grossesse force d'Aaron Levin:
(Traduit par Odile Leclerc)
Frénétique, lourds et l'impitoyable punk art de Toronto présentant le hurlement conjurant des gifs de l'illustrateur et le créateur du logo de Weird Canada, Leslie Predy, les débuts c4 (!!) de Induced Labour sont un tour pulvérisant à travers la cassette de l'enfer; un paradis de vomis punk de destruction de face, de morsures au chevilles et d'écrasage de croutons. Rassasiez-vous dans la gloire de leur rituel.

Induced Labour – All Flesh is Grass

Induced Labour – Reality Breakdown [No Trend cover]
Fuck The Tundra
Grin Diesel
Edmonton, AB
From the teen steamings of Jesse Locke:
Midway through their final set at the Bart Records showcase for Sled Island 2010, Fuck the Tundra's hyperactive frontman pushed the crowd back, tucked to his toes and hucked a massive flat ground back flip. That gymnastic feat was impressive enough, yet it was still overshadowed by a pitch-perfect performance of all six songs from their debut cassette, one of this year's most jaw dropping releases. Throughout Grin Diesel's succinct 16 minutes, the quartet tears into 31G-style post-hardcore with pulse quickening drum fills, spidery dueling guitars and mathematical change-ups, all peppered with their bizarre sense of humor. Most surprising is the serenely summery yet still mathy instrumental "Eliminator Boat Duel," an ear-pleasing interlude amidst the chronicles of ridiculous.
De l'ado furieux qui est Jesse Locke: (Traduit par l'ado heureuse qui était Maya Keshav)
Au milieu de leur dernière chanson à la vitrine de Bart Records pour Sled Island 2010, le chanteur hyperactif de Fuck the Tundra a repoussé la foule, s'est penché aux orteils, et il a fait un énorme saut périlleux arrière. Cet exploit de gymnastique était déjà assez impressionnant, mais c'était encore éclipsé par une spectacle simplement parfaite de toutes les six chansons de leur début cassette, un des plus bouleversants enregistrements de cette année. Pendant les 16 minutes succinctes de Grin Diesel, le quartette explose en post-hardcore à l'air 31G avec des fills de batterie qui fait pulser le coeur, des guitares minces en duel, et les changements mathématiques, tout éparpillé avec leur sens bizarre de l'humour. Le plus surprenant, c'est le morceau sereinement estival mais aussi mathématique "Eliminator Boat Duel", un intervalle agréable entre les chronicles ridicules.

Fuck The Tundra – Gintro

Fuck The Tundra – Eliminator Boat Duel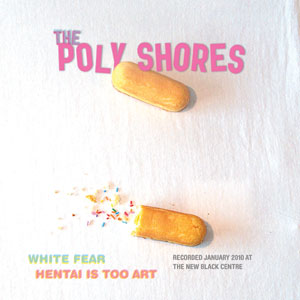 The Poly Shores
White Fear b/w Hentai is Too Art
(Self Released)
Calgary, AB
From the biodome of Jesse Locke:
Not since the mercifully short-lived local music in-joke Lorrie Matheson's Cock has Calgary had a band name as ludicrous as The Poly Shores. All the same, don't be fooled by their fondness for purple sticky punch as these scrappy, spazzy berzerkers mean their own brand of business. Pitched somewhere between Ponytail, Be Your Own Pet and Toni Basil their debut two-song blast is now available on CD and glorious cassingle. Listen for the stone cold funky basslines, shark-toothed guitars and smart/stupid sloganistic lyrics like "guns don't kill people, love kills people…" Wheez the juice!
Du biodôme de Jesse Locke:
(Traduit par Maya Keshav)
Depuis la blague heureusement éphémère entre musiciens du coin Cock de Lorrie Matheson jusqu'à maintenant, Calary n'avait pas un nom de group aussi ridicule que The Poly Shores. Quand même, sois pas trompé par leur penchant pour le punch violet et gluant parce que ces gars fous furieux, décousus et agités sont sérieux dans leur propre façon. Avec un esprit quelque part entre Ponytail, Be Your Own Pet et Toni Basil, leur début explosion de deux chansons est maintenant disponible sur le CD et sur une cassingle splendide. Guette les mélodies de basse super-funky, les guitares avec les dents de requin, et les paroles commes les slogans intelligents/cons genre "guns don't kill people, love kills people…" (les pistolets ne tuent pas de gens, l'amour tuent les gens…) Engloutis le jus!
---