Tag: apollo ghosts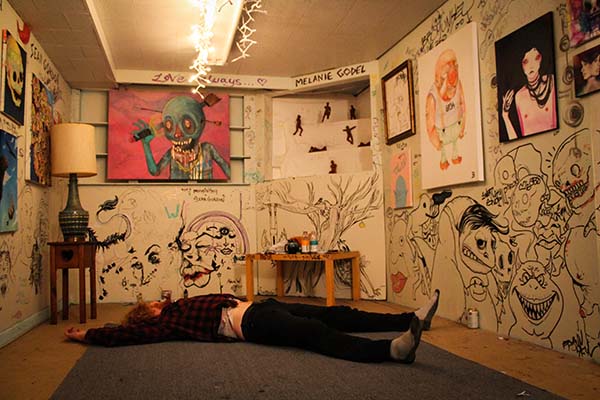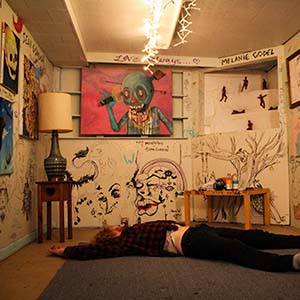 Crace Mountain
Artist Space
Capacity: Nominally, ~100, attendances of 300+ have been observed
Accessability: 19+
Nanaimo, BC
From the crushing door of Sam Joseph:
Crace Mountain exists as a place for Nanaimo's local artists to stretch their legs, as the "mother of music, art and culture in Nanaimo's underground." Birthed in 2011, Crace's footprint has recently expanded – the venue's proprietors have acquired the adjacent property, giving rise to a Crace complex affectionately known as "Craceland." I sat down with boss mama (and Wyrd contributor) Preacher Katie in July 2015.
Sam: Who were the founders of Crace? You're not exactly old, and by that metric, you and your friends must have been just kids when you started off here.
Katie: One of them was in Hag Face,as well as Bash Brothers with another lovely lady. They started it. Then a few years later they had to move out to different pastures. I had been there for about half a year when they asked me if I wanted to keep Crace going. I didn't know what the hell I was doing at first, but I gave it a go.
I've been here the longest and many friends have moved in, it's definitely been a house/community effort.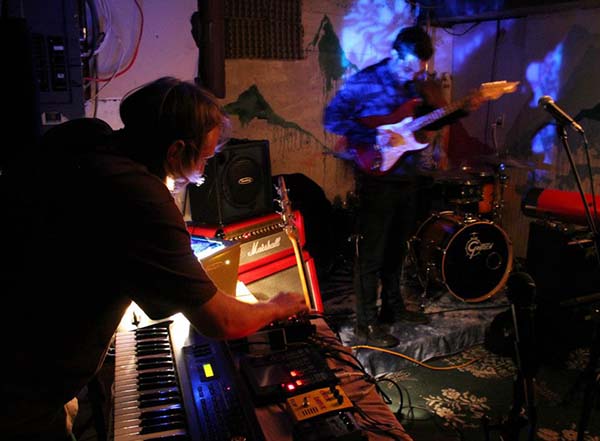 Sam: Why "Crace Mountain?"
Katie: It's on Crace Street, and it's on a small little hill. Now that we have both lots, we've been calling it "Craceland."
Sam: What confluence of factors lead to the development of Crace Mountain?
Katie: Frustration with being unable to play alternative music in Nanaimo… having to pay bar fees or having a huge cut taken off. Mostly just not being allowed to play the type of music certain bands wanted to play; there weren't other places letting that happen at the time.
Sam: Most significant event in the venue's history?
Katie: Our Halloween shows are really fun. We've had an annual Halloween event where we get most of the bands we really want and it gets out of hand and everyone's in costumes. Those are significant events.
I'd say our best event was when we had Apollo Ghosts and Karl Blau and Mount Eerie play – that was a really cool show; big names to have in the basement, in my eyes. There was a sort of a realization that we could actually get those kinds of names.
Canada Day (2015), we had 20 bands play. (This show was the opener of SHAKE/ARAMA II, a tour of Shake! Records acts.)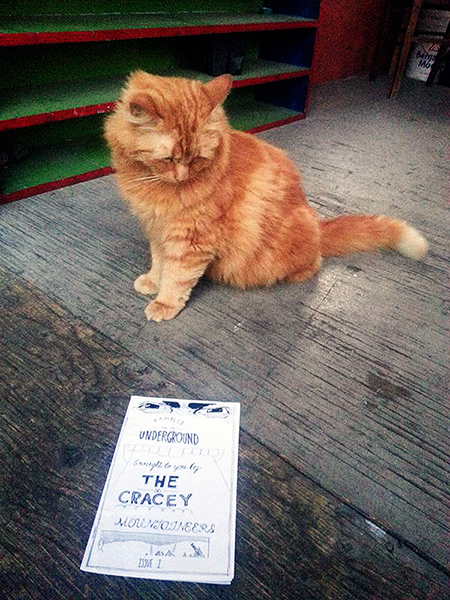 Pete the cat examines a copy of the Crace zine.
Sam: You guys have just started a zine!
Katie: I found a zine book at Literacy Nanaimo. I've always loved zines, but this one had a more scholarly perspective of alternative culture, and what it means to make zines – how they don't have any structure. So I was like, yeah, let's make one! Everyone here likes things being done right and artistically and thought-out, but we all just got high one night and decided that whatever the fuck we put on paper had to go in, whether we liked it or not. I think the funnest part about doing this is that we decided to not give a shit and just put it out there. I'm happy with how it turned out. So it started out of art night, basically.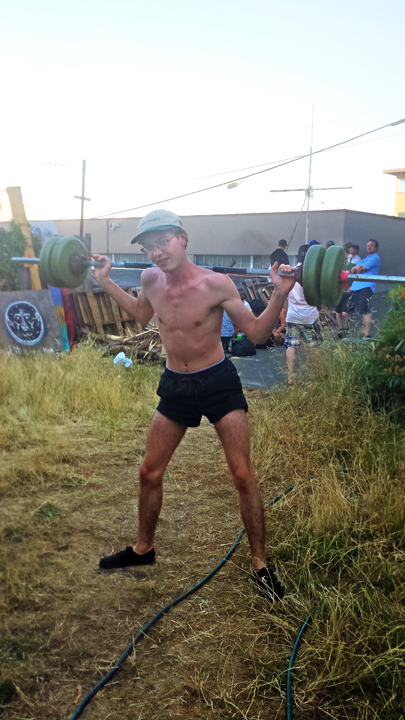 Jakob Nielsen of Girlfrend, A.K.A. Naked Chillen, sweating to the oldies. 
(Photo credit: Jon Varley of Painted Fruits)
Sam: You've had some weird and wonderful people come through these doors. Without naming names, could you tell us a story about a particularly interesting guest or guests you've had at Crace?
Katie: I remember one night, we had a guy stabbing the wall with knives – not necessarily violently, but kind of. We've had people camp out and stay way too long – we'd come home and they'd be in the hammock. I think we have a very safe environment and so there's a lot of people who feel welcome. There's only been a couple of situations where things have gotten out of hand, and other than that, people have been really respectful. But it definitely is a magnet for weirdos and alternative people!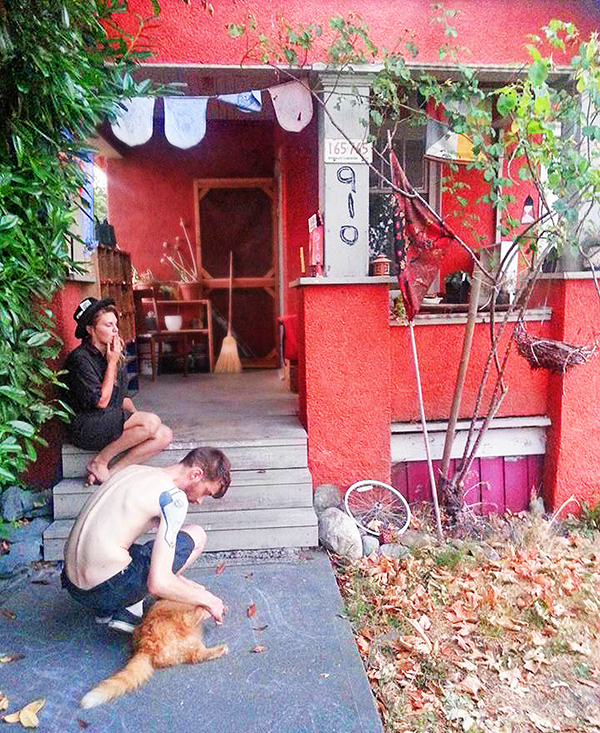 Sam: What's next for Crace?
Katie: More burlesque events. Right now, Richard is working on a possible projection outside of Sound Heritage and the Cambie. Bringing in more multi-media theatre (to Richard and Stefan) What are some upcoming projects at Crace Mountain?
Stefan: Soulsucker!
Katie: Soulsucker! We want to have a festival in September (2015)…
Richard: A three-day festival – every medium you can think of, and some that you haven't even thought of before! At least ten different DIY venues around the South End and downtown core. At least two outdoors.
Stefan: Ten? I was thinking seven (laughs)
Katie: Another zine…
Richard: Some all-ages shows…
Katie: A garage sale…
Richard: Block. Party.
Katie: Archery. Pellet guns.
Richard: Kiddie pool. Gotta maintain the kiddie pool and put lifeguards in…
Katie: Garden.
Richard: Gotta make sure Pete's happy and fed and that he's getting lots of love.
Katie: !! I still really want to get a transmitter again. We used to have pirate radio. I want to do that again – a little radio station. •
Par la porte écrasante de Sam Joseph:
(Par les vents féériques d' Émily Traichel)
Fondé sur une frustration générale par rapport au manque d'espaces expressifs, Crace Mountain se veut une place permettant aux artistes locaux à Nanaimo de s'étirer les jambes, étant la «mère de la musique, de l'art et de la culture underground à Nanaimo.». Enfanté en 2011, la portée de Crace s'est étendue dernièrement – les propriétaires de la salle ont fait l'acquisition de la propriété adjacente, créant ainsi un complexe Crace connu sous le nom affectueux de «Craceland.»* J'ai rencontré la boss mama Preacher Katie (également contributrice à Wyrd) en juillet 2015.
Sam: Qui sont les fondateurs de Crace? Tu n'es pas forcément âgée, et donc par inférence, tes amis et toi ne deviez être que des enfants lorsque vous avez commencé ici. B.
Katie: Une d'entres elle était membre de Hag Face, ainsi que Bash Brothers avec une autre dame sympathique. C'est elles qui l'ont lancé. Ensuite quelques années plus tard elles ont dû déménager à de pâturages différents. J'y étais pendant à peu près 6 mois quand elles m'ont demandé si je voulais prendre la relève pour Crace. Je n'avais aucune espèce d'idée de ce que je faisais au départ, mais je m'y suis lancée.J'ai habité ici le plus longtemps et de nombreux amis ont emménagé. Ça a vraiment été un effort de communauté dans cette maison.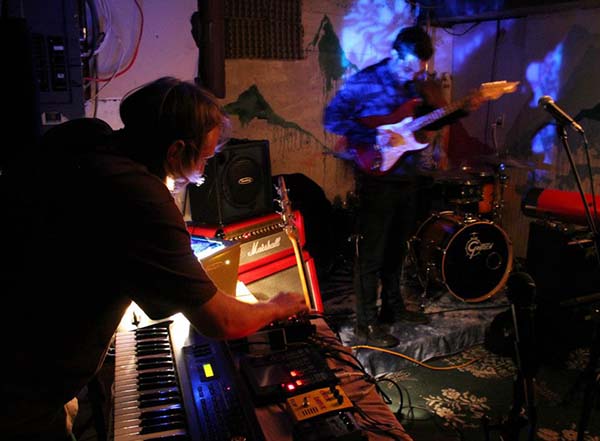 Sam: Pourquoi « Crace Mountain »? C.
Katie: C'est sur la rue Crace et c'est sur une toute petite colline. Maintenant qu'on a les deux terrains, on a commencé à l'appeler «Craceland.»
Sam: Quelle confluence de facteurs a mené au développement de Crace Mountain?
Katie: La frustration de ne pas pouvoir jouer de la musique alternative à Nanaimo… devoir payer des frais aux bars ou se faire enlever un montant de la paie. Surtout ne pas pouvoir jouer les genres de musique que certains groupes voulaient jouer; il n'y avait pas d'endroits qui le permettaient à l'époque.
Sam: Et l'évènement le plus marquant dans l'histoire de la salle?
Katie: Nos spectacles d'Halloween son vraiment l'fun. Nous en avons eu un où nous avons reçu la plupart des groupes qu'on aime et ça devient hors contrôle et tout le monde est en costumes. Ce sont des évènements marquants.
Je dirais que notre meilleur spectacle était quand Apollo Ghosts et Karl Blau et Mount Eerie sont venus jouer – ça, c'était vraiment cool; des grands noms à recevoir dans le sous-sol, à mes yeux. Il y avait une sorte de prise de conscience que nous pouvons en fait recevoir ces types de noms.
Lors de la fête du Canada (2015), on a eu 20 groupes qui ont joué. (Ce spectacle était l'ouverture de SHAKE/ARAMA II, une tournée des numéros de Shake! Records.)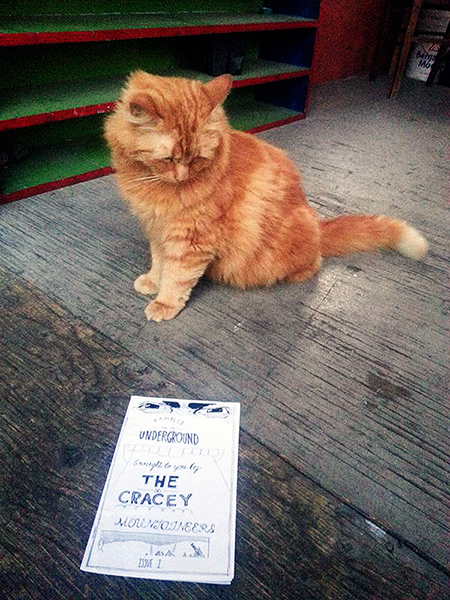 (Sous-titre: Pete le chat examine une copie du zine de Crace. )
Sam: Vous venez de partir un zine!
Katie: J'ai trouvé un livre zine à Literacy Nanaimo. J'ai toujours adoré les zines, mais celui-ci avait une perspective plus érudite de la culture alternative, et de ce que ça veut dire de fabriquer des zines – de la façon qu'ils n'ont pas de structure. Alors je me suis dit, ouais, créons-en un! Tout le monde ici aime que les choses se fassent comme il faut et artistiquement et de façon réfléchie, mais on s'est juste tous défoncés un soir et on a décidé qu'il fallait inclure tout ce qu'on mettait sur papier, qu'on aime ou non. Je pense que la partie la plus l'fun dans tout ça c'est qu'on a décidé de s'en foutre et de tout simplement le publier. Je suis contente de la façon que ça a tourné. Alors, c'est parti d'une soirée d'art, dans le fond.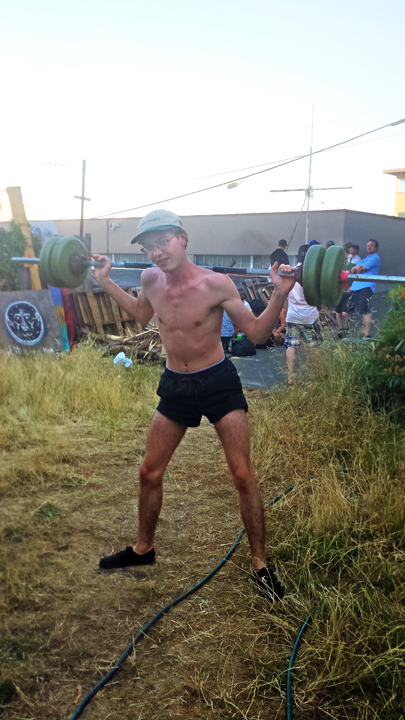 Jakob Nielsen de Girlfrend, aussi connu sous le nom de Naked Chillen, en train de suer en écoutant les oldies. (Crédit photo: Jon Varley de Painted Fruits)
Sam: Vous avez reçu du monde bizarre et merveilleux à travers ces portes. Sans donner de noms, pourriez-vous nous raconter une histoire au sujet d'un(e) ou plusieurs invité(e)(s) particulièrement intéressant(e)(s) que vous avez eu(e)(s) chez Crace?
Katie: Je me souviens qu'un soir, on avait eu un gars qui poignardait les murs avec un couteau – pas nécessairement de façon violente, mais un peu. On a eu des gens qui ont campé et qui sont restés beaucoup trop longtemps – on rentrait chez nous, puis on les retrouvait dans le hamac. Je pense que nous avons un environnement très sûr et donc il y a beaucoup de gens qui se sentent bienvenus. Il n'y a eu que quelques situations où les choses sont devenues hors contrôle, autrement, les gens ont été très respectueux. Mais c'est définitivement un aimant pour les weirdos et les personnes de culture alternative!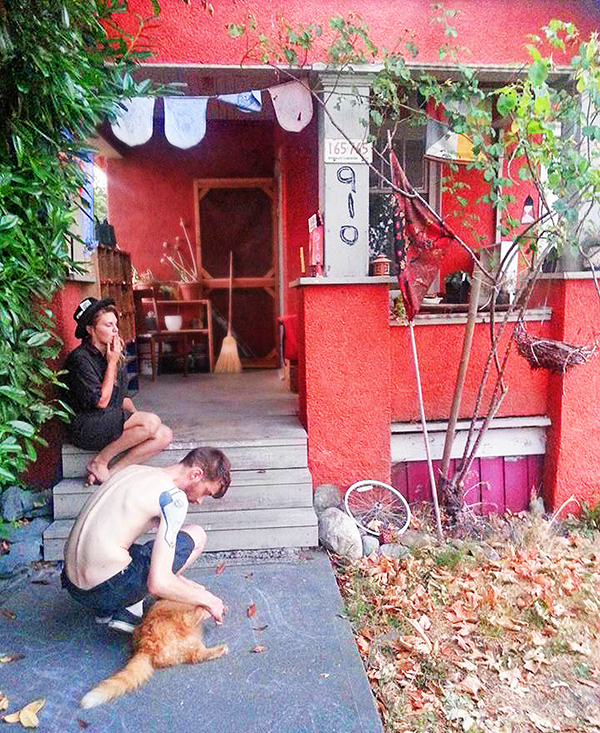 Sam: Quel est le prochain chapitre pour Crace?
Katie: Plus de soirées burlesques. Actuellement, Richard s'occupe d'une projection qui aurait possiblement lieu en dehors de Sound Heritage et de la Cambie. Présenter plus de théâtre multimédia. (envers Richard et Stefan) Quels sont certains des prochains projets chez Crace Mountain?
Stefan: Soulsucker!
Katie: Soulsucker! On veut avoir un festival au mois de septembre (2015)…
Richard: Un festival de trois jours – tous les médiums imaginables, et quelques-uns qui ne vous sont jamais même venus à l'esprit! Au moins dix salles DIY différentes à travers la région du sud et au coeur du centre-ville. Au moins deux à l'extérieur.
Stefan: Dix? Je pensais sept (il rit)
Katie: Un autre zine…
Richard: Quelques spectacles pour tous les âges…
Katie: Une vente de garage…
Richard: Un party. De quartier.
Katie: Du tir à l'arc. Des fusils à plomb.
Richard: Une pataugeoire. Il faut entretenir la pataugeoire et y ajouter des sauveteurs…
Katie: Un jardin.
Richard: Il faut s'assurer que Pete est content et bien nourri et qu'il reçoit plein d'amour.
Katie: !! Je veux toujours vraiment acquérir un émetteur radio. On avait déjà eu une radio pirate. Je veux faire ça à nouveau – une petite station de radio. •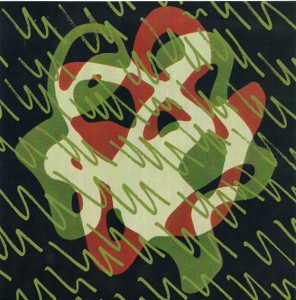 Apollo Ghosts
Night Witch
Vancouver, BC
From the fiefdom blues of Aaron Levin:
One hundred and twenty six seconds of unquantified popular glory; slipstream crossover from piercing 'verbs to jarring hooks of addictive reflection. A glorious clamour of sinusoids congruent to Vancouver's stochastic scene. Entropic forces conjuring dormant creative springs thanks to the Kingfisher Bluez Single-Sided 7″ series. Vancouver DIY. Gr1p.
Du blues fief de Aaron Levin:
(Traduit par le jaillissement créatif de Vincent Rondeau)
Cent vingt-six secondes de gloire populaire non quantifiée, un hybride pointu de réverbération perçante et de secousses mélodiques accrocheuses dont la réflexion peut causer une dépendance. Une grande clameur de sinusoïdes congruents avec la scène stochastique vancouvéroise. Des forces entropiques suscitent un jaillissement créatif latent à l'aide de la série de 7″ à face simple « Vancouver DIY » de Kingfisher Bluez. À sa1sir.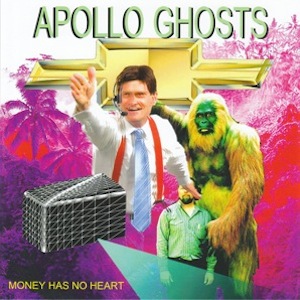 Apollo Ghosts
Money Has No Heart
Vancouver, BC
From the ultra koolness of Paul Lawton:
To quote the press release, this single is "an homage to the Vancouver punk scene circa 2007-2010… i.e. a post-30 interpretation of Nu Sensae/B-Lines/Chris-a-riffic… an allegiance to the Nanaimo 4-track scene and Lethbridge garage." The new wave of adjective-punk has arrived folks — post-adjective-punk, or perhaps more fittingly, subjectivity-punk; the end result of talented individuals swimming in the ocean of access, filtering music like baleen whales filter krill. Success in this new musical epoch will require talented people (people like Apollo Ghost's Adrian Teacher) to actually do something creative with all of this excess. It's not even December and I will already declare this the best 7" to come out in 2011. Impossibly good musics.
De la ultra Koolité de Paul Lawton: (Traduit par Odile Leclerc)
Pour citer la sortie de presse, ce solo est '' un hommage à la scène punk de Vancourver circa 2007-2010…i.e. une interprétation post-30 de Nu Sensae/B-Lines//Chris-a-riffic…… un allégeance à scène de 4 pistes de Nanaimo et le garage de Lethbridge.'' La nouvelle vague de punk adjectif est arrivée peuple—du punk post-adjectif, ou peut-être de façon plus appropriée, de la subjectivité punk; le résultat final d'individus talentueux nageant dans l'océan d'accès, filtrant la musique comme des fanons baleine filtrent le krill. Le succès dans cette nouvelle époque musicale requerra des gens talentueux (des gens comme Adrian Teacher de Apollo Ghost) pour actuellement faire quelque chose de créative avec tout cet excès. Ce n'est même pas décembre et je vais déjà déclarer que c'est le meilleur 7'' à sortir en 2011. Musiques impossiblement bonnes.
---