Tag: annemarie papillon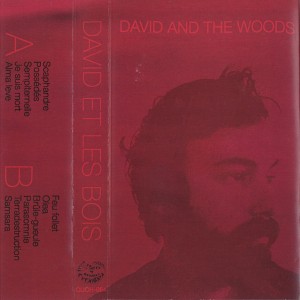 David and the Woods
David et les bois
Montréal, QC
From the tower of Babel of Benoit Arcand:
(Translated by AnneMarie Papillon)
Late in 2013, a few satyrs chose to show their hairy backs to the English language while playing their flutes for a relocated fauna. David and the Woods are some of those tricksters, hiking uphill over ten years of invisible trails to their original lair, only to reflect on themselves and re-emerge as David et les bois. Their meticulousy crafted odes, synthesizing Dyonisian grunge and Orphic folk, are largely paying their toll to the ferryman. Here we are, startled souls, rushing to these restored shores, from the pond where antique reveries of love and dismemberment get played, to the tree hiding its fruits from the ones hungry for meaning. The secret of David's reconstructed skin oozes in its roots. As they intermingle together, suggesting everything but a sterile prodigal son's tomb, they spring up again as a ubiquitous rhizome.
De la tour de Babel de Benoit Arcand:
Ils sont quelques satyres qui, tard en 2013, ont choisi de montrer leur dos velu à l'anglais et de jouer de leur flûte pour une faune relocalisée. David and the Woods est l'un de ces vire-capot, remontant quant à lui dix ans de sentiers invisibles jusqu'au ravage originel pour se réfléchir David et les bois. Ses odes soignées syncrétisant grunge dionysiaque et folk orphique, paient largement leur écot au passeur. Sur cette rive rénovée, on se rue, touriste ahuri ou garde forestier, de la mare où se joue un antique rut aquatique à l'arbre qui dérobe ses fruits aux affamés de sens. C'est dans ses racines que le pari de cette peau revirée est relevé : s'enchevêtrant d'imagination prodigue, jamais tarie, toujours rejaillissant, rhizome ubique.
David and The Woods – Scaphandre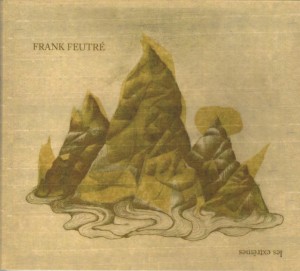 Frank Feutré
Les Extrèmes
(Self Released)
Montréal, QC
From the juvenile whims of AnneMarie Papillon:
(Translated by AnneMarie Papillon)
The numerous corners of Montreal's ever flourishing scene seem to bear slight or intense influences from electronic dream chambers. However, Benjamin Bleuez (a.k.a. Frank Feutré) expresses his tenderness and creativity through an imaginative world abounding with complex and classic instrumentation, wise guitars and nomad tambourines. In this injection of French culture, he seems to be inspired by both French beach songs and briskly cold Québécois winters. Home is far behind but he has no regrets; the adventures ahead are fascinating.
Les Extrèmes paints an innocent and quite childlike naivety, like the buds waiting silently for spring, with the patient strength contemplating a frozen season that seems eternal. Or like the schoolyard games that we dearly loved, the ones that used to give a purpose to our existence. The album is an intricate ebb of memories and fiction, like a biography swaying between comfortable and unknown territories.
Des lubies enfantines d'AnneMarie Papillon:
Alors que chaque petit recoin musical habilement prolifique de Montréalsemble porter doucement ou intensément la teinte de l'électronique rêveur, Benjamin Bleuez décide d'exprimer son talent et sa tendresse à travers un monde imaginaire débordant d'instrumentations complexes et classiques, de guitares sagement grattées et de tambourins nomades. Il trame entre la chanson française ensoleillée et le quasi-abyme de l'hiver québécois. La maison est loin derrière : aucun remord, les aventures sont fascinantes.
Les Extrèmes dépeint une naïveté quasi enfantine, innocente. Celle des bourgeons qui attendent le retour du printemps, la forte patiente qui comble un hiver semblant éternel. Celle d'un jeu de marelle, celui qui semblait donner un sens à nos journées. C'est un flux sibyllin de souvenirs et de fiction, comme une tirade oscillant entre le confort et l'étranger. Si l'effort reste singulier par sa pureté, la complétude y est placée, en filigrane.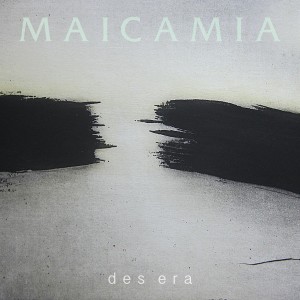 MaicaMia
Des Era
(Self Released)
Montréal, QC
From the post-apocalytic transmission of AnneMarie Papillon:
(Translated by AnneMarie Papillon)
At WC, we were slow to register the existence of MaicaMia. In 2012, back when the band was playing as a duo, they recorded Sparcity Blues, a beautiful work of dimly lit folk and slowcore sadness. Most of us missed it, but the album was acknowledged here.
Since being joined by GY!BE's Mauro Pezzente in the past year, the group has now released Des Era, a collection of dark experiments where the raw complexity of dreadful feelings is used to their advantage. Like a magnetic force of nature, it draws you in. Sparse arrangements chart ethereal explorations of the moon in a post-apocalyptic transmission. It is a blackened aurora borealis awash with sonic experimentation streaking across our winter sky. The hypnotic haziness of Maica Armata's vocals seem to melt all over the cathartic clashes of drums and dense bass notes. MaicaMia deal with an uneasy 21st century blues; pained and haunting, melodic and challenging.
Des transmissions post-apocalyptiques d'AnneMarie Papillon:
Chez WC, nous avons été lents à réaliser l'existence de MaicaMia. En 2012, alors que le groupe n'était qu'un duo, ils enregistrent Sparcity Blues, une excellente oeuvre de folk tamisé et de tristesse slowcore. La plupart d'entre nous ne l'ont pas vu passer, mais l'existence de l'album est reconnue ici.
Au cours de la dernière année, Mauro Pezzente de GY!BE a rejoint le groupe. Ils sortent maintenant Des Era, une collection de sombres expérimentations où la complexité brute de ces émotions qui font peur est utilisée à leur avantage. Comme une force de la nature empreinte de magnétisme, ils nous attirent à eux. Les arrangements minimes semblent évoquer les explorations éthérées de la lune, dans une transmission post-apocalyptique. C'est une sombre aurore boréale inondé d'une expérimentation sonique, laissant ses trainées lourdement teintées dans notre ciel d'hiver. La brume hypnotique qui voile la voix de Armata semble se fondre partout sur les clashs cathartiques de batteries et les denses notes de basses. Maicamia maîtrise habilement un blues quasi perplexe en ce 21e siècle : peiné et obsédant, ambitieux et mélodique.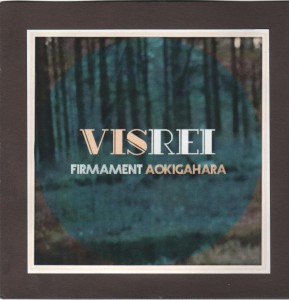 Visrei
Firmament / Aokigahara
(Self Released)
Montréal, QC
From the dreaming heart of AnneMarie Papillon:
(Translated by AnneMarie Papillon)
Take a deep, cleansing breath and exhale all your worries, far from the scholarly chaos, far from the 9 to 5. Take a break from the uncontrollable speed with an alternative pace, full of contemplative electronica and urgent beats. A defiance to surrender, Visrei might be the sheer personification of escape. It's both an element of and a remedy to this rapid melancholy of our hearts constantly dreaming of an easier, slower life. In this place, our eyes linger longer at the majesty of the night sky, illuminated with sincerity.
Du coeur rempli d'étoiles d'AnneMarie Papillon:
Prenez une grande inspiration restauratrice, puis expirez tous vos soucis, loin du chaos estudiantin, loin du 9 à 5. Accordez-vous une pause loin du mouvement effréné pour prendre le temps de contempler les mélodies électroniques et les rythmes fébriles. Ennemi de l'abdication, Visrei incarne l'évasion même. Partie intégrante de cette fièvreuse mélancolie qui fait battre nos coeurs perpétuellement en quête d'une vie plus facile, plus lente, il en est également le remède. Une vie où nos yeux peuvent s'attarder plus longuement sur la majesté d'un ciel étoilé, illuminé de sincérité.
Marie Davidson
Marie Davidson
Montréal, QC
From the tranquil disquietude of AnneMarie Papillon:
(Translated by AnneMarie Papillon)
It's the lack of tranquility of a dark alleyway. It's the weak glow of lamp posts attempting to reassure an inevitably dark city night, trapped in a perpetual urgency. These synthetic sounds, spatial and skillfully executed, bear a certain disquietude. Existence becomes precarious and uncertain à la Laura Palmer. With her self-titled EP, Montreal-based songstress Marie Davidson crafts a mischievious surrealism in the likeness of French suspense movies acid-washed by the 1960s. Eerie fantasies and reflections, brilliantly recited; a life lived in a constant state of obscure truthfulness.
Du tourment tranquille d' AnneMarie Papillon:
Il y a un manque de tranquillité dans cette sombre ruelle. Cette nuit froide est d'une noireté inévitable tintée des lueurs de lampadaire d'une ville plongée dans une perpétuelle urgence. Ses sons synthétiques, quasi spatiaux et habilement exécutés, sèment l'inquiétude. L'existence devient précaire et incertaine, à la Laura Palmer. Avec son EP éponyme, la muscienne montréalaise Marie Davidson crée du surréalisme vériste, comme la bande sonore d'un suspense français rincé à l'acide des années soixante. Des fantaisies, des tourments récités où ne semble rester que l'obscure vérité.
Marie Davidson – Le Lieu Où Vous Voulez Vous Rendre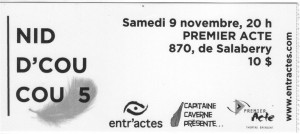 Nid d'Coucou 5
Created and directed by: Dominic Lapointe et Jean-François Lessard
(Entr'actes // Capitaine Caverne)
Québec, QC
From the comfortable insanity of AnneMarie Papillon:
(Translated by AnneMarie Papillon)
"It would be the maddest thing, wanting to be sane in this crazy world" – Didier Erasme
Please tell me, am I crazy? Very few people could state that they never asked themselves this very question. As complex as it can be. After all, what defines madness? Who is mad, who is not? What 'proves' your madness and what 'treats' it? What might seem completely insane to one might be normal to another. If the violation of the social norms with ones' thoughts and actions defines madness, then is it easy to feign insanity to obtain what we desire? By the way, who gives themselves the right to dictate those social norms? A quest for answers.
Point a microscope at our misconceptions about mental illness and at our arbitrary social constructs and generate uneasiness. Using the cabalistic brains of six improv comedians, some of whom are living with disabilities, the cast of Entr'actes forces us to question the preconceived ideas that live within ourselves. And very few experiences are as sincere as an improv game. Nid d'Coucou, through 'treatments' prescribed to those willing to play, explores topics like perception, childhood, confidence. The host puts on an oldish smock and a friendly patronizing smile and becomes the 'psychiatrist'. Eloquent and well-paced, he guides the audience through the realm of their perceptions. Dispenses the utopian quotes from the wise men of our world. Prescribes, as part of his 'treatment' a particularly intriguing musical reference, one that is deeply rooted in Quebec's pop culture.
Of course there will be jokes that crack the audience up with laughter, light-hearted puns, typical side-effects of the speed which improv comedians have to deal with. A less obvious side effect of speed is that the cast is forced to get fiercely personal. Like a child's bond with his teddy, each reaction and the interpretation of an image projected on the screen is uniquely intimate. Now this is where it is interesting to notice which elements manage to get a reaction from the audience. Everything that is part of Nid d'Coucou, from the brilliant pianist to the broken down white venetian blinds acting as the set to the complicity between the comedians, is of a touching authenticity. All is left to chance, all is possible. The purpose isn't to find answers after all, but to come out full of an experience to feed our thoughts.
De la saine folie d' AnneMarie Papillon:
"C'est bien la pire folie que de vouloir être sage dans un monde de fou" – Didier Erasme
Dites-moi, serais-je fou? En assumant une réponse honnête, rares sont ceux qui ne se sont pas posé la question. Si complexe soit-elle. Après tout, comment définir la folie? Qui est fou? Qui ne l'est pas? Qu'est-ce qui « prouverait » la folie et dans le cas échant, qu'est-ce qui la « guérirait »? Certainement, ce qui parait fou pour un sera totalement sain d'esprit pour un autre. Puisque le fait de, par ses actions et pensées, violer les « normes » sociales représenterait la folie, on pourrait aussi la feindre pour avoir ce que l'on désire? Après tout, qui se donne le droit de dicter ses normes-là? Quête de réponses.
Une telle introspection dans la complexité de nos conceptions crée peut-être un malaise; le regard que l'on pose sur les autres et sur nous, sur la maladie mentale, n'est pas chose facile. En utilisant l'esprit cabalistique d'un groupe de six improvisateurs, vivant ou non avec un handicap, Entr'actes force à remettre en question les idées préconçues qui nous habitent. Et bien peu de choses sont aussi sincères qu'un jeu d'improvisation. La pièce Nid d'Coucou, à travers des défis présentés aux comédiens sous forme de « traitements », explore la perception, l'enfance, la confidence, etc. L'animateur revêt son vieux sarrau et son sourire sympathique pour s'improviser « psychiatre » et, avec éloquence, amène ses spectateurs à redéfinir leurs perceptions. Il le fait, entre autres, en passant à qui veut bien quelques citations utopiques d'un artiste/savant/beau parleur de ce monde. Il utilise aussi, pour inspirer les improvisateurs dans un traitement, une référence musicale particulièrement intrigante, mais surtout bien ancrée dans la culture populaire.
Certes, des blagues à faire éclater la salle de rire, des blagues de premier degré, conséquence typique de la rapidité à laquelle l'improvisateur doit se prêter. Mais aussi des réflexions plus personnelles percent : la relation complexe de l'enfant avec son animal en peluche favori, les réactions qu'engendre l'interprétation d'images projetées sur un écran où il est intéressant de remarquer quels éléments provoquent une réaction. Tout ce qui fait partie de Nid d'Coucou; l'excellent pianiste, les vieux vénitiens blancs qui font office de décor, la complicité entre les comédiens, semblent être d'une authenticité touchante. Tout est laissé au hasard, tout est possible. Le but n'est vraisemblablement pas d'en sortir avec des réponses, mais plutôt de s'être prêté à une expérience qui alimentera nos réflexions.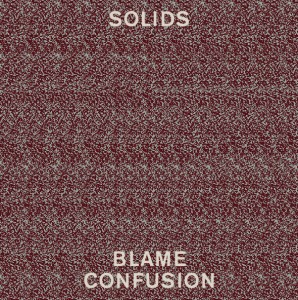 Solids
Blame Confusion
(Self Released)
Montréal, QC
From the impressed ears of d'AnneMarie Papillon:
(Translated by AnneMarie Papillon)
Solids' first LP is worth your attention and — pardon me the obvious pun — ridiculously solid. This Montreal-based duo prove they have the two-piece power and that there's certainly no need for anyone else. This 10-song journey into high quality heavy music is something you'll want to bang your head to, the kind that intentionally sets you into elbow-kick-and-shoulder-romp mode. Solids have put aside the pop-punk sound of their previous EP and are better than ever with more of the loud grungy punk vibe we know and love, still strained through the same lo-fi filter. If you ask nicely, they might even come make their riotous magic in your basement.
Des oreilles pas mal impressionnées d'AnneMarie Papillon:
Le premier LP de Solids' mérite toute votre attention et — pardonnez-moi le jeu de mot évident — est ridiculement solide. Ces deux francophones de Montréal prouvent qu'ils ont le contrôle total de leur ensemble de deux pièces et qu'ils n'ont certainement pas besoin d'une troisième paire de mains. Blame Confusion, c'est un trip de 10 chansons de musique heavy de qualité qui vous fera violemment brasser de la cage, le genre de trip qui vous donne intentionnellement envie de 'varger' à coup de coudes et d'épaules. Le son un peu plus pop-punk du EP précédent est mis de côté ici… Les gars sont de retour et ils sont meilleurs que jamais, avec cette sonorité punk-grunge assourdissante qu'on aime, toujours passée à travers le même filtre lo-fi. Et si vous demandez gentiment, ils viendront peut-être faire leur tapage musical dans votre sous-sol.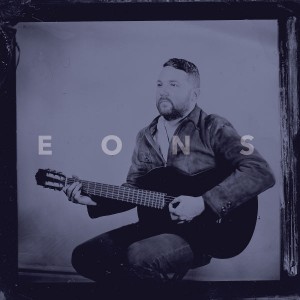 EONS
Arctic Radio
Toronto, ON
From the not-so-cold heart of AnneMarie Papillon:
Airy, beautiful melodies. Pristine, high and low vocals. The sweet comfort of a country sound mixed with the uncertainty of the Great White North. With his new solo project, Bruce Peninsula's Matt Cully creates spaces for melancholy introspection, sharing sincere feelings of longing, love and bare existence. This emotionally powerful album will touch even the most cold-hearted, right through the chest. There is something reassuring about this phenomenon.
(Traduit par le coeur plein d'espace d'AnneMarie Papillon)
De superbes mélodies aériennes, des voix d'une réelle pureté. Le doux confort du son de la campagne, mêlé à l'incertitude du Grand Nord. Dans son nouveau projet solo, Matt Cully ( de Bruce Peninsula ) crée un espace qui se prête à la mélancolie et à l'introspection, partageant des sentiments sincères de convoitise et d'amour, du simple fait de vivre. Cet album rempli d'émotions saura toucher même le plus froid des coeurs. Il y a quelque chose de rassurant dans ce phénomène.
---