Tag: angular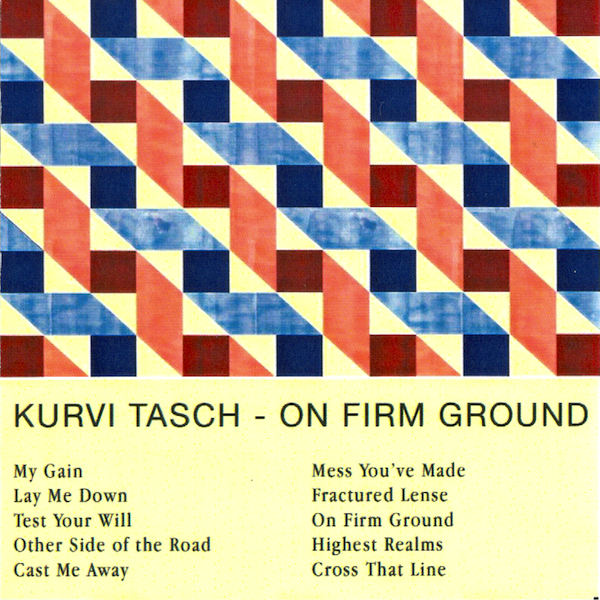 kurvi tasch
On Firm Ground
(Self Released)
Montréal, QC
From the witching hour of Carrie Deleskie:
You are driving in the nighttime. Your friend's tape is on high. It is summer and you are in the space between the city and its outskirts. Out here the air takes on a pale colour that melds together each thought, and your unspoken words begin to compose the mind's palimpsest. And you, you are on the way to your friend's gig. She told you to be there for nine, and the clock reads quarter after. To the juxtaposition of languid reverb and angular rhythm you feel that you are being cast away – that you're going to the other side of things. Out here you know the comfort in being liminal.
De l'heure du crime de Carrie Deleskie:
(Traduit par Jessica Grenier)
C'est l'été. Tu es en voiture. Il fait noir. La cassette de ton amie joue dans le lecteur. L'auto est rendue dans l'espace entre la ville et sa banlieue. Dehors, l'air a cette couleur pâle qui fait que tes pensées se fondent l'une dans l'autre, les mots non verbalisés entamant le palimpseste de l'esprit. Et toi, tu es en chemin vers le spectacle d'une amie. Elle t'avait dit d'y être pour neuf heures, soit il y a quinze minutes selon l'horloge. La réverbération languissante juxtaposée aux rythmes angulaires te laisse une impression d'exclusion – comme si tu te rendais de l'autre côté des choses. Par ici, être limitrophe est confortable.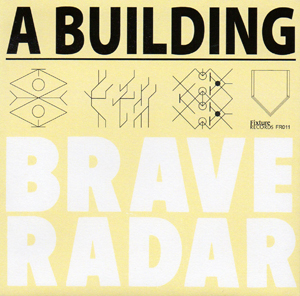 Brave Radar
A Building
Montreal, QC
Aaron Levin:
Daring portrayals of angular pop lurk around every corner of A Building. Montreal's Brave Radar perfected the immensely difficult and hugely rewarding dialectical synthesis of jarring tonality and warm, sunday afternoon coffee-in-triplicate pop. Thus, it's fitting they released a beautifully designed digipak on Fixture Records, Canada's finest boutique fringe-pop emporium. Within the swirls of keyless harmonies and wasted guitar-mockery lay hidden phrases of pop's greatest secrets; Brave Radar discovered music's reticent obsessions and they're not afraid to wrap it in audible mysteries, drowning them in seas of lo-fidelity. Dive right in, reveal their secret leviathan, and find yourself addicted to the manic portrait of known sounds.
Aaron Levin:
( Traduit par la boîte à rythmes de Odile Leclerc)
Des portraits osés de pop angulaires rôdent alentours de chaque coin de A Building. Brave Radar de Montréal ont perfectionné l'immensément difficile et gigantesquement gratifiante synthèse dialectique de tonalités discordantes et de tiède pop de café en trois exemplaires d' après-midi de dimanche. Ainsi, il est adéquat qu'ils sortent un digipak magnifiquement conçu sur Fixture Records, la plus fine boutique du Canada d'emporium de pop à frange. Dans les tourbillons d'harmonies sans touches et des moqueries perdues de guitare reposent des phrases cachées des plus grands secrets du pop; Brave Radar a découvert les obsessions réticentes de la musique et ils n'ont pas peur de l'envelopper dans des mystères audibles, les noyant dans des mers de lo-fi. Plongez directement dedans, dévoilez leur Léviathan secret et retrouvez vous accro au portrait maniaque de sons connus.
---