Tag: andy boay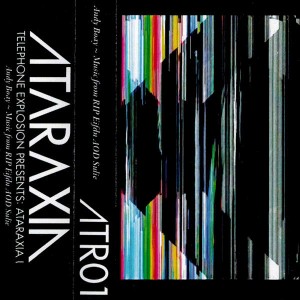 Andy Boay
Music From 'RIP Eifdn AOD Sulie'
(Ataraxia)
Montreal, QC
From the ecstatic piece of Graeme Langdon:
King Andy, The Wicked breaks manacles on this meandering long-take for his RIP Eifdn AOD Sulie video series, which couples deeply delayed 12-string, voice, and responsive video feedback to ecstatic effect. Originally recorded live to VHS for worldwide distro on da Tube, the fine folks at Telephone Explosion's newly-minted Ataraxia imprint have re-mediated this suite—what shone from a room in Montreal last winter—for those keen on the "locking of individual items within a magical circle." That's just fine by me, Boyo, because the synaesthetic qualities of our Boay's music intensify in the absence of the visual track. It's like a Mondo Cale gone Basho in the short hours before you pass-out. Boffo!
De morceau extatique de Graeme Langdon:
(Traduit par le beau bebé de Nicolas Coutlée)
Andy 1er dit Le Monstrueux brise ses menottes sur ce tortueux album issu de sa série de vidéos RIP Eifdn AOD Sulie qui combine 12 cordes à écho éternel, voix et feedback de vidéo réactif pour un effet extatique. Originellement enregistré live sur VHS pour distribution mondiale sur ze Tube, les bonnes gens de chez Ataraxia, la toute nouvelle étiquette de Telephone Explosion, ont réémis cette suite – elle qui brillait depuis une chambre à Montréal l'hiver dernier – pour les ceuses avides « d'enfermer les choses particulières dans un cercle magique ». C'est ben correct avec moi, Bozo, puisque les qualités synesthésiques de la musique de notre Boay s'intensifie en l'absence de la trame visuelle. C'est comme Mondo Cale viré Basho durant les petites heures juste avant que tu tombes dans les vapes. Eh bo-boy…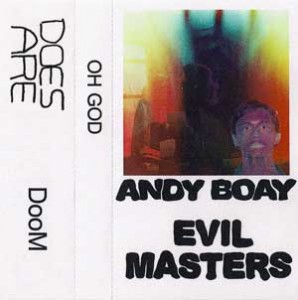 Andy Boay
Evil Masters
(Does Are)
Montreal, QC
From the gripping overlord of Aaron Levin:
The infinitely astonishing half of the Brothers Tonstartss has unleashed a prophetic tome of popular drone. Andy Boay's disharmonic orchestra eschews a wondrous pop dialectic; streams of incredible catch coalesce within tempered vibrations and dense bowed riffery while swathes of warm, ecclesiastical timbers mellow with hypnotic ease. Evil Masters brings us mere nanometers towards understanding the creative behemoth that is Andy Boay; yet the face doth melt and the hand grippeth ever more.
Du suzerain achetant d'Aaron Levin: (Traduit par le souterrain chantant de Maya Keshav)
La moitié infiniment étonnante des frères Tonstartss a déchaîné un tome prophétique de drone populaire. L'orchestre dissonant d'Andy Boay émane une dialectique merveilleuse de pop; les flots d'accroches incroyables se fondent dans les vibrations placides et la rifferie intense et baissée pendant que les bandes de bois chaleureux et ecclésiastique détendent avec l'aise hypnotique. Evil Masters nous amènent par les nanomètres plus proche à comprendre le géant créatif qui est Andy Boay; mais le visage fond et la main continue d'acheter.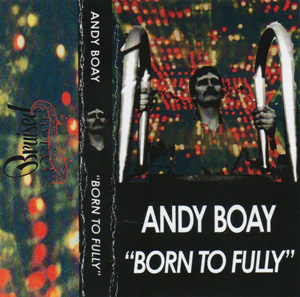 Andy Boay
Born to Fully
Montreal, QC
From the sprawling head jams of Joni Sadler:
The sibling super-duo Tonstartssbandht are a certified favourite within the Weird Canadian cosmos. With their prolific writing style and consistently murderous jams, it comes as little surprise that brother Andy's solo release is such a wild listen. The blistering guitar and echoing vocals may strike a familiar chord with Tonstartssbandht fans, but the lack of driving percussion gives these songs room to sprawl all the way out into full-on psych territory. Grip and bliss out.
Des tounes étendues de Joni Sadler: (Traduit par Maya Keshav)
Le super-duo fraternel Tonstartssbandht est un préféré certifié dans le cosmos de Weird Canada. Avec leur style d'écriture prolifique et leurs tounes invariablement géniales, il n'est pas surprenant que le morceau solo du frère Andy est une telle écoute folle. La guitare torride et le chant sonore pourraient dire quelque chose aux fans de Tonstartssbandht, mais le manque de percussion frappante fait dépasser ces chansons au territoire complètement psychédélique. Achetez et savourez.
---