Tag: andrew zukerman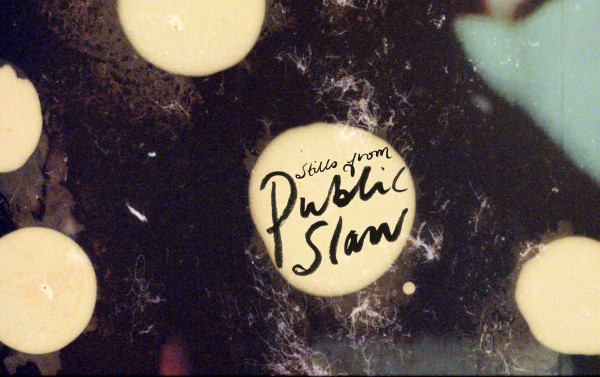 The Public Slaw overloads and overwhelms the senses with a splice 'n' diced opus of gastric proportions. Andrew Zukerman and Winston Hacking, the bugged out brains behind Exploding Motor Car, send this short film, soundtrack and accompanying book on a crash course into scrambled pleasure centres. From the vibrant vignettes of its opening section (kung fu pandas, puppies, and one perplexed vampire) to the b&w cool-out at its close (dancer Minae Omi shrouded in monochrome) this ADHD A/V farrago will leave its viewers finely shredded.
Exploding Motor Car
The Public Slaw
Toronto, ON
From the ravaged plate of Jesse Locke:

Andrew Zukerman – The Public Slaw (pt 1)
The Public Slaw overloads and overwhelms the senses with a splice 'n' diced opus of gastric proportions. Andrew Zukerman and Winston Hacking, the bugged out brains behind Exploding Motor Car, send this short film, soundtrack and accompanying book on a crash course into scrambled pleasure centres. From the vibrant vignettes of its opening section (kung fu pandas, puppies, and one perplexed vampire) to the b&w cool-out at its close (dancer Minae Omi shrouded in monochrome) this ADHD A/V farrago will leave its viewers finely shredded.
The Toronto premiere and book launch of The Public Slaw takes place Friday, Sept. 12 at 811. More information here.
De l'assiette ravagée de Jesse Locke:
(Traduit du sandwich de beurre de peanut et de confiture de Catherine Debard)

Andrew Zukerman – The Public Slaw (pt 1)
The Public Slaw sature et submerge les sens avec un opus-fricassée aux gourmandes proportions gastriques. Andrew Zukerman et Winston Hacking, les cerveaux irrités derrière Exploding Motor Car, ont envoyé ce court film accompagné d'une trame sonore et d'un livre, véritable cours intensif de plaisirs brouillés. Des thématiques vibrantes titillent l'appétit dès l'ouverture (kung fu pandas, animaux cutes, et un vampire perplexe) jusqu'à la période de relaxation finale, une image en noir et blanc de la danseuse Minae Omi enveloppée de monochrome. Ce fractal hyperactif audio-visuel laissera le lecteur finement haché.
The Toronto premiere and book launch of The Public Slaw takes place Friday, Sept. 12 at 811. More information here.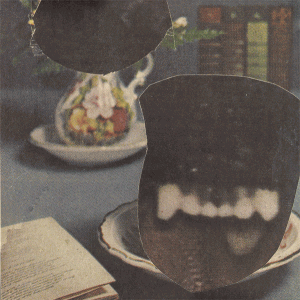 Fleshton Aura
On Rusticated Slant
Toronto, ON
From the snipped anxieties of David Ferris:
Remembering the often forgotten playfulness of early Musique Concrete, Fleshtone Aura liberates his sounds from the Dementor-like wraith of musical academia / boredom, as sounds of scrapes and buzzes jocularly rub shoulders with old soundtrack splinters and various cheeky ejaculations. On Rusticated Slant presents the blurred landscape of a clever but potentially unhinged mind, as viewed through the window of a high-speed train. Fragments of ideas speed by relentlessly, erupting and retreating with some unknown and disturbingly consistent self-contained logic inside a damaged aural kaleidoscope. Many times one will be lured into the dense succession of microsound, only to have it explode like a novelty-gag can of snakes. This beguiling record is a meditation on damage, rewarding decompression through close listening.
Des anxiétés coupées de David Ferris: (Traduit par les peurs sauvages de Maya Keshav)
En rappellant l'allégresse souvent oubliée des débuts de Musique Concrete, Fleshtone Aura libère ses sons du spectre détraqueresque du monde universitaire musical/ de l'ennui, quand les sons de grattements et de bourdonnements côtoyent joyeusement avec les extraits des vieilles bande-sons et diverses exclamations insolentes. On Rusticated Slant présente le paysage flou d'une tête brillante mais possiblement folle, comme vue de la fenêtre d'un train à grande vitesse. Les éclats d'idées passent à toute allure sans cesse, en explosant et reculant avec quelque logique inconnue, autonome et sinistrement concordante dans un kaléidoscope auriculaire brisé. Plusieurs fois on est attiré dans la série intense de microsons, mais soudainement elle explose comme un bidon d'enfant de serpents. Ce morceau séduisant est une méditation sur les dommages, qui récompense la décompression avec une écoute soigneuse.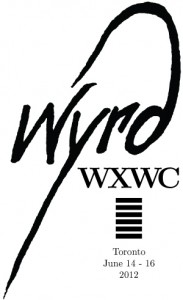 After several rounds of consumer testing, we've discovered that
WXWC: Wyrd X Weird Canada
is a considerably better name for our Toronto micro-fest than
NXN Wyrd
. So, we changed it. Thankfully we haven't changed the fantastic lineup, beautiful venues, or bounty of surprise. We did, however, keep the digital home for
purchasing tickets
the same to ease your conscience mind (and wallet).
We're also proud to unleash the poster designed and screen-printed by Andrew Zukerman which will be appearing in select Toronto record stores and hang-outs very soon.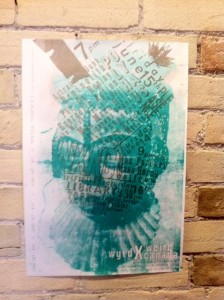 WXWC: Wyrd X Weird Canada Details
Dates: Thursday June 14, Friday June 15, Saturday June 16
Festival Tickets: $15 (http://nxnwyrd.eventbrite.com/)
Festival Website: http://weirdcanada.com/wxwc
Venues:
Double Double Land (209 Augusta Ave.)
Infinite Library (Upper – 664 Queen Street West)
Polyhaus (388 Carlaw Ave)
Full Lineup
Astral Gunk
Drainolith
Doom Tickler
Energetic Action
Indigenous Nudes
John Milner, You're So Boss
Man Forever
Man Made Hill
Mass Horns
Moonwood
Pon De Replay
Sean Nicholas Savage
Sexy Merlin
The Soupcans
TOPS
Young Truck
Show Details
Thursday June 14: Man Forever + Mass Horns + Guests
Featuring:
Man Forever
Mass Horns
(special guests)
Date: Thursday June 14, 2012
Location: Double Double Land (209 Augusta Ave.)
Price: $10 door. / $0 with festival pass.
Doors: 9pm
Friday June 15: Pleasence Showcase
To celebrate Toronto's finest polyvinyl imprint, Pleasence has curated an enormous bill of talent from across Canada.
Featuring:
Sexy Merlin
Young Truck
Drainolith
Pon De Replay
Energetic Action
Astral Gunk
John Milner, You're So Boss
Man Made Hill
The Soupcans
Indigenous Nudes
Date: Friday June 15, 2012
Location: Polyhaus (388 Carlaw Ave.)
Doors: 7pm
Price: $10 door. / $0 with festival pass.
Saturday June 16: Saturday Afternoon Mellow + Sean Nicholas Savage + Guests
Everyone needs an afternoon of mellowtude. Come and relax within Weird Canada's HQ. Vintage and authentic New Age meditation music provided by Aaron Levin with environs and aromatics by Spa Kosmische.
Featuring:
Sean Nicholas Savage
Doom Tickler
Moonwood
TOPS
New Age Meditation Music DJ Aaron Levin
Date: Saturday June 16, 2012
Location: Infinite Library (Upper Floor – 664 Queen Street West)
Doors: 3:30pm
Price: $7 door. / $0 with festival pass.
Set-Times:
16:00 :: New Age music mellowness
18:00 :: TOPS
19:00 :: Sean Nicholas Savage
20:00 :: Doom Tickler
21:00 :: Moonwood
---