Tag: anamai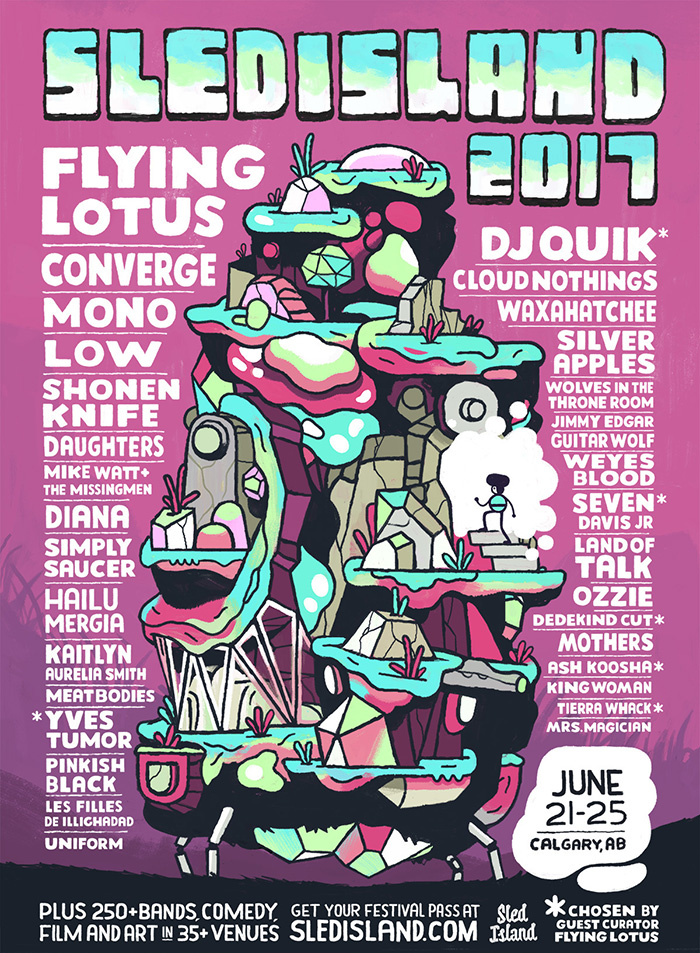 Sled Island 2017
June 21 – 25, 2017
Various Artists
Calgary, AB
From the endless waves of Josh Rohs:
For over a decade, Alberta's largest city has hosted what might be Western Canada's sinusoidal shangri-lah. Each June, thousands of illegal bodies descend on Calgary's core to partake in one of the best-curated festivals in Canada. Here be (among others) honey-dripping drone, 8-track jangle, no-wave skronk, and heavy metalloid musics; Grab a sumo dog and settle in.
Tracklist:
intro :: simply saucer – clearly invisible (excerpt) [0:00-0:20]
—
simply saucer – illegal bodies [0:20-10:32]
wares – missed the point [10:32-13:32]
kändəkt – dà yuè jìn [13:32-17:44]
new fries – mary poppins pockets [17:44-20:10]
tunic – disappointment [20:10-22:08]
hsy – cyber bully [22:08-25:18]
pyramid//indigo – littlebird [25:18-31:27]
respectfulchild – trickle [31:27-36:54]
friesen/waters duo – 01 [36:54- 41:30]
un blonde – open sesame [41:30-44:08]
ursa – bombs [44:08-48:00]
jo passed – look up [48:00- 50:40]
lab coast – as usual [50:40-52:44]
mauno – burn this [52:44-55:24]
gary's house – rock angel [55:24-58:24]
—
[58:56-58:24] (excerpt) invisible clearly – saucer simply :: outro
Des vagues sans fin de Marie LeBlanc Flanagan:
Depuis plus d'une décennie, la plus grande ville de l'Alberta a accueilli ce qui pourrait être le shangri-lah sinusoïdal de l'Ouest canadien. Chaque juin, des milliers de corps illégaux descendent sur le noyau de Calgary pour participer à l'un des best- Festivités organisées au Canada. Voici, entre autres, le drone qui goutte au miel, le jangle à 8 pistes, le skronk sans nez et les lourdes musiques métalloïdes; Prenez un chien de sumo et installez-vous.
Tracklist:
intro :: simply saucer – clearly invisible (excerpt) [0:00-0:20]
—
simply saucer – illegal bodies [0:20-10:32]
wares – missed the point [10:32-13:32]
kändəkt – dà yuè jìn [13:32-17:44]
new fries – mary poppins pockets [17:44-20:10]
tunic – disappointment [20:10-22:08]
hsy – cyber bully [22:08-25:18]
pyramid//indigo – littlebird [25:18-31:27]
respectfulchild – trickle [31:27-36:54]
friesen/waters duo – 01 [36:54- 41:30]
un blonde – open sesame [41:30-44:08]
ursa – bombs [44:08-48:00]
jo passed – look up [48:00- 50:40]
lab coast – as usual [50:40-52:44]
mauno – burn this [52:44-55:24]
gary's house – rock angel [55:24-58:24]
—
[58:56-58:24] (excerpt) invisible clearly – saucer simply :: outro
Electric Eclectics

July 29th – 31st, 2016

Various Artists
Meaford, ON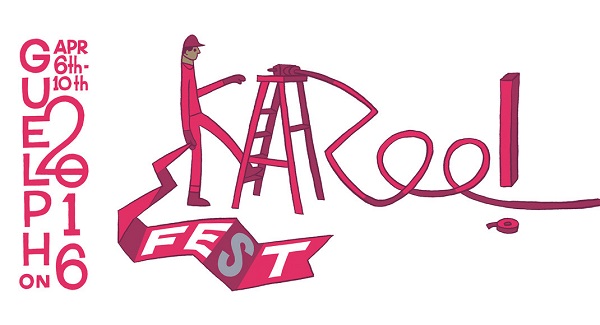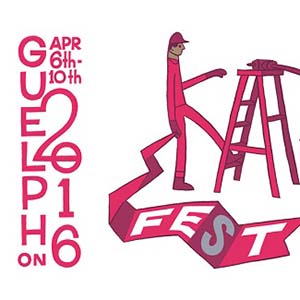 Kazoo! Fest 2016
Guelph, ON
From the ruling fingers of Sara Bortolon-Vettor:
Kazoo! Fest oozes out over 5 days in the intimate downtown core of Guelph. The 8th Kazoo! runs from April 6-10 2016, and soars to hit every weird sweet spot imaginable. An experiential annual delight, lifting our sneakers above the clouds.
What can you expect this year in the Royal City, where everything rules? A tightly curated lineup of everyone's favourite darlings, dreamers, stoners, visionaries, originators, best bad dads, experimenters, soul lifters, and heart tuggers are charming your ears over 5 blissed-out days.
Check out the Guelph Night Market (buy handmade stuff at night); Golden Bus Film Screenings (featuring Life of a Craphead's Bugs); contemporary dance; improv with The Making Box; the Kazoo! Print Expo; experiential art installations like the TrinkeTron 6750; plus live visuals and art gushing all over town.
Meet us at Vienna's for breakfast?
Par les doigts gouvernants de Sara Bortolon-Vettor:
(Traduit par les orifices fleurissants d'Émily Traichel):
Kazoo! Fest s'écoule le long de 5 jours dans l'intimité du coeur du centre-ville de Guelph. Le 8e Kazoo! a lieu du 6 au 10 avril 2016, et s'enligne pour toucher à tous les points forts du weird. Un délice annuel expérientiel, qui élève nos baskets par dessus les nuages.
À quoi pouvez-vous vous attendre cette année dans la cité royale, où régnent toutes sortes d'expression créative? Une programmation soigneusement sélectionnée des bien-aimés, rêveurs, stoners, visionnaires, initiateurs, méchants pères, expérimenteurs, leveurs d'esprit, et vibreurs de cordes sensibles préférés de tout le monde vous enchante les oreilles pendant 5 jours de félicité.
Découvrez le marché de nuit, le Guelph Night Market (achetez des items faits à la mains la nuit); les Golden Bus Film Screenings (en vedette, Bugs de Life of a Craphead); de la danse contemporaine; de l'impro chez The Making Box; l'exposition d'imprimerie de Kazoo!; des installations d'art expérientielles telle que le TrinkeTron 6750; et encore bien plus de montages visuels en direct et d'art qui jaillissent partout dans la ville. 
Rendez-vous chez Vienna pour le déjeuner?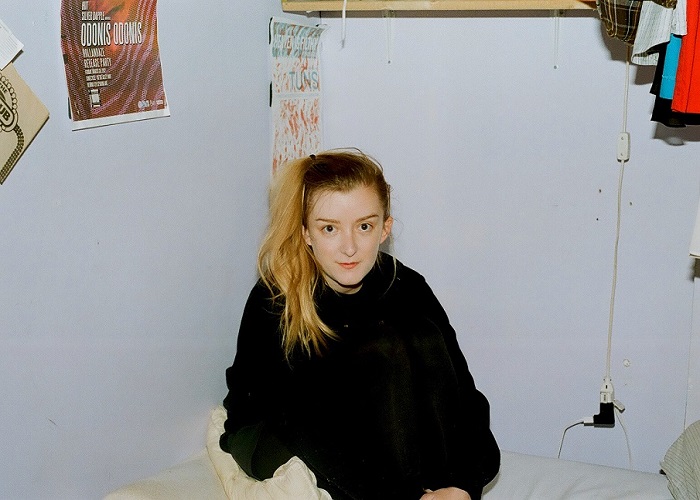 Ephemera of: Anamai
Existing during the recording of: Sallows
Toronto, ON
Photos by: Brad Casey
From the small objects of Brad Casey:
"As a kid I was always into small things. I think all the things I think are special are really small objects." Anna Mayberry is leading me through her small apartment that she shares with her partner and HSY bandmate Jude in Toronto's Chinatown. It's a white, one room dwelling, almost barren but for scattered books and show posters, basic necessities that make a home like pots and pans, a mattress on the floor. The kitchen doubles as a living room, the bedroom is low-ceilinged below a storage space and there is barely any natural light. She explains to me that this is meant to be a temporary housing solution as HSY rests between tours and any left over money goes into projects like the ethereal, beautiful, dark ANAMAI.
ANAMAI is comprised of Anna Mayberry and Dave Psutka, with Allie Blumas helping with live support when not wrapped in duties with her band DOOMSQUAD. After releasing a lo-fi, self-titled EP in late 2013 with Buzz Records, ANAMAI went into Halocline Trance studios in Toronto to record their first full length, Sallows. It's just under an hour of songs that push and pull between formal songwriting and formless structure, often with a drone in the background keeping the listener grounded to Anna's strong, small voice.
Anna tells me, before I begin photographing, "I feel like I've gotten rid of so many things and tried to detach from things. So choosing the most special things? I've been trying hard not to do that!" But a detachment, a poverty of things, doesn't mean she's lacking in special objects. Anna proudly displays to me the things she hasn't yet detached from, each with a story that pulls her back, sometimes hundreds of years, into family, love and the magic with which most special objects are imbued.
Barbie the Bike: It used to be pink and purple and I named it Barbie. I had it for a few years and now it's just a reminder that you have to take care of your bike. I named it Barbie because it was really girly but it was awesome, like a tough road bike. Until I have a new bike I'll keep Barbie under my table.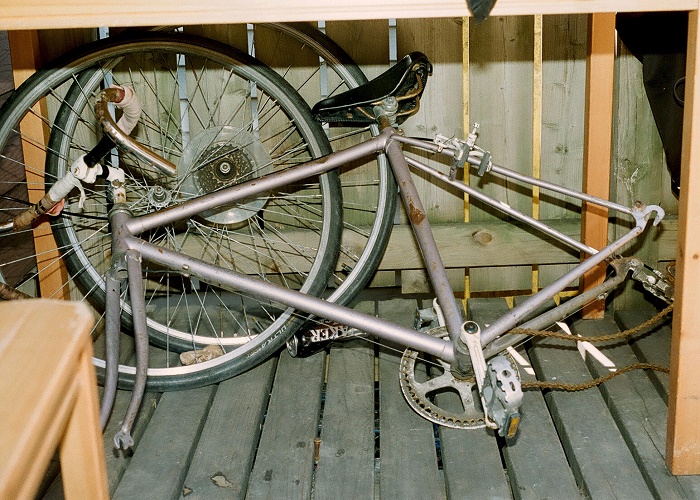 Winter Coat: This coat reminds me of the Lion King. It always makes me feel like a more awesome, animal version of myself. I got it at this store in Montreal, I went in five times to look at it and it was always still there. Every time I went in and talked to the guy who ran the store he'd tell me things about myself while I wore it. Like, "Oh, it goes with your eyes. You want people to look at you." And I'd be like, "Noooo!" (laughs).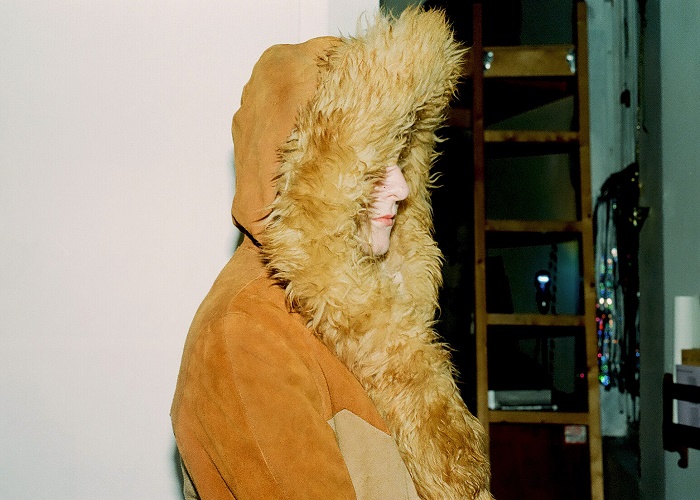 Swedish Book of Psalms: My Swedish grandmother gave this to me. I think it was my great-great grandmother's. I can't read Swedish. This is really old, there's a date in here…1825. It's all hand stitched together. I posted a picture of it to a blog from Sweden and someone said it was the most unreal, illegible Swedish they'd ever read. I think it's a bunch of psalms but there's funny little notes in it and this two of spades for some reason, which is a pretty auspicious thing for a person who's very Christian to keep in this book.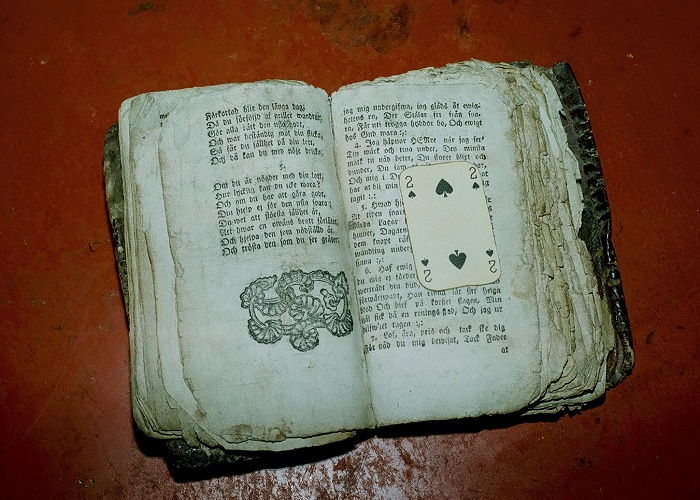 Secret Tin: I've had this for a long time. It was my secret tin when I was younger. When I was a kid I also went through all the provinces on road trips so it's like a token of my childhood. I don't think I've seen all those flowers though.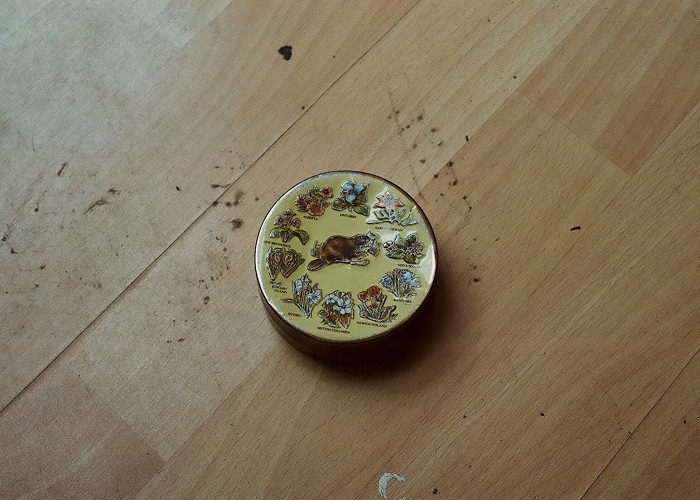 Dead Air Plant: I got an air plant and it died because I didn't water it. So I put this guy in the water. I think this is like how I feel. I'm not good at taking care of plants but I think I'm getting better.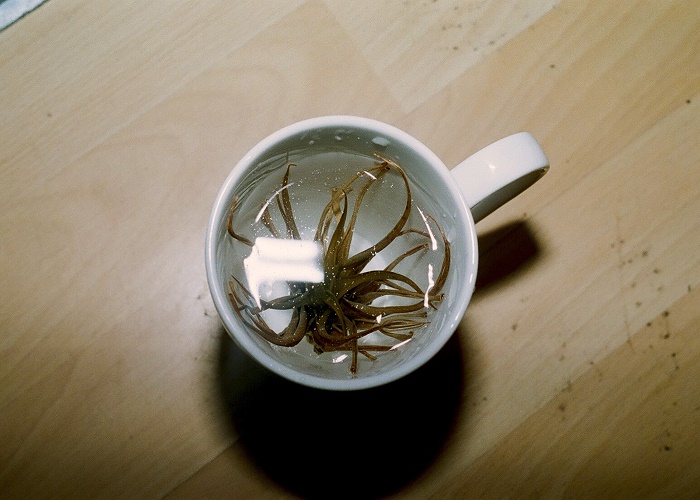 Problem Book: This I found in a second hand store. It's called "Drum and Candle: First Hand Experiences and Accounts of Brazilian Voodoo and Spiritism." There's a lot of interesting problems with this. It's all about witchcraft but it's from this very colonial perspective. It's by this white guy who investigated witchcraft, but there's some great graphics in it. I've always wanted to use them for something. I like the clinical, sort of colonial way all these crazy, awesome spiritual events are written about. Like, why are these characters in suits? I don't think this is how it happened at all.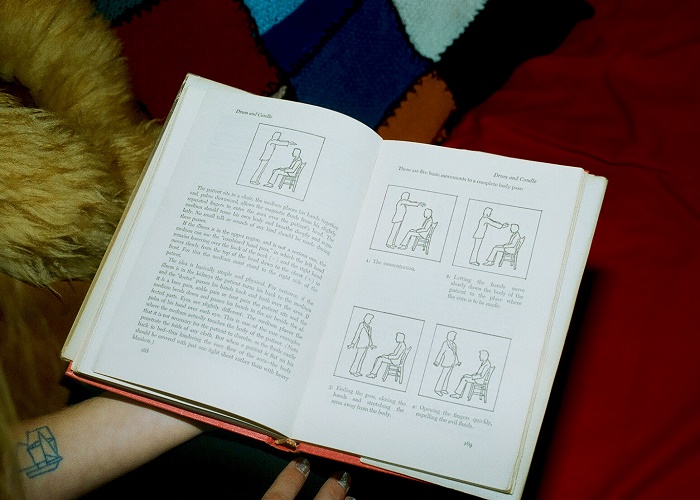 Strange Elvis: This was a gift. I don't know anything about it. I mean, it's Elvis but I don't know what these symbols mean. It's just funny to me. I like how someone went to all the trouble to make this and varnish it. Maybe it was someone's school project? I hope those symbols say, "Elvis," or, "The King."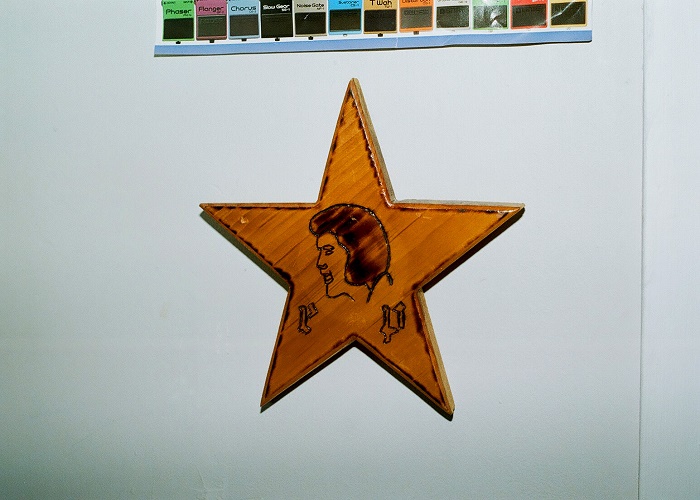 Light Refracting Glass: These are made to refract light. This brown one is kind of sad because we don't get light in this window, plus there are these bars, so it's kind of depressing. But I like the blue and clear ones.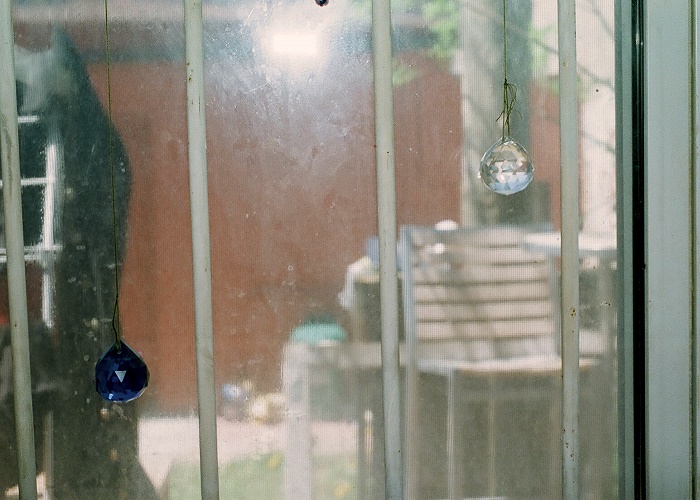 Tiny Elephants: My Dad used to have a couple little carved elephants. At some point I decided that elephants were "his thing" so I always used to find little elephants and give them to my Dad. Even though he only had two, it's like I made him start collecting elephants. So this is for him.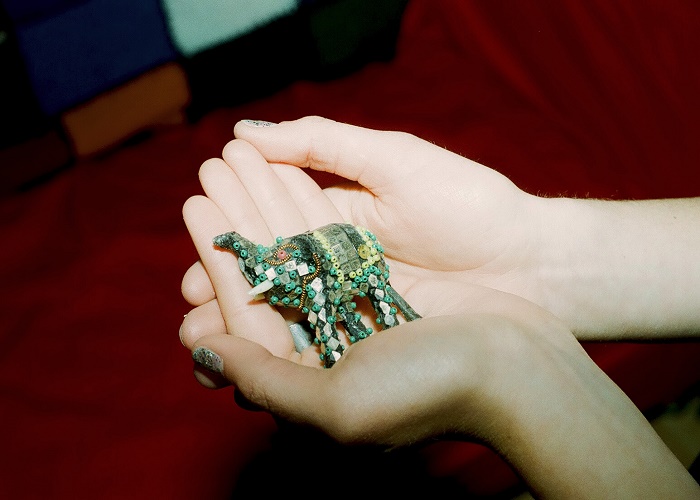 Des petits objets de Brad Casey:
(Traduit par le capharnaüm de petits objets d' Aliké Harel)
« Petite, j'aimais toujours les petites choses. Je crois que toutes les choses que j'aime sont de petits objets. » Dans le quartier chinois de Toronto, Anna Mayberry me guide dans son petit appartement qu'elle partage avec Jude, conjoint et co-membre de HSY. L'habitation se résume à une pièce aux murs blancs, presque dénudée, hormis çà et là quelques livres et affiches de spectacle, les essentiels d'une maison, ustensiles, chaudrons et un matelas au sol. La cuisine fait également office de salon, sous un espace de rangement se trouve la chambre à coucher au plafond bas, et la lumière du jour y est rarissime. Elle m'explique qu'il s'agit d'un logement temporaire pour poser pied à terre entre les tournées de HSY et pour que tout surplus d'argent retourne dans les projets comme le beau, sombre et éthéré ANAMAI. ANAMAI comprend Anna Mayberry et Dave Psutka, Allie Blumas au soutien technique pendant les concerts… lorsque le devoir ne l'appelle pas pour son propre groupe DOOMSQUAD. Après le lancement d'un album EP lo-fi à la fin de 2013 pour Buzz Records, ANAMAI s'est rendue chez Halocline Trance studios à Toronto pour l'enregistrement d'un album LP, Sallows. Un peu moins d'une heure de chansons qui oscillent entre la composition en règle et la structure sans règles, un drone en trame de fonds accompagne souvent la petite et forte voix d'Anna et garde le mélomane sur la terre ferme. Avant que je commence à prendre les photos, Anna me dit : « J'ai l'impression que je me suis débarrassée de tant de choses pour essayer de me détacher. Choisir les choses les plus spéciales… je me suis vraiment efforcée de le faire! » Un détachement, une pauvreté de biens ne signifie en rien qu'elle manque d'objets spéciaux. Anna me montre fièrement les choses desquelles elle ne s'est pas départie, chacune a une histoire qui la ramène, parfois des centaines d'années en arrière, à la famille, à l'amour et à la magie qui se sont imprégnés dans chaque objet.
Le vélo Barbie: Il était rose et mauve avant, je l'ai donc appelé Barbie. Je l'ai utilisé quelques années et maintenant il me rappelle simplement qu'il faut prendre soin de son vélo. Je lui ai donné le nom de Barbie parce qu'il fait vraiment petite fille, mais il est génial, un vélo de ville solide. Jusqu'à ce que j'aie un nouveau vélo, je vais garder Barbie sous la table.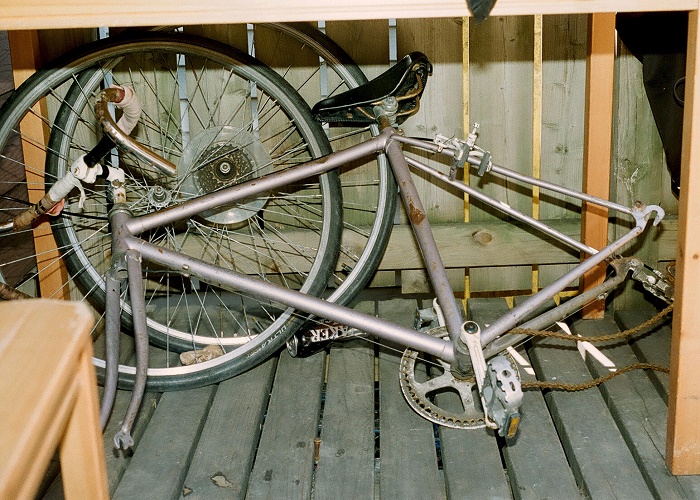 Manteau d'hiver: Ce manteau me fait penser au Roi Lion. Il me donne l'impression d'être une autre moi, une version augmentée et bestiale de moi-même. Je l'ai déniché dans une boutique de Montréal, j'y suis entré cinq fois pour le regarder et il y était toujours. À chaque fois que j'entrais et parlais avec le gars propriétaire de la boutique, il faisait des commentaires à mon sujet pendant que je portais le manteau. Du genre « Oh, ça match avec tes yeux. Tu veux attirer le regard. » Ce à quoi j'ai répondu, « Nooon! » (rires).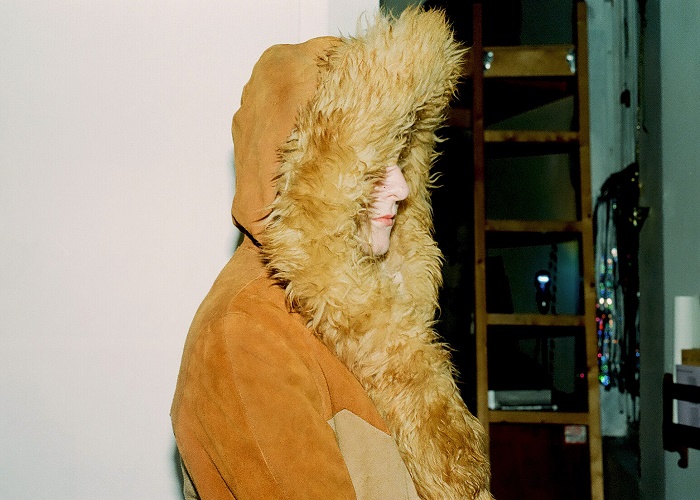 Les Psaumes en suédois: Ma grand-mère suédoise m'a donné ce livre. Je crois qu'il appartenait à mon arrière-arrière-grand-mère. Je ne sais pas lire le suédois. C'est vraiment un vieux bouquin, il y a une date à l'intérieur…1825. Il a été assemblé à l'aiguille. J'en ai envoyé une photo à un blogue suédois et quelqu'un a dit que c'était le suédois le plus irréel et indéchiffrable jamais lu. À mes yeux, ce ne sont rien que des psaumes, mais il y a de drôles de notes d'écrites et ce deux de pique, pour je ne sais quelle raison… un peu louche qu'une personne très croyante l'ait gardé dans un livre biblique.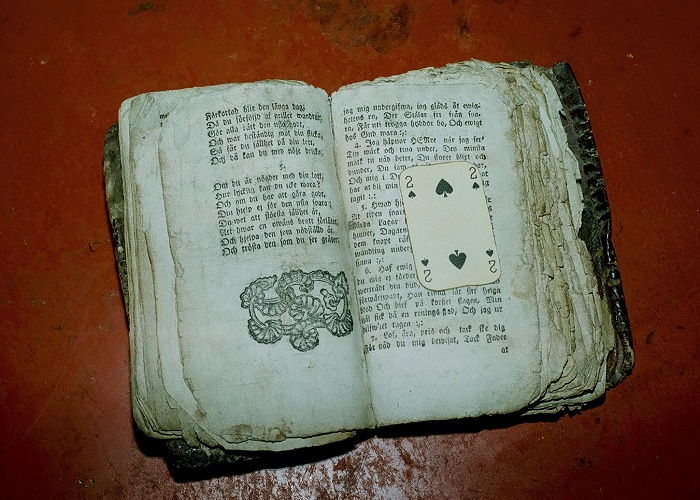 Coffret secret: J'ai ce coffret depuis longtemps. C'était mon coffre secret étant petite. Quand j'étais plus jeune, j'ai aussi voyagé dans toutes les provinces, donc ce coffre représente mon en enfance. Je ne crois pas avoir vu toutes ces fleurs par contre.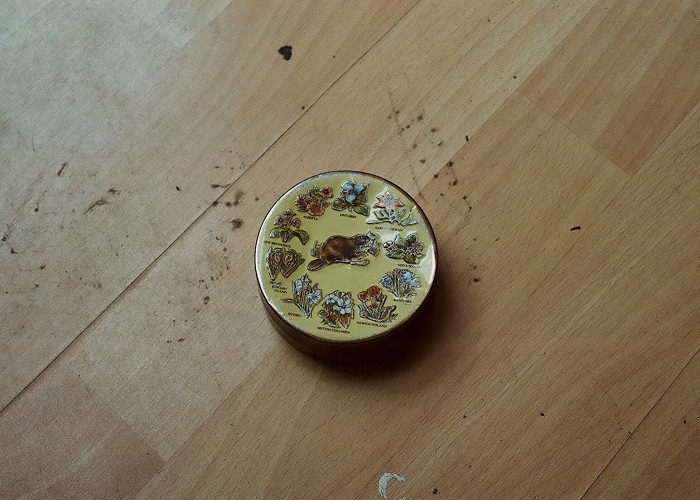 Fille de l'air morte: J'avais cette plante, une fille de l'air, et elle est morte parce que je ne l'arrosais pas. Alors, je l'ai mise dans l'eau. Je crois que c'est comme ça que je me sens aussi. Je n'ai pas le tour pour m'occuper des plantes, mais je crois que je m'améliore.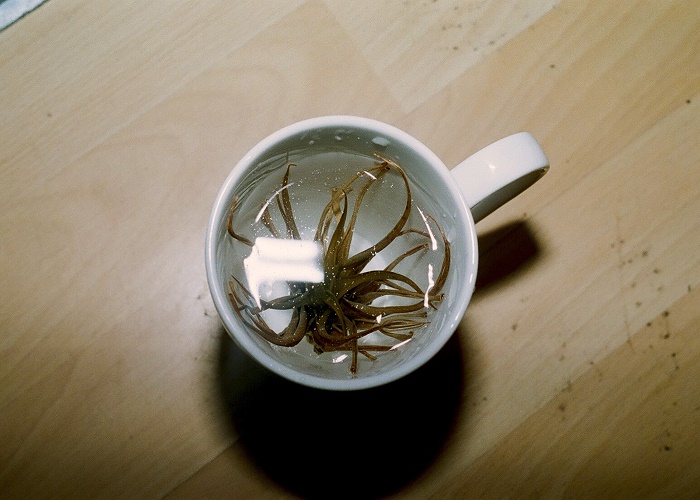 Livre à problèmes: J'ai trouvé ce livre dans une boutique d'occasion. Il s'intitule « Tambour et chandelle : Expériences et témoignages de vaudouisme et de spiritisme brésiliens ».* Ce livre pose une foule de problèmes. Il parle de sorcellerie, mais d'un point de vue totalement colonialiste. L'auteur est un Blanc qui a étudié la sorcellerie, les images restent intéressantes. J'ai toujours voulu les utiliser pour un projet. J'aime l'approche clinique, un peu coloniale utilisée pour raconter des expériences spirituelles déroutantes et fantastiques. Par exemple, pourquoi tous les personnages sont en habit-cravate? Je suis certaine que ça ne s'est pas du tout passé comme ça.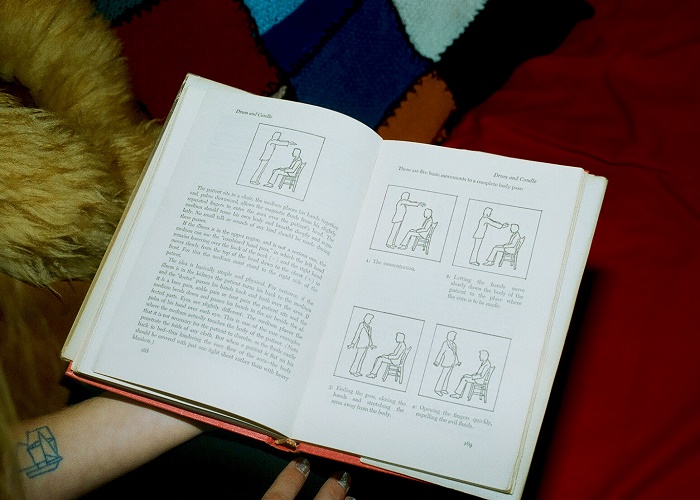 Étrange Elvis: Je l'ai eu en cadeau. Je ne sais rien de son histoire. Oui, c'est Elvis, mais je ne connais pas la signification des symboles. C'est un objet étrange. J'aime savoir que quelqu'un s'est démené pour le fabriquer et le vernir. Un projet scolaire, peut-être? J'espère que ces symboles veulent dire « Elvis » ou « The King ».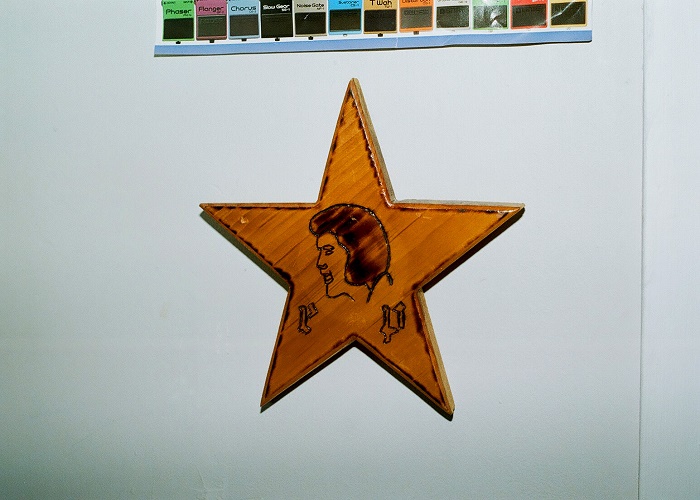 Pierre qui réfracte la lumière: Ces pierres servent à réfracter la lumière. La brune est un peu triste parce la lumière ne traverse pas cette fenêtre. En plus, il y a ces barreaux, c'est plutôt déprimant. Par contre, j'aime la bleue et la transparente.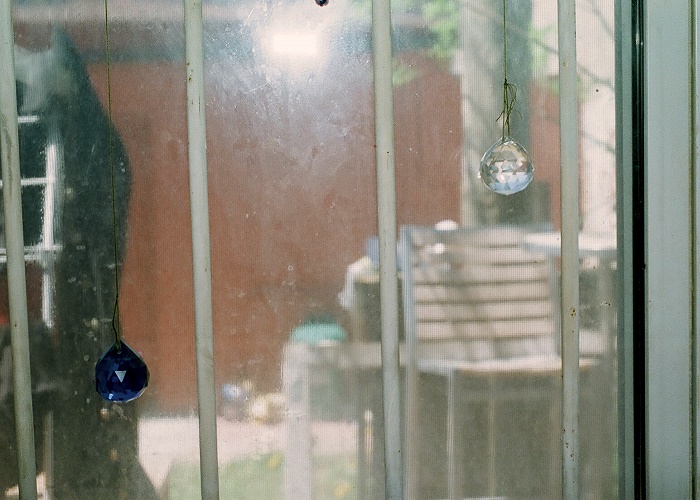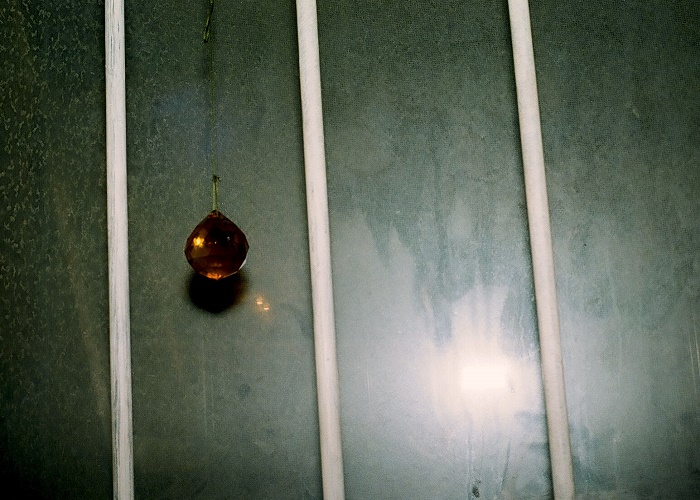 Éléphants miniatures: Mon père avait quelques petites sculptures d'éléphants. À un moment donné, j'ai décidé que, les éléphants, c'était « son truc » et je trouvais tout le temps de petits éléphants à lui donner. Il en avait pourtant seulement deux. C'est comme si je l'avais poussé à collectionner les éléphants. Celui-ci, c'est pour lui.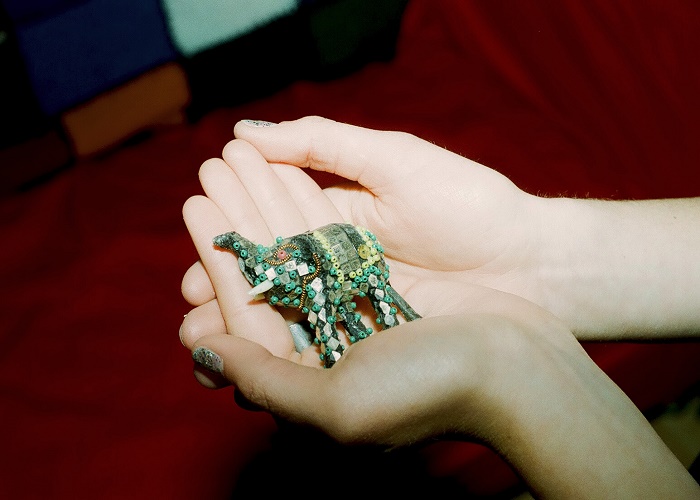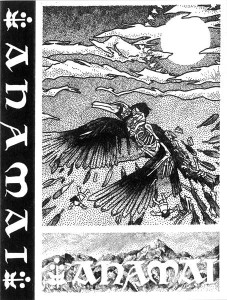 Anamai
Anamai EP
Toronto, ON
From the helpless gospel of Trevor Blumas:
Anamai is the solo side project of Anna Mayberry, guitarist/vocalist for Toronto's industrial sludge warlocks HSY. This effort sees Mayberry continuing to roam the same haunted gothic corridors as her noisier counterpart, but this time armed with a candelabra and a crucifix rather than a torch and a chainsaw. As such, she emits a type of disillusioned nun-folk that whispers out a helpless gospel for the no age. The minimal, moody intimacy of the album seems to re-invigorate certain chamber music conventions, which in a way lends even more credit to the small rooms that helped birth out the scene this project finds itself within. Paradoxically, however, the vast expansiveness of the reverb-drenched instrumentation and ghostly cooing of the vocals manage to harness the same natural sorcery of the aurora borealis. The presence of a higher power here is both iconoclastically diminished and powerfully embraced.
De l'évangile impuissant de Trevor Blumas:
(Traduit du rayonnement électromagnétique de Catherine Gaucher)
Anamai est le projet solo d'Anna Mayberry, guitariste/chanteuse de HSY, sorciers torontois du garage punk industriel. Bien que Mayberry poursuive son errance dans les mêmes couloirs gothiques et hantés que son plus bruyant homologue, elle s'arme cette fois d'un candélabre et d'un crucifix plutôt que d'une torche et d'une tronçonneuse. De ce fait, elle produit un genre de nun-folk désabusé murmurant un impuissant évangile pour le no-age. L'intimité minimale et maussade de cet album semble donner un nouveau souffle à certaines conventions de la musique de chambre, ce qui donne encore plus de crédit aux petites salles qui ont donné naissance à la scène même au sein duquel ce projet se retrouve. Paradoxalement, la vaste expansivité de l'instrumentation baignant dans des réverbérations et les chants éthérés parviennent à recréer la sorcellerie naturelle d'une aurore boréale. Ici, en un même temps, la présence d'une force supérieure est à la fois symboliquement diminuée et puissamment assumée.
---