Tag: anais njike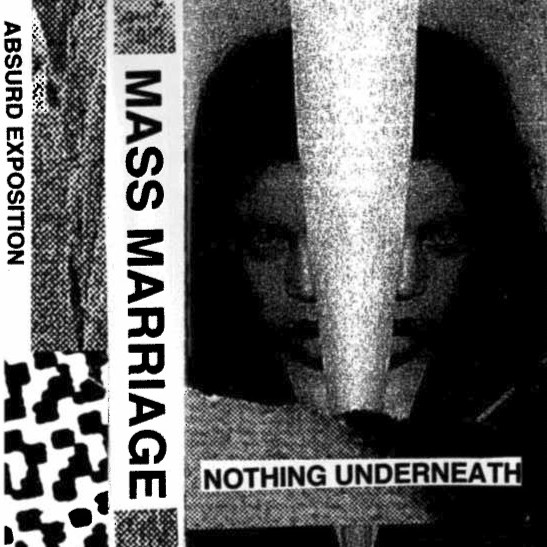 Mass Marriage
Nothing Underneath
Vancouver, BC
From the spirit warehouse of Chris Taggesell:
Melissa Paget's unique brand of sonic experimentation projects audial filth filled with frequencies that will shatter your windows and scare the neighbour's dog. Obscured behind a suffocating wall of fuzz and titanic warehouse percussion, Nothing Underneath screams with a mouthful of broken glass. Ghostly reverb-soaked mantras permeate the noise with a powerful feminine voice that cannot be ignored amidst the mechanical cacophony of sizzling feedback and cavernous discord. Mass Marriage embodies the fraught, confused relationship with technology that typifies our modern world – this is a dark and beautiful musical protest that spits blood from the shadows to remind us of things we prefer to ignore.
De l'entrepôt spiritueux de Chris Taggesell:
(Traduit par le doux murmure d'Anaïs Njike)
Melissa Paget présente sa marque unique d'expérimentations soniques audial filth dont les fréquences briseront vos fenêtres et chasseront le chien du voisin. Obscurci par un suffocant mur de crépitements et un entrepôt de percussions titanesques, Nothing Underneath hurle d'une bouche remplie de verre brisé. Dans la cacophonie mécanique produite par des grésillements et une discorde caverneuse, des incantations spectrales gorgées de réverbes imprègnent le son d'une puissante voix féminine qu'on ne peut ignorer. Mass Marriage est l'incarnation même de l'abondance de technologie dans le monde moderne et du rapport confus entretenu avec celle-ci. C'est une belle et sombre protestation musicale dont les ténèbres crachent du sang afin de nous rappeler ce que l'on préfère ignorer.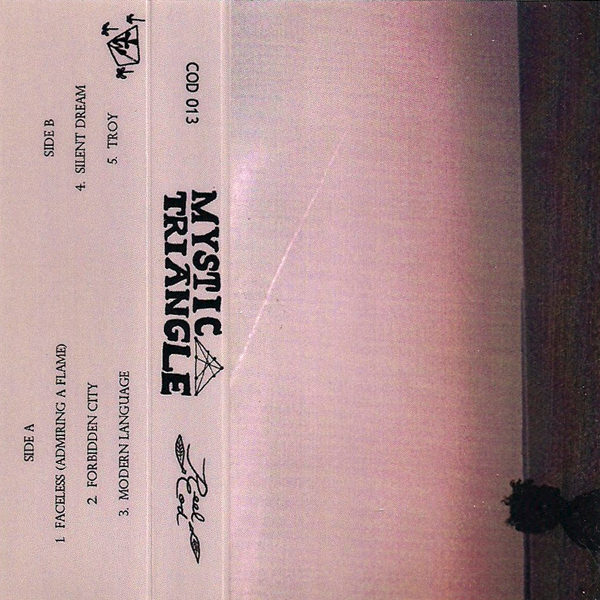 Mystic Triangle
EP
(Reel Cod)
Toronto, ON
From the bat cave smoke of James Lindsay:
A shimmering shard broken off from a kosmische comet, Benjamin Oginz' Mystic Triangle loses the astral guitar swarms, but emphasizes much of the minimal darkness found on the near perfect debut of his other cosmic project, Mimico. While staying true to his school of modulation, this hypnotic gothic will appeal to downer-loving late night bat cave smokers and early morning sun rise meditators alike.
De la fumée des cavernes de chauve-souris de James Lindsay:
(Traduit par le doux murmure d'Anaïs Njike)
Tel l'éclat scintillant d'une comète kosmische, le triangle mystique de Benjamin Oginz élague les essaims d'une guitare astrale mais accentue le côté sombre de la minimale que l'on trouve sur la première sortie presque parfaite de son autre projet cosmique, Mimico. Tout en restant fidèle à son école de modulation, ce personnage gothique hypnotique séduira tout autant les fumeurs des cavernes de chauve-souris, couche-tard, amateurs de substances tranquillisantes, que les lève-tôt qui méditent au lever du soleil.

Mystic Triangle – Faceless (Admiring a Flame)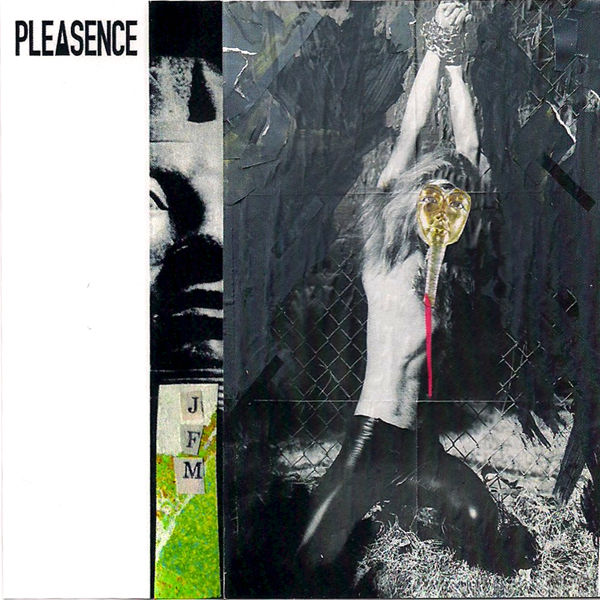 From the crass cranium of Farah Barakat:
JFM (Jesse Frank Matthews) constructs groovy soundscapes using a sampler and effects. For his cassette debut on Pleasence Records, the loops are minimally constructed, maximally effective. One carefully chosen beat, riff or rhythm is looped for minutes at a time, as intricate tweaks are added to create titillating audio collages before switching the vibe. Squat is a long, pleasant (pun intended) city drive late at night, with identical streetlights guiding you down the road like outstretched arms.
Du crâne insensible de Farah Barakat:
(Traduit par le doux murmure d'Anaïs Njike)
Producteur de musique décalée et compositeur solo de musique électronique, JFM (Jesse Frank Matthews) crée une atmosphère musicale groovy à partir d'un sampleur et d'effets sonores. Sa première cassette sortie sur Pleasence Records est l'exemple d'une boucle minimale, pour un effet maximal. Une rythmique ou un riff minutieusement choisis qui constituent une boucle répétée pendant plusieurs minutes, à laquelle s'ajoutent des éléments complexes pour créer un univers audio émoustillant avant de passer à l'ambiance suivante. Squat est aussi agréable qu'une longue virée en voiture tard dans la nuit, dans une ville dont les réverbères, identiques, vous tendent les bras pour guider votre chemin.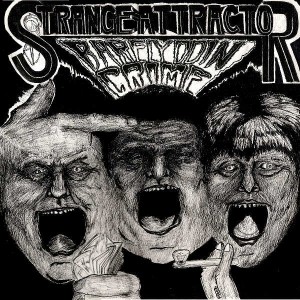 Strange Attractor
Barely Doin' Crime
Sudbury, ON
From the personal cheque of Brendan Lehman:
With the coals of Back To The Cruel World still warm, Strange Attractor gas the fire again with an equally raucous EP. Probably cooked in the same lab as the infamous Noise Tape, these six jams crammed into a 7" run the gamut from a dangerous trip to a dangerous trip and a press release. Mental corruption runs thick through these driving bangers, rife with breach of trust and altered documents: the seedy underbelly of a drunken façade. We're burning down the walls of conservative values, one screaming riff at a time. Sounds like my kind of party.
Du chèque personnel de Brendan Lehman:
(Traduit par le doux murmure d'Anaïs Njike)
De la braise encore chaude de Back To The Cruel World, Strange Attractor rallume le feu avec un EP tout aussi tapageur. Probablement conçu dans le même labo que la notoire Noise Tape, cet ensemble de 6 morceaux condensés sur un 7 po vous fait voyager d'un danger à l'autre en passant par un communiqué de presse. La corruption mentale tourne à fond dans ces débris à roulettes, blindés d'abus de confiance et de faux documents : la face cachée miteuse d'un ivrogne. On fait tomber les barrières du conservatisme, un riff criant après l'autre. Ça c'est mon genre de fête.

Strange Attractor – I Need to Kill My Neighbours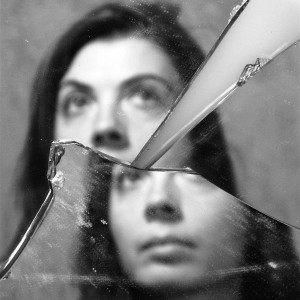 Picastro
You
(Self Released)
Toronto, ON
From the breadcrumb trail of Alex Hamlyn:
Sixteen years gives you time to hone your craft. Master it, maybe not, but there is a clarity of purpose and a confidence that can only be bought with time. Liz Hysen — along with her rotating crew of collaborators — has been making music under the name Picastro for 16 years and You is a brilliant distillation of the project's aesthetic. With a voice that shifts shape from track to track, moment to moment, Hysen is alternately enchanting and harrowing. Fables, rituals and even the living dead provide fodder for her incantations and yet there is a dark warmth to it all. Playing lullabies and whispering in your ear like some spirits found deep in the wilderness, they want to guide you home.
De la traînée de chapelure d'Alex Hamlyn:
(Traduit par le doux murmure d'Anaïs Njike)
En 16 ans, on a le temps de perfectionner son travail. Peut-être pas de le maîtriser, mais au moins d'affiner son objectif et d'acquérir une confiance qui ne se gagne qu'avec le temps. Liz Hysen — ainsi que son équipe changeante — compose depuis 16 ans sous le nom de Picastro, et You est un brillant condensé de l'esthétique du projet. Avec un timbre de voix qui varie à chaque instant, d'un morceau à l'autre, Hysen est à la fois envoûtante et angoissante. Ses incantations sont inspirées de fables, de rituels et même de morts vivants, et pourtant on y trouve une certaine chaleur obscure. En chantant des berceuses et en murmurant à vos oreilles comme des esprits sortis du fin fond de la forêt, ces paroles magiques veulent vous guider à la maison.
---