Tag: american tapes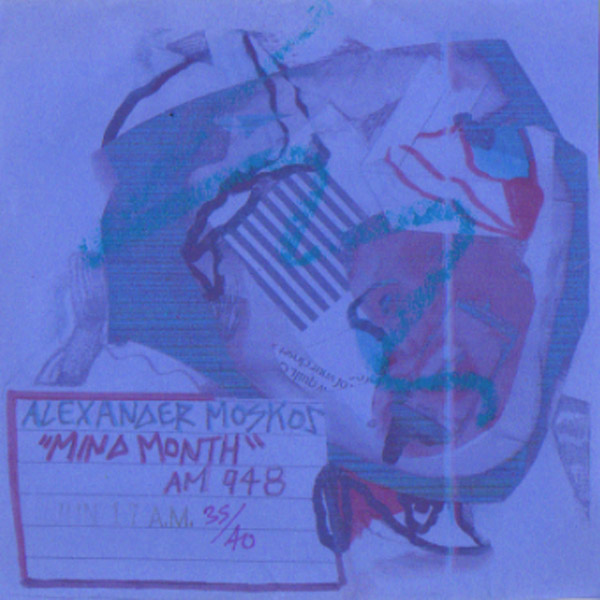 Alexander Moskos
A Month In The Mind Of Moskos
Montréal, QC
From the ghetto format of Kevin Hainey:
The man who would be Moskos continues to baffle and thrill his followers with this alarming quadruple CDr collection. Scarcely limited to 60 handmade copies lovingly assembled by his fellow cunning linguist and Wolf Eyes fist of fury John Olson, this set features four installments from outer time, each on their own frightfully brief disc, upon which we are engaged with four very different sides of Moskos' endlessly dimensional coin.
First up is a field recording which gives way to some righteous and de-fraged free jazz chamber duetting between a lonesome sax and search party drums that's credited to Moskos' main gig, Drainolith. Disc two features the Drainolith sound his fans know and love — thudding, stuttering electronic claps and foot stomps set behind muddy Mississippi blues guitar echoes and buried, lovelorn or scathing vocal murmurs and twists of tongue. On this set Moskos is joined by the gone but not forgotten powerhouse Drainolith line-up of Tara Desmond on drums and Chelsea Delle Palm with bass! Sounds like it was perhaps a tour rehearsal, but its recording is tight and swings its might.
Events take a characteristically unpredictable u-turn with disc three, which strays headlong into Inane Fever territory in the form of some sickly and slickly recorded multi-track groove sharks that could chomp among the best of Royal Trux's glitter gutter breakdowns or Thurston Moore's solo schools for the cool. Turns out Sir Moskos is not alone here at all, but kicking it out with the no bullshit frontline of Alexandre St-Onge, Dominiq Alexander and Joel Taylor. Disc four rounds out this massive yet brilliantly understated set with some chamber jazz piano pillages by Moskos + Sage. The silence left at the end only makes you curious what other nuggets lie unpolished in the Moskos treasure chest… One can only dream, and get this collection before its criminally tiny run is cherished by as many collectors as it can reach.
Du format ghetto de Kevin Hainey:
(Traduit par Jacinthe Laplante)
L'homme qu'est Moskos continue de dérouter et d'électriser ses admirateurs avec cette inquiétante collection de quatre CD-Rs. Limitée à tout juste 60 copies faites à la main et assemblées avec amour par John Olson, linguiste futé et poing furieux de Wolf Eyes, cette collection comprend quatre épisodes hors du temps, chacun sur un disque terriblement court, lesquels nous confrontent à quatre côtés très différents de la médaille aux innombrables faces de Moskos.
Tout commence avec un enregistrement sur scène d'un vertueux duo de free jazz fragmenté composé d'un saxophone solitaire et d'un tambour d'équipe de secours dont le crédit revient à Drainolith, le groupe principal de Moskos. Le deuxième disque met en vedette le son connu et apprécié des fans de Drainolith : claquements électroniques sourds et hésitants, piétinement du sol mis en scène derrière les échos d'une guitare blues du Mississippi vaseux, murmures et coups de langue amoureux ou cinglants enterrés. Pour cette partie, Moskos s'associe aux anciens mais non oubliés dynamiques membres de Drainolith : Tara Desmond à la batterie et Chelsea Delle Palm à la basse! Cela pourrait être une répétition pour une tournée, mais l'enregistrement est serré et projette sa puissance.
Fidèles aux habitudes, les évènements font volte-face et prennent une tournure complètement imprévisible sur le troisième disque qui s'aventure tête première sur le territoire d'Inane Fever sous la forme de multi-pistes drôlement bien enregistrées, requins du rythme qui pourraient dévorer parmi les meilleures ruptures de caniveaux scintillants de Royal Trux ou les écoles de solo de Thurston Moore pour le cool. Il se trouve que monsieur Moskos ne joue pas seul du tout : il s'agite avec une ligne de front talentueuse formée d'Alexandre St-Onge, de Dominiq Alexander et de Joel Taylor. Le quatrième disque termine cette imposante mais brillamment minimaliste prestation avec un saccage de piano façon jazz de chambre interprété par Moskos + Sage. Le silence de la fin pique la curiosité et on se demande si d'autres diamants brut pourraient se trouver dans le coffre aux trésors de Moskos… On ne peut toujours que rêver et se procurer la collection avant que cette performance criminellement sortie en petite quantité ne soit convoitée par tous les collectionneurs à sa portée.
Inane Fever – Hate the Blues / Cross The Tracks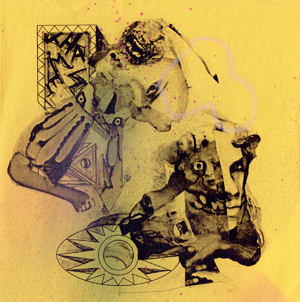 Thames
The Gift of Money b/w The Night She Became Me
Montreal, QC
From the voltage vaults of Kevin Hainey:
Awake already walking with sideways sliding smiles. Dazed and drooping eyes. Wobbly liquid feet skating slick linoleum under overrun fluorescents. Again, the vaporous grinning at distorted non-beings. Eu-pho-ri-a! Dis-com-bob-u-la-tion… Crisp, murmured half-vocals, fighting with discernible lyrics amid slithering synth stutters, chugging radiophonic radiation, unbalancing new structures. Twin Infinitives broadcasting thru a black hole and out of Bermuda's Triangle. The invisible route was about to collapse into ectoplasm. It's only temporarily open every lunar quarter, so they've liberally recorded it from both ends. Simultaneously. And mixed it. Really well. Plunderfuckingphonics well. Double dip this 7″ with the new Fluorescent Friends tape, THAMES VOL XIV, n' y' can't miss. They're quite the pair. So are the two musicians here, Blake Hargreaves (Dreamcatcher, Clinton Machine, Cousins of Reggae) and Alexander Moskos (AIDS Wolf, Drainolith, Medicine Rocks), both keeping raw noise and electronics heads imploding since 2005, touring and collaborating all over our continent. Now they're getting weirder. Way weirder. First wax yet for the tape-heads, courtesy of American Tapes mogul / Wolf Eyes retina John Olson. Only 200, so run don't walk, you adventurous types
Des voûtes à voltage de Kevin Hainey:
(Traduit par Odile Leclerc)
Réveillé et marchant déjà avec des sourires glissants de côté, des yeux hébétés et tombant. Des pieds liquide branlant patinant sur du linoléum reluisant sous des tube fluos sur utilisés. Encore, le vaporeux souriant aux non-êtres déformés. Eu-pho-rie! Ch-am-bou-le-ment… Des semi-vocalees croustillantes, murmuréesm combattant avec des paroles perceptibles parmi des bégaiements de synth ondulante, avalant des radiations radiophoniques, débalançant de nouvelles structures. Twin Infinitives diffusant à travers un trou noir et hors du Triangle des Bermude. La route invisible était sur le point de s'effondrer dans l'ectoplasme. C'est seulement ouvert temporairement à chaque quartier de lune, alors ils l'ont libéralement enregistré des deux bouts. Simultanément. Et l'ont mixé. Vraiment bien, Plunderfuckingphoniquement bien. Plongez doublement ce 7″ avec la nouvelle cassette de Fluorescent Friends, THAMES VOL XIV, et v'pouvez pas le manquer. Ils sont tout à fait la paire. Tout comme les deux musiciens ici, Blake Hargreaves (Dreamcatcher, Clinton Machine, Cousins of Reggae) et Alexander Moskos (AIDS Wolf, Drainolith, Medicine Rocks), les deux gardant le bruit brute et les têtes électroniques implosant depuis 2005, faisant des tournée et collaborant partout sur notre continent. Maintenant ils deviennent plus bizarres. Vraiment plus bizarres. Première cire pour les rubans, courtoisie du magnat de American Tapes / rétine de Wolf Eyes John Olson. Seulement 200, alors courez ne marchez pas, vous les types aventureux.
---