Tag: ambient Wish Lash
Altar of Doubt
Calgary, AB
From the distant party of MCLF:
One hand reaches out and the world opens up. We're not bound by the wires, we're bound up in the silent air, our words tender in the the precious dirt and the greens emerging. These are our bodies. We're dancing.
A mutant weirdo crew holding together this mass of circuits and wires, deep trouble, pulsing and smoking hot where things cross, where the solder wears thin. Thousands of tendrils drift over us, around us, pulling us apart and back together again: different, better.
Du souffle de feu de MCLF:
Une main se tend et le monde s'ouvre. Nous ne sommes pas liés par les câbles, nous sommes liés dans le silence , notre mots dans le précieux dirt et les greens en émergence. Ce sont nos corps. Nous dansons. Une équipe de weirdos mutants tenant ensemble cette masse de circuits et de fils, ennuis profonds , pulsant et fumant à chaud là où les choses se croisent, où la soudure s'use très peu. Des milliers de vrilles dérivent sur nous, autour de nous, nous séparant et nous ressaisissant: différent, meilleur.
Various
Wyrd Chill v1
Various
From the heart of Marie Claire LeBlanc Flanagan:
Maybe you are rolling alone. Shift into a low gear. Open your windows. See that hill ahead? Climb it anyway. Roll into the long coast of nothing.
Du coeur de Marie:
Peut-être que vous roulez seul. Mettre en marche basse. Ouvrez votre Windows. Vous voyez cette colline en avant? Montez de toute façon. Rouler dans la longue côte de rien.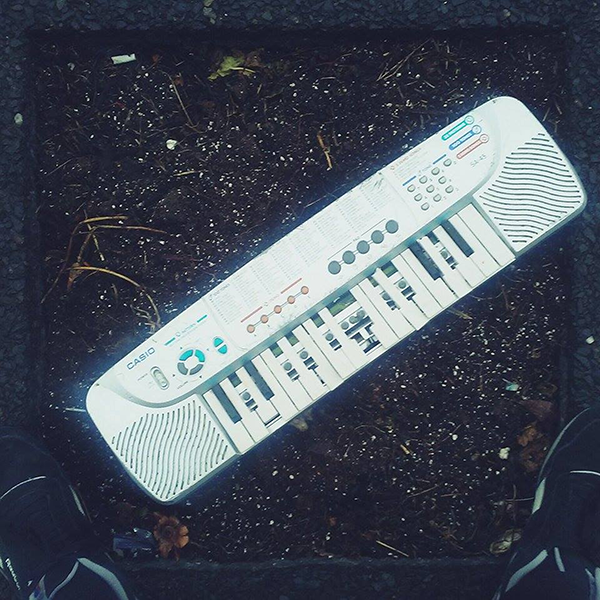 Bone Marrow
A Spiritual Blur / Someone New EP
Self-released
Montréal, QC
From the basement thoughts of Katie Jensen:
You sent yourself a text message last night: "Seeking aural healing. Receiving heaven. Swallowed whole." You must have interfaced with an angel last night. 1080p eyes probe the velvet dark. The room shifted overnight, or maybe just when you got home; piles of clothes heaped on keyboards, jeans weighing down oscillator keys, an organ flipped over and screaming. The phone screen glows, a cheap jellyfish sending tentacles into contact lists. Your long nails catch on the fibres of the blanket, pulling out synthetic fabric in squiggly fibres. It reminds you of shredding dandelions at the lake, feet swinging like Red Rover, slipping on wet wood, splinters gathering in palms, your peach body disappearing into indigo depths.
Des pensées souterraines de Katie Jensen:
(Traduit par l'écharde incrustée dans l'index de Jessica Grenier)
Tu t'es envoyé un message texte hier : « Recherche guérison auditive. Reçois le paradis : engloutissement total. » Tu as dû communiquer avec un ange hier soir. Des yeux en 1080p qui sondent le velours de l'obscurité. La pièce a changé cette nuit, ou peut-être juste quand tu as ouvert la porte de la maison. Des piles de vêtements jonchant des claviers, des jeans appuyant sur les touches d'un oscillateur, un orgue renversé qui se lamente. L'écran du cellulaire brille – une méduse en toc étirant ses tentacules à travers la liste de contacts. Tes longs ongles s'accrochent dans une couverture, tordant ses fibres synthétiques. Ça te rappelle les pissenlits s'effilochant au lac. Tes pieds se balançant comme pour Red Rover, qui glissent sur du bois mouillé; les échardes qui s'accumulent dans tes paumes. Ton corps de pêche qui disparaît dans les profondeurs indigo.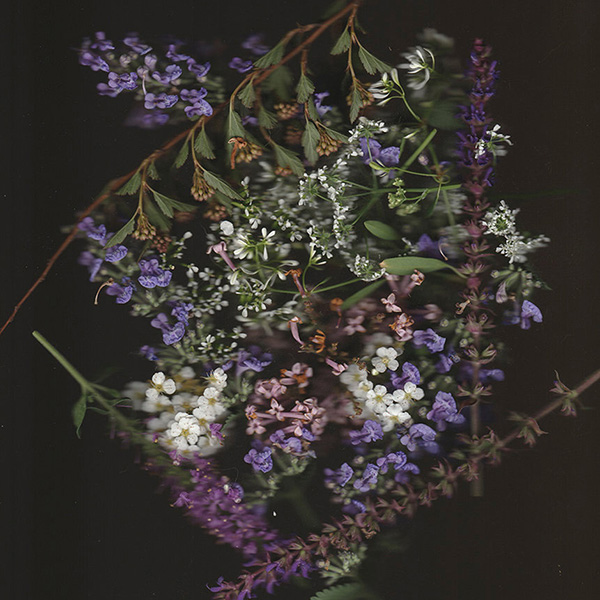 Pyramid//Indigo & SKIN
Split
Self-Released
Edmonton, AB // Montréal, QC
From the ever-expanding skies of Brian Fauteux:
Radio static is how we'll know we're eventually alone. That everything is over. Here is where Pyramid//Indigo's "Lydian Grains" begins. A slight crescendo, disconcerting, leads to "Hands, Bursting with Light." Sounds gleaned from frosted prairie fields build atmospheric swells that call the wild. A long final glance of pink and gold before the graying of sky.
Flip the split.
SKIN calls forth a soundscape marked by the hum of arthropod wings, wind seeping through a window's breach, and the lure of a music box melody. Perhaps there are signs of life after all.
Des cieux toujours grandissants de Brian Fauteux:
(Traduit par les lèvres gercées de Julie Mayer)
Des bruits parasites, voilà comment nous saurons que nous sommes éventuellement seuls. Que tout est fini. C'est ici que « Lydian Grains » de Pyramid/Indigo commence. Un léger crescendo, déconcertant, mène à « Hands, Bursting with Light ». Des sons glanés dans les champs de prairie givrés érigent des remous atmosphériques interpellant la campagne : un long coup d'œil ultime rose et or avant que le ciel vire au gris.
Changez de face.
SKIN évoque un paysage sonore marqué par le bourdonnement d'arthropodes ailés, le vent s'infiltrant par la craque d'une fenêtre et l'attrait suscité par la mélodie d'une boîte à musique. Peut-être y a-t-il des signes de vie après tout.
Pyramid//Indigo – Lydian Grains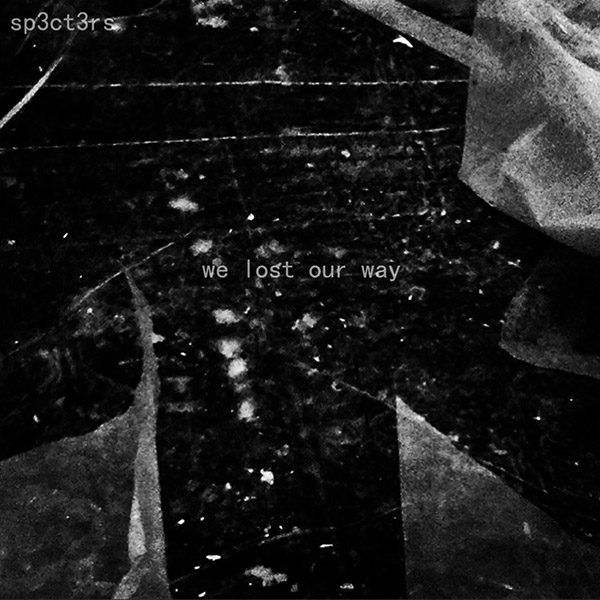 sp3ct3rs
we lost our way
Greenfield Park, QC
From the public appearance of Katie Jensen:
A glowing blue cloud suspended above a jagged metal junkyard. Abstract, scraped melodies rubbing together like the steel shoulders of old cars; rusted robin eggs rolling in a cream-spackled washbasin. The tenderness of fingertips drifting across peach-wrinkled eyelids, thin cotton sheets pulled over restless eyes. A mouth twitching and popping with tension, the copper tang of swallowed words, old scars where the teeth touched down, saving choice words for the lining of cheeks, clamp unyielding, pinching tighter and tighter, screams underwater converted into circular, silver bubbles, canine-gripped flesh, enamel instruments clattering, bowed instruments on metal, dried sand.
De l'apparition publique de Katie Jensen:
(Traduit par les quatre cents coups de Julie Mayer)
Un nuage d'un bleu éclatant suspendu au-dessus d'un dépotoir de ferraille dentée. Des mélodies abstraites et éraflées se frottent les unes aux autres comme les épaules d'acier des vieilles bagnoles; des œufs de merle rouillés roulent dans un lavabo colmaté au mastic. La tendresse des doigts flânant sur des paupières aussi ridées que la peau d'une pêche, de minces draps de coton tirés sur des yeux tourmentés. Une bouche tressaille et produit des bruits secs sous la tension, le goût ferreux de mots ravalés, d'anciennes cicatrices là où les dents se sont enfoncées, gardant des choix de mots à l'intérieur des joues, un serre-joint inflexible, serrant de plus en plus fort, des cris sous l'eau convertis en bulles d'argent sphériques, la chair mordue à pleines dents, le cliquètement d'instruments émaillés, des instruments à cordes sur du métal, du sable séché.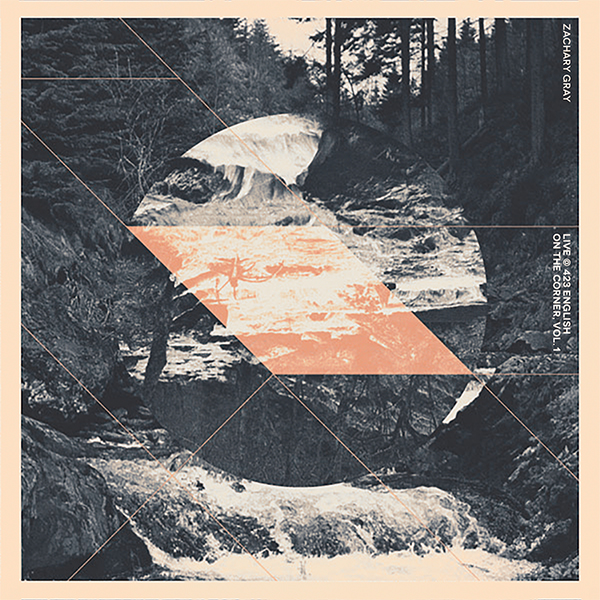 Zachary Gray
Live @ 423 English EP
Self-Released
London, ON
From the mental-pictures of Griffin Martell:
In an unassuming east end abode, Zachary Gray sits "cross-legged" on the floor, painting mental-pictures of the pastoral beyond. High-flying frequencies carry into the vacant lot next door where the legacy of the speed city went up in flames. Still, the warm glare of the horizon beckons us forward. Sepia-tinted scenes flicker in and out of consciousness while layers of modulated soundwaves envelop the room. For a moment no one stirs and time collapses into the present.
Des images mentales de Griffin Martell:
(Traduit par les yeux archi-secs de Julie Mayer)
Dans une humble demeure située dans l'est de London, Zachary Gray, assis « jambes croisées » sur le plancher, est en train de peindre les images mentales d'une pastorale d'antan. Des fréquences de haut vol se portent jusqu'au studio vacant d'à côté où l'héritage de la ville du *speed* est parti en fumée. Pourtant, la lumière vive et chaleureuse de l'horizon nous fait signe d'approcher. Des scènes vacillantes couleur sépia entrent et sortent de la conscience alors que des couches de vagues sonores modulantes enveloppent la pièce. L'espace d'un instant, personne ne bouge tandis que le temps s'écroule dans le présent.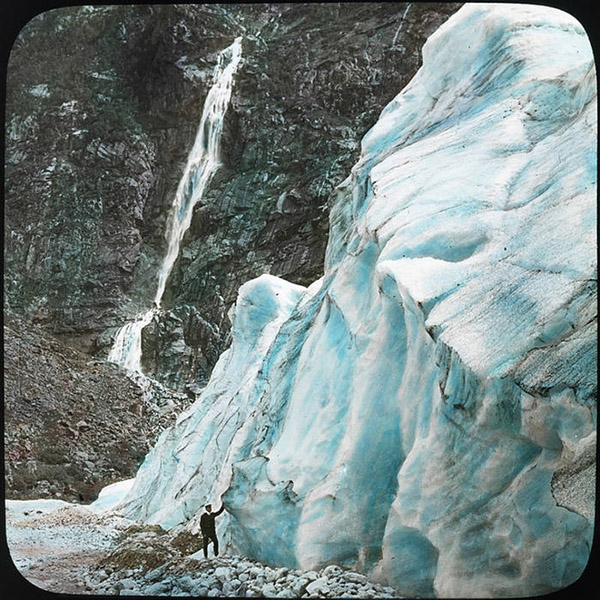 Man Meets Bear
I Want to Be a Gallant Rider Like My Father Was Before Me
Toronto, ON
From the S.A.D. mind of Laura Stanley:
Winter is steadily encroaching; I can see it on the lake. Its once affable body has grown cold and still. Man meets Bear speaks of this change. The swirling reluctance of autumn to end ("Elm"), the ice glistening on the lake's exterior ("Garrison Creek"), how an icy arm will plunge deep below the surface ("The Humber"). Despite the melancholy caught in their talk, Man meets Bear also presents small comforts for those who dread the dark days ahead. They remind us of the warmth of the holidays ("Xmas at Palais Royale"), how Spring always surfaces ("Fortunately, We Survived") and the world blooms anew once again ("Sun's Back").
De l'esprit triste de Laura Stanley:
(Traduit avec de la reconnaissance par Traducteur Interne)
L'hiver s'en vient. C'est constant. La surface du lac en témoigne. Une masse affable devint froide. Man meets bear parle de ce changement. De la réticence tourbillonnante d'automne qui s'éteint : (« Elm »). La glace étincelante du lac : (« Garrison Creek »). Comment un bras refroidi plongera profondément en dessous de la surface (« The Humber »). Malgré l'évidence de la mélancolie, Man meets Bear présent aussi des petits réconforts pour ceux et celle qui redoutent les journées sombres qui s'en viennent. Ils nous rappellent la chaleur des Fêtes: ('Xmas at Palais Royale »), que le printemps refleurit toujours (« Fortunately, We Survived ») et du fait que le monde s'épanouit de nouveau (Sun's Back »).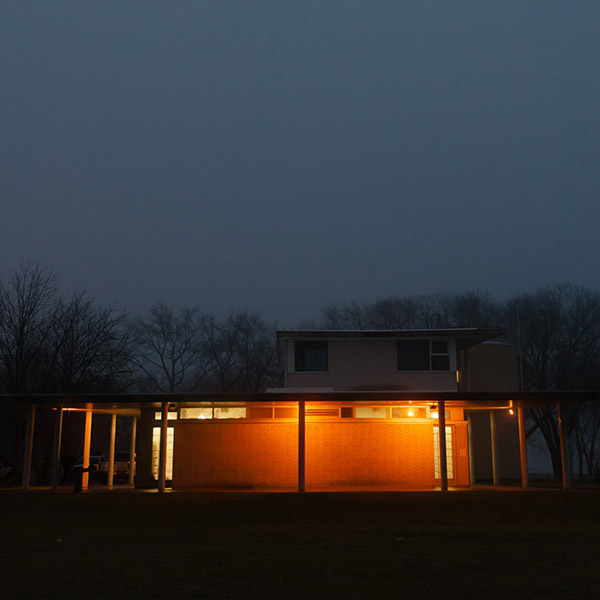 Anthéne
Permanence
Toronto, ON
From the unstable life of Laura Stanley:
Nothing is permanent. There are, though, natural phenomena that make us believe in stability: the dance between the sun and the moon, the ocean's breaths, the watchful eye of the goshawk. We often fall into steady routines, the fixedness of which quell our anxious hearts. The rolling darkness of anthéne's permanence is a reminder that the world, and everything held in its hands, is in flux. The denseness of the synths mimic the nebulosity of the future, pressing us to savour the present before it transfigures once again.
De la vie instable de Laura Stanley:
(De Moi Quevillon)
Rien n'est éternel. Par contre, il existe des phénomènes naturels qui nous font croire à une certaine stabilité : la danse entre le soleil et la lune, le ressac de l'océan, le regard attentif de l'autour des palombes.
Nous succombons facilement à ces routines sécurisantes qui offrent une constance apaisante à nos cœurs inquiets. L'obscur roulement de l'album Permanence d'Anthéne, nous rappelle que le monde dans son entièreté est un flux. La densité des synthés imite la nébulosité du futur, nous incitant impérieusement à savourer pleinement le présent avant qu'il ne se renouvèle encore une fois.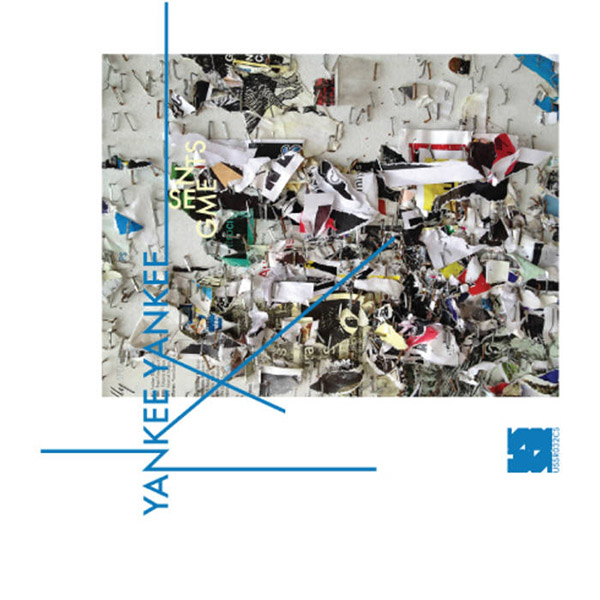 Yankee Yankee
Segments
Calgary, AB
From the guilty conscience of Katie Jensen:
Scram, scramble, flail. Slip into the grimy alley outside the reactor. Fingers digging into swirling space, mouths opening like dry fish. Waves of liquid synthesizers glide across polyphonic keys, drifting mercury desperately seeking cinnabar. Splintered chips making a slow transit across the sun, skin blistering, crust puckering. Rainbowed teeth floating into silicon space. Isolated letters tugged into orbit, tethered by minted floss. Thumbprint craters, alkaline water pooling in the hollows of eyes, a rippled disturbance, wobbling, tilted, reversing orbit. Eject into deep space via Calgary with the harsh ambient synths of Yankee Yankee's Segments.
De la conscience coupable de Katie Jensen:
(Traduit par les poissons de Maya Keshav)
Dégage, défile-toi, débats-toi. Passe dans la ruelle sale en dehors du réacteur. Les doigts puisent au fond de l'espace tourbillonnant, les bouches ouvrent comme des poissons secs. Les vagues de synthé liquide planent à travers les touches polyphoniques, le mercure vagabond qui cherche désespérément le cinabre. Les éclats qui font un voyage lent à travers le soleil, les ampoules sur la peau, les plis dans la croûte. Les dents arc-en-ciel qui volent dans l'espace en silicium. Les lettres isolées qui sont attirées à l'orbite, attachées à la soie dentaire à la menthe. Les cratères d'empreinte, l'eau alcaline qui s'accumulent dans les creux des yeux, un tapage ondulé, l'orbite chancelant, penchée, contraire. Propulse-toi en espace lointain via Calgary avec les synthés crus et enveloppants de Segments de Yankee Yankee.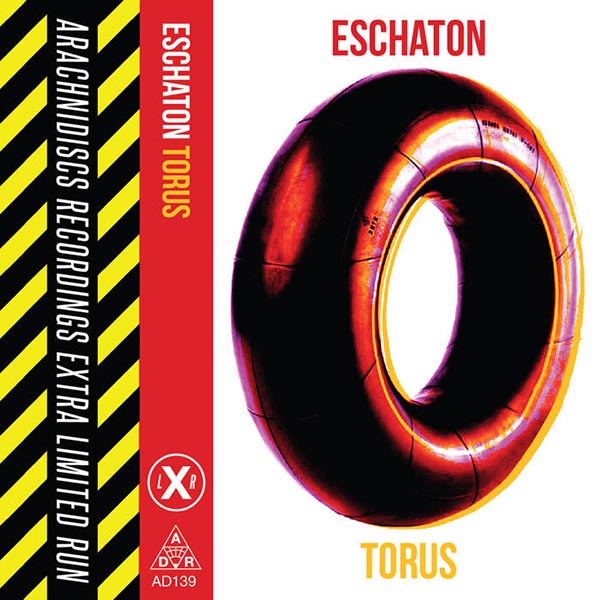 Eschaton
Torus
Hamilton, ON
From the Coffee Sweats of Bobby Andrews:
The hypnotic nature of dreaming, softly re-etched within Eschaton's album Torus, calls for a careful ear from the listener. Through provocative distortion and trill tones, this album takes the consciousness on an extended lucid dream, birthed through musical improvisation. An experience of expertly-crafted beats created by architects of both ear and the mind. E, emotional chaos ensues as the senses meet in an eruptive ballet. Restless tunes of intense dissonance are quickly followed by immense solace as the album's narrative shakes the eardrum.
De la sueur de café de Bobby Andrews:
(Traduit par les trilles douces de Maya Keshav)
La nature hypnotique du rêve, doucement regravée dans l'album Torus d'Eschaton, demande une oreille méticuleuse de l'auditeur. Grâce à la distorsion provocatrice et aux tons de trille, cet album prend amène la conscience dans un rêve lucide prolongé, auquel l'improvisation musicale a donné naissance. Une expérience de rythmes fabriqués de mains expertes qui est créée par les architectes de l'oreille et de l'esprit. Le chaos émouvant s'ensuit au fur et à mesure que les sens se retrouvent dans un ballet éruptif. Le réconfort immense suit rapidement les mélodies agitées de la dissonance intense alors que le récit de l'album agite le tympan.
---