Tag: ambience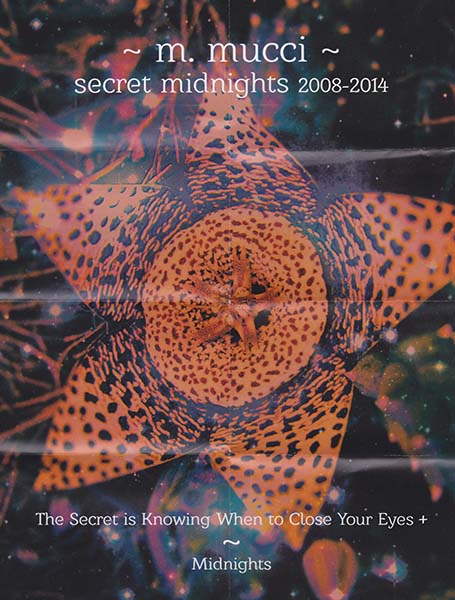 M. Mucci
Secret Midnights
Guelph, ON
From the mesmerized apertures of Joshua Robinson:
Side B of this release was previously written about here.
Slowly, ever so slowly, thought takes form. Nadirs of fleeting melody particulate, each fleck of minute detail whisking away from its source; whisking away from itself. Slowly, ever so slowly, these details coalesce and emerge just as they fray at the seams and come to rest as tablatures too delicate to decipher. The re-release of this material is not only an acknowledgment of its quality, it is the recognition of how fragile permanence (as memory) can be. Incarnate tones tiptoe over themselves, their brittleness that which indentures their longevity. For all that is young and quiet, grow old and fond. For all that is fleeting and transient, stay still.
Des ouvertures ensorcelantes de Joshua Robinson:
(Traduit par Mylène Quevillon)
Lentement, toujours plus lentement, les pensées prennent forme. Les nadirs des particules d'une mélodie fugace, chaque détail minuscule qui passe transporté loin de sa source; transporté loin de son centre. Lentement, toujours plus lentement, ces détails s'amalgament et se décomposent, se déposent en tablatures trop petites pour être déchiffrées. La réédition de ces oeuvres n'est pas seulement un gage de leur qualité, c'est aussi la reconnaissance de la fragilité de la permanence et de la mémoire. Les tonalités incarnées s'entrechoquent, créant une fragilité qui diminue leur longévité. Étant donné que tout ce qui est jeune et tranquille vieillit et se gâte. Étant donné cette fugacité éphémère, restez immobile.
M. Mucci – The Secret is Knowing When To Close Your Eyes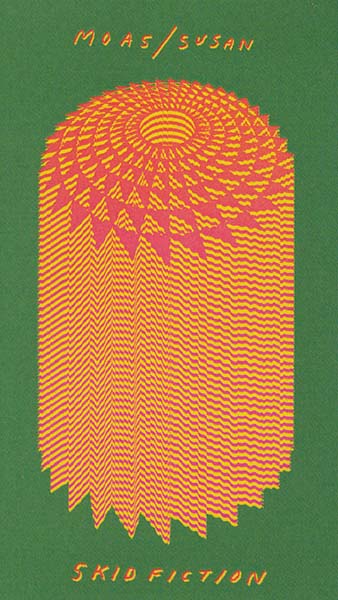 The Moas//Susan
Skid Fiction
Saskatoon, SK
From the crusty undulance of Joshua Robinson:
Dreamgaze. Post-finery. Soft tendrils emanating from an otherwise monstrous beast. This plastic coffer possesses a value equivalent to the effort required to reorient centripetal force. Its sinusoidal offering is the crispy clangor that all soft-served and crusty hounds too weak from offerings of stale scraps have been waiting for. It serves as testament to the fact that little is more important than the giants who walk among us: our peers as boisterous lo-fidelities too loud to ignore and too ardent to overlook. These minstrels are jovian in size; fictions factual; non-sequiturs whose static residuals entertain hopes for future Skid.
De l'ondulation croustillante de Joshua Robinson:
(Traduit par Julie Mayer)
Du dreamgaze. De la post-parure. De tendres vrilles émanant d'une bête par ailleurs monstrueuse. Ce coffre en plastique possède une valeur équivalente à l'effort requis pour réorienter la force centripète. Son offrande sinusoïdale est le beding-bedang croquant qu'ont attendu tous les enragés mous et croustillants rendus trop faibles à force de se contenter d'oblats de restes rassis. Cette cassette sert à témoigner du fait que peu de choses sont plus importantes que les géants qui marchent parmi nous : nos pairs, à savoir des chansons lo-fi chahuteuses trop bruyantes pour qu'on les ignore et trop passionnées pour qu'on n'en tienne pas compte. Ces ménestrels sont d'une taille jovienne. Des fictions factuelles, des coq-à-l'âne dont les résidus statiques entretiennent l'espoir sur le Skid à venir.
Chad Munson
Albedo
Saskatoon, SK
From the terribly homesick Joshua Robinson:
The sound of fright and might: looped calm speaking to the gleaming infinity of what draws us to the sound of our own breath against a frozen windowpane. These are the sounds of our silence creaking underfoot; servience to the seasonal might that shatters, tears, lulls, and dispels. For every atomic confluence there is an identic marriage of waveforms breathing sempiternity; subtle to-and-fros pleading unto the frozen night that there is in fact a whispered mistral as gentle as it is sprightly. Unto the wind, 'thank you'; unto the chill, 'be still'. Unto the day, both heavy and quiet, 'be as you are, forever as you can be'. Drone on.
Du terrible mal du pays Joshua Robinson:
(Traduits par les matins frissons de Marie-Pier Chevrier)
Le son de la frayeur et de la puissance : un discours calme mis en boucle sur l'infinité miroitante de ce qui nous attire dans le son de notre propre respiration contre la vitre. Ainsi résonnent les silences grinçants sous nos pieds, soumis à la puissance saisonnière qui fragmente, déchire, berce et éparpille. Chaque confluence atomique crée un identique mariage d'ondulations sempiternelles; de subtiles vas-et-viens clamant dans la nuit glacée qu'il existe un mistral, chuchoté, aussi doux que vif. Dans le vent, «merci»; sous la fraîcheur, «ne bouge plus». Avec le jour, aussi lourd que serein, «sois toi-même, aussi longtemps que tu le peux». Et bourdonne.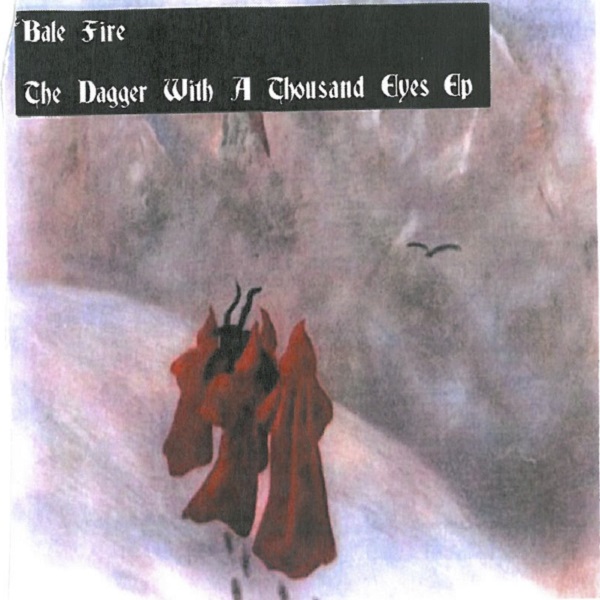 Bale Fire
The Dagger With a Thousand Eyes
(Self-Released)
Lakefield, ON
From the dusty tomes of Gabe Girard:
Light the candles, burn the sage, splash the sacred lair with pentagrams and archaic materials. Sometimes the only way to viably conclude an evening is with ritual recitations of forgotten occult poetry and lore. Hear Aleister Crowley's invocations and prayers set to unnerving ambience: music and poetry with the uncanny ability to cast shadow where light once was. Paradoxically dark and ecstatic, the narrator of The Dagger With a Thousand Eyes comes close to some of The Great Beast's own poetry recordings.
Des tomes poussiéreux de Gabe Girard:
(Traduit par Jessica Grenier)
Allumer les chandelles, brûler la sauge, répandre les matériaux archaïques et les pentagrammes dans le repère sacré. Parfois, la seule façon valable de conclure une soirée est la récitation rituelle de poésie et de folklore occulte oublié. Écoutez l'ambiance inquiétante des prières et des incantations d'Aleister Crowley : une musique et une poésie à la capacité singulière de projeter des ombres où régnait auparavant la lumière. Le narrateur de The Dagger With a Thousand Eyes, paradoxalement sombre mais extatique, se rapproche de certains enregistrements de poésie de La Grande Bête.
---