Tag: alike harel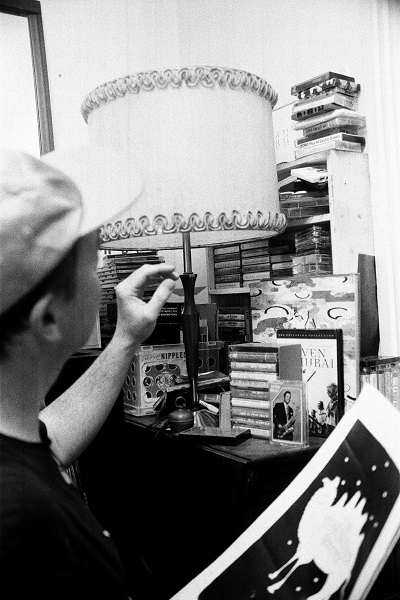 Ephemera of Brodie West
Existing during the recording of Fascination In Sound
(Photos: Josh Silver)
Toronto, ON
From the banjolele idylls of Joe Strutt:
Back a few seasons ago, while he was preparing to decamp to Hamilton, we ducked into the Kensington Market apartment of Brodie West, leader of the avant-calypso all-star band Eucalyptus. Brodie keeps busy as a father, saxophone soloist and sideman with many units, including Drumheller, The Ryan Driver Sextet, and the Lina Allemano 4 locally (and with legends like The Ex, Han Bennink and Getatchew Mekuria internationally). We spoke about banjo-ukuleles, grandmothers, cassettes (spooled and unspooled), and the nuances of heating foil as Brodie showed us the objects that inspire and move his art.
Album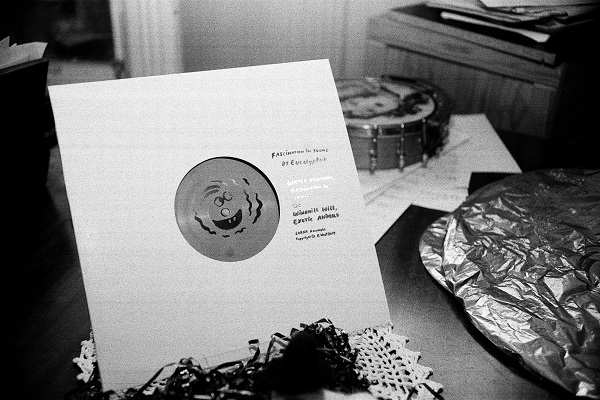 This the second 10″ Eucalyptus has done. The art's a collaboration again with Sandy Plotnikoff and Seth, just like the first one. They're all handmade, and each has slight variations with the design.
Stamp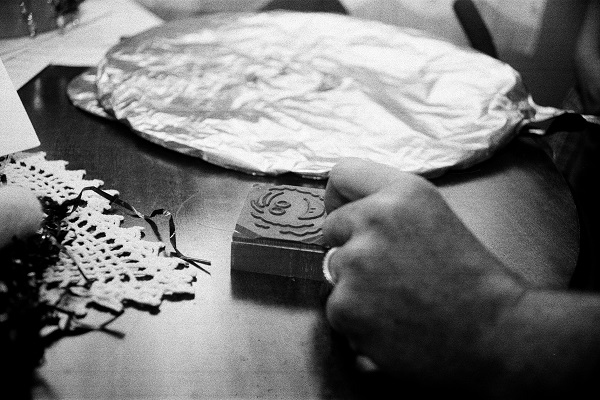 This is the stamp used for the face on the record. It was really fun to make all the little decisions about which foil, what colour to use… we tried so many things, I still have a bag of leftover foil bits. Just getting the right temperature was also tricky… we had to find out as we went along what was going to work and what didn't, cause Sandy has a lot of foil options, but not all of them were sticking. And the other thing was dealing with the heat, how much it heats the record up. People have asked if that's meant as a picture of my son Willie, but it kind of just came together that way. Seth brought a few options for different directions to go and we just made a quick decision. This one seemed really fun and playful… Sandy and I actually made a video of the record spinning, 'cause it actually pulsates, it shimmers in a really cool way as it's spinning around and catches the light.
Fuzzy + Tape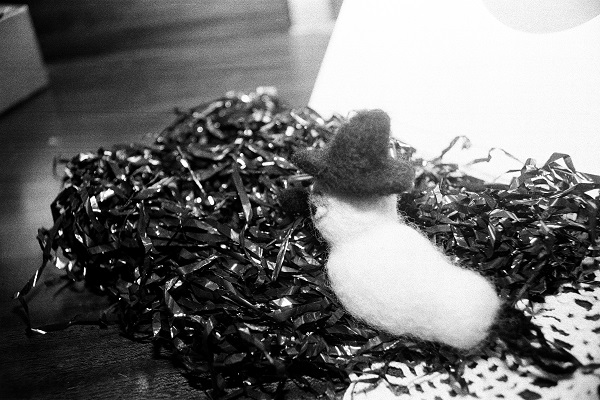 We had this as part of our series of release gigs at Hirut. One of the nights was my son's first birthday, so this is something that Meagan LaCroix made to give to him. This is a character of Seth's, from the movie Asphalt Watches. Megan liked the film and made a reproduction of this guy. The tape it's resting on was something Sandy gave me for my birthday eight or so years ago. It's a tape of the band Blurt.
Charts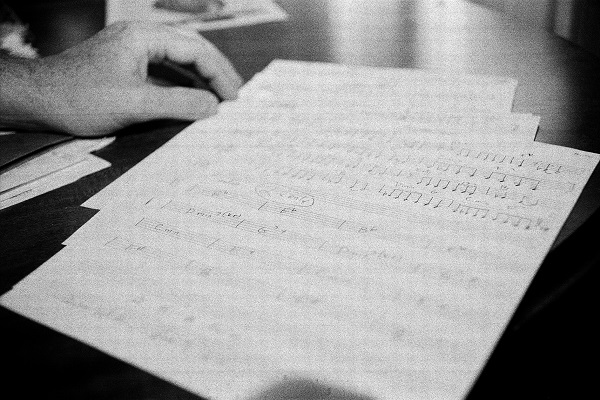 These are the charts for some of the songs. There aren't arrangements for every member of the band. I mostly say, "here's the tune", and then we rehearse and talk about the arrangements. I wish I could say everything everyone needed to know right from the beginning. That's the ultimate aim, but I'm learning as I do it. Ryan Driver's really good at seeing what little thing I missed, what little details aren't there, because he really reads. He's a good person to test your accuracy with.
Sax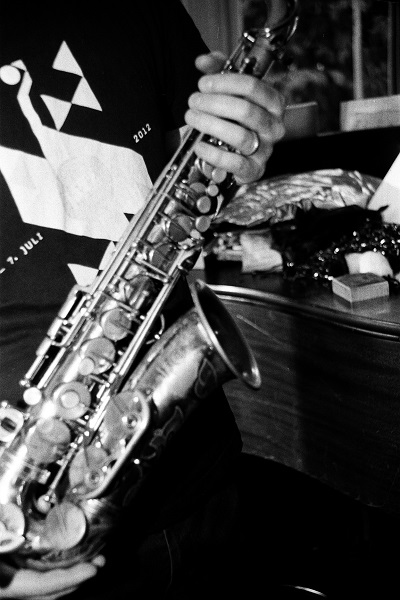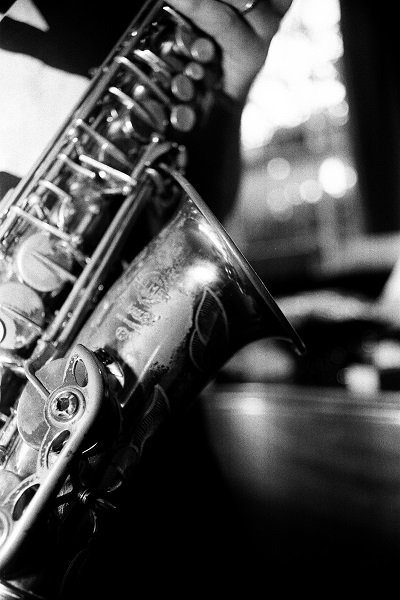 My mom bought this for me when I was in high school. She was a high school teacher and she knew a student who was selling his horn. I was fourteen or fifteen when I got it and I was lucky to get a really nice one straight from the beginning. It's been amazing to have one horn all that time. It's certainly a precious thing, and it has a lot of nice details on it in the engraving.
Cassettes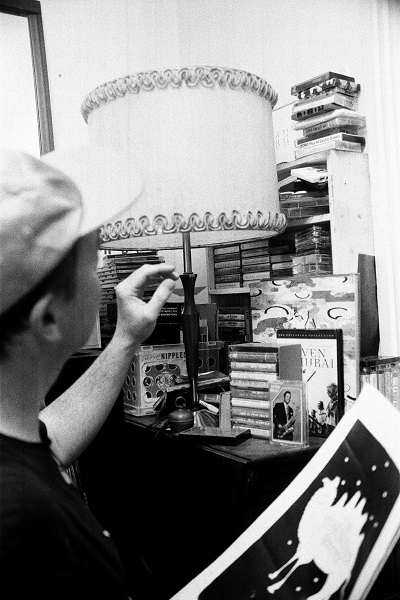 I like cassettes a lot. To have stuff like CCMC, a lot of Healing Power, and things that I found in Ethiopia. I've been there three times. The first time we didn't have any gigs, but the second time we played in big theatres and everything. I've been playing with Getatchew Mekuria and The Ex for almost ten years now. The first album with Getachew, there was a cassette edition for Ethiopia, made for sale in Addis. I think they made 3000, because that was the smallest amount the label would do!
Mighty Blue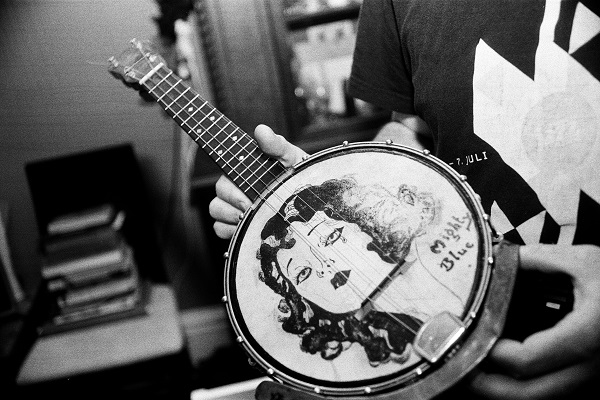 My grandmother taught me how to play ukulele. She gave me a George Formby book, she was really into him. He played banjolele, which is what this is. This was something she left to me in her will… she must have found it at a garage sale. I don't play it any more, not much. I did play it with Zebradonk. My grandmother's name was Lorna, so that's why my label's name is Lorna Records. She had a lot of musical instruments and she loved music. She took me under her wing as soon as I started showing any interest in music. She was the first to teach me jazz songs, 30's-style tunes. She subscribed to sheet-music magazines and she always had music in her house, a piano in the living room so the whole family with six kids would sing together. A really cool grandma, and really outgoing. She was a big influence on me.
Du bajo-ukulélé sous l'arbre à palabres de Joe Strutt:
(Traduit par Alike Harel)
Il y a de cela quelques saisons, lorsqu'il se préparait à décamper pour Hamilton, nous avons fait une escapade à l'appartement de Brodie West, leader du groupe étoile avant-calypso Eucalyptus, dans Kensington Market. Brodie est un homme occupé par la vie de père, de saxophoniste soliste et de collaborateur à plusieurs ensembles, dont Drumheller, The Ryan Driver Sextet, et Lina Allemano 4 sur la scène locale (et avec des légendes comme The Ex, Han Bennink et Getatchew Mekuria sur la scène internationale). Nous avons jasé de banjo-ukulélé, de grand-mères, de cassettes (bobinées et débobinées), et des nuances sur une pellicule sous l'effet de la chaleur pendant que Brodie nous présentait les objets qui inspirent et donnent forme à son art.
L'album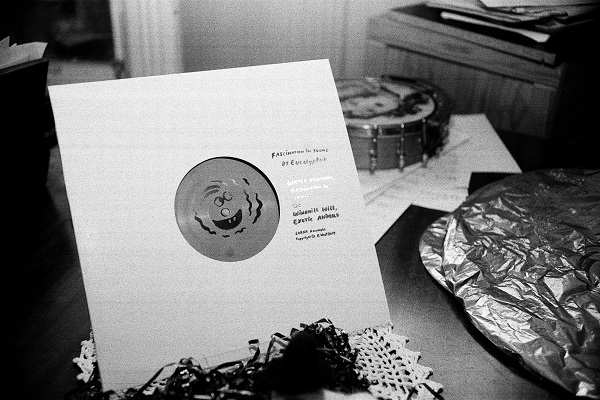 C'est le deuxième vinyle de 10 po qu'Eucalyptus a fait. L'illustration est encore une fois une collaboration avec Sandy Plotnikoff et Seth, tout comme pour le premier. Ils sont tous faits main et le design de chacun varie un peu.
L'étampe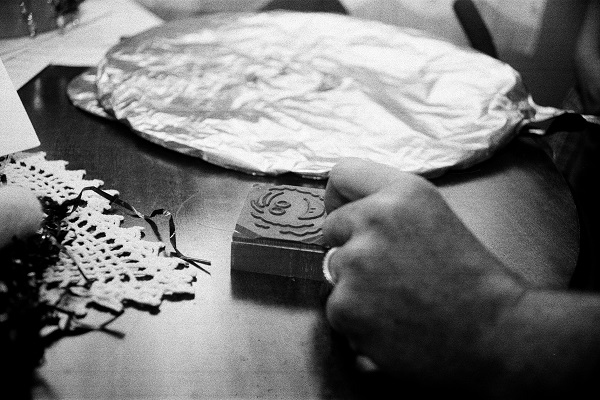 Cette étampe est utilisée sur le dessus de l'album. C'était vraiment génial de prendre toutes les décisions sur la sorte de pellicule, le choix de couleur… On a essayé tellement de choses, j'ai encore un sac de retailles de pellicules. Obtenir la bonne température était laborieux… on devait apprendre au fur et à mesure ce qui fonctionnait ou pas parce que Sandy offre beaucoup d'options de pellicule. L'autre aspect était de manipuler la chaleur et de savoir quelle quantité de chaleur l'album pouvait tolérer. Les gens m'ont demandé s'il s'agissait d'une représentation de mon fils Willie, mais je crois que c'est juste sorti comme ça. Seth a proposé différentes avenues et nous avons pris la décision rapidement. L'idée semblait amusante et joviale… Sandy et moi avons même filmé l'album pendant qu'il tourne puisqu'il fait des pulsations. Il scintille d'une façon vraiment cool et, en tournant, reflète la lumière.
Toutou + Cassette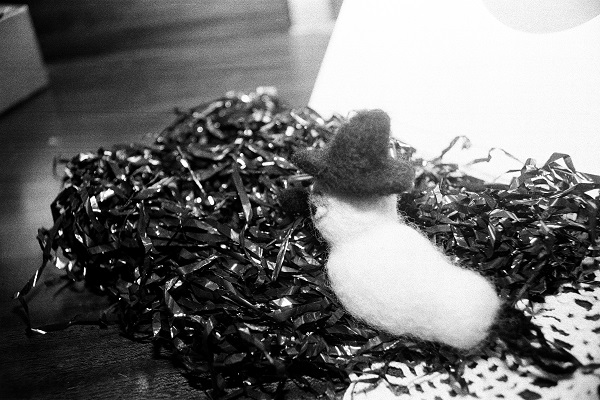 Nous avions ceci pendant notre série de représentations de lancement au Hirut. L'anniversaire de mon fils a eu lieu un de ces soirs, Meagan LaCroix l'a fabriqué pour lui en faire cadeau. C'est un personnage de Seth's, du film Asphalt Watches. Megan a aimé le film et a fait une version en peluche de ce personnage. La cassette sur lequel il repose est un truc que Sandy m'a donné pour mon anniversaire il y a environ huit ans. C'est une cassette du groupe Blurt.
Feuilles de musique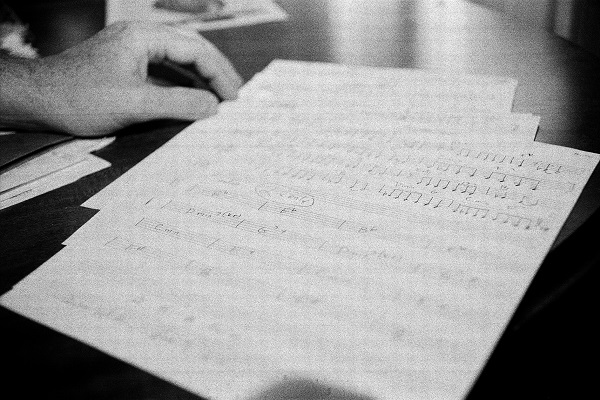 Ce sont les feuilles de musique de certaines chansons. Je n'ai pas d'arrangement pour chaque membre du groupe. En somme, je dis « voici l'air », puis on pratique et on discute des arrangements. J'aimerais pouvoir expliquer à tout le monde ce qu'ils ont besoin de savoir dès le départ. C'est le but ultime, mais j'apprends au fur et à mesure. Ryan Driver a vraiment l'œil pour voir les petits détails que j'oublie, étant donné qu'il lit vraiment. Il est la personne idéale pour vérifier sa justesse.
Sax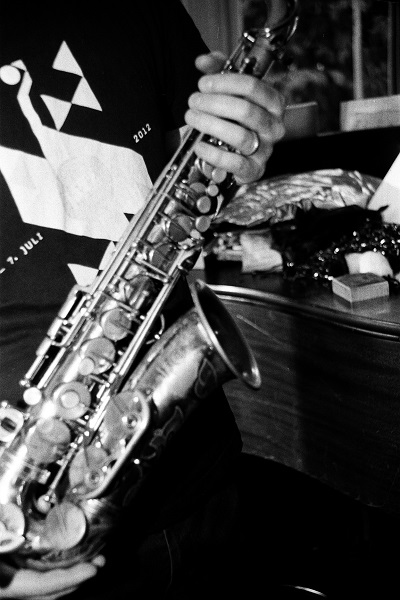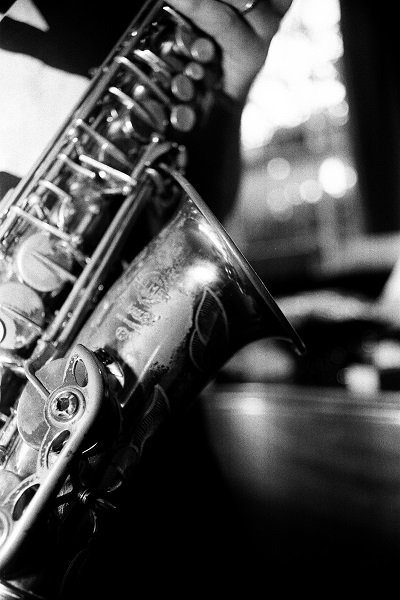 Ma mère me l'a acheté quand j'étais au secondaire. Elle était une enseignante au secondaire et elle connaissait un élève qui voulait vendre son instrument. J'avais quatorze ou quinze ans et j'ai eu la chance d'en avoir un bon dès le départ. Ce fut génial d'avoir un sax tout le temps. C'est vraiment un objet précieux, et il a beaucoup de gravures détaillées.
Cassettes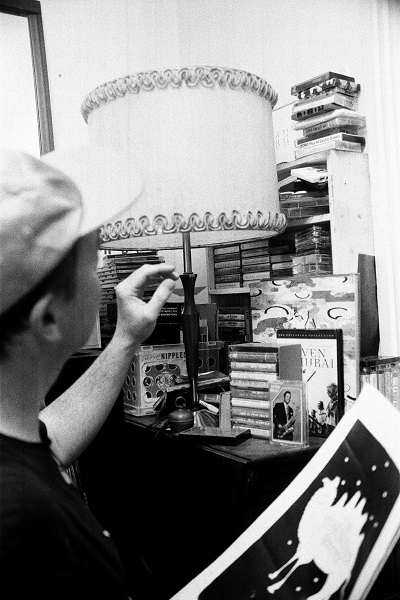 J'aime beaucoup les cassettes. Avoir des trucs comme CCMC, beaucoup de Healing Power, et d'autres choses que j'ai trouvées en Éthiopie. J'y suis allé trois fois. La première fois je n'avais pas de concert, mais la deuxième fois, on a joué dans de grandes salles et tout. Je joue avec Getatchew Mekuria et The Ex depuis presque dix années. Au premier album avec Getachew, on a fait une édition sur cassette pour l'Éthiopie pour la vente à Addis. Je crois qu'ils en ont enregistré 3000 parce que c'était le nombre minimal que la maison pouvait faire!
Mighty Blue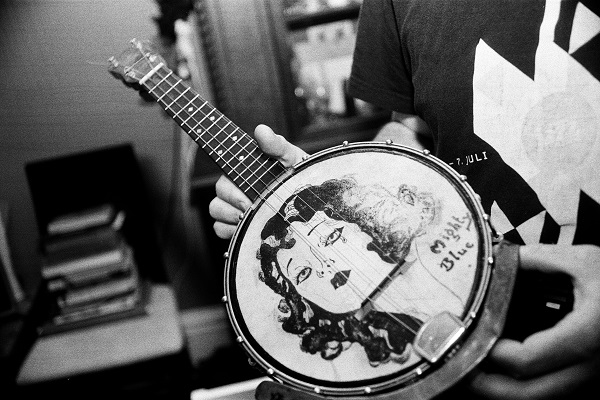 Ma grand-mère m'a appris à jouer le ukulélé. Elle m'a donné un livre de George Formby,elle l'aimait vraiment. Il jouait du banjo-ukulélé, et c'en est un. Elle me l'a donné en héritage… elle l'a probablement trouvé dans une vente-débarras. Je n'en joue plus vraiment, mais j'en ai joué avec Zebradonk. Ma grand-mère s'appelait Lorna, c'est pourquoi le nom de la maison de disques est Lorna Records. Elle avait beaucoup d'instruments et adorait la musique. Elle m'a prise sous son aile dès que j'ai commencé à montrer de l'intérêt pour la musique. Elle a été la première à m'apprendre du jazz, des airs des années 30. Elle s'est abonnée à des revues avec des feuilles de musique et il y avait toujours de la musique dans la maison, un piano au salon pour que toute la famille puisse chanter ensemble. Une grand-mère vraiment cool et dégourdie. Elle a eu une grande influence sur moi.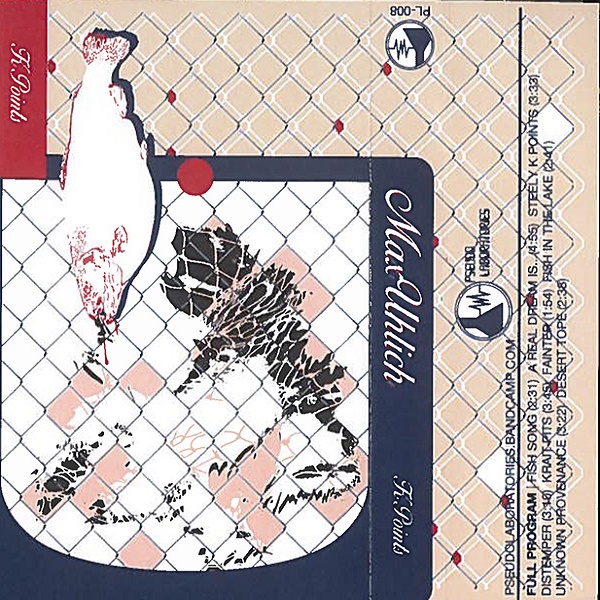 Max Uhlich
K Points
Edmonton, AB
From the negative geography of Jared Majeski:
The trappers' cabin, the anglers' wharf, the axiomatic loneliness of the barren and the beautiful. Here in the fertile twilight of K Points, the epicedium wafts light and airy. Like wet spiderwebs in the wind, smokey poems billow and twist and make us question the penetralia we don't yet know exists. Through comforting creaks, falsetto layers and upside-down counties, we begin to thirst for answers to our toponymous queries. As Max declares, "Why did we grow up so?/What gave us a heart and a soul?"
De la géographie en négatif de Jared Majeski:
(Traduit par Aliké Harel)
La cabane du trappeur, le quai du pêcheur, la solitude axiomatique du dénué et du beau. Ici, dans le crépuscule foisonnant de K Points, l'homélie insuffle lumière et légèreté. Comme des toiles d'araignée humides au vent, les volutes de vers tourbillonnent et se tortillent pour remettre en question le noyau dont nous ignorons encore l'existence. Grâce aux grincements réconfortants, aux voix de fausset en trame et aux comtés sens dessus dessous, nous devenons assoiffés de réponses pour assouvir nos quêtes toponymiques.Dans les mots de Max : « Why did we grow up so?/What gave us a heart and a soul? ».
The Winter Coats
Why So Monumental?
(Self-Released)
Fredericton, NB
From the chemical-crusted claws of Brian Cleveland:
The cryptically unknowable Frederictonian duo of Garcia and Le Noir have produced a sophomore record you'd be proud to learn was created in your neck of the woods. Updating fans infrequently, rarely releasing tunes, and playing shows even more interstitially, it's fair to assume they no longer exist at any juncture, but they've somehow surpassed the lifespan of many of their cohorts: Yellowteeth, Lee Harvey Oswalds, etc. Let Luis and Joel become your personal Boris or Glenn Branca.
Des griffes chimiquement tartreuses de Brian Cleveland:
(Traduit par Aliké Harel)
Cryptique et insondable, le duo frédérictonnais Garcia-Le Noir a produit un deuxième album qui, vous serez heureux d'apprendre, a été conçu dans la forêt près de chez vous. Le groupe mettant irrégulièrement leurs admirateurs au fait, lançant rarement de nouvelles chansons et étant en spectacle à intervalle encore plus irrégulier, il aurait été acceptable de croire que le duo s'était éteint à tout moment. Il a pourtant dépassé en longévité ses compères : Yellowteeth, Lee Harvey Oswalds, etc. Laissez Luis et Joel devenir votre Boris ou votre Glenn Branca bien à vous.
The Winter Coats – The Chymical Wedding of Christian Rosenkreutz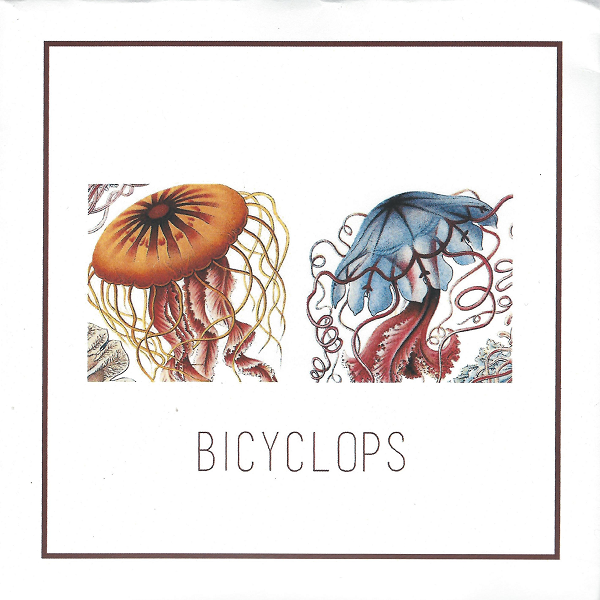 Bicyclops
Bicyclops
(Self-Released)
Newmarket, ON
From the buoyant pencils of Shawna Naklicki:
Phil Johnston as Bicyclops brings his three nu-wop EPs together with an unreleased track, artwork contributed by Kate Taylor. "Manatee 6" will submerge you in the sea, and stop time. Glimmers of sunshine will float through the surface. You will move your limbs towards the prismatic light. The warmth will envelop you. Follow the cyclical polyrhythms and VCR -created melodies backwards in time. Give him a chance, and he'll walk you through.
Des crayons sur les flots de Shawna Naklicki:
(Traduit par Aliké Harel)
Phil Johnston, derrière Bicyclops, rassemble trois EP nu-wop et une nouvelle piste sous une couverture signée Kate Taylor. « Manatee 6 » vous immergera dans l'océan et interrompra le temps. Les rayons du soleil ondoieront sous la surface. Vous agiterez vos membres en direction d'un prisme de lumière. Puis, vous serez enveloppé de chaleur. Suivez la polyphonie cyclique et le VCR, mélodies créées à rebours dans le temps. Accordez-lui une chance, il guidera la traversée.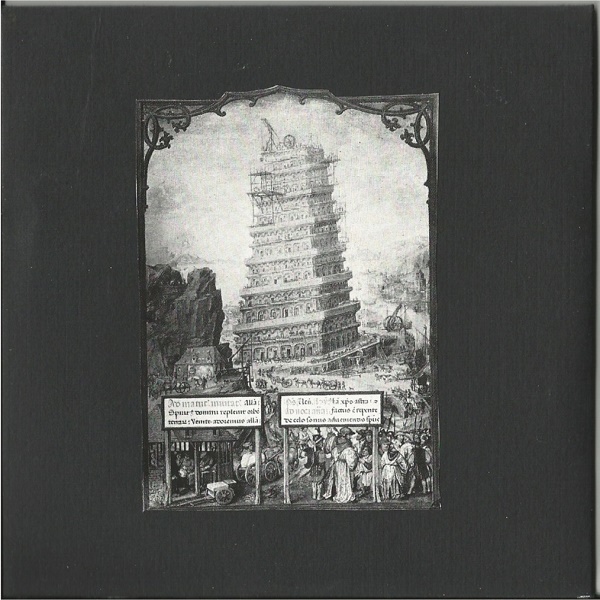 Forager
To Carthage then, I came
(Self-Released)
Calgary, AB
Des ruminations en décombres de Mark Anthony Brennan:
(Traduit par Aliké Harel)
Les cordes de guitare pincées et battues jouent un air mélancolique au milieu d'une ruine à la croisée du temps. Elles sont les feuilles qui bruissent entre les bâtiments fantômes. Souvenir d'une gloire passée.
Grondement imperceptible. La complainte sonore d'un orgue annonce un vent nouveau. La venue d'une tempête. Présage de mort et de destruction. Quelque beauté et fierté qui y persistent sont confinées à jamais derrière les décombres de ces murs.
Hush Pup //
Waterwings
Toronto, ON // Victoria, BC
From the suspended animation of Katie Jensen:
Fingers glide over turquoise synths, drifting across keys like a swimmer floating; movement and paths directed by currents unseen. Anxiety unwraps its tentacles, imparting shallow indents cleansed by healing waters. Synth droplets find their home in a crystalline puddle. The kick drum releases a shimmering splash of chiptunes.
Ethereal vocal tones reverberate eagerly, bouncing off hallowed walls with warmth and character.
Light reflections triangulate like shifting wrinkles, seeking negative space.
A bass beckons beneath the surface with a crooked finger. It plucks golden notes and drops them; they swirl and undulate, hitting the floor. No wishes will be granted today.
De l'animation suspendue de Katie Jensen:
(Traduit par Aliké Harel)
Les doigts voguent sur les synthés turquoise et naviguent les touches comme un nageur à la dérive; dont les mouvements et le chemin sont tracés par un courant invisible. L'anxiété tentaculaire se dévrille et créent des remous purifiés par l'eau de guérison. Les gouttelettes synthétisées retournent au bercail au creux d'une flaque d'eau cristalline. La caisse propulse une gerbe de chiptunes scintillantes.
Fébriles, les voix éthérées retentissent et ricochent sur les murs vénérables, empreintes de chaleur et pleines de verve.
Les réflexions lumineuses se triangulent comme des sillons mouvants en quête d'espace négatif.
D'un doigt crochu, une contrebasse vous invite sous la surface. Elle pince les notes et les laisse tomber, celles-ci virevoltent et percutent le sol. Aucun souhait ne sera exaucé aujourd'hui.
Dead Beat Poet Society
Induction
(Self Released)
Sackville, NB
From the Dead Beat mind of Laura Stanley:
Captains! my Captains! our fearful trip has just begun. We're drunk and high, lost in the perpetual agitation brought on by our responsibilities. We're generation Y warriors, wool pulled over our eyes, pretending everything's alright. Our yawp is not savage, but pointed, and matches the fire in our restless bones.
Walk the path where Kay Moon and Zakary Slax stand. Energized and alert.
De l'esprit irresponsable de Laura Stanley:
(Traduit par Aliké Harel)
Ô, Capitaines! Mes capitaines! Notre voyage effroyable ne fait que commencer. Soûls, nous planons, perdus dans le tumulte perpétuel entretenu par nos responsabilités. Nous sommes les guerriers de la génération Y, au regard masqué d'un lainage, affectant un air béat. Notre cri n'est pas sauvage, mais ciselé et aux couleurs du feu, fébrile jusqu'à la moelle. Prenez le chemin où se tiennent Kay Moon et Zakary Slax. D'aplomb et alerte.
Dead Beat Poet Society – Coming of the Age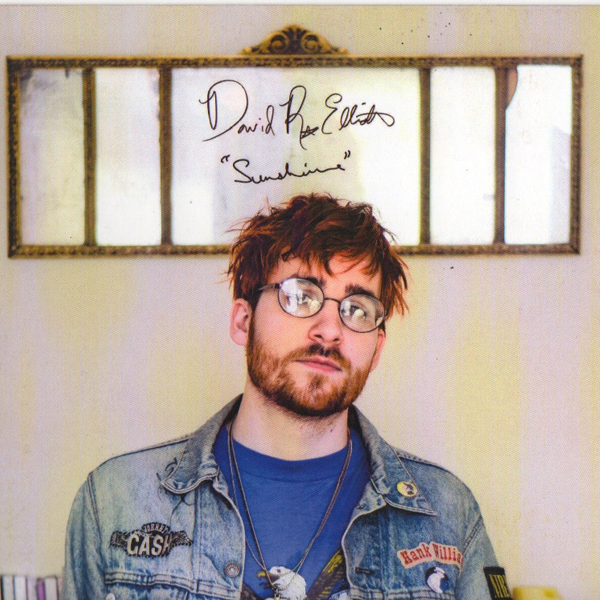 David R. Elliott
Sunshine
(Affordable Art)
Halifax, NS
From the fingernail dirt of Kelly MacNeil:
Like the spring cleaning of a house, windows open to the breeze, birdsong, and smell of new life, David R. Elliott brushes the fog and cobweb from your head. In an active moment, reaching the highest shelf for a good dusting, or sweeping under the bed, something is stretched – whether it be muscle, emotion, or a twist of the face in a sly half-smile. There is a slice of catharsis delivered, and later a well deserved nap in a ray of sun.
De la saleté sous les ongles de Kelly MacNeil:
(Traduit par Aliké Harel)
Comme le ménage de printemps d'une maison, les fenêtres s'ouvrent et laissent entrer la brise, le chant des oiseaux et l'odeur d'une vie nouvelle, David R. Elliott balaie le brouillard et les fils d'araignée de la tête. Dans un regain d'énergie, on atteint les tablettes du haut pour un époussetage rigoureux ou le coup de balai sous le lit, à s'en esquinter, un muscle, une émotion ou le visage contracté en un demi-sourire narquois. Il vous procurera une tasse d'effusion émotionnelle, puis un répit bien mérité sous les rayons du soleil.
David R. Elliott – Believing In Iron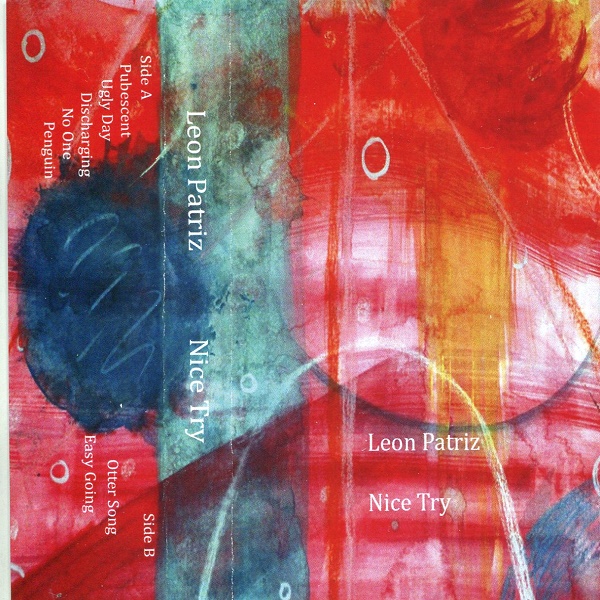 Leon Patriz
Nice Try
Vancouver, BC
From the friscalating dusklight of Sam Joseph:
The farewell cries of a Pacific Coast town in its death throes, captured like fireflies in a peanut butter jar. Twin peaks of Malkmusian symphony and cynical folk lullaby emanate from mess halls and cantina bandstands. This was once a nice place to live. And after this final, triumphant orchestra, it will belong to the bears once again.
De la brunante frigorifique de Sam Joseph:
(Traduit par Aliké Harel)
Une ville de la Côte Ouest au seuil de la mort crie ses adieux, prise au piège comme des lucioles dans un pot de beurre d'arachides. Le double sommet à la fois symphonie à la Malkmus et ballade folk empreinte de cynisme résonne depuis la scène à la tablée des officiers et à la taverne. This was once a nice place to live. Et après le final triomphant de l'orchestre, les ours règneront à nouveau.
Jonathan Scherk
Catalogue: 1-12
(Self-Released)
Vancouver, BC
From the grinning tooth of Katie Jensen:
You're at a party and it isn't much fun. Clusters of secrets dangle from the ceiling. Pinched conversationalists poke their noses into everyone's business. On the snack table, pressed against the farthest wall, is a punch bowl brimming with dark, celestial liquid. You shuffle over and clumsily ladle a cupful into a crystal goblet and take a trepidatious sip. All four limbs melt against the cream wall, running down in gooey streaks. The most embarrassing items in your handbag spill out first. Someone steps in your puddle and tracks it across the shag carpet. They laugh and wipe their feet. Your mother always said you were a mess.
De la dent souriante de Katie Jensen:
(Par les mots en coulisses d' Aliké Harel)
Tu te trouves à un party plutôt emmerdant. Des grappes de secrets oscillent suspendues au plafond. Les bavards au bec pincé se mêlent des affaires de tout le monde. Sur la table de grignotines plaquée sur le mur du fond se trouve un bol de punch comble d'un liquide noir et céleste. Tu te faufiles tout près, verses une louche avec maladresse dans un verre de cristal et tu sirotes une gorgée furtive. Les quatre membres fondent sur le mur couleur crème et les coulées visqueuses dégoulinent au sol. Ton sac à main se renverse et le contenu le plus gênant s'en échappe. Quelqu'un pile dans ta flaque et laisse des traces de pas sur le tapis touffeté. Ils rient et s'essuient les pieds. Ta mère disait toujours que tu attirais la poisse.
---