Tag: alexis brien
From the smoke-drenched greasy hair of Eddie & Alexis:
(Translated by Eddie & Alexis)
Dionysos is considered the first Québécois rock band with a full repertoire of originals. Proof may still be required, but they sure didn't need any covers! A bunch of stoner drifters from Valleyfield fuelled by Deep Purple and Mexican Gold took over the studio of Donald Lautrec, the king of yé-yé pop in Québec. There they recorded six heavy psychedelic progressive monsters, tightly wrapped in blues. Through the hypnotic organ spirals ("L'âge du Chlore") and bursts of fuzzed-up guitar ("Narcotique") singer Paul-André Thibert delivers a roaring worker's poetry on "Suzie," a song with lyrics always rhyming with its title. Yet we can't ignore P-A's performance on flute and harmonica. Most of the time, awkward, out of breath or flaky aren't great terms when it comes to music, but P-A gets to the core of these concepts as a raw, free, back-of-the-bus poet. Tripping way over the known parts of Québec rock at the time, Dionysos transcends Black Sabbath and Aut'Chose to become a revolted god who will fall into oblivion after its time.
Eddie & Alexis:
Dionysos serait le premier groupe rock québécois à avoir un répertoire entièrement francophone et formé de compositions. On ne sait pas si c'est complètement vrai, mais c'est tout un groupe rock et ils n'ont en effet pas besoin de faire de reprises. Une bande de zonards stoneurs de Valleyfield carburant au Deep Purple et au Mexican Gold ont pris d'assaut les studios de Donald Lautrec, le roi du yé-yé au Québec, avec un éventail de morceaux progressifs et psychédéliques solidement ancrés dans le blues. À travers des spirales d'orgues Hammond hypnotiques (L'âge du Chlore) et des déflagrations de guitare électrique (Narcotique), le chanteur Paul-André Thibert nous délivre une performance rugissante de poésie ouvrière. Notamment, dans Suzie, leur premier single, où il s'évertue à faire rimer toutes les lignes en i et laisse donc place à des phrases mémorables. On s'en voudrait également de ne pas donner une mention honorable à toutes les apparitions de flûte à bec et d'harmonica. En temps normal, les termes essoufflé, hésitant et mal à l'aise ne sont pas très bien vus pour parler d'instruments de musique, mais c'est mal connaître Thibert. En ses qualités de poète cru et libre, il réussit à en tirer le maximum et à puiser l'essence même de ces concepts. Voyageant bien au-delà des terres connues du rock québécois de l'époque, Dionysos transcende Black Sabbath et Aut'Chose et devient un dieu révolté qui tombera pourtant dans l'oubli.
Dionysos – Narcotique [extract]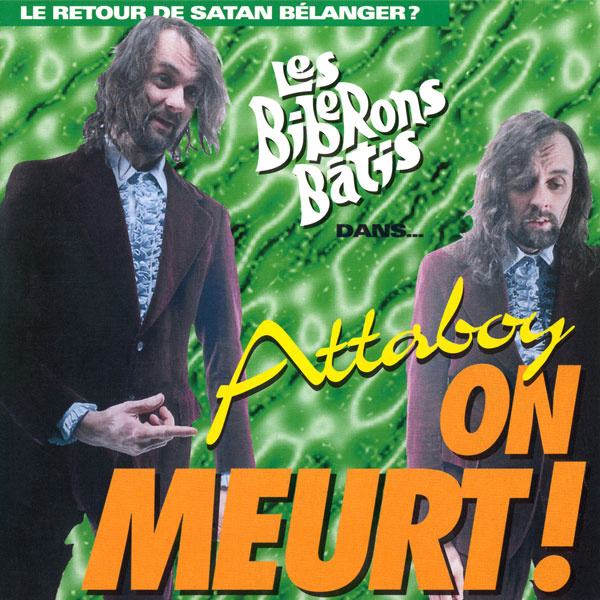 Alex Brien and Eddie Wagner unearth a uber-strange nihilistic punk shredder for Psyché.qc.ca: Les Biberons Bâtis! Embrace their madness; it is inescapable. What remains is a work transcending comedy and punk nihilism, without giving any shit, ever.
Les Biberons Bâtis
Attaboy on meurt!
Montréal, QC
[originally released: 1993]
From the orchestral straightjacket of Alexis Brien and Eddie Wagner:
(Translated by Alexis Brien and Eddie Wagner)
Attaboy on meurt! is a CD anthology of two tapes, Attaboy on souffre (1984) and Attaboy on agonise (1985), with the addition of nine previously unreleased songs. This is where things stop being normal. Les Biberons Bâtis is only one man. They/he never played any shows. Once the record starts to spin, it's a parade of post-punk hallucinations that goes right through your brain for the next hour. One-man orchestra in a straightjacket Satan Bélanger offers us garage-post-surf nuggets, mixing phone calls with imaginary friends and tormented feelings. Between the fuzz and Suicide-esque noise in songs like "Action", there are also sparkers like "La Santé" that could have been recorded by Amen Dunes with a sore throat, noisy rock sitcoms loaded with musical references, and the search for happiness through Québec's Nordiques hockey team. Les Biberons Bâtis embrace their madness; it is inescapable. What remains is a work transcending comedy and punk nihilism, without giving any shit, ever.
De la camisole orchestre d'Alexis Brien et Eddie Wagner:
Attaboy on meurt! est une anthologie CD comprenant deux cassettes, Attaboy on souffre (1984) et Attaboy on agonise (1985) et complétée avec neuf chansons inédites. C'est ici que les choses cessent d'être normales. Les Biberons Bâtis ne sont qu'un seul homme. Ils n'ont jamais fait de concert. Une fois le disque lancé, c'est un défilé d'hallucinations post-punk qui traverse votre cerveau pour la prochaine heure. Véritable homme-orchestre en camisole de force, Satan Bélanger nous présente des pépites post-surf-garage, mêlant conversations téléphoniques avec des amis imaginaires et sentiments tourmentés. À travers le fuzz et le tapage Suicide-esque de chansons comme « Action », on trouve aussi des perles comme « La Santé », qui pourrait avoir été écrit par Amen Dunes avec un mal de gorge, des sketchs noise rock bourrés de références musicales et la recherche du bonheur à travers le hockey des Nordiques de Québec. Les Biberons acceptent leur folie; elle est inévitable. Ce qui reste, c'est une oeuvre qui transcende l'humour et le nihilisme punk, en s'en foutant complètement.
Les Biberons Bâtis – Attaboy on meurt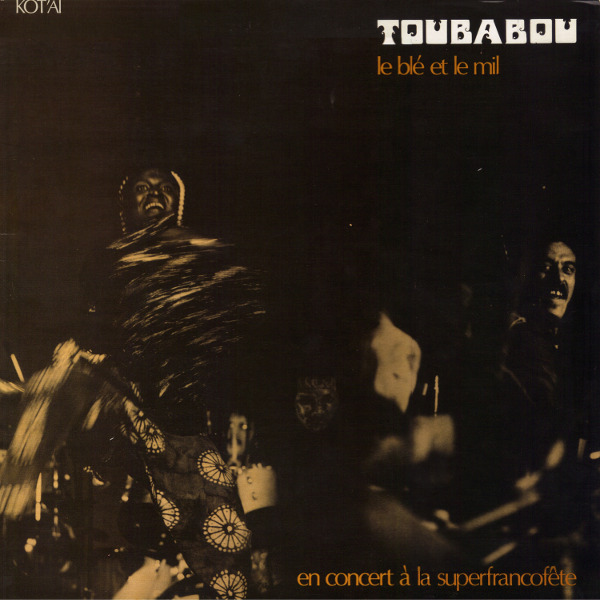 Toubabou
Le Blé et le Mil
(Kot'Ai)
Montréal, QC
Originally Released: 1974
From the rigaudon of Alexis Brien and Eddie Wagner:
(Translated by Natalie Binda)
A young Michel Séguin, future African percussion guru in Quebec, began a long initiatory journey in West Africa. Upon his return, he founded the group Toubabou ("white man" in the Bambara language) with members of the Ville-Émard Blues Band. Their first recording is a live album, which reunites the group with ten African musicians delegated by their country and led by Doudou N'Diaye Rose. The music on this record is really exceptional. Rarely do we hear a mix as refreshing and naïve in its cultural influences. Alternating between jazz fusion, traditional Senegalese songs, traditional Quebec music, ceremonial wedding songs and percussion jams, it has truly won us over. From beginning to end, the urge to rigaudon around a fire in the South of the Sahara while eating maple bacon seizes us. Toubabou is one of the most unique Canadian projects of the '70s, and Séguin will be forever immortalized in percussion and celebration. Following the group's split, he launched the famous Tam-Tams of Mont-Royal, the true Sunday mass of a Montreal summer.
De la rigaudon d'Alexis Brien et Eddie Wagner:
Un jeune Michel Séguin, futur gourou des percussions africaines au Québec, entreprend un voyage initiatique en Afrique de l'Ouest. À son retour il fondera un groupe : Toubabou (« homme blanc » en langue Bambara) avec des anciens musiciens du Ville-Émard Blues Band. Leur premier enregistrement est un live, qui réunit le groupe avec une dizaine de musiciens africains délégués par leurs pays et menés par Doudou N'Diaye Rose. La musique est ce qu'il y a de vraiment exceptionnel sur ce disque. Rarement entendons-nous un album avec un mélange aussi frais et naïf d'influences culturelles. Alternant entre le jazz fusion, les chansons traditionnelles sénégalaises, le traditionnel québécois, les chansons cérémonielles de mariage et les jams de percussions, nous sommes conquis. Du début à la fin, l'envie de danser le rigaudon autour d'un feu dans le sud du Sahara en mangeant du bacon à l'érable nous prend. Certainement l'un des groupes les plus uniques du Canada des années soixante-dix. Michel Séguin restera tellement marqué par les percussions et la fête qu'à la séparation du groupe, il lança les célèbres Tam-Tams of Mont-Royal, véritable messe du dimanche de l'été montréalais.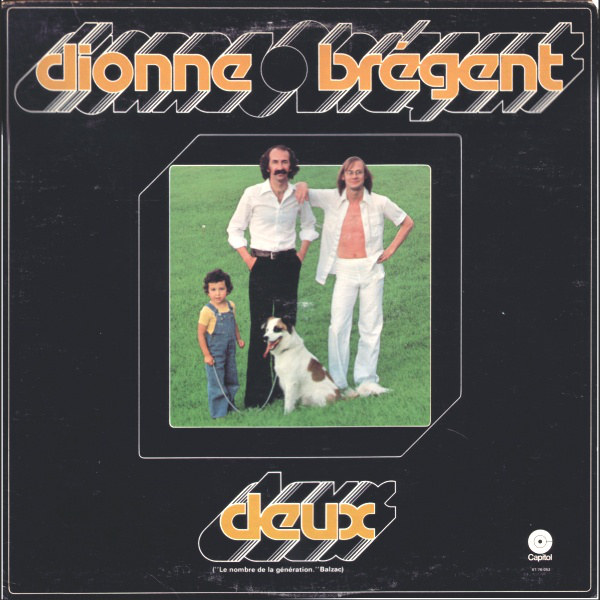 Dionne-Brégent
Deux
(Capitol Records)
Montréal, QC
Originally Released: 1977
From the invocation of Alexis Brien and Eddie Wagner:
(Translated by Alexis Brien)
Two, the number of the generation, the number of duality. Dionne-Brégent, a unique group in Québec's 1970s musical landscape, became prophets on their second record. The duo began by casting a spell through a long invocation reminiscent of foreign devotional music, like an Asian El Topo soundtracked by Tangerine Dream. Once under the charm of the initiation ritual, the flipside sucks listeners into the swirling synths of Brégent, backed up strongly and effortlessly by a variety of complex rhythms from Dionne. Alongside them comes an arrangement of brass, strings and choir vocals, adding finishing touches to the already wide spectrum of sounds and worldly instruments played by the pair of multi-instrumentalists. These elements combine to form a unique album in its own right. Two stars out of two.
De l'invocation d'Alexis Brien et Eddie Wagner :
Deux, le nombre de la génération, le nombre de la dualité. Dionne-Brégent, groupe unique dans le répertoire québécois des années 70, se font prophètes dans leur deuxième album. Le duo commence par nous envoûter dans une longue invocation aux accents rappelant autant de la musique de dévotion étrangère qu'une trame sonore d'un El Topo asiatique faite par Tangerine Dream. Sur la deuxième face, déjà charmés par le rituel d'initiation, vous êtes happés par toute la force des synthétiseurs tourbillonnants de Brégent si bien appuyés par une variété de rythmes complexes si aisément confectionnés par Dionne. Toute une brochette de collaborateurs vient encore rajouter de la couleur à la déjà très grande diversité de sons et d'instruments du monde joués par les deux multi-instrumentistes. Le tout forme un album unique se méritant deux étoiles sur deux.
Dionne-Brégent – Campus (extract)
---