Tag: alexander moskos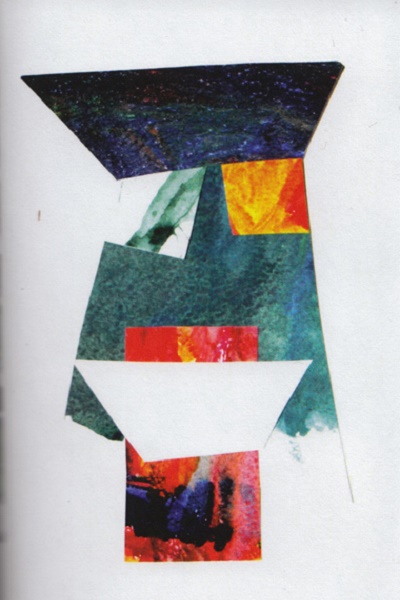 Charles Barabé
Les confessions
Montreal, QC
From the keyboard of Alex Moskos:
Victoriaville is known as the home of the last manufacturer of wood hockey sticks (they make 'em with a composite material now). It's where Merzbow tells you not to smoke in the visitor's dressing room of a hockey rink (yup). They claim there, like every town east of Montreal, that they invented poutine. Also, Victoriaville is from whence comes our man Charles Barabé. The only way to describe this cassette is "monumental". The centrifugal compositional force throughout his set of monstrous pillars of tone and evened synthesis around which dance other sounds, field recordings, what have you. If they were architecture in downtown Montreal a bank would own them and I'd skate the things: marble stairs and straight, shiny ledges. Since I couldn't get my sorry act together to hoof it uptown to get a physical copy, I had to listen off of bandcamp. My jank setup had the Internet throwing me mad shade in the form of French toothpaste ads with a lady talking about gum disease while some awful tune crashed around behind. Not really what I need while I'm checking out Barabé.
Du clavier d' Alex Moskos:
(Traduit chic and swell par Nicolas Coutlée)
Victoriaville abrite la dernière usine de bâtons de hockey en bois (on les fabrique maintenant en matériau composite). C'est là où Merzbow m'a déjà dit de ne pas fumer dans un vestiaire d'aréna (ouaip). Et comme toute municipalité à l'est de Montréal, ses habitants revendiquent la paternité de la poutine. C'est aussi de Victoriaville que vient notre homme, Charles Barabé. Le seul qualificatif qui convienne à cette cassette est « monumentale ». La composition s'articule autour d'une force centrifuge de piliers toniques monstrueux et de synthé régulier autour desquels dansent d'autres sons, des enregistrements divers, alouette. S'il s'agissait d'un bâtiment du centre-ville de Montréal, il appartiendrait à une banque et je le parcourrais en patins : escaliers de marbre et corniches droites et reluisantes. Comme je ne suis pas parvenu à me bouger le cul pour mettre la main sur une copie, j'ai dû l'écouter sur Bandcamp. Mon ordi de merde s'est laissé bombardé de pubs de dentifrice avec une femme parlant de maladie de gencive sur une horrible mélodie. Pas exactement ce dont j'ai besoin quand j'écoute du Barabé.
Charles Barabé – Les Confessions – A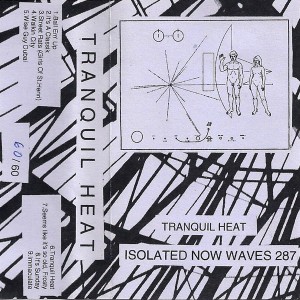 Tranquil Heat
Tranquil Heat
Montréal, QC
From the enigma of Jesse Locke:
This two-way tone zone from Jessica Mensch and Alexander Moskos is the piper song for the street rats of St. Henri. Splitting writing credits and alternating slurred vox, Mensch bashes rap-tap rhythms ranging from speed bag to glam stomp to AK-47, while Moskos mangles glitterbust riffs from the blown-out guts of a Peavey. Funk stab and biker rock radio leakage only add to the disorienting effects of the highly specific headspace this music invites/inhabits. It's a classik.
De l'énigme de Jesse Locke:
(Traduit à coups de couteau par Hugo Hyart)
Cette zone de tonalité à deux sens de Jessica Mensch et d'Alexander Moskos est la flûte enchantée pour les rats des rues de St-Henri. Se partageant l'écriture des morceaux et alternant les voix mal articulées, Mensch cogne des rythmes rêches et percutants qui vont du punching-ball au stomp glam à l'AK-47, tandis que Moskos tabasse des riffs glitterbustesques des entrailles explosées d'un Peavey. Des coups de couteau funk et des fuites de radios de rock motard ne font que contribuer aux effets désorientants de l'espace crânien hautement spécifique où cette musique habite/nous invite. C'est un classik.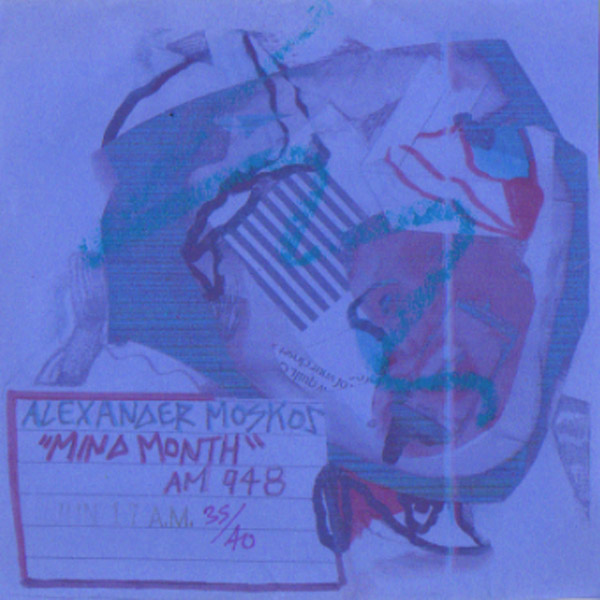 Alexander Moskos
A Month In The Mind Of Moskos
Montréal, QC
From the ghetto format of Kevin Hainey:
The man who would be Moskos continues to baffle and thrill his followers with this alarming quadruple CDr collection. Scarcely limited to 60 handmade copies lovingly assembled by his fellow cunning linguist and Wolf Eyes fist of fury John Olson, this set features four installments from outer time, each on their own frightfully brief disc, upon which we are engaged with four very different sides of Moskos' endlessly dimensional coin.
First up is a field recording which gives way to some righteous and de-fraged free jazz chamber duetting between a lonesome sax and search party drums that's credited to Moskos' main gig, Drainolith. Disc two features the Drainolith sound his fans know and love — thudding, stuttering electronic claps and foot stomps set behind muddy Mississippi blues guitar echoes and buried, lovelorn or scathing vocal murmurs and twists of tongue. On this set Moskos is joined by the gone but not forgotten powerhouse Drainolith line-up of Tara Desmond on drums and Chelsea Delle Palm with bass! Sounds like it was perhaps a tour rehearsal, but its recording is tight and swings its might.
Events take a characteristically unpredictable u-turn with disc three, which strays headlong into Inane Fever territory in the form of some sickly and slickly recorded multi-track groove sharks that could chomp among the best of Royal Trux's glitter gutter breakdowns or Thurston Moore's solo schools for the cool. Turns out Sir Moskos is not alone here at all, but kicking it out with the no bullshit frontline of Alexandre St-Onge, Dominiq Alexander and Joel Taylor. Disc four rounds out this massive yet brilliantly understated set with some chamber jazz piano pillages by Moskos + Sage. The silence left at the end only makes you curious what other nuggets lie unpolished in the Moskos treasure chest… One can only dream, and get this collection before its criminally tiny run is cherished by as many collectors as it can reach.
Du format ghetto de Kevin Hainey:
(Traduit par Jacinthe Laplante)
L'homme qu'est Moskos continue de dérouter et d'électriser ses admirateurs avec cette inquiétante collection de quatre CD-Rs. Limitée à tout juste 60 copies faites à la main et assemblées avec amour par John Olson, linguiste futé et poing furieux de Wolf Eyes, cette collection comprend quatre épisodes hors du temps, chacun sur un disque terriblement court, lesquels nous confrontent à quatre côtés très différents de la médaille aux innombrables faces de Moskos.
Tout commence avec un enregistrement sur scène d'un vertueux duo de free jazz fragmenté composé d'un saxophone solitaire et d'un tambour d'équipe de secours dont le crédit revient à Drainolith, le groupe principal de Moskos. Le deuxième disque met en vedette le son connu et apprécié des fans de Drainolith : claquements électroniques sourds et hésitants, piétinement du sol mis en scène derrière les échos d'une guitare blues du Mississippi vaseux, murmures et coups de langue amoureux ou cinglants enterrés. Pour cette partie, Moskos s'associe aux anciens mais non oubliés dynamiques membres de Drainolith : Tara Desmond à la batterie et Chelsea Delle Palm à la basse! Cela pourrait être une répétition pour une tournée, mais l'enregistrement est serré et projette sa puissance.
Fidèles aux habitudes, les évènements font volte-face et prennent une tournure complètement imprévisible sur le troisième disque qui s'aventure tête première sur le territoire d'Inane Fever sous la forme de multi-pistes drôlement bien enregistrées, requins du rythme qui pourraient dévorer parmi les meilleures ruptures de caniveaux scintillants de Royal Trux ou les écoles de solo de Thurston Moore pour le cool. Il se trouve que monsieur Moskos ne joue pas seul du tout : il s'agite avec une ligne de front talentueuse formée d'Alexandre St-Onge, de Dominiq Alexander et de Joel Taylor. Le quatrième disque termine cette imposante mais brillamment minimaliste prestation avec un saccage de piano façon jazz de chambre interprété par Moskos + Sage. Le silence de la fin pique la curiosité et on se demande si d'autres diamants brut pourraient se trouver dans le coffre aux trésors de Moskos… On ne peut toujours que rêver et se procurer la collection avant que cette performance criminellement sortie en petite quantité ne soit convoitée par tous les collectionneurs à sa portée.
Inane Fever – Hate the Blues / Cross The Tracks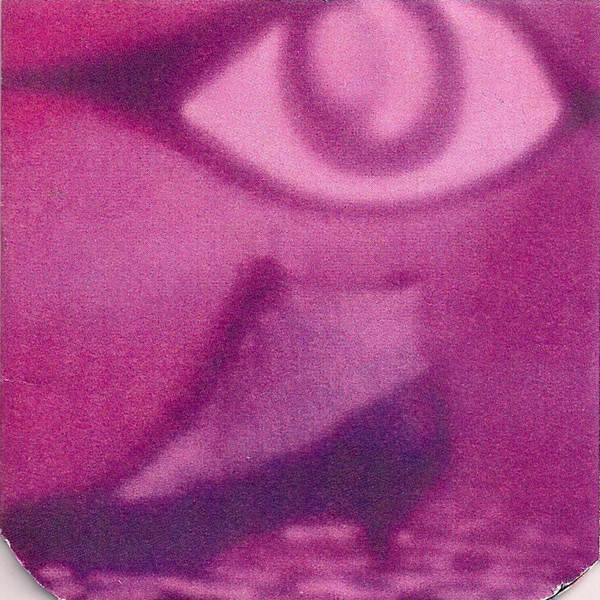 Wolfcow
Bad to the Rhinestone
(Inyrdisk)
Toronto, ON
From the heatpeepers of Alexander Moskos:
Roollin' uptee with Guy Les Lunettes (aka Michael Caffrey) and Beach Seat Black (aka Doominiq Alexander) aka the ROYAL HUZZLE CYPHER = PURPLE CAPE + HUSH PUPPIES x SLIME GREEN LACES + DOOM's COTTON PORTI-TENT and MAROONBERRY BERET, though, laying in the cut tight, inside VADER aka Caffer's 740 Swede Maheen Brick and natch'l blues DOOM is hipping the older gods (who need some hipping de temps en temps) on early NEW ROMANCE, even some proto-Ital-NEW ROMANCE (City, dude, try Googling that s/t lp -Dom) as well as some UK-Eighty-whatevers ish that sounds like basement 'tronics with USA-70 loner-folk vox o'ertoops. Fit right into my new curiosity-style; Shaps be waking the grumps cuz the Wizard of Kozz is zonetoning early Simple Minds with only thin-walled St. Henri shipwright construction separating his nug and Jim Kerr's not-so-ruff-hewn croon out the broown Tecnics, late.
If you've ever hit the weirdcan BBS message board archives you know I've lit Christmas with Wolfcow before, playbs. "No sheet, meeester". So stoked was the kozzmoobowl when Greydyn reminded her that Tones had sold him a sweet German tropi-sco side, summertime, debt unpaid, now paid, the greenside of which went to Snaps, the 3" of NEW CANADIAN OLD ROMANCE went directly into me Wolf Coow section. Because romance ripens, rather have it grown and warmed than young-blood cooled. Wolfcow is romantic like Sibelius (the Finnish composer not the software) is Romantic, not in some uptoon-yoothman-croon-wrapped-in microkoorg-hooz-that-sounds-like-a-hoockey-bag-spray-painted-black-filled-with-black-hand-sanitizer sense.
These are no mere mild wonders; the songs here are stunners, or no, more like putting on stunners you bought for five zones in Kensington Market in order to shade your little ninja eyes from the huge shards of hot light that reflects off the salmon pink Royal Bank Tower at Bay and King, whose source is the two suns setting out across great Lake Ontario, glowing nuclear red on The Hammer, late-day pink on Goderich, motarded fuchsia on Oshawa, a glorious blown out gold on Caledon and, natürlich, or should I say natürlicht, an almost neon hue, nearly topaz in the far corners of the sky but decidedly hot amber and PURPLE on the GO Bus traced streets of Newmarket…And the crew salaciously awaits Wolfcow wax. Who's stepping up? Greydyn's hot light genius can't be crammed onto 3" forever.
Your Pal,
Tones
Ps: Contains guest vocalists. In the case of these cuts below, Dave Evans of the Soopcans and on the lush crooz-lit "Bad To The Rhinestone", some randoo named Jon.
Pps: Mid-period CANTORRecs WCBBSMB record porn is SFW unless Fern Ledouce in the cubes next to you is deeply offended by Ikea shelves adorned with Albertan Folk–lones… find yourself in conflict resolution, Fern spinning his pen Chinese-math student style, the mediator rippin' a Tims, you resolute with a MacDos free grip feelin the only way out is to ADMIT to your addiction, hell, when you log in as USERNAME: HEATPEEPER the desktop image is a seductively cropped close-up of a Swede Pressing of Bo Hansson's "El-ahrairah" lp.
Wolfcow – Exsanguination, I Presume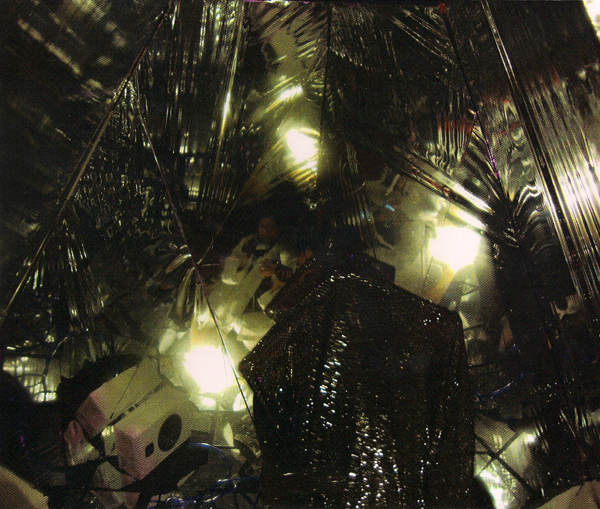 Drainolith
Adam's Sculpture
(Inyrdisk)
Montréal, QC
From the spiraling chaos of Trevor Blumas:
At just under nine minutes, this isn't so much an album as a carefully orchestrated arrangement of lo-fi analogue synth noise divided into five movements. The work was originally conceived to accompany an interactive installation piece called Infinite Space Kaleidoscope by Montreal artist Adam Brown. Adam's Sculpture is the skeletal remains of an entropic technocracy, and Alexander Moskos performs the autopsy, exposing the arrhythmic conditions of society's mechanical heart. A great fascination and respect seems to be put into the autonomy of manufactured sounds, chronicling the voyage of waveforms through the labyrinthine structures of a space-age metropolis. The modular and the minimal are the dominant strategies applied here, but Moskos tosses in enough spiraling chaos and icy jabs, reminiscent of the cold spinal drips of an acid trip gone wrong, to keep things unexpected and suspenseful
Des spirales chaotiques de Trevor Blumas:
(Traduit par Catherine Vien-Labeaume)
Frôlant la barre des neuf minutes, Adam's Sculpture n'est pas tant un album en bonne et due forme, mais plutôt un arrangement minutieux de synthé analogue noise lo-fi. Décliné en cinq parties, il fut initialement créé pour accompagner une installation interactive baptisée Infinite Space Kaleidoscope par l'artiste montréalais Adam Brown. Carcasse squelettique d'une technocratie anthropique, la sculpture de Brown subit une autopsie aux mains d'Alexander Moskos, exposant au grand jour l'arythmie cardiaque dont est atteint le cœur mécanique de la société. Ce qui en résulte témoigne d'un respect et d'une fascination pour l'autonomie des sons manufacturés, relatant le voyage de formes d'ondes à travers les structures labyrinthiques d'une métropole de l'ère spatiale. Le modulaire et le minimal sont au premier plan, ce qui n'empêche pas Moskos de ponctuer le tout de touches chaotiques et de jabs bien placés, telles des gouttes de sueur dégoulinantes, conséquence d'un trip d'acide qui finit mal, question de garder ça excitant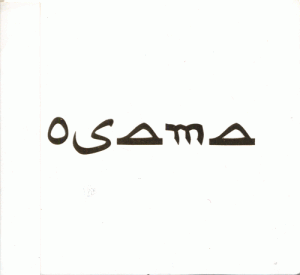 Sam Shalabi
Osama
Montreal, QC
From the spectral presence of Alexander Moskos:
Remember about ten years ago when taking risks wasn't so rare as to constitute an event like it is now? (1) Welcome to 2003, and here's Sam Shalabi and his erstwhile record label Alien8 taking a huge risk on strange music. Thank Cheeerist! We kind of lost that facility in Montreal at some point in the last few years. Maybe it's the landscape of Modo furniture showrooms.
All contained within Osama: Bursts of chiming FM synth over guitar sprawl, tap dancing, percussion overdubs, odd spoken sections, sounds of bawling and whipping intercut with Sam in discussion with Leila Pourtavaf (2), blundering chug rock, a juxtaposed pastiche editing style, gorgeous vocal arrangements, Walter Benjamin quotes and a general head-scratcher of an approach. Anyone remember The Donkeys? (3)
The album's title comes from Sam Shalabi's given first name. Immediately post-9/11 Sam and the million other Osamas in the world found themselves sharing a name with a spectral presence invested with unspeakable evil, watching itself on TV.
In a statement on the Alien8 website, Sam says that Osama fails as a protest record about Arabophobia, and thank heavens for that; protest records as a genre tend to reek. There's a minor RIO (4) vibe but I'd almost say Osama comes closer to the Temptations' Sky's The Limit (5) or, even further along, Metallica and Lou's brilliant Lulu. Hell, there's even the Mayor of Mile End Billy Mavreas (6) doing his best Doggerel Bank "Skillicorn Dances" (7) impersonation.
Anyhoots, if it were up to me they'd give this record the Polaris prize every year and one to Alien8 for straight trucking as well.
Oh, and "Do you have a mandate?"
Get it here: http://www.alien8recordings.com/releases/osama
Sam Shalabi – Shitmobil, U.S.A. (Adam Frank and Sam Shalabi)
Sam Shalabi – The Wherewithalll
(1) Ahhh artists and their fragile little selves. Once a practice is really set, the artists become hidebound and risk-averse, and as such maintain a status quo almost inevitably. As a type, "artists" are generally conservative. Give me a break.
(2) Formerly Montreal based activist and academic.
(3) Blundering steamroller rock quartet from Montreal. If I'm not mistaken they did release a record at some point in the early oughts.
(4) RIO stands for Rock in Opposition, a European music scene sprung up in the late '70s whose riotously fun project was to mix dialectical materialism and chamber-prog. Henry Cow's Legend is the go-to joint in this regard.
(5) The gorgeous 1972 album featuring the overtly heavy and political "Smiling Faces" among others. Pretty much immaculately made mainstream music via Berry Gordy and the crew and of course featuring our man "Detroit" Coffee in full buzzin' axe effect.
(6) Comic artist, shop owner, gallerist. He walks along St. Viateur and old ladies come running on out into the street to give him pieces of perfectly ripened fruit like he was some kind of Greek Corleone.
(7) The Doggerel Bank was a British "psychedelic funny" band. The Skillicorn Dances lp on The Famous Charisma Label isn't impossible to find in a cheap-0 bin.
De la présence spectrale d'Alexander Moskos: (Traduit par le prénom de Maya Keshav)
Tu te souviens il y a une dizaine d'ans quand la prise de risque n'était pas assez rare pour constituer un événement, comme elle l'est maintenant? (1) Bienvenue à 2003, et voici Sam Shalabi et son étiquette de jadi Alien8 qui prennent un énorme risque avec la musique bizarre. Merci, Cheeerist! On a perdu cet établissement je ne sais quand exactement, il y a quelques ans. Peut-être que c'est maintenant le paysage de salles d'exposition pour les meubles Modo. Osama comprend tout ça: Les éclats de synthé FM carillonnant sur l'étendue de guitare, les claquettes, les overdubs de percussions, les parties parlées bizarres, les sons du braillement et du fouettage entrecoupés de Sam discutant avec Leila Pourtavaf (2), le chug rock maladroit, un style de révision de pastiche juxtaposé, les beaux arrangements du chant, les citations de Walter Benjamin, et une approche assez déconcertant. Quelqu'un se souvient de The Donkeys? (3) Le titre de l'album vient du prénom original de Sam Shalabi. Immédiatement après 9/11 Sam et les millions autres Osamas du monde se sont retrouvés partageant un nom avec une présence spectrale à laquelle on a conféré un mal atroce, qui se regardait à la télé. Dans une déclaration sur le site-web d'Alien8, Sam dit qu'Osama ne réussit pas à être un album de protestation, et dieu merci pour ça; les albums de protestations en tant que genre a tendance à puer. Il y a de petites ondes de RIO (4) mais je dirais qu'Osama s'approche plutôt à Sky's The Limit (5) de Temptations, ou, même plus loin, le Lulu brillant de Metallica et Lou. Merde, il y a même le maire de Mile End Billy Mavreas (6) qui fait sa meilleure reprise de "Skillicorn Dances" (7) de Doggerel Bank. Bref, si c'était ma décision, ils donneraient un prix Polaris à cet album chaque année et un autre à Alien8 en plus. Oh, et "Vous avez un mandat?" Achetez-le ici: http://www.alien8recordings.com/releases/osama
Sam Shalabi – Shitmobil, U.S.A. (Adam Frank and Sam Shalabi)
Sam Shalabi – The Wherewithalll
(1) Ahhh les artistes et oh qu'ils sont fragiles. Une fois qu'une pratique se solidifie, les artistes deviennent bornés et réticents à prendre des risques, et de ce fait ils maintiennent un statu quo presque inévitablement. Comme un type, les artistes sont généralement conservateurs. À d'autres. (2) Une activiste et universitaire anciennement de Montréal. (3) Un quartette gaffeur de steamroller rock de Montréal. Si je me trompe pas ils ont sorti un album aux débuts de 21e siècle. (4) RIO signifie Rock in Opposition, une scène musicale européenne qui est apparue à la fin des années 70, le projet tellement amusant de laquelle était mélanger le matérialisme dialectique avec le chamber-prog. Legend de Henry Cow est le morceau clé ici. (5) Le superbe album de 1972 qui mettait en vedette le "Smiling Faces" ouvertement lourd et politique parmi les autres. C'est devenue quasiment parfaitement la musique mainstream grâce à Berry Gordy et le gang et bien sûr il mettait en vedette notre homme "Detroit Coffee" dans l'effet complètement bourdonnant. (6) Artiste B.D., propriétaire et galeriste. Il marche sur St. Viateur et les vieilles madames viennent courir sur la rue pour lui donner les fruits parfaitement murs comme s'il était une sorte de Corleone grec. (7) The Doggerel Bank était une groupe "psychédélique drôle". Le LP Skillicorn Dances de l'étiquette The Famous Charisma n'est pas impossible de trouver dans une boîte des disques pas chers.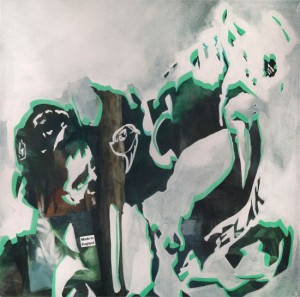 Drainolith
Fighting
Montreal, QC
From the sproolian diskos of Aaron Levin:
Emerging as a monolithic, chrome-plated, velvet-wrapped, polyvinyl beacon to our frightening future, Drainolith is leading the vanguard of a new Canadian tradition. It's outrageous to imply the disparate, hallowed murmuring and violent drum-dance to the netherzone as any sort of American primitive, yet Fighting's potency is its gorgeous descent into genre nihilism; a future folk-minimalism augmented with drum machines and metal-zone abandonment, harkening the urgency of creative expression within a world of redacted meaning. Drainolith has forged a terrifying new breed of singer-songwriter. Incredible. Must grip.
Du diskos sproolien d'Aaron Levin:
(Traduit par le drainolith en polyvinyle de Maya Keshav)
En émergeant en tant que phare monolithique, en chrome, emballé en velours, de polyvinyle à notre avenir éprouvant, Drainolith est en tête de l'avant-garde d'une nouvelle tradition canadienne. Il est monstreux d'insinuer que les marmonnements disparates et bénis et la drum-danse violente de la netherzone est une genre d'américanisme primitif, mais la puissance de Fighting est sa descente merveilleuse dans le nihilisme de genre; un folk-minimalisme de l'avenir intensifié avec les boîtes à rythmes et l'abandon metal-zone, qui rappelle l'urgence de l'expression créative dans un monde de signification rédigée. Drainolith a façonné une nouvelle hybride terrifiante d'auteur-compositeur-interprète. Incroyable. Faut l'acheter.
Drainolith – She's IN Insurgency
Disguises
Live in Yonge-Dundas Square
[Director: Brian Seeger]
Toronto, ON

Well, this maybe made me cry because nothing has really seemed more significant recently: One of the greatest OUT Canadian bands of all time playing at the
sexiest intersection in the country
. Nobody showed up, except for the LEGEND Mark Maclean
(1)
and Brian Seeger
(2)
(documentarian). Whomever curated this stage was a GENIUS. Get Disguises to rip a set that sounds like someone shovelling glass trilliums overtop a TG rehearsal… at high-fucking-noon, at the epicentre of EVERYTHING. Before urban renewal, Yonge and Dundas was the only intersection in Canada that really felt like SOMEWHERE! That was before
Lastman
and his minions at city hall razed the pawnshops and porn-shops, the record stores and headshops, the dank jewellery markets, the diner joints and a whole slew of gorgeous heritage commercial architecture. I'm over it now and back to thinking it's the coolest intersection in Canada. And if you are old enough to remember Yonge and Dundas before the Great Flattening than you are old enough to remember
Disguises
with
Kevin Hainey
(3)
in the line-up on woowoowoowoooozy bass. Sometimes he would just stare at the bass and use his will to pitch its eternal wooing. Jon Shapiro
(4)
shreds bass here but he's best remembered kneeling on a table playing mixer feedback, tapes and a giant horn. Randy Gagne, who looks like a cross between Prince and the Coffee Time at the corner of Dundas and Pape, better known to YOU as
Man Made Hill
, is the shuffle in Disguises, the motion flow. And what of the roguish mug up front in the sick cyan plaid? That's Kevin Crumpp who runs
Wintage Tapes and Records
(5)
, crooning his little heart out, beating a rap, homeowner. The Disguises lp on Wintage (now OOP) is a chef d'oeuvre, recorded by Dale Morningstar at the legendary Gas Station Studio on Toronto Island
(6)
(which is historically significant
(7)
). People are so busy inquiring about the status of AIDS Wolf they forget to inquire about the status of Disguises, a more pressing question. And next year: Gastric Female Reflex featuring William Davidson at the Harborfront Center.
Addendum: If you're not jamming WITH the King, then you're jamming FOR the King, so might as well get with his majesty's Lute-through-too-much-Line-6-style and call it a deep, mind-melded, madrigal, there Troubadour!
(1) (Mark Maclean) Of the Sick Lipstick, Black Cat 13, Thrashed Genes and Induced Labour, but who recently chose Life and gave up on the permanent death-fetish that is rock n roll, ostie.
(2) (Brian Seeger) Of the Planet Smashers, Pon D'Replay, Wasted Nymph
(3) (Kevin Hainey) Who runs Inyrdisk, the label that released the killer Clinton Machine Lp and tons of Toronto Underground Sound Force related cds, former Exclaim contributor, author.
(4) (John Shapiro) Of Induced Labour, Conspiracy of Familiar Objects, 13 Moons, Almost Blue Sunshine, producer of the John Milner 7" on Pleasance… also runs LsdOTB records, one of the few labels to actually release an Afternoon Penis joint, remembers record shopping on Yonge St. in those Palaeolithic times, secret side doors to the Lion at College and Adelaide, long nights at the Bagel and the first great gig of 2005 as if it had been fried and served just now, Chuck Schuldiner briefly joined Slaughter for a few months and was seen straggling around York Mills for some reason, how the Jerks and Suicide played the Horseshoe, Major Street days, long-night living room gig scenes and onwards.
(5) Wintage, the non-internet-presence label, has released countless amazing underground titles. Recent zones have included releases by Thurston Moore, field recordings of a Japanese couple fucking, Knurl, Nihilist Spasm Band and Six Heads, the former three on wax! The former three are all stone-cold Canadian classics.
(6) (Gas Station Studio on Toronto Island) Of Diner is Ruined, possibly even the Rheostatics. Recorded plenty of records in his day, including sides by Gord Downie, Julie Doiron, the Woodchoppers Union and the second GYBE! record ect ect. The Diner is Ruined blew my adolescent mind bee tee double you, when they opened for Helium and Sonic Youth at the Warehouse circa 1995.
(7) Reminds me of my submitted piece on Black Sabbath's "Never Say Die" for Weird Canada's Departures Revisited, the draft of which came back to me defaced, in Levin's hand, by a giant MAPL system logo with only the "P" blackened.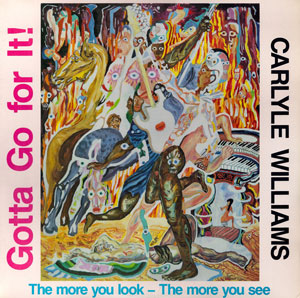 Carlyle Williams
Gotta Go For It!
(Eternal Art & Music)
Montréal, QC
Originally Released: 1988
From the eternal art of Alexander Moskos:
Here it is: the Patron Saint of weird Canadian records. Alongside Corpusse's Delusions and Bernard Bonnier's Casse-Tête, Carlyle Williams' Gotta Go For It! forms the Holy Trinity of '80s Montreal private press beauty; each of them summing their parts and transcending with a one-man-one-wholly-formed vision possessed of unbridled id and utter disdain for the prevailing rules and praxis.
Forgotten in the usual fetishizing of the "filles du roi" cypher (1), beyond bloodlines French-royal and First Nation, is that Montreal's women posses the ultimate sexy quality: good taste. And so it went that Leila Majeri (2) and Marie-Douce St. Jacques (3) played me Gotta Go For It! and on each separate occasion, my mind split open, the air charged, everything changed, and the damn crew hasn't been the same since.
Released in 1988 and recorded at the Unidisc studios (4) in Montreal's St. Henri neighbourhood, Gotta Go For It!'s qualities are many: blocky Chung King Studios drum programming, a careening non-chops guitar style that sounds like The Birthday Party minus the fireworks-display fay hairdos, and streams of vocal overdubs that make whomever Tim Buckley thought he was on Starsailor seem like a sane and well adjusted man. Some tracks have a synthetic tropical vibe that predicates the various fi's (5) of the last half-decade like a boss, raising bloody hell in the listener's mind, forcing one to reconsider every aesthetic category.
For all its sonic density and deistic power, Carlyle's message, via truly inspiring vocal work, is positive: obsessive self-awareness and accompanying self-criticism can be reality forming, that the more you look INSIDE the more you will see. That, as he says on "No Reason", "There is no reason for your next depression. And that's the truth." Which as an underlying vibe makes Gotta Go For It! unique amongst the great works of 20th century Canadian art.
Gotta Go For It!'s sleeve states: "The more you look – The more you see", and like all amazing ass records, the more you listen, the more you hear.
Carlyle Williams – Self-Criticize Daily …
Carlyle Williams – The Price …
Carlyle Williams – Gotta Go For It …
(1) These women, who were poor and undereducated, often orphaned, and in their teens or early twenties, were sent over from France for the men of Canada. The rumour-that-won't-die is that they were prostitutes.
(2) Screen printer extraordinaire, often using the nick Alphonze Raymond, and also the drummer in the amazing Yomul Yuk.
(3) Editor-in-chief of the awesome aMAZEzine, which lasted a few issues, came with a GYBE! 7" and generally covered a zone, Marie-Douce was also the Farfisa player and vocalist in Pas Chic Chic! I sat down with her to discuss this piece.
(4) Obviously, as the '80s wore on and disco, particularly the French-Canadian kind, receded in popularity, Unidisc fell on hard times and started renting out their facilities cheap. They were based in the RCA building, who obviously were slowing down themselves.
(5) Lo, no, slow, glow, hi and high fidelities, be it Ariel Pink, Spencer Clark, James Ferraro and the rest, you can hear Carlyle in the faux madness. The incredible Afternoon Penis tape on Heavy Tapes is the most obvious student of Gotta Go For It!, however. Worth looking into for fans of Carlyle.
De l'art éternel d'Alexander Moskos:
(Traduit par Odile Leclerc)
C'est ici : le Saint Patron des étranges records Canadiens. Avec Delusions de Corpusse et Casse-Tête de Bernard Bonnier, Gotta Go For It! De Carlyle Williams forme La Trinité Sainte de la beauté de la presse privée des années 80 de Montréal; chacun d'eux additionnant leurs parties et transcendant avec un-homme une vision complètement formée possédée d' ID incontrôlées et de total dédain pour les règles actuelles et les pratiques.
Oublié dans le fétichisme habituel du code ''filles du roi'' (1), au-delà des lignées royales Françaises et des Premières Nations, c'est que les femmes de Montréal possèdent l'ultime qualité sexy : de bon goût. Et alors c'est venu que Leila Majeri (2) et Marie-Douce St. Jacques (3) m'ont joué Gotta Go For It! Et à chaque occasion séparée, mon esprit c'est fendu, l'air s'est chargé, tout a changé et la putain d'équipe n'a jamais été la même depuis.
Sortie en 1988 et enregistré aux studios Unidisc (4) dans le quartier de St. Henri à Montréal, les qualités de Gotta Go For It! sont multiples : la programmation de batterie des Studios Chung King en bloc, un style carénant de guitares sans techniques qui sonne comme The Birthday Party moins les coiffures fay de démonstration de feu-d'artifice et de flots des sur-enregistrements vocales qui fait à quiconque Tim Buckley pensait qu'il était sur Starsailor sembler comme une personne saine d'esprit et un homme bien arrangé. Quelques pistes ont une sensation synthétique tropicale qui attribuent les fis(5) de la dernière moitié de décennie comme un champion, faisant un boucan monstre dans l'esprit des auditeurs, forçant l'un à reconsidérer chaque catégorie esthétique.
Pour toute sa densité sonique et son pouvoir déiste, le message de Carlyle, via un travail vocal réellement inspirant, est positif : de la conscience de soi obsessive et accompagner l'autocritique peut former la réalité, dont le plus vous regardez à l'INTÉRIEUR le plus vous verrez. Ceci, comme il dit dans ''No Reason'', '' Il n'y a pas de raison pour ta prochaine dépression. Et c'est la vérité.'' Ce qui en tant qu'une ambiance sous-adjacente rend Gotta Go For It! unique parmi les grands travaux de l'Art Canadien du 20e siècle.
La pochette de Gotta Go For It! dit: ''Plus tu regardes—plus tu vois'', et comme tout les super géniales enregistrements, plus tu écoutes, plus tu entends.
Carlyle Williams – Self-Criticize Daily …
Carlyle Williams – The Price …
Carlyle Williams – Gotta Go For It …
(1) Ces femmes, qui étaient pauvres, sous-éduquées et souvent orphelines, dans leurs adolescence ou début vingtaine, étaient envoyées pour les hommes du Canada. La rumeurs qui ne veut pas mourir c'est qu'elles étaient des prostituées.
(2) L'extraordinaire de la sérigraphie, utilisant souvent le surnom Alphonze Raymond, et aussi le batteur dans le formidable Yomul Yuk.
(3) Éditeur en chef du super aMAZEsine, qui a duré quelques publications, est venu avec un GYBE! 7'' et couvre générallement une zone, Marie-Douce était aussi la joueuse et chanteur de Farfisa dans Pas Chic Chic! Je me suis assis avec elle pour discuter de cette pièce.
(4) Évidemment, alors que les années 80 s'usaient et le disco, particulièrement le genre Français-Canadien, diminuait en popularité, Unidisc est tombé sur des temps durs et a commencé à louer leurs installations à bon prix. Ils étaient basés dans l'édifice RCA, qui eux aussi évidemment ralentissaient.
(5) Basse, sans, lente, brillante, hi et haute fidélité, que ce soit Ariel Pink, Spencer Clark, James Ferraro et le reste, vous pouvez entendre Carlyle dans la fausse folie. L'incroyable cassette Afternoon Penis sur Heavy Tapes est l'étudiant le plus apparent de Gotta Go For It!, cependant. Ça vaut la peine d'y jeter un coup d'œil pour les fans de Carlyle.
We're blowing out the last two episodes of
AIDS Wolf
's venture in tour banality with a double-shotgun blast of inanity. Moskos explores European tour cuisine, a bouncy-castle paradise, and a new age toilet before plotting
Drainolith
's 700th tour. The inane vibes are summarized brilliantly by Episode 8's exploration of an ant infestation within Chloe's sugar. It's a beautiful closure to the wolf's Europen journey through
documentary vérité
. Perched high upon our digital chalice we implore those outside the
100-sided die
to heed our message: bring us your banality and we shall broadcast it to the world.
PS – This incredible feature would not have been possible without the hard work of Alex Moskos and AIDS Wolf. Thank you so much.
---